A crockpot cheesy potatoes recipe is a recipe that everyone needs in their back pocket. Add all of the ingredients to the slow cooker and cook on low for 3-4 hours.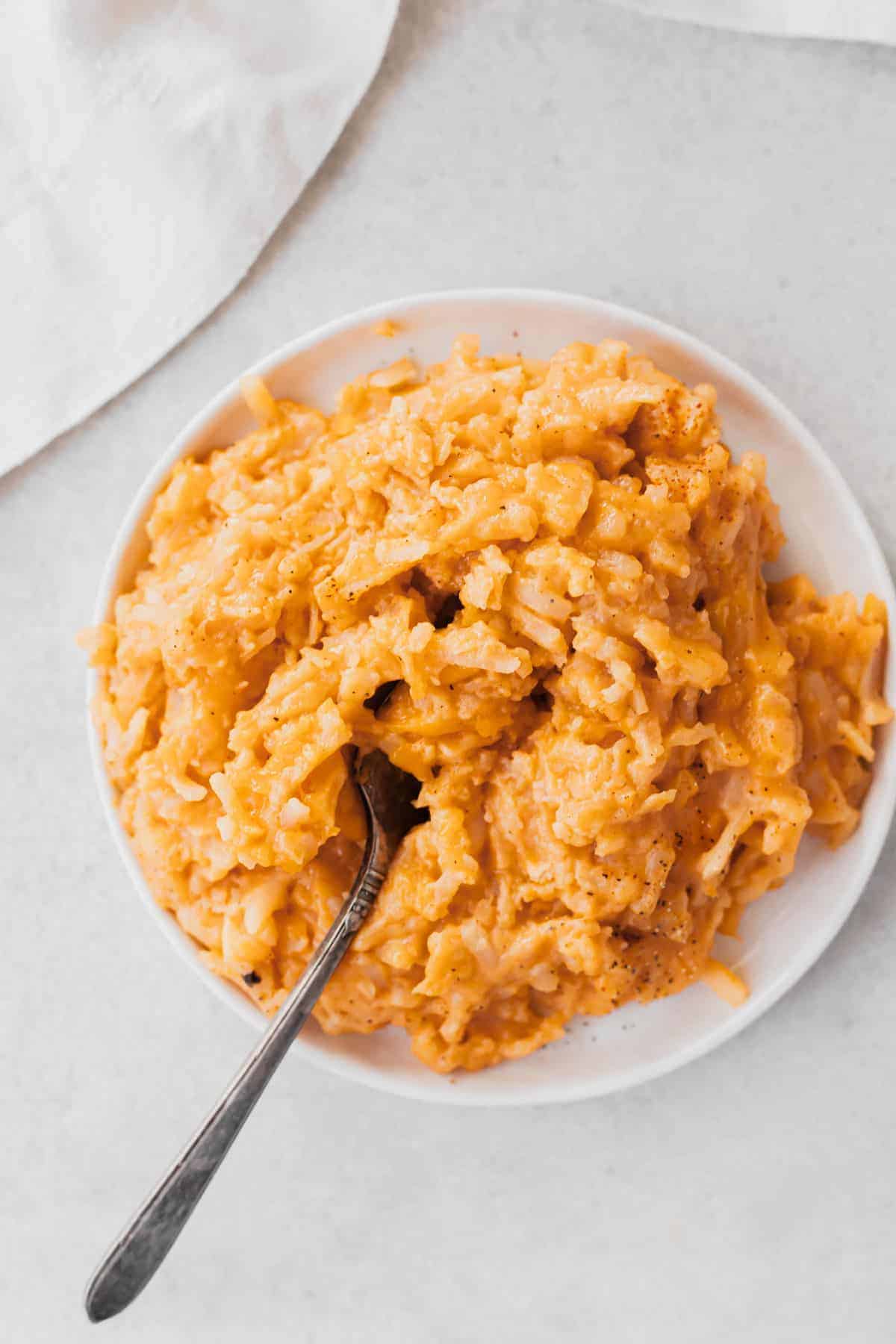 Growing up in Wisconsin, crockpot cheesy potatoes were served at every event, holiday, and function. Not only does everyone adore them, but it's a set it and forget it kind of recipe that's made with 5 simple ingredients.
Our recipe comes our ultra cheesy and uses frozen hash brown so you don't have to worry about shredding fresh potatoes. And, our secret weapon? Lawry's seasoning.
What You Need for Crockpot Cheesy Potatoes
Frozen hash browns – the beauty of this recipe is that it calls for frozen shredded potatoes or hash browns, so there is no need to shred them yourself!
Cream cheese – cream cheese helps smooth things out a bit and adds a tangy flavor. And, what is a cheesy potato without some cream cheese?
Shredded cheddar cheese – the cheese star of the show for this crockpot cheesy potatoes recipe is shredded cheddar cheese. You can use any kind of cheddar you wish- yellow, sharp, mild, white, etc.
Lawry's – Lawry's seasoning salt is our secret flavor weapon for this recipe. 2 teaspoons is all you need!
Chicken broth: chicken broth is used to the cheesy sauce extra saucy.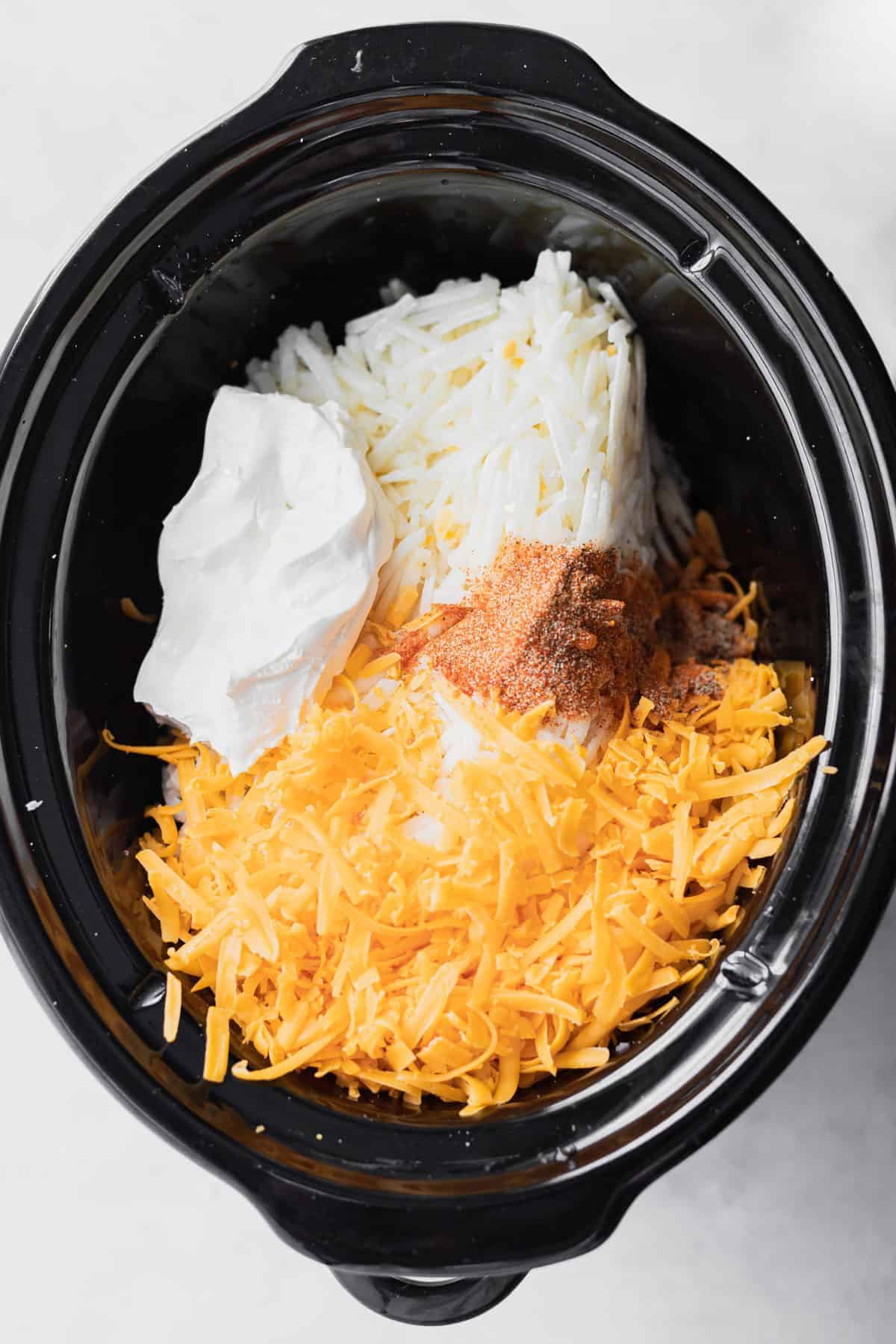 Cheese Variations
Below we're sharing some cheese swaps for the cheddar cheese. If possible, we recommend shredding block cheese instead of using pre-shredded. Store-bought shredded cheese has additives in it and doesn't melt as well!
White cheddar
Colby Jack
Gouda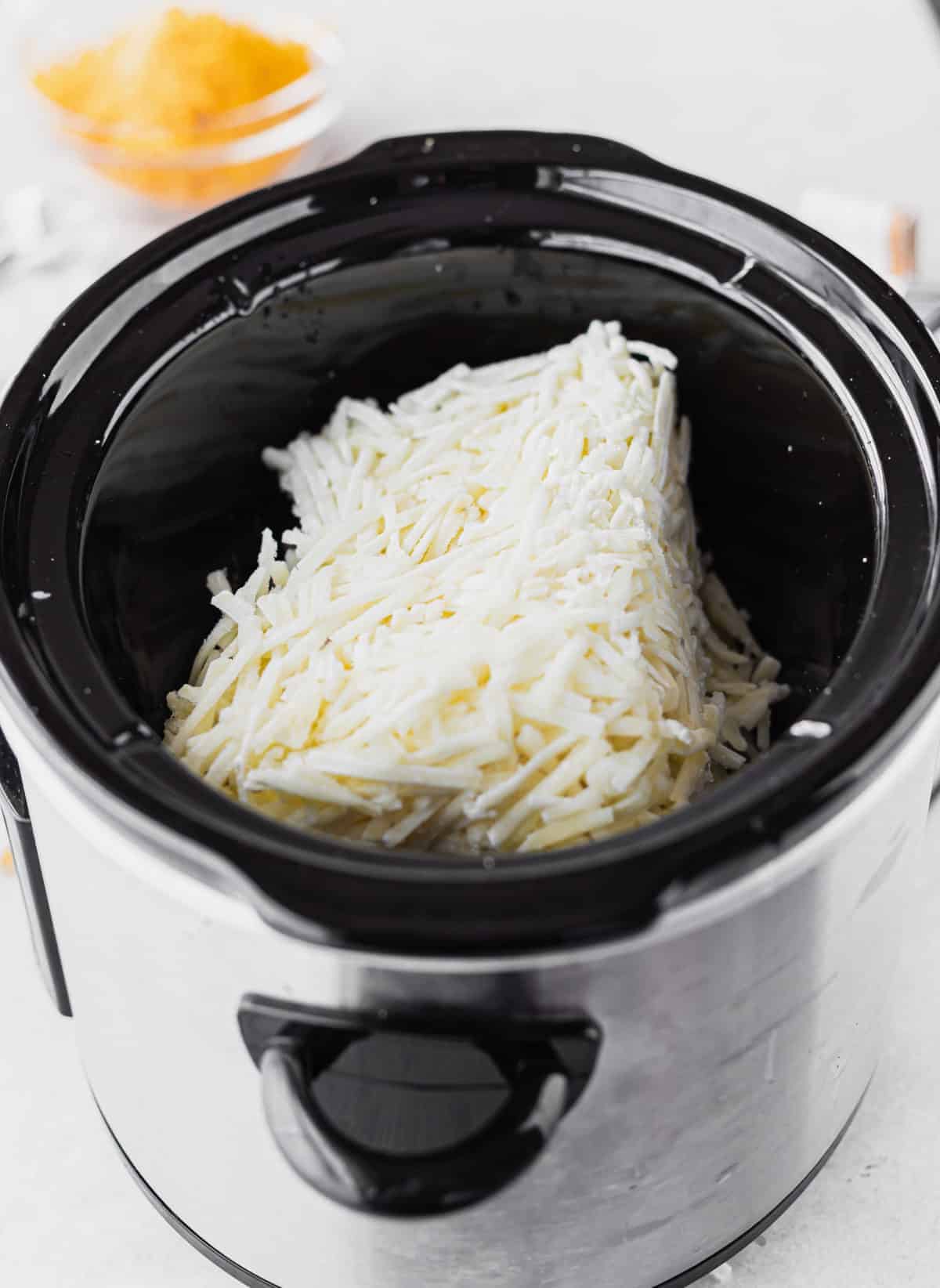 FAQ
How do I know my crockpot cheesy potatoes are done?

Once the cheese is nice and creamy and melted, your cheesy potatoes are done! If you're finding that your cheese isn't smoothing out, add a little bit more broth and continue cooking.
How long do potatoes take to soften in the slow cooker?

If you are cooking a baked potato in the crockpot, that is going to take much longer than shredded hash browns. Baked potatoes take anywhere from 4 to 6 hours on high, where hash browns take 3-4 hours on low.
Can you put raw potatoes in the slow cooker?

Cooking raw potatoes in the slow cooker is one of the best things you can do because they come out super tender and perfectly cooked.
Why are my potatoes hard in the slow cooker?

If your potatoes are still hard in the slow cooker, that just means they need to continue cooking. If you add a little water to the bottom and cover your slow cooker, that should speed things up.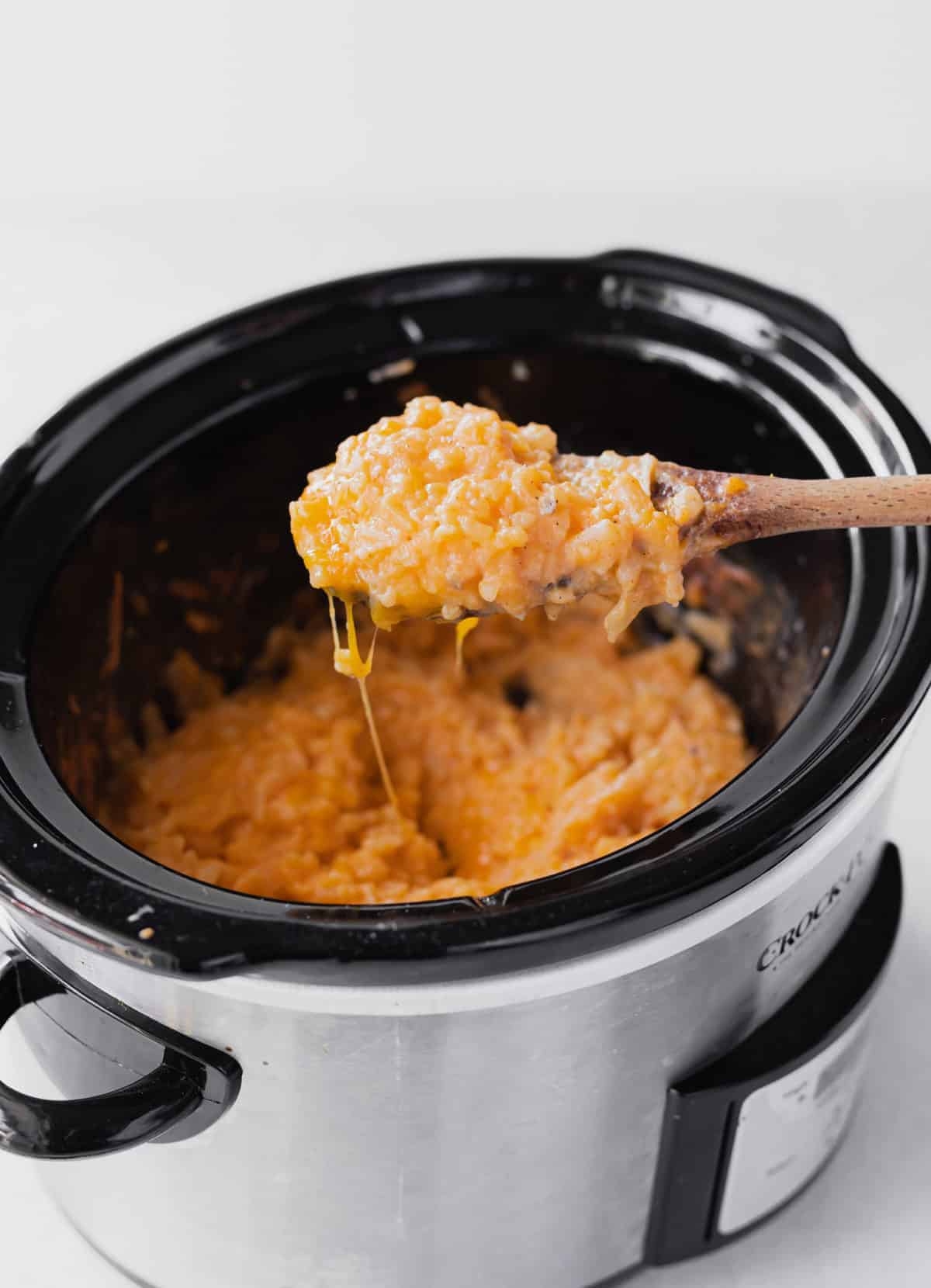 Storage
Store leftover cheesy potatoes in an airtight container for up to 3-5 days in the refrigerator.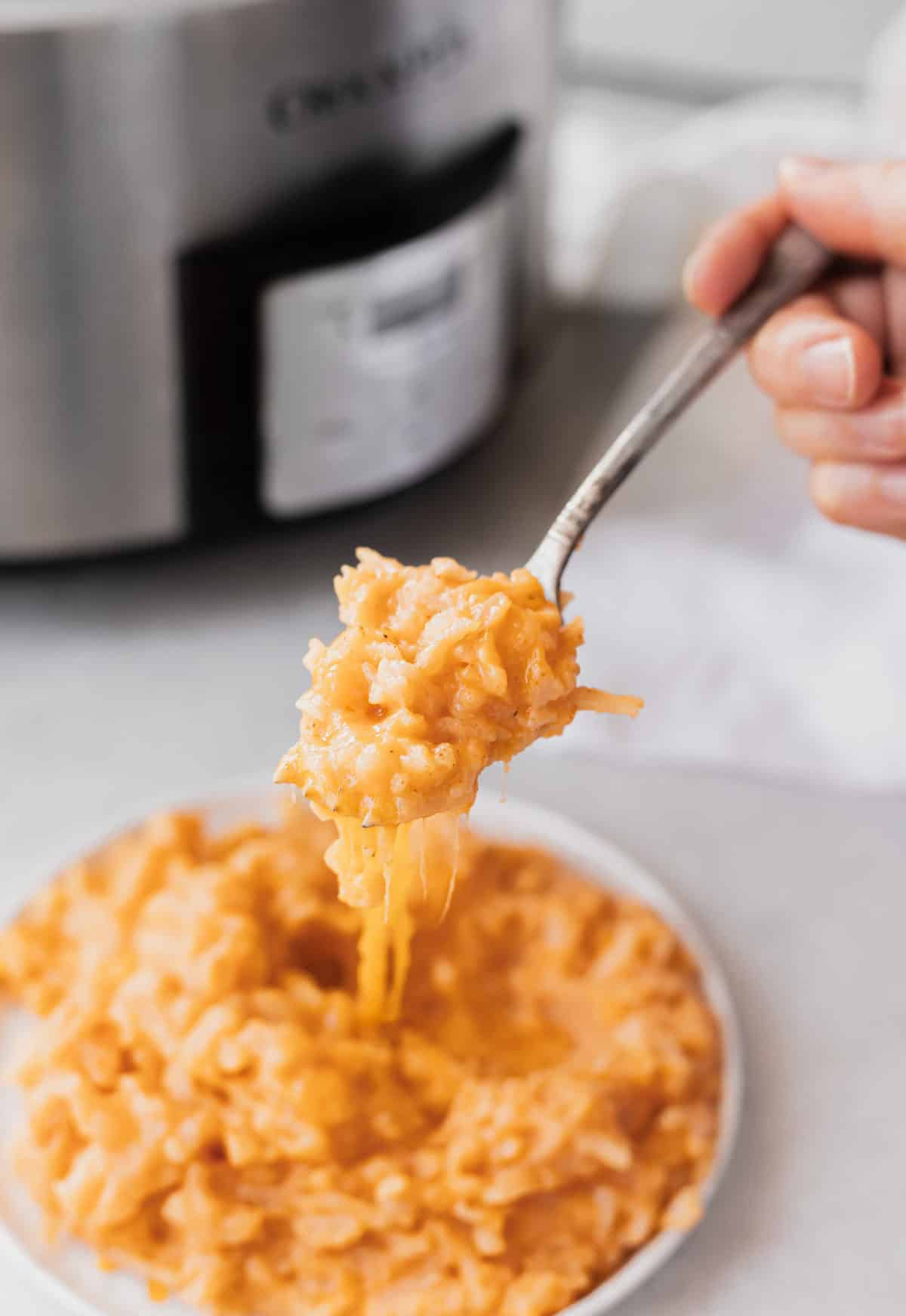 Serving Suggestions
This recipe is perfect for when serving a crowd or when you're planning to use your oven for other recipes. Serve these potatoes next to stuffed chicken breast, parmesan crusted pork chops, or stuffed turkey breast.
Got leftover cheesy potatoes? Try our Leftover Cheesy Potato Pancakes recipe.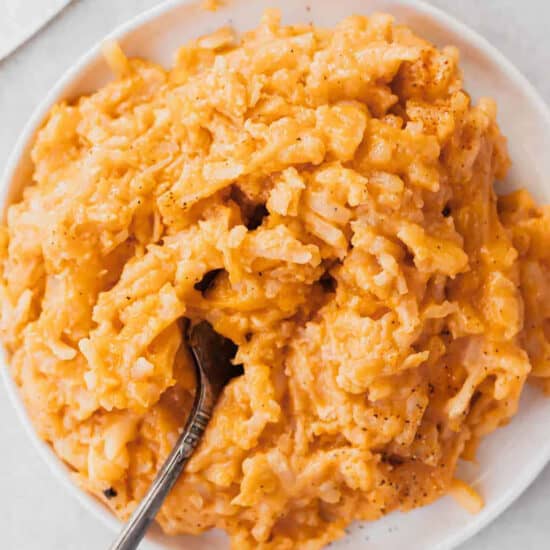 Crockpot Cheesy Potatoes
Our Crockpot Cheesy Potatoes recipe is made with 5 main ingredients and is a set-it and forget-it kind of meal that serves a crowd.
Ingredients
2

lbs.

frozen hashbrowns

1.25

cups

chicken broth

4

oz.

cream cheese

3

cups

shredded yellow cheddar cheese

2

teaspoons

Lawry's seasoning salt

1/4

teaspoon

salt

1/2

teaspoon

ground black pepper
Instructions
Begin by spraying the slow cooker with non-stick cooking spray.

Next, add all ingredients to the slow cooker and mix until all ingredients are combined.

Cook the cheesy potatoes on low for 3-4 hours, stirring every 30 minutes.

The cheesy potatoes are done when the shredded potatoes are soft and cheesy.

If after 3 hours the cheesy potatoes are still not done, add an additional 1/4 cup of broth and cook the potatoes for an additional 20 minutes.

Turn off slow cooker and enjoy.
Nutrition facts
Calories:
252
kcal
Carbohydrates:
19
g
Protein:
11
g
Fat:
15
g
Fiber:
2
g
Sugar:
0
g