It doesn't get much better than this cheese tortellini with vodka sauce. The tortellini is filled with three cheese and then tossed in the most simple but flavorful vodka sauce.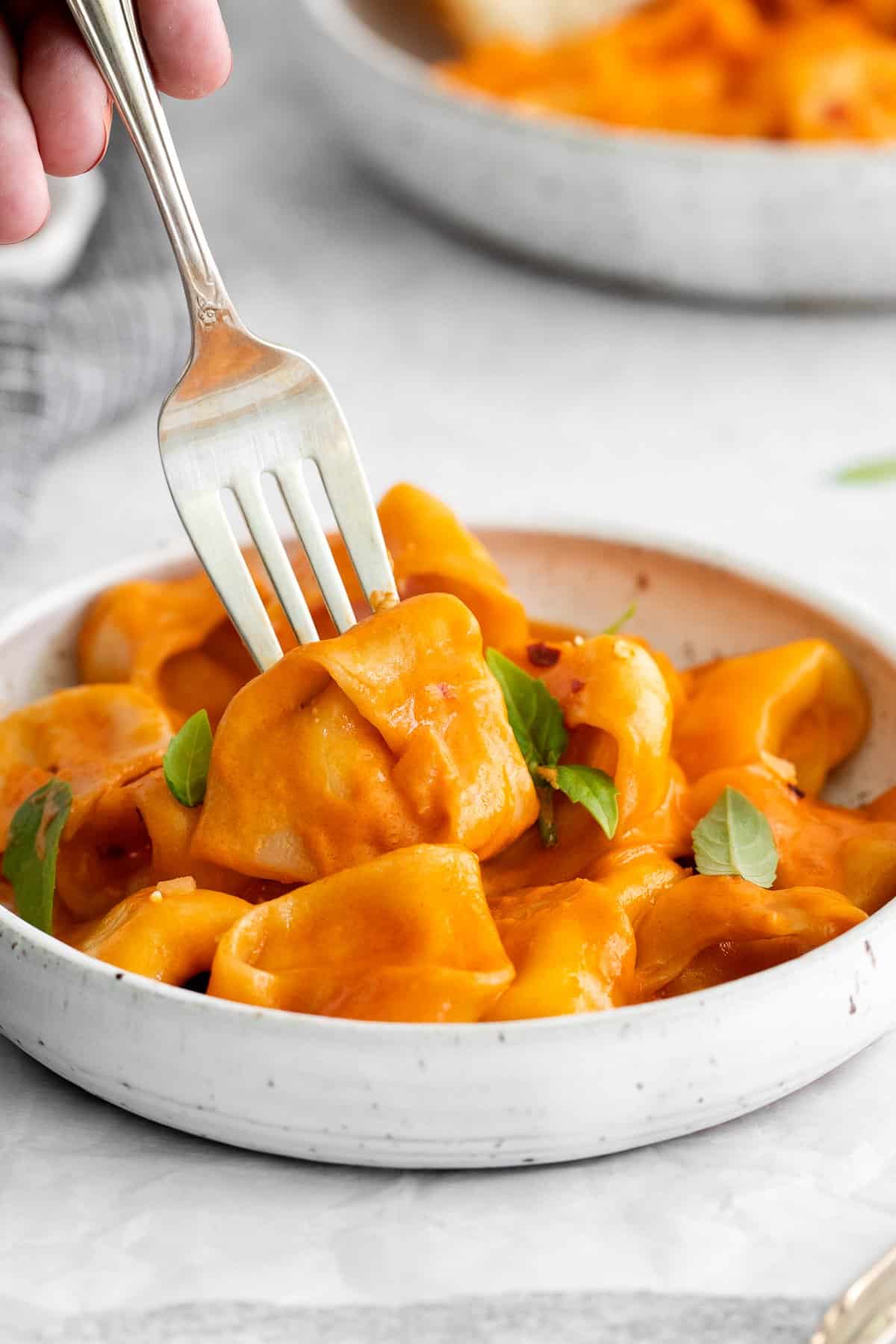 Creamy Cheese Tortellini in Vodka Sauce
Is there anything better than a big bowl of cheese tortellini? YES, cheese tortellini that is served with vodka sauce. You can make this tortellini with store-bought tortellini or homemade cheese tortellini. Both are delicious.
What you can't skip is the easy-to-make vodka sauce.
Why you'll love it!
The combination of a cheesy stuffed pasta and a silky smooth vodka sauce is heaven.
Cheese Tortellini is a show stopper dinner that is easy to make.
You can make this recipe your own by trying out different tortellini recipes or different store-bought options.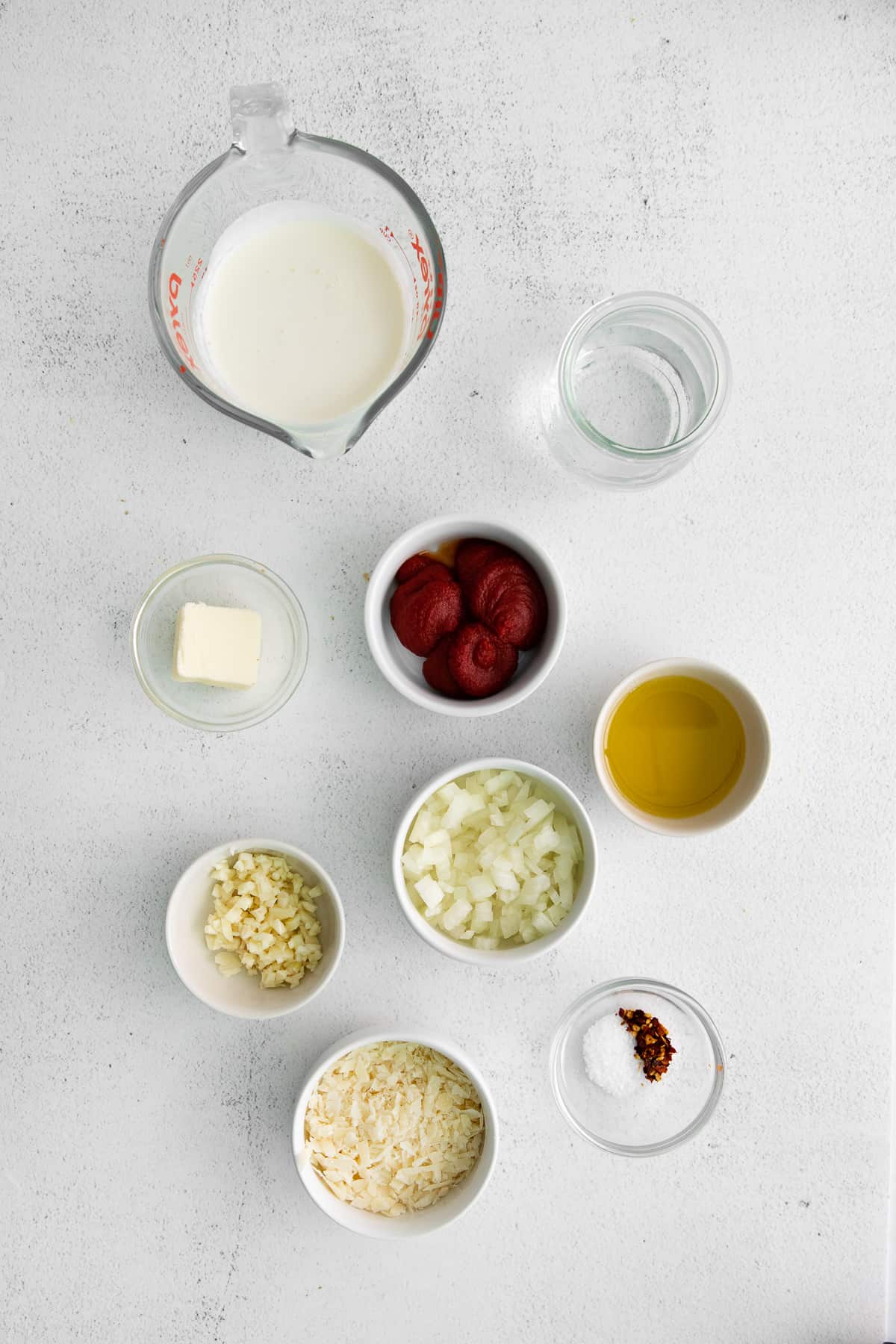 Featured Ingredients
Cheese tortellini: there is nothing like homemade tortellini. It does increase the amount of time you will spend in the kitchen, but its' worth it. Check out or homemade cheese tortellini recipe for details. Otherwise, any store bought tortellini will work great.
Vodka: we always say cook with wine and alcohol that you would drink yourself. Don't buy a super cheap vodka just because you are going to cook with it. That being said, you don't need top shelf either. We love brands like Kirkland, Prairie Vodka, or Titos.
Onion and garlic: the base of the vodka sauce are onion and garlic. A classic combination.
Red pepper flakes: this vodka sauce has flavor from some crushed red pepper flakes but not enough to make it spicy. Feel free to add more if you like a spicier sauce.
Tomato paste: the tomato paste thickens the sauce and gives it a beautiful red-ish and pink color.
Heavy cream: heavy cream makes everything better.
Butter: we always suggest using unsalted butter so you have control of the salt in your recipe.
Parmesan: you stir parmesan cheese into the vodka sauce right at the end of the recipe. It adds the perfect salty bite to your sauce.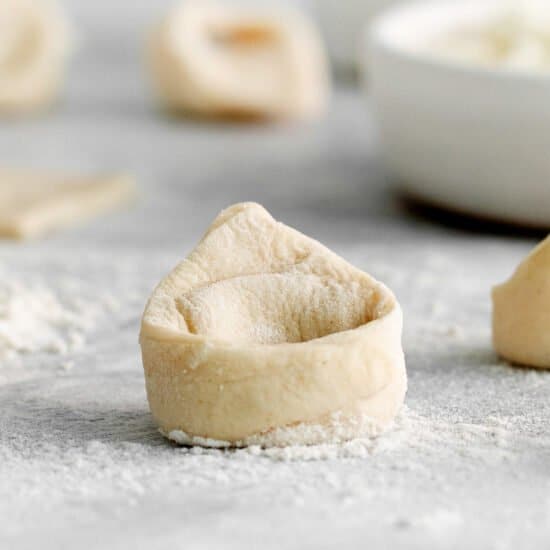 easy homemade
Cheese Tortellini
Skip the store bought tortellini and try to make tortellini in the comfort of your own home. It is easy to make and very tasty.
Learn More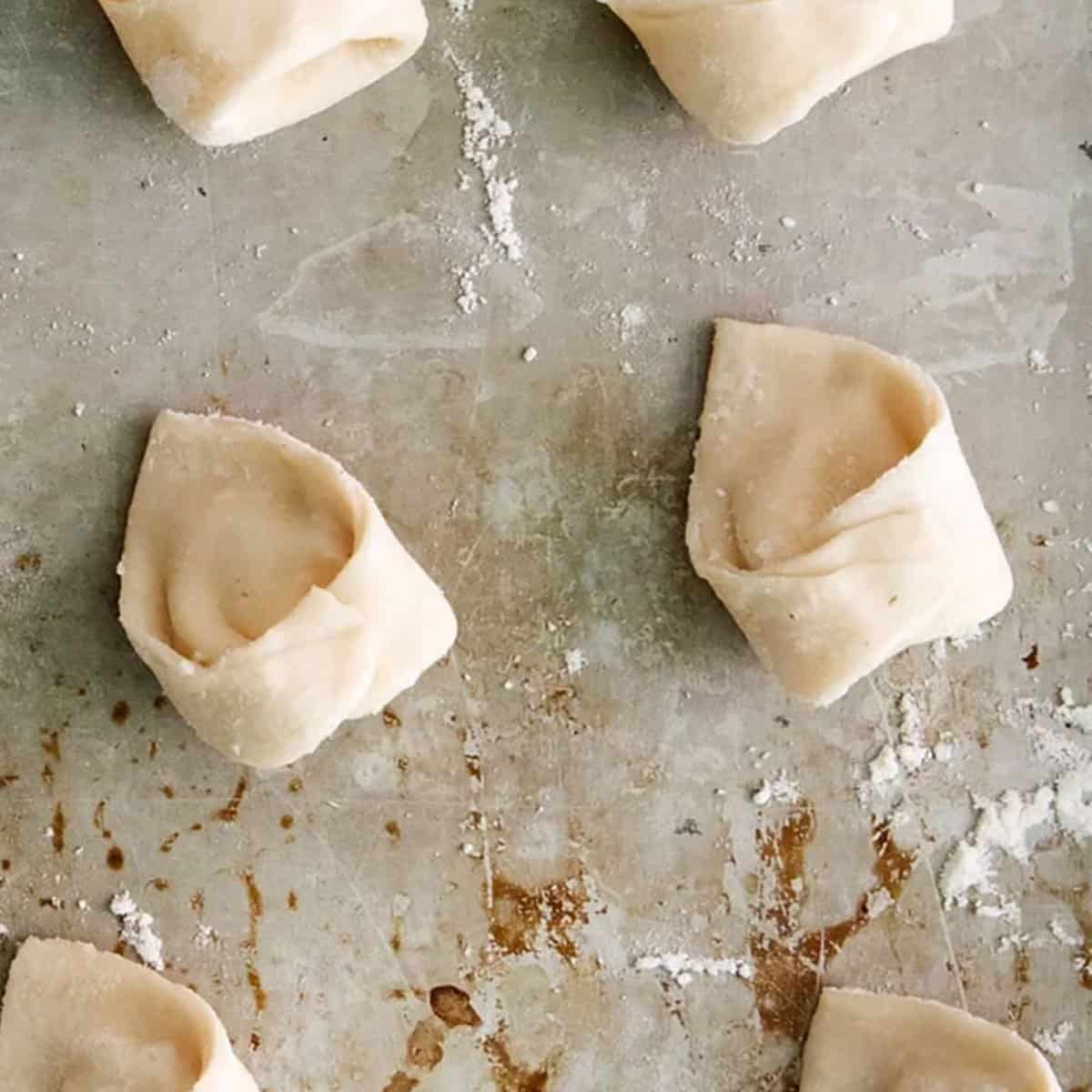 How to Make Tortellini in Vodka Sauce
Decide on tortellini
First things, first is that you have to decide if you want to make homemade tortellini or store bought. Make sure you leave enough time to make the dough, filling, and then fold them up into cute little tortellinis.
Cook the tortellini
Bring a pot of salted water to a boil and then add your homemade or store-bought tortellini to the water and cook them for 2-3 minutes. The tortellini should float to the top of the water when they are done.
Strain the pasta and rinse in cool water and set aside while you make the sauce.
make the vodka sauce
Heat a large skillet with sides or saucepan over medium/high heat. Add olive oil and when the olive oil is fragrant add the onion and garlic to the pan. Cook for a few minutes with a pinch of salt.
Next, add the red pepper flakes and vodka and let that reduce before turning the heat to low and adding in the heavy cream and butter (yum). Whisk until the butter has melted and everything is warm.
Remove the pan from the heat and stir in the parmesan.
Toss everything together
The best part of this recipe is tossing the cooked tortellini with the vodka sauce and topping it with more cheese.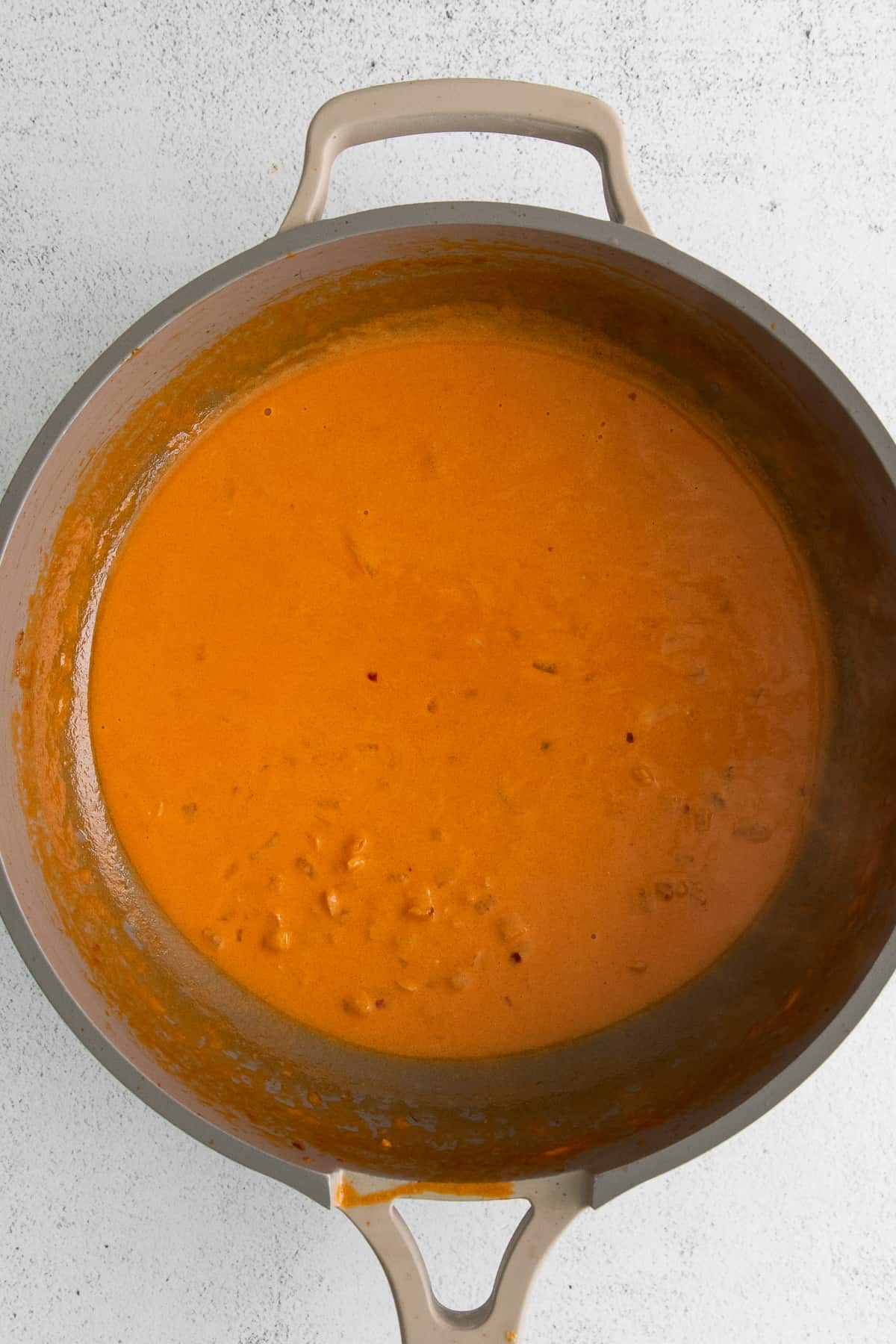 Top Tips for Delicious Tortellini
FAQ
What is the difference between cheese ravioli and tortellini?

The main difference between ravioli and tortellini is how it is folded. Ravioli is flat and generally square where tortellini is folded up into a little pocket. Both are sealed and hold some kind of delicious filling.
What is the best store-bought tortellini?

We love Good and Gather's cheese tortellini, but any cheese tortellini would do.
How do you make vodka sauce thicker?

To make the vodka sauce thicker add a more cheese and less liquid.
Can kids eat vodka pasta sauce?

Yes, the alcohol in the vodka cooks off during the simmering period of the sauce.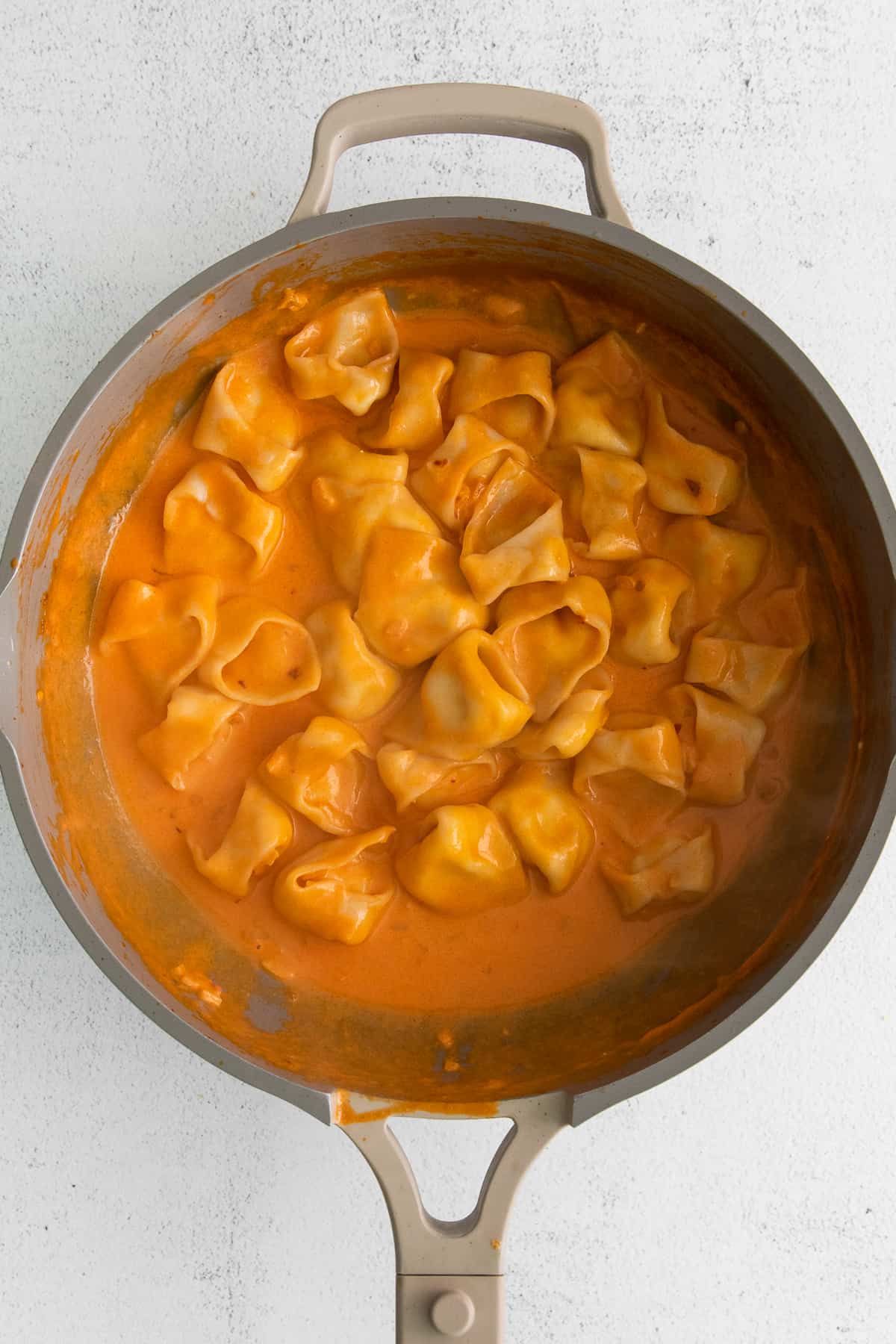 Storage
Let the cheese tortellini cool completely before storing it in an air tight container in the refrigerator for up to 5 days.
How to Freeze Cheese Tortellini
Place tortellini on a baking sheet so that they are not touching.
Freeze tortellini for 30 minutes to 1 hour or until hard.
Transfer tortellini into a freezer-safe gallon-size bag and remove as much air as possible.
Freeze for up to 3 months.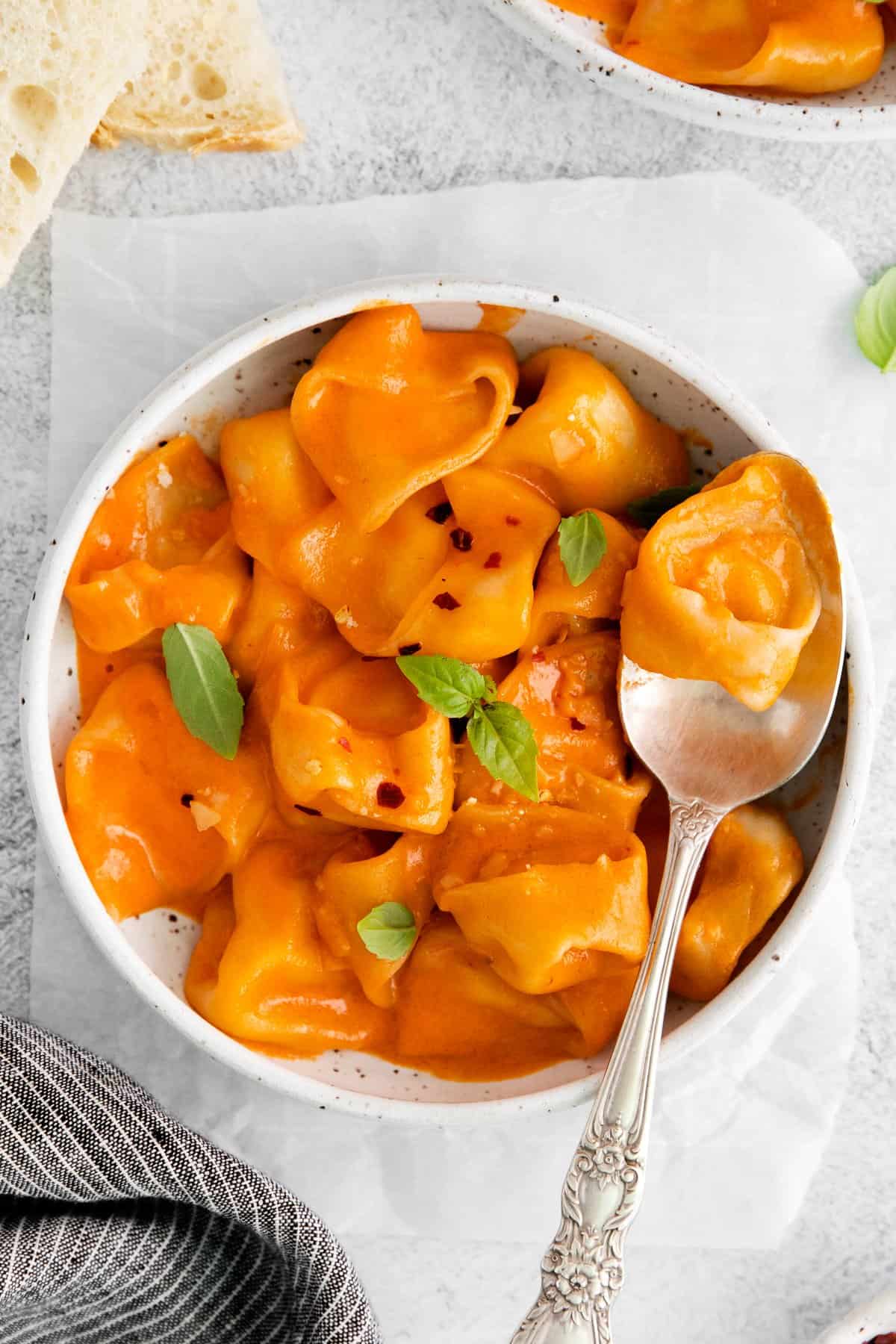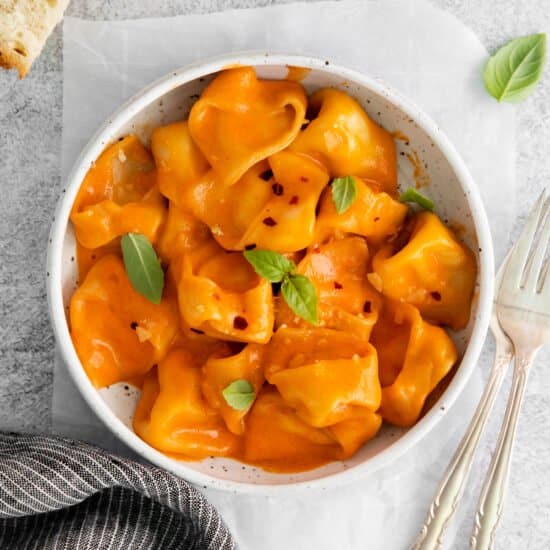 Cheese Tortellini with Vodka Sauce
This cheese tortellini with vodka sauce brings a delicious restaurant style pasta dish right to your kitchen. It is a fun dish to make and an even more delicious pasta to eat.
Ingredients
Filling
½

cup

whole milk ricotta cheese

½

cup

mozzarella cheese

shredded

¼

cup

mascarpone cheese

¼

cup

asiago

shredded

¼

cup

romano

shredded

1

teaspoon

Italian seasoning we used this
Sauce
2

tablespoons

olive oil

½

small yellow onion

minced

3

cloves

garlic

minced

½

teaspoon

salt

¼

teaspoon

crushed red pepper

optional

3

tablespoons

tomato paste

¼

cup

vodka

¾

cup

heavy cream

1

tablespoon

unsalted butter

⅓

cup

grated parmesan
Instructions
Dough
Add the flour and salt into a mixing bowl and make a well. Add ½ cup of water and the mascarpone cheese into the well and mix with a fork or wooden spoon until a loose ball forms.

Transfer the dough out onto the table and knead with your hands for 5 minutes. The dough should be firm and not sticky.

Wrap the dough tightly in plastic wrap and allow it to rest for 30 minutes.

Next, make the filling and the sauce (see instructions below).

After the sauce and filling are ready, prepare to roll out your dough and set a bowl with the remaining water out that you will be using to seal your tortellini.

Lightly flour your work surface and divide the dough in half. Wrap one half in plastic wrap and set aside while you prepare to roll your first piece.

Roll your pasta, according to the manufacturer's instructions, or until it is thin enough to see your fingers through the dough.

For a KitchenAid pasta attachment: start on the largest setting (#1) and pass your dough through the rollers. Next, move the roller to one setting smaller (#2) and pass the dough through again. Repeat until you reach setting number 5.

Once the dough is thin enough to see your fingers through, trim it into 2 equal size rectangles. Cut the rectangles into 2 inch by 2 inch squares.

Scoop your filling into the center of the squares (about 1 teaspoon per tortellini).

Dip your finger into water and wet the outer edgers of the tortellini. Flip one corner of the tortellini and fold over to the other side creating a triangle. Use your fingers to press them tightly closed.

Wet your finger again and press the two bottom tips together to form the ravioli.

When all of the tortellini have been formed, bring a pot of water to a boil. Boil the tortellini for 2-3 minutes or until the tortellini has started to float. Strain from the boiling water and toss in the sauce.
Filling
While the dough is resting, prepare the filling. In another bowl stir together all of the cheeses.

Next, add the Italian seasoning and mix until it is incorporated into all of the cheese filling. Set aside.
Sauce
Sauce, another thing to prepare while the dough is chilling.

Add the olive oil to a medium-sized pan and heat over medium/high heat.

When the oil is fragrant, add the yellow onion and garlic to the pan and sprinkle with ½ teaspoon of salt. Sauté for 2 to 3 minutes.

Next whisk in the tomato paste and crushed red pepper. Allow to cook for 1 to 2 minutes. Add the vodka and allow to cook for 4 to 5 minutes. Stirring occasionally.

Reduce the heat and whisk in the heavy cream and butter.

Turn the heat off and whisk in the parmesan.
Tips & Notes
You can sub parmesan for the romano and asiago if you need to.
For the vodka sauce, if you don't have tomato paste, use ½ cup tomato sauce and cook for 4 to 5 minutes instead of 1 to 2.
We use homemade Italian seasoning. If you use a store bought Italian seasoning, you may want to taste test before adding any additional salt.
Nutrition facts
Calories:
815
kcal
Carbohydrates:
57
g
Protein:
23
g
Fat:
51
g
Fiber:
3
g
Sugar:
4
g