This Chicken Alfredo Lasagna is a family favorite! Layer lasagna noodles, alfredo sauce, and chicken for a delicious spin on a classic dish. We love the simple homemade alfredo sauce in this recipe.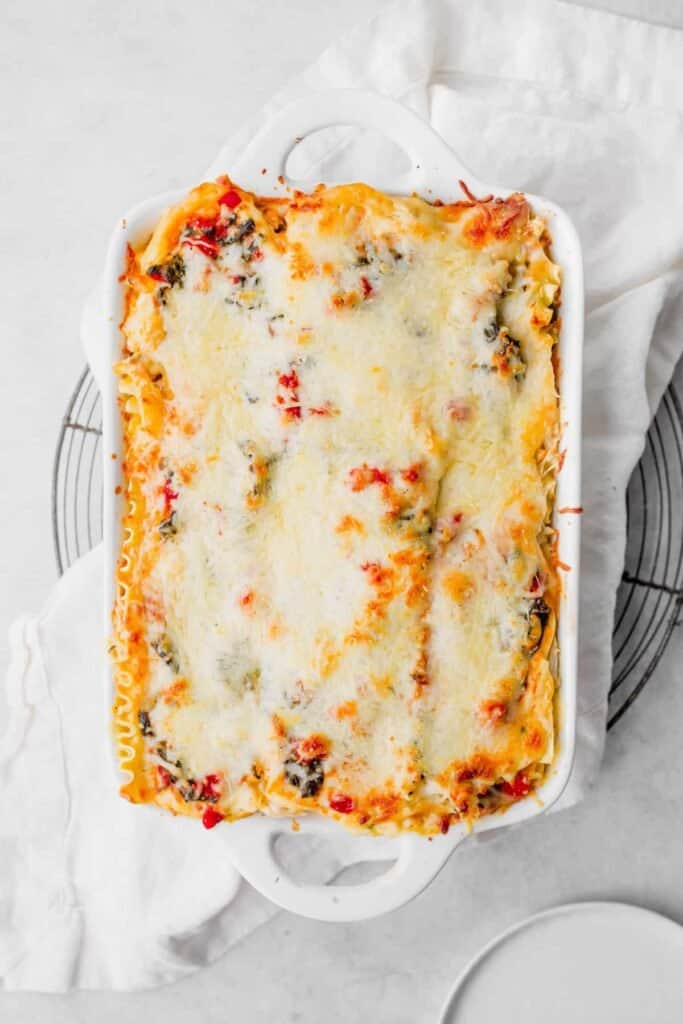 There are many people in our families who love Alfredo sauce. You can only eat chicken Alfredo pasta so many times before you need a change. We developed this chicken alfredo lasagna to mix things up and make chicken alfredo easier to serve a crowd.
Featured Comment
"This is my favorite twist on lasagna! The sauce is SO GOOD!!!." -Michelle
What You Need for Chicken Alfredo Lasagna
This chicken alfredo lasagna is made with classic lasagna noodles, shredded chicken, and homemade alfredo sauce. We like to layer our lasagna in a 9×13-inch casserole dish, but a large dutch oven would work, too.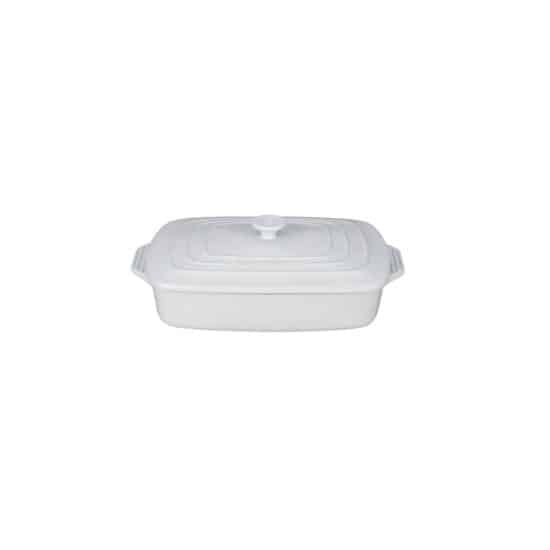 Our Favorite
Casserole Dish
This le creuset casserole dish is our all time favorite casserole dish! The white color rocks, it has a cover, and it's great for so many dishes.
Buy One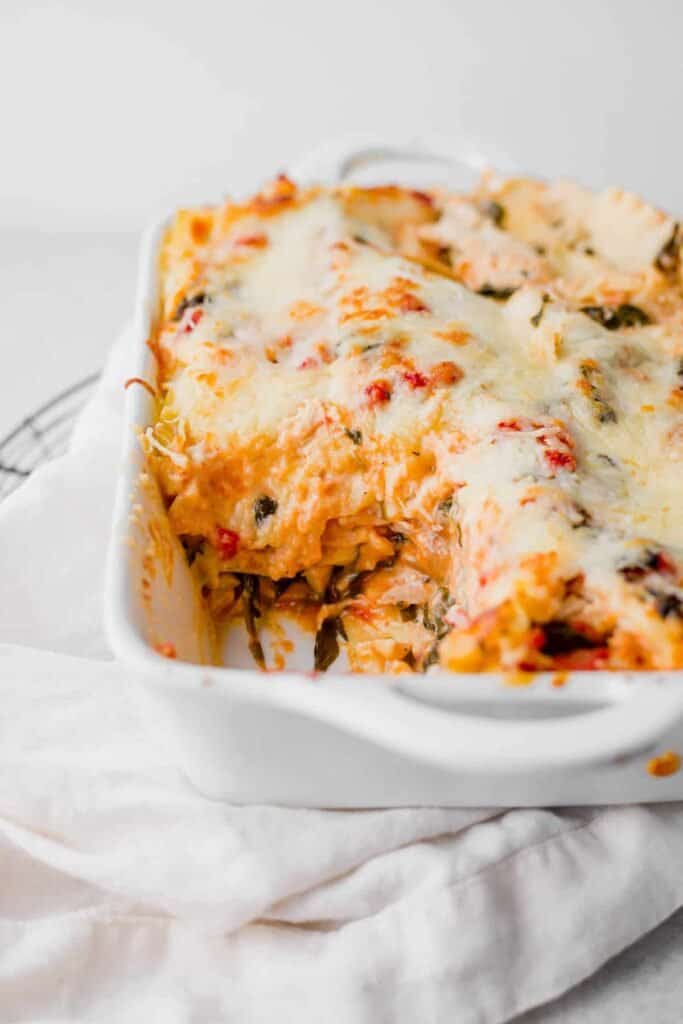 Variations + Substitutions
Substitute chicken with turkey or tofu for a different twist.
Use the traditional Alfredo sauce recipe or try this Alfredo sauce with cream cheese.
Swap spinach for kale, roasted bell peppers, or mushrooms for varied textures and taste.
Opt for a different cheese blend such as fontina or provolone if desired.
Gluten-free lasagna noodles are a great alternative for those with dietary restrictions.
here's a tip
Don't have time to make chicken? Cut your time in half and use an already cooked rotisserie chicken and shred it! Or? Buy yourself already shredded chicken. Make it easy-peasy.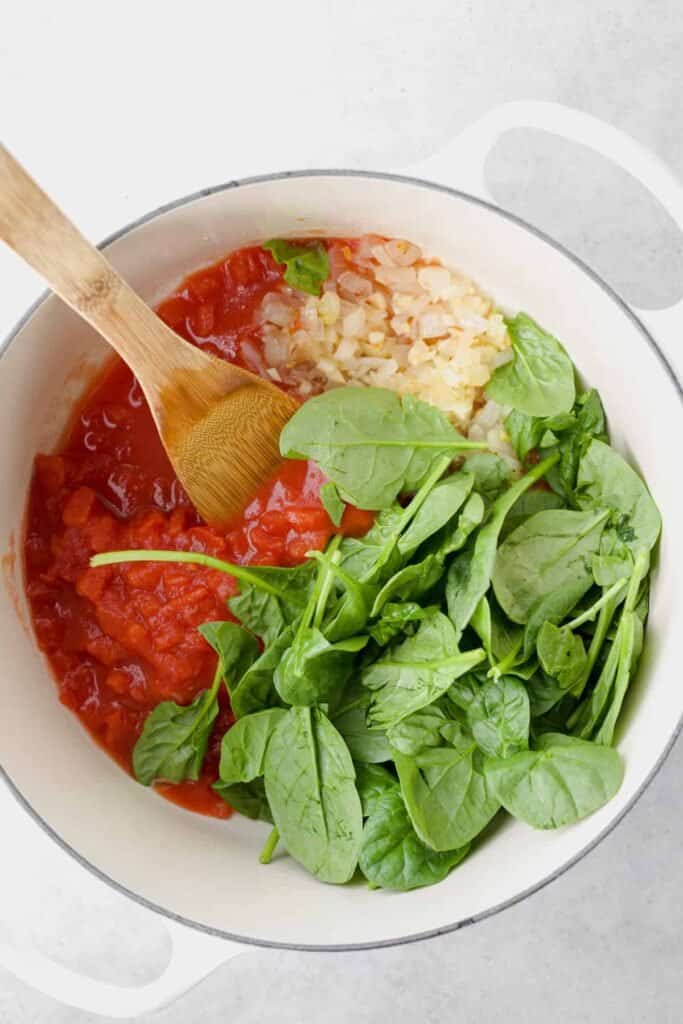 It's All About the Sauce
Alfredo sauce is traditionally a cheese sauce made with parmesan cheese. This creamy Alfredo sauce is created with a roux base and parmesan cheese and parmesan cheese mixed in.
Make sure your sauce turns out thick and creamy
The roux is the base of this Alfredo sauce. You want to make sure you have a balance of fat, flour, and milk. If you don't have butter, use olive oil., but we prefer butter for this sauce!
To avoid grainy cheese sauce, be sure to remove the roux from the heat before adding the cheese into the cheese sauce.
Slowly add the shredded cheese into the roux as it slowly melts into the cheese sauce.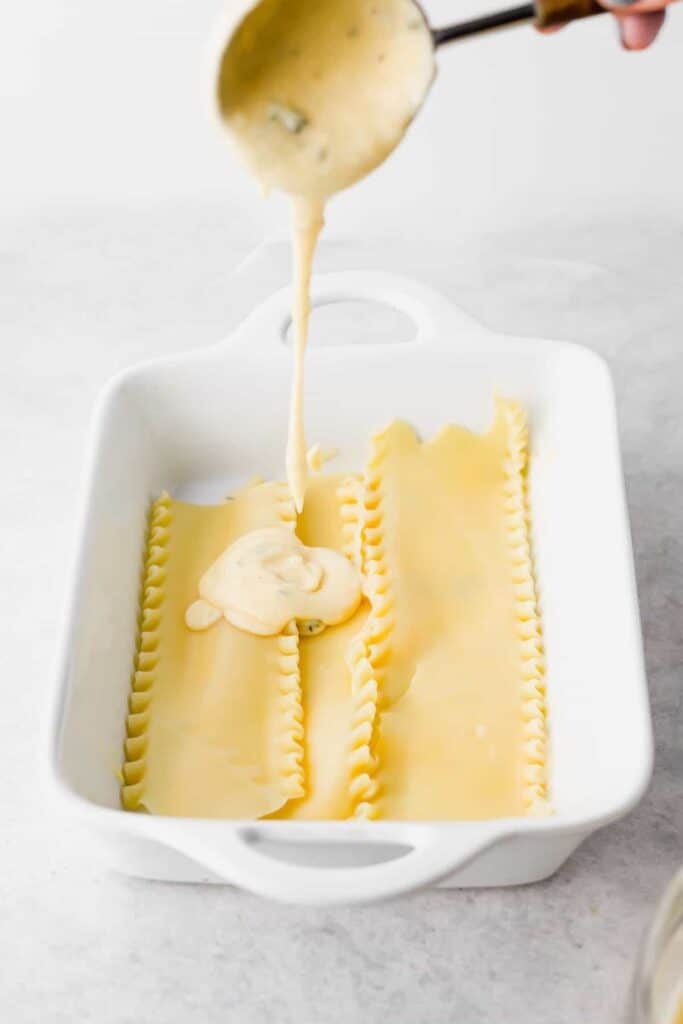 FAQ
Can I use any cheese in this recipe?

Yes, you can use any shredded cheese in this cheese sauce. However, we highly recommend using parmesan cheese and another cheese that melts easily.
How do I make this recipe vegetarian?

To make this lasagna recipe vegetarian, skip the chicken and use sautéd mushrooms! It's the perfect vegetable to replace chicken.
Why are my noodles still crunchy?

If your lasagna noodles are still crunchy it could be for be for a few different reasons.
1. You didn't boil your noodles long enough in the salted water.
2. You didn't add enough Alfredo sauce after each lasagna noodle layer.
How do I store lasagna?

After the lasagna is cooled, place it in an air-tight container and place in the fridge for up to 5 days.
Can I freeze this lasagna?

Yes, you can freeze this lasagna. Let the lasagna cool completely before placing in an air tight container and cover it with plastic wrap and then a cover. Freeze it for up to 3 months.
How do I reheat lasagna?

To reheat this lasagna after it's been in the freezer, let the lasagna thaw and then place it in the oven for 20 minutes at 350ºF until the lasagna has reheated.
Is there ricotta cheese in this chicken lasagna?

No, there is no ricotta in this recipe, but feel free to add a layer of ricotta cheese or cottage cheese. It will add a delicious, tart flavor as well as protein.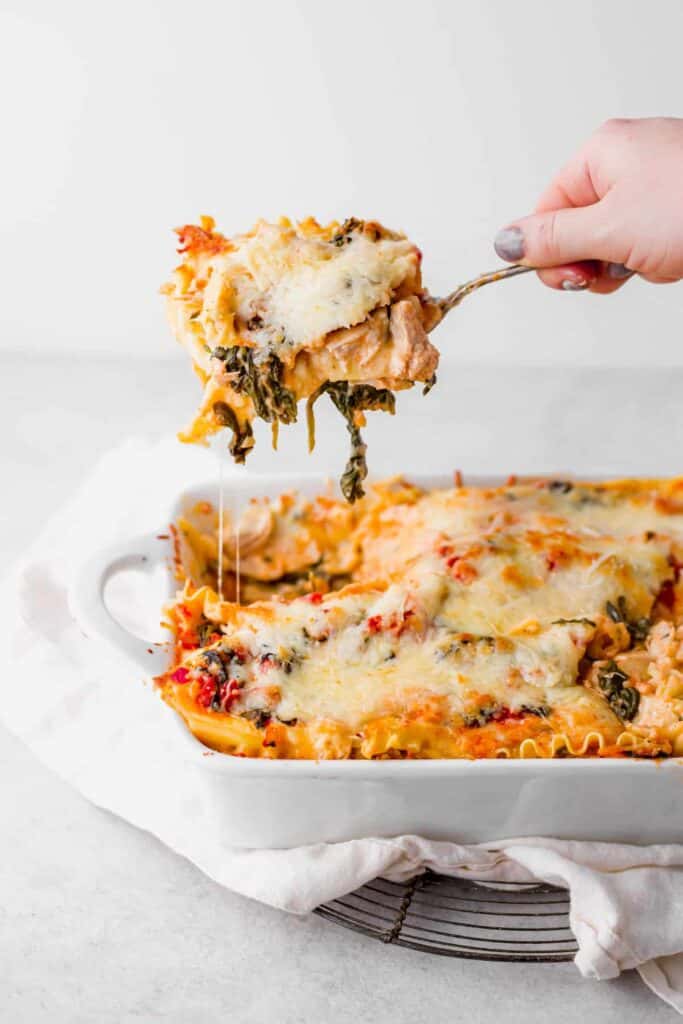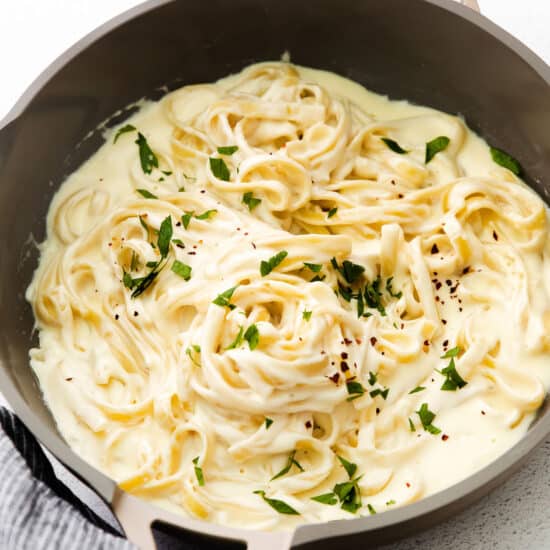 Cream Cheese
Alfredo Sauce
Try this spin on Alfedo sauce. Cream cheese really does make everything better.
Make
Serving Suggestions
We highly recommend serving this lasagna with a lighter salad or side. Try this beet and goat cheese salad or this lemon orzo salad.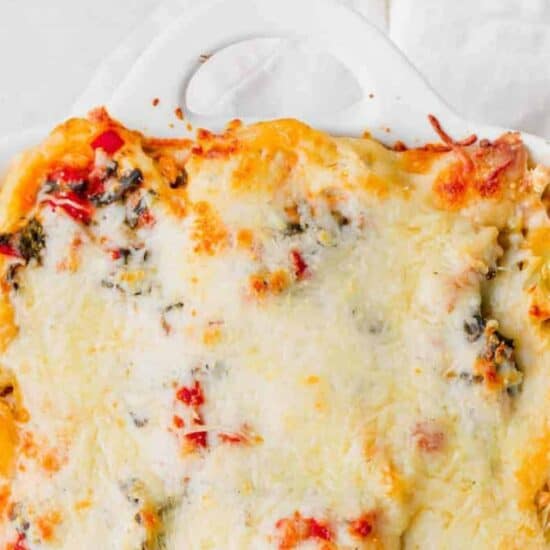 Chicken Alfredo Lasagna
This Chicken Alfredo Lasagna tastes just like chicken Alfredo! It's easy to make for dinner and great as leftovers for the week or to freeze for later.
Ingredients
Lasagna
16

oz.

lasagna noodles

1

teaspoon

salt

separated

2

tablespoons

olive oil

1/2

medium white onion

diced

4

cloves

garlic

peeled and minced

15

oz.

canned diced tomatoes

10

oz.

fresh spinach

1.5

lb.

shredded chicken
Alfredo Sauce
4

tablespoons

unsalted butter

1/3

cup

all-purpose flour

3

cups

2 % milk

1

cup

shredded cheddar cheese

1.5

cups

parmesan cheese

shredded and separated

1/2

teaspoon

salt

1/4

teaspoon

pepper

1

teaspoon

garlic powder

1.5

tablespoons

minced fresh thyme

+more for garnish

1

cup

shredded mozzarella cheese
Instructions
Fill a large pot with water and add 1/2 teaspoon of salt and bring to a boil. 

When the pasta has come to a boil add the lasagna noodles and stir periodically so the noodles do not stick together. 

When the noodles still have a bite to them (a little more bite than al dente) strain the water from the noodles and drizzle the noodles with olive oil. Lay the noodles out flat and set aside. 

Next, heat a large skillet over medium/high heat and add olive oil. 

When the olive oil is fragrant add the onions and ½ teaspoon of salt to the pan and sauté the onions until they are translucent (3-4 minutes). 

Add the garlic to the onions and sauté for 1-2 minutes. 

Then, add the diced tomatoes and spinach to the pan, stir, and bring the tomatoes to a boil. Turn heat to low, cover the pan, and cook the spinach and tomatoes until the spinach is wilted. Remove from the heat and set aside. 

Preheat the oven to 375ºF and generously spray a 9×13-inch casserole dish with non-stick cooking spray. 

Prepare the Alfredo sauce by heating a medium saucepan over medium/high heat. 

Add butter to sauce pan and when the butter is melted add the flour to the butter and whisk them together until they form a paste. 

Slowly pour the milk into the saucepan and continue to whisk all the ingredients together until the milk thickens. 

After the sauce is thick, remove from the heat and add 1 cup shredded cheddar cheese and 1 cup shredded parmesan cheese to the thickened milk and stir until the cheese has melted. 

Finally, add the salt, pepper, garlic, powder, and fresh thyme to the Alfredo sauce and stir until combined. Set aside. 

Assemble the lasagna. Use a 1/3 cup scoop and add 1/3 cup of the Alfredo sauce to the bottom of the casserole dish and spread it out. 

Next, add one layer of noodles to the bottom of the casserole dish, scoop 1/3 cup of the Alfredo sauce and a 1/3 cup of the vegetable mixture to the top of the noodles and spread it evenly over the noodles. Add 1/3 cup of shredded chicken to the top of the sauce. Repeat until all the noodles, sauce, vegetable mixture, and chicken are gone (make sure the last layer is Alfredo sauce and the vegetable mixture). 

Place the lasagna into the oven and bake at 375ºF for 25 minutes, uncovered. 

Remove the lasagna from the oven and sprinkle on 1 cup of mozzarella cheese and the remaining ½ cup parmesan cheese to the top of the lasagna.

Place the lasagna back in the oven and bake for an additional 10-12 minutes or until the cheese is golden brown. 

Remove from the oven and enjoy.
Nutrition facts
Calories:
562
kcal
Carbohydrates:
53
g
Protein:
39
g
Fat:
22
g
Fiber:
4
g
Sugar:
7
g