This shamrock shake is made with mint chip ice cream, peppermint extract, cream cheese, and then topped with a delicious whipped cream. No food coloring required to make this delicious shamrock shake!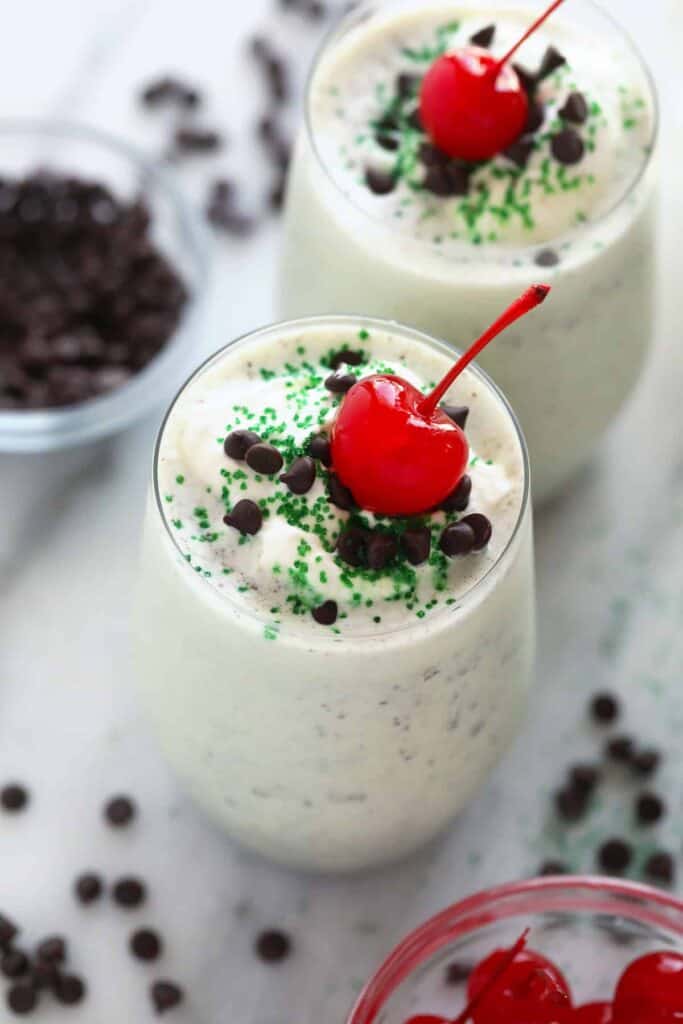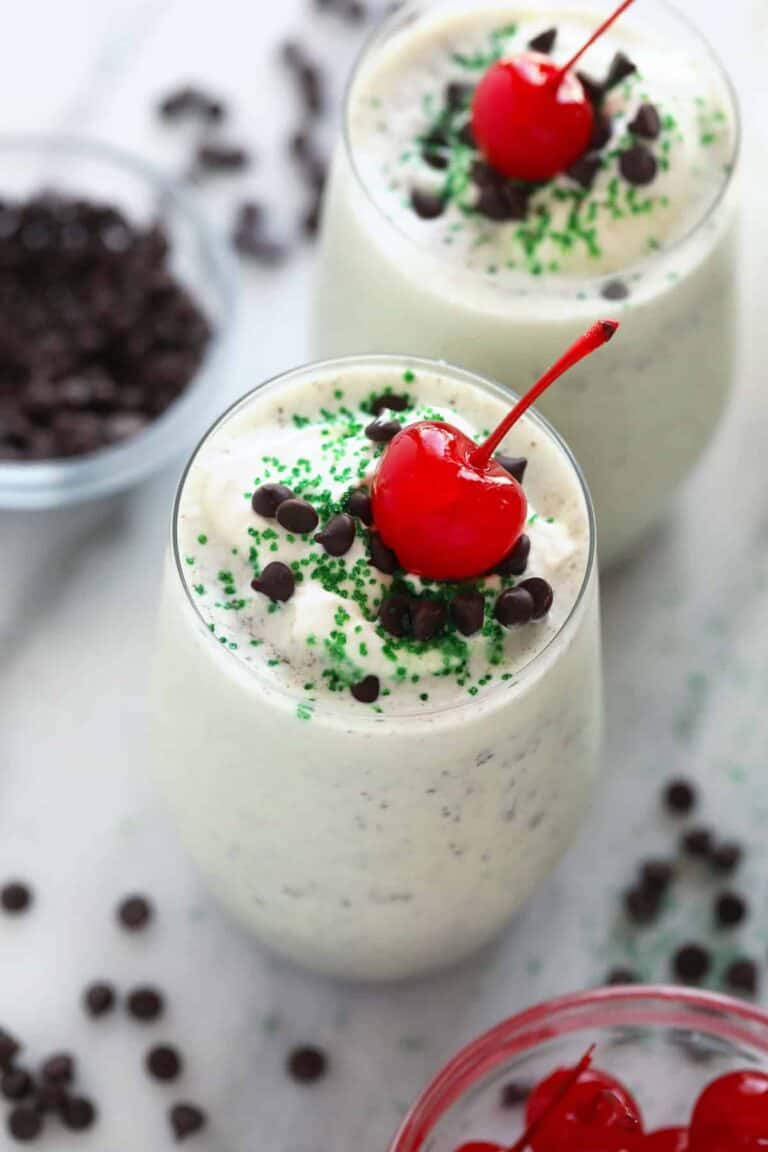 Homemade Shamrock Shake
It's that time of year again—> It's SHAMROCK SHAKE TIME! Are you one of those people waiting in line at McDonalds to get a shamrock shake? Now you don't have to wait in line to get yourself a shamrock shake, you can just make it in the comfort of your own home.
We are big fans of cold treats! This peanut butter cheesecake milkshake is one of our most popular desserts on the Cheese Knees so we thought we had to add another shake! The secret ingredient for this shamrock shake is (you guessed it) CREAM CHEESE.
Ingredients You Need
The ingredient list for this shamrock shake is pretty short. Here is everything you will needs as well as some ingredient substitutions should you need them!
Mint Chip Ice Cream– we used mint chip ice cream as the base for this shamrock shake because it's minty (duh) and will make your shake super creamy! We recommend using the green mint chip ice cream rather than the white mint chip ice cream! If you don't have mint chip, feel free to use vanilla ice cream.
Milk – you can use any type of milk (almond, dairy, oat, etc.) in your shamrock shake!
Peppermint extract – the peppermint extract takes the mint flavor in your shamrock shake up a notch!
Cream cheese– is there anything better than a little cream cheese in every dessert? NO. The cream cheese in this shamrock shake adds creaminess, protein, and makes your shake taste cheesecake-y! Mmmm Mmm GOOD.
Heavy Cream – the heavy cream is the base for whipped cream! No substitution for this unless you want to use pre-made whipped cream or coconut whipped cream.
Sugar– we use one teaspoon of sugar to sweeten up the whipped cream. Feel free to skip or use a little bit of honey instead.
no food coloring needed
We didn't want to have to use any food coloring in this shamrock shake, so we used green mint chip ice cream!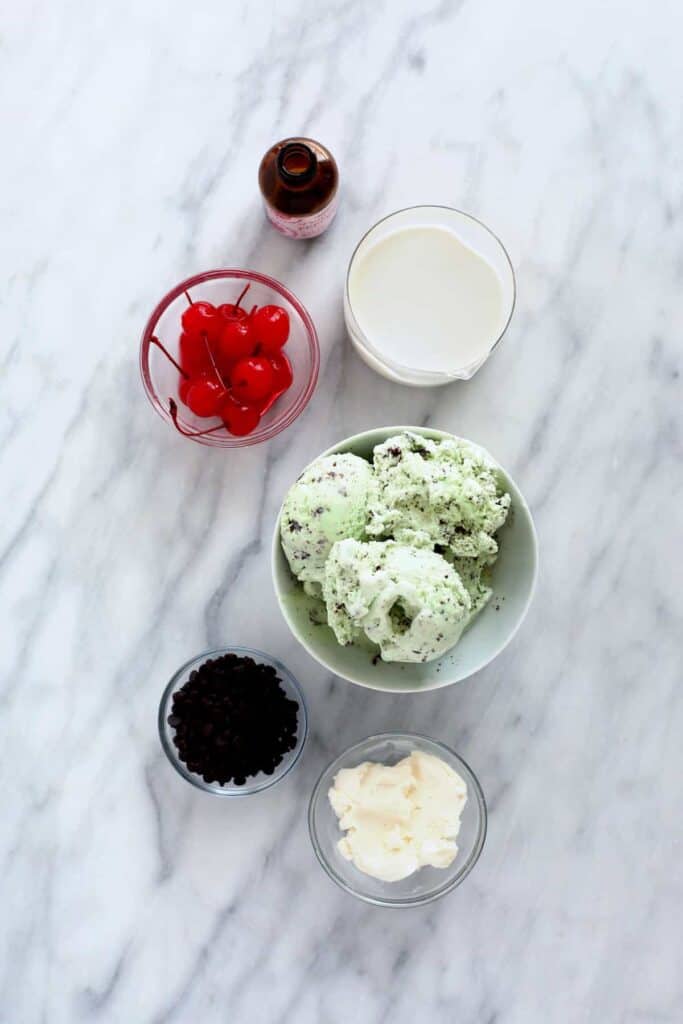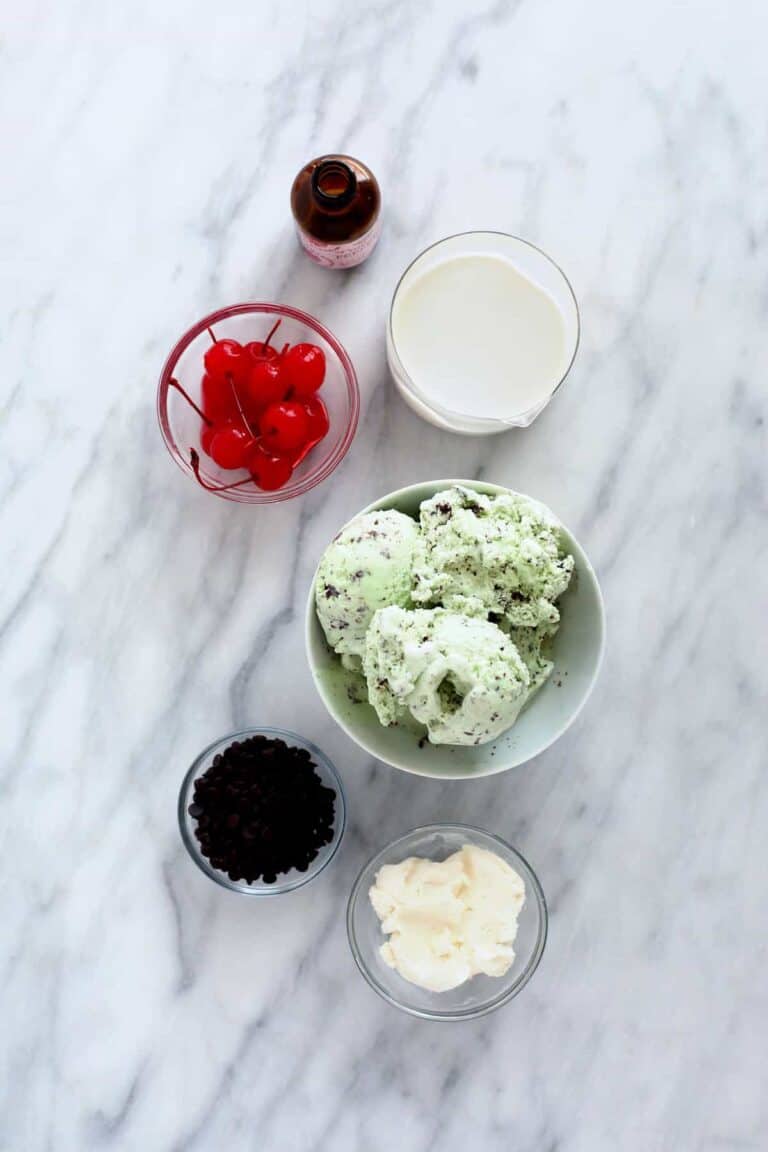 How to Make a Homemade Shamrock Shake
It is pretty dang easy to whip up a festive shamrock shake! We suggest keeping the mint chip ice cream in the freezer until right before you are going to blend everything up. That way, you won't end up with a soupy shake!
If you are making your own whipped cream, we suggest whipping that up first by adding your heavy cream to a large bowl and whipping it until peaks form. Add sugar and whisk until the peaks stiffen.
After your whipped cream is ready, place all the ingredients for the shamrock shake into a blender and blend on medium.
Add a little more milk to the blender if your shake is too thick and not blending.
Pour everything into a glass and top with whipped cream or any other toppings you'd like!
How to soften cream cheese
Looking for a quick method to soften cream cheese? Check out our post – How to Soften Cream Cheese – 4 Ways! Here you'll learn 4 unique (and quick!) methods to softening cream cheese the perfect amount for baking and cooking.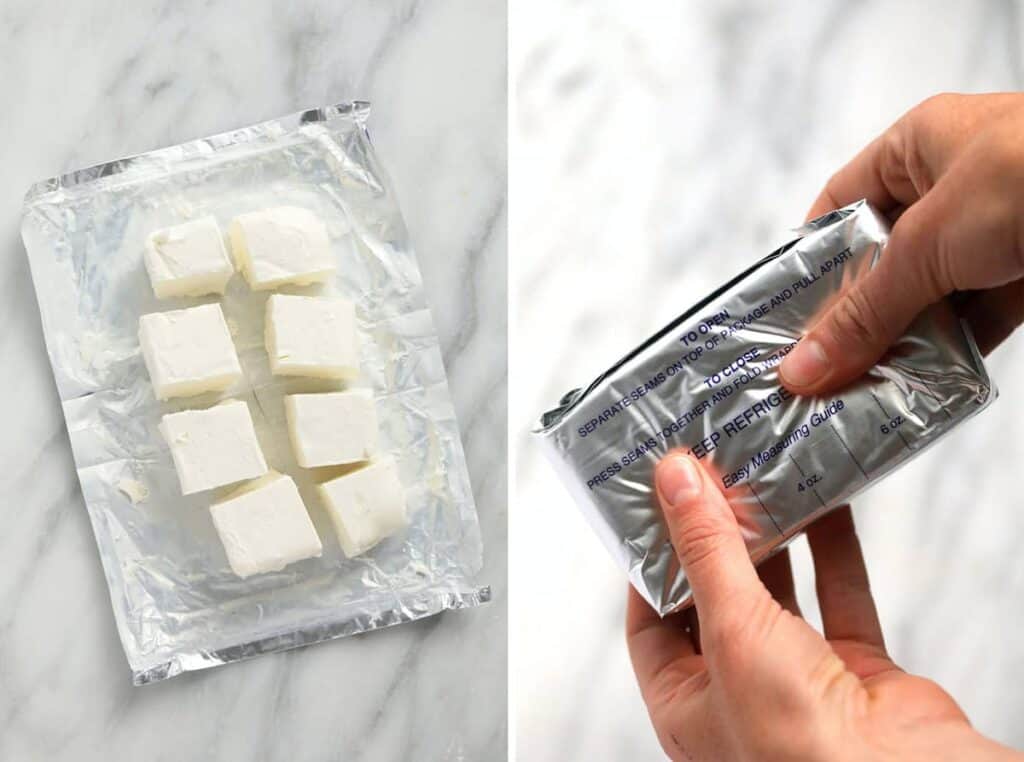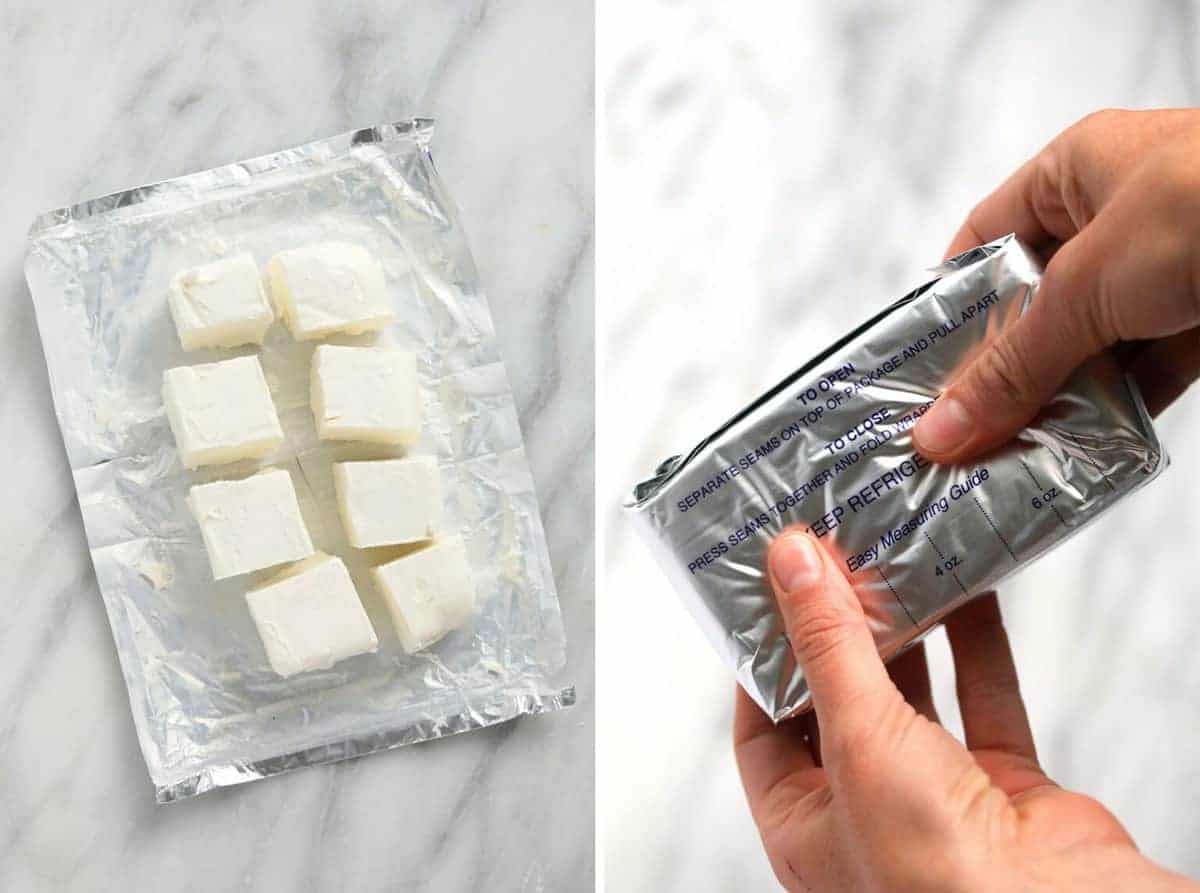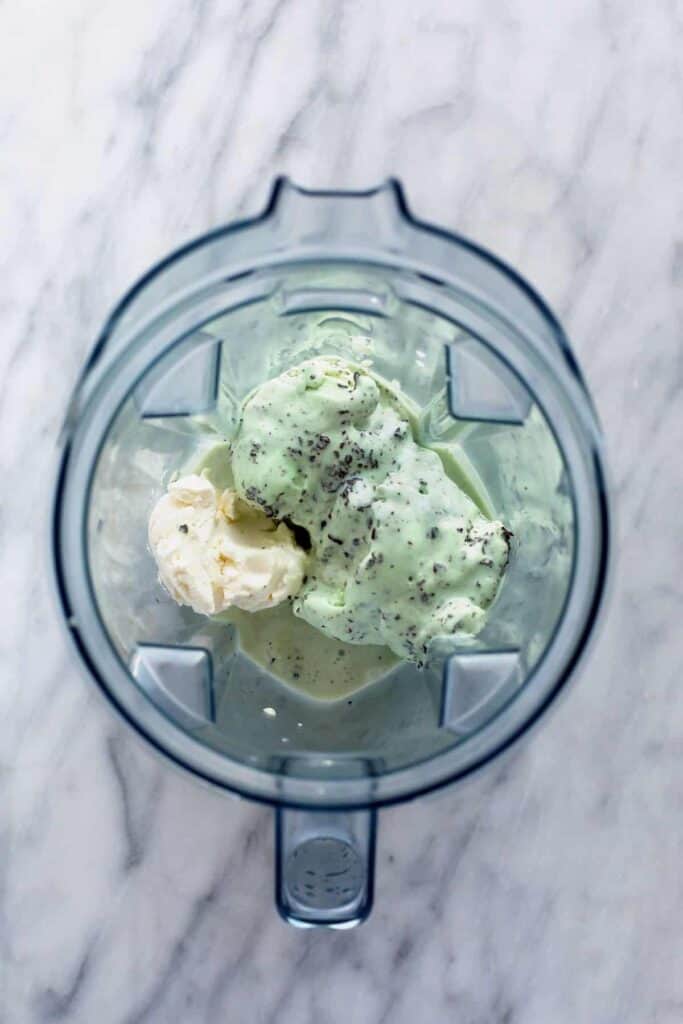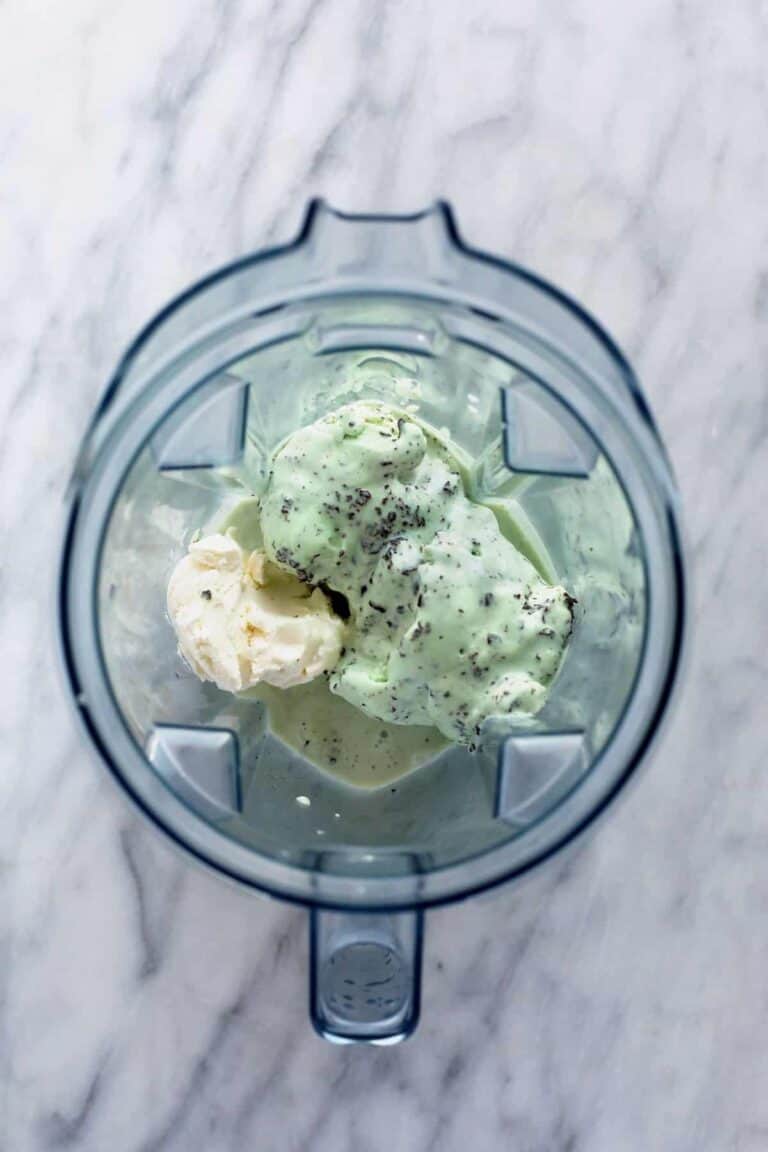 Make this Shamrock Shake MORE GREEN
What if you want your shamrock shake even more green? We hear you! We didn't use food coloring in this shake, so the green color isn't as stark! However, below are some options for how to green-up your shamrock shake for St.Patty's Day!
Spinach- This may sound crazy, but you won't even taste the spinach if you blend the spinach with all of the other ingredients with a high speed blender! Use 1-3 cups of fresh spinach and watch your shamrock shake turn a fun green!
Fresh Mint- Add a half cup of fresh mint to your shake and it's a double win! You get more mint flavorful and a little more green!
Food coloring- If you are at your wits end and want to add a couple drops of green food coloring, go for it!
Shamrock Shake 101
How is this different than a classic shamrock shake?
McDonalds shamrock shake has food coloring and no cream cheese! This shamrock shake is made at home with different ingredients!
Can you add alcohol to this shamrock shake?
Yes, you can make this boozy shake! We suggest adding 1-2oz. of baileys, peppermint schnapps, rumplemintz, or creme de menthe and lowering how much milk you use!
Are there different flavors of shamrock shakes?
No! A shamrock shake is a mint shake!
What toppings go on top of a shamrock shake?
Feel free to go hog wild on toppings for your shamrock shake! Below are some of our favorite toppings for shamrock shakes!
Green sprinkles
Mini chocolate chips
Whipped cream
Maraschino cherries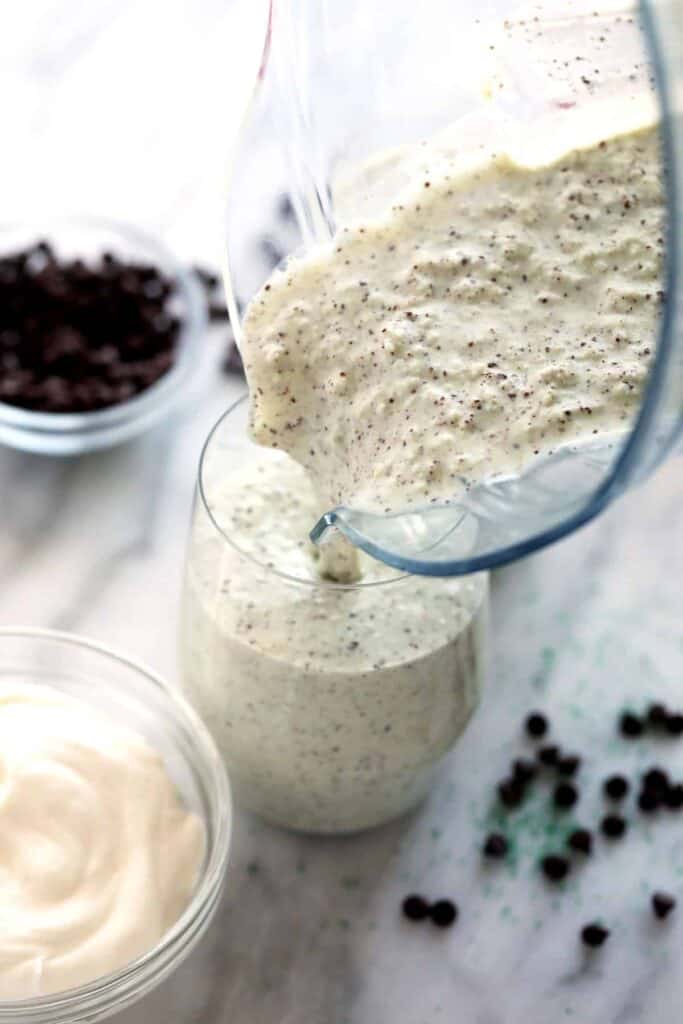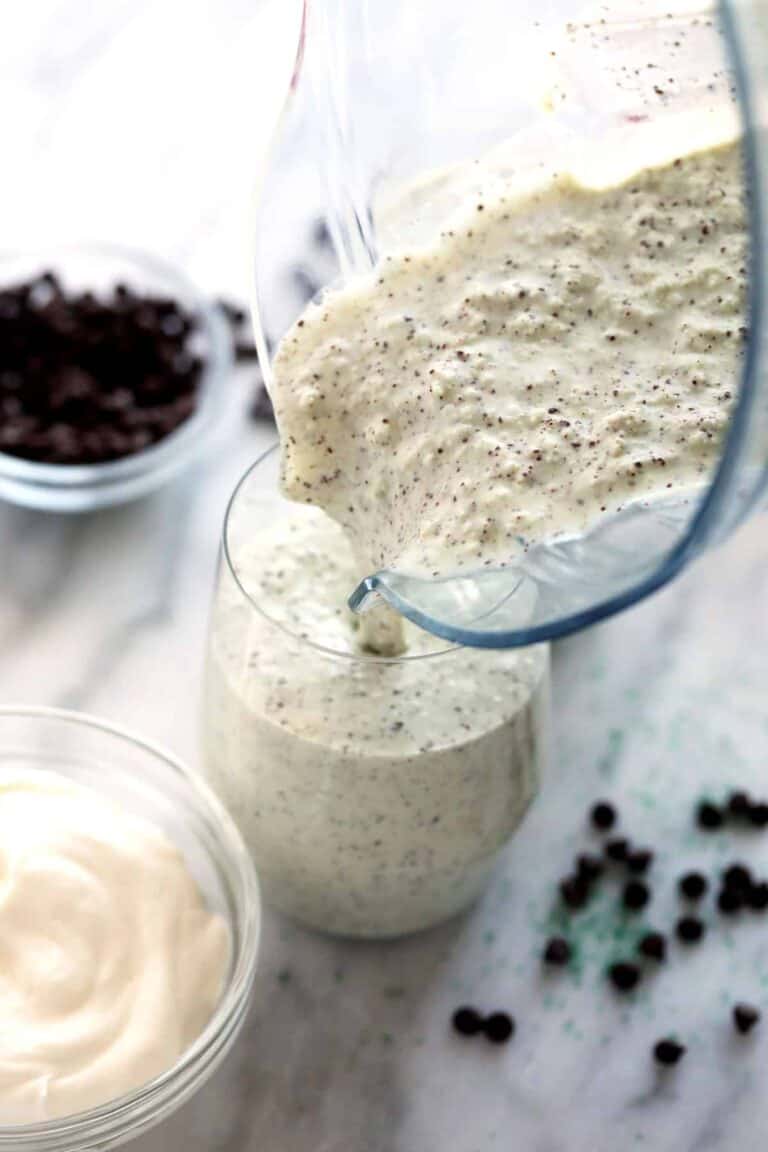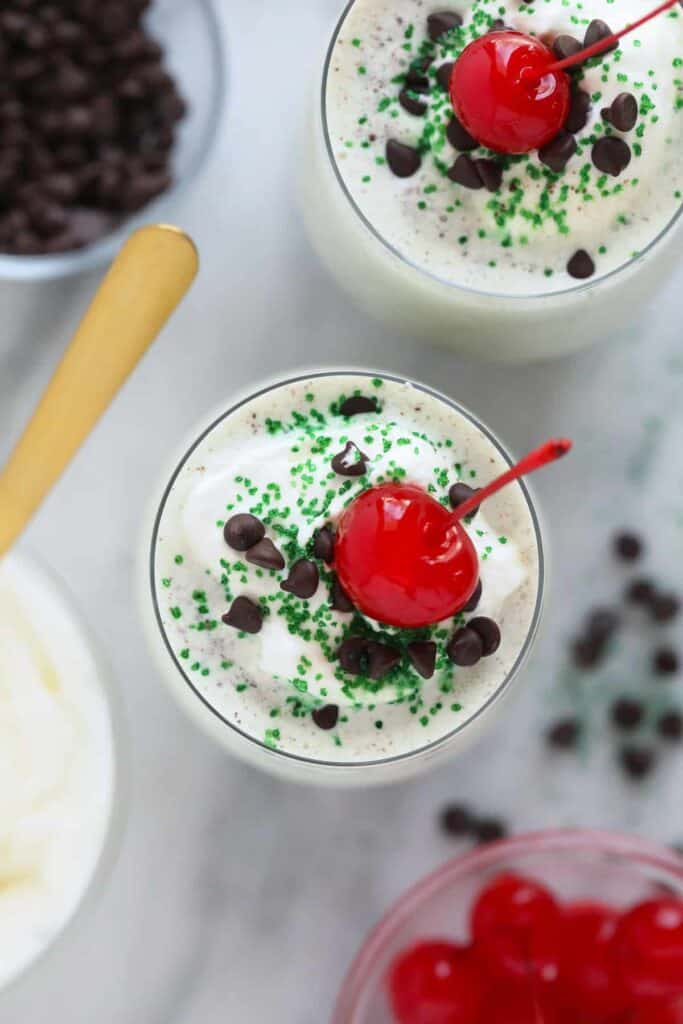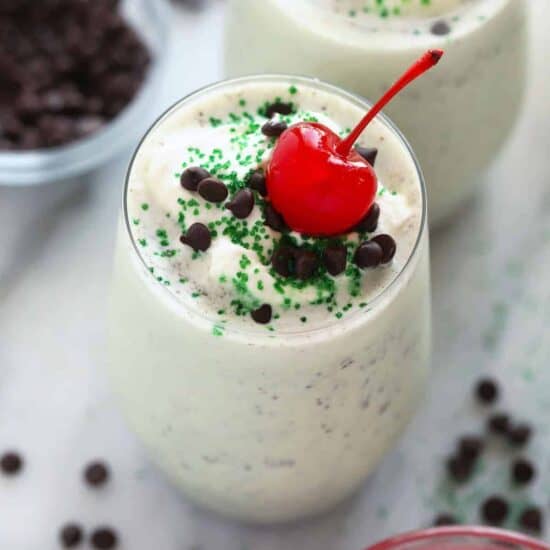 Shamrock Shake Recipe
This shamrock shake is made with mint chip ice cream, peppermint extract, cream cheese, and then topped with a delicious whipped cream. No food coloring required to make this delicious shamrock shake!
Ingredients
Shamrock Shake
2

cup

mint chocolate chip ice cream

1

oz.

cream cheese

1/2 - 1

cup

milk

any kind (depending on how frozen your ice cream is)

1/4 - 1/2

teaspoon

peppermint extract
Cream Cheese Whipped Cream
1/4

cup

heavy cream

1

teaspoon

white sugar
Instructions
First, make whipped cream topping. 

Pour heavy cream into a large cold mixing bowl. 

Using an electric hand mixer, mix the cream on medium/high until peaks begin to form.

Add sugar to the whipped cream and continue to mix the cream until stiff peaks form. Set aside. 

Prepare the shake. Place ice cream, cream cheese, 1/2 cup of milk, and peppermint extract into a high speed blender. 

Blend on medium until all of the ingredients are blended until smooth. If the shake isn't blending add another 1/2 cup of milk to the blender and blend until smooth. 

Pour the shake into a cup and top with whipped cream, mini chocolate chips, green sprinkles, and a cherry! 
Nutrition facts
Calories:
502
kcal
Carbohydrates:
39
g
Protein:
5
g
Fat:
34
g
Fiber:
2
g
Sugar:
44
g