This Panzanella salad with burrata is the perfect summer salad. This delicious salad is made with crunchy bread soaked in a garlic tomato sauce, fresh basil, and a creamy burrata. Yum!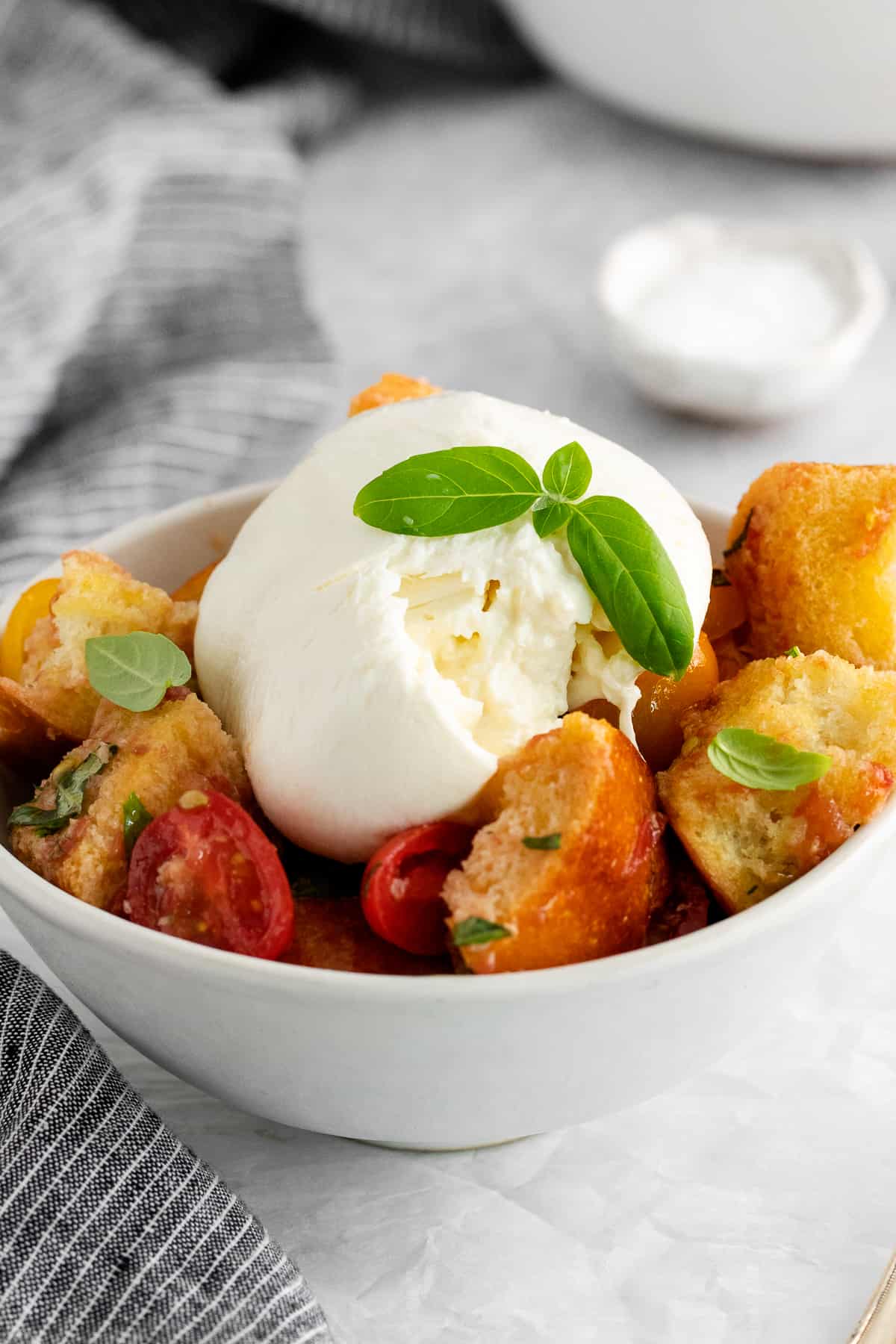 Easy Panzanella Salad with Burrata
Say hello to the best summer salad out there. Our version of a panzanella salad is this delicious burrata panzanella salad.
This dreamy panzanella salad with burrata is made with a refreshing tomato and garlic sauce. Topped with fresh basil from your garden (or the grocery store) and creamy burrata salad, it is an amazing salad.
What is panzanella salad?

Panzanella salad is a traditional Italian bread salad that is usually made with stale bread pieces or homemade croutons that have been soaked in a yummy tomato sauce. A traditional panzanella salad is made with anchovies, cucumbers, tomatoes, and fresh herbs.
Why you'll love it!
This salad is incredibly flavorful. The fresh, summery ingredients make for great flavors.
There are a variety of textures in this salad, from crunchy bread to creamy burrata. This salad has it all.
You can make the bread portion of this salad ahead of time and add burrata right before serving, whether that be the day of or the day after.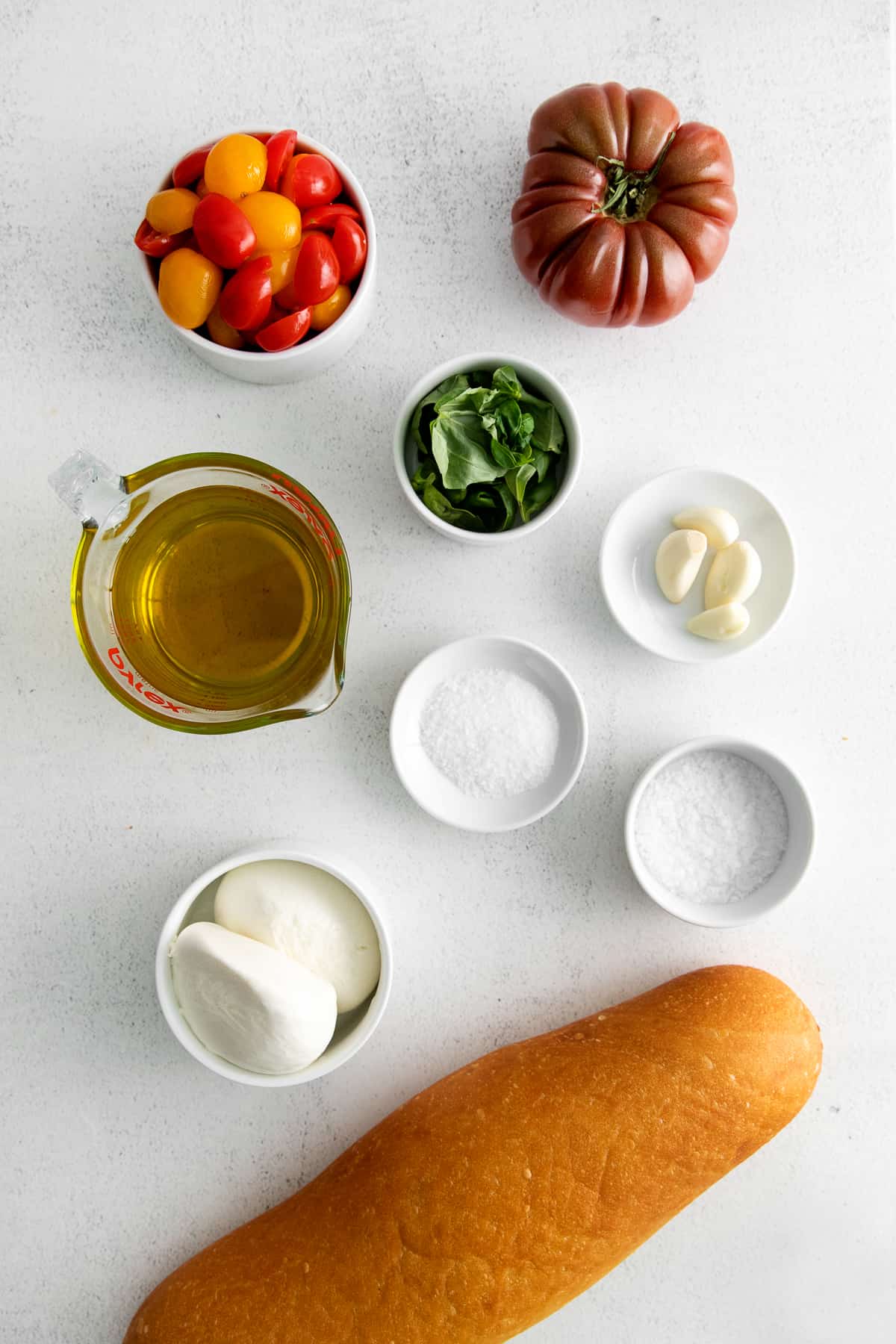 Featured Ingredients
Sourdough bread or croutons: the key to the bread in this recipe is that it needs to be toasted or stale so that it soaks up the delicious tomato sauce and becomes soft. You can use stale bread or make your own croutons in no time at all.
Tomatoes: you use a large tomato that will be grated and cherry tomatoes that will be folded into the salad at the end. Use whatever tomatoes are available to you.
Burrata: burrata is a gift from the cheese gods. We use 2 8-oz. burrata balls because you get more of the creamy and delicious inside. 4-oz. balls tend to be too small.
Garlic: fresh garlic is key in this recipe because you grate the garlic cloves into the tomato sauce.
Basil: another ingredient that must be fresh is the basil.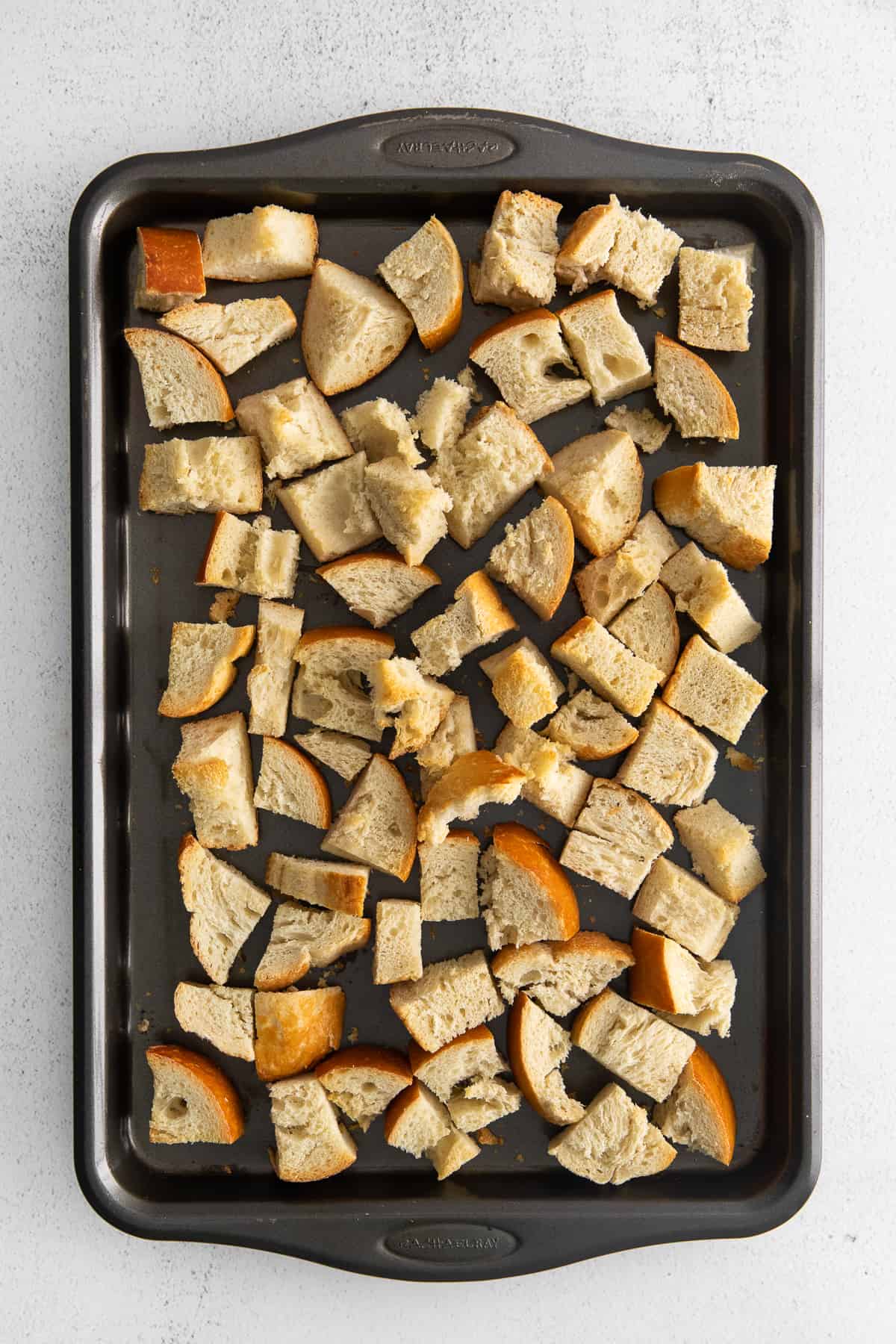 How to Make Easy Panzanella Salad
Prepare the croutons
Are you making your own croutons for this panzanella salad? Cut the loaf of bread into 1 inch by ½-inch pieces (just a little bigger than bite sized). Place them on a sheet pan and toast in the oven for 15-20 minutes. Set aside when they are done.
make the tomato sauce
Grate the large tomato and garlic into a large bowl and then add the olive oil and basil. Whisk until combined.
let it rest
Add the toasted croutons into the tomato sauce and toss until the bread is coated. Let the bread rest in the tomato sauce for at least 20 minutes or until the bread has soaked up the tomato sauce.
toss the salad
Plate the salad and top with burrata, more fresh basil, and flakey salt.
Top Tips for a Panzanella Salad
Let the bread sit in the tomato sauce long enough. How long you let the bread soak depends on the bread.
Feel free to add more of your favorite garden vegetables. Add sliced cucumber or bell pepper if you'd like.
Have extra bread? Instead of tossing your stale bread, cut it into croutons and place it in a freezer safe bag and store it in the freezer. Take out the croutons when you're ready to make this Panzanella salad with burrata.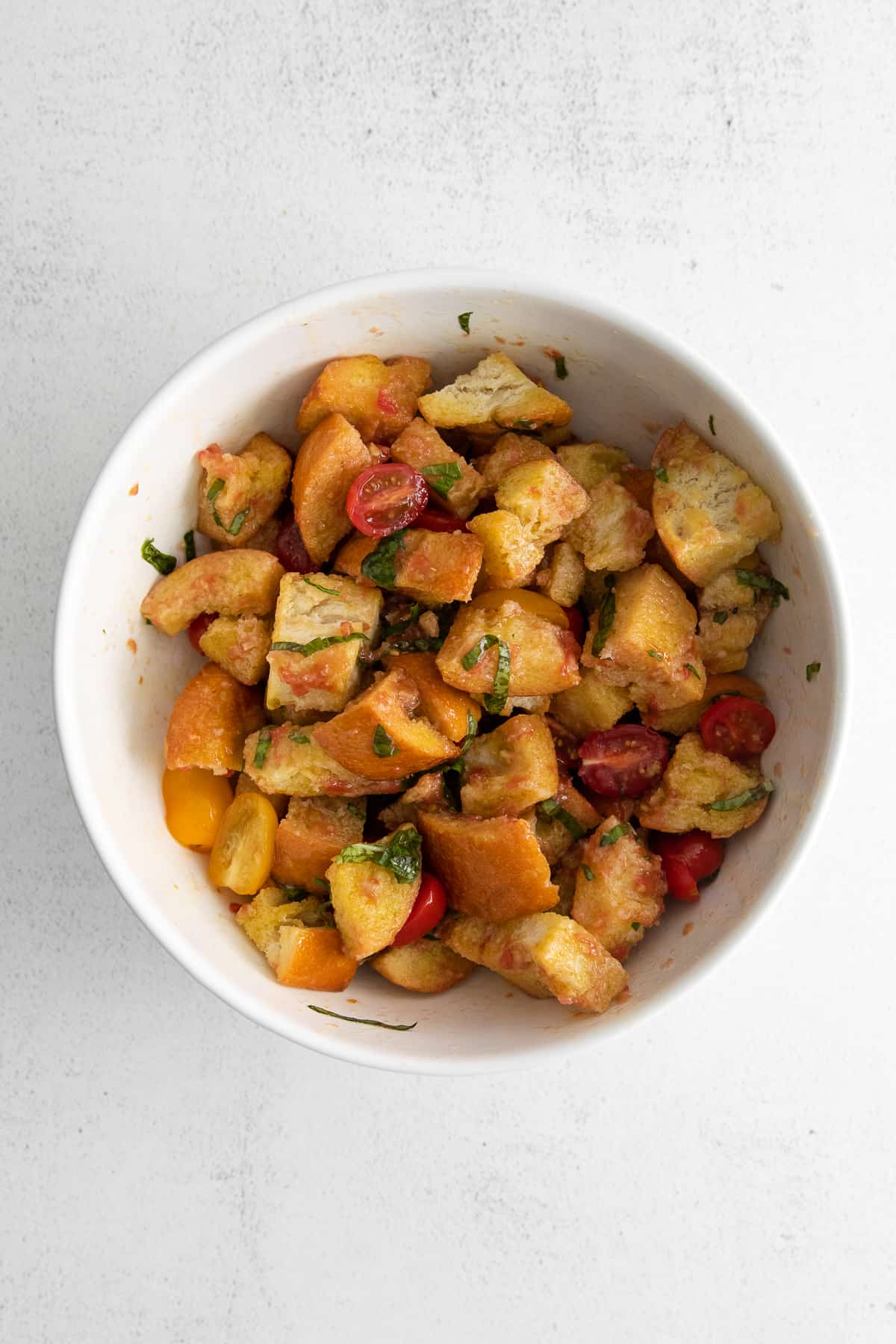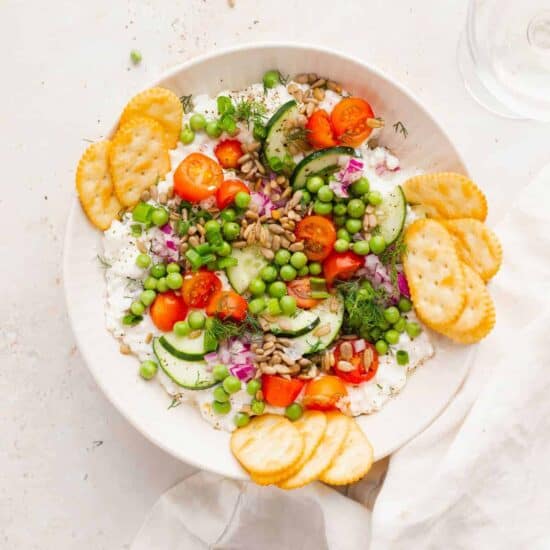 try this
Cottage Cheese Salad
Look for another easy and delicious summer salad? Try this easy cottage cheese salad that is topped with fresh veggies!
FAQ
Can I use any type of bread for this recipe?

We suggest using a thicker bread rather than sandwich bread. Sourdough, ciabatta, brioche, French baguette, etc.
What else can I add to this recipe?

You can add fresh sliced or chopped vegetables to this delicious salad. You could also sprinkle this salad with crispy pancetta or olives.
Storage
Store this salad in an airtight container for up to 3 days. We suggest storing the bread portion of this salad separate from the burrata cheese.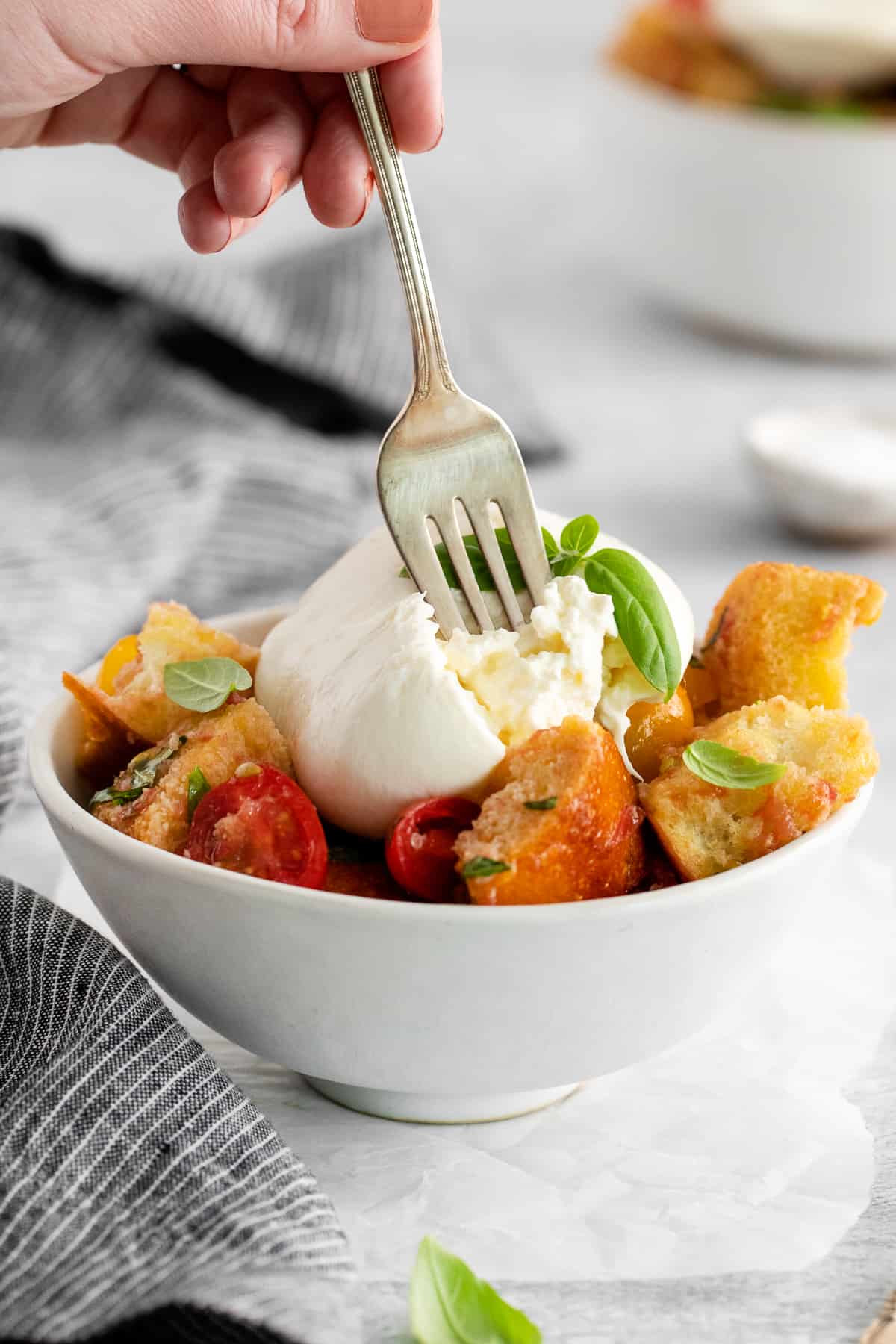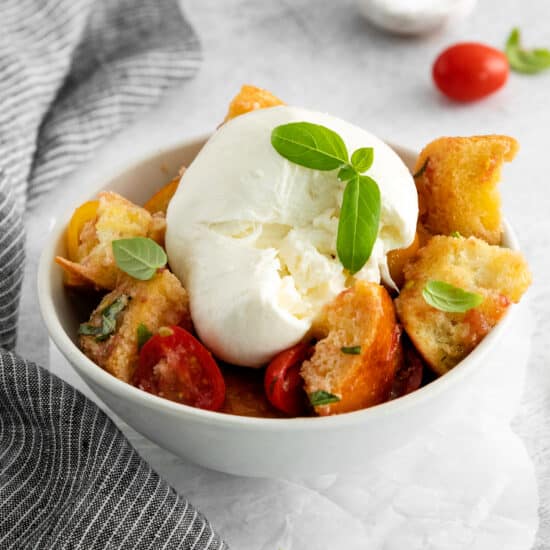 Panzanella Salad with Burrata
This delicious panzanella salad is made with delicious crusty sourdough chunks of bread, soaked in fresh crusted tomatoes, garlic, and basil. Then, the panzanella is topped with gorgeous burrata. It is an absolutely delicious salad.
Ingredients
1

large sourdough loaf

1

large sandwich or heirloom tomato

4

cloves

garlic

1.25

cups

olive oil

2

teaspoons

salt

½

cup

fresh basil leaves

1

pint

cherry tomatoes

halved

8

oz.

burrata cheese

1

tablespoon

flakey salt
Instructions
Preheat your oven to 350℉.

Cut the loaf of bread into 1 inch by ½-inch pieces (just a little bigger than bite sized). Place them on a sheet pan and toast in the oven for 15-20 minutes. Set aside when they are done baking.

In a large bowl, grate the large tomato to make part of the sauce (about 1 cup of tomato juice).

Next, grate the garlic cloves into the tomato sauce and add the olive oil.

Chiffonade (thinly slice) the basil and add it into the sauce.

Pour the dried bread into the sauce and mix it until every piece is completely coated with the sauce. Set aside and allow to soak for 20 minutes.

When you are ready to serve, plate the salad and break the burrata open on top of the salad. Sprinkle the flakey salt over the top. Serve immediately.
Tips & Notes
Be sure to use 2 4-oz. burrata balls rather than 4 2-oz. balls. They will have more of the creamy cheese inside.
Any crusty bread will work in this recipe.
If you are using day old bread, decrease baking time to 5-10 minutes.
Nutrition facts
Calories:
719
kcal
Carbohydrates:
44
g
Protein:
16
g
Fat:
56
g
Fiber:
3
g
Sugar:
6
g