These cream cheese banana bread muffins are everything you love about classic banana bread, but ours have a delightful twist by filling them with, drum roll please… cream cheese! They make for a scrumptious sweet treat that's hard to resist.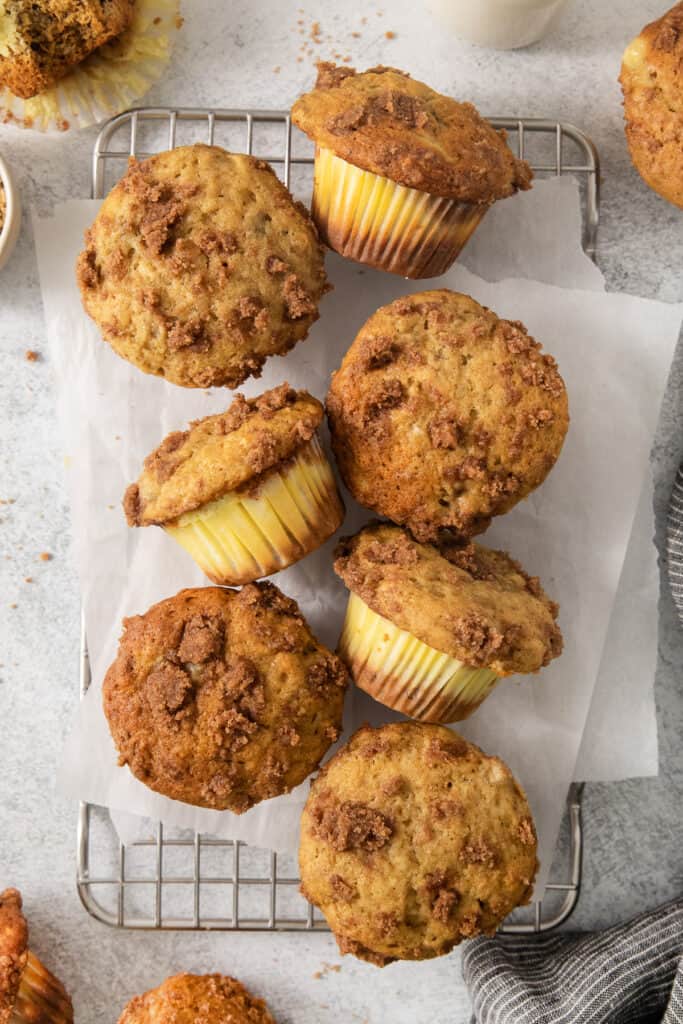 Who wouldn't love cream cheese-filled banana bread muffins? It's the perfect treat for someone who enjoys both baked goods AND cheese. The bananas combined with the cream cheese filling create an incredibly rich and moist muffin that you just can't help but devour.
Whether you decide to meal prep them for an easy breakfast during the week or serve them as a snack, these muffins will be sure to hit the spot. And don't worry about busting open your wallet either — they are so simple to make that you won't need to break the bank!
why choose our muffins?
This recipe makes deliciously moist banana muffins.
You can easily customize them to your liking.
They're sure to be a big hit no matter where they're served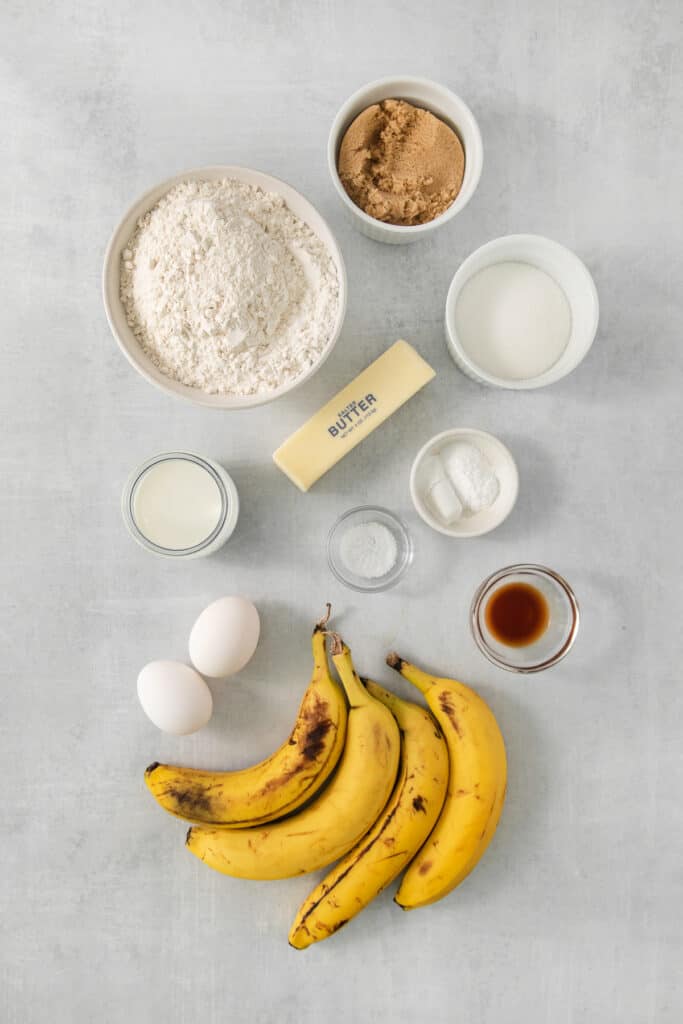 What You Need for These Muffins
All-purpose flour: flour helps give the muffins a nice light and fluffy texture.
Butter: use softened unsalted butter for this recipe.
Sugar: you'll need granulated sugar, light brown sugar, and powdered sugar.
Whole milk: whole milk makes the muffins extra moist.
Bananas: we recommend using smaller ripe bananas. However, you're free to use whatever bananas you like as long as the measurements are correct.
Eggs: eggs help bind everything together.
Vanilla extract: vanilla is a great flavor enhancer for the bananas and cream cheese.
Cream cheese: be sure to soften your cream cheese before using.
Ground cinnamon: adds a warm sweetness to the muffins.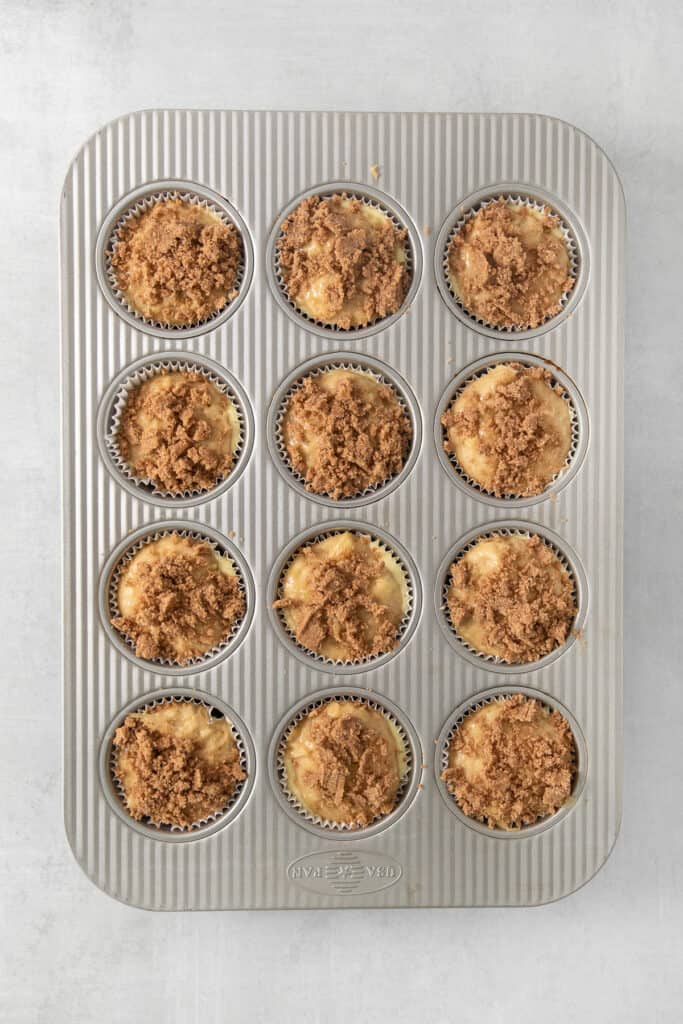 Top Tips for Cream Cheese Banana Bread Muffins
Use ripe bananas with brown skin for the best results. This will make them easier to mash and will provide a sweeter taste.
Make sure you don't overmix the batter. Mix until everything is just combined so that the muffins stay fluffy and light.
Be sure to soften the cream cheese before adding it to the batter. Otherwise, you may end up with lumps in your muffins.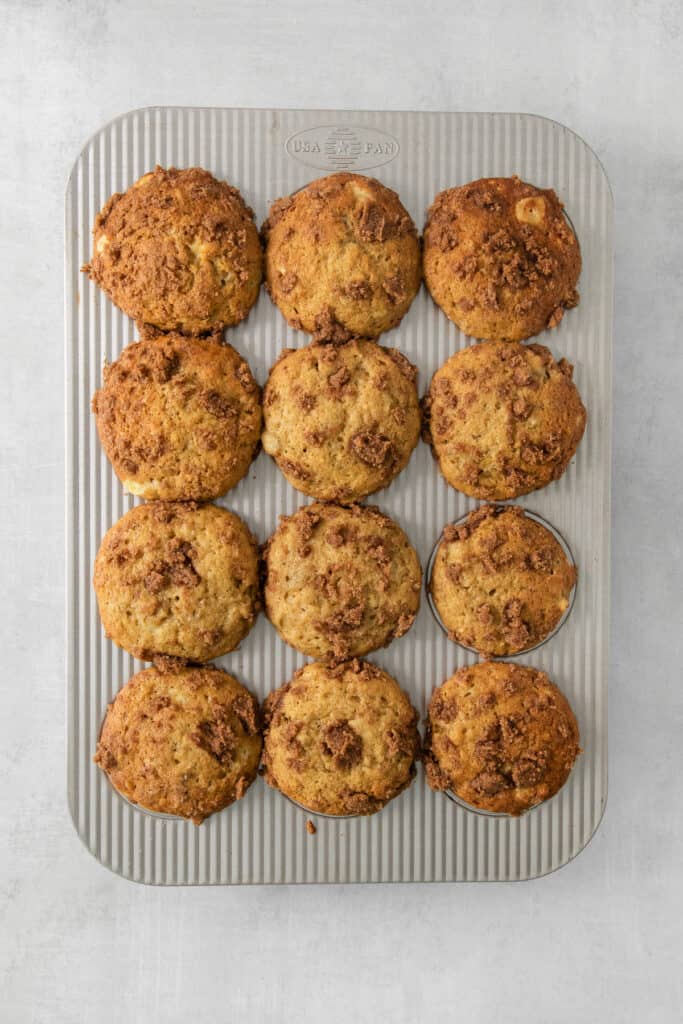 Fun Variations
There are plenty of ways to make these cream cheese banana bread muffins your own tasty creation. Here are some ideas for inspiration:
Get Nutty: Add some extra crunch by sprinkling chopped nuts on top before baking. Walnuts, pecans, or cashews would taste delish!
Make it Fruity: Give your banana muffins a fruity twist by adding chopped strawberries, blackberries, or blueberries to the batter.
Spice It Up: Sub out the cinnamon with pumpkin pie spice for a delicious fall flavor.
Go Cocoa Crazy: Make your banana bread muffins chocolatey and add ¼ cup of unsweetened cocoa powder to the dry ingredients. Yum!
Storage
Store any leftover banana bread muffins in an airtight container in the fridge for up to 5 days.
Make-Ahead/Freezer Suggestions
Let's be honest. These cream cheese banana bread muffins won't last long in the house. So why not make a big batch and freeze them for later?
Just wrap each muffin in plastic wrap to keep out any freezer burn, then pop them all into a freezer-safe bag or container. They'll stay fresh for up to 3 months in your freezer.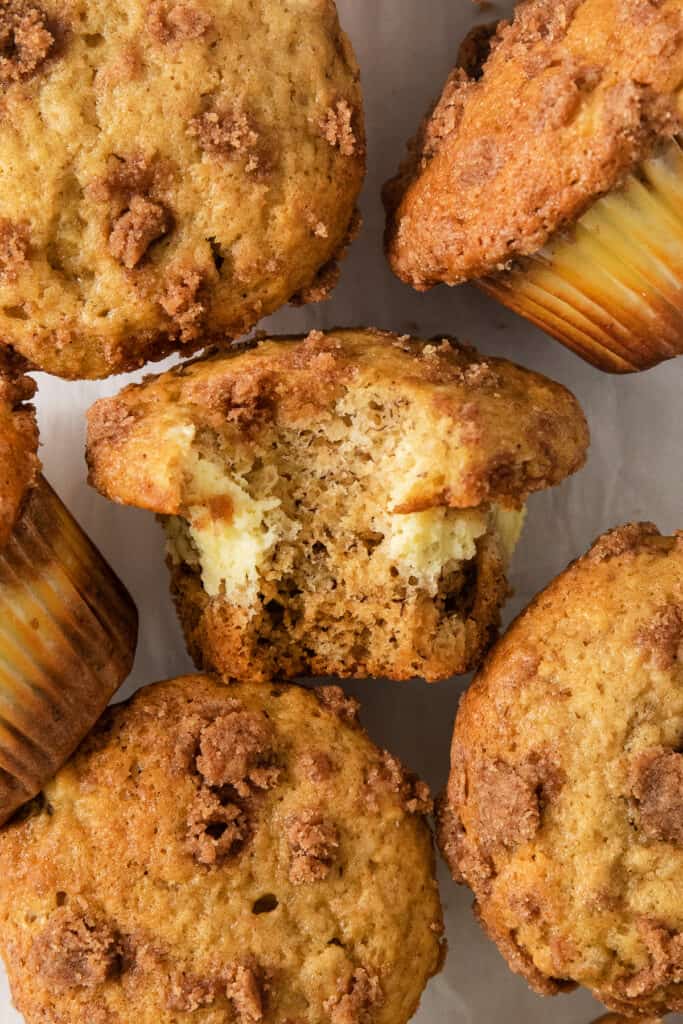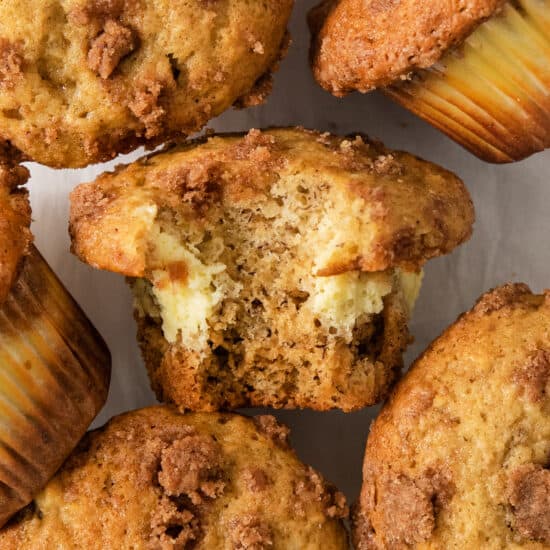 Cream Cheese Banana Bread Muffins
Indulge in a sweet treat with a twist, as we present this Cream Cheese Banana Bread Muffin recipe, a perfect blend of moist banana bread muffins and rich, creamy cheese filling that will have you reaching for seconds.
Ingredients
Filling
4

oz.

cream cheese

softened

3

tablespoons

powdered sugar

1

large egg
Instructions
Preheat the oven to 350℉. Line a muffin pan with liners and set aside.

Add the flour, salt, baking powder, and baking soda to a large bowl. Mix and set aside.

Heat the butter in a small pot over medium/high heat until it starts to brown. Remove from heat to cool for 5 minutes.

Transfer the browned butter to the bowl of a stand mixer. Add the granulated sugar and brown sugar and mix to combine. The sugar will not dissolve. Add the milk and mix.

Next, add the mashed bananas, eggs, and vanilla and mix until combined.

Slowly add the flour mixture to the stand mixer. Mix to combine. Set aside.

Add the cream cheese, powdered sugar, and vanilla to a small bowl. Mix until smooth. Set aside.

To assemble the crumble topping add all of the ingredients into a small bowl and mix until combined. It should form a wet sand consistency.

To assemble the muffins, scoop 2 tablespoons of muffin batter into each muffin cup. Top the batter with 1 tablespoon of the cream cheese mixture and then another 2 tablespoons of muffin batter.

Top each muffin with 1 tablespoon of the crumble topping.

Bake for 18-22 minutes or until the tops are golden brown.

Allow muffins to cool for at least 10 minutes before serving.
Nutrition facts
Calories:
357
kcal
Carbohydrates:
53
g
Protein:
5
g
Fat:
14
g
Fiber:
2
g
Sugar:
31
g