Say hello to this creamy cream cheese lemonade pie. This pie is no bake and made with lemonade concentrate, whipped cream, and a few other ingredients to make the perfect tart and sweet treat.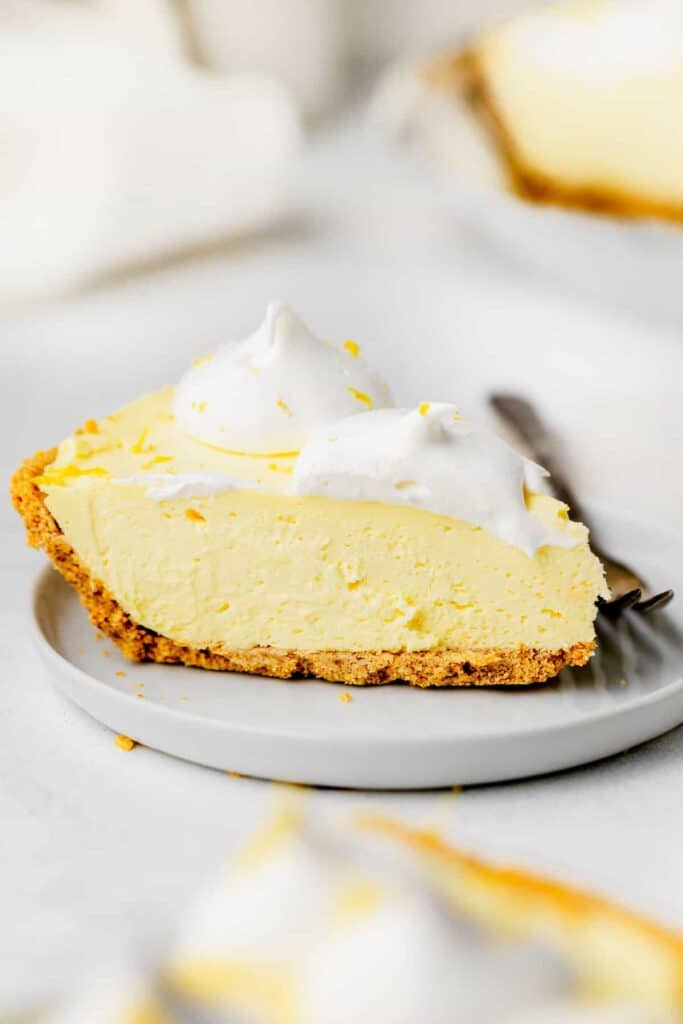 Why Cream Cheese Lemonade Pie?
Let's chat about this summery and delicious summer dessert–> cream cheese lemonade pie. This cream cheese lemonade pie is a classic and easy dessert that requires no baking. You heard me, no baking needed!

Why do you need to make this cream cheese pie?
You only need 8 ingredients to make this delicious pie.
This cream cheese pie is creamy, tart, and sweet all at the same time.
You can make this pie and freeze it for later.
This cream cheese pie is whipped up in 20 minutes and only needs to be refrigerated for 2 hours, no baking needed.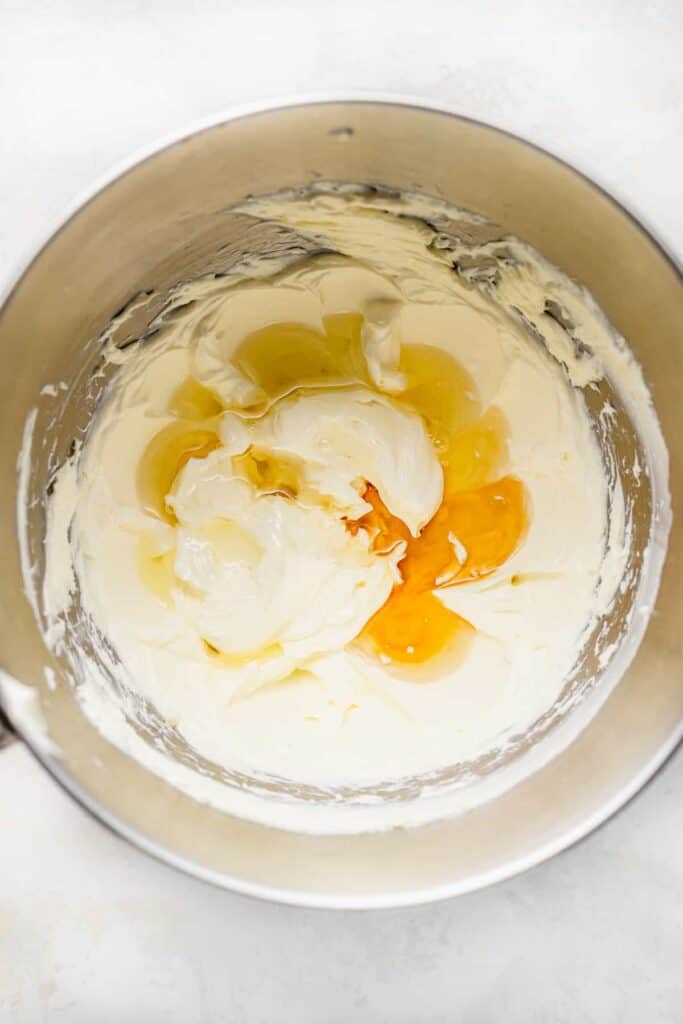 ingredients you need
Graham cracker crust- you have two choices when it comes to a graham cracker crust. You can make your own or use a store bought pre-made crust. We decided to use a store bought crust and it worked perfectly.
Whipped cream– you are going to use whipped cream both in the filling of this pie and on top. Again, you can use homemade whipped cream or store bought cool whip. Keep it easy and breezy.
Instant lemon pudding– the instant lemon pudding is the star of the show in this pie. It makes a creamy and fluffy filling that you just can't beat.
Cream cheese– the cream cheese for this cream cheese pie has to be softened and adds the perfect amount of creaminess and body to this pie.
Lemonade concentrate– we used Minute Maid lemonade concentrate, but any kind will do.
Vanilla extract- don't forget the vanilla extract it takes this pie up a notch.
Coarse salt– the sea salt in this pie enhances the all of the flavors in this tasty dessert.
Lemon zest– after your pie is set and topped with whipped cream, get fancy and sprinkle lemon zest over the top of the pie.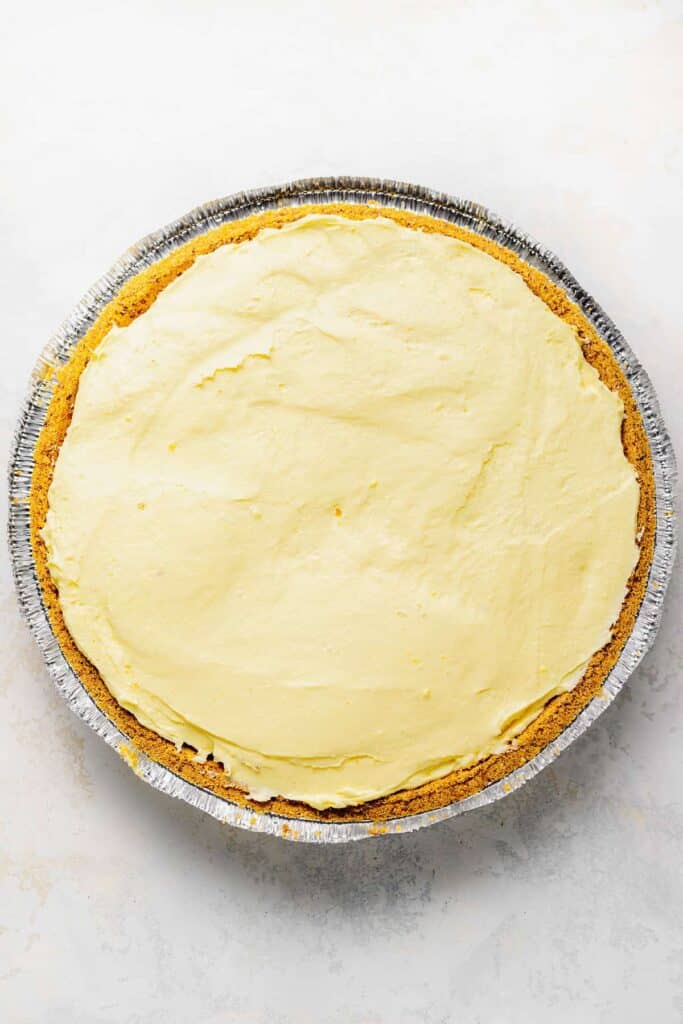 How to Make Cream Cheese Lemonade Pie
Prep the graham cracker crust. Get your graham cracker crust ready by unwrapping the store bought crust or making your own homemade graham cracker crust.
Make the cream cheese filling. Begin mixing 2 cups of whipped cream with instant pudding until thick, fluffy, and creamy. In a separate bowl whip the cream cheese until smooth with no lumps and then add the lemonade concentrate and the vanilla. Finally fold the cream cheese mixture into the whipped cream mixture until smooth.
Let it set. Pour the cream cheese filling into the pan over the graham cracker crust and place it in the refrigerator to set for at least 2 hours.
Top the pie with whipped cream and zest. When the cream cheese filling has set, top the pie with the rest of the whipped cream and top with lemon zest.
Enjoy.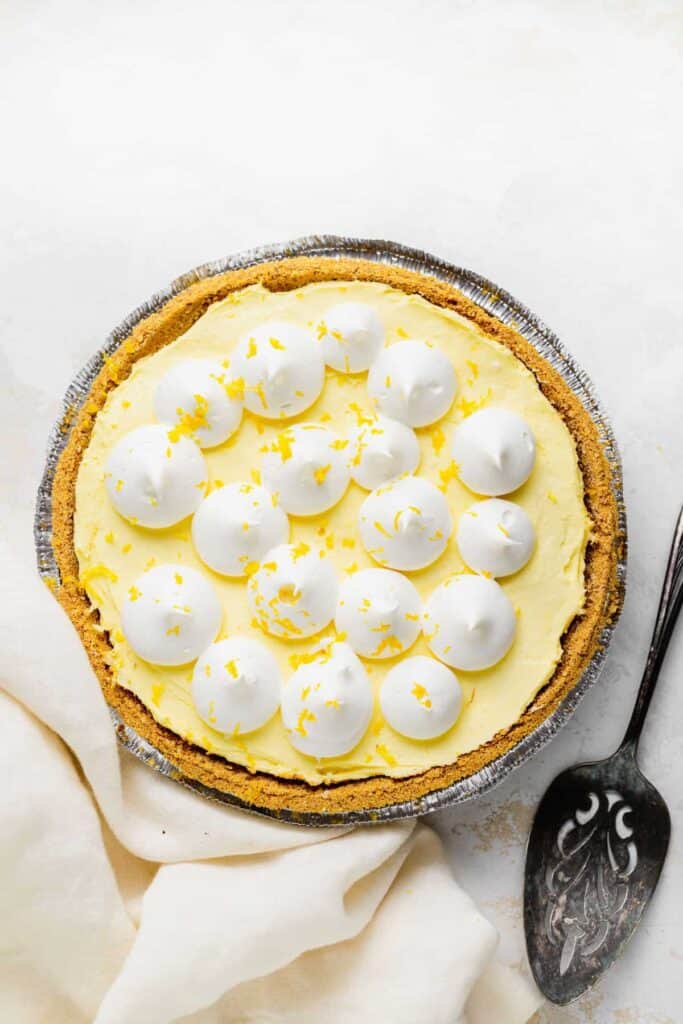 How to soften cream cheese
Looking for a quick method to soften cream cheese? Check out our post – How to Soften Cream Cheese – 4 Ways! Here you'll learn 4 unique (and quick!) methods to softening cream cheese the perfect amount for baking and cooking.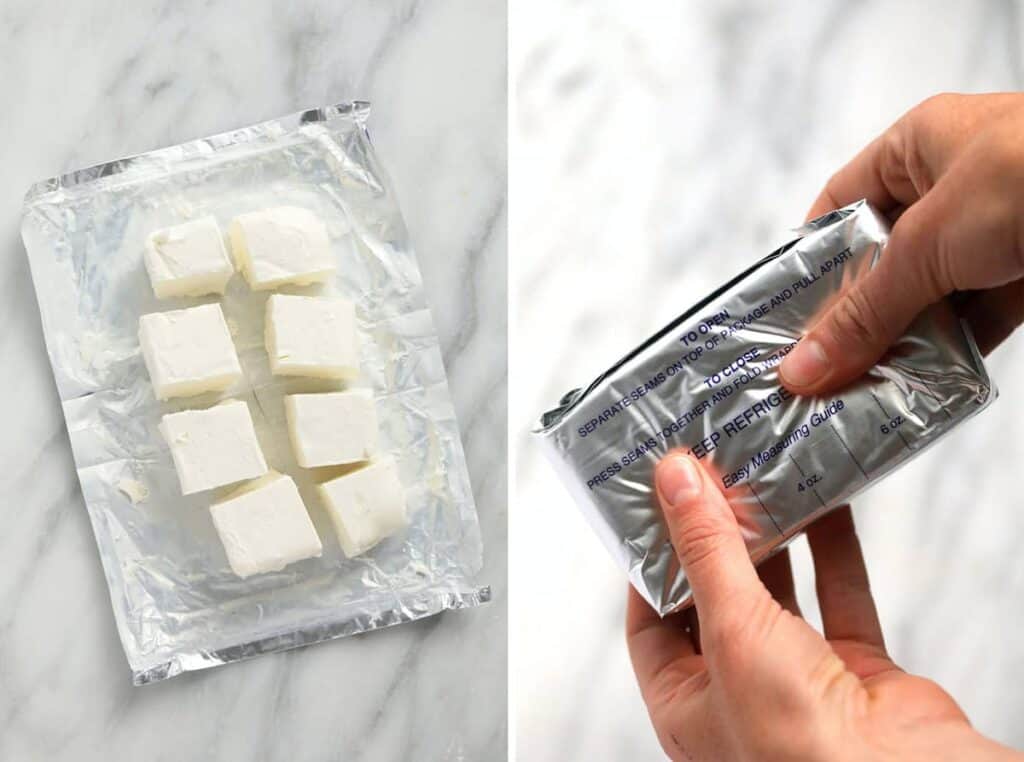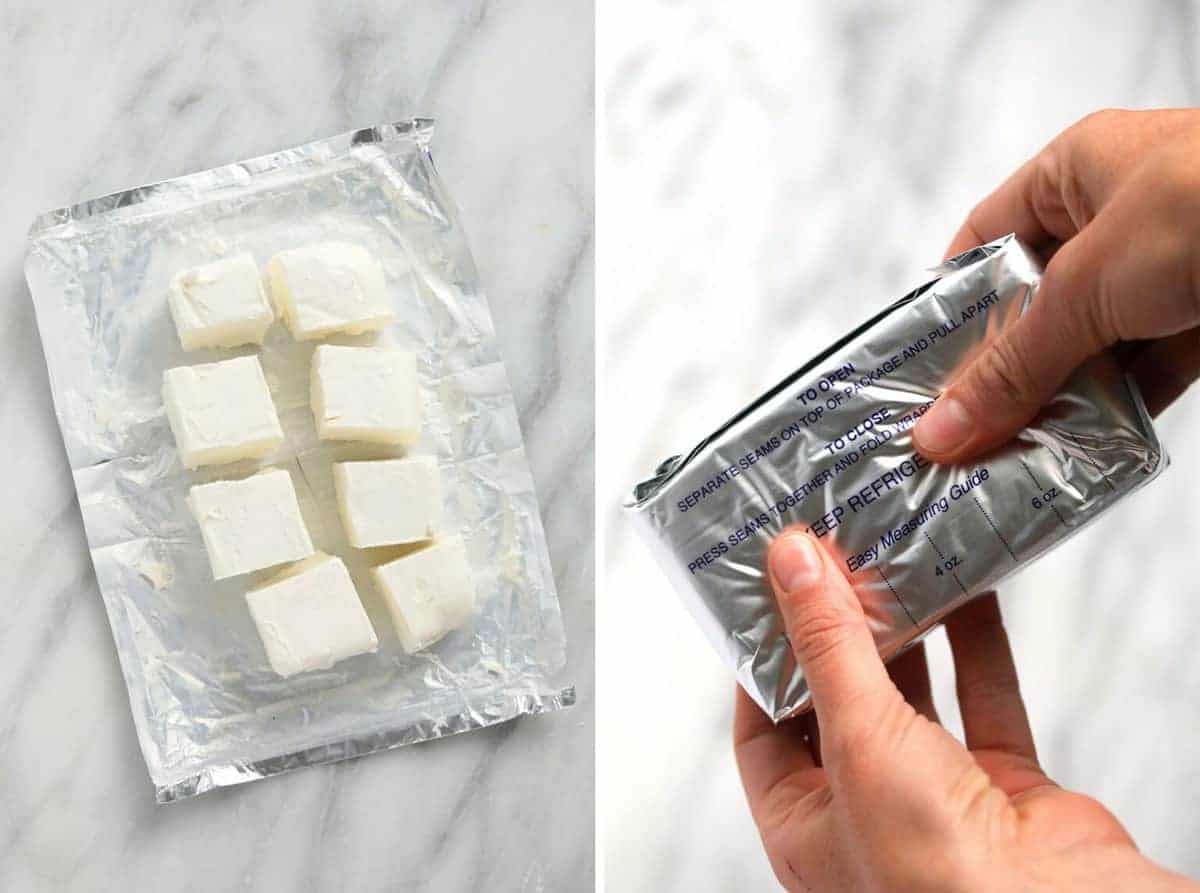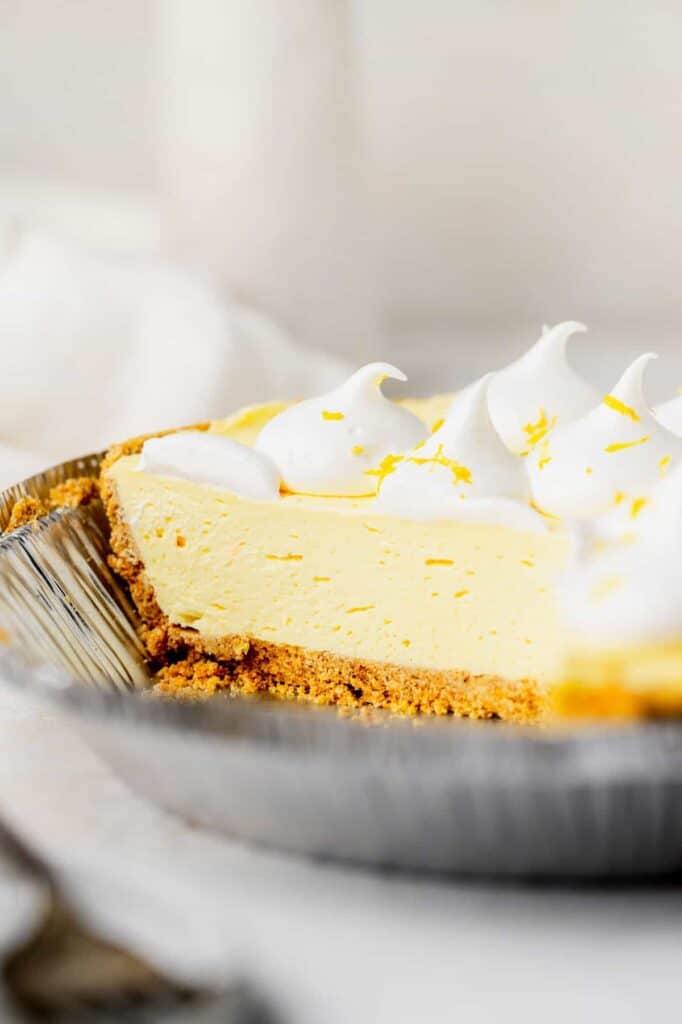 Storage Options
We recommend covering this pie in the refrigerator for up to 5 days.
Can I Freeze this Pie?
Yes, you can freeze this pie!
To freeze this pie, we recommend waiting to add the whipped cream topping. After the pie has set, cover the pie tightly with plastic wrap and place it in the freezer for up to 3 months.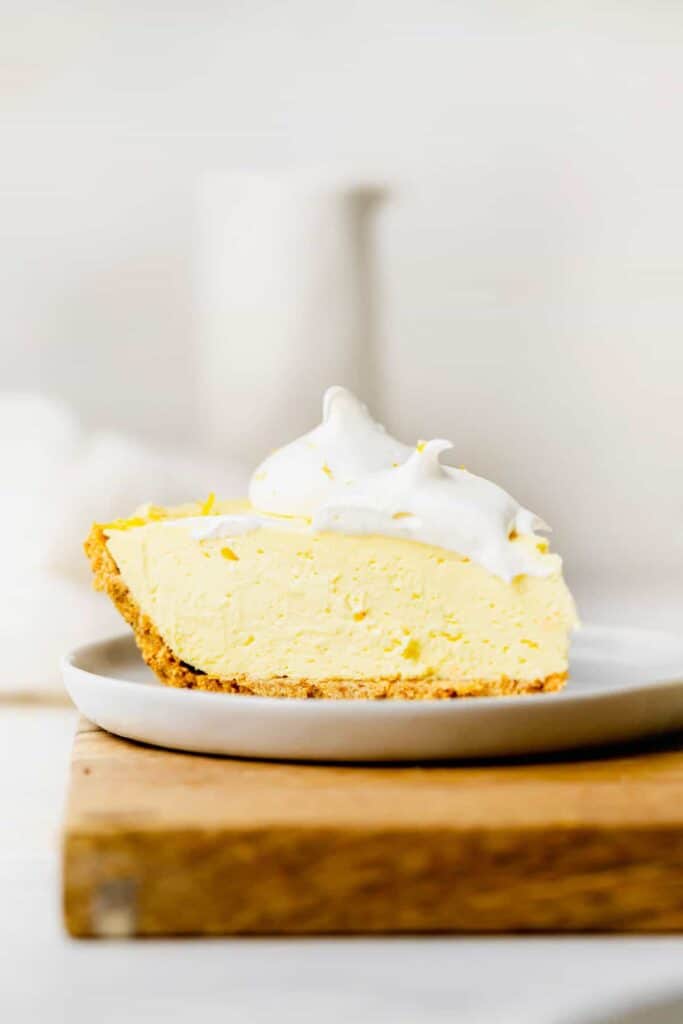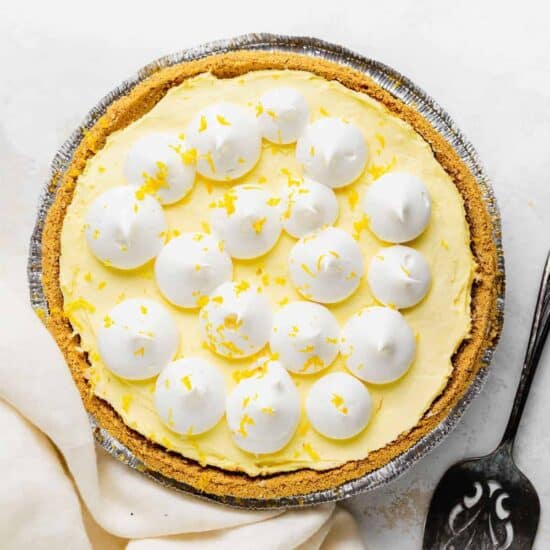 Cream Cheese Lemonade Pie
This cream cheese lemonade pie is creamy, tart, and so easy to make. It is a great cream cheese dessert recipe for a BBQ or any gathering! 
Prep:
2.5 hours
Cook:
0 hours
Total:
2 minute
Fat
14
Carbs
14
Protein
2
Ingredients
1

9-inch

store-bought graham cracker crust

(homemade works too)

3 cups

whipped cream, separated (we used store bought cool whip) 

1

box

instant lemon pudding*

16

-oz. cream cheese, softened

1/2 cup

lemonade concentrate (we used

Minute Maid

), thawed

1 teaspoon

vanilla extract

1/2 teaspoon

coarse salt
optional topping- lemon zest
Instructions
Begin by adding 2 cups of whipped cream and the instant lemon pudding to a large bowl and mix with an electric mixer or stand mixer over medium/high speed until combined. The mixture will end up being thick and fluffy. Set aside. 

Add cream cheese to a separate large bowl and mix on medium/high speed until the cream cheese is completely smooth creamy. 

Next, add the lemonade concentrate and vanilla into the cream cheese and beat on low until the mixture is completely combined. 

Slowly add the cream cheese mixture to the whipped cream and pudding mixture. 

Mix on low until the cream cheese mixture and the pudding mixture are combined. 

Transfer the mixture into the graham cracker crust. Spread the mixture out evenly.

Place the pie in the refrigerator for at least 2 hours to set (the longer the better). 

When you're ready to serve, remove from the fridge and top it with the remaining 1 cup of whipped cream and sprinkle with coarse sea salt. Top with fresh lemon zest

Serve and enjoy.
Tips & Notes
* For the instant pudding in this recipe, you use JUST the powder. Do not prepare the instant pudding before adding it in.
Nutrition Facts
Serving Size:
1/12
Calories:
191
Sugar:
8
Sodium:
308
Fat:
14
Carbohydrates:
14
Fiber:
0
Protein:
2
Cholesterol:
38
Category:
Dessert
Method:
No Bake
Cuisine:
American
Keywords: Cream Cheese Lemonade Pie