When in doubt about what to have for dinner throw one of these baked pasta dishes into the oven and you'll have a creamy and delicious dinner ready in under 1 hour.
PS: we took the famous TikTok Pasta up a notch with 4 cheesy flavors. Enjoy!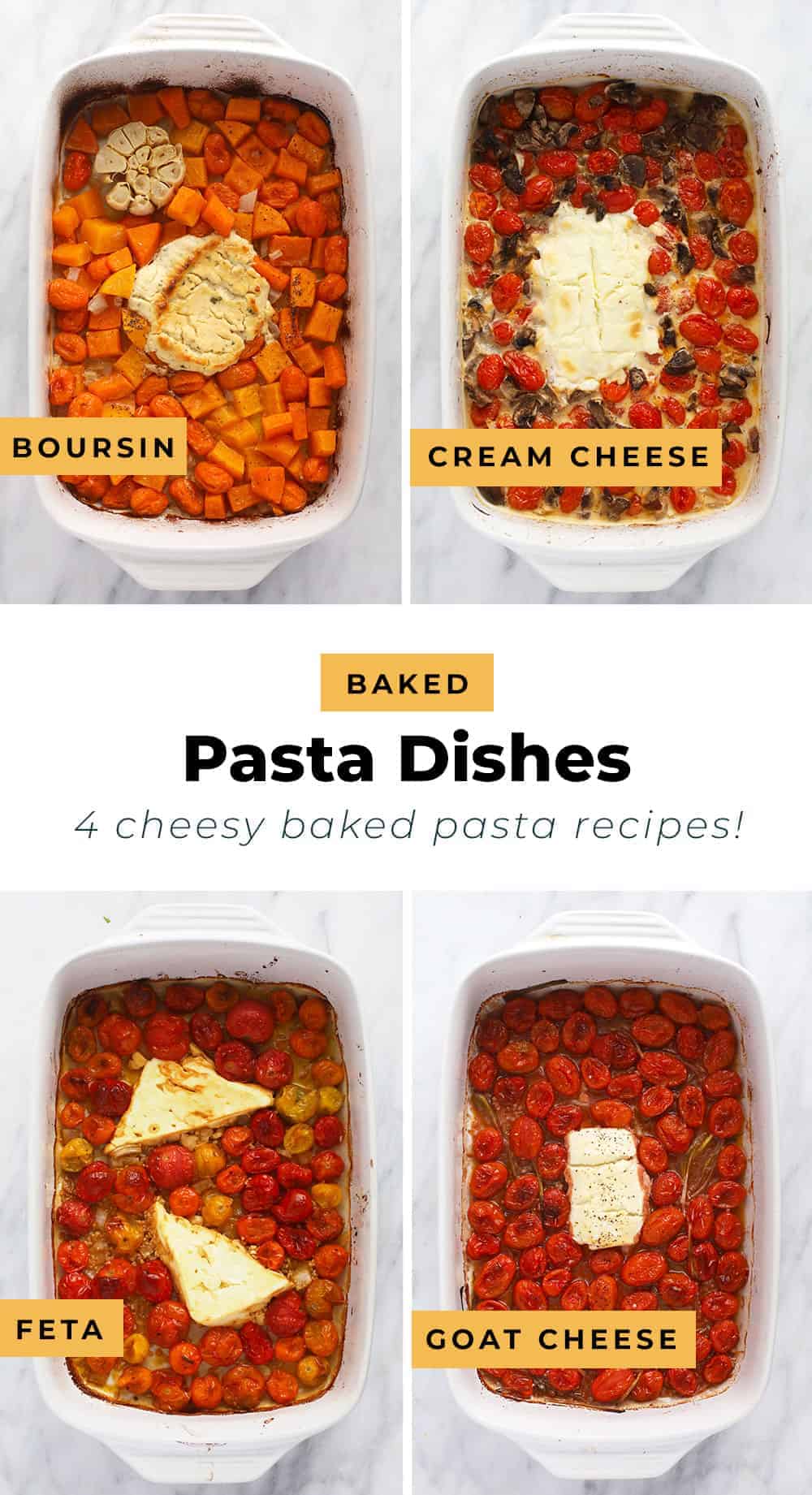 Why Baked Pasta?
Who would have thought that one pasta dish could become so popular over night (we're looking at you baked feta pasta). We have done our own version of the oh-so-popular baked TikTok Pasta.
We loved it so much that we did extremely fun and delicious recipes with three other types of cheeses, too!
We are obsessed with our baked feta pasta, baked goat cheese pasta, baked cream cheese pasta, AND our baked boursin cheese pasta. Why do baked pastas rock so much?
Baked pasta dishes are so easy to make! You throw everything in a casserole dish and bake.
These baked pasta recipes are ready in under 1 hour.
You get that fancy restaurant pasta right at home!
It is easy to make these baked pasta dishes your own by adding ingredients you have at home right into your casserole dish.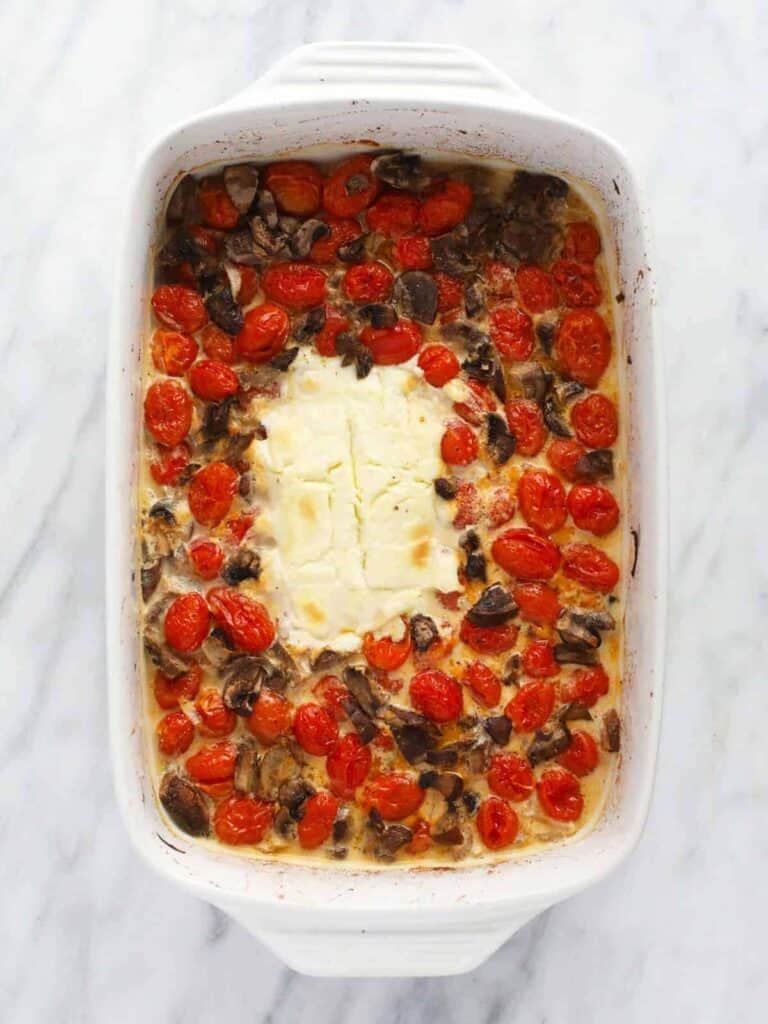 How to Make Cheesy Baked Pasta
It really is very easy to make cheesy baked pasta. All you have to do is throw all of your ingredients into a casserole dish, prepare your pasta, and then mix everything together at the end!
The Base of Baked Pasta
All of our baked pasta recipes have a base ingredient of cherry tomatoes! Tomatoes have a high water content and when they are slow roasted they burst and create an amazing and flavorful base for a pasta sauce.
Each one of our baked pasta recipes has cherry tomatoes and other ingredients to make them unique and delicious.
don't forget the pasta water
You will also notice that we add a little bit of starchy pasta water at the end of each of our cheesy baked pasta dishes! Why do you need to add pasta water to the pasta sauce?
When you boil noodles in water, the water becomes starchy and when the pasta water is added to a sauce it helps to thicken and help bind the sauce to other ingredients and pasta.
Types of Cheese to Use in Baked Pasta
Each one of cheesy baked pasta dishes uses a different cheese that is baked to perfection and then is stirred into other ingredients to create the most perfect pasta sauce. The four cheese we use are….
Goat cheese
Cream cheese
Feta cheese
Boursin cheese (any flavor)
How do you know what type of cheese you can use in baked pasta dishes? You want to use softer and creamier cheese that can hold up in the oven and cream nicely. Cheeses like cheddar cheese, gouda, parmesan, etc. would not work in a cheese baked dish (but would be delicious grated on top)!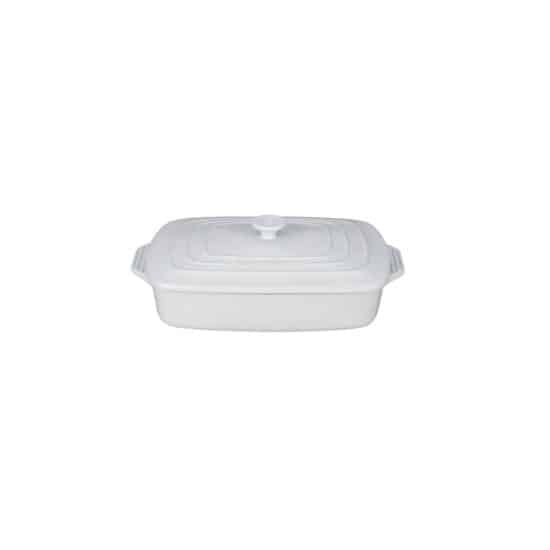 Our Favorite
Casserole Dish
This le creuset casserole dish is our all time favorite casserole dish! The white color rocks, it has a cover, and it's great for so many dishes.
Buy One
Tips + Tricks
Under cook your pasta
While your pasta sauce is cooking in the oven, you prepare your pasta. We recommend under cooking your pasta just a bit.
Why? Because you will be adding your pasta into your hot pasta sauce and it will continue to cook as you stir the pasta in with the sauce. Nobody likes mushy pasta.
Add more ingredients
We chose different delicious ingredients to add to each pasta dish.
The feta dish has olives and fresh mint. We wilted spinach in the goat cheese pasta after baking. The boursin cheese pasta has butternut squash. The cream cheese pasta has mushrooms that are baked with the tomatoes!
Feel free to add other ingredients to your pasta. Here are some ingredients that we recommend trying.
Chopped kale
Onions
Cooked sausage
Red wine
Fresh herbs
Grated cheese
switch up the cheese
Though each one of these pasta dishes has it's own recipe they would all be delicious with ANY cheese! Feel free to substitute goat cheese for feta in the feta baked pasta and so on in any of these delicious recipes.
Baked feta pasta is all the rage and now we know why! This baked feta pasta dish is made with a delicious roasted tomato and feta sauce and is topped with fresh herbs and Kalamata olives!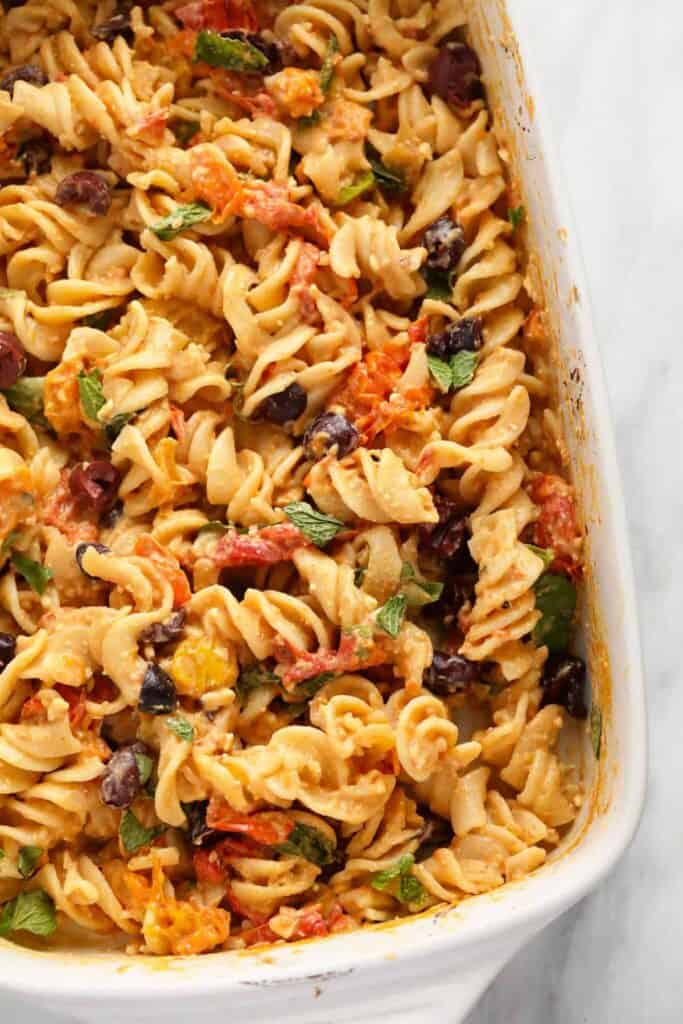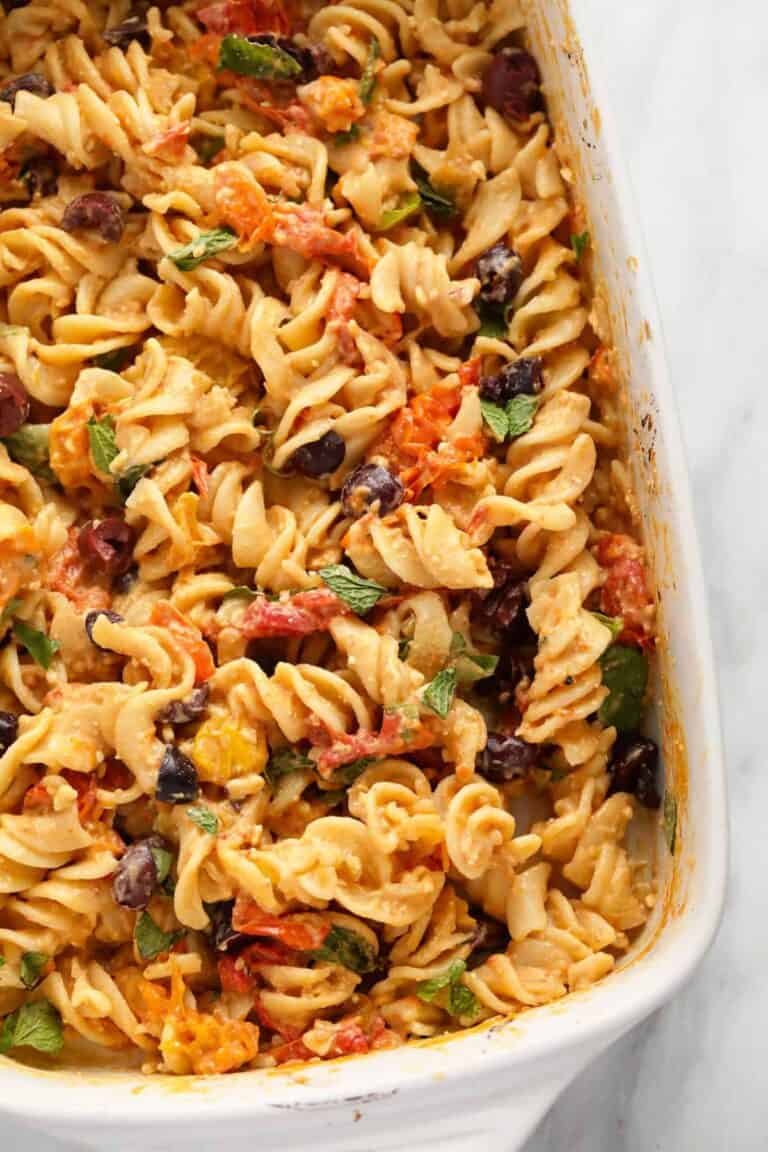 This baked goat cheese pasta is so creamy and delicious that you'll add it to your weekly dinner menu. It is a hands-off recipe that the whole family will love. Plus, you get a good serving of veggies, too!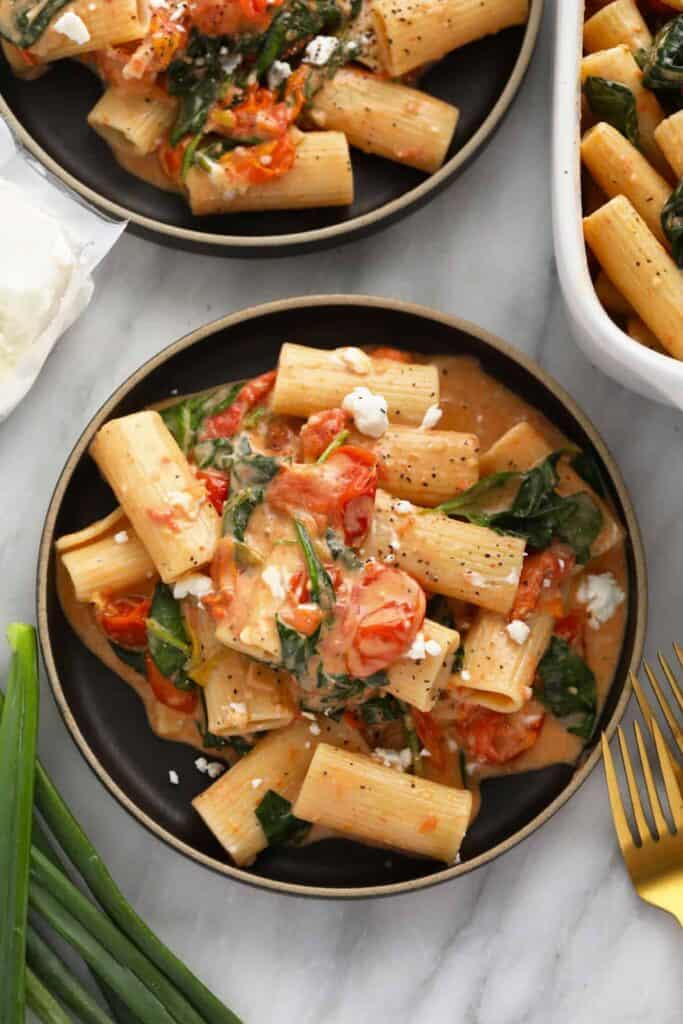 This creamy butternut squash pasta is made with the most delicious and CHEESY baked butternut pasta sauce that is made with roasted butternut squash, tomatoes, and an entire brick of Boursin cheese!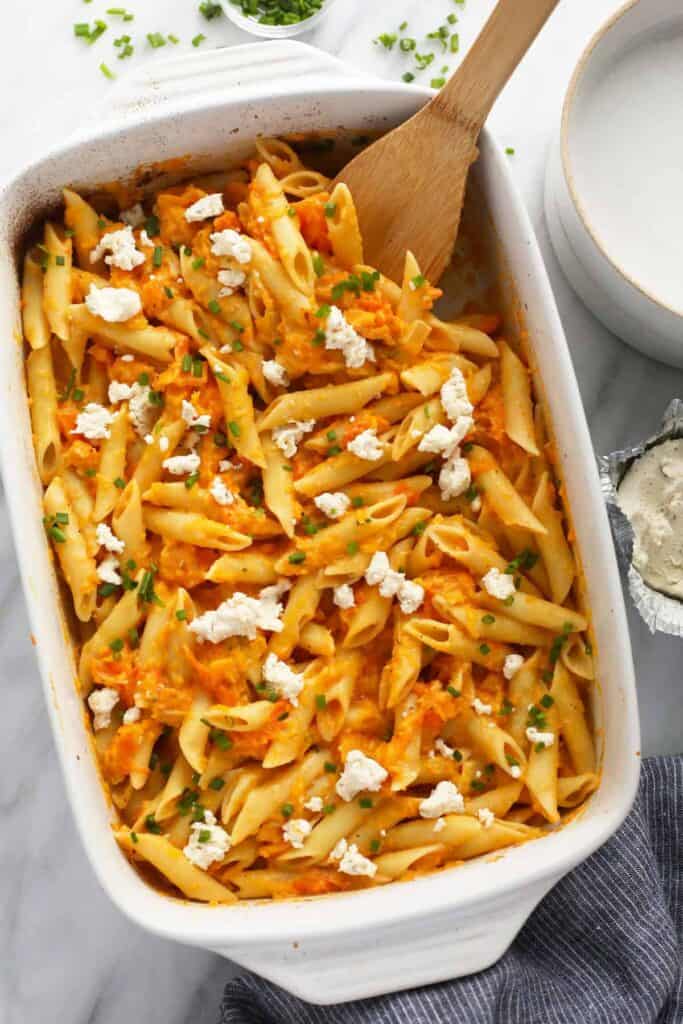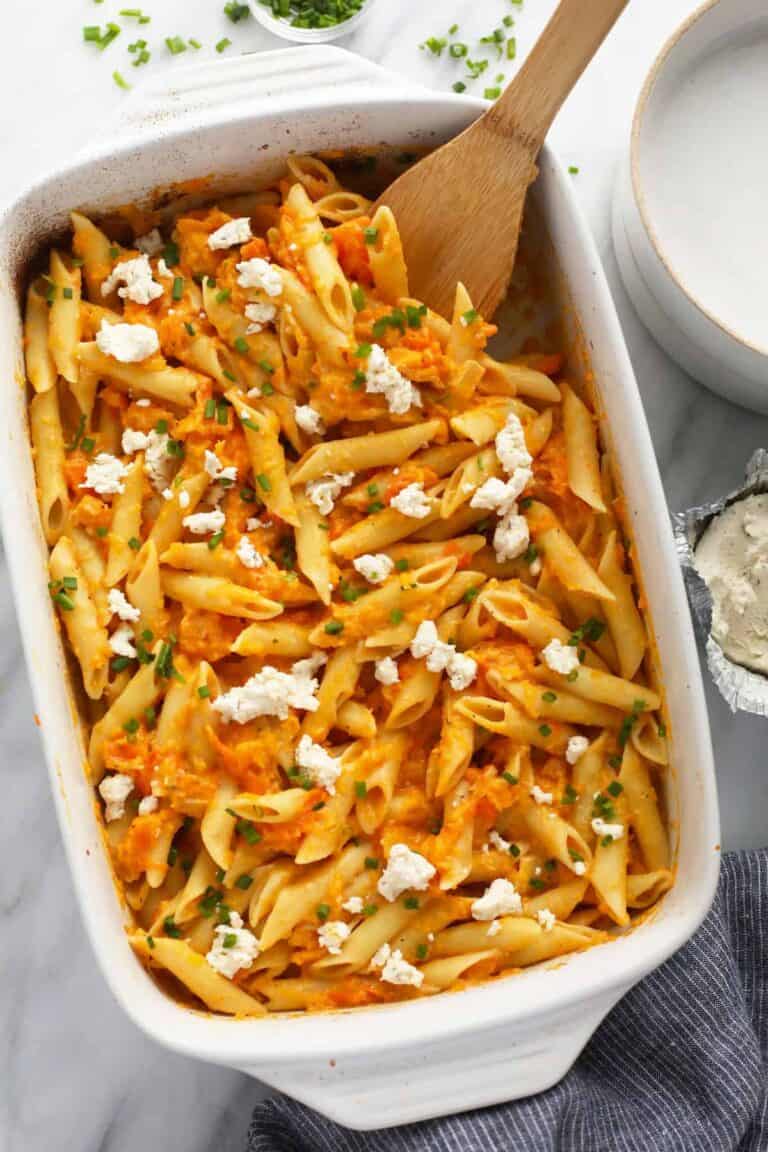 This baked cream cheese pasta takes the baked feta trend to the next level thanks to a super flavorful cream cheese sauce with tomatoes, mushrooms, onions and fresh lemon juice all baked to perfection and served with spaghetti.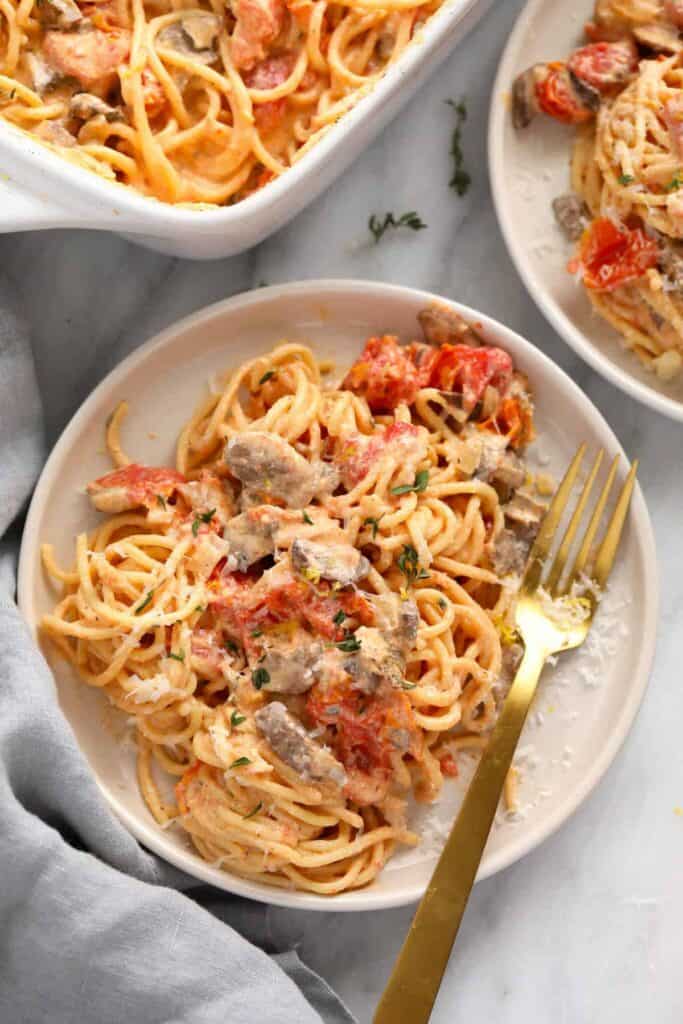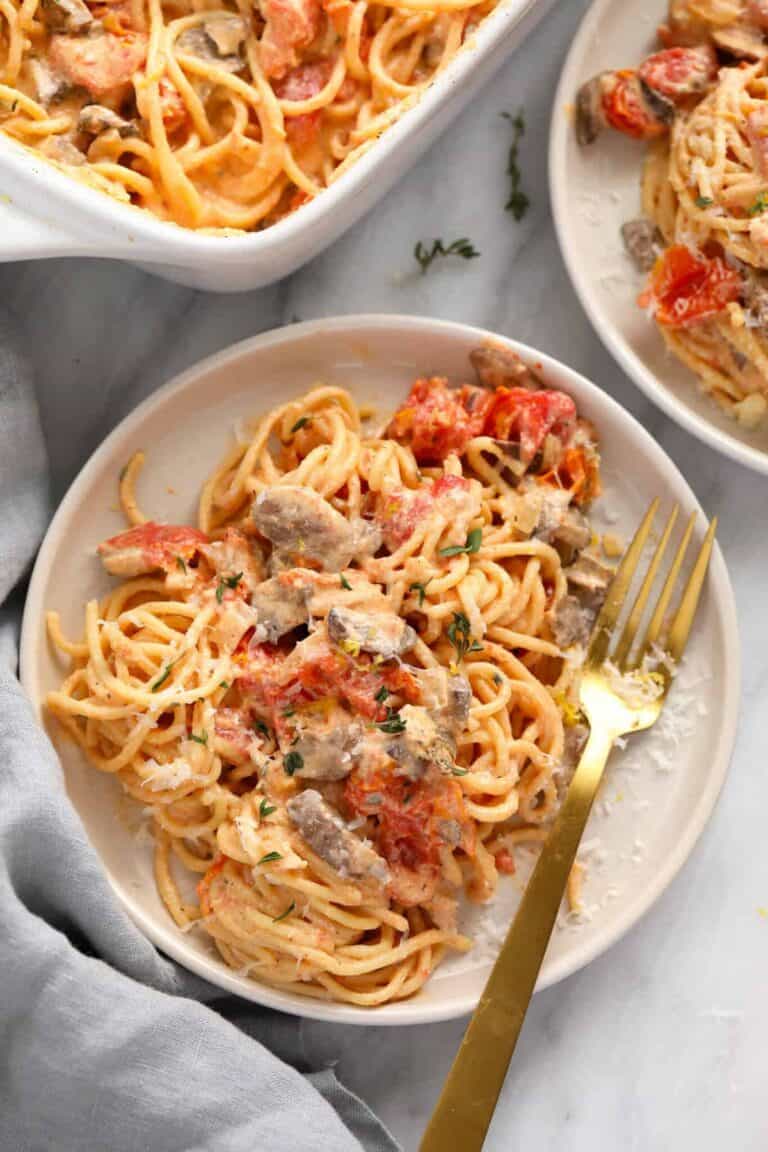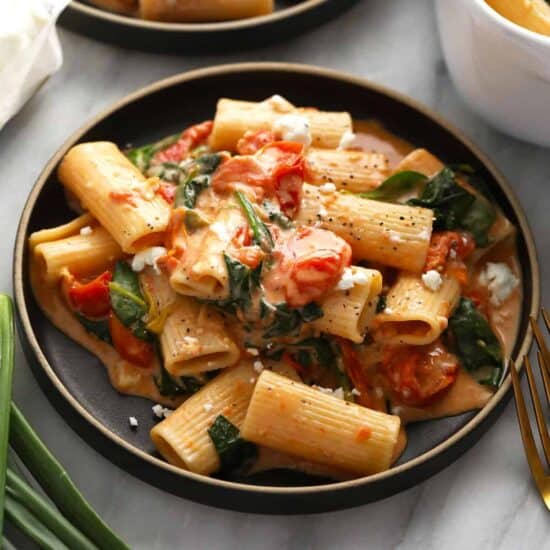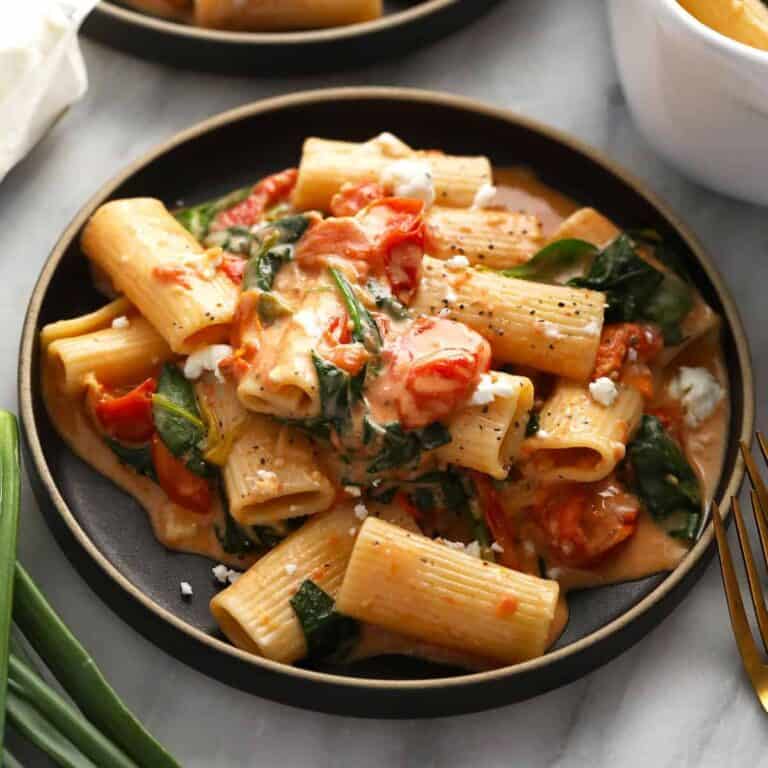 Basic Baked Pasta Dish
When in doubt about what to have for dinner throw one of these baked pasta dishes into the oven and you'll have a creamy and delicious dinner ready in under 1 hour.
Ingredients
4-8

oz.

block soft cheese of your choice

2

pints

cherry tomatoes

1/4

cup

olive oil

1/4

large white onion

minced

1

tablespoon

minced garlic

3/4

teaspoon

salt

1/2

teaspoon

ground pepper

8

oz.

pasta of choice

1/2

cup

pasta water

1/4

cup

fresh herbs

chopped
Instructions
Preheat the oven to 400ºF.

Pour 2 pints of cherry tomatoes into a 9×13-inch casserole dish.

Drizzle olive oil over the cherry tomatoes and toss until all the tomatoes are coated in oil. 

Add the garlic, onion, salt, and pepper to the baking dish and toss. 

Next, create 1 well in the baking dish by moving the tomatoes aside. Place your cheese block in the well. 

Bake at 400ºF for 40 minutes. 

Meanwhile, bring a large pot of salted water to a boil and add pasta. Cook the pasta until it is cooked to al dente. 

Before pouring the pasta into a strainer, remove 1 cup of pasta water from the pot and set it aside. Then, strain pasta and set it aside. 

Once the timer goes off, remove the dish from the oven and smash the cheese and cooked tomatoes with a fork or spatula. Make sure that all of the tomatoes have burst. Then, add in 1/2 cup pasta water and stir everything together to create a creamy cheese sauce.

Finally, add the cooked pasta to the casserole dish and mix until the pasta is coated in sauce. 

Sprinkle fresh herbs over the pasta and enjoy! 
Tips & Notes
Nutrition information uses 5-oz. goat cheese.
Nutrition facts
Calories:
452
kcal
Carbohydrates:
51
g
Protein:
13
g
Fat:
22
g
Fiber:
4
g
Sugar:
6
g