This homemade blueberry cream cheese is made with softened cream cheese, fresh blueberries, fresh lemon juice, and more! Make it and keep it in the fridge for later.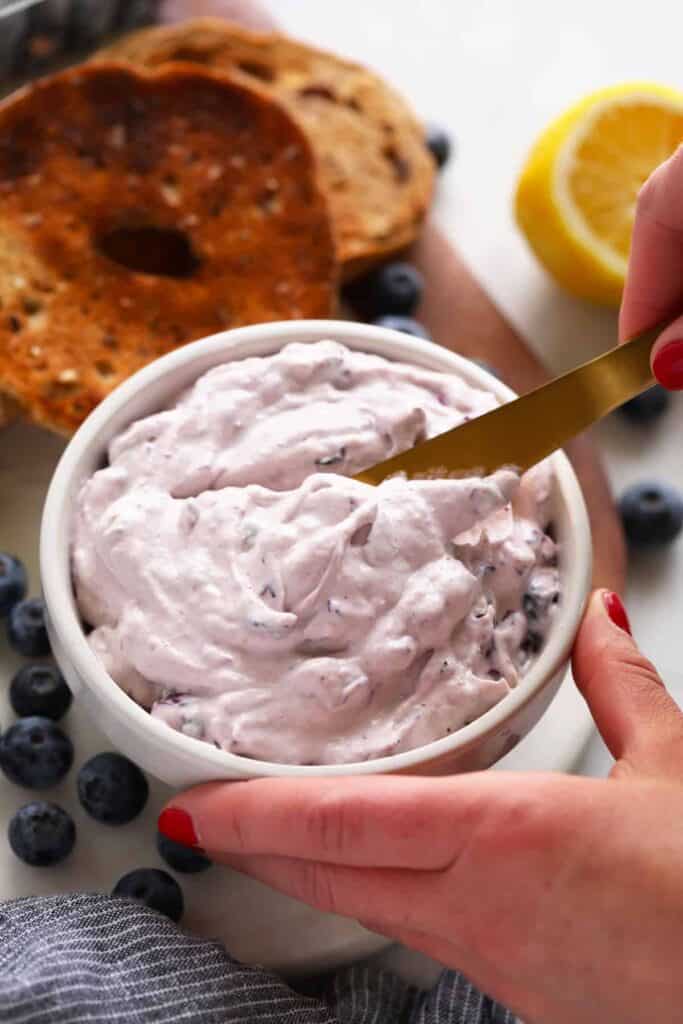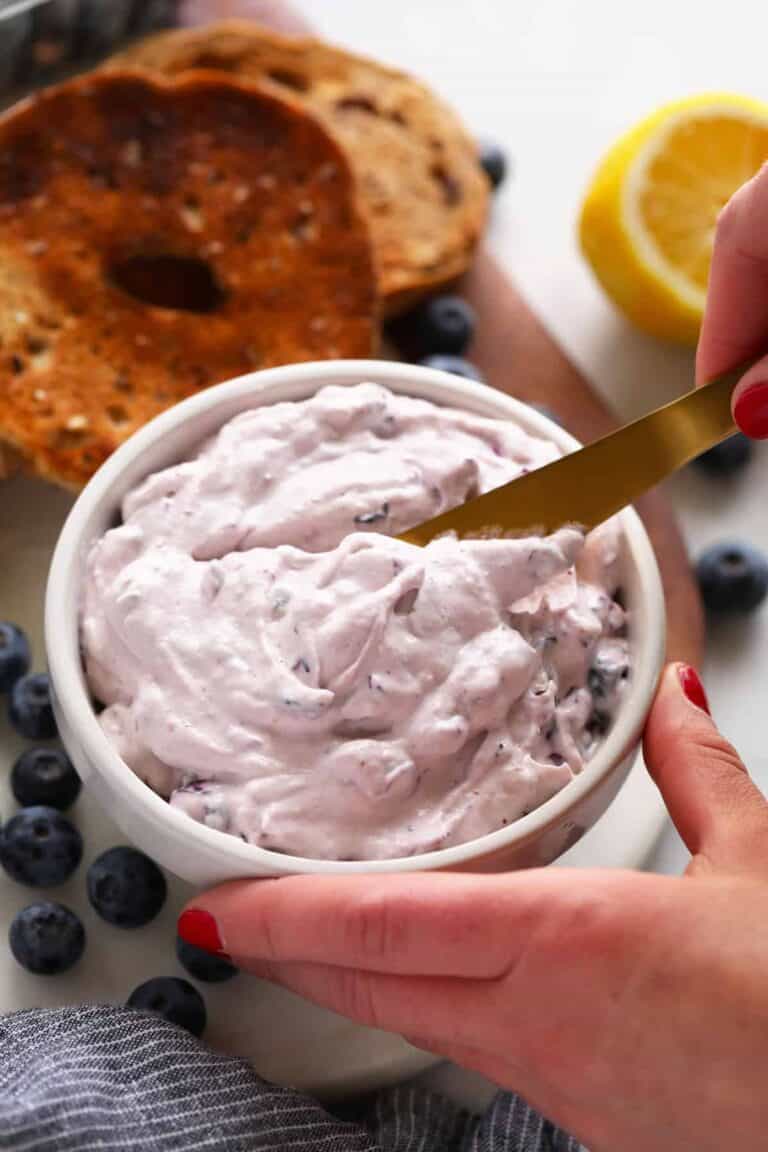 Homemade Blueberry Cream Cheese
Do you ever wake up and crave a bagel and cream cheese? Us too! Forget about that store bought cream cheese and make this homemade blueberry cream cheese.
There is no doubt that we change up our cream cheese in the morning between savory cream cheese and sweet cream cheese like this blueberry cream cheese.
Whether you are a sesame seed bagel person or a cinnamon raisin bagel person, this blueberry cream cheese is delicious slathered on any bagel.
Simple Ingredients You Need
Cream cheese- no matter what cream cheese brand your loyal to, we suggest you use a full fat cream cheese and make sure it is softened before you start this recipe. If you are dairy free, feel free to use your favorite vegan cream cheese!
Blueberries– you are going to mix and mash your blueberries into this cream cheese. Some blueberries will just turn into chunks and some will be smashed into a jam like consistency (this makes your blueberry cream cheese blue!).
Honey– to sweeten up this cream cheese we used honey, feel free to substitute the honey with maple syrup!
Vanilla extract– a little vanilla takes this homemade cream cheese to the next level.
Salt- salt enhances the flavor of all of the other ingredients in this cream cheese recipe.
Lemon zest + juice– what compliments blueberries more than lemon? Add a little lemon zest and juice to this blueberry cream cheese to brighten everything up.
any berry will work
Have no fear if you don't have blueberries but want a tasty homemade berry cream cheese. You can substitute the blueberries with strawberries or raspberries!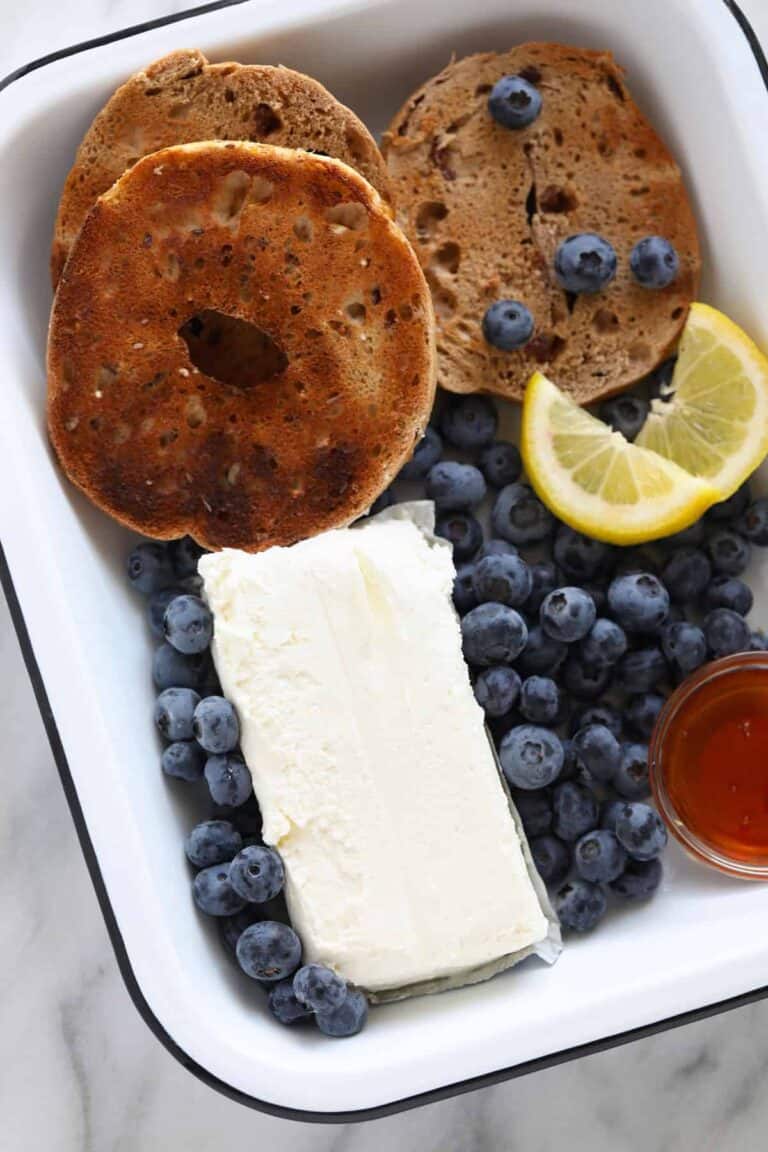 How to Make Blueberry Cream Cheese
Whip the cream cheese. Place the softened cream cheese in a bowl and whip with an electric mixer or stand mixer until smooth, creamy, and light.
Mash + mix blueberries. Add the blueberries to the bowl and mix with a mixer until the cream cheese turns a pink-ish color and just until you only see a few chunks in the cream cheese (or to your desired consistency).
Add the rest of the ingredients. Add the honey, salt, lemon juice, and lemon zest to the bowl and mix on low until combined.
Serve. Serve immediately or place in an airtight container to chill.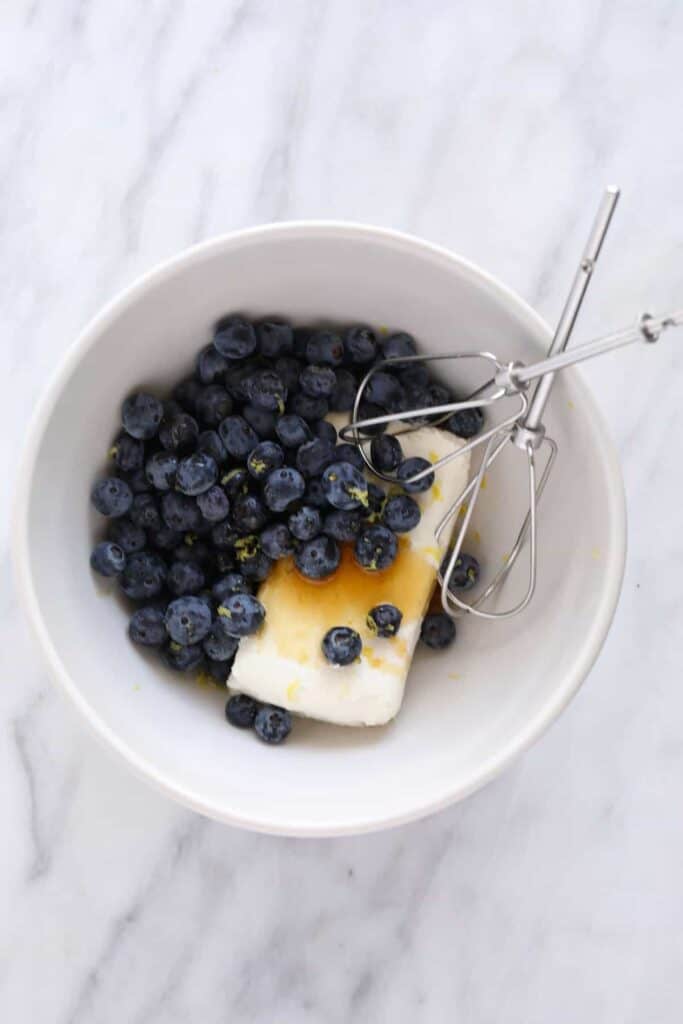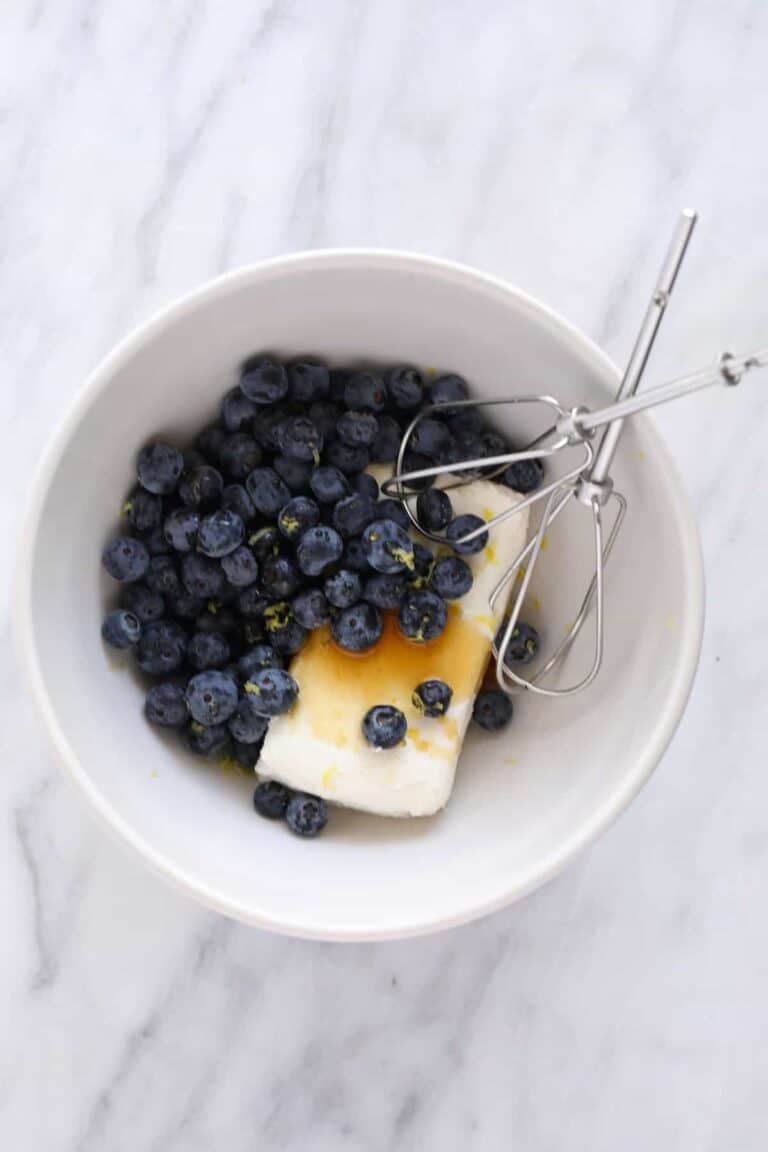 Facts About Blueberry Cream Cheese
Can I use frozen blueberries?
Yes, you can use frozen blueberries. To prepare frozen blueberries for this blueberry cream cheese, pour the frozen blueberries in a colander and thaw them out and let the excess moisture from the frozen blueberries drain in the skin or a separate bowl.
Fun Add-ins + Substitutions
Want to add a little something extra to this homemade blueberry cream cheese? Here are a few ideas of how you can change things ups!
Substitute the vanilla extract with almond extract for a flavor change.
Add 1/4 cup of chopped pecans to the blueberry cream cheese to add a crunch.
How to serve blueberry cream cheese
Serve this blueberry cream cheese the old fashioned way – on a bagel- or get crazy and do something a little different. Check out our ideas below!
Serve it as a dip! Set this blueberry cream cheese out with fresh fruit and pretzels for a fun and easy appetizer.
Make a loaf of banana bread and use it as a frosting!
Pipe it onto sugar cookies!
Storage
Store this cream cheese frosting in an airtight container and place it in the refrigerator for up to 7 days.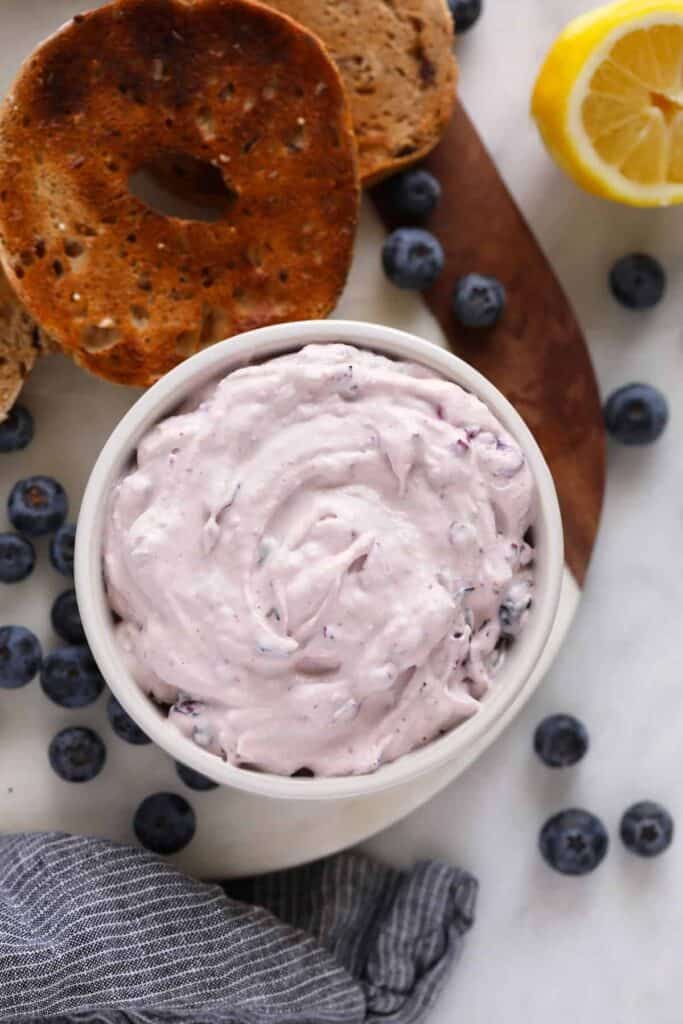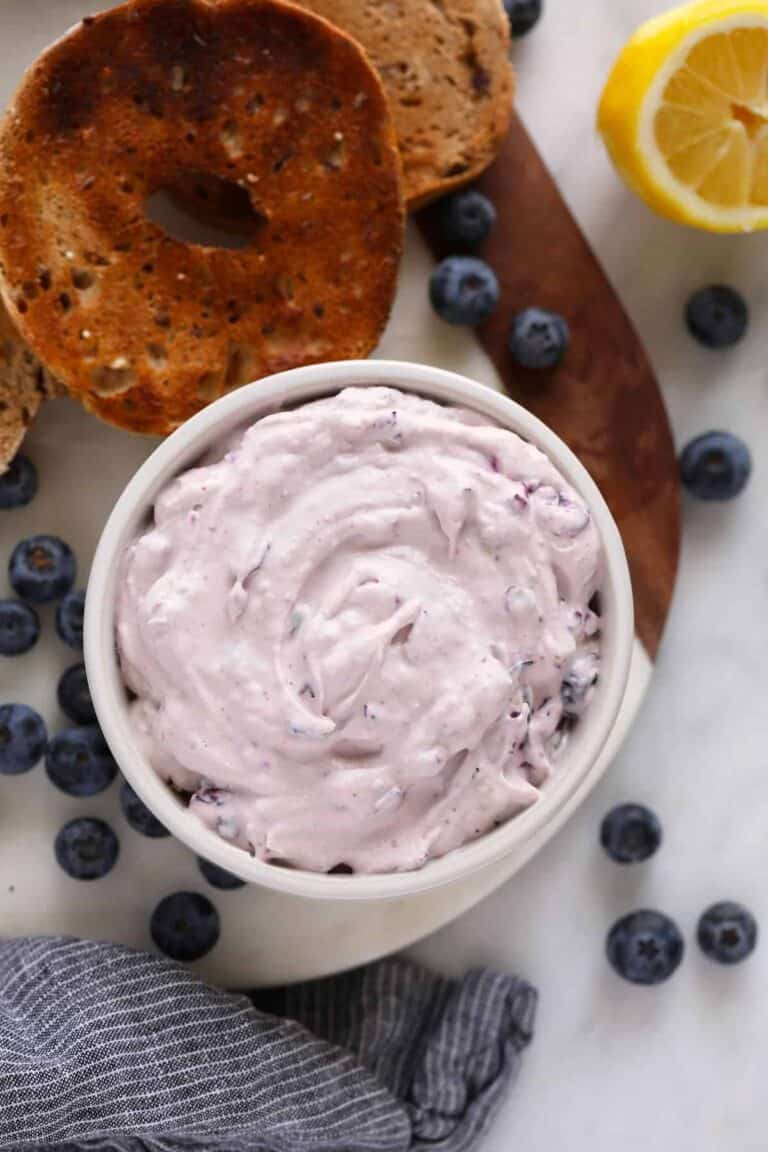 How to soften cream cheese
Looking for a quick method to soften cream cheese? Check out our post – How to Soften Cream Cheese – 4 Ways! Here you'll learn 4 unique (and quick!) methods to softening cream cheese the perfect amount for baking and cooking.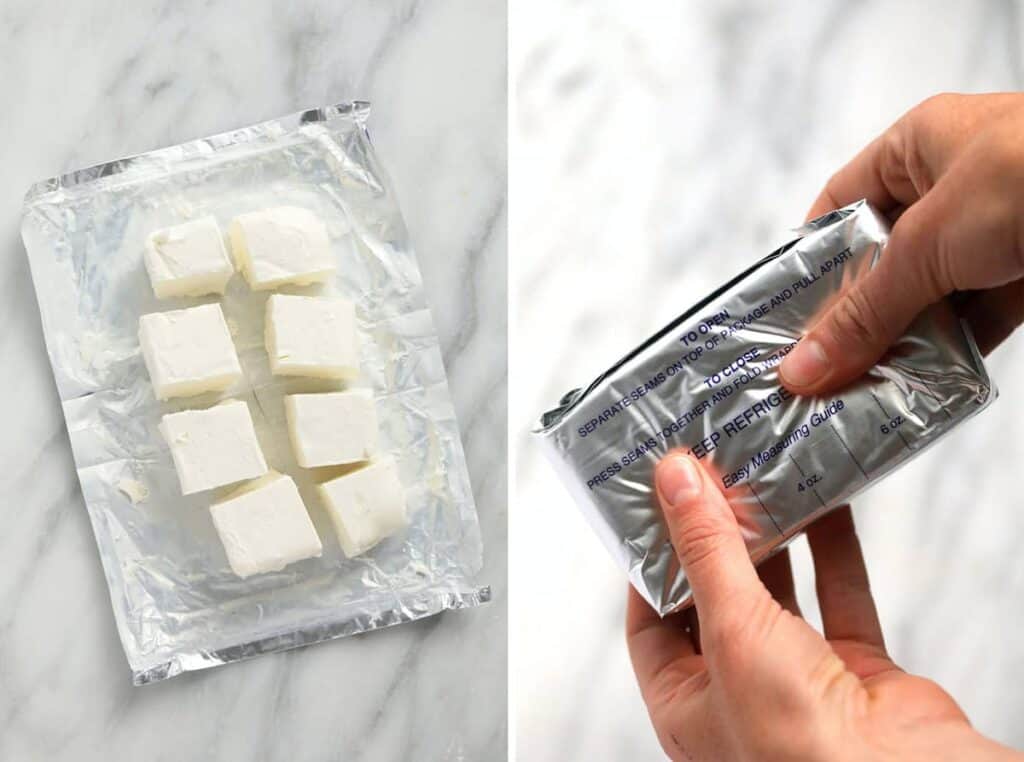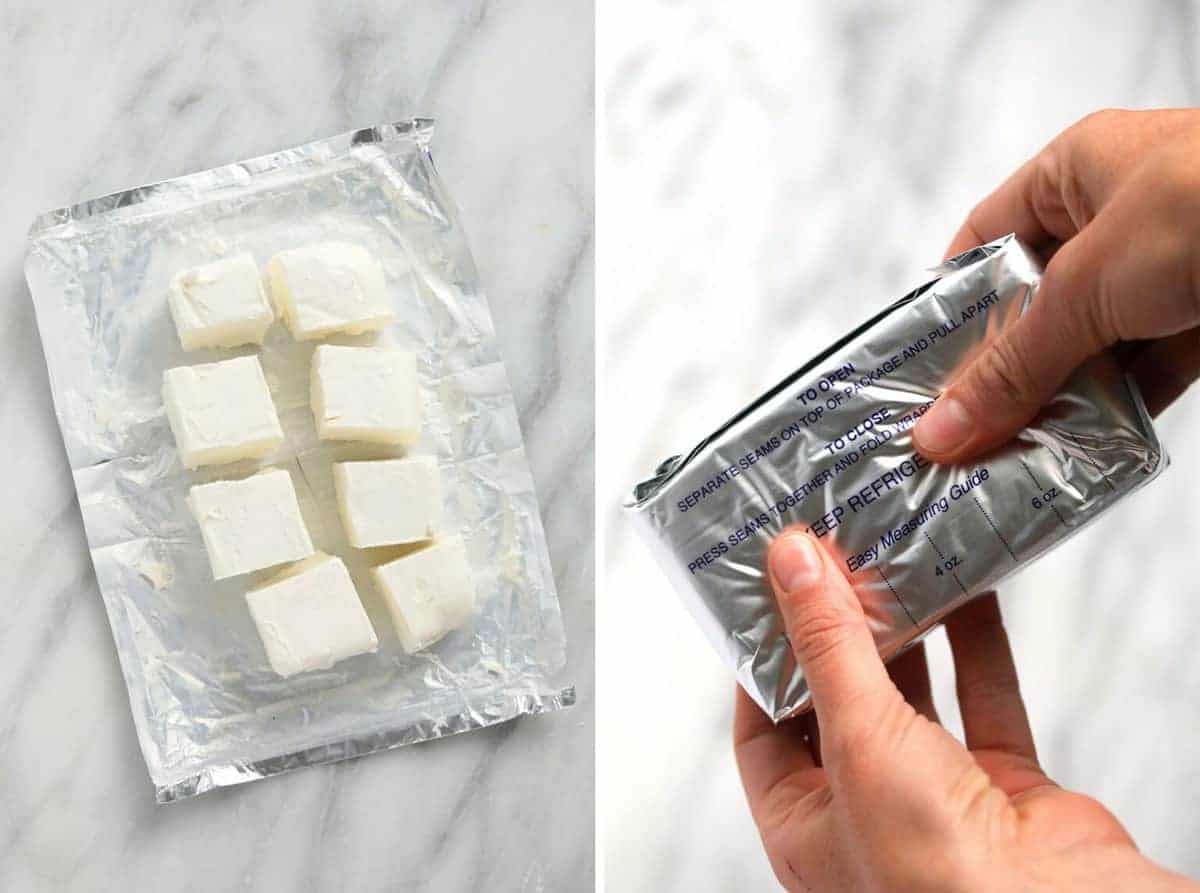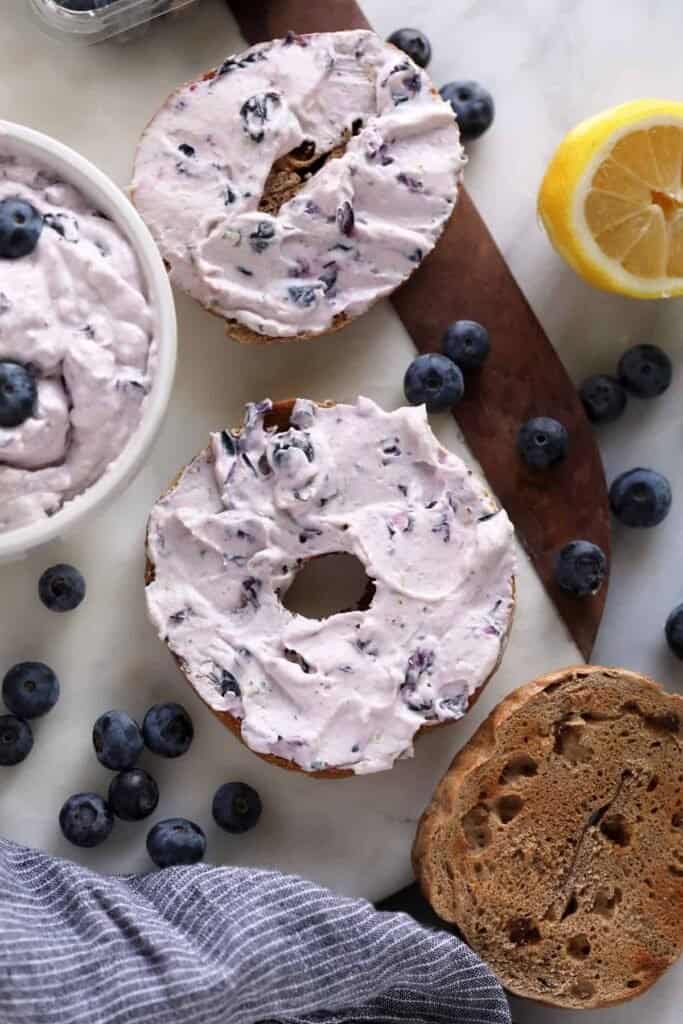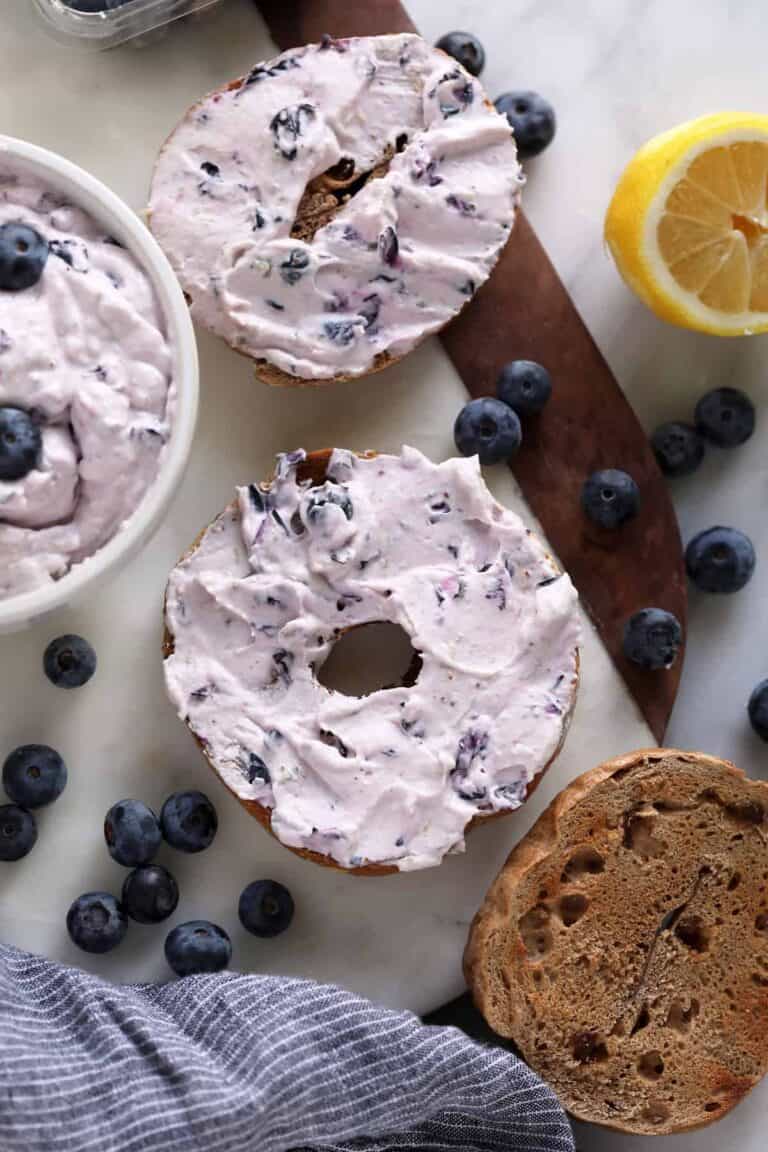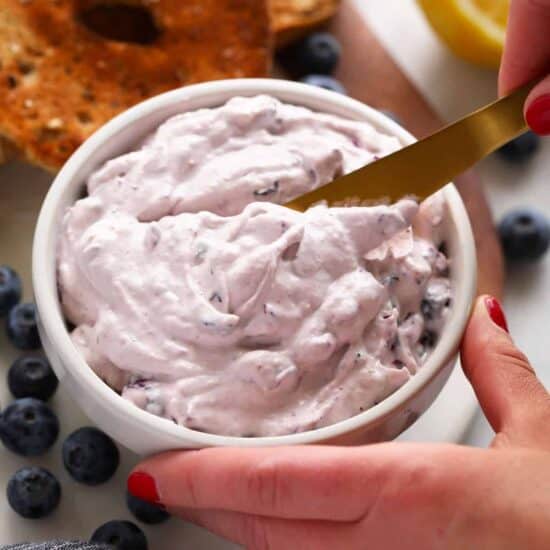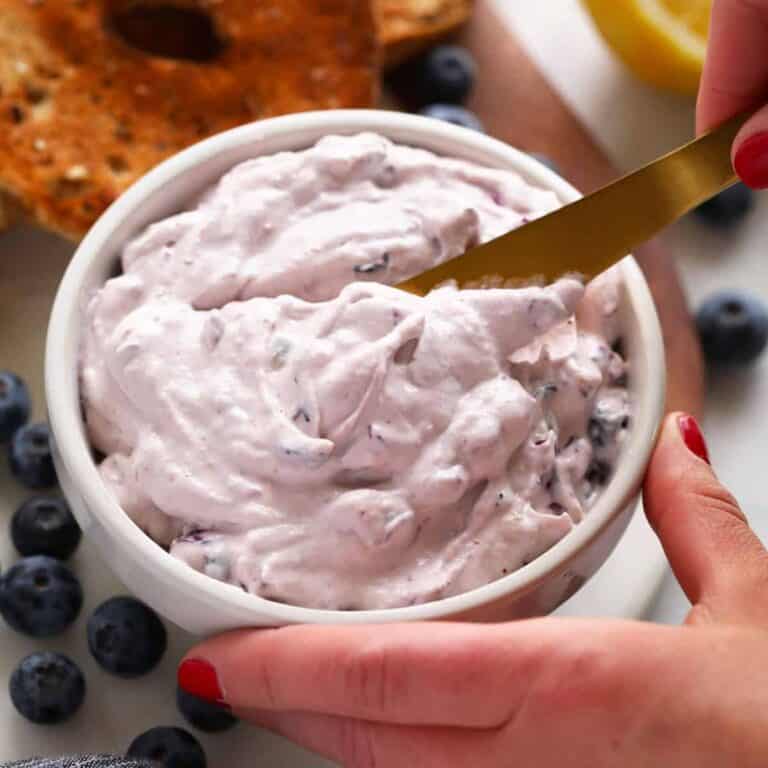 Blueberry Cream Cheese
Forget homemade blueberry cream cheese and make it yourself in the comfort of your own home. This blueberry cream cheese recipe is made with cream cheese, fresh blueberries, fresh lemon juice, and a pinch of salt. 
Ingredients
8

oz.

cream cheese

softened

1.5

cups

fresh blueberries

1/2

tablespoon

honey

1

teaspoon

vanilla extract

pinch

salt

1/2

teaspoon

lemon zest

1/2

teaspoon

fresh lemon juice
Instructions
Place softened cream cheese into a mixing bowl and beat in on medium/high with a hand mixer until completely smooth. 

Add the fresh blueberries to the bowl and mix on medium/low until the blueberries are partially smashed. 

Then, add the rest of the ingredients to the bowl and mix until combined and when the blueberry cream cheese reaches the desired consistency. 

Serve immediately or place in the fridge for later. 
Nutrition facts
Calories:
161
kcal
Carbohydrates:
9
g
Protein:
3
g
Fat:
13
g
Fiber:
1
g
Sugar:
7
g