Experience the cheesy soup of your dreams with this Velveeta broccoli cheese soup!
The Velveeta gives this delicious soup a rich cheesy flavor that you can't get from plain ol' cheddar, and we whip it right up in a Dutch oven for optimal speed, flavor, and texture.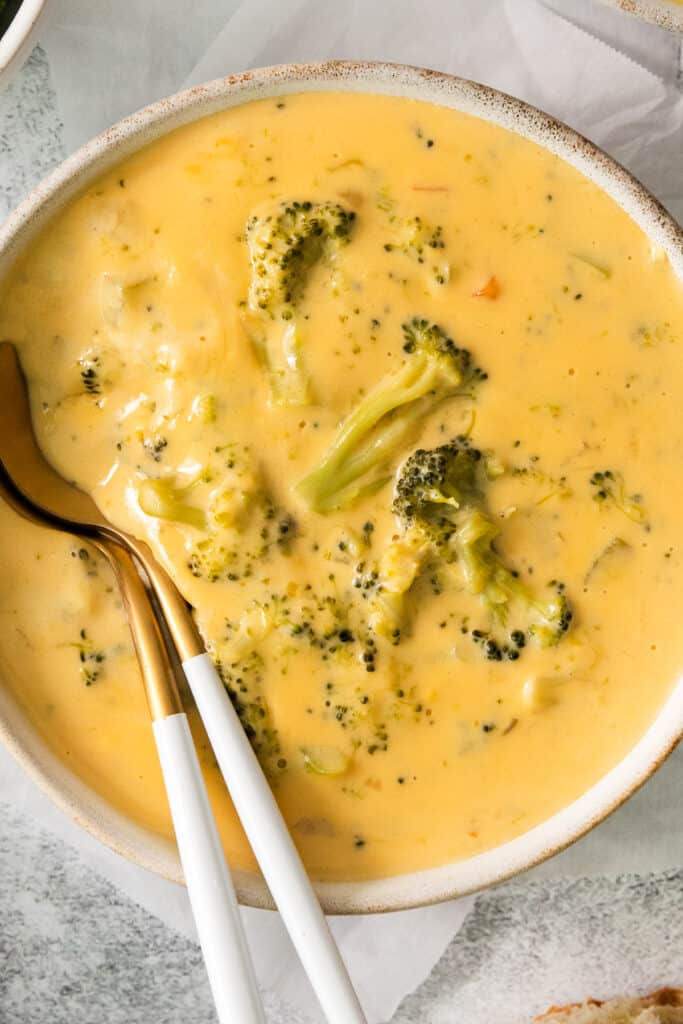 If creamy broccoli cheese soup is one of your all-time favorite soups, then this Velveeta broccoli cheese soup recipe is going to take you on a ride of flavor! Our version of broccoli cheese soup takes everything you love from the classic Velveeta boxed mac and cheese, but elevates it into a homemade version with fresh broccoli florets and other tasty veggies.
To make things even better, everything is cooked in a Dutch oven which is notorious for shortening cooking time and intensifying flavors. It can't get any cheesier, creamier, and dreamier than this!
What You Need to Make Velveeta Broccoli Cheese Soup
Veggies: we used white onion, carrots, and celery to create a flavorful base for the soup.
Broccoli florets: you can't have broccoli cheddar soup without the broccoli!
2% milk: we love how this easy broccoli cheese soup tastes with 2% milk.
Velveeta cheese: the star of the show, this processed cheese provides the best flavor.
Shredded cheddar cheese: the perfect kind of cheese to mix with the creamy Velveeta.
Dutch oven: you'll need to cook with a Dutch oven for the best results.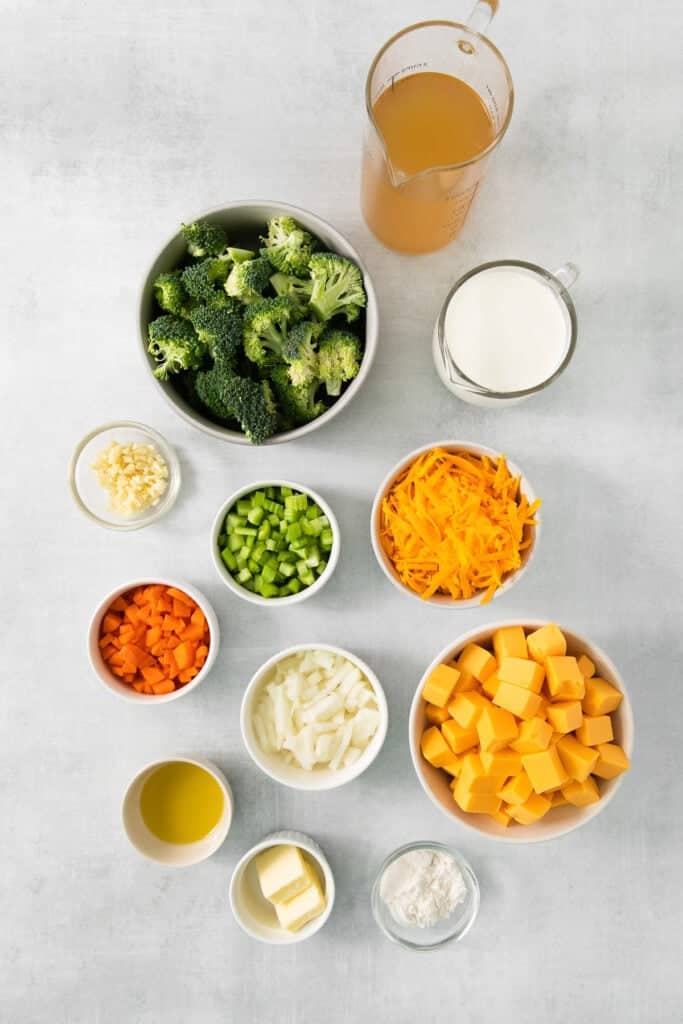 Variations and Substitutions
Onion: You're welcome to use yellow onion, red onion, or any other kind of onion that you prefer.
Broccoli: Rather use frozen broccoli? Go for it! Just add it in during step 4, or cook it via package instructions and add it before serving.
Milk: Whole milk or fattier non-dairy milk are other creamy milk alternatives that would also taste great in this recipe.
Cheese: Swap out the sharp cheddar cheese with Monterey Jack or Munster. Or, mix it with your favorite kinds of cheese.
​Make It Spicy: Add a bit of heat to your broccoli cheddar soup by adding hot sauce or sliced jalapenos.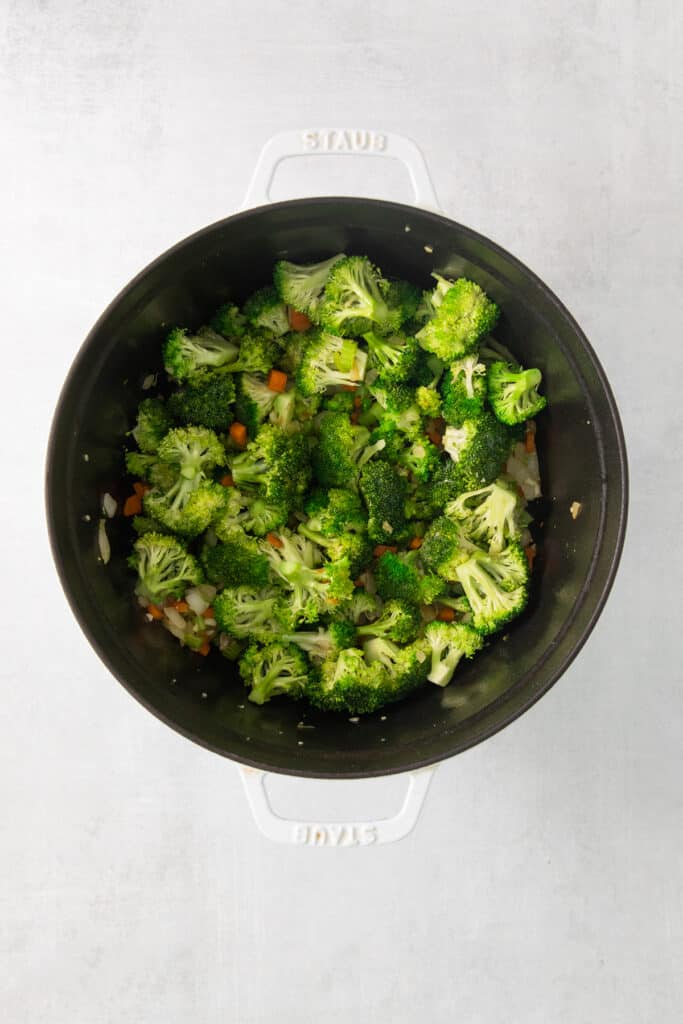 FAQs
Why did my broccoli cheese soup curdle?

If you find that your Broccoli Cheese Soup has curdled while heating, it's likely due to the dairy component. The proteins in milk and cream can separate when exposed to high temperatures, causing them to form clumps or "curds."

 To prevent this from happening, we recommend bringing the soup up to temperature slowly over low heat.
How do you thicken Velveeta broccoli cheese soup?

There are a few ways you can thicken your Velveeta broccoli cheese soup. One method is to mix equal parts butter and flour to form a thick paste, then stir it into the soup.

Another option is to whisk some cornstarch into cold water or broth until the cornstarch is dissolved, and then stir that mixture into the soup. For an even richer flavor, you can go wrong with a little more cheese!
Where can I find Velveeta cheese in the store?

It can be confusing to find Velveeta cheese in the store. However, at most stores like Walmart, Kroger, Costco, and Target, you'll typically be able to find it in the dips and spread section.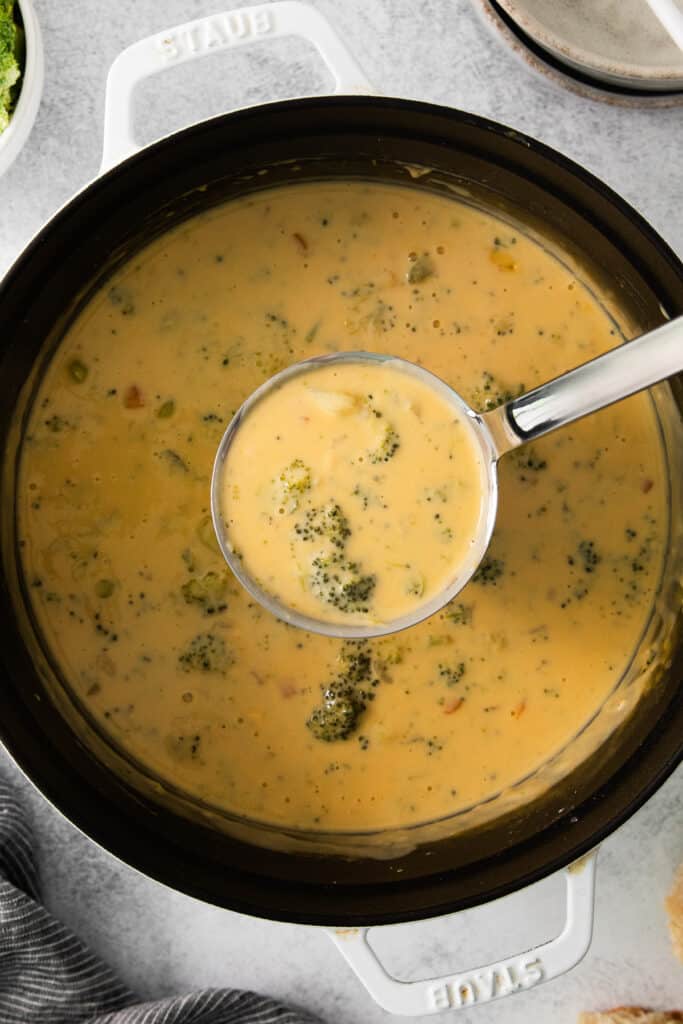 Storage + Freezer Directions
Store any leftover Velveeta broccoli cheese soup in an airtight container in the fridge for up to 3 days.
To freeze, place your broccoli cheddar soup in a freezer-safe, airtight container and store it in the freezer for up to 3 months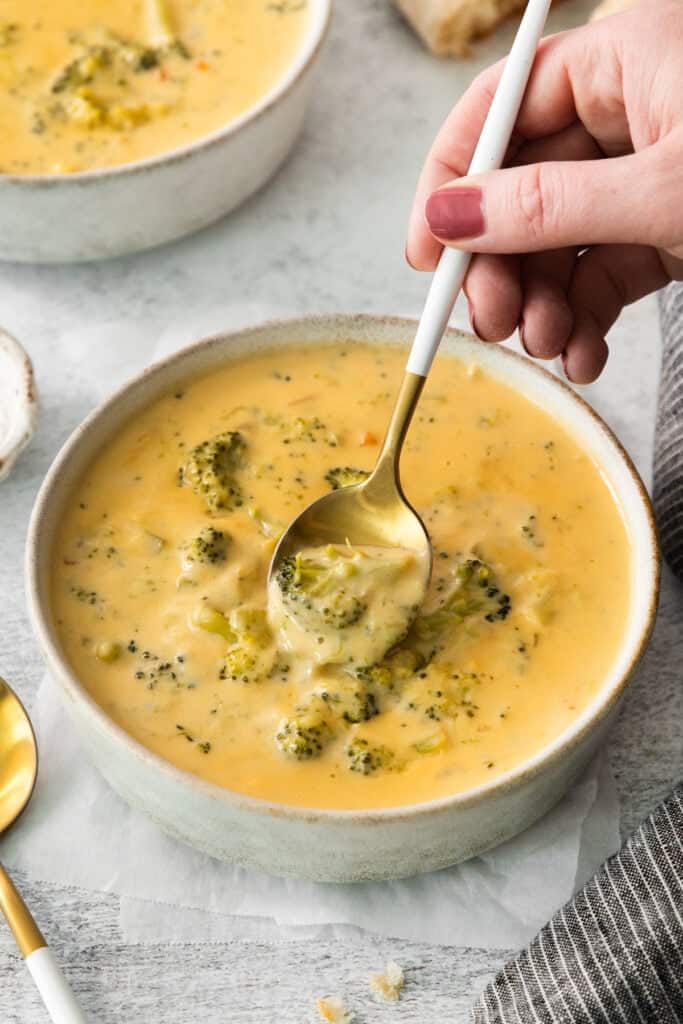 ​Serving Suggestions
There are so many things that taste delicious with this Velveeta broccoli cheese soup! Why not take the cheesiness over the top and pair your soup with this Fancy Grilled Cheese, Jalapeno Popper Grilled Cheese, or Avocado Grilled Cheese?
You can also use this soup as a yummy dipping for our Easy Cheese Bread or Parmesan Rosemary Foccacia Bread. And you can never go wrong with a soup and salad! This Greek Orzo Salad with Feta and Cucumber Tomato Feta Salad​ offer a great balance of fresh and cheesy.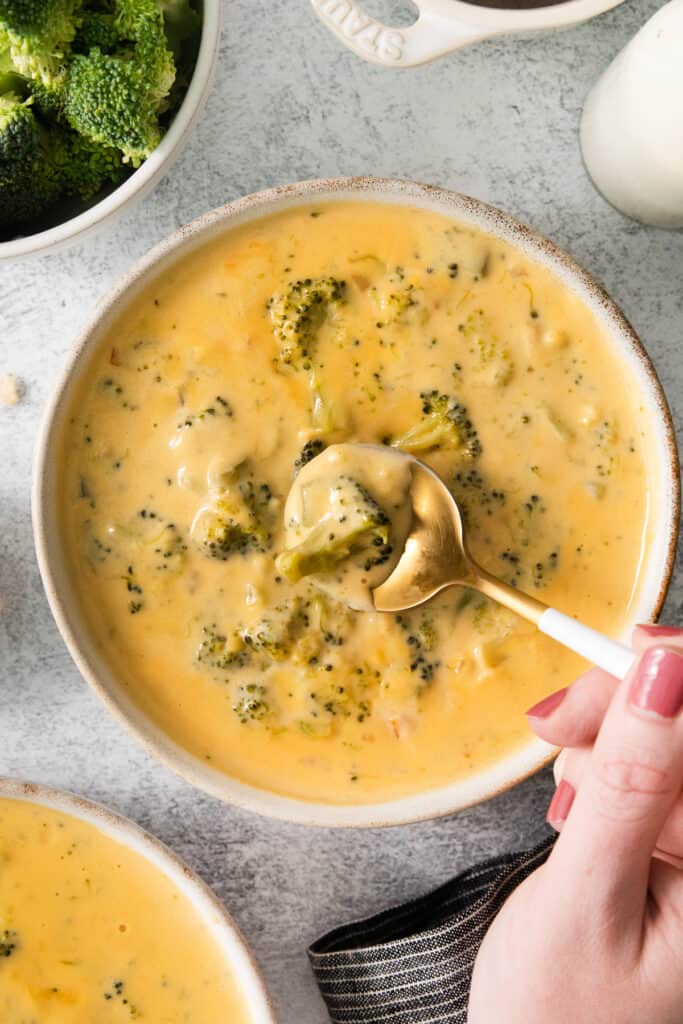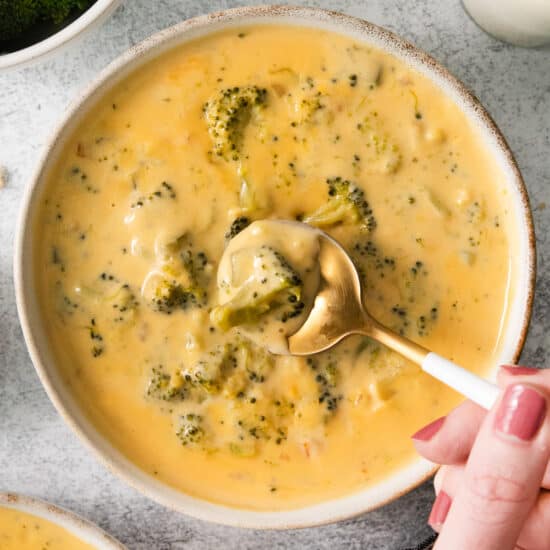 Velveeta Broccoli Cheese Soup
This Velveeta broccoli cheese soup is easily cooked up in the Dutch oven and is a rich, cheesy comfort food for the whole family.
Ingredients
1

tablespoon

olive oil

¼

large white onion

minced

1

large carrot

minced

2

stalks of celery

minced

12

oz.

broccoli florets

chopped

2

cloves

garlic

minced

2

tablespoons

unsalted butter

2

tablespoons

all-purpose flour

4

cups

chicken broth

1

cup

2% milk

16

oz.

Velveeta cheese

cubed

4

oz.

shredded cheddar cheese

~1 cup
Instructions
Heat a large Dutch oven over medium heat. Add the olive oil, onion, carrots, and celery. Cook for 3-4 minutes. Add the broccoli and garlic and cook for another 2 minutes.

Add the butter to the Dutch oven. Once it has melted, add the flour. Combine so that the flour is coating the broccoli like a paste. Cook for 1-2 minutes.

Add the broth and milk. Using a whisk or spatula, scrape the sides and the bottom of the pot. Stir the milk so that it thickens slightly.

Bring to a boil and then reduce the heat to a simmer. Cook for 15-20 minutes.

Add in the Velveeta and shredded cheddar cheese and stir until melted.

Serve immediately.
Tips & Notes
If you would like to use frozen broccoli in this recipe, you can add it in during step 4. Or you can cook it via package instructions and add it before serving.
Nutrition facts
Calories:
285
kcal
Carbohydrates:
15
g
Protein:
19
g
Fat:
17
g
Fiber:
1
g
Sugar:
8
g