The most delicious homemade Philly Cheesesteak recipe you ever did see! This is our take on a delicious Philly Cheesesteak. It is so easy to make at home, you just need steak, bell peppers, onions, and cheese and you're all set to go!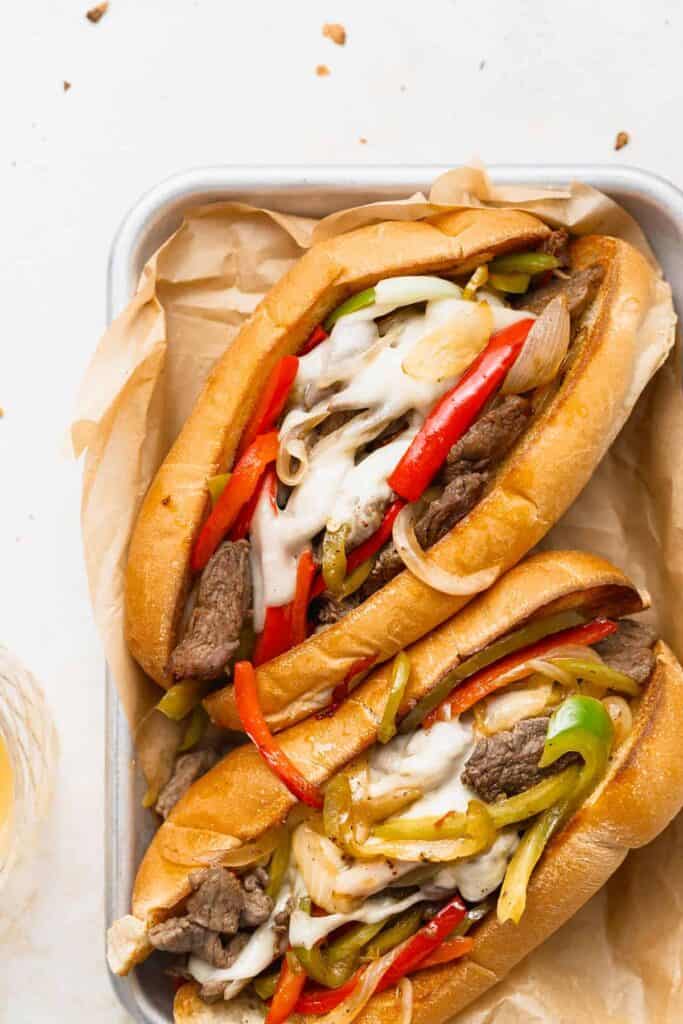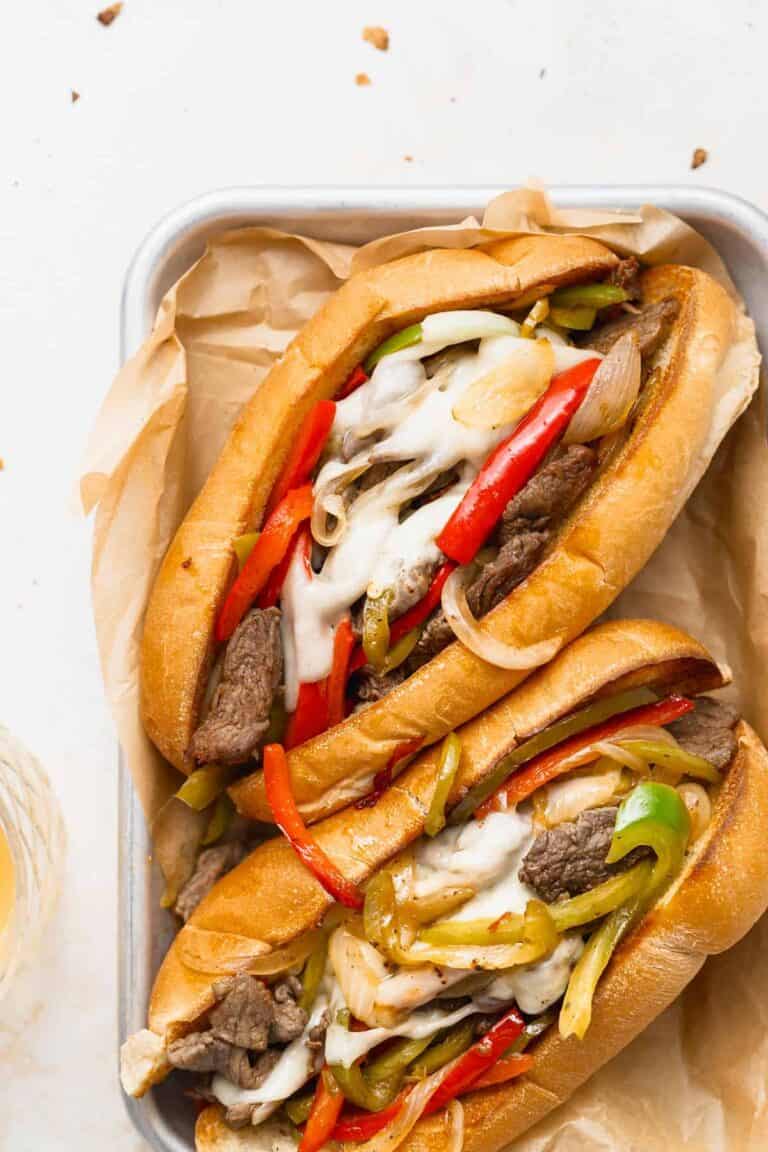 What is Philly Cheesesteak?
A traditional Philly Cheesesteak is made with thinly sliced steak, onion, and melted cheese. What cheese you use depends on who you are, but we used provolone cheese that is perfectly melted over the beef, peppers, and onions.
Though it isn't traditional, we added sautéd bell peppers to our Philly Cheesesteak for extra flavor and crunch. GET PUMPED.
Ingredients You Need
Ribeye steak- we used ribeye steaks because its easy to find, has great flavor, and cut into thin slices, it's perfect for Philly Cheesesteak.
White onion– Sautéd white onion is a traditional ingredient in any Philly Cheesesteak recipe.
Bell peppers– Green, red, yellow, or orange, you do you. Slice your bell peppers up to sauté with your onions for the perfect Philly Cheesesteak topping.
Worcestershire sauce– Get the juices flowing and add a little extra flavor to your beef with Worcestershire sauce.
Salt + pepper– Do not skimp on the salt in this recipe. You need salt to tenderize your meat and to enhance flavors of your peppers and onions.
Hoagie buns– One of the best parts of a Philly Cheesesteak is the bun! The beef, onions, peppers, and cheese make for a juicy dinner and the hoagie bun soaks all those delicious juices up! Feel free to substitute the hoagie bun with an Italian roll.
Salted butter– Toast those hoagie buns up with a little butter.
Garlic powder– Not only are your hoagie rolls buttery, but they are garlicy, too!
Olive oil– you will need some kind of oil to cook down your peppers and onions.
Provolone cheese– the cheese options here are endless. We went with provolone, but cheese wiz (yes, cheese wiz) is the traditional cheese of the Philly Cheesesteak.
what cut of beef is used for Philly Cheesesteak?
The traditional cut of meat for a Philly Cheesesteak is a Ribeye Steak. Ribeye is a deliciously marbled cut of meat that tenderizes when salted and then pounded thin.
However, you can use flank steak or your favorite cut of steak if you have it on hand. Just be sure to salt it and pound it!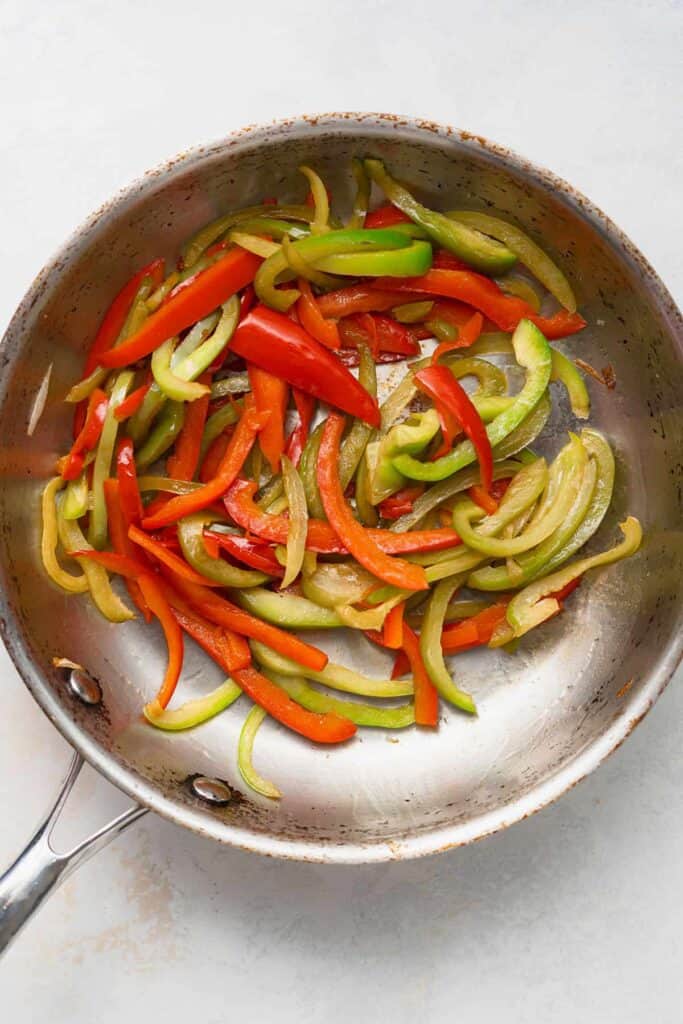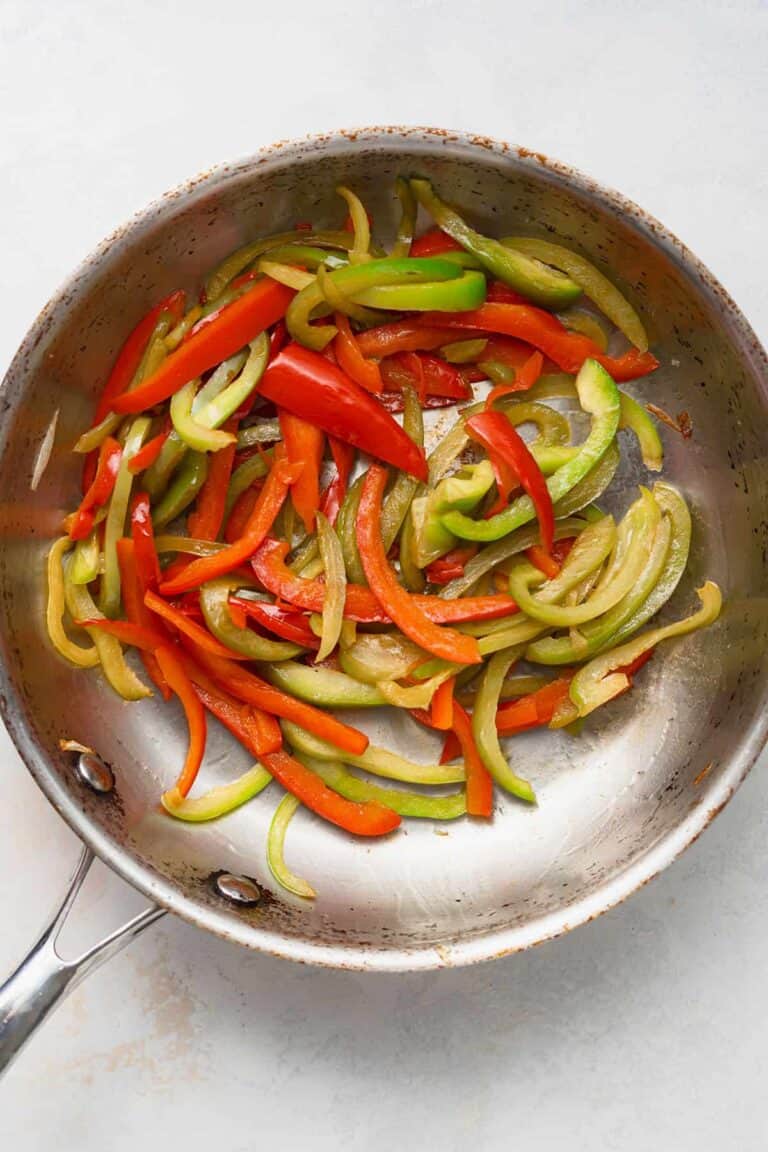 How Do You Make Philly Cheesesteak from Scratch?
Salt the meat. First things, first. Salt and pepper the ribeye. Really massage the salt and pepper into the meat so that it begins to tenderize. Set it aside.
Prepare the buns. Next, combine the butter and garlic powder and then slather the hoagie buns with the butter mixture. Set aside.
Pound the meat. Cover the ribeye steak with plastic wrap and pound the steak until it is about 1-inch thick. Slice the steak into long strips (against the grain) and the toss the steak strips with the Worcestershire sauce. Set aside.
Sauté the peppers + onions. While the steak is marinating in Worcestershire, sauté the peppers and onions until the onions are translucent. Remove from the pan.
Cook the steak. Finally, add more olive oil to the pan or the griddle and add oil. When the oil is really hot, add the steak strips and cook the steak for 1-2 minutes on each side so that the strips are still a bit pink.
Melt the Cheese. Mix the peppers, onions, and steak strips together and separate them into 6-8 piles onto the pan or the griddle (you may have to do this in steps depending on how big your pan is). Place a slice of cheese over each pile and cook over low heat until the cheese melts. Sometimes it helps to cover the pan so the cheese melts faster.
Toast the buns (or not) that is the question. If you like a toasted bun, place the buns butter side down onto the hot pan or griddle until they turn a golden brown color. Remove from the pan.
Build the sandwich. Place each one of the peppers, onions, and steak pile and place in on the toasted side of the hoagie bun and ENJOY. No condiments needed.
What do I cook the peppers, onions, and steak on?
If you have a flat griddle this recipe will go so much faster! You can cook the steak, peppers, onions, and hoagies all at the same time. However, a skillet will work just fine, you'll just have to cook in steps!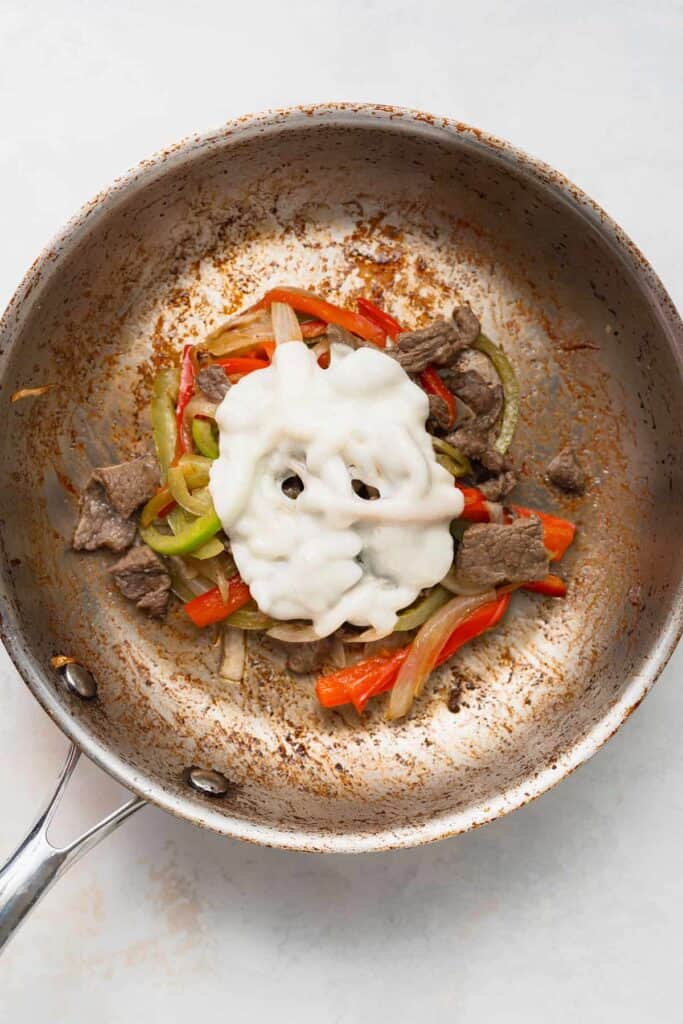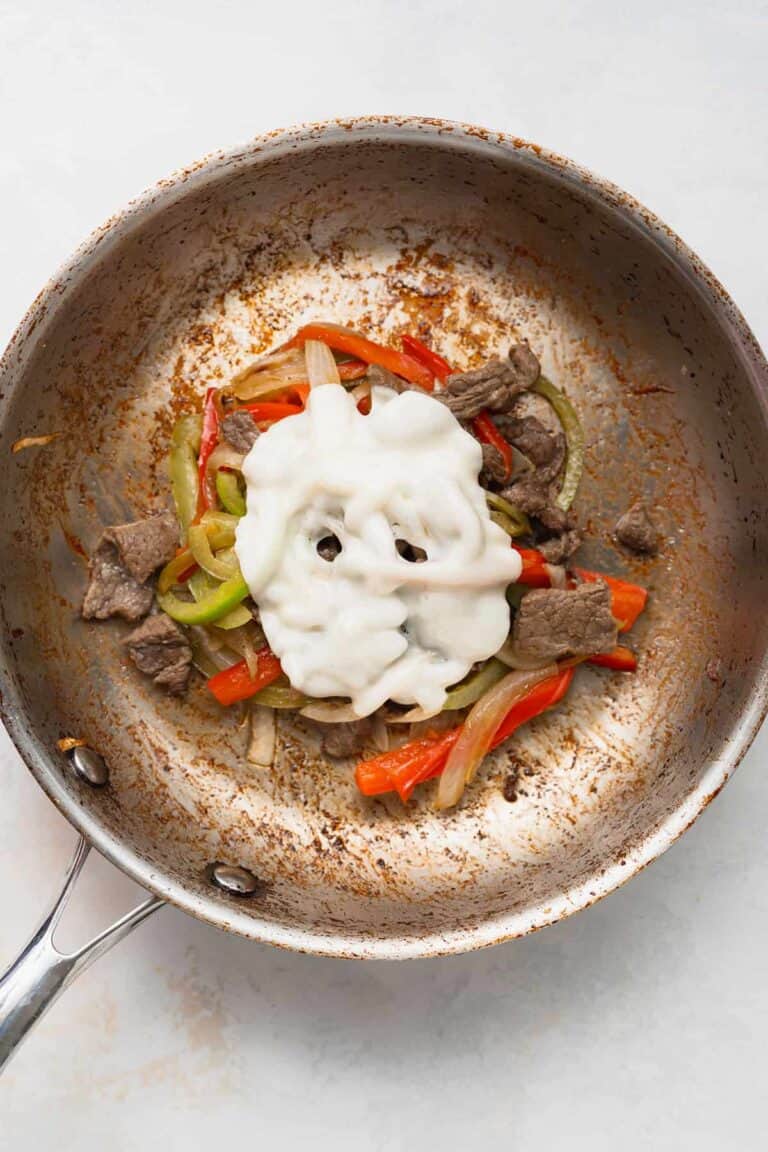 What You Need to Know: Philly Cheesesteak
It's all about the bun
Do not skip the bun, people! The bun soaks up the juices, gives you a delicious crunch, and completes the Philly Cheesesteak. You can use a classic hoagie roll or an Italian roll, the choice is yours.
What condiments go on a philly cheesesteak?
NONE. We are big believers that the steak (and steak juices), peppers, onions, cheese, and garlic butter give enough flavor to the sandwich that no condiments are needed.
How to Mix things up
You can change up your Philly Cheesesteak by making minor changes!
Make it spicy by sprinkling your sandwich with red pepper flakes right before eating!
Cheese change. Loose the provolone and add cheese wiz, Swiss cheese, or any other sliced cheese that your heart desires.
Add pickled things. It wouldn't be a Philly Cheesesteak if you add pickled things, but it would be delicious. Add these pickled onions or this pickled spicy peppers to your sandwich before eating!
What to Serve with Philly Cheesesteak
This Philly Cheesesteak Recipe is a pretty hearty meal, so we suggest serving it with something lighter! Check out some delicious side options below.
Beet Salad- Make a big beet goat cheese salad for an easy and veggie-packed meal! This salad is made with pears, goat cheese, walnuts, spinach, and a delicious salad dressing
Creamy Cucumber Salad- Our creamy cucumber salad is a healthy summer salad option made with lemon, fresh dill, and a little Greek yogurt!
Mexican Street Corn Salad- Our Mexican Street Corn Salad is made with grilled corn, tomato, onion, and the most delicious cotija yogurt sauce with lime juice.
Butter Lettuce Salad- This butter lettuce salad has a combination of vegetables, fruit, nuts, cheese, and is drizzled with a simple lemon vinaigrette. Everything on a bed of tender butter lettuce makes a perfect and delicious salad.
Storage
If you are going to "meal prep" a Philly Cheesesteak or eat it later we HIGHLY recommend storing your meat and peppers separate from the hoagie roll.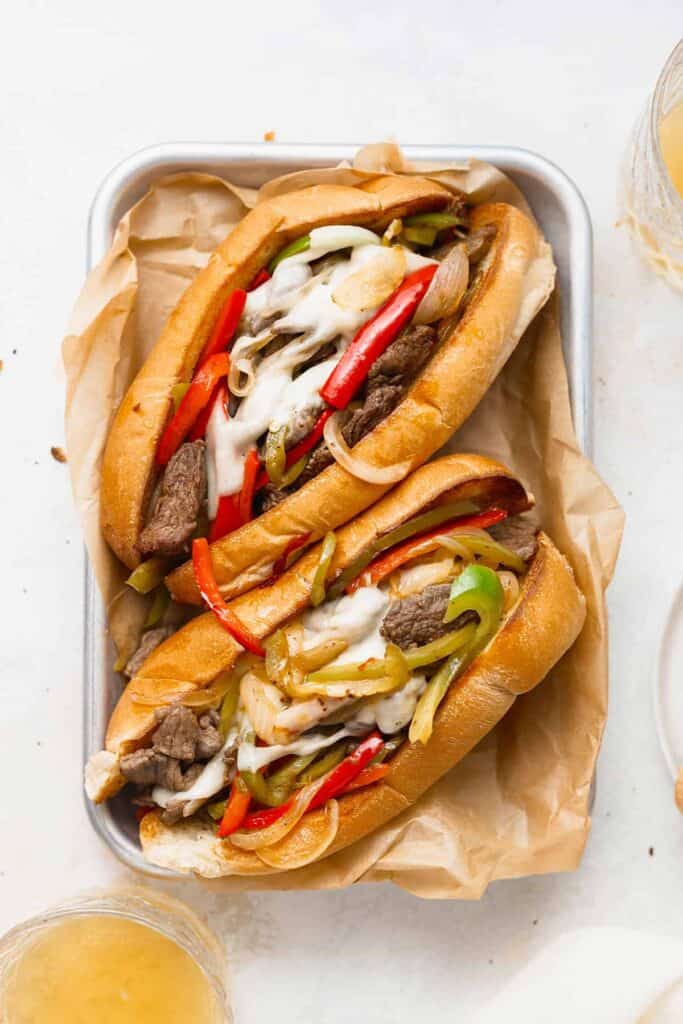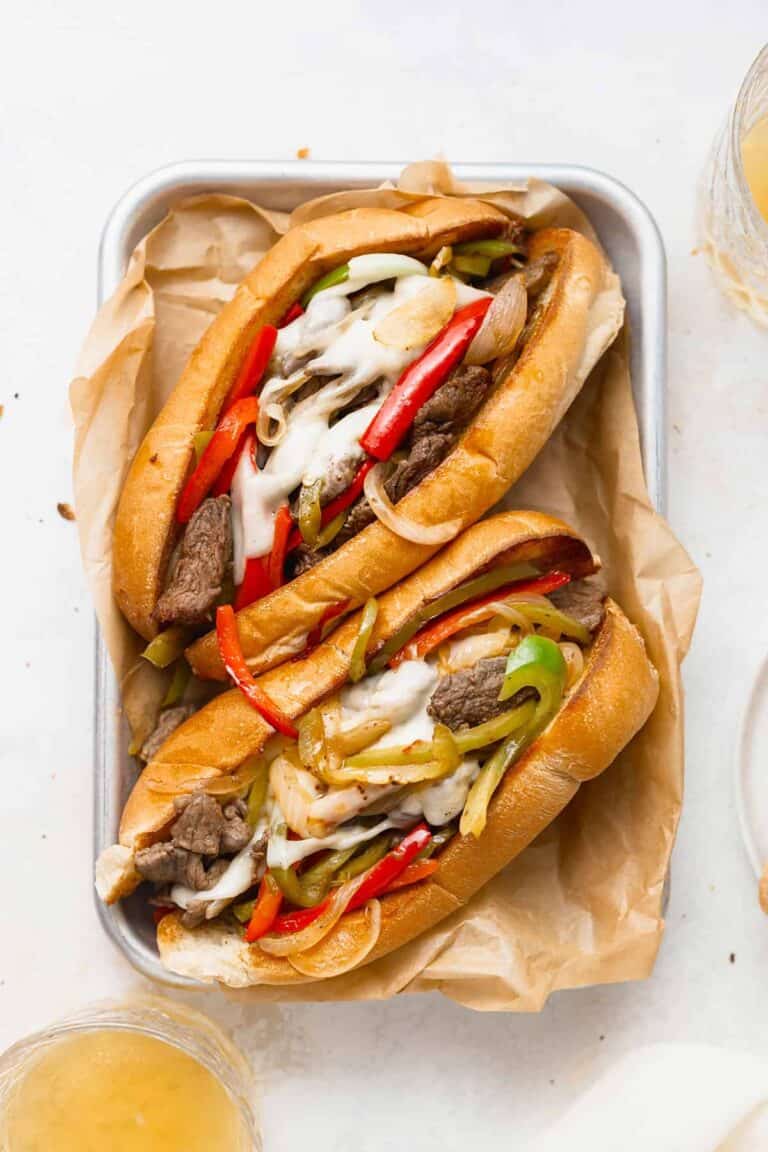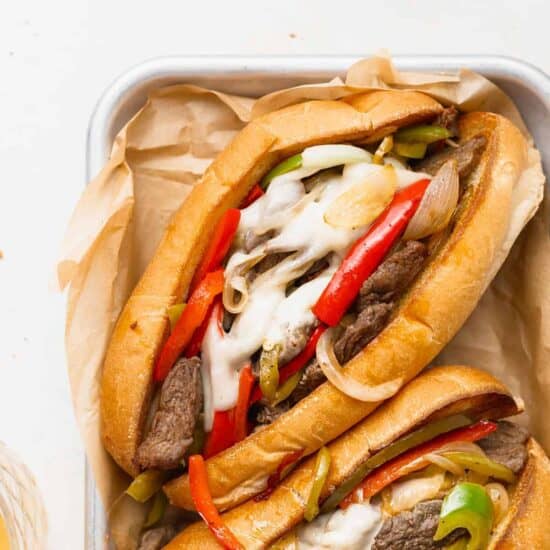 Philly Cheesesteak Recipe
You can make this Philly Cheesesteak in the comfort of your own home! Grab your bell peppers, onions, and the perfect cut of beef and you're on your way to a delicious cheesesteak dinner. 
Ingredients
4

lbs.

ribeye steak

1

large white onion

thinly sliced

2

large red bell pepper

seeded and thinly sliced

2

large green bell pepper

seeded and thinly sliced

1

tablespoon

worcestershire sauce

1

teaspoon

kosher salt

1

teaspoons

salt

separated

2

teaspoons

ground pepper

separated

8

hoagie buns

¼

cup

salted butter

salted

1

teaspoon

garlic powder

¼

cup

olive oil

8

slices

of provolone cheese
Instructions
Sprinkle both ribeye steaks with 1 teaspoon of kosher salt and 1 teaspoon of pepper. Really massage the salt and pepper into the steak. Let steak sit for 10 minutes. 

Prepare the garlic butter for the hoagies and add salted butter and garlic powder to a small bowl and mix until combined. 

Spread the garlic butter on the inside of each hoagie bun and then set the hoagies aside for later. 

Tenderize the ribeye steak by covering the steak with plastic wrap and then pound the steak down to about an inch thick. 

After the steak is pounded, thinly slice the steak into 1 ½ - 2 inch long pieces. Make sure the steak is thin!

Place the strips of steak into a large bowl and toss with 1 tablespoon of worcestershire sauce. Set aside. 

Add 1 tablespoon of olive oil to half of a large griddle and heat over medium/high heat. 

When olive is fragrant add the onions and ¼ teaspoon of salt. Sauté the onions over medium/low heat for 10-12 minutes or until they are caramelized.

While the onions are cooking down, prepare the peppers. Add 1 tablespoon of olive oil to the other side of the griddle. 

When the olive oil is fragrant, add the peppers and 1/4 teaspoon salt to the griddle. Sauté the peppers for 5-6 minutes over medium heat or until they begin to cook down. Be careful not to overcook them. 

When both the peppers and the onions are cooked down, mix them together and push them to one half of the griddle. 

Add the last two tablespoons of olive oil to the griddle and pour the strips of steak onto the griddle. Spread the meat out evenly to cook. 

Cook the steak strips for 1-2 minutes on each side. Be sure not to overcook the steak! 

Finally, mix the peppers, onions, and steak strips together and separate them into 6-8 piles on the griddle. 

Top each pile with one slice of provolone cheese. Let the cheese melt over the meat and peppers over low heat (about 4 minutes). 

While the cheese is melting, broil the hoagies in the oven by placing them buttered side up for 1-2 minutes to crisp them up. 

Assemble the sandwiches by scooping up each pile of meat and peppers and place them on a buttered hoagie. 

Enjoy! 
Nutrition facts
Calories:
888
kcal
Carbohydrates:
44
g
Protein:
75
g
Fat:
51
g
Fiber:
3
g
Sugar:
7
g