Got a pizza craving, but want to make something easy at home? This easy homemade pizza is a simple recipe that is just as delicious as it is effortless. The dough creates the perfect crust, and we topped ours with a tasty combo of pepperoni, green bell pepper, white onion, and Italian seasoning.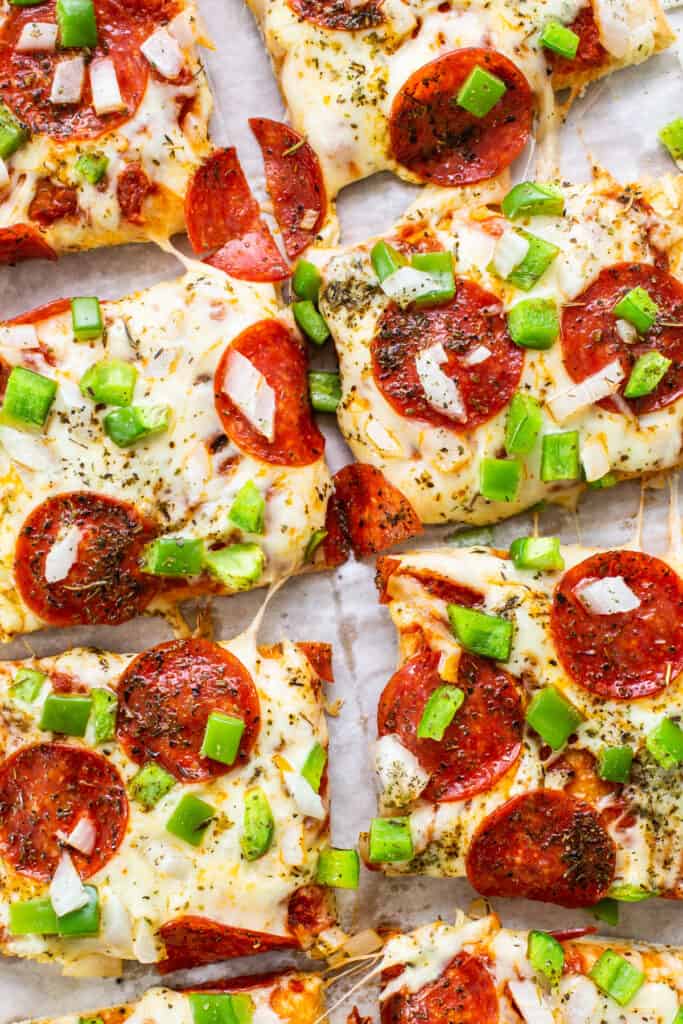 We get it. Making your own pizza at home can be quite intimidating. What if I mess up the dough? What if the crust comes out strange? But don't worry; this easy recipe is far from difficult.
Why? We use a premade Pillsbury refrigerated pizza dough that is SUPER easy to work with. However, if you have a premade pizza dough you want to try or want to try your hand at homemade pizza dough, be our guest! This recipe was made for everyone.
We topped our pizza with: pepperoni, green bell peppers, white onions, and Italian seasoning, but you can use any of your favorite toppings to make this classic dish all your own.
Why make homemade pizza?
It's the perfect meal to have in your arsenal when you don't know what to cook or want a fun make-your-own-pizza night with the fam. After all, everyone loves pizza, right?
what sets this homemade pizza apart?
A fun and customizable meal that the whole family can enjoy.
The simple pizza crust is baked to absolute perfection!
Cheesy, flavorful, and delicious!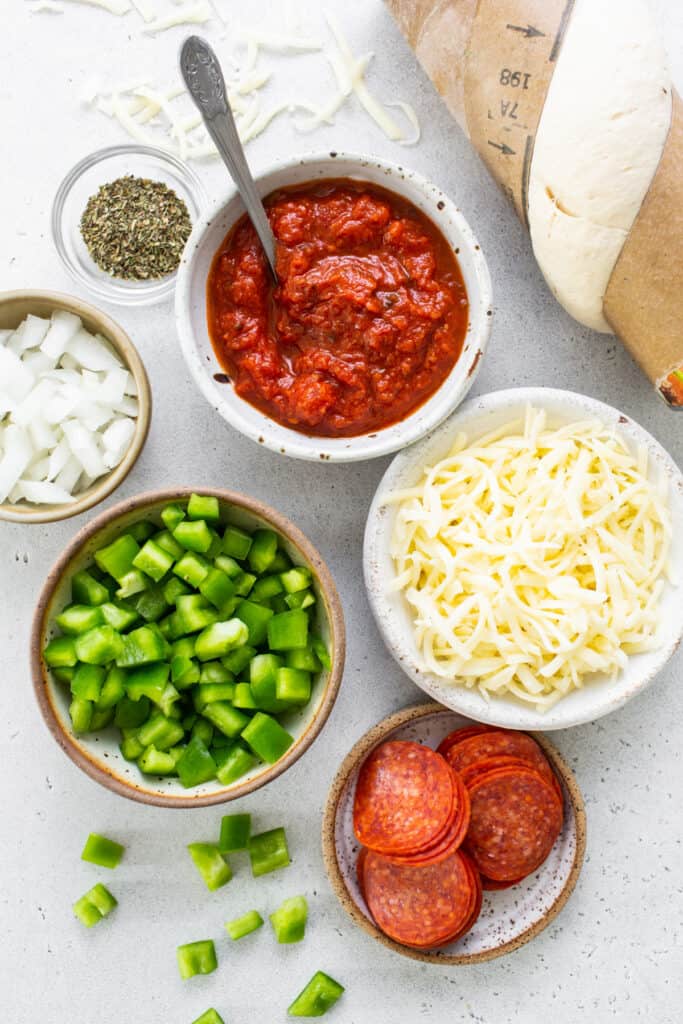 What You Need for Homemade Pizza
Pillsbury refrigerated pizza dough: we love how this dough comes out, but you're welcome to another premade brand or make your own homemade pizza dough.
Pizza sauce: the classic base for pizza! Use your favorite brand, or make your own.
Shredded Mozzarella cheese: the perfect gooey cheese for a delicious pizza.
Pepperoni slices: pepperoni adds a kick of spice and meaty flavor.
Green bell pepper: green peppers give this pizza a nice crunchy texture and fresh flavor.
White onion: onions are great for enhancing the flavor of any dish. Red onion works well too!
Italian seasoning: we kept it classically Italian and finished this pizza off with some Italian seasoning.
Other Tasty Topping Ideas
The best thing about pizza is that you can customize it with your favorite pizza toppings. This recipe is our favorite way to eat it, but if you'd like to put your own spin on the toppings, here are some of our suggestions for inspiration:
​Mushrooms
Red onions
Olives
Sausage
Bacon
Ham
Chicken
Jalapenos
Pepperoncini
Prosciutto
Pineapple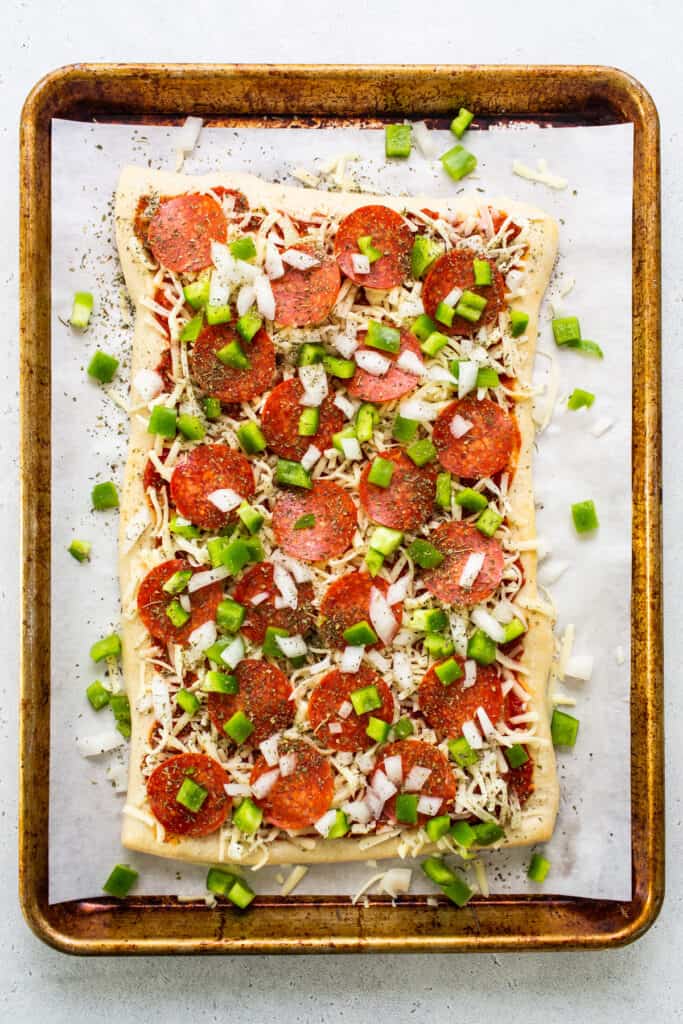 FAQ
What can I put under my pizza crust to keep it from sticking?

If you're worried about your pizza dough sticking, using cornmeal can be the perfect solution. Cornmeal is a great choice because its coarse, gritty texture adds flavor and crunch to the pizza crust. 

Simply spread a thin layer of cornmeal on the bottom of your pizza pan before adding the dough. For a super crispy crust, you can mix together a blend of cornmeal and semolina flour.
How long should pizza dough rest before being stretched?

This answer highly depends on what type of dough you have. Check the package instructions and follow the instructions given there. If you don't have premade dough and want to make your own, the best rule of thumb is to let the dough rest for 10-15 minutes before stretching.
Should you poke holes in pizza dough?

If you prefer a less puffy pizza, then you may want to poke holes in the dough before baking. Doing so will help the air to escape so you don't get big bubbles in your crust. Plus, it can give you a better texture overall. An easy way to do this is to poke your pizza with a fork.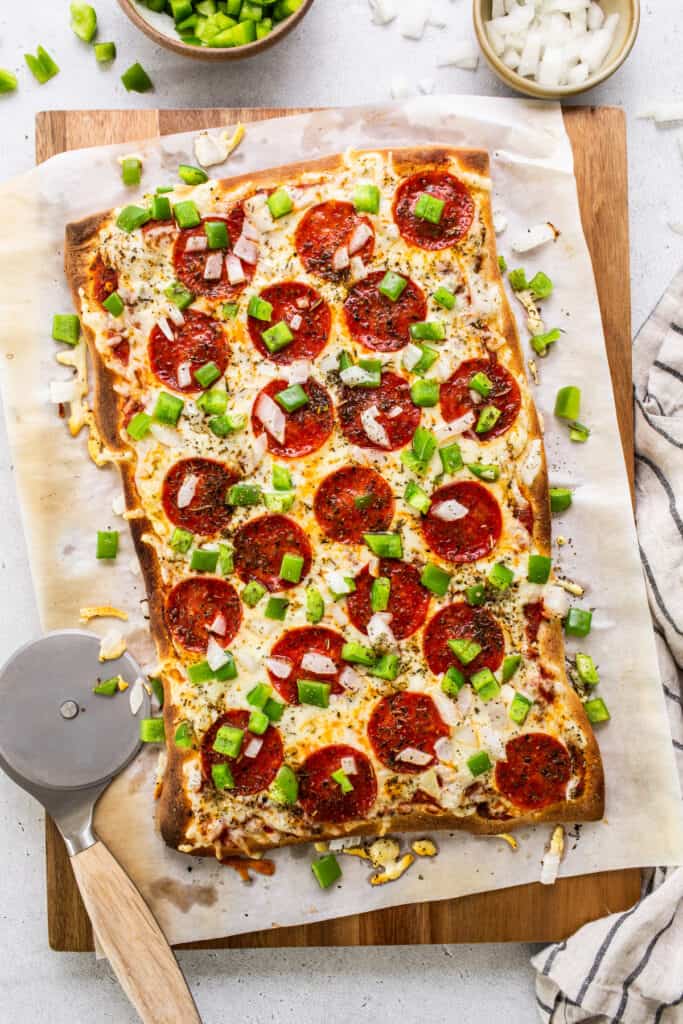 Storage
You can store your leftover pizza by placing the slices in an airtight container with paper towels in between each slice. Then place it in the refrigerator for up to 4 days.
To Freeze: After step #2, place the sheet pan into the freezer, and freeze for at least 2 hours. Once frozen, the pizzas can be placed into a freezer storage container separated by parchment paper.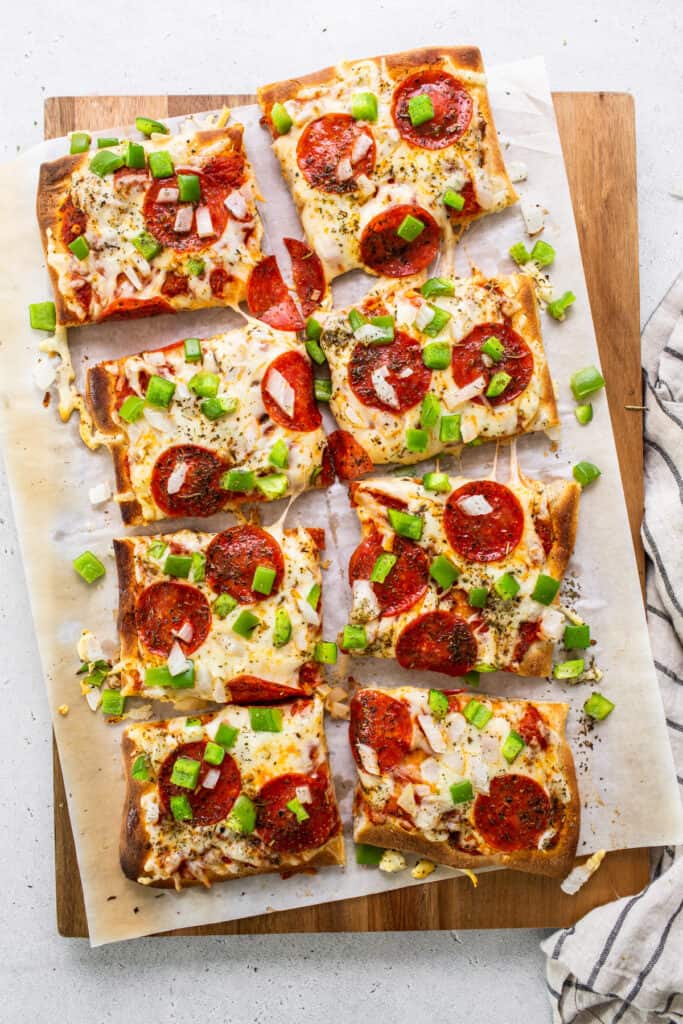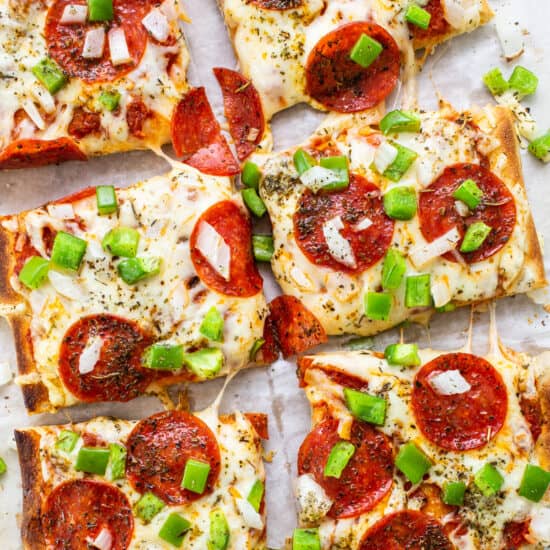 Easy Homemade Pizza
Dive into the world of homemade comfort food with our Easy Homemade Pizza Recipe – a culinary adventure promising a perfect crust, rich tomato sauce, and a blanket of deliciously melty cheese, all customizable to your heart's content!
Ingredients
13.8

oz.

Pillsbury refrigerated pizza dough or homemade pizza dough

½

cup

pizza sauce

6

oz.

shredded Mozzarella cheese

~2 cups

4

oz.

pepperoni slices

1

green bell pepper

diced

¼

white onion

minced

2

teaspoons

Italian seasoning
Instructions
Preheat the oven to 400ºF. Line a baking sheet with parchment paper.

Unroll the pizza crust and lay it flat on the baking sheet. Par-bake the pizza crust for 8 minutes.

Remove the pizza from the oven and assemble the pizza. Use a spoon to spread the pizza sauce evenly over the pizza. Then, sprinkle on the cheese, pepperoni slices, green pepper, and onion over the sauce. Season with Italian seasoning.*

Bake the pizza for an additional 6-10 minutes or until the bottom of the pizza crust is golden brown.

Serve immediately.
Tips & Notes
You can use any brand of pizza dough or homemade pizza dough.
If you like saucier pizza, add an additional ¼ cup of pizza sauce.
Feel free to add other pizza toppings.
To freeze: After step #2, place the sheet pan into the freezer, and freeze for at least 2 hours. Once frozen, the pizzas can be placed into a freezer storage container separated by parchment paper.
Nutrition facts
Calories:
530
kcal
Carbohydrates:
52
g
Protein:
23
g
Fat:
26
g
Fiber:
3
g
Sugar:
9
g
Photography: photos taken in this post are by Ashley McGlaughlin from The Edible Perspective.