Cozy up this fall with this wonderfully creamy chicken soup! Shredded chicken is combined with hearty veggies, pasta, and the star ingredient: ricotta cheese to make an unbelievably flavorful soup that'll win over everyone's hearts.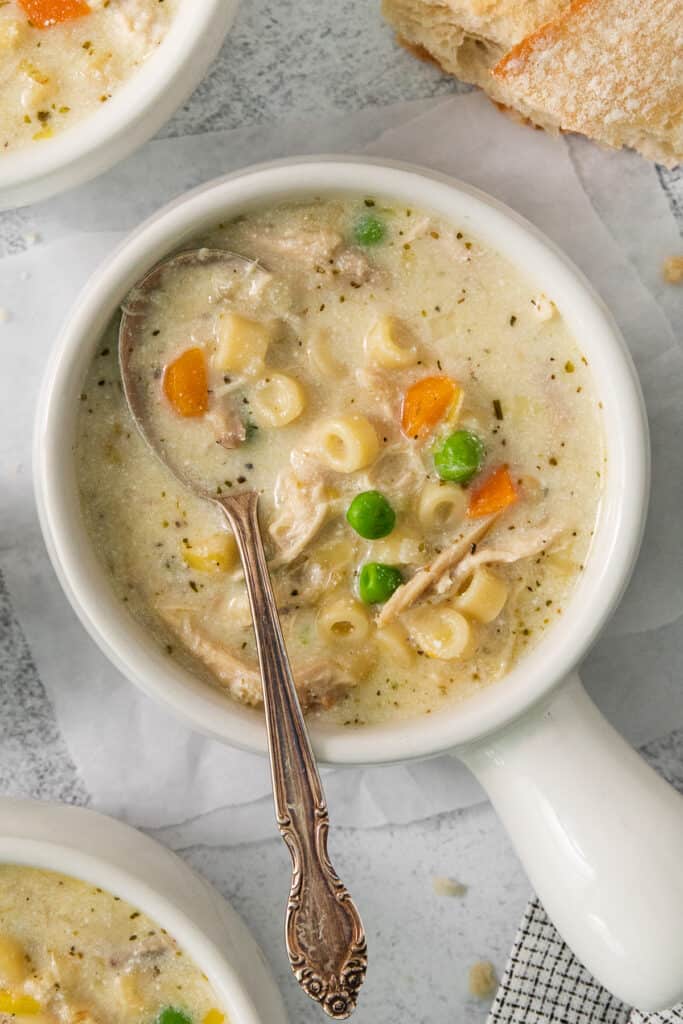 I don't know about you, but I love a good soup during the fall. And let me tell you, this creamy chicken soup is not like any other great soup you've tried before. Why? CHEESE, of course! Ricotta cheese specifically. It gives this soup a creamy texture you never even knew could exist. It's the perfect comfort food.
This hearty soup is made all in one Dutch oven, so all you've got to do is cook up the veggies. Then add the seasoning, chicken broth, cooked pasta, and chicken before adding the ricotta cheese and frozen peas at the end. The result? A scrumptious creamy chicken soup you'll want to make again and again!
What You Need to Make Creamy Chicken Soup
Veggies: we used a combination of onion, garlic, leek, carrots, and frozen peas to make this soup super hearty.
Chicken broth: the base of the soup, chicken broth adds a rich umami flavor perfect for chicken soup.
Ditalini pasta: the perfect chunky noodle for this hearty soup.
Shredded chicken: be sure you cook and shred your chicken before starting this recipe.
Whole milk ricotta cheese: the star ingredient, ricotta cheese, makes this soup creamy and dreamy.
Dutch oven: using a Dutch oven will speed up the cooking of your soup and fully enhance the flavor.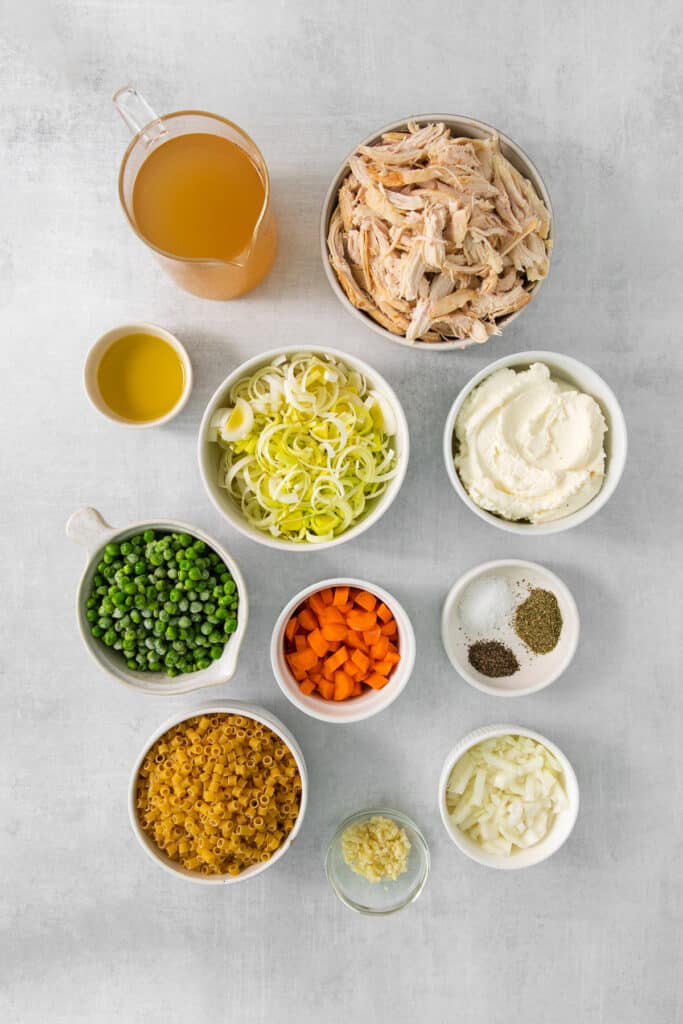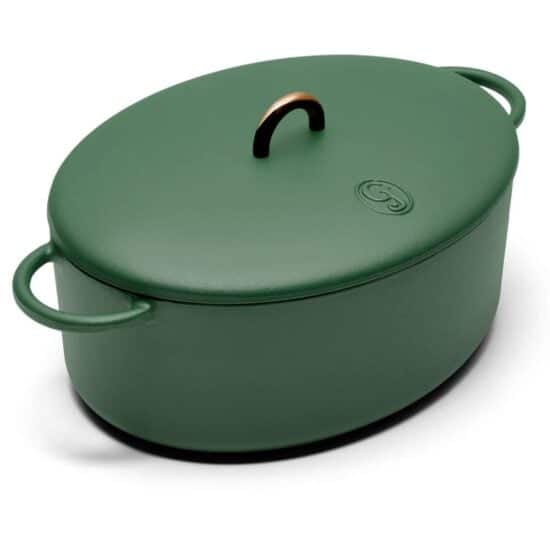 Great Jones
The Dutchess
This is hands-down our favorite Dutch oven. It's a 6.75 quart enameled cast iron Dutch oven that's super high-quality and gorgeous.
Buy Now!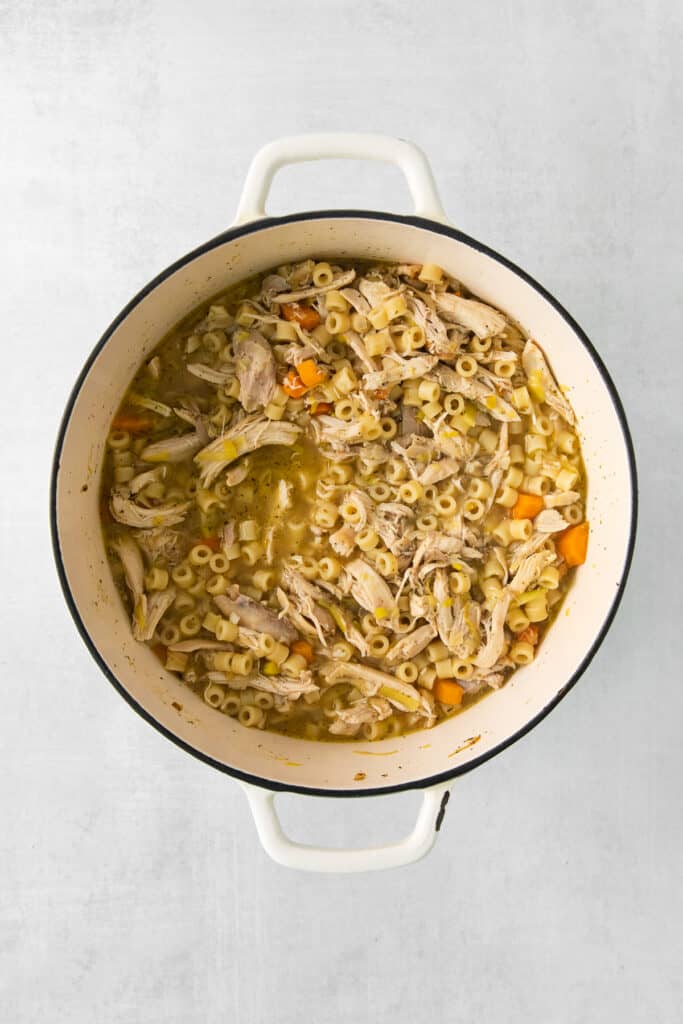 Substitutions & Variations
Veggies: sub the leek with scallions or use other veggies for the soup, like broccoli, green beans, mushrooms, potatoes, or corn.
Chicken broth: this creamy soup would also taste great with vegetable broth or beef broth. Just note the flavors will be slightly different.
Milk: any cow's milk can be used in this recipe. Unsweetened almond milk could be used if you want to use less dairy.
Ditalini pasta: we love how this homemade soup tastes with ditalini pasta, but you're welcome to use your favorite kind of pasta.
Shredded chicken: feel free to experiment and make this soup with ground pork, shredded turkey, or replace the protein with potatoes for a vegetarian dish.
​Ricotta cheese: rather not use ricotta cheese? Use cottage cheese or cream cheese instead.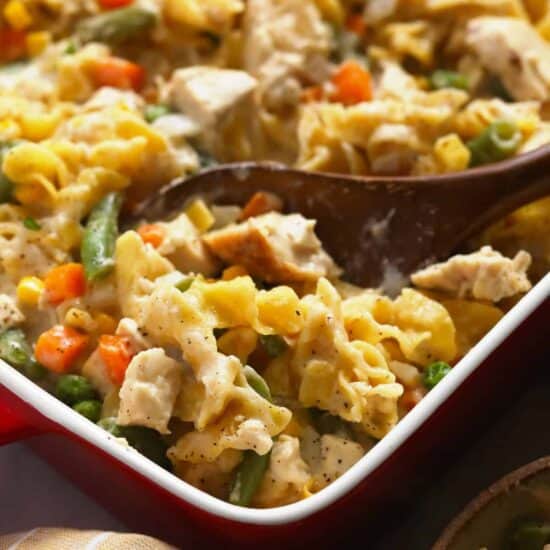 Try it!
Creamy Chicken Noodle Casserole
This Cheesy Chicken Noodle Casserole is comfort food at its finest! Everything you love about chicken noodle soup, but as a flavor-packed casserole.
Get Recipe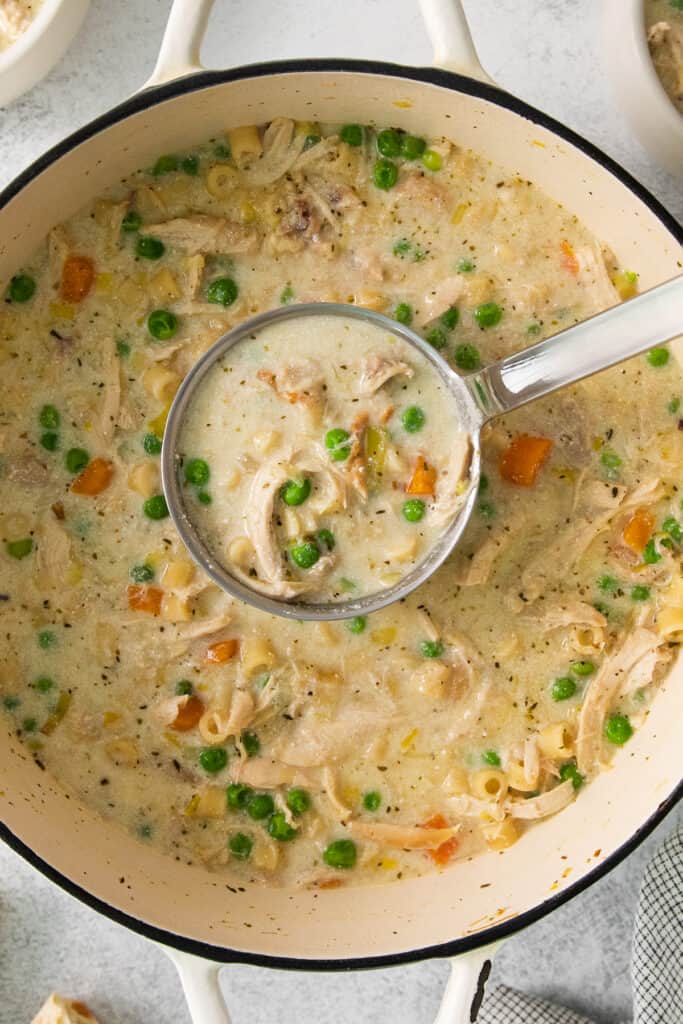 FAQs
What makes soup more creamy?

There are many methods to creating a deliciously creamy soup. Dairy products such as butter, heavy cream, half and half, or cheese can all be used to give a velvety texture to soup. 

For those looking for vegan options, no dairy milk or puréed veggies like potato, chickpeas, or cauliflower are a great way to achieve a creamy consistency.
How do you get the most flavor in chicken soup?

Typically, spices and herbs are what give chicken soup its flavor. Starting with a good quality stock is important, as this will be the base for your soup and provide a rich flavor. 

With this creamy chicken soup recipe, we added ricotta cheese to give it an irresistibly creamy and tangy flavor that surely makes it stand out from the rest.
Does chicken soup taste better the longer you cook it?

Absolutely! Chicken soup is like many other soups in that the longer you simmer it, the more flavor comes out of the ingredients and into your soup. Luckily when using a Dutch oven like in this recipe, you'll be able to cook your soup much faster without sacrificing flavor.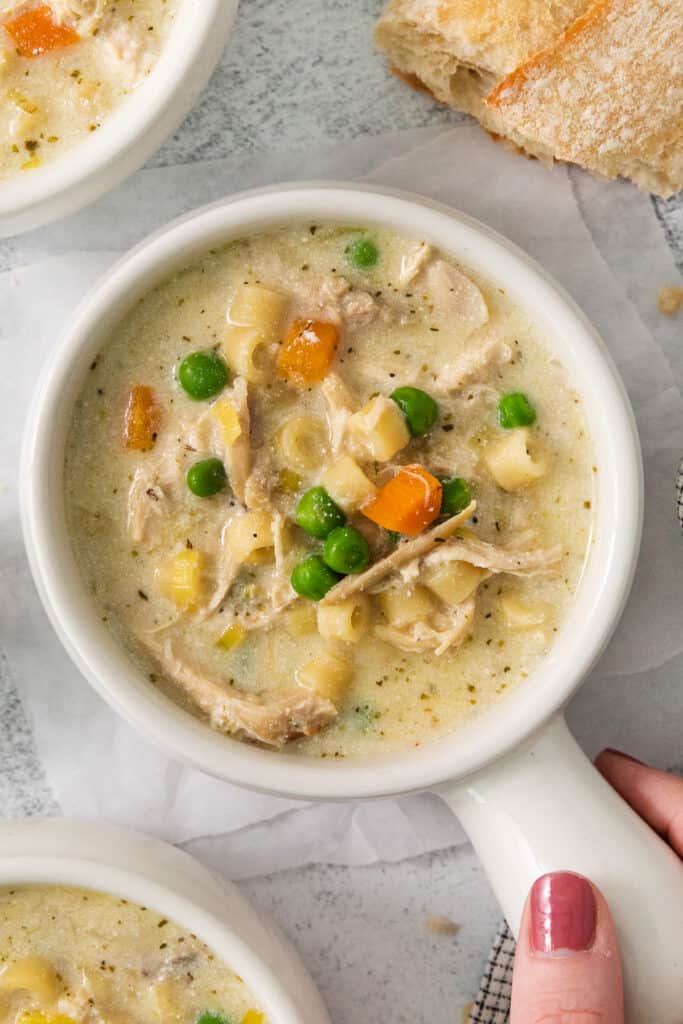 Storage
​Store any leftover creamy chicken soup in an airtight container in the fridge for up to one week.
Freezer Directions
To freeze, place in an airtight, freezer-safe container and store in the freezer for up to 4 months.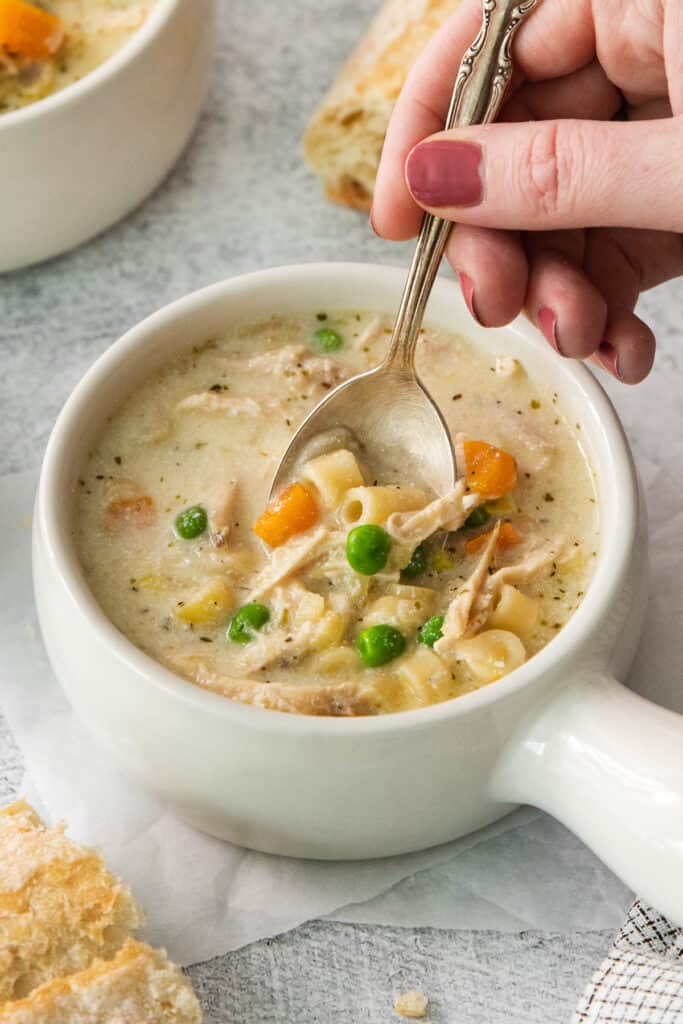 Serving Suggestions
Enjoy this easy chicken noodle soup on its own, or dunk this Easy Cheese Bread or Cheesy Garlic Bread into the soup and arrive in cheese heaven!
You also can't beat the classic soup and salad combo. Our Greek Orzo Salad with Feta, Cucumber Tomato Feta Salad, and Beet Goat Cheese Salad are all great picks to freshen your palate.​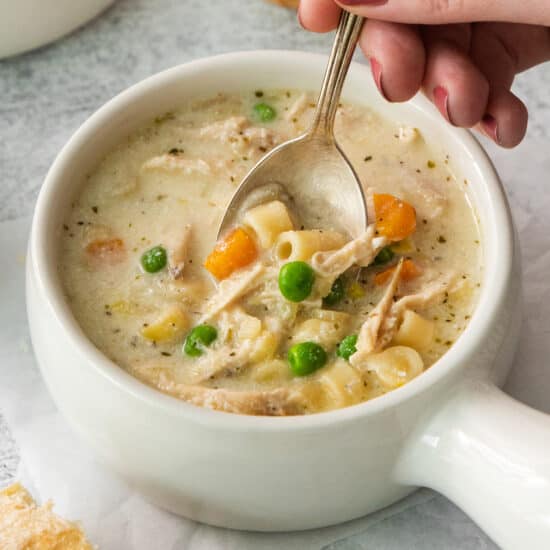 Creamy Chicken Soup
This creamy chicken soup is delicious, cozy, and made all in a Dutch oven for an easy meal that makes cleanup a breeze.
Ingredients
2

tablespoons

olive oil

½

cup

white onion

minced

1

leek

thinly sliced (~7 oz.)

3

small carrots

cut into half-moons

2

garlic cloves

minced

1

teaspoon

Italian seasoning

1

teaspoon

salt

½

teaspoon

ground black pepper

6

cups

chicken broth

8

oz.

ditalini pasta

1

lb.

shredded chicken

16

oz.

whole milk ricotta cheese

1

cup

frozen peas
Instructions
Heat a Dutch oven over medium heat. Add the olive oil, onion, leeks, and carrots. Cook for 3 minutes.

Add the garlic, Italian seasoning, salt, and pepper and stir. Cook for another minute.

Add the chicken broth, ditalini pasta, and shredded chicken to the pot and bring to a boil. Reduce the heat to low and simmer for 15 minutes. Check to make sure the pasta is cooked all the way. If it is not, cook for an additional 2-3 minutes and check again.

Add the ricotta cheese and frozen peas and whisk to combine. Cook for 5 minutes.

Serve immediately.
Tips & Notes
Any small pasta would work in this recipe.
Milk – Any cow's milk can be used in this recipe. Unsweetened almond milk could be used. Add an additional teaspoon of Italian seasoning in this case.
Nutrition facts
Calories:
395
kcal
Carbohydrates:
33
g
Protein:
29
g
Fat:
16
g
Fiber:
3
g
Sugar:
4
g