The holidays are here and it's time to make these soft and delicious Cream Cheese Sugar Cookies!
Made with simple ingredients, you'll never make another cream cheese sugar cookie recipe again.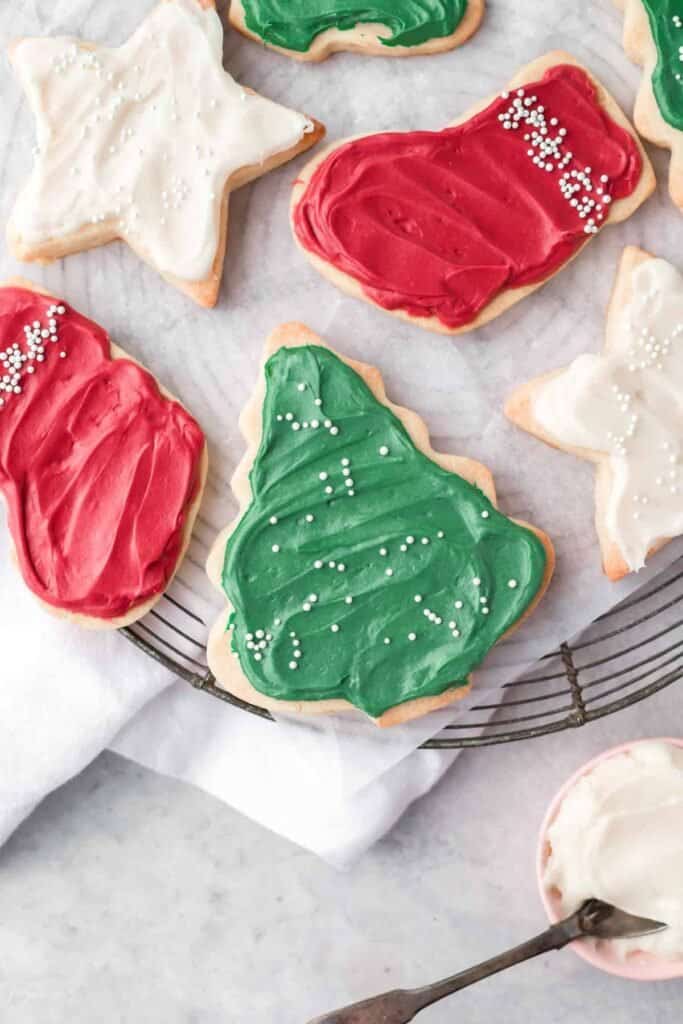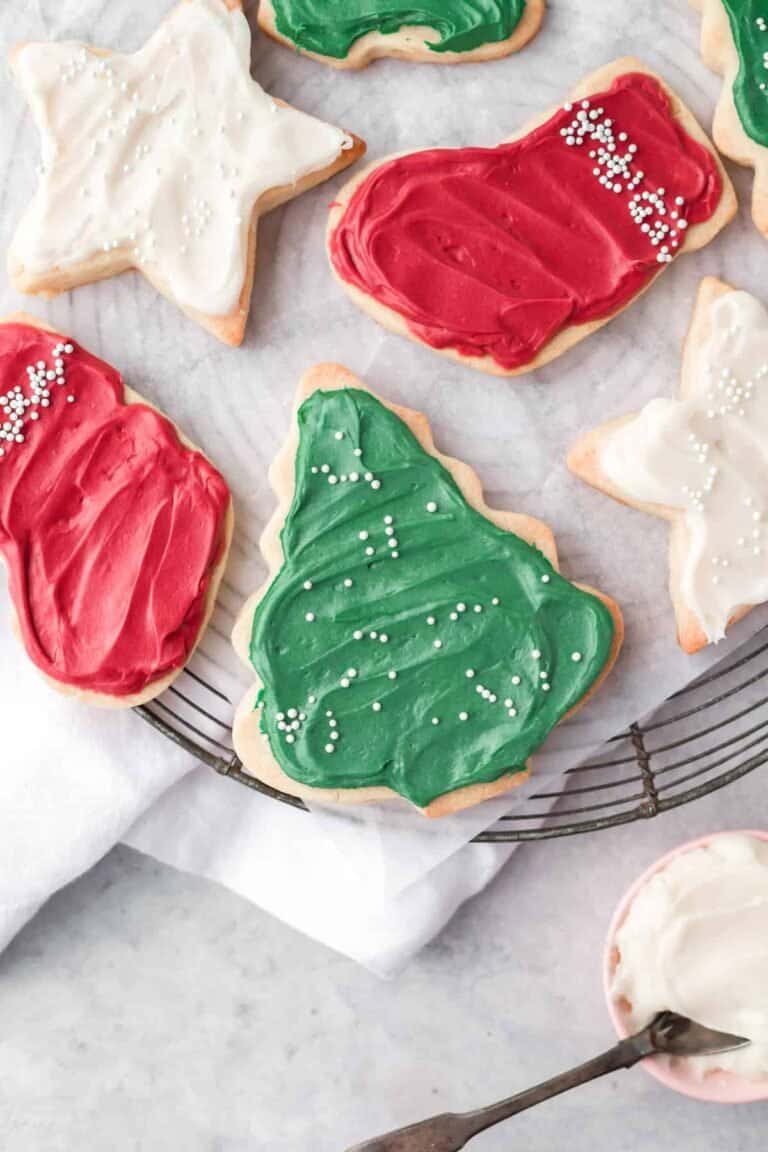 Soft and Perfect Cream Cheese Sugar Cookie Recipe
For us, holiday baking is a form of stress relief and "me" time. That's why we're so excited to get into the holiday baking season with these melt-in-your-mouth Cream Cheese Sugar Cookies!
I love our ricotta cookies, but a soft and chew sugar cookie really hit it home for the holidays.
Why Make These?
We know making cream cheese sugar cookies from scratch can be daunting, but after you do, you'll be so glad you did! Here are just a few reasons why these Christmas cookies ROCK:
soft and perfect
serves a crowd
fun activity
kid-friendly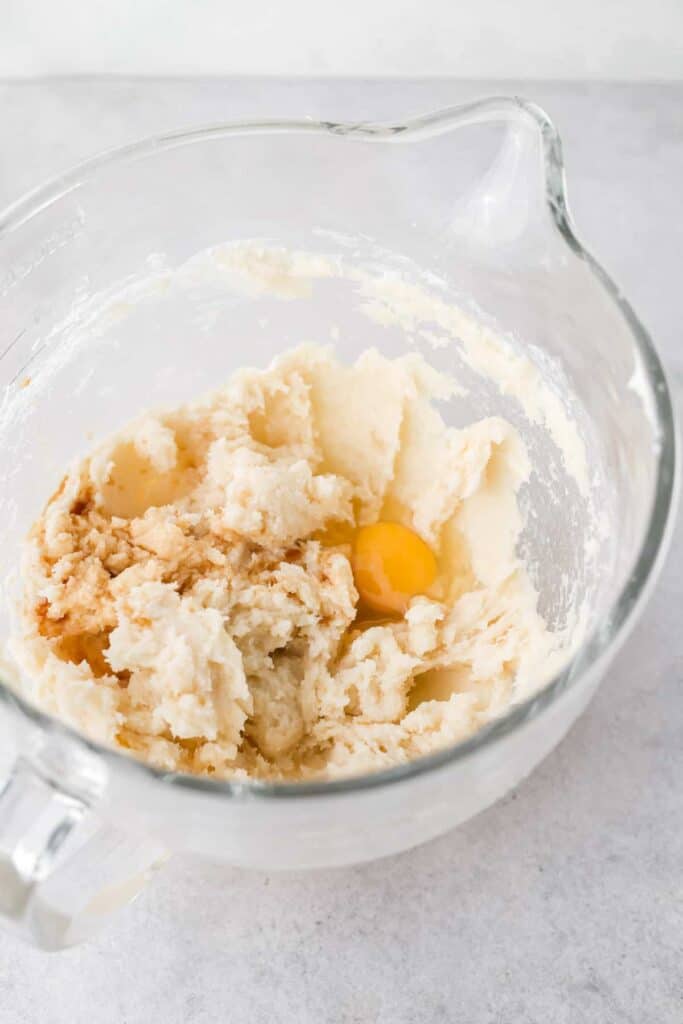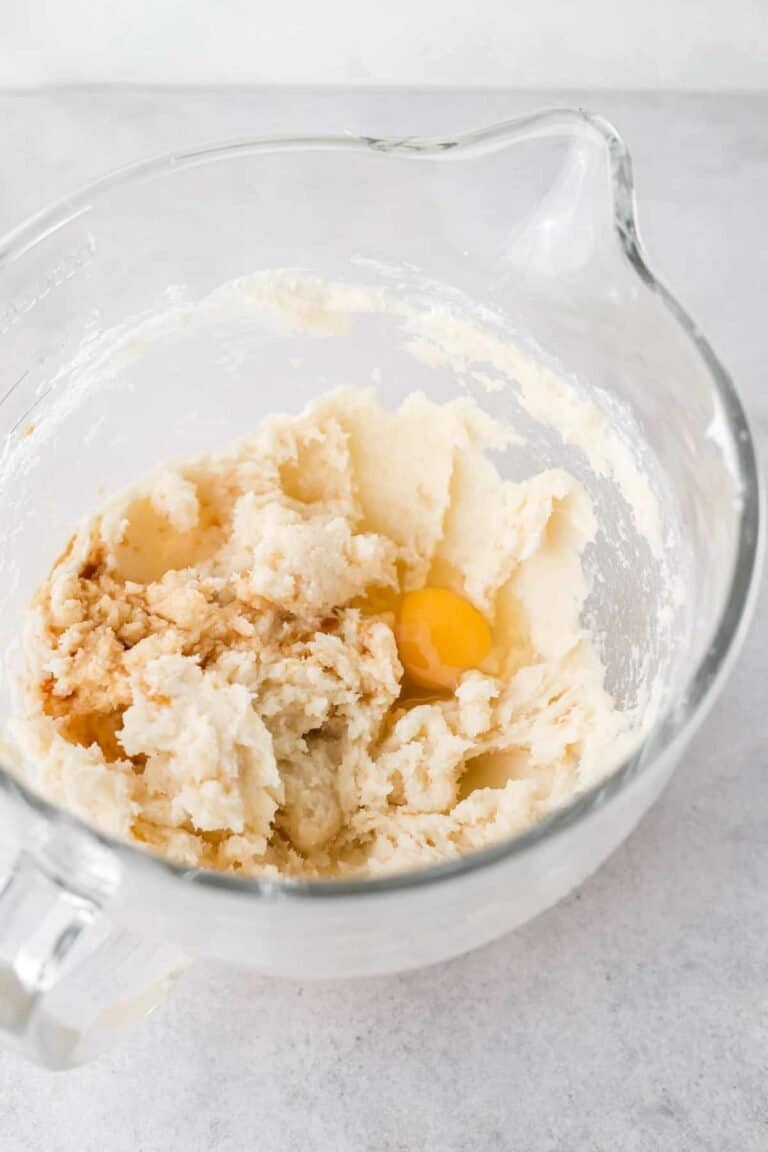 8 Basic Ingredients
You don't need any crazy ingredients to make sugar cookies with cream cheese. In fact, you only need 8 ingredients that you probably already have on hand. Here they are:
all-purpose flour – AP flour is the basis of these cookies. We don't recommend swapping for anything else.
salt – flour helps bring out the sweetness in these cookies and balance them out.
baking powder – this is needed for the levening agent.
cream cheese – these wouldn't be cream cheese sugar cookies without the cream cheese. We recommend full-fat. Always.
unsalted butter – butter is what makes these cookies melt-in-your-mouth delicious.
sugar – white sugar is clutch for classic sugar cookies.
vanilla extract – vanilla helps warm up these cookies.
egg – egg is used as a binder.
Can I make these gluten free?
Unfortunately we don't recommend using a gluten-free all-purpose flour or any other kind of gluten-free flour. However, try Fit Foodie Find's (our sister site!) Grain Free Sugar Cookie Cut Outs recipe.
Can I use a different kind of flour?
We don't recommend using any other kind of flour than all-purpose flour. If you decide to use something else, you likely won't get the chewy delicious results of the written recipe.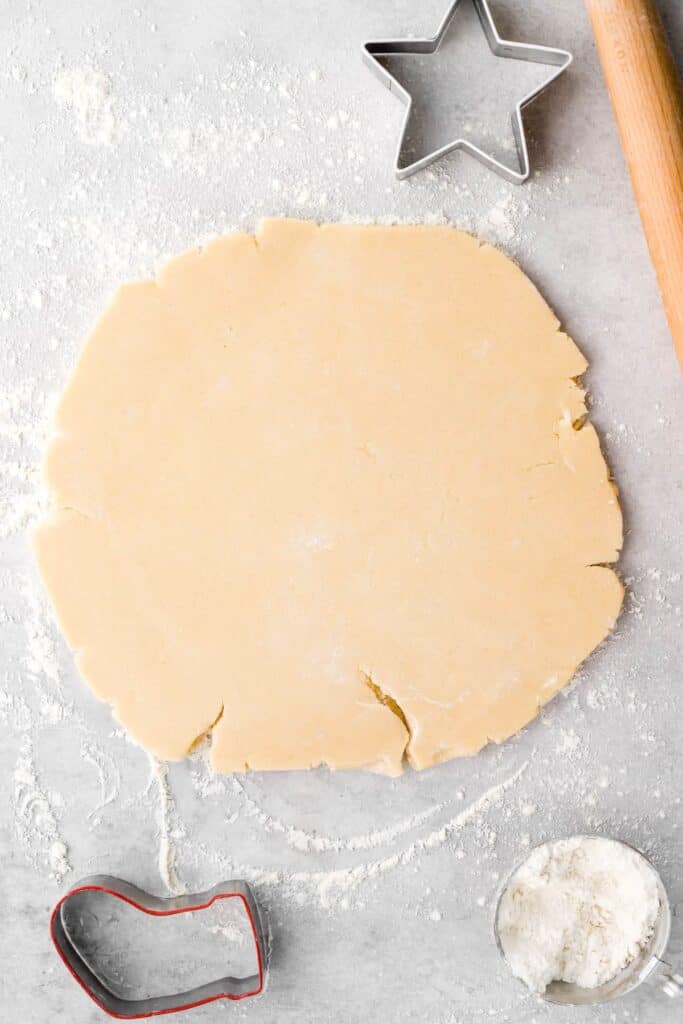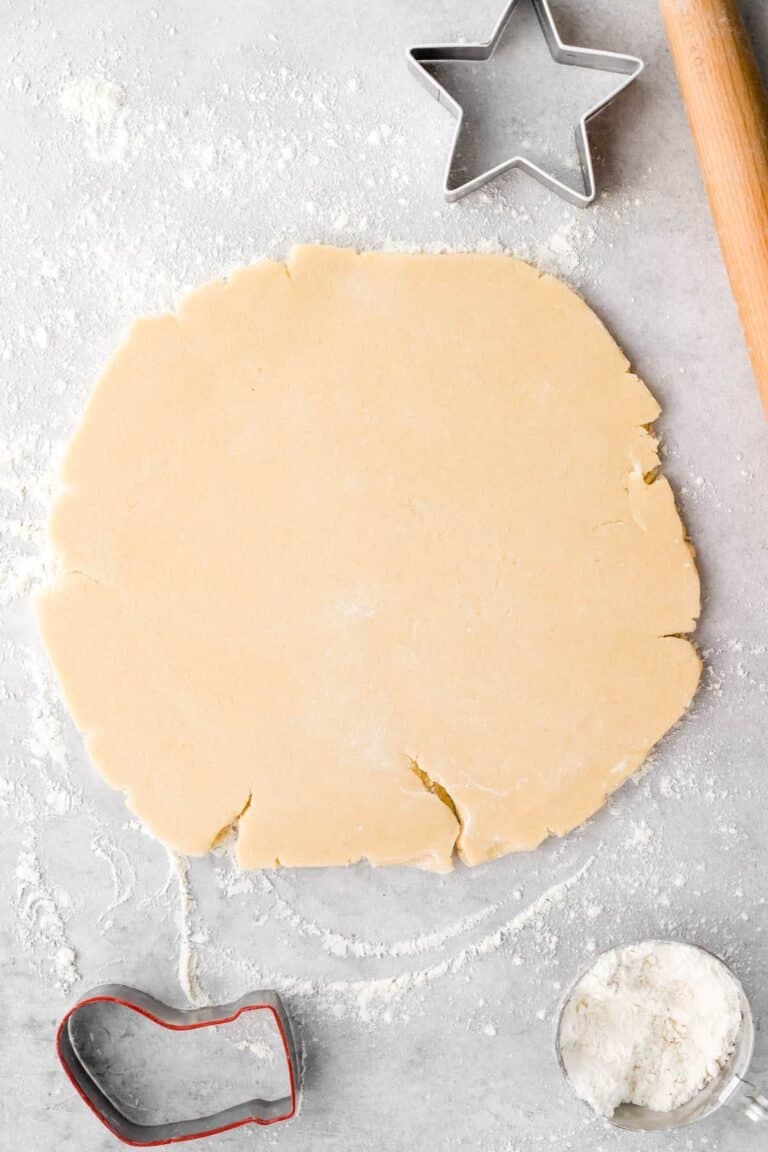 Simple Instructions
Mix Dry Ingredients: combine flour, baking powder, and salt.
Cream Sugar: cream sugar with room temperature butter and cold cream cheese until smooth and creamy. Then, add egg and vanilla.
Combine Wet and Dry: slowly add the dry ingredients to the wet and mix to combine.
Chill: divide the dough into 2 equal disks and wrap it in plastic wrap. Chill in the fridge for 30 minutes.
Roll Out Dough & Cut: lightly flour a clean surface and roll the dough so that it's 1/2 inch thing. Use your favorite holiday cookie cutters to cut cookies. You should have enough dough for around 20 medium cookies.
Freeze cookies: place cookie cut outs on a parchment-lined baking sheet and freeze for 30 minutes.
Bake: bake cookies at 350ºF for 16-17 minutes.
Transfer to a wire rack to cool completely before frosting.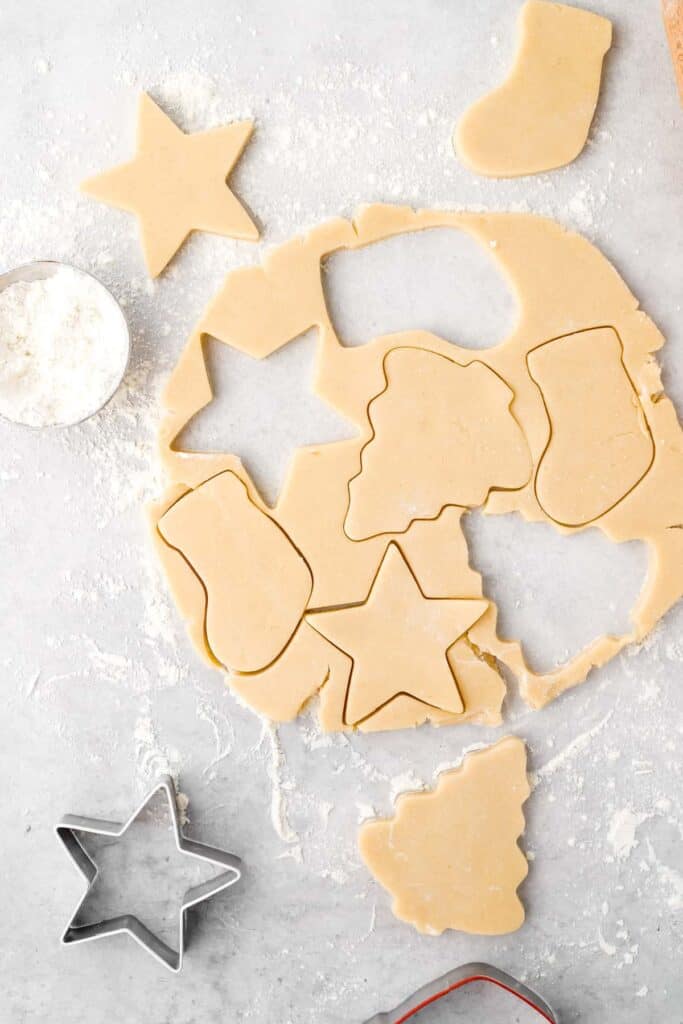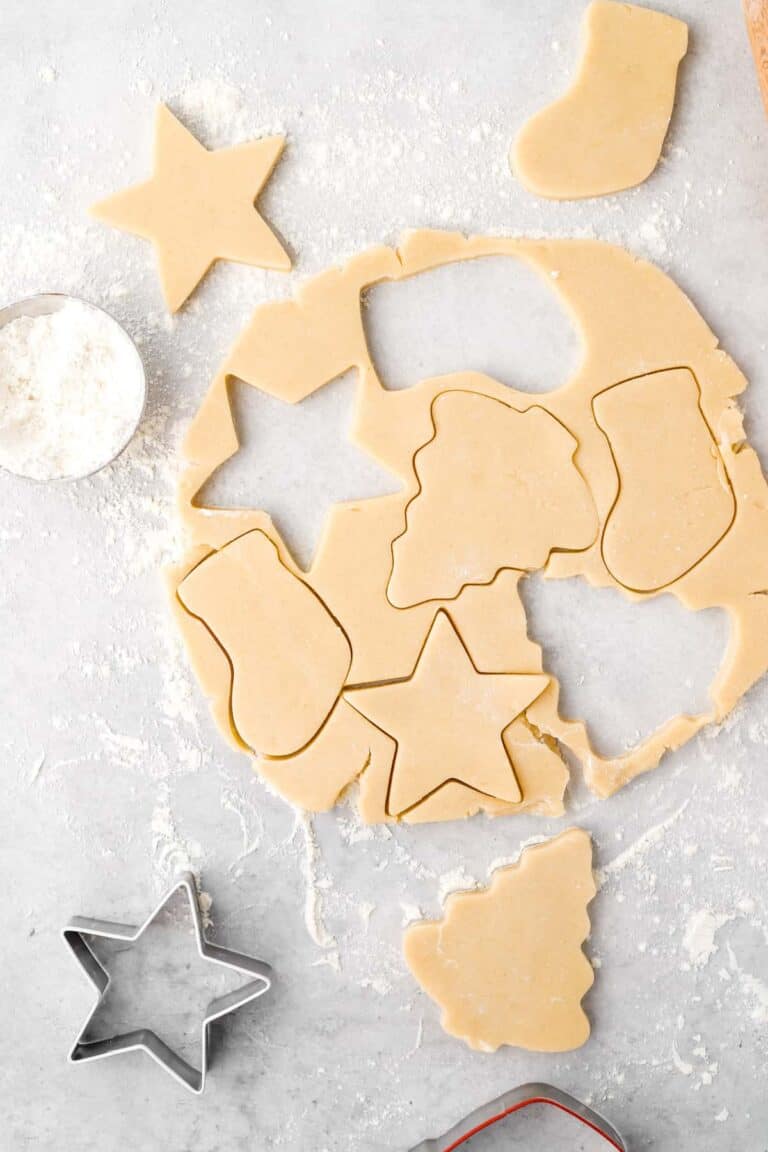 Easy Cream Cheese Frosting for Cookies
If you are looking for a go-to cream cheese frosting for sugar cookies, then you're going ot love our recipe. 5 ingredients are all you need and it's made from from the base of cream cheese, butter, and powdered sugar.
What I love about this frosting is that it holds shape and you can use food coloring to give this frosting a holiday flare.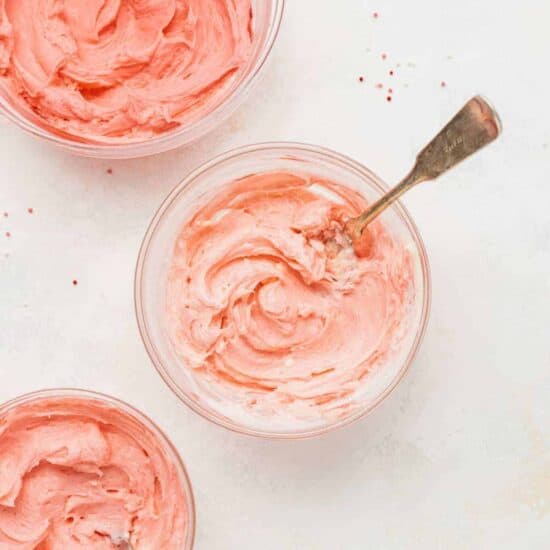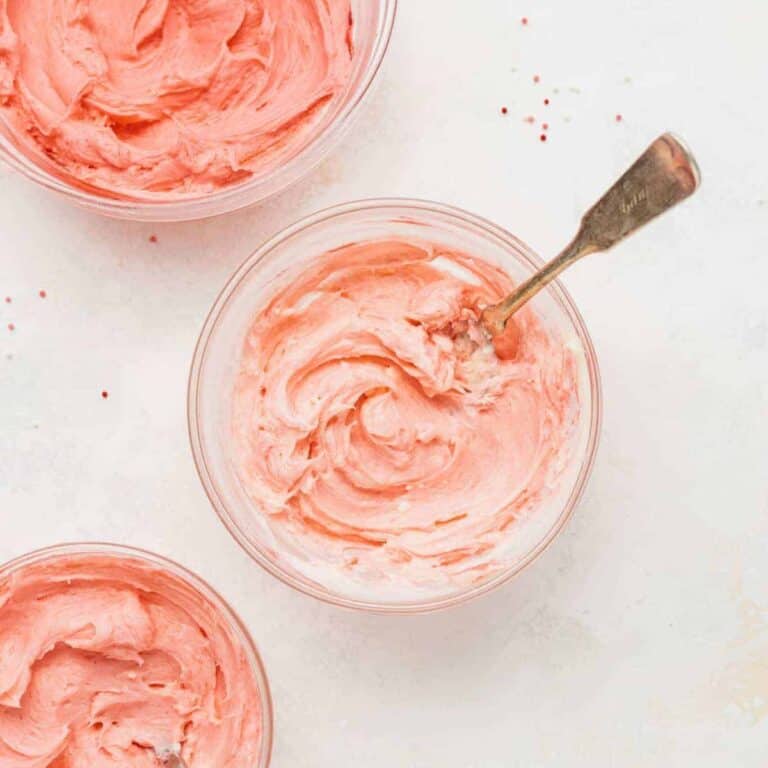 Try it!
Best Cream Cheese Frosting
This is the easiest most delicious cream cheese frosting for sugar cookies. In this post, we'll teach you how to make cream cheese frosting for cookies in no time!
Get Recipe
Tip & Tricks
Don't overmix: Make sure not to over-mix your batter as it can can affect how they cook in the oven.
Use a stand mixer or hand mixer: if you try to mix your cream cheese cookie dough by hand, you'll understand why we suggest a stand mixer or hand mixer!
Chill the dough: in step 5 of the recipe card you'll note that we instruct to chill the dough for 30 minutes. Do. Not. Skip. This. Step. It will prevent your cookies from spreading too much!
Freeze your cut outs: in step 7 you'll notice that we instruct to freeze your cut outs for 15 minutes before baking. We know this is an additional annoying step, but it really helps the cookies hold their shape. You won't be disappointed!
flavor tip!
Want to mix things up a little bit? Try swapping the vanilla extract for almond extract!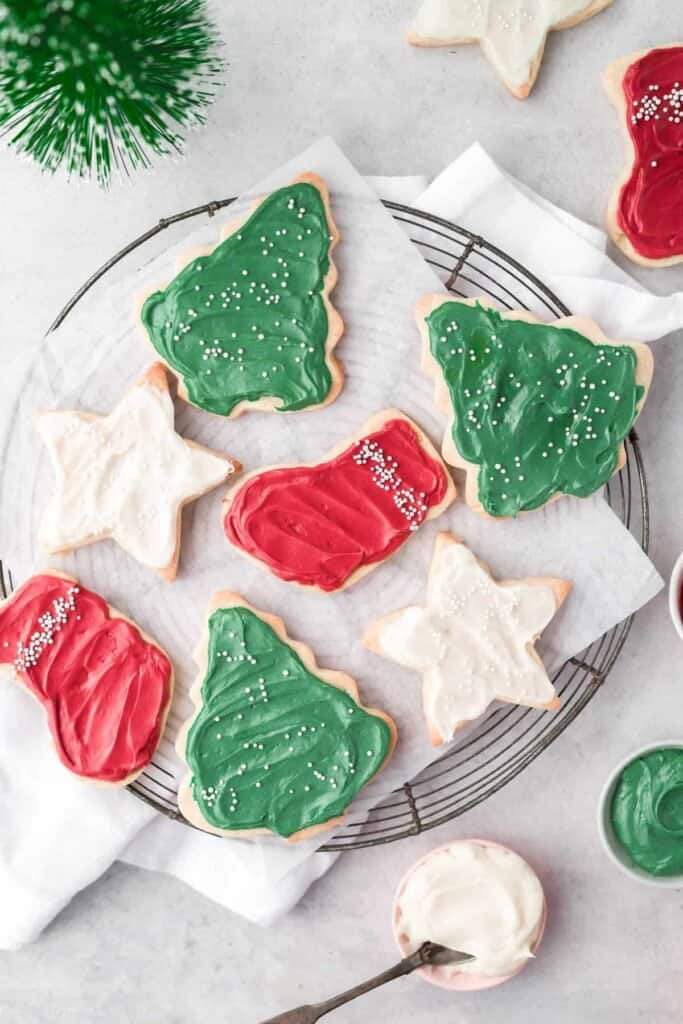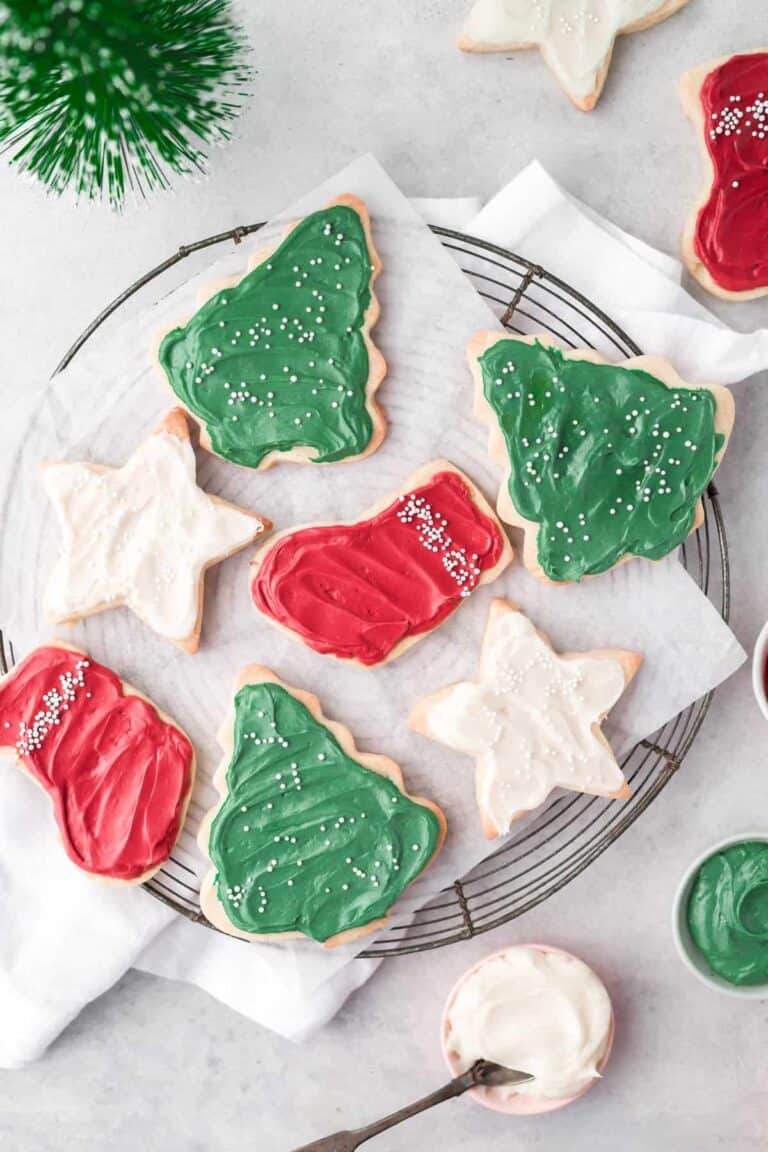 Storage
Let sugar cookies cool completely. Decorate them and let the frosting harden for a couple of hours. Then, transfer them into a parchment paper-lined container. Line each layer of sugar cookies with another piece of parchment so they don't stick.
If you're planning on waiting to decorate, there is no need to line each layer of cookies with parchment paper. You can simply stack them.
Seal container with its Iid store on the countertop for up to 3 days.
Freezer Instructions
If you're planning to freeze your cream cheese sugar cookies, we recommend NOT frosting them and only freezing the cookies.
To freeze, let your cookies cool completely. Then, transfer them to a parchment paper-lined baking sheet. Place in the freezer for 20 minutes. This will make sure the cookies don't stick together.
Once the cookies are semi-hardened, transfer the cookies to a large container. Seal the container with a lid and freeze for up to 3 months. You can also store them in a gallon-size plastic bag.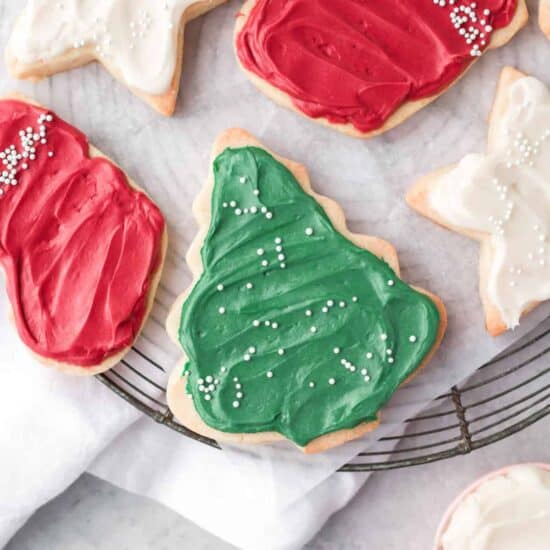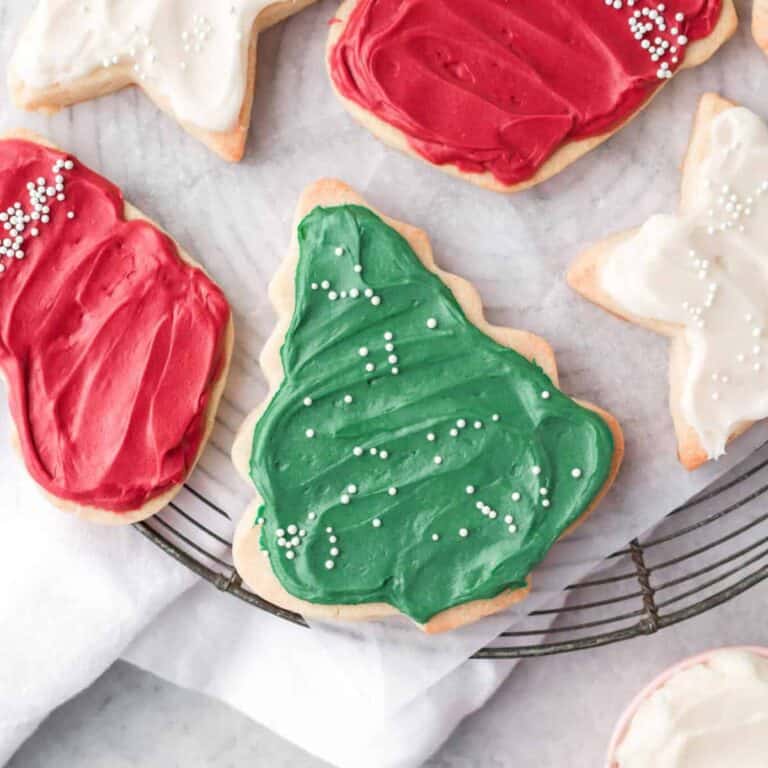 Cream Cheese Sugar Cookies
Easy-to-make cream cheese sugar cookies made with your favorite holiday cookie cutters and cream cheese frosting! 
Ingredients
Wet
4

oz.

cream cheese

cold

1

cup

unsalted butter

room temperature

2

cups

sugar

1

tablespoon

vanilla extract

1

large egg
Cream Cheese Frosting
4

oz.

cream cheese

cold

1/2

cup

unsalted butter

room temperature

1/8

teaspoon

salt

3

cups

powdered sugar

1/4

teaspoon

vanilla extract
Instructions
Cookies
Place the flour, baking powder, and salt to a medium bowl and mix until combined. Set aside.

Place the cold cream cheese in the bowl of a stand mixer and mix with the paddle on low until soft and lump-free, about 1 minute. Add the room temperature butter and sugar and cream just until combined. Scrape down the sides and bottom of the bowl with a spatula well.

Add the egg and vanilla and mix on low until completely incorporated. Scrape down the sides and bottom of the bowl again.

Add the dry ingredients and mix on low, slowly until the flour is completely incorporated. Then stop mixing.

Remove half of the dough and press it into a flat disk, it will be pretty soft. Wrap the disk in cling wrap, and use a rolling pin to evenly flatten the dough. Do the same thing with the other half of the dough. Then place them in the fridge for 30 minutes or until the dough is firm.

To roll out the dough, remove one disk from the fridge and remove the cling wrap. Lightly flour your countertop as well as one side of the dough. Place the dough flour side down and lightly flour the top of the disk.

Roll the dough to about 1/2-inch thickness. Cut with desired cookie cutter shapes and place on a parchment-lined baking sheet. Freeze for 15 minutes.

Preheat the oven to 350ºF. When the cookies are frozen, place the cookie sheet in the oven and bake for 16-17 minutes, or just until the corners and edges start to brown.

Allow cookies to cool completely on a wire rack before icing.

Cream Cheese Frosting

Place powdered sugar and salt into a bowl and set aside.

In a stand mixing bowl, add the cold cream cheese and whip with the paddle on medium-low until smooth. Scrape down the bowl and add the room temperature butter.

Add butter and mix on medium for 2-3 minutes or until it's light and fluffy.

Add the powdered sugar in 1/2 cup at a time and mix on low until all of it is added. Scrape down the bowl and then add the salt and vanilla.

Turn the speed up to medium-high and whip for 1 minute until very light, fluffy, and almost white.

Remove from the bowl and split into separate bowls. Add a bit of food color to each bowl for desired colors.

Frost the cookies with the icing and enjoy!
Tips & Notes
Nutrition information does not include frosting.
Nutrition facts
Calories:
260
kcal
Carbohydrates:
31
g
Protein:
3
g
Fat:
11
g
Fiber:
1
g
Sugar:
20
g