Say hello to the most delicious ricotta cookies. They are made with butter, orange zest, almond extract, and ricotta cheese! They are so chewy and flavorful. They are perfect for any occasion.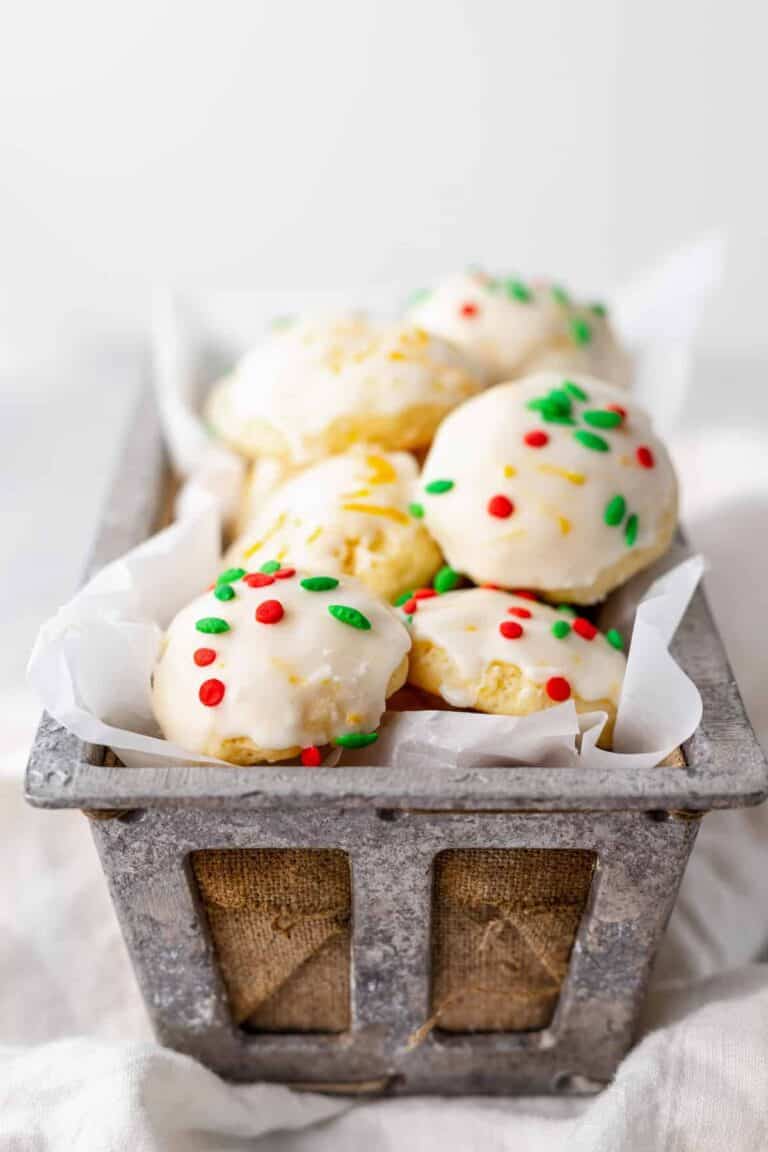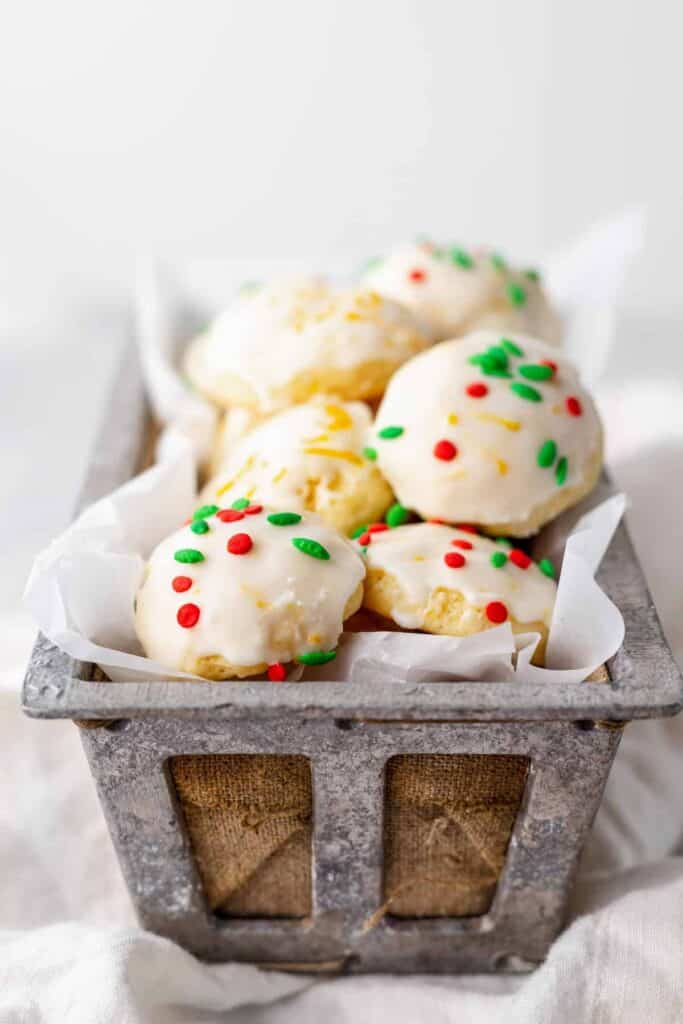 What Do Ricotta Cookies Taste Like?
Ricotta cookies are known for being soft, moist, and beautiful cookies that are made for special occasions like the holidays!
Ricotta cookies are also known as Italian ricotta cookies!
Traditionally, ricotta cookies are made with lemon zest and vanilla extract
Ricotta cookies tend to be dipped in a glaze that adds a bit of sweetness to the cookies.
All the Ingredients You Need
Here is everything you need for these ricotta cookies!
All-purpose flour– These cookies are made with all purpose flour which gives them a delicious light and fluffy texture.
Ricotta cheese– We used whole milk ricotta cheese. It adds so much moisture and delicious texture! Whole milk ricotta adds so much more richness to the cookies, where skim milk ricotta cheese tends to be more watery.
Baking powder– We prefer to use baking powder to baking soda in these cookies because the cookies tend to be a bit more moist and baking powder helps firm them up a bit.
Salt– Salt is a great addition to any cookie! It helps to bring out all of the flavors in any cookie recipe.
Unsalted butter- We use unsalted butter in these cookies so we can control how much salt actually goes into the cookies!
Granulated sugar– Using just classic granulated sugar in these cookies!
Orange zest– We went with orange zest to give these cookies a little rightness!
Almond extract– Almond extract is the flavor hero of these cookies! A little goes a long way, but there is nothing better than the almond extract and ricotta combination!
Large eggs– Make sure you use large eggs, not small or medium!
2% milk– Milk is the liquid base for the glaze! We use milk because it makes the glaze a bit creamy and more white. Feel free to use water, too!
Powdered sugar– The glaze needs powdered sugar! Don't skip it!
Orange zest– The orange zest in the glaze adds a delicious punch of citrus to the cookies!
decoration ideas
The sky is the limit when it comes to what you will decorate these cookies with. Get festive and creative! Here are some of our favorite decoration ideas!
Holiday sprinkles
Orange zest
Shaved almonds
White pearl sprinkles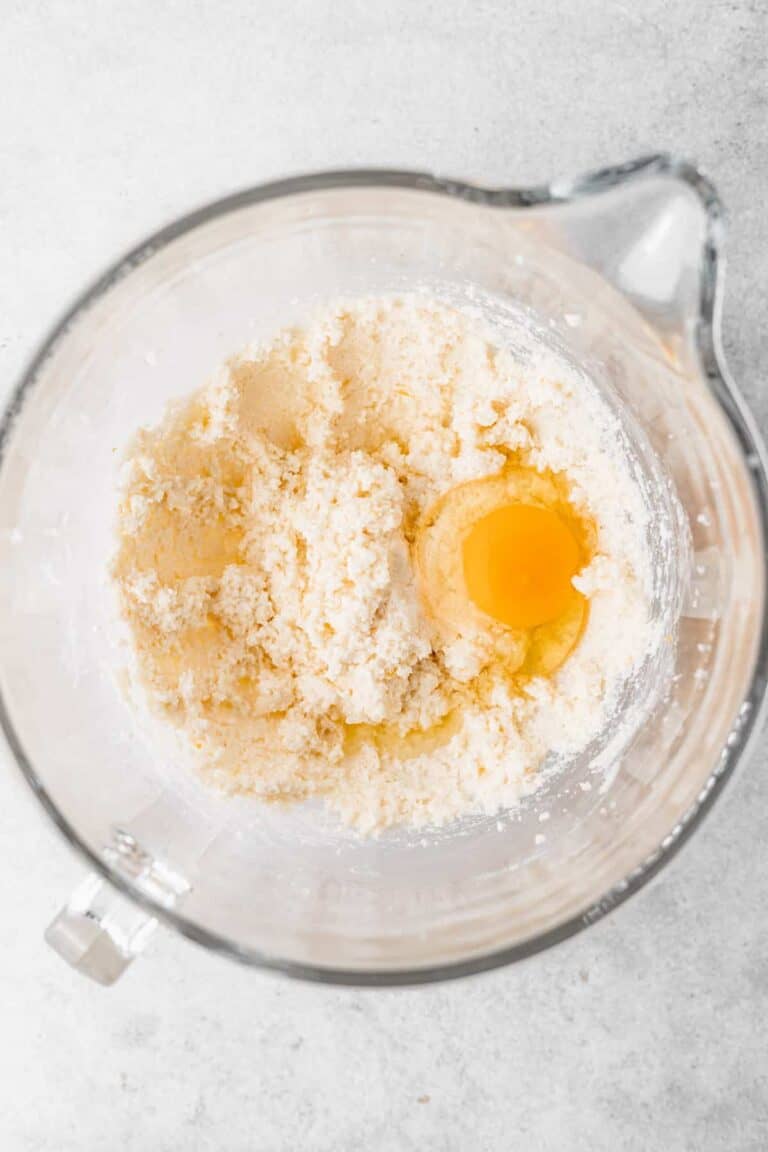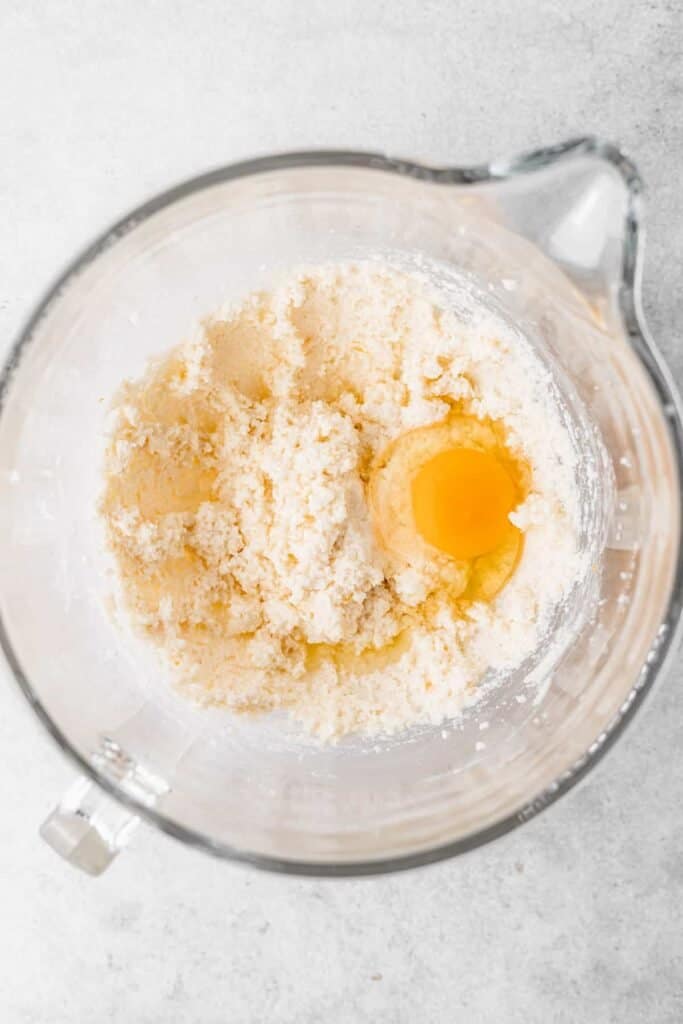 The Key to the Perfect Ricotta Cookies
The key to these ricotta cookies is to let the ricotta cookie dough harden in the refrigerator! Do not skip this step!
The ricotta cookie dough is a wet batter right away and needs time to set up so you can make them in to perfect round balls! We suggest letting them sit in the refrigerator for at least 3 hours (but you can leave the dough in the refrigerator for up to 2 days).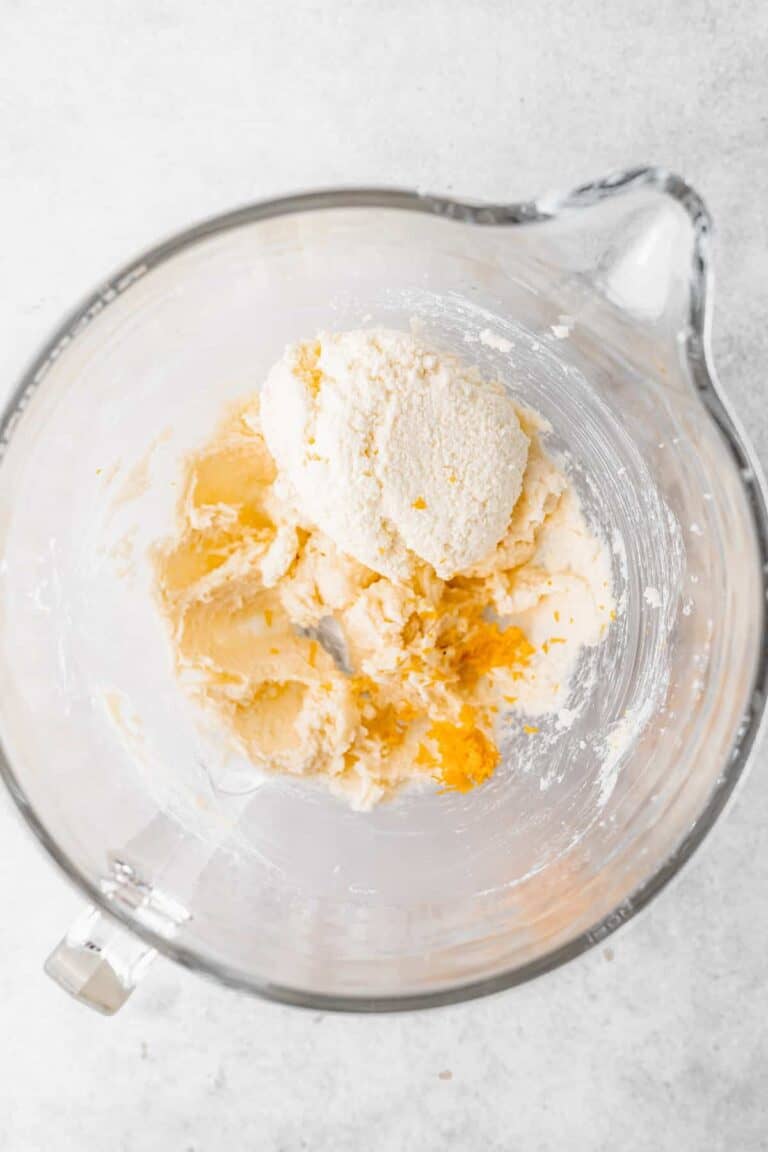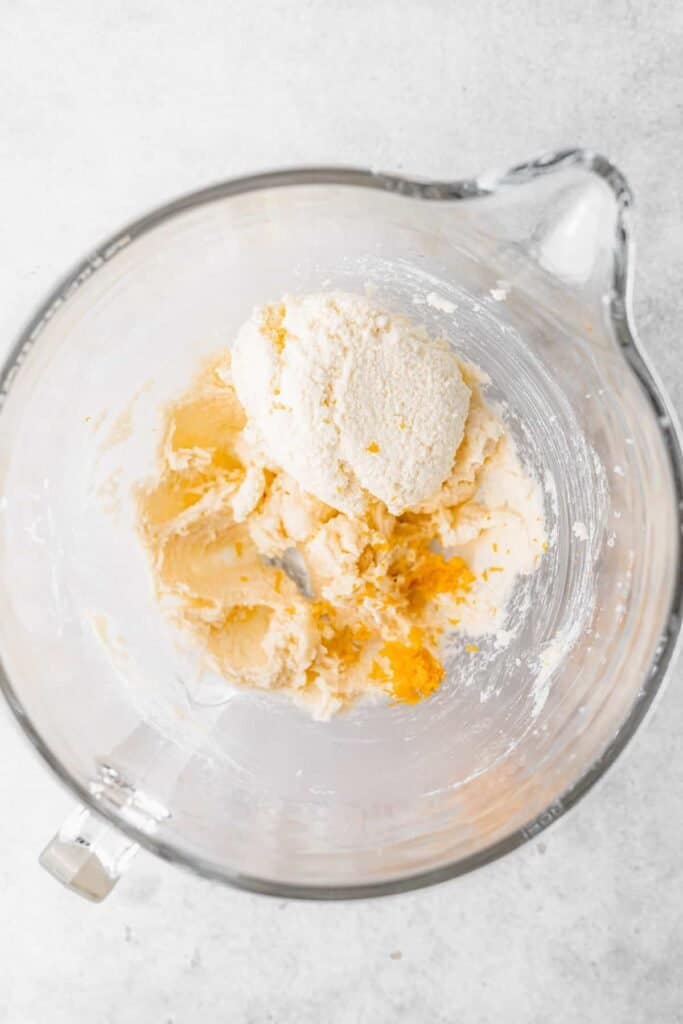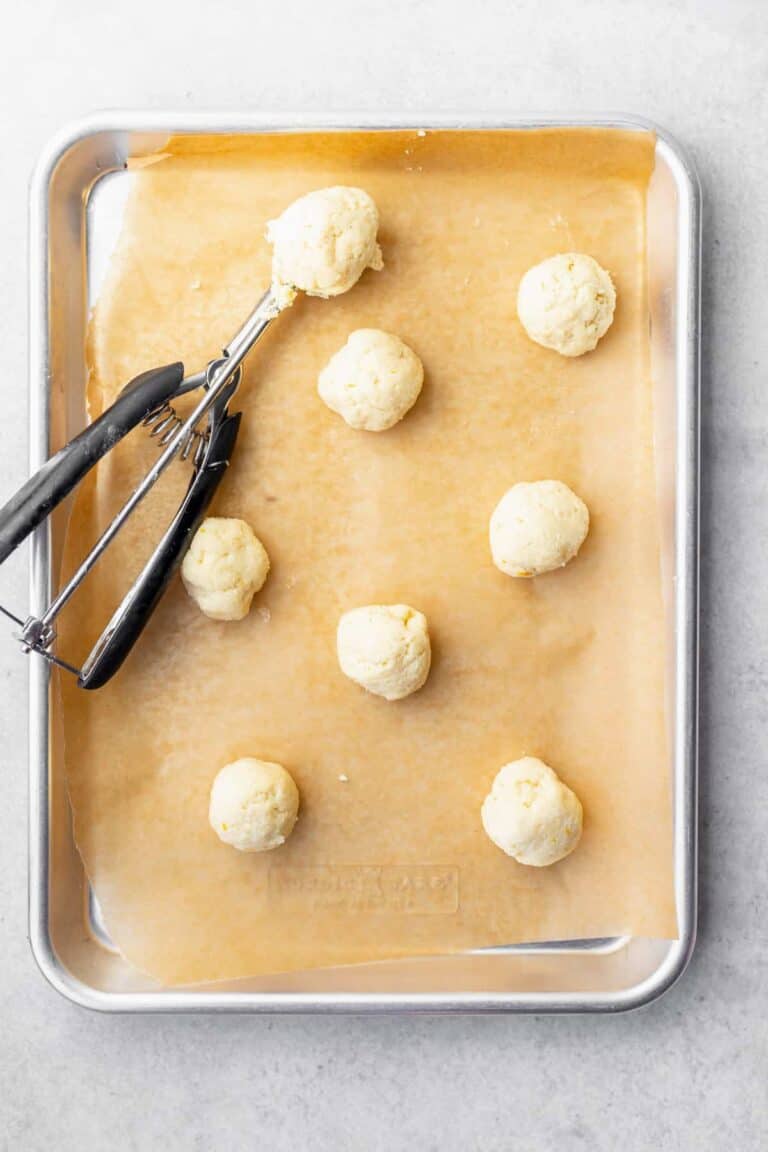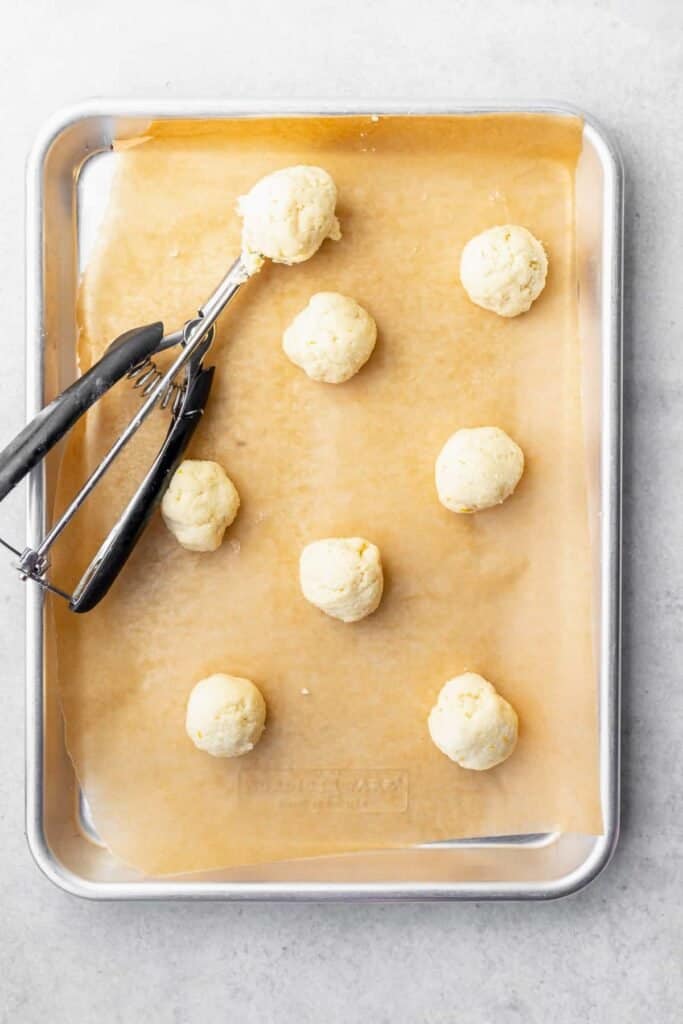 Ricotta Cookies 101
Can I substitute vanilla for the almond extract?
Yes! You can substitute vanilla for almond extract. Sometimes almond extract can be too strong of a flavor for some people. Vanilla will be more of a tamed down classic flavor!
Do i need to strain my ricotta for ricotta cookies?
If you use whole milk ricotta you won't need to strain the liquid from it! You need to use room temperature ricotta cheese, so if there is any excess liquid after letting it come to room temperature (which may happen if you use skim milk ricotta) just strain the liquid from the cheese.
We did not need to strain our whole milk ricotta cheese.
How many cookies does this ricotta recipe make?
This ricotta cookie recipe makes about 30 small ricotta cookies!
Can I make this ricotta cookies gluten free?
No, we do not recommend substituting the all purpose flour in this recipe!
What do I store these cookies in?
To store these cookies, we recommend letting the glaze set and dry before putting them in an air tight container and placing them in the refrigerator.
How do I freeze these cookies?
Yes, you can freeze these cookies. This recipe does make 30 cookies, so it's a good idea to freeze half of them if you are keeping them all to yourself. Let the glaze dry before putting them into an air tight, freezer safe container.
We love that when you take one of these cookies out of the freezer and let it thaw for a couple of minutes, ITS STILL SOFT AND CHEWY.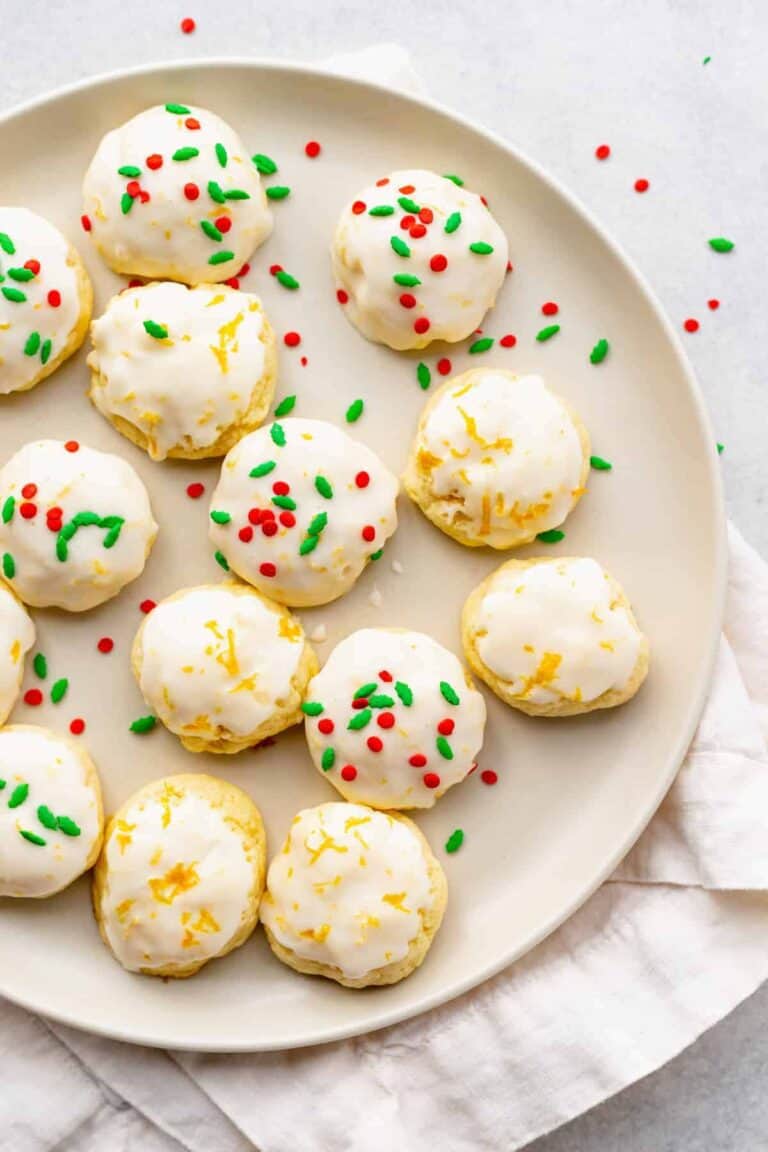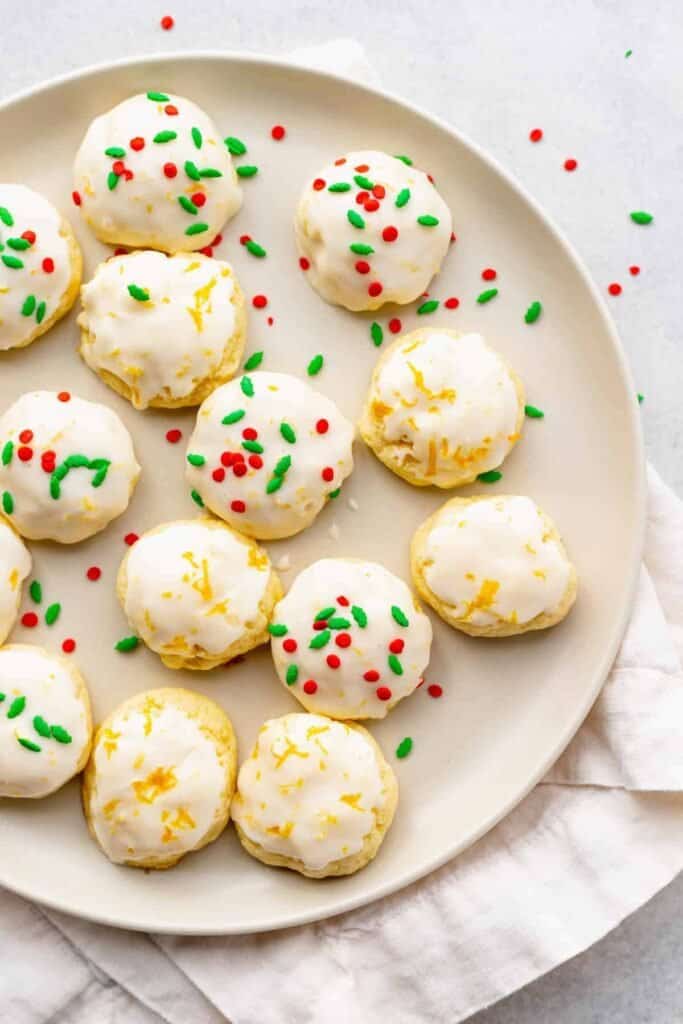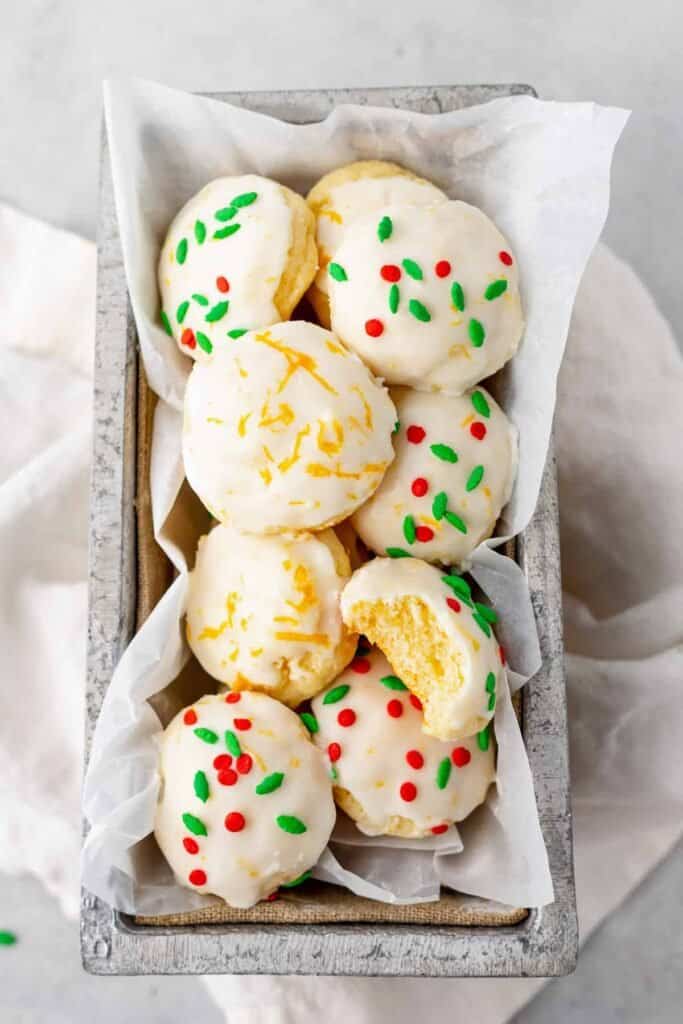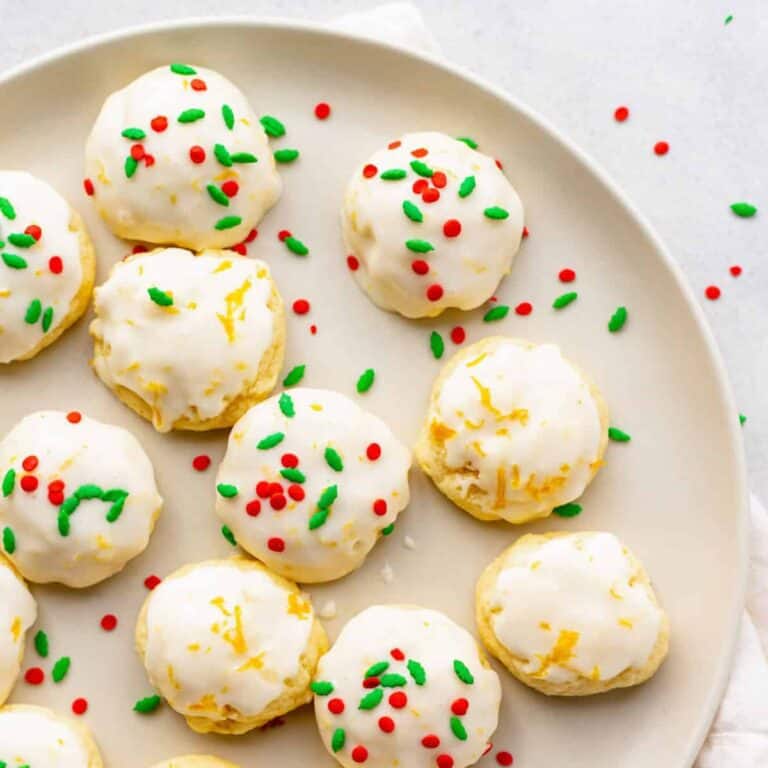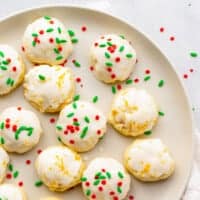 Ricotta Cookies
Say hello to the most delicious ricotta cookies. They are made with butter, orange zest, almond extract, and ricotta cheese! They are perfectly moist and perfect for any occasion.
Prep:
5 hours
Cook:
20 minutes
Total:
5 hours 20 minutes
Ingredients
Dry Ingredients
3 cups

all-purpose flour

2 teaspoons

baking powder

1/4 teaspoon

salt
Wet Ingredients
1 cup

unsalted butter, room temperature

1.5 cups

granulated sugar

1 teaspoon

orange zest

15

-oz. ricotta cheese (~1.75 cups), room temperature

1 teaspoon

almond extract

2

large eggs, room temperature
Orange Glaze
2 tablespoons

butter, softened

4 tablespoons

2% milk

3 cups

powdered sugar

1 teaspoon

orange zest
Optional Toppings
Orange zest 

Christmas sprinkles
Instructions
Add the flour, baking powder, and salt to a medium bowl and mix until combined. Set aside. 

Next, add the butter and sugar to a bowl and mix with an electric hand mixer (a stand mixer works best) until the mixture becomes light and fluffy.

Add orange zest, room temperature ricotta cheese, and almond extract to the bowl and beat on low until combined. 

Crack the eggs into the bowl and beat on low until the eggs are completely mixed into the cookie dough. 

Finally, slowly add the flour to the bowl (1/3 cup at a time) until all the flour is added and combined. 

Cover the cookie dough with plastic wrap and place the cookie dough into the refrigerator for 3-4 hours. 

Preheat the oven to 350ºF and spray a baking sheet with non-stick cooking spray. 

When the cookie dough has set and hardened a bit, use a tablespoon cookie scoop to scoop out the dough, roll it into a ball, and place it on the baking sheet (give them space to expand). Repeat until all the cookie dough has been made into balls. Note: you'll need to use multiple cookie sheets or do this in batches.

Bake at 350ºF for 12 minutes or until the bottoms begin to turn golden brown. 

Remove the cookies from the oven and immediately place the cookies on a cooling rack. Let the cookies cool for 15-20 minutes before glazing them. 

To make the glaze,

add the butter to a separate mixing bowl and beat the butter with an electric mixer on low/medium speed until smooth. Slowly add the milk to the butter and mix until smooth. 

Finally, slowly add the powdered sugar to the butter and beat on low until smooth. The glaze should be a bit drippy. 

To add glaze to the cookies, carefully dip the top of each cookie into the glaze, set it down on a cooling rack, and top with sprinkles. 

Repeat until all the cookies are frosted. 
Nutrition Facts
Serving Size:
1/30
Calories:
205
Sugar:
23
Fat:
8
Carbohydrates:
32
Fiber:
0
Protein:
2
Category:
Dessert
Method:
Oven
Cuisine:
American