Indulge in a yummy fusion of flavors with this Apple Cream Cheese Coffee Cake, where tangy Granny Smith apples meet velvety cream cheese, all topped with a crumbly cinnamon streusel.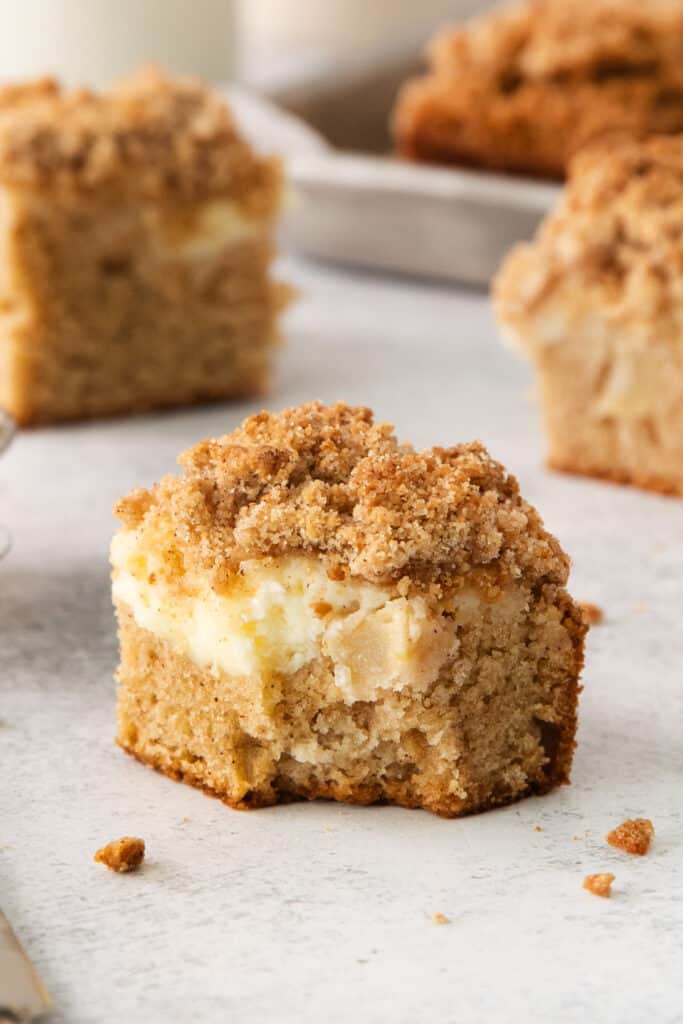 The Apple Cream Cheese Coffee Cake uniquely combines a rich cream cheese filling with the tartness of fresh Granny Smith apples, all held together by a moist crumb infused with avocado oil. Its blend of seasonal and traditional flavors jazzes up any breakfast experience. You're going to love it!
What do you need for apple cream cheese coffee cake?
Granny Smith Apples: These apples infuse the coffee cake with a crisp tartness, perfectly balancing the sweetness of the other ingredients. Their unique taste becomes more pronounced when baked.
Cream Cheese: The creamy consistency adds a rich, velvety layer to the coffee cake, making every bite more indulgent. It also aids in moisture retention, ensuring the cake remains soft and moist.
Cinnamon: This spice imparts a warm, aromatic quality to the cake. It enhances the natural flavors of the apples and adds depth to the overall taste of the dessert.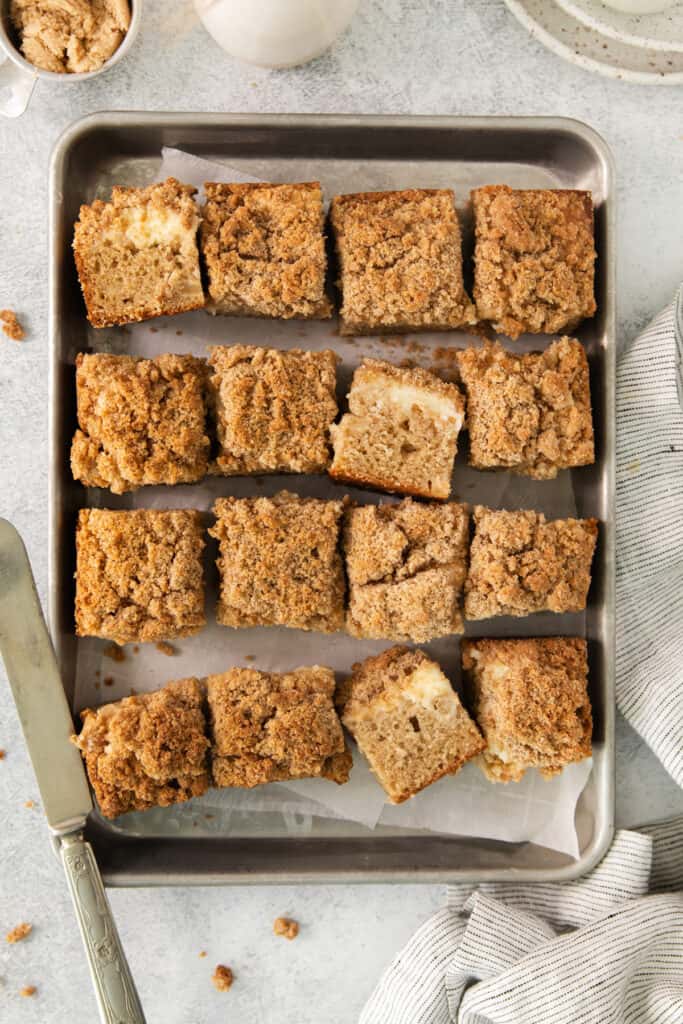 Substitutions & Variations
Nutty Twist: Add chopped walnuts, pecans, or almonds to the streusel topping or fold them into the batter for added crunch and flavor.
Berries: Fold in some fresh or frozen blueberries, raspberries, or blackberries to the batter for a fruity burst.
Citrus Zest: Grate some lemon or orange zest into the batter or the cream cheese filling for a fresh and aromatic citrus undertone.
Caramel Drizzle: Once baked and slightly cooled, drizzle the top with caramel sauce for an added layer of sweet indulgence.
Chocolate Chips: Introduce mini chocolate chips or chunks either in the batter or sprinkled on top for a chocolatey surprise.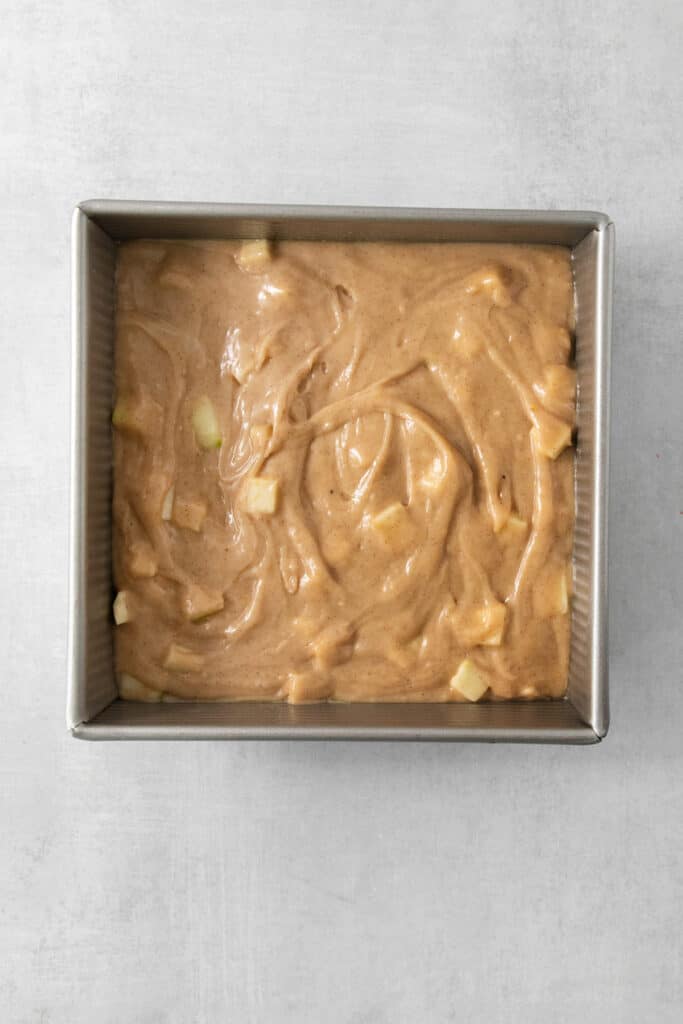 How to soften cream cheese
Looking for a quick method to soften cream cheese? Check out our post – How to Soften Cream Cheese – 4 Ways! Here you'll learn 4 unique (and quick!) methods to soften cream cheese to the perfect amount for baking and cooking.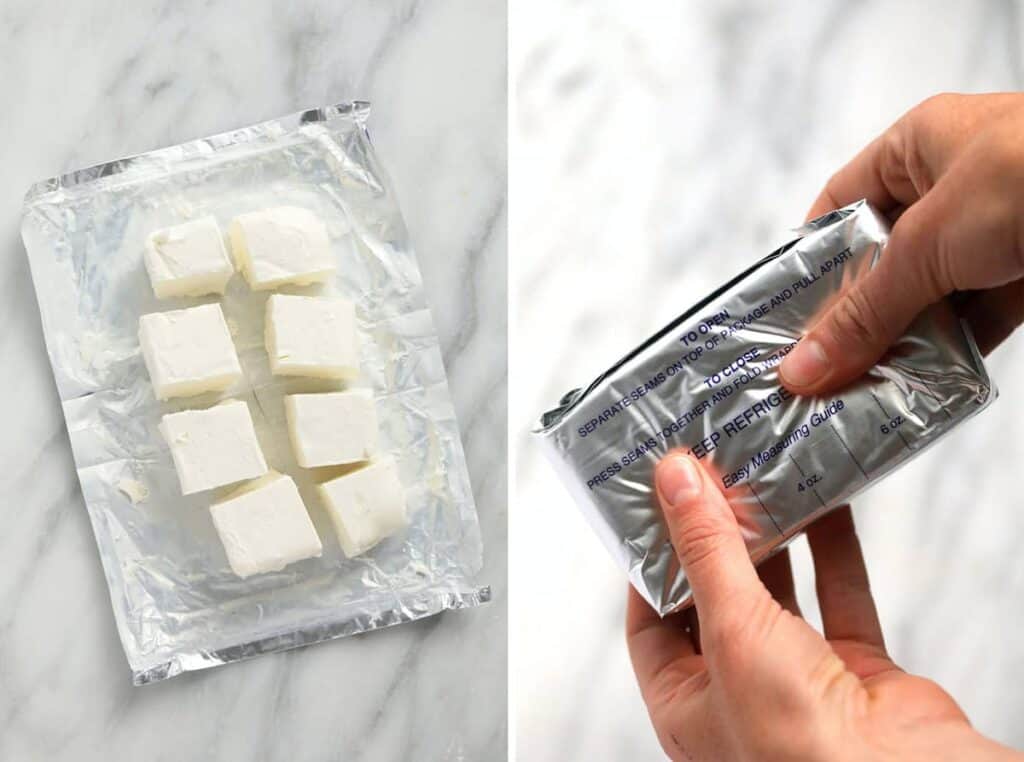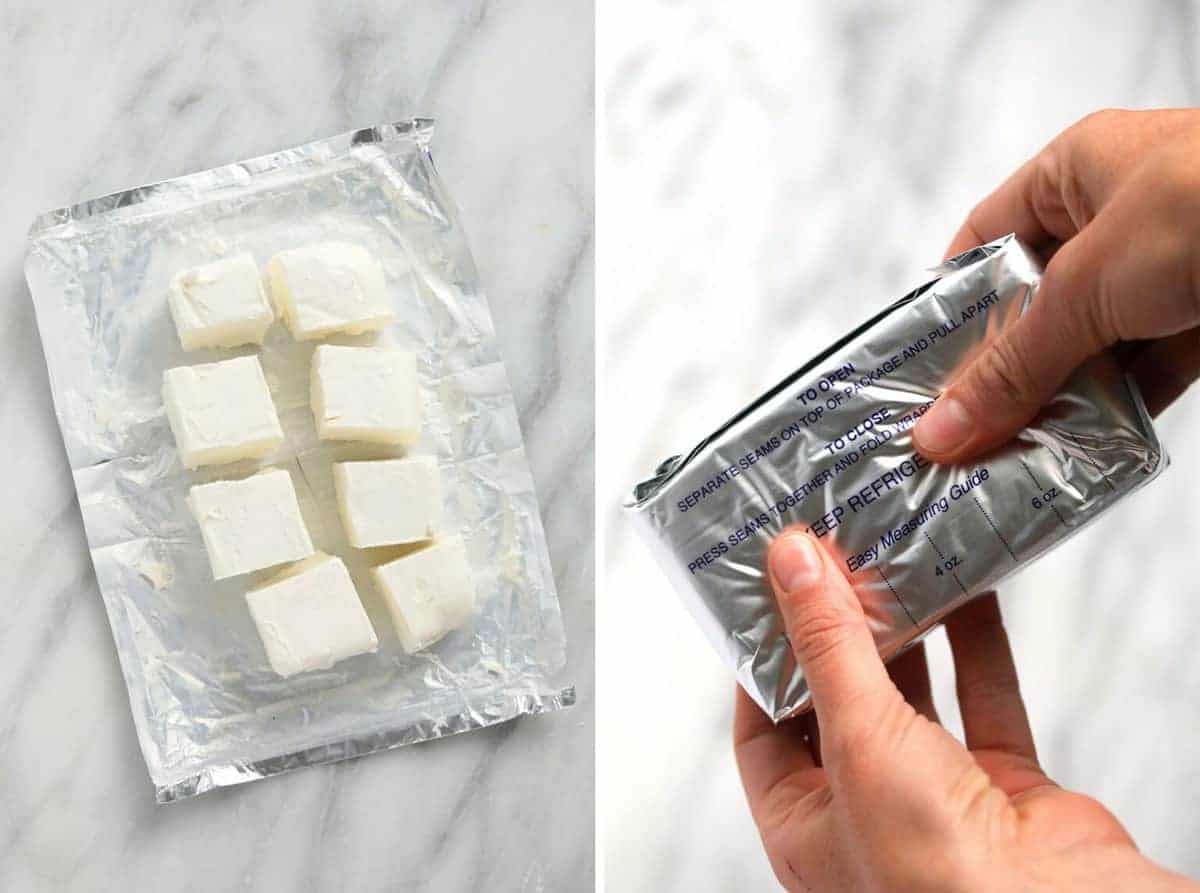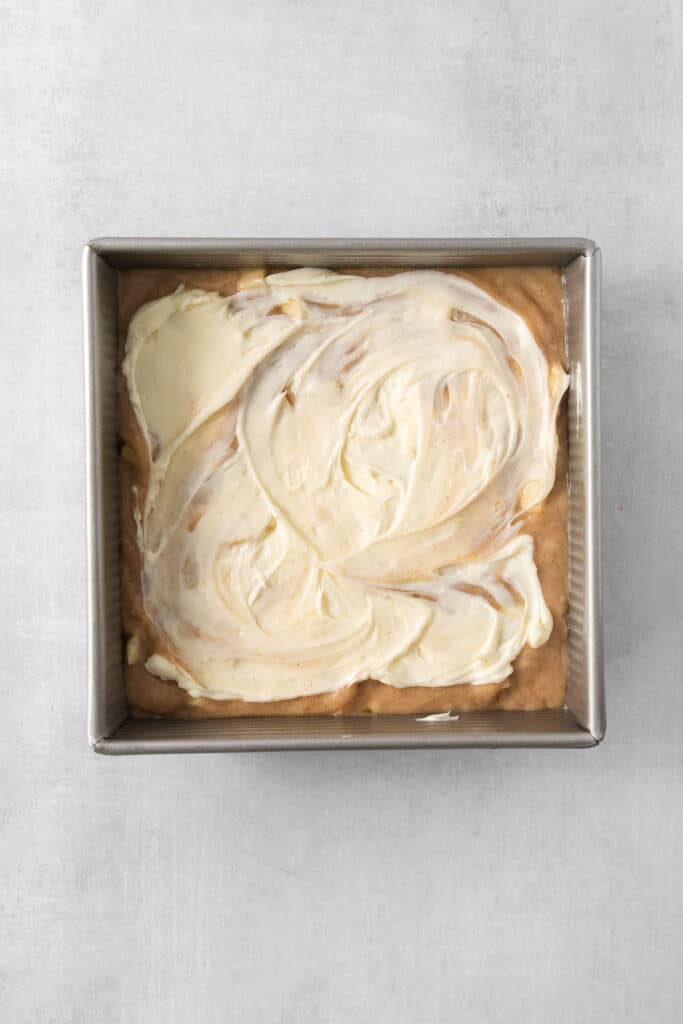 FAQs
Can I use a different variety of apple?

Absolutely! While Granny Smith apples add a tart contrast, feel free to use your favorite apples or whatever you have on hand. Just note that sweeter apples might alter the overall sweetness of the cake.
Can this coffee cake be made ahead of time?

Yes, you can prepare the coffee cake a day in advance. Once cooled, cover it tightly and store at room temperature. If storing longer, consider refrigerating and then bringing it to room temperature before serving.
How do I know when the coffee cake is done?

The coffee cake is done when a toothpick or cake tester inserted into the center comes out clean or with a few moist crumbs. The edges should also pull slightly away from the sides of the pan.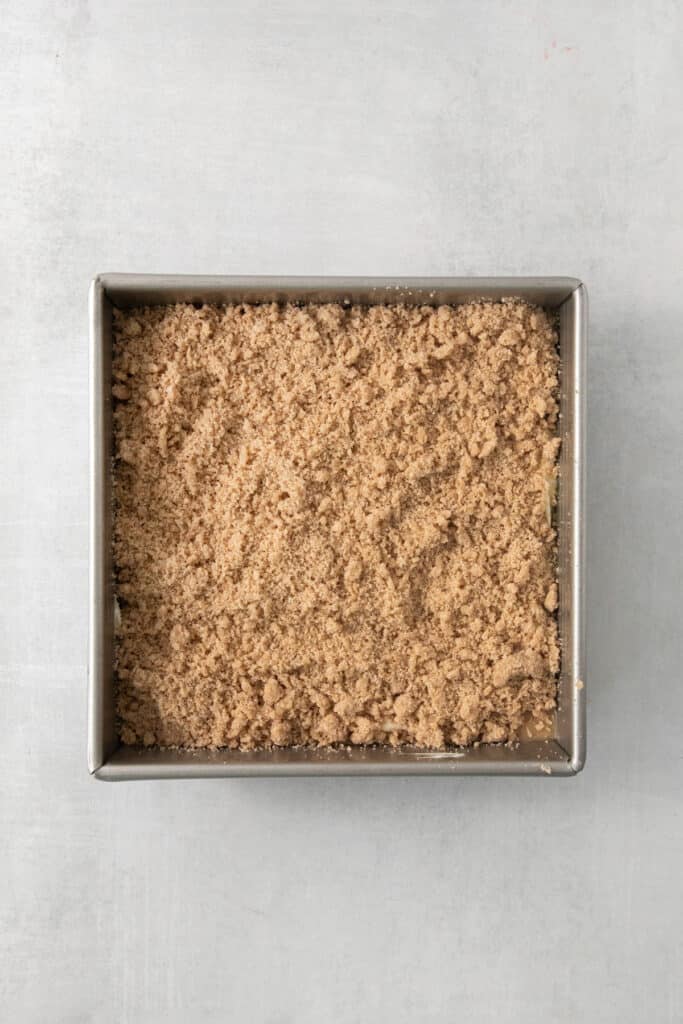 Storage
Store leftover apple cream cheese coffee cake in an airtight container in the fridge for up to 3 days.
Freezer Directions
Once the coffee cake has cooled completely, wrap it tightly in plastic wrap or aluminum foil, then place it in a freezer bag. It can be frozen for up to 3 months. Thaw overnight in the refrigerator and bring to room temperature before serving.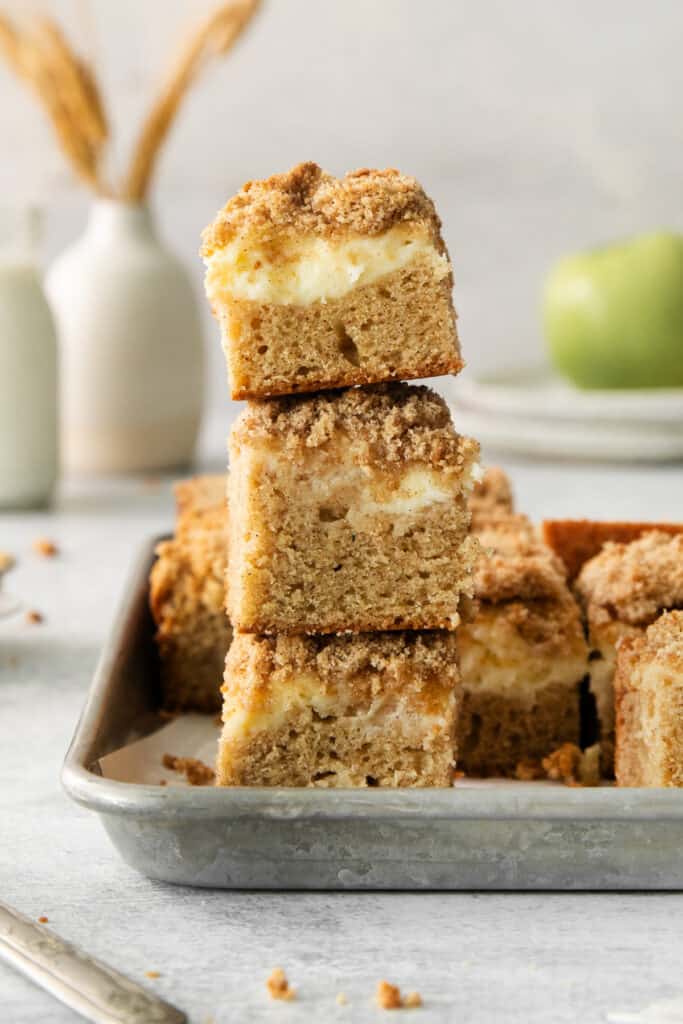 Serving Suggestions
Serve this amazing coffee cake with a cup of coffee and any of the following cheesy breakfast recipes: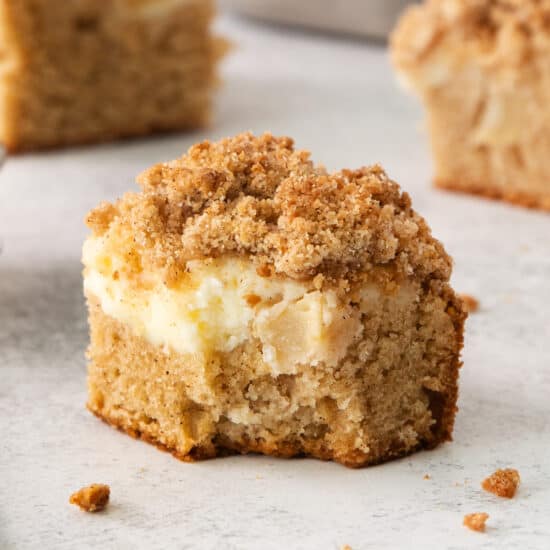 Apple Cream Cheese Coffee Cake
Indulge in a delightful blend of tart apples and creamy cheesecake filling with this Apple Cream Cheese Coffee Cake, perfectly topped with a crumbly streusel for that extra touch of sweetness.
Ingredients
Instructions
Preheat oven to 350℉ and spray an 8×8-inch pan with cooking spray.

Add all of the dry ingredients to a large mixing bowl. Mix and set aside.

In the bowl of a stand mixer, add the avocado oil, granulated sugar, and brown sugar. Mix together until combined for about 1 minute.

Next, add the egg, milk, and vanilla and mix to combine.

Slowly add the dry ingredients to the wet ingredients and mix until combined. Fold the apples into the batter.

Transfer the batter into the baking dish and set aside.

To make the cream cheese filling add the ingredients to a mixing bowl and mix using a hand mixer. Place spoonfuls of the cream cheese filling on top of the batter. Using the back of the spoon or a spatula gently spread the cream cheese on top.

To make the streusel topping add all of those ingredients into a bowl and mix using a fork or your fingers.

Sprinkle the streusel topping over the top of the coffee cake. Bake for 45 minutes.

Remove from oven and allow to cool for 10 minutes before cutting and serving.
Tips & Notes
Vegetable oil can be used in place of avocado oil.
Any milk can be used in this recipe.
Nutrition facts
Calories:
443
kcal
Carbohydrates:
55
g
Protein:
5
g
Fat:
23
g
Fiber:
1
g
Sugar:
34
g