This ricotta toast is made with crunchy toasted bread, smooth and creamy ricotta cheese, and sweet and savory topping options.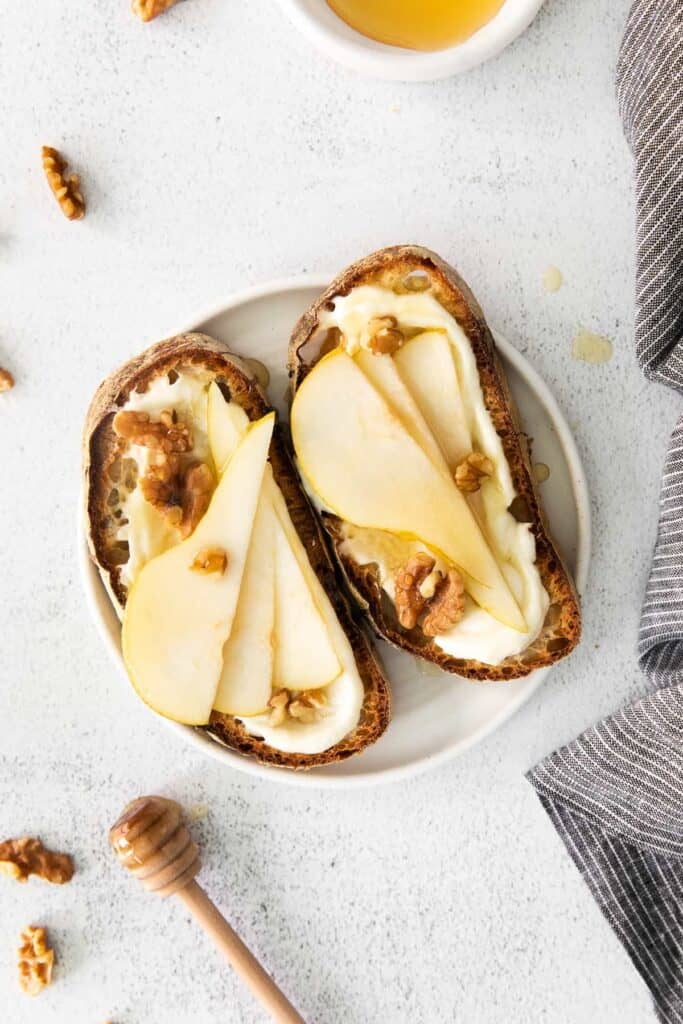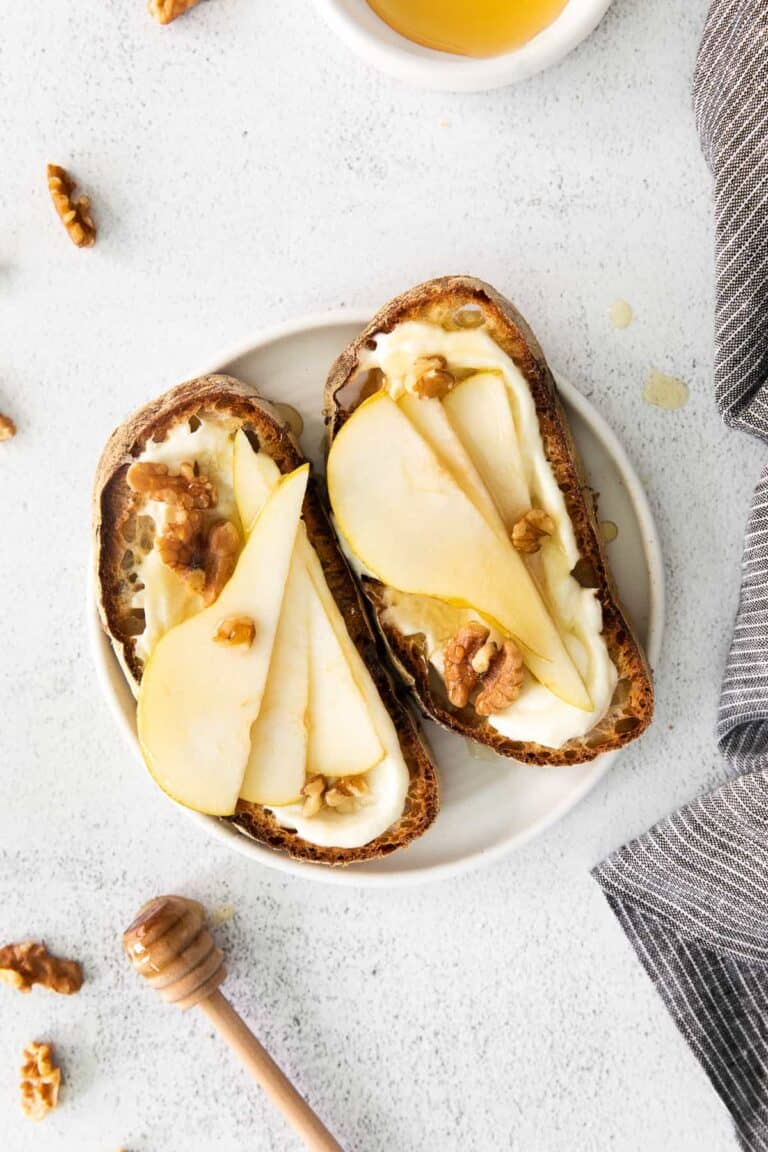 The BEST Ricotta Toast
Is there anything better than a perfectly toasted piece of really good bread topped with your favorite delicious toppings? NO. If you're a toast person you have your favorite type of bread on hand all the time as well as toppings stocked up.
We love this ricotta toast because you can dress it up or dress it down. It can be a simple breakfast or snack recipe any day or you can serve it at a dinner party for an appetizer.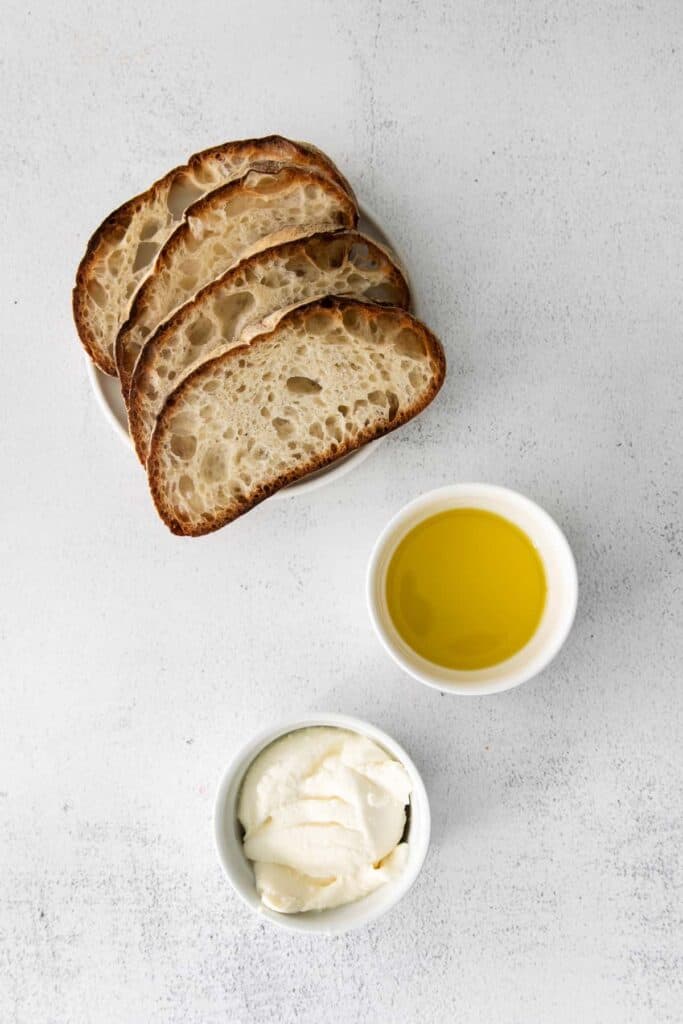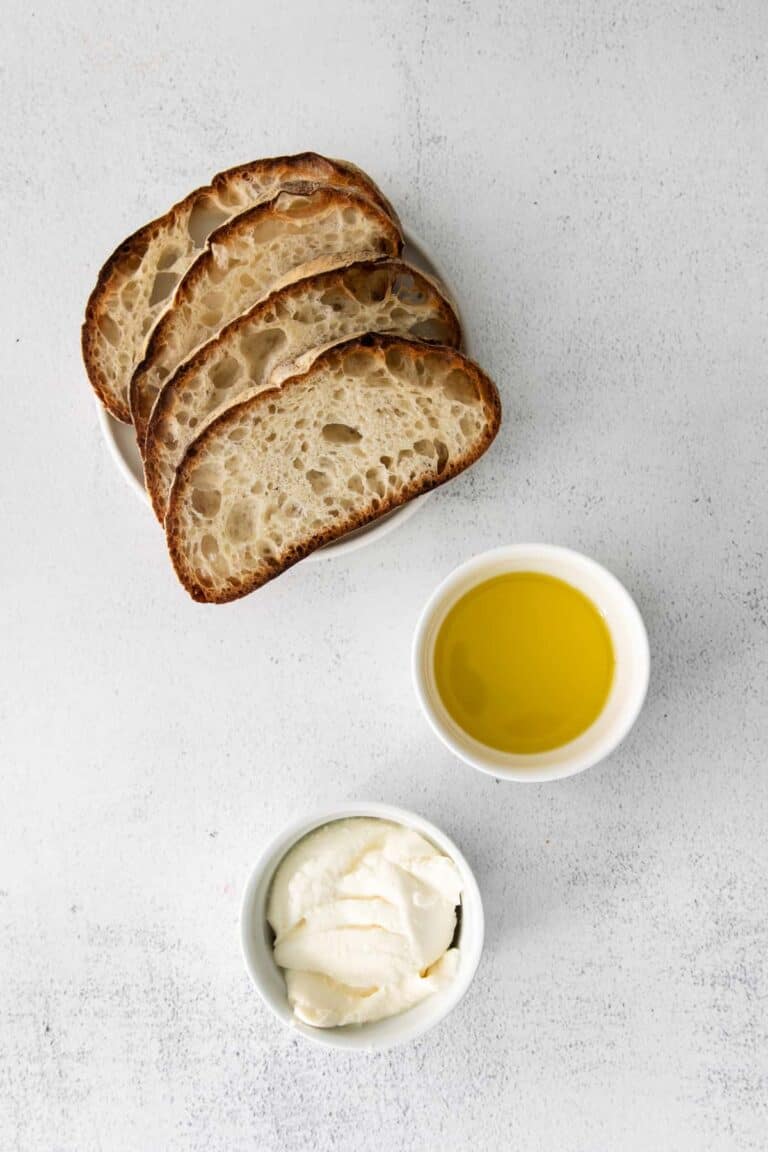 Ingredients You Need
Sourdough bread: find your favorite sourdough bread and slice it into thick slices. We suggest buying your bread from the bakery section of your grocery store. The quality of the bread is important!
Whole milk ricotta cheese: we highly suggest using whole milk ricotta for this recipe. It adds protein and makes this recipe rich and delicious!
Olive oil: we add a bit of olive oil to the ricotta cheese before blending it to perfect. It smooths out the ricotta and adds a little bit of delicious savoriness.
Pears: choose a pear that has some give to it when you squeeze it. You want a ripe and flavorful pear for the topping of your ricotta toast.
Honey: a drizzle of honey is crucial to the sweet variation of this ricotta toast.
Toasted walnuts: we suggest chopping up toasted walnuts. They add an earthy crunch to this recipe. If you can't have walnuts, feel free to use pecans!
Cinnamon: adding a dusting of cinnamon to the pears makes this toast taste like dessert.
Avocado: find a ripe avocado and slice it into thin strips to top the savory variation of the toast.
Everything bagel seasoning: the flavors that are included in this bagel seasoning will be all that you need for the savory variation of the ricotta toast.
how to choose your bread
We are big fans of sourdough bread for ricotta toast. The flavor of the bread along with the soft inside and crunchy crust makes it a perfect bread for ricotta toast.
If you can't find sourdough bread, feel free to use of the other bread types below. The ricotta spread is rich and creamy so a heartier bread is key.
Ciabatta
Baguette
Focaccia
Bagels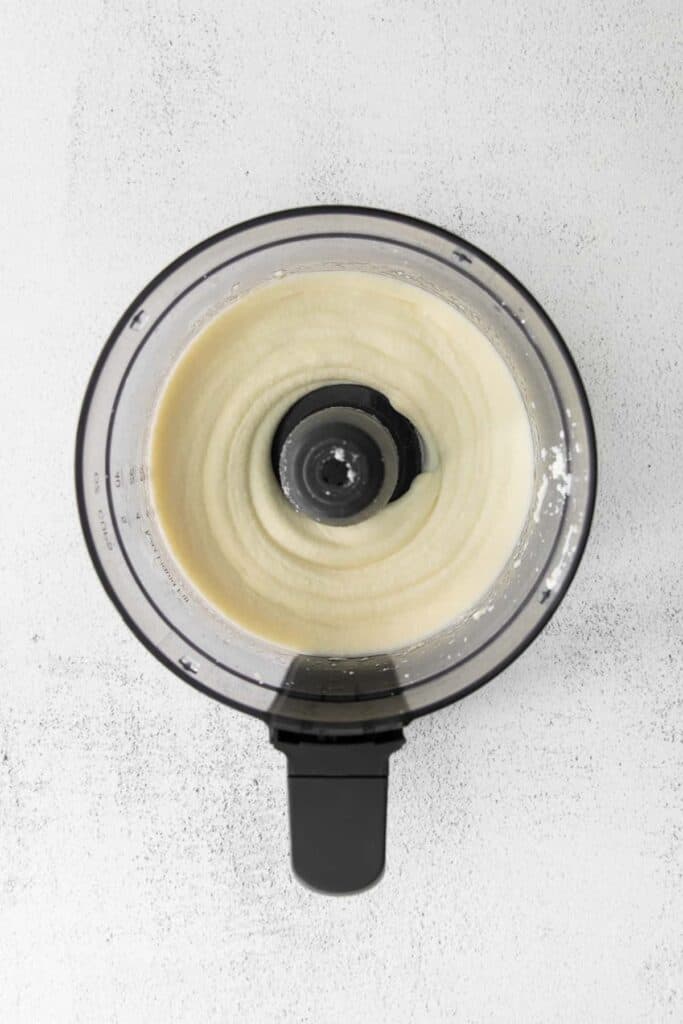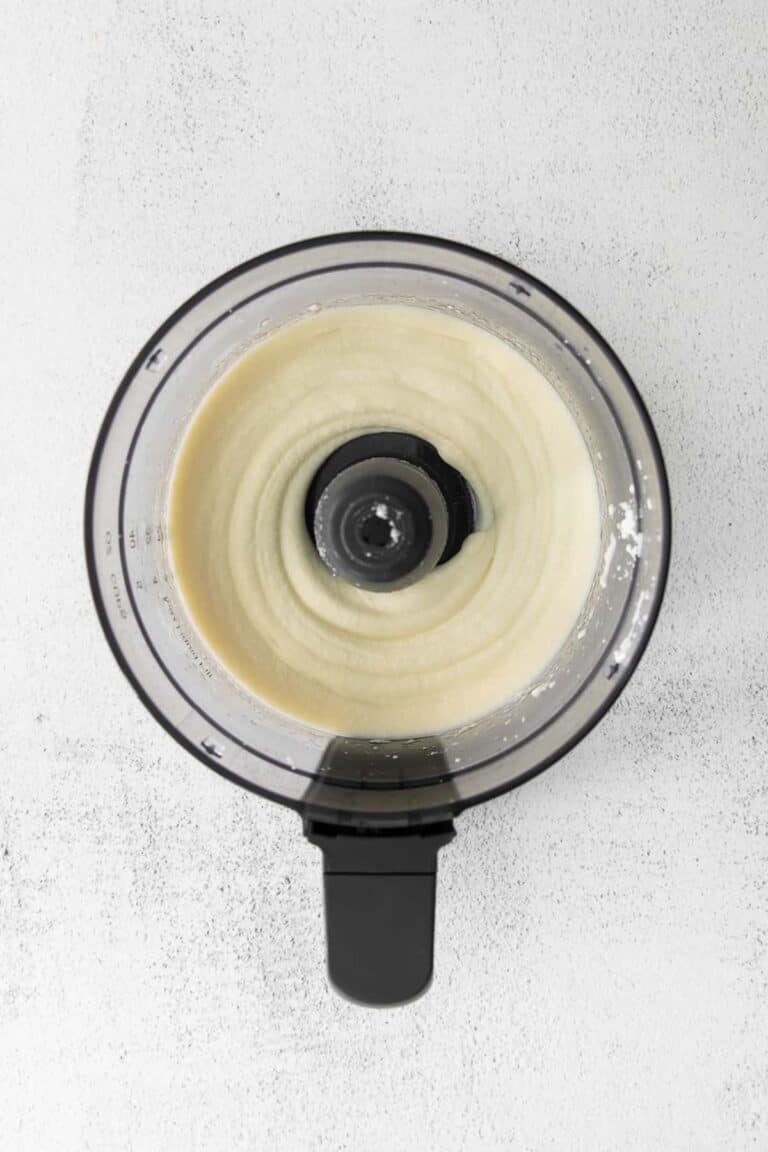 How to Make Simple Ricotta Spread
The ricotta spread that you slather on your crunchy bread is simple, but so delicious! Here's how you make it!
Place the ricotta and olive oil to a food processor and blend until smooth. The ricotta cheese is easier to blend if it is room temperature. So let the ricotta cheese sit out a bit before blending it together.
When the two ingredients are combined and smooth, scrape the sides of the food processor and place the spread into a bowl.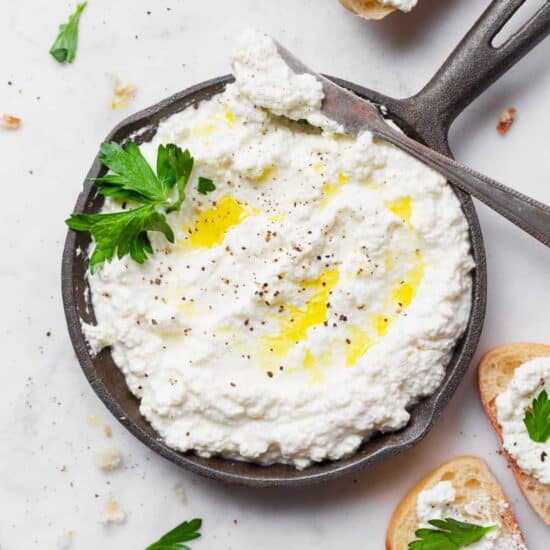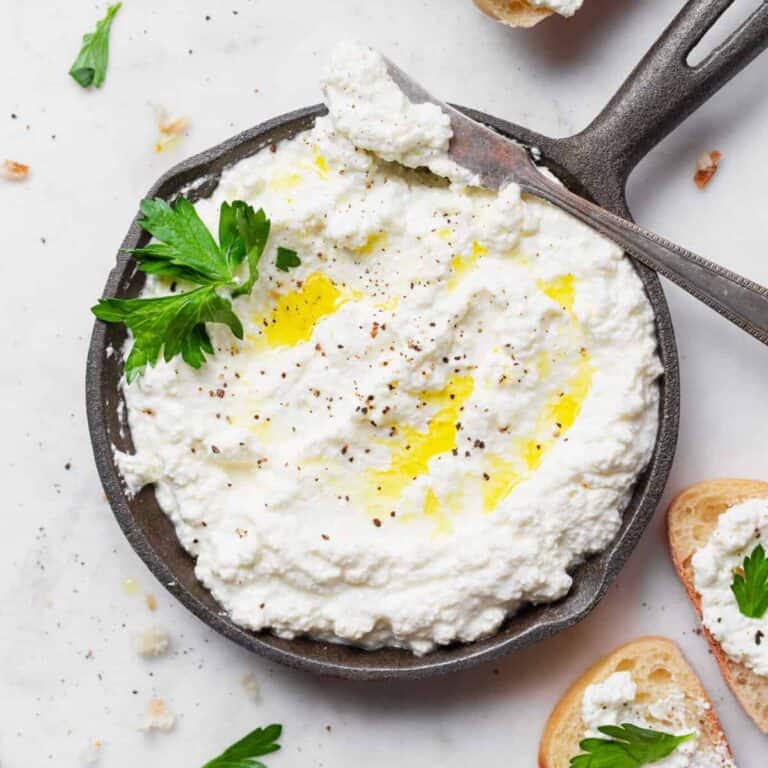 Tutorial
How to Make Ricotta Cheese
Homemade ricotta cheese is a brilliant way for anyone to begin their journey into home cheesemaking. The magic of turning fresh milk and cream into delicate curds and whey is deeply satisfying and deliciously simple!
Get Recipe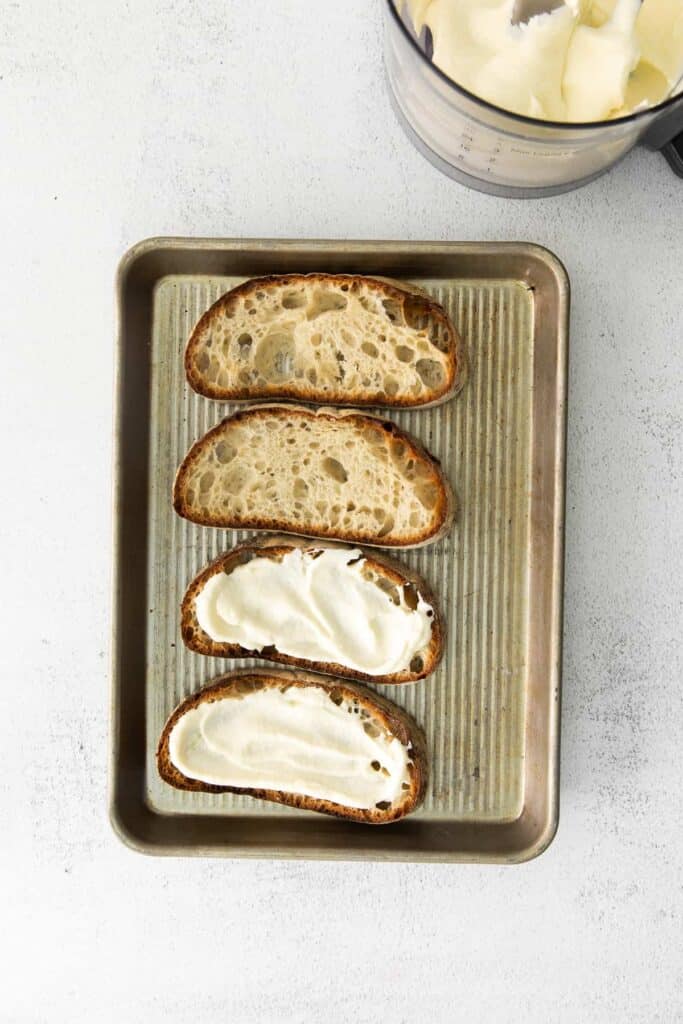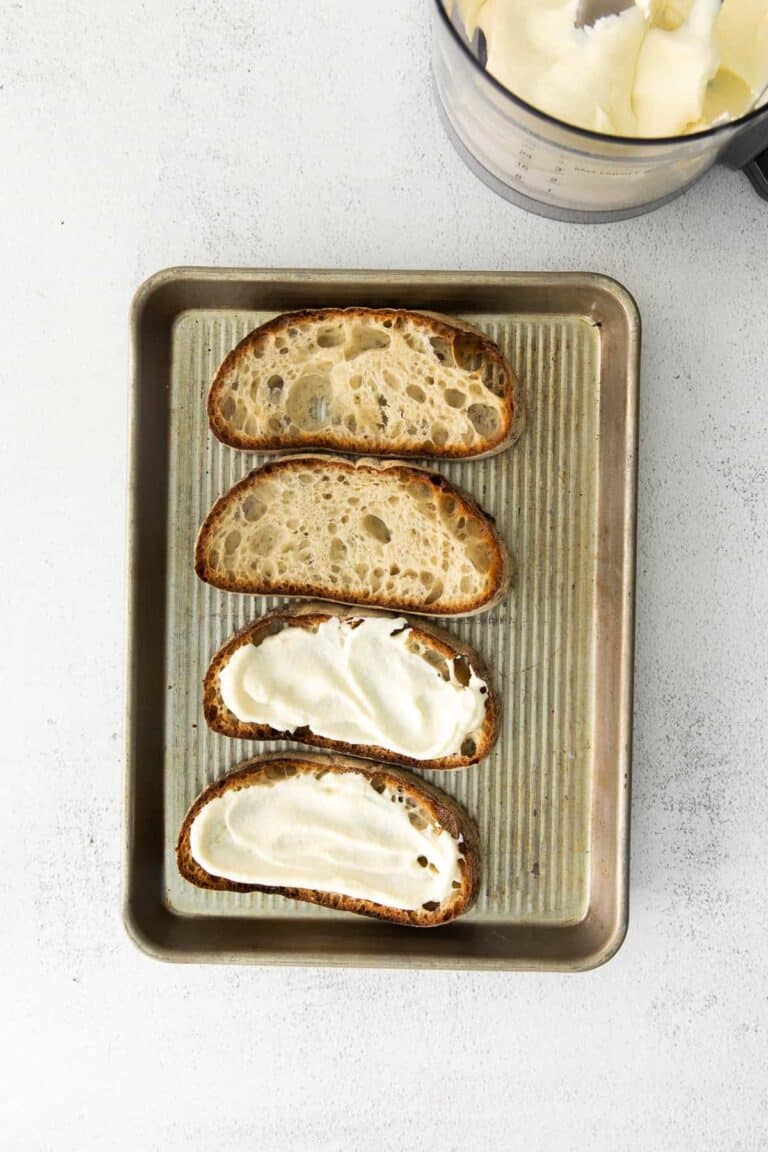 Crunchy Toast is Best!
As mentioned above the ricotta spread is rich and creamy and is best when paired with a crunchy and hearty piece of toast!
We broiled the toast for this ricotta toast in the oven until crunchy because you can toast more bread in the oven. However, you can also toast your bread in a toaster.
2 Topping Options!
Avocado + Everything Bagel Seasoning
If you are a savory person, this topping option is for you! Spread the whipped ricotta topping on your toast and spread the avocado evenly over the ricotta spread and sprinkle everything bagel seasoning over the sliced avocado.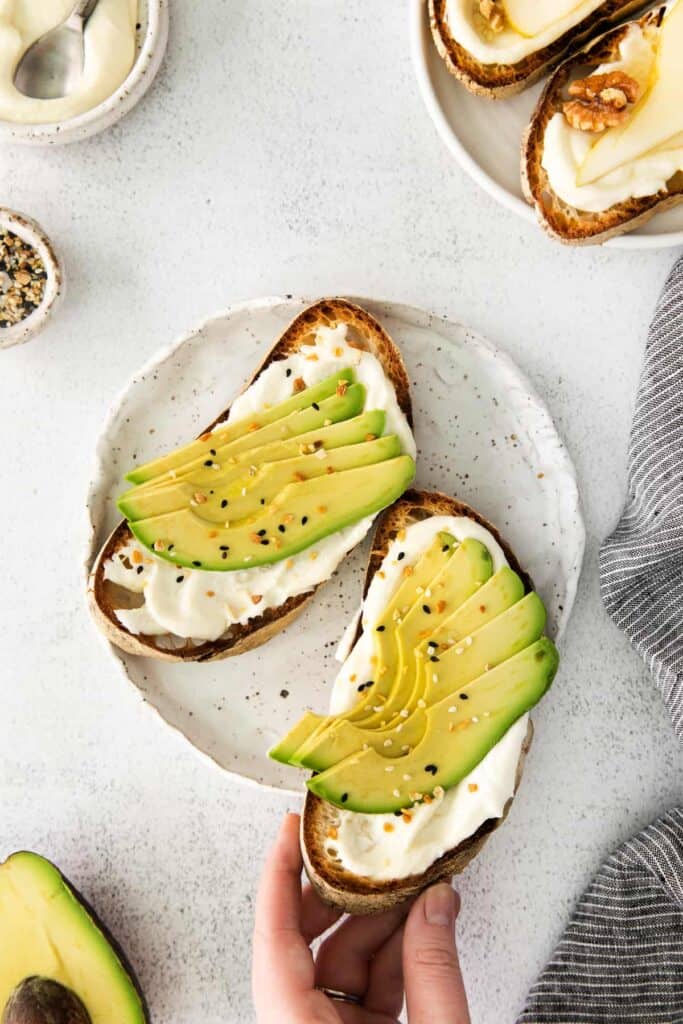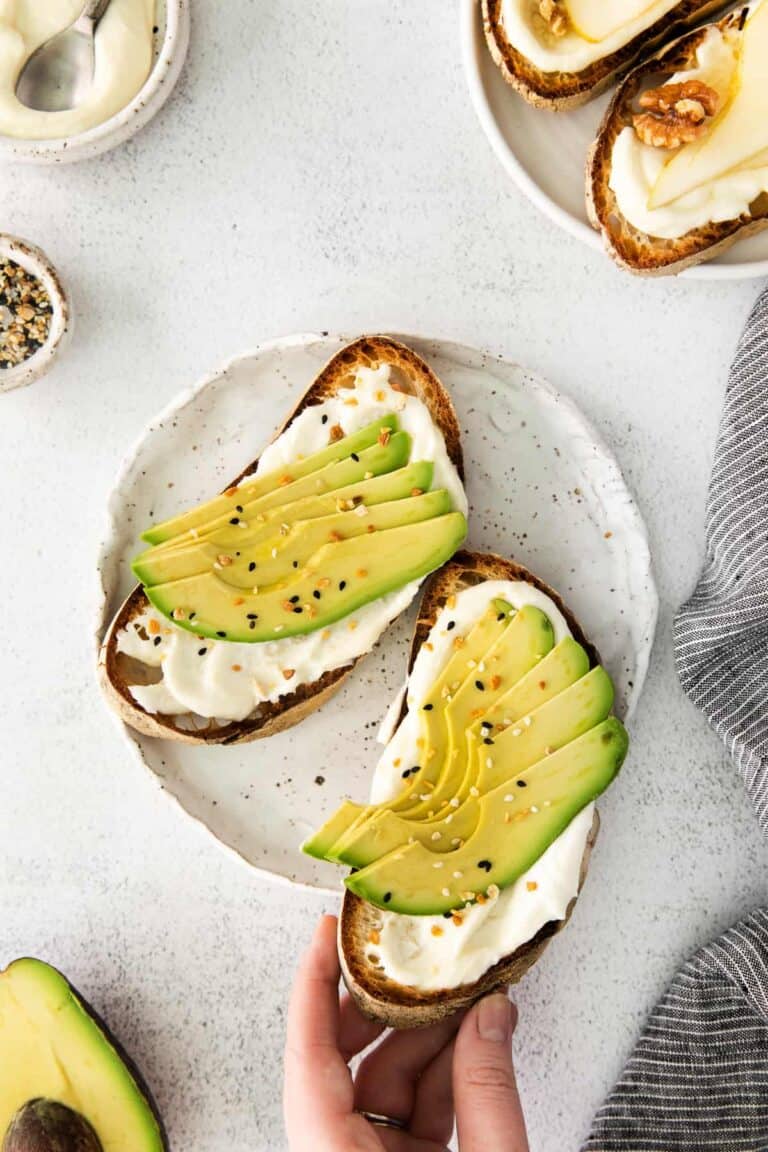 Pear + Walnuts + Honey
For the sweet variation, spread the ricotta topping over the crunchy bread and add the sliced pears to the top of the ricotta. Sprinkle the walnuts over the pears and drizzle everything with honey.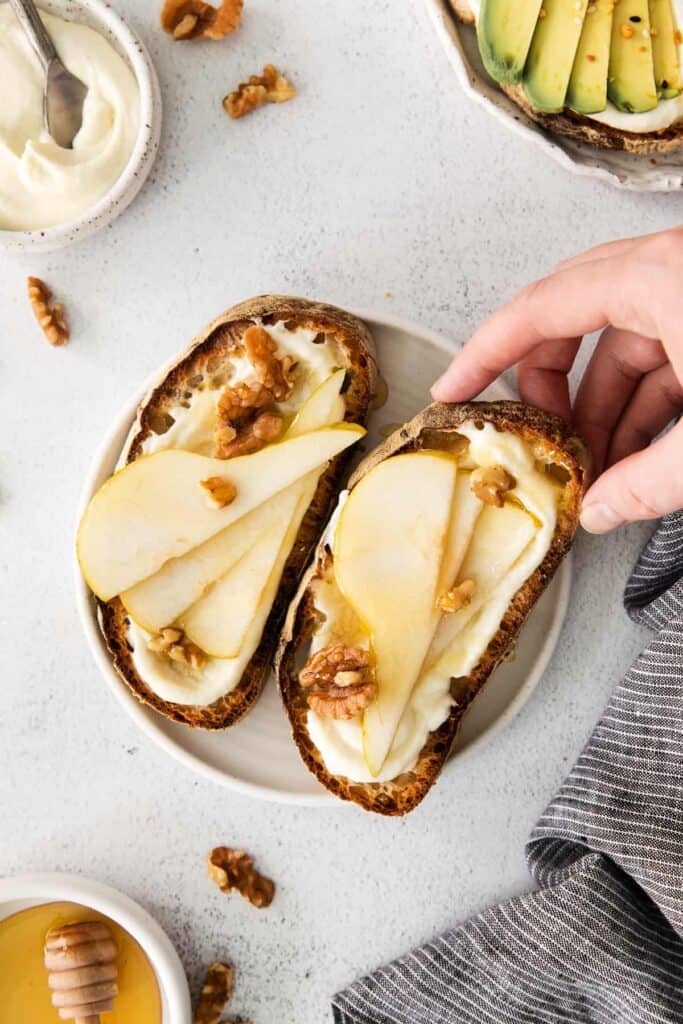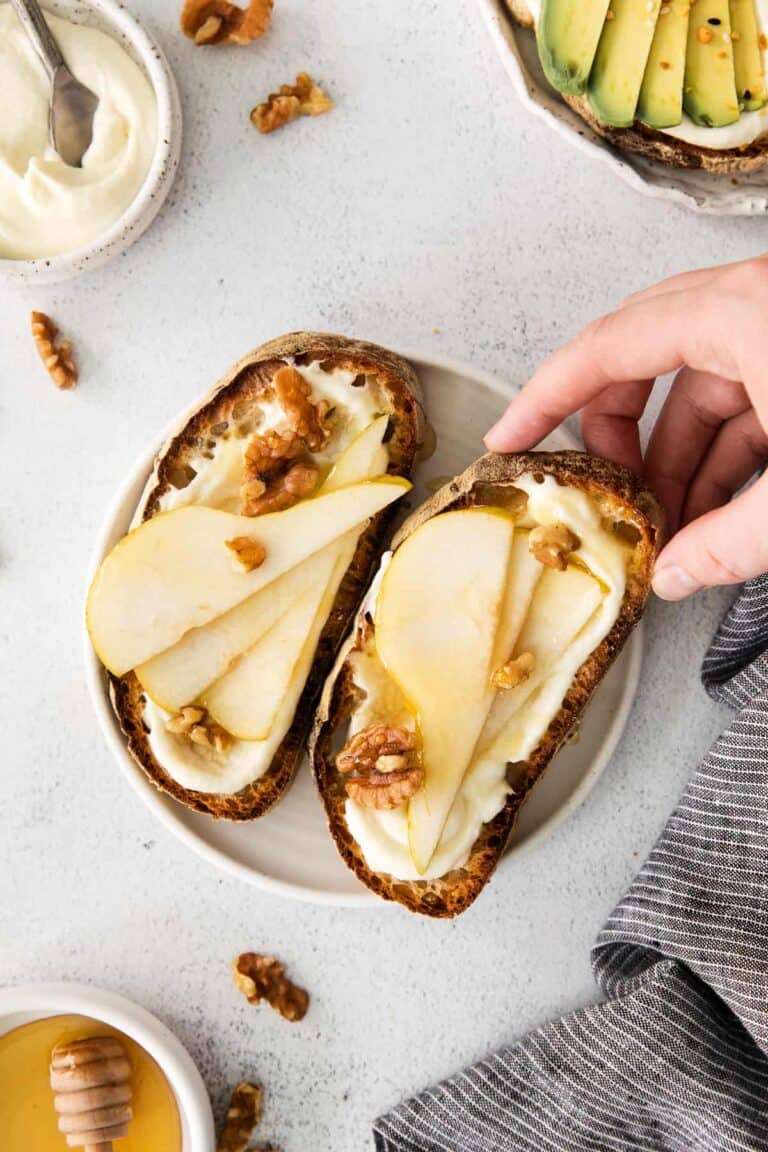 Tips + Tricks
Change up the ricotta cheese spread
We kept the ricotta spread simple and basic, but there are many ways you take this ricotta spread up a notch. Below are some fun add-ins for the whipped ricotta.
Savory Add-ins
1/2 teaspoon red pepper flakes
1/2 teaspoon freshly cracked pepper
pinch of cayenne pepper
1 tablespoon of spicy pepper jam
Sweet Add-ins
1/2 tablespoon honey + 1 teaspoon cocoa powder
1/2 teaspoon cinnamon + 1/2 tablespoon maple syrup
More topping options
Not only can you add more ingredients to the ricotta spread, but you can completely change what you top the ricotta toast with! Below are some other topping options.
Fried egg + picked peppers
Peanut butter + mini chocolate chips
Cherry tomatoes + fresh thyme
Balsamic vinegar + blackberries
Sliced bananas + pecans
Apple + honey
Storage
We suggest storing the ricotta spread and other toppings in a separate airtight containers and in the refrigerator. Store the bread in a bag and seal so the bread doesn't get hard.
Assemble the toast when you are ready to eat it.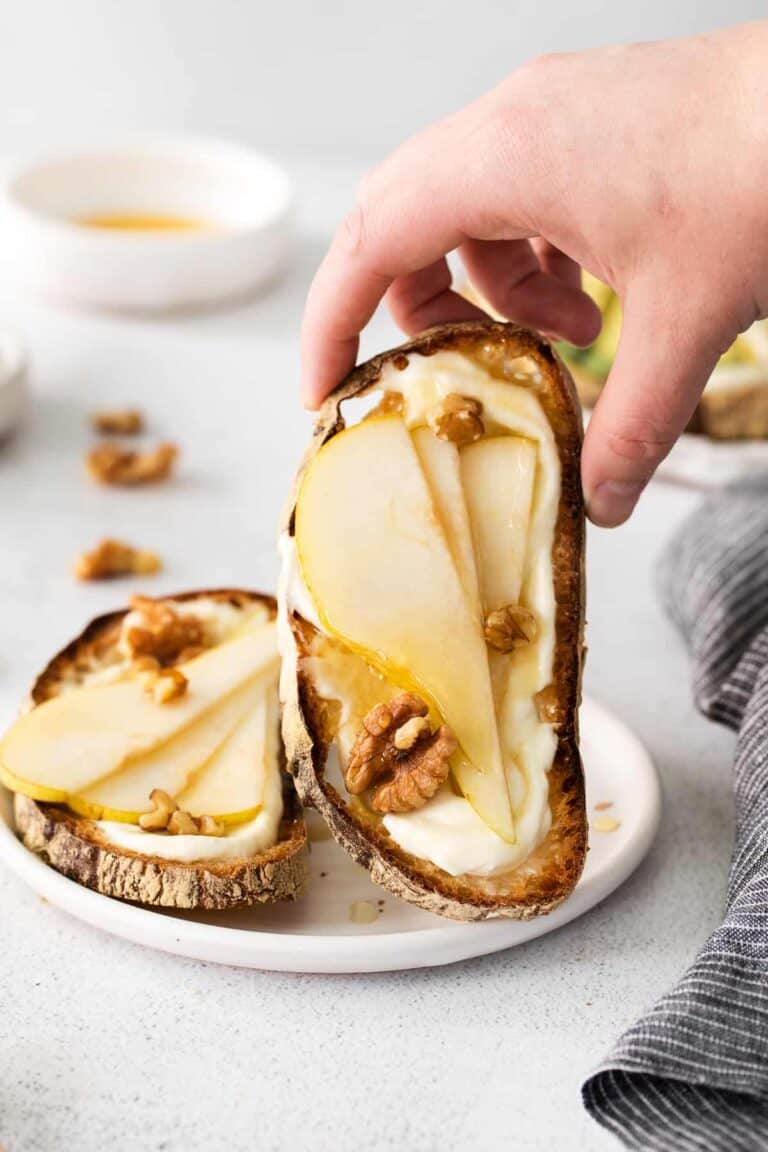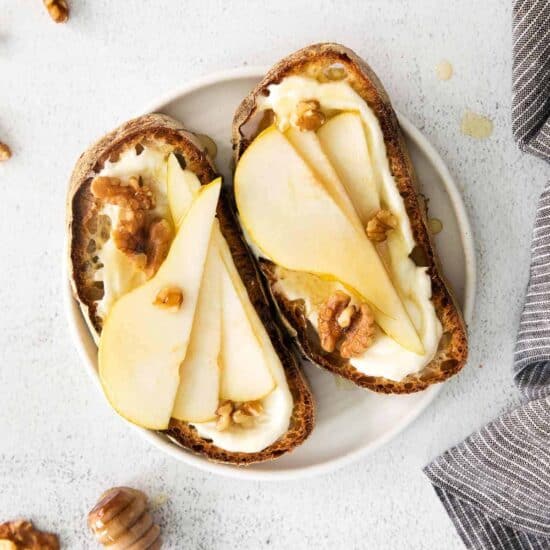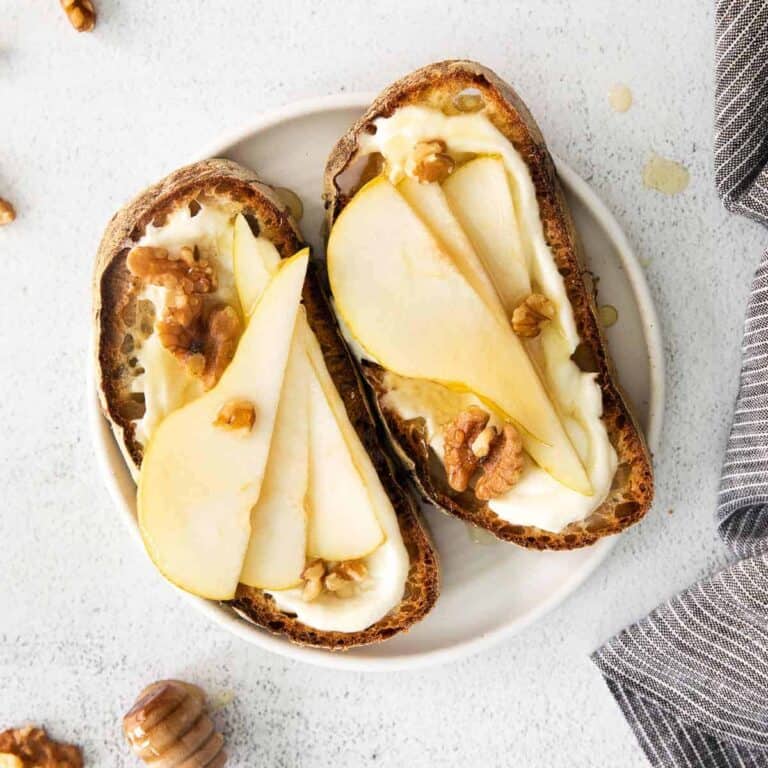 Ricotta Toast – 2 Ways
There are 2 ways to top this creamy ricotta toast. You can go savory and top yours with avocado and everything bagel seasoning or you can go sweet and top yours with pears, honey, and walnuts! 
Ingredients
For the Base
4

slices

thick-cut rustic bread

preferably sourdough

1

cup

whole milk ricotta cheese

2

tablespoons

olive oil
Sweet — Honey and Pear
½

pear

sliced

1

teaspoon

honey

1

tablespoon

toasted walnuts

Pinch

of cinnamon
Savory — Everything Spice & Avocado
Instructions
Toast your bread until golden brown. I like to broil mine for 2-3 minutes per side, but you could also toast your bread in a pan or a toaster oven– whatever works for you! 

Add the ricotta and olive oil to the bowl of a food processor and pulse on high speed for 1 minute. Scrape down the sides of the bowl and process for another 30 seconds. Your ricotta should be smooth and creamy– if it isn't, pulse for another 30 seconds. 

Spread the whipped ricotta over the toast and top with your choice of toppings. 

Enjoy immediately. 

Store any leftover ricotta spread in an airtight container for up to three days. 
Tips & Notes
Nutrition information does not include topping variations. 
Nutrition facts
Calories:
247
kcal
Carbohydrates:
17
g
Protein:
10
g
Fat:
16
g
Fiber:
2
g
Sugar:
0
g