Make any occasion special with this deliciously fluffy and moist lemon ricotta cake that's made from 9 simple ingredients. Enjoy!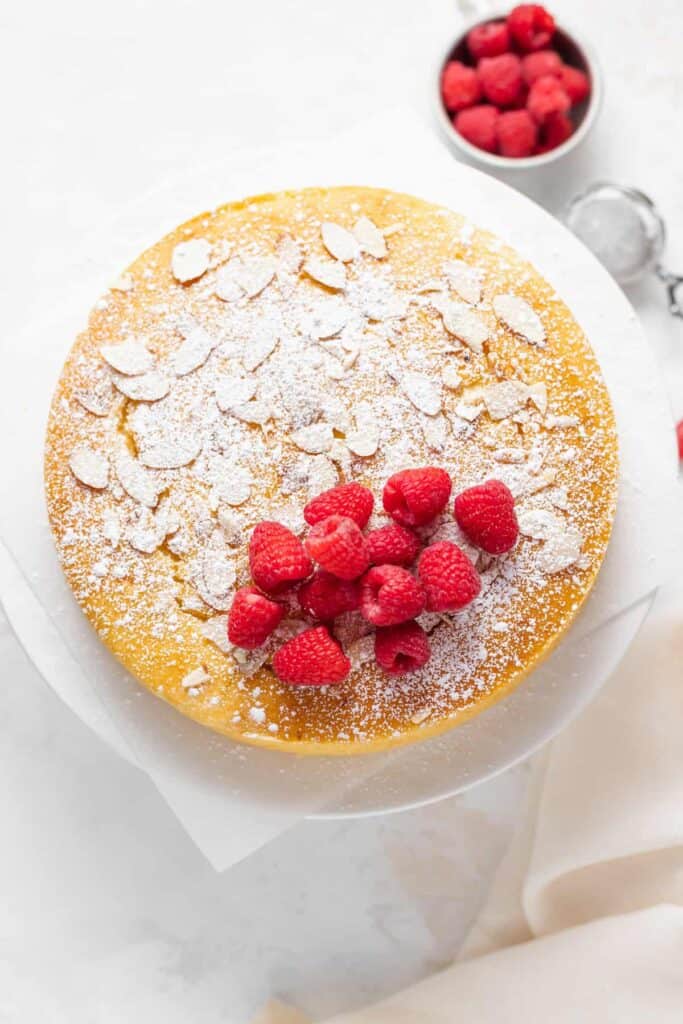 This lemon ricotta cake looks (and tastes!) oh so fancy, but it really couldn't be easier to make! In this post, we'll walk you through everything you need to know about ricotta cake, including how to make this delicious cake, what to garnish it with, how to store it and more.
Whether you're serving this cake as a fresh and fluffy dessert, or as a sweet treat at brunch (or anything in between!), you really can't go wrong with the lemon + ricotta + almond flavors of this lemon ricotta cake.
Ingredients You Need for Lemon Ricotta Cake
Ricotta cheese: The true star of the show for this lemon ricotta cake! We used whole milk ricotta cheese because it adds so much moisture and delicious texture! Whole milk ricotta adds so much more richness when baking, where skim milk ricotta cheese tends to be a bit more watery.
Fresh lemon zest: Can't skip the lemon in this lemon ricotta cake! We went with fresh lemon zest to give this cake a little bit of tart lemon flavor to complement the almond.
Almond extract: Almond extract is the flavor hero of this cake. A little goes a long way, but there is nothing better than the almond extract and ricotta combination.
All-purpose flour: This lemon ricotta cake is made with all purpose flour which gives it a delicious light and fluffy texture.
Baking powder: We prefer to use baking powder to baking soda in this cake because the cake batter is a bit moist (thank you, delicious ricotta!) and baking powder helps firm it up a bit while keeping the fluffiness.
Unsalted butter: You'll find us using unsalted butter when baking, unless otherwise noted!
Granulated sugar: We opted for a classic granulated sugar in this cake.
Large eggs: Make sure you use large eggs, not small or medium for this recipe.
Slivered almonds: We topped this ricotta cake with slivered almonds, and love the texture it adds.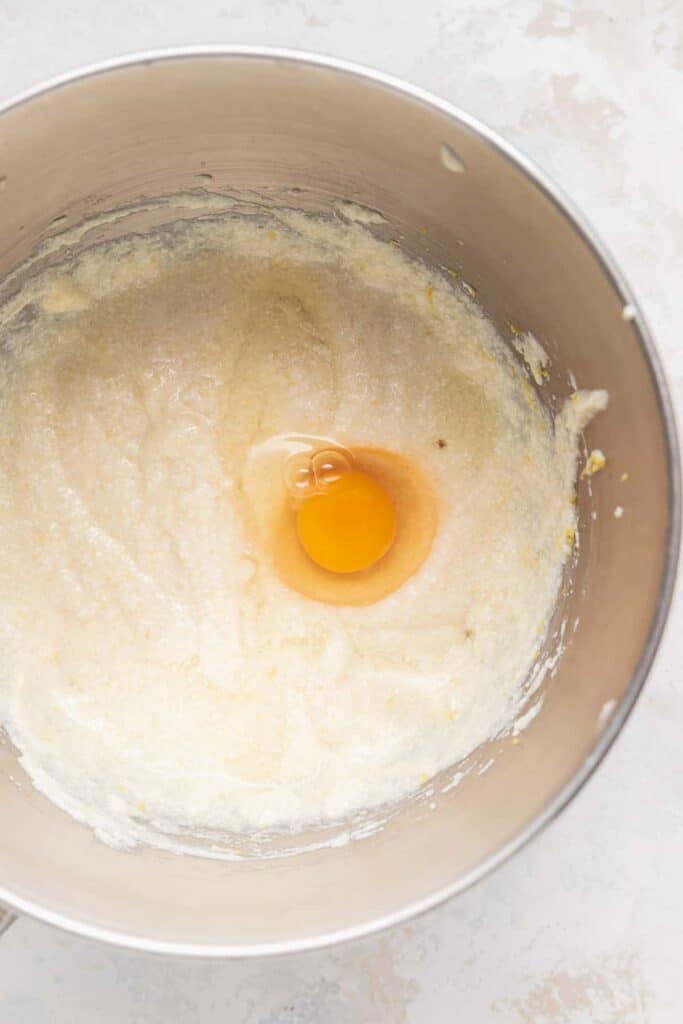 Want more ricotta cake recipes?
Add our cherry ricotta cake and strawberry ricotta layer cake to your list.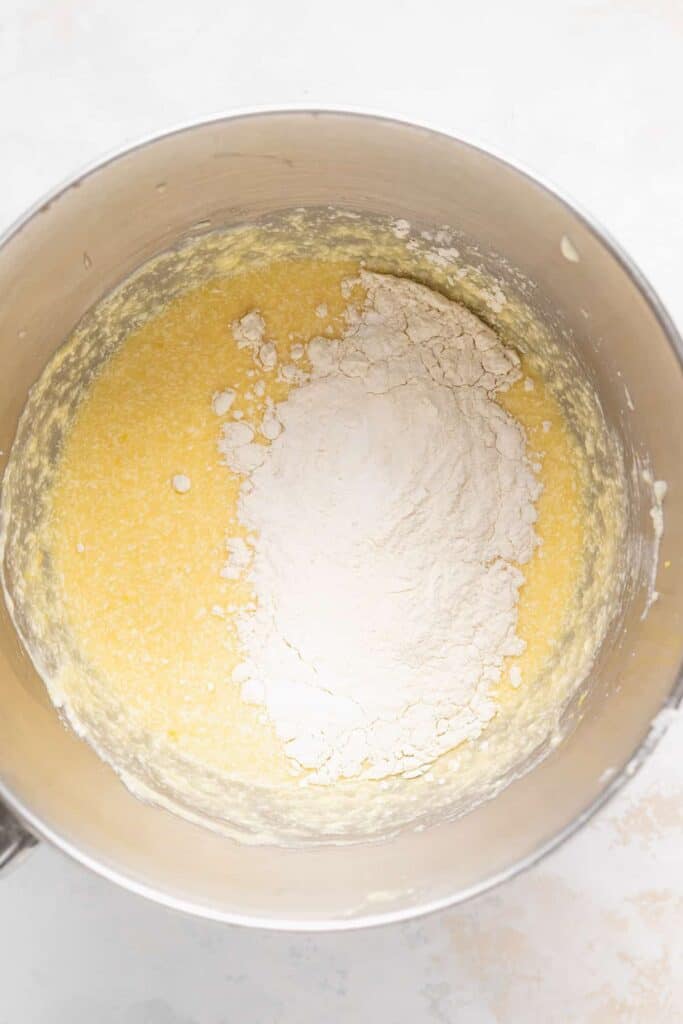 All the Toppings
Top this lemon ricotta cake with anything your heart desires! Some of our favorites include:
Fresh berries
Powdered sugar
A dollop of whipped cream
Candied lemon slices
A powdered sugar glaze
FAQs
Can I substitute vanilla for the almond extract?

Yes! You can absolutely substitute vanilla for almond extract. Almond extract can be too strong of a flavor for some people, and if this is you, feel free to sub equal parts vanilla extract. Vanilla will be more of a tamed down classic flavor that pairs nicely with this lemon ricotta cake.
Do I need to strain my ricotta for ricotta cake?

If you use whole milk ricotta you won't need to strain the liquid from it! You need to use room temperature ricotta cheese, so if there is any excess liquid after letting it come to room temperature (which may happen if you use skim milk ricotta) just strain the liquid from the cheese.
Can I make this ricotta cake gluten free?

No, we do not recommend substituting the all purpose flour in this recipe.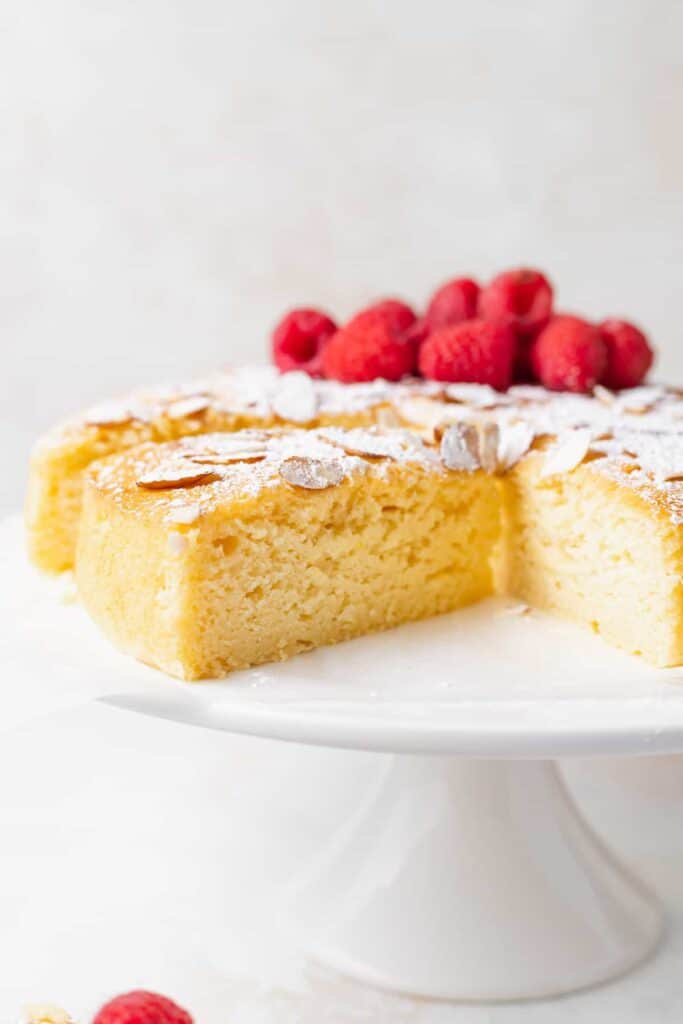 How to Store Ricotta Cake
Store this lemon ricotta cake in an airtight container in the fridge and enjoy for up to 3-5 days. If you're storing right in the spring form pan, simply cover and seal tightly around the edges with tin foil.
For longer storage, wrap the cake securely in plastic wrap and foil, and freeze it for up to two months. Thaw in the fridge before serving.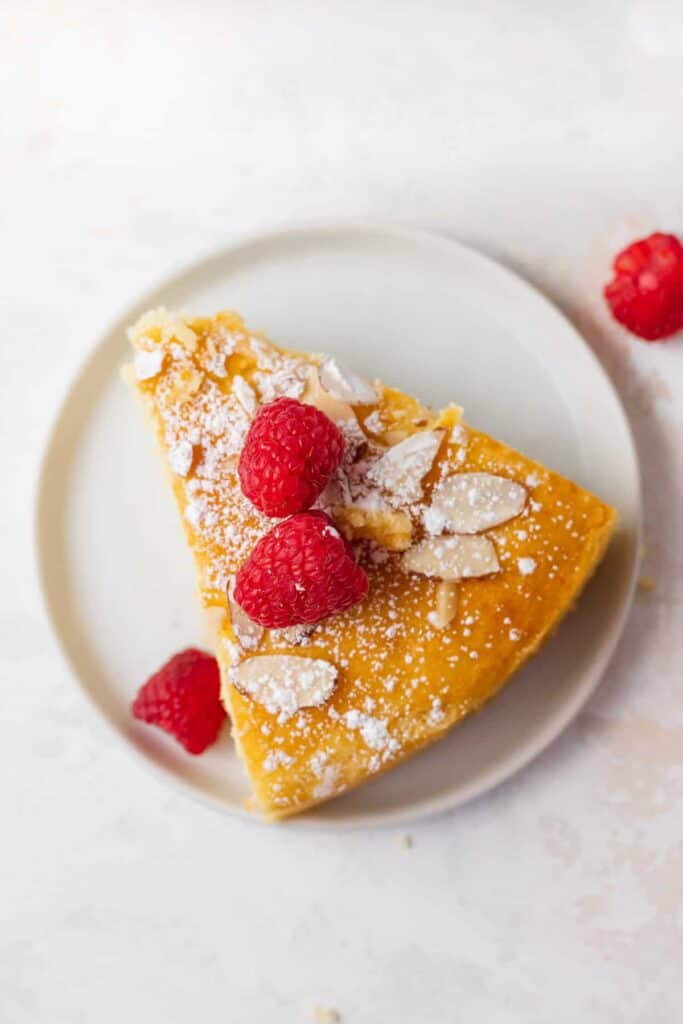 Serving Suggestions
We love serving this lemon ricotta cake with a cup of coffee or tea. If you're looking to really jazz things up, feel free to serve alongside a scoop of mascarpone ice cream or frosted with our amazingly creamy lemon cream cheese frosting.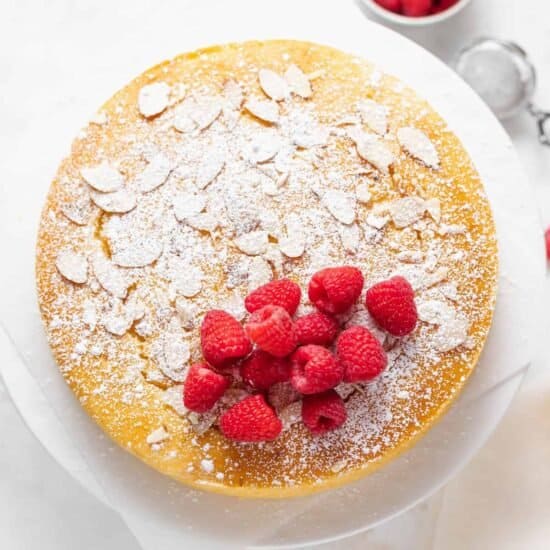 Lemon Ricotta Cake Recipe
This deliciously fluffy and moist lemon ricotta cake is made from 9 simple ingredients and baked to absolute perfection. Enjoy!
Ingredients
1.5

cups

all-purpose flour

2

teaspoons

baking powder

½

cup

butter

1 stick, room temperature

1

cup

white sugar

15-

oz.

whole milk ricotta

room temperature

3

large eggs

room temperature

2

teaspoons

almond extract

1

tablespoon

fresh lemon zest

¼

cup

slivered almonds
Toppings 
½

cup

fresh raspberries

2

tablespoons

powdered sugar
Instructions
Preheat the oven to 350ºF and spray a 9-inch springform pan with nonstick baking spray.  

In a medium bowl mix together the flour and baking powder. Set aside. 

Add the butter and sugar to a large mixing bowl and cream the two ingredients together on low speed with an electric hand mixer or standing mixer (about 2-3 minutes).

Scrape the sides of the mixing bowl with a spatula and then add the ricotta cheese to the mixing bowl and mix on low speed for 3-4 minutes or until the three ingredients are combined (it's ok if there are a few lumps in the mixture). 

Next, add almond extract and lemon zest to the bowl and mix until combined. 

Add one egg at a time to the mixing bowl and mix on low until the eggs are just combined into the cake batter (don't over mix!). 

Scrape the sides of the mixing bowl with a spatula and then slowly add the flour mixture to the mixing bowl and mix until the flour is mixed into the batter.

Pour the batter into the greased spring form pan and shake the pan back and forth to even the batter out in the pan. Sprinkle with the sliced almonds. 

Bake the cake for 40-42 minutes or until the cake is bouncy to the touch. 

Remove from the oven and let the cake cool for 10 minutes and then remove the spring form pan carefully. 

Dust the top of the cake with the powdered sugar by sifting the sugar onto the top of the cake. 

Place raspberries on the top of the cake and enjoy! 
Nutrition facts
Serving:
1
/9
Calories:
365
kcal
Carbohydrates:
40
g
Protein:
10
g
Fat:
18
g
Fiber:
1
g
Sugar:
24
g