Got leftover risotto? Make Parmesan Arancini – a delicious fried rice ball appetizer!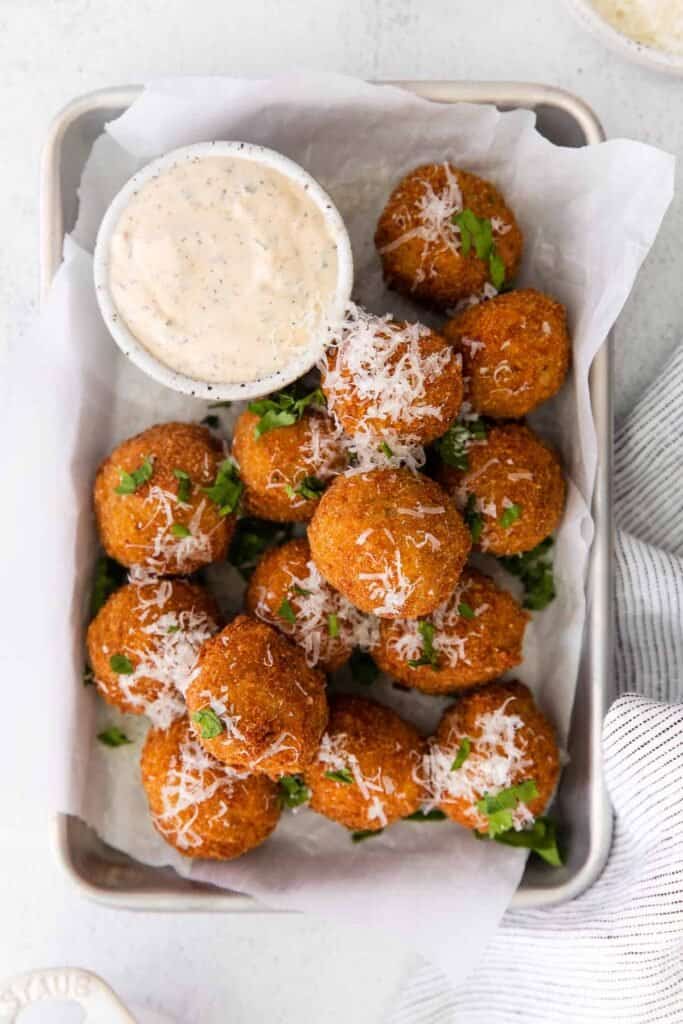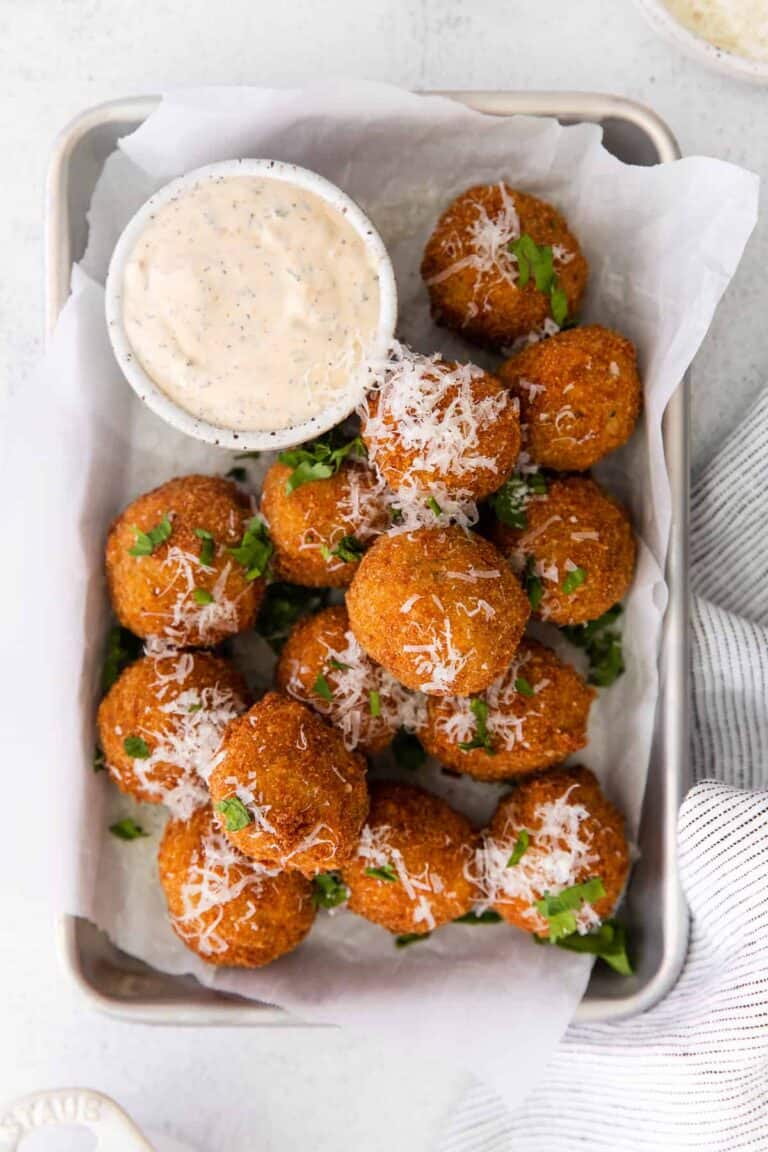 Easy Arancini Balls
Looking for a deep-fried cheesy rice ball of goodness? Arancini is truly the perfect appetizer made with risotto, parmesan cheese, and a breadcrumb coating.
Serve this appetizer at a friendly gathering or any holiday event.
What is arancini?
Arancini is an Italian fried rice ball commonly made with cooked risotto, breadcrumbs, and oil.
Why you'll love it!
Use up leftover risotto: got leftover risotto? Arancini balls are the perfect way to use up your leftovers.
Crowd-pleasing appetizer: we're fans of anything fried and so is everyone else. Your guests will love this app!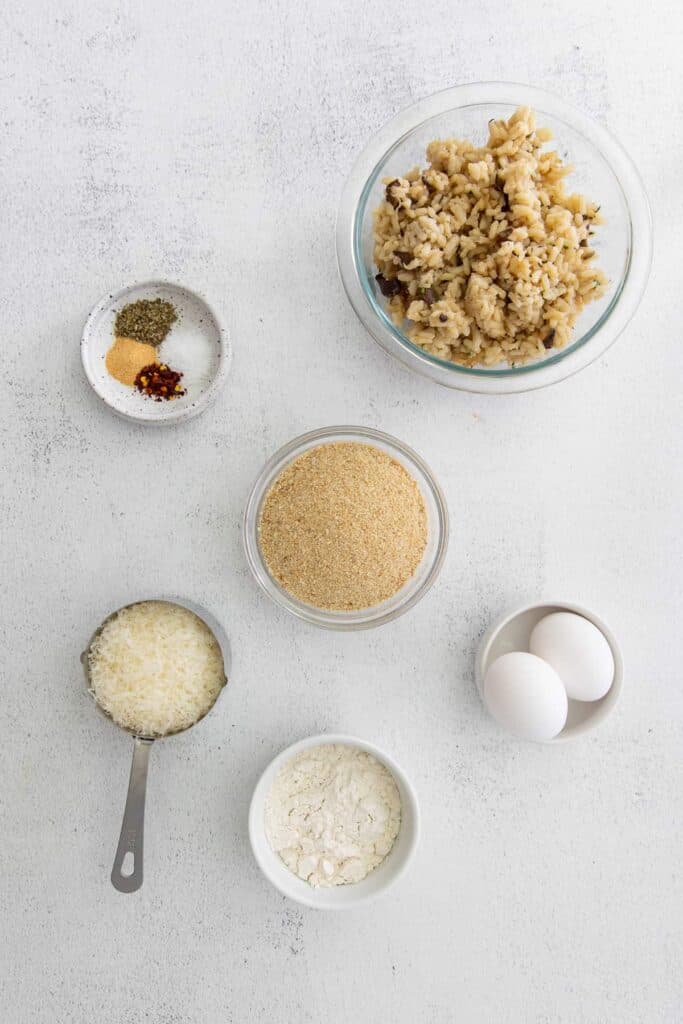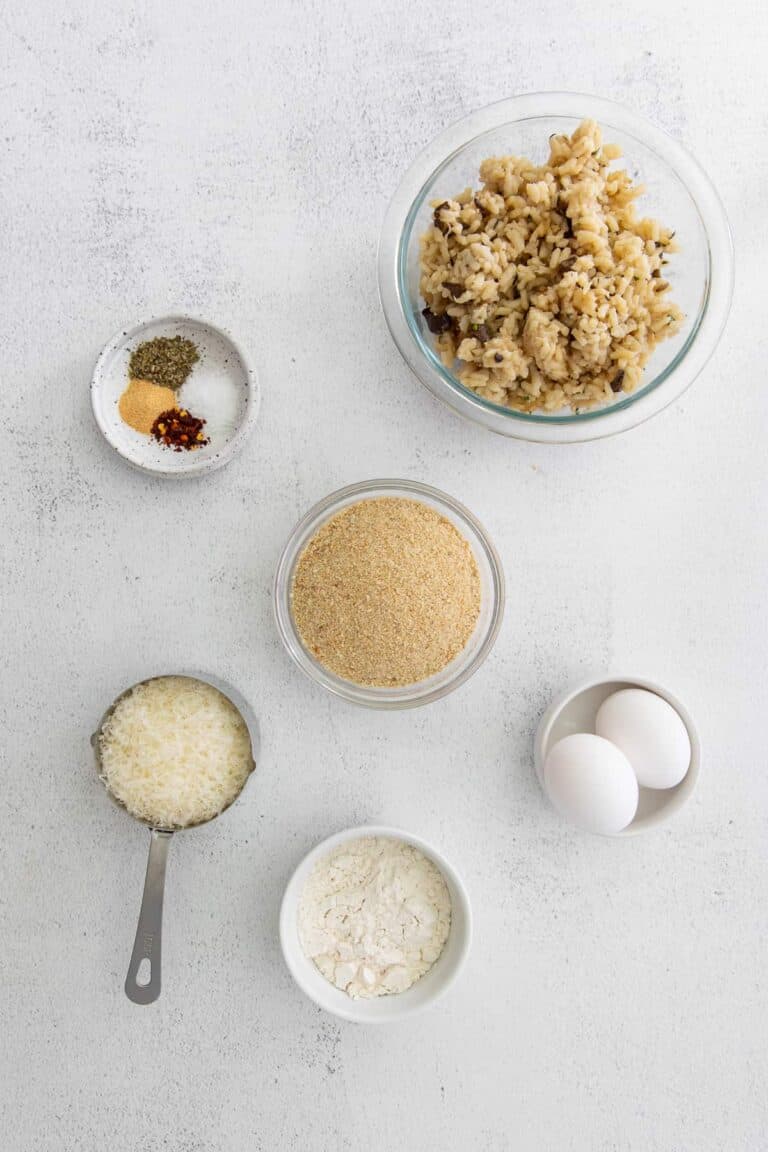 What You Need
Risotto: this recipe is a great way to use up leftover risotto– make sure you're using fully cooked and cooled arborio rice.
Parmesan: parmesan cheese adds great saltiness and nuttiness to the arancini.
Cooked Arborio Rice: In this recipe we used an unflavored risotto so we added salt, garlic powder, italian seasoning, and red pepper flakes. If you have a super flavorful risotto leftover, feel free to skip these!
Breadcrumbs: We used plain breadcrumbs but Italian or panko would also work– use whatever you have on hand!
Egg: Egg helps the breadcrumbs stick to the arancini!
Flour: A little flour helps the egg stick to the arancini (and thus, the breadcrumbs too).
Oil: You can use pretty much any flavorless oil to fry the arancini but I used a simple vegetable oil.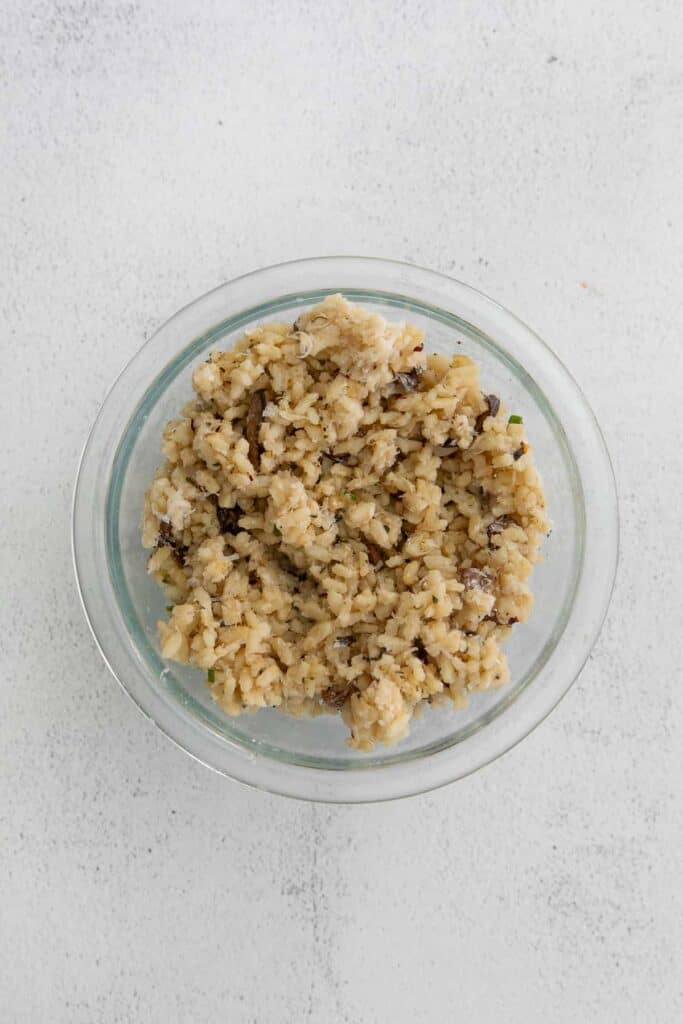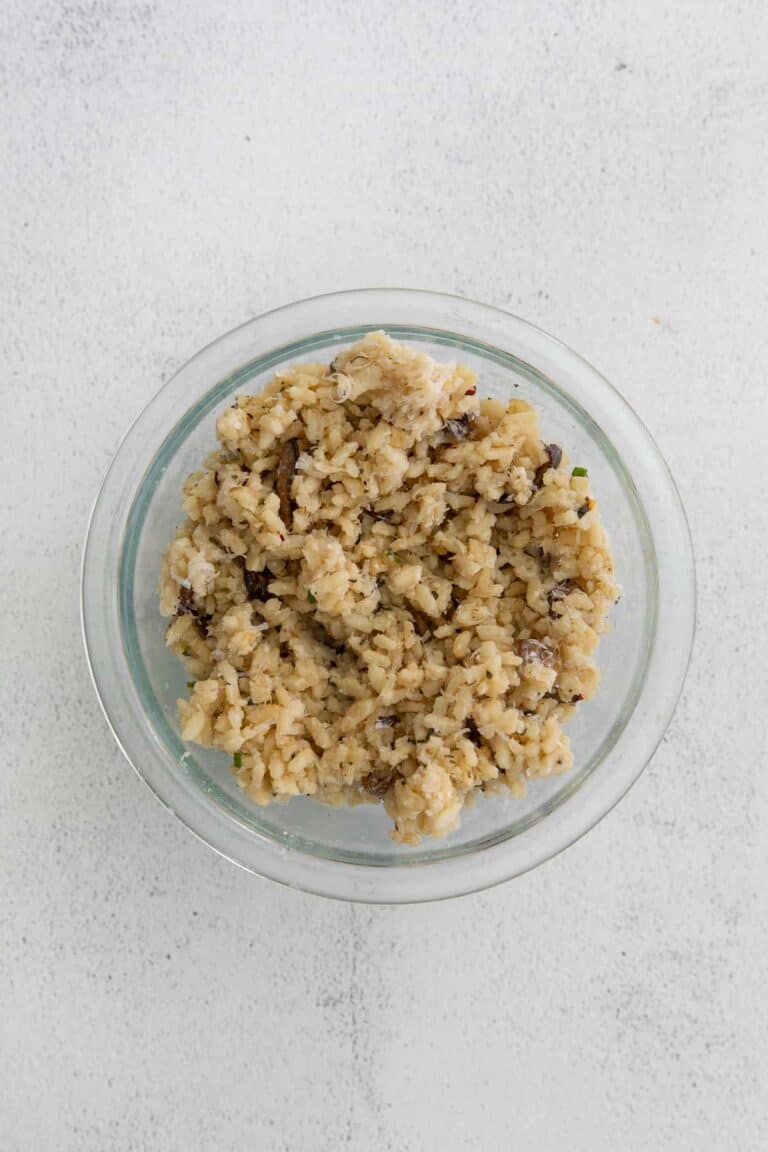 How to Make Arancini
Combine Ingredients
Combine cooked risotto, parmesan cheese, and spices in a large bowl. Make sure that your arancini is chilled and not freshly cooked.
Roll Balls
Use a 1″ cookie scoop to scoop the rice into your hands. Then, roll it into a ball. Repeat until all rice is gone.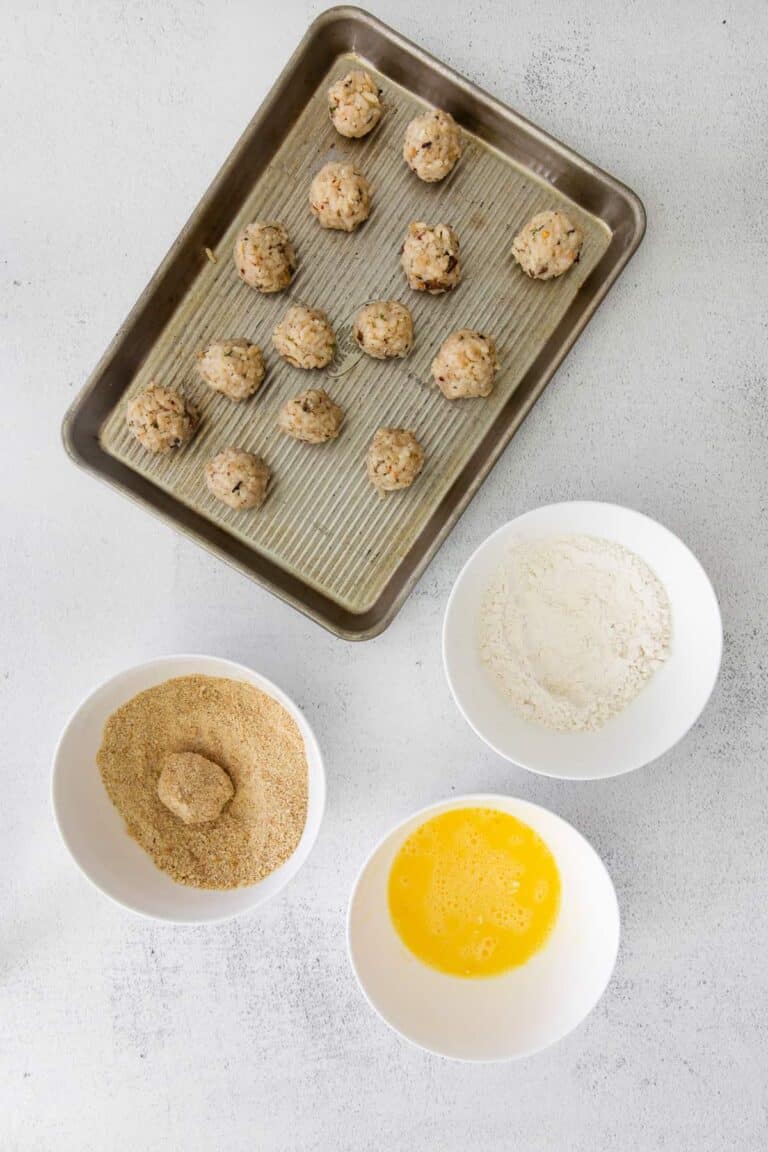 Dip Balls
Dip each rice ball into flour and then into the whisked egg. Then, dip the balls into the breadcrumbs.
Prepare Oil
Add oil into a Dutch oven and heat it to 365ºF. Make sure you use enough oil so that there is 2″ of oil in the pot.
Fry Arancini Balls
Fry around 3-4 arancini at a time. Carefully place them into the hot oil and fry for 1-2 minutes or until golden brown.
Serve Immediately
Once the rice balls are fried, place them on a paper towel-lined plate to cool. Serve immediately with your favorite dipping sauce.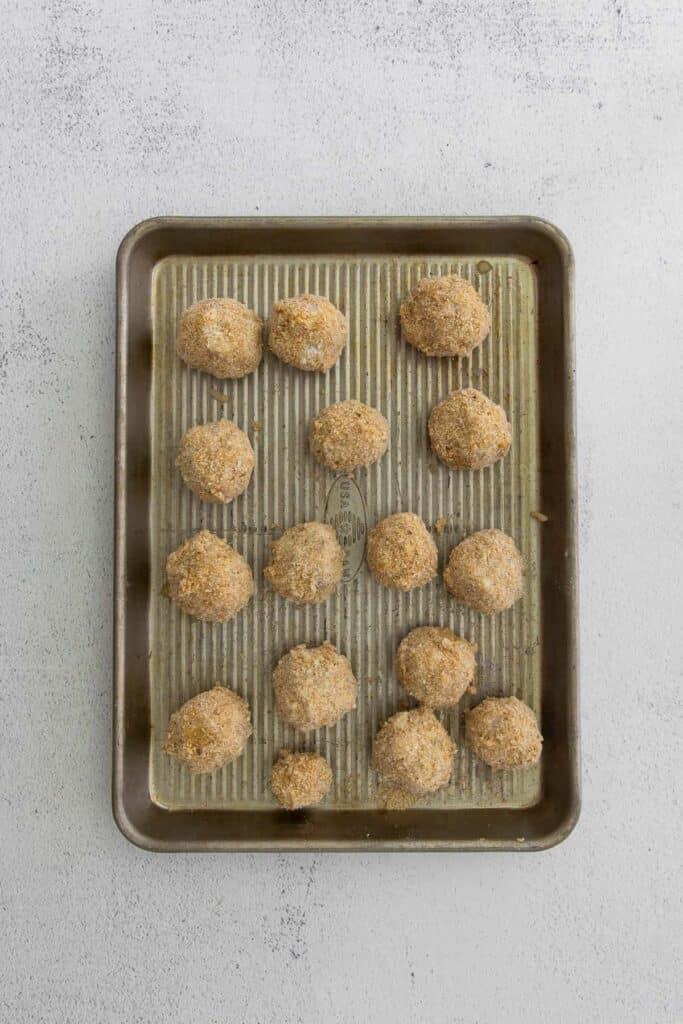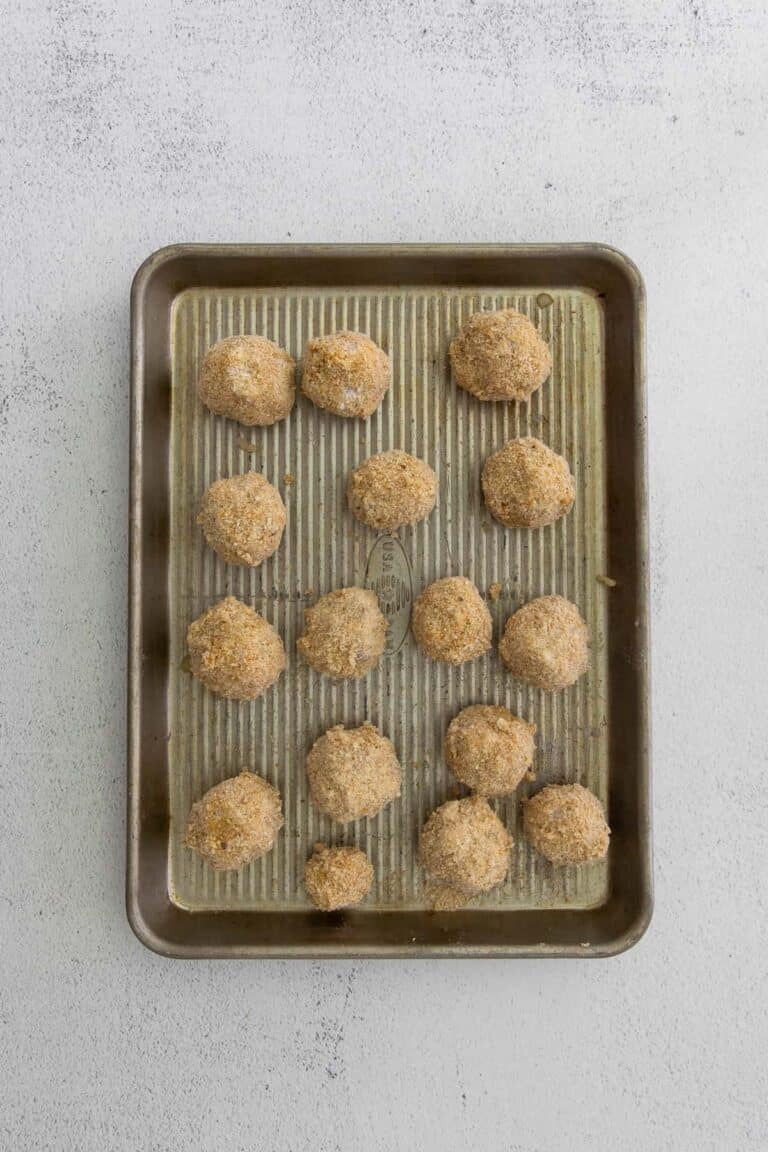 Dip Idea –> Calabrian Chili Ranch
If you're looking for a luscious dip for these arancini balls, this Calabrian chili ranch is your dip!
It perfectly compliments the simple parmesan flavor of the rice balls and is so easy to whip up. Here's what you need:
Sour Cream and Mayo: I love the mix of sour cream and mayonnaise in this dip– I feel like it lightens it up slightly so the dip isn't too rich.
Milk: helps thin out the ranch.
Calabrian chili paste: this can be found at most grocery stores in the italian section but if you don't have any, you can use red pepper flakes to taste.
Spices/Herbs: The mixture of parsley, thyme, garlic, italian seasoning, dill, celery salt, and black pepper imitates the classic ranch flavor! If you don't want to use each seasoning individually, just buy a premade ranch seasoning packet and use that– still delicious!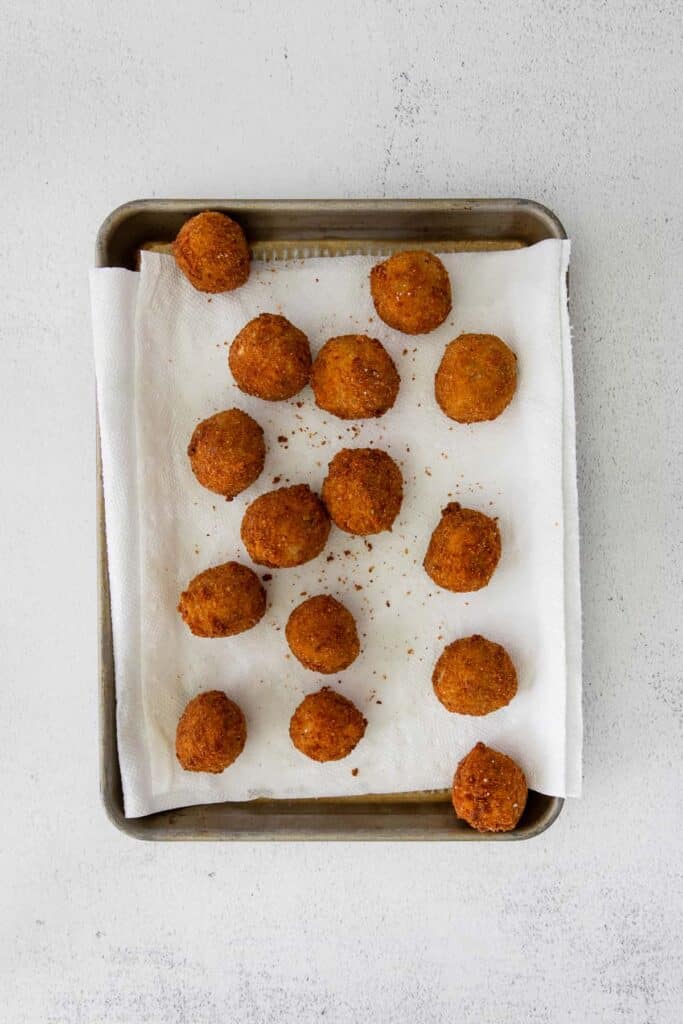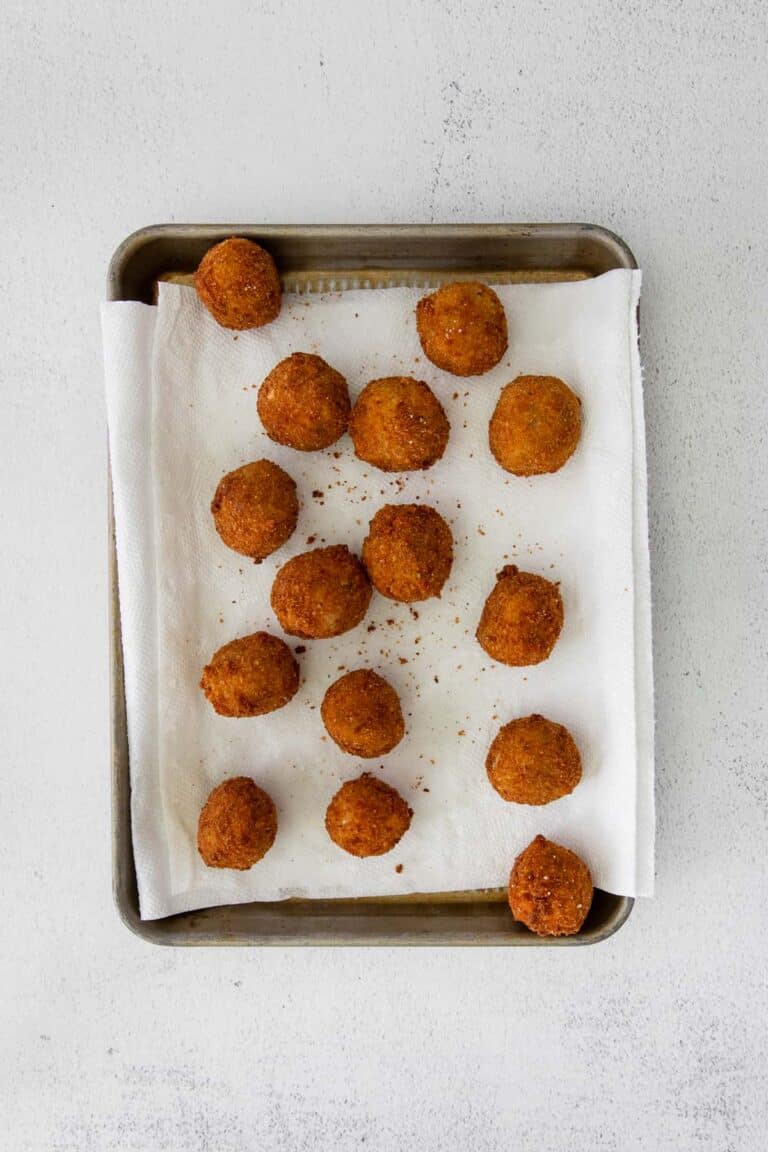 Storage
Store the cooled arancini in an airtight container in the fridge for 3-5 days.
Reheating Instructions
We suggest reheating in the microwave for 60-90 seconds or on the stovetop in a little oil over medium heat.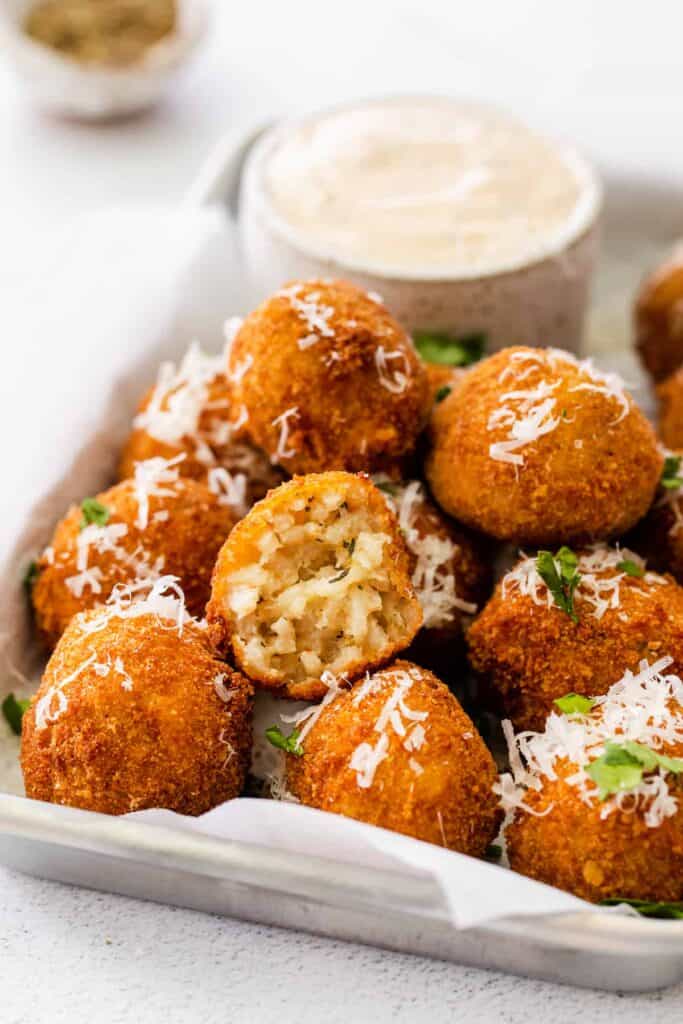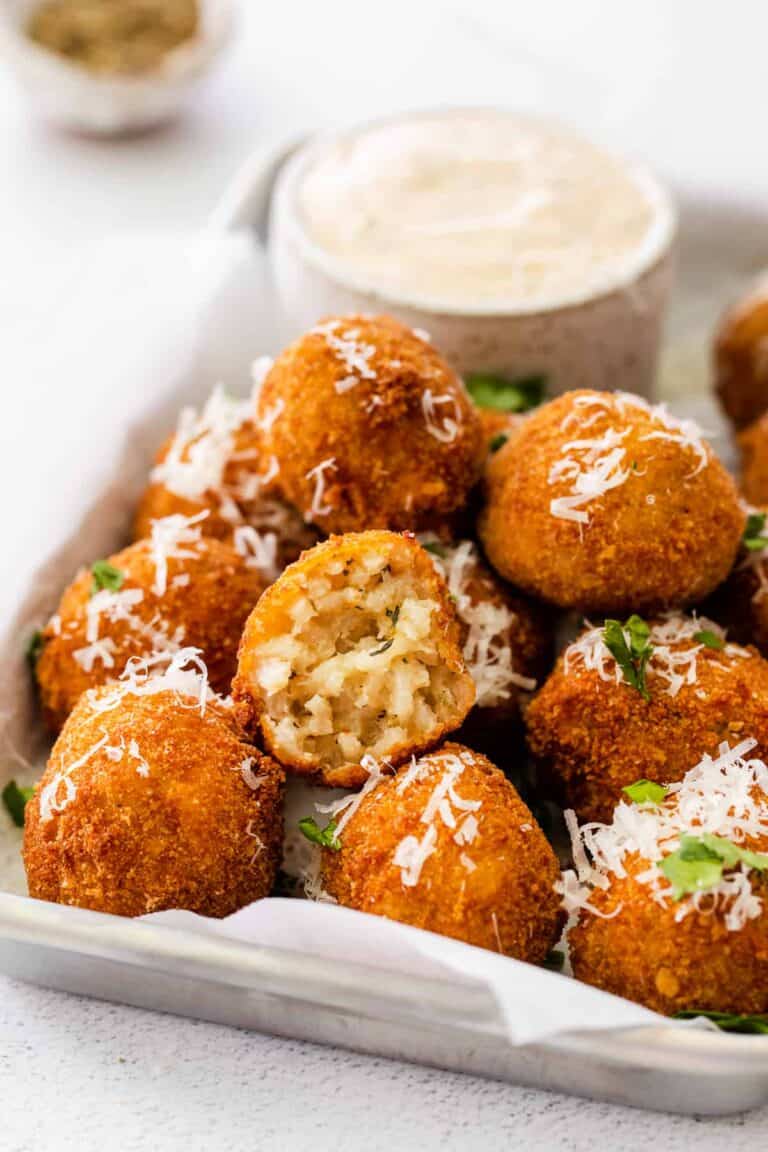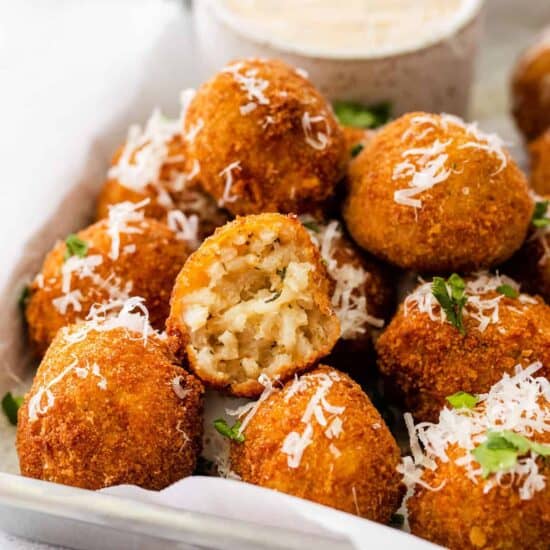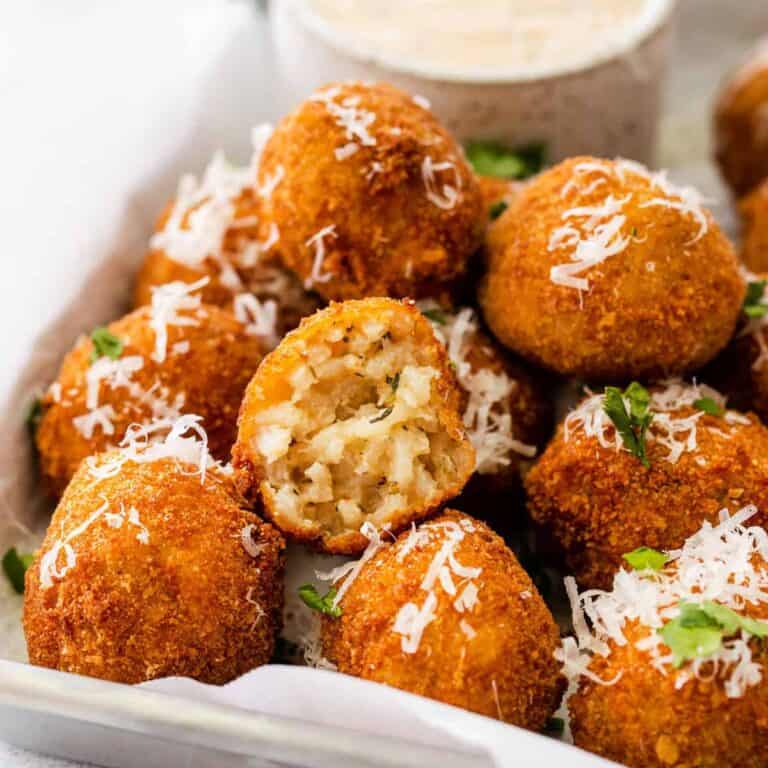 Parmesan Arancini Balls
Parmesan arancini balls is a crowd-pleasing finger food made with cooked risotto, parmesan cheese, spices, and breadcrumbs.
Ingredients
Arancini
3

cups

cooked risotto

cooled

1

cup

grated parmesan cheese

½

teaspoon

kosher salt

½

teaspoon

garlic powder

½

teaspoon

Italian seasoning

¼

teaspoon

red pepper flakes

optional

1

cup

plain bread crumbs

2

large eggs

¾

cup

all-purpose flour

Vegetable Oil

enough to fill your pot at least 2" deep
Calabrian Chili Ranch
¼

cup

sour cream

¼

cup

mayonnaise

¼

cup

whole milk

1

teaspoon

Calabrian chili paste

2

teaspoons

freshly chopped parsley

1

teaspoon

garlic powder

1

teaspoon

fresh thyme

1

teaspoon

dried Italian seasoning

½

teaspoon

dried dill

½

teaspoon

celery salt

½

teaspoon

black pepper
Instructions
Arancini
In a large bowl, combine the cooked risotto, ¾ cup parmesan cheese, salt, garlic powder, Italian seasoning, and red pepper flakes. 

Roll the risotto into 1" balls, making sure to pack them together well so they don't fall apart. 

Prepare your breading station by placing the flour, eggs, and breadcrumbs each in their own medium-sized bowl. Whisk the eggs until they are smooth and uniform. 

Dip each risotto ball (one at a time) into the flour, followed by the egg, and then the breadcrumbs. Repeat with the remaining arancini. 

Fill a heavy-bottomed pot or Dutch oven with at least 2" of vegetable oil and heat it over medium until it reaches 365ºF. 

Carefully lower 3-4 risotto balls into the oil and cook them for 1-2 minutes, or until they are golden brown. 

Remove the arancini to a paper towel and repeat until all of the arancini have been fried. 

Serve immediately, garnished with the remaining grated parmesan and fresh parsley. 
Calabrian Chili Ranch
In a large bowl, whisk together all of the ingredients. Store in an airtight container in the fridge until ready to serve. 
Nutrition facts
Calories:
268
kcal
Carbohydrates:
22
g
Protein:
5
g
Fat:
18
g
Fiber:
0
g
Sugar:
1
g