This palak paneer recipe is flavorful, easy to make, and ready in 1 hour! You can't beat the creaminess of this delicious curry.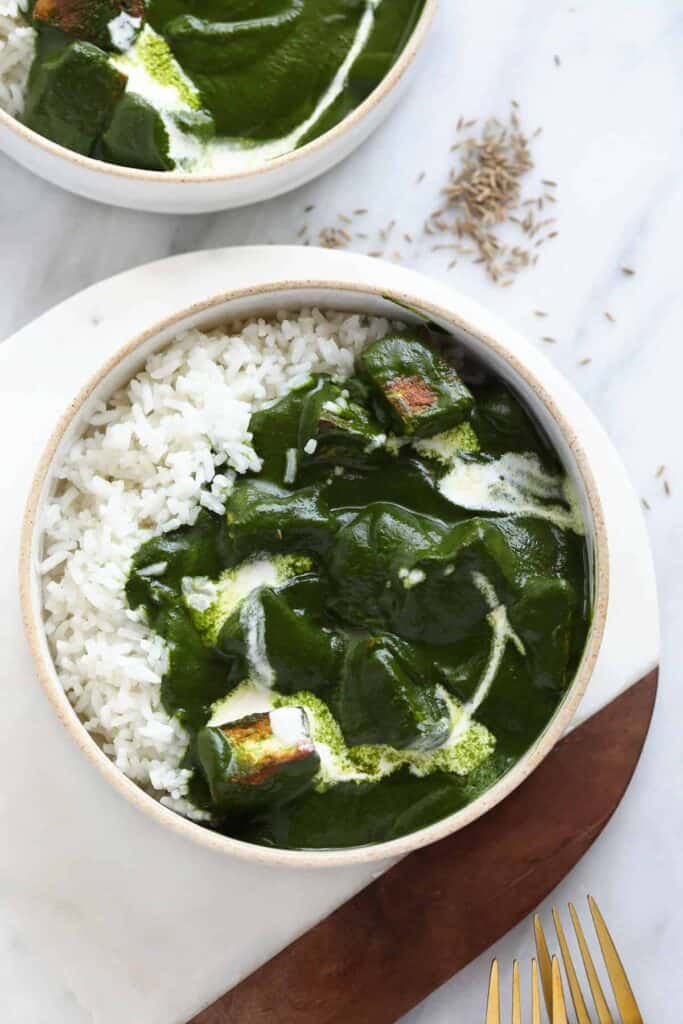 What is Palak Paneer?
Palak Paneer is a vegetarian Indian dish that is served with a delicious blended spinach sauce.
Palak is the Hindi word for spinach, while Saag, another word often associated with paneer, is the Punjabi word for mustard greens.
Palak and Saag Paneer share some of the same flavorings like onions, ginger, turmeric, and green chilies, while other ingredients like garlic and coriander set them apart.
While the names are not totally interchangeable, they both refer to a leafy green curry sauce with cubes of fresh or fried paneer cheese.
Important Facts About Palak Paneer
What is the origin of palak paneer?
In Northern India, paneer cheese is a vital component to the predominantly vegetarian cuisine, and there are many regional variations of this delicious curry to consider before making it.
Indian cuisine is most well known for it's luxuriously rich and aromatic curry dishes that feature everything from vegetables and legumes, to fish and meats, and even fresh cheese.
What is paneer?
Paneer is a mild cheese that has no added salt, and is intended to be enjoyed while very fresh.
Paneer is a low sodium cheese and is high in protein and full of vital nutrients like calcium, potassium, and vitamin D and makes an excellent base for a vegetarian meal.
Like tofu, paneer acts like a sponge and will soak up all of the flavors in a dish, and reheats nicely for great leftovers up to two days after it was made.
What are the spices in palak paneer?
The aromatic flavors in this curry are achieved when a particular blend of spices and other seasonings are sautéed first in ghee or clarified butter, and layered into a thick, rich sauce.
In this recipe for Palak Paneer, turmeric, cumin, onions, garlic, ginger, tomatoes, and green chilies are used.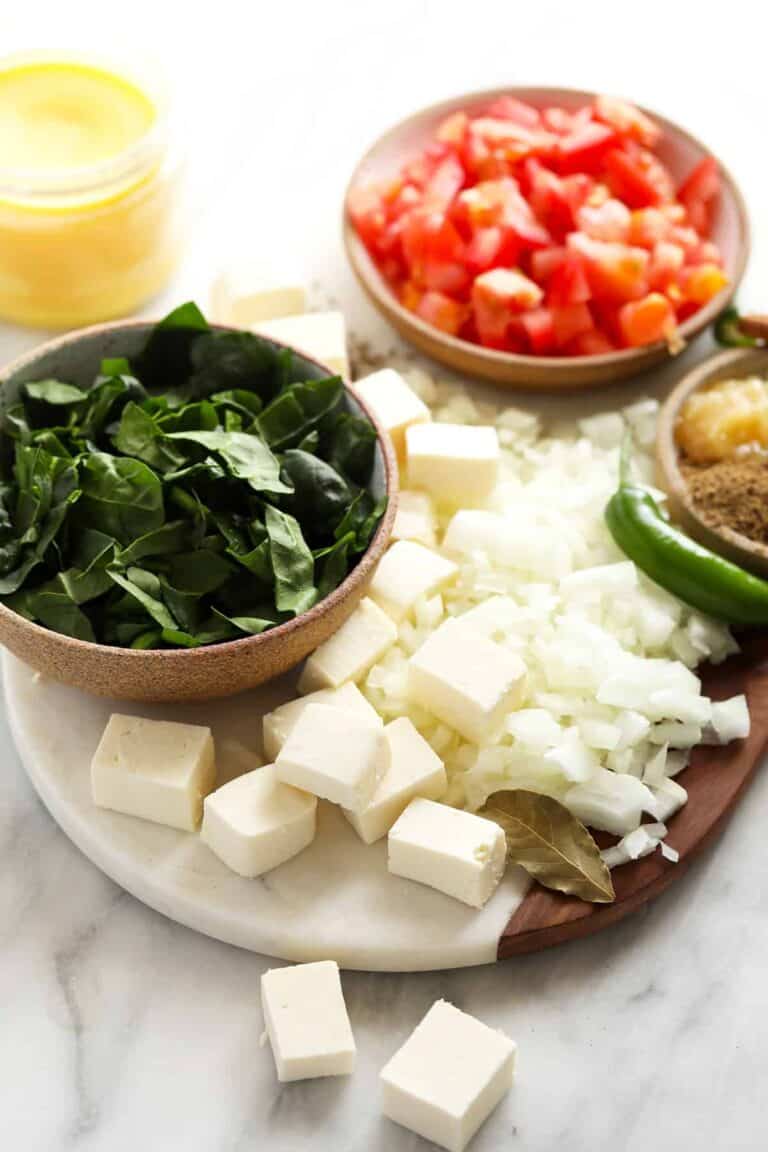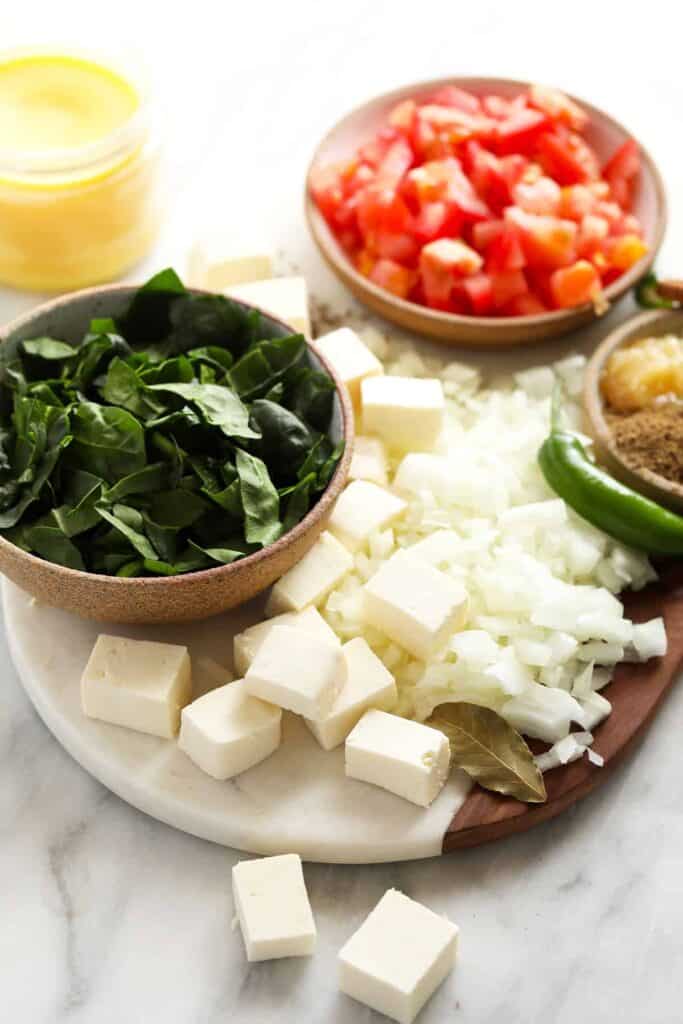 Ingredients You Need
Paneer- Paneer is a direct-acid cheese, meaning that a certain amount of acid is added to warmed milk to encourage curd formation, which is then drained of its whey, and formed into a firm mass of fresh cheese. You can use store bought paneer or our homemade paneer recipe!
Spinach- the other star of this recipe is the spinach. We use a whole pound of spinach in this recipe and believe me, you don't want to skip out on any of it. The creamy texture of this palak paneer recipe is combination of blended spinach and ghee. Also, how gorgeous is the green?
Ghee– You'll notice that we don't use any type of milk to make this dish creamy, the creaminess of the curry comes from the Ghee! Once you go ghee, you'll never go back!
Onion- the onion in this recipe is a base ingredient that you don't want to skip out on.
Garlic– another great base flavor of this palak paneer is the garlic!
Ginger– ginger is traditionally in palak paneer. Whether you use fresh ginger or a ginger paste, make sure you never skip the ginger.
Tomato– you cut up a large tomato and stew it with the garlic, onion, and ginger to create your sauces base! If you do not have a large tomato, feel free to use a pint of cherry tomatoes.
Green Chiles– these are FRESH green chiles (Serrano chiles). Just like any spicy pepper, green chiles can range from really spicy to mild. Hold off on adding the seeds to the pot right away and slowly add them if you want to spice things up.
Spices– we use a traditional spice mixture of cumin, turmeric, garam masala, and salt in this palak paneer recipe.
Whole cumin seeds– you toast the cumin seeds with a bay leaf and a cinnamon stick to get a nutty and delicious flavor profile that your sauce will simmer in. IT IS SO GOOD.
Heavy cream- serve your palak paneer with a drizzle of heavy cream! It's both beautiful and adds the perfect amount of creaminess to the dish.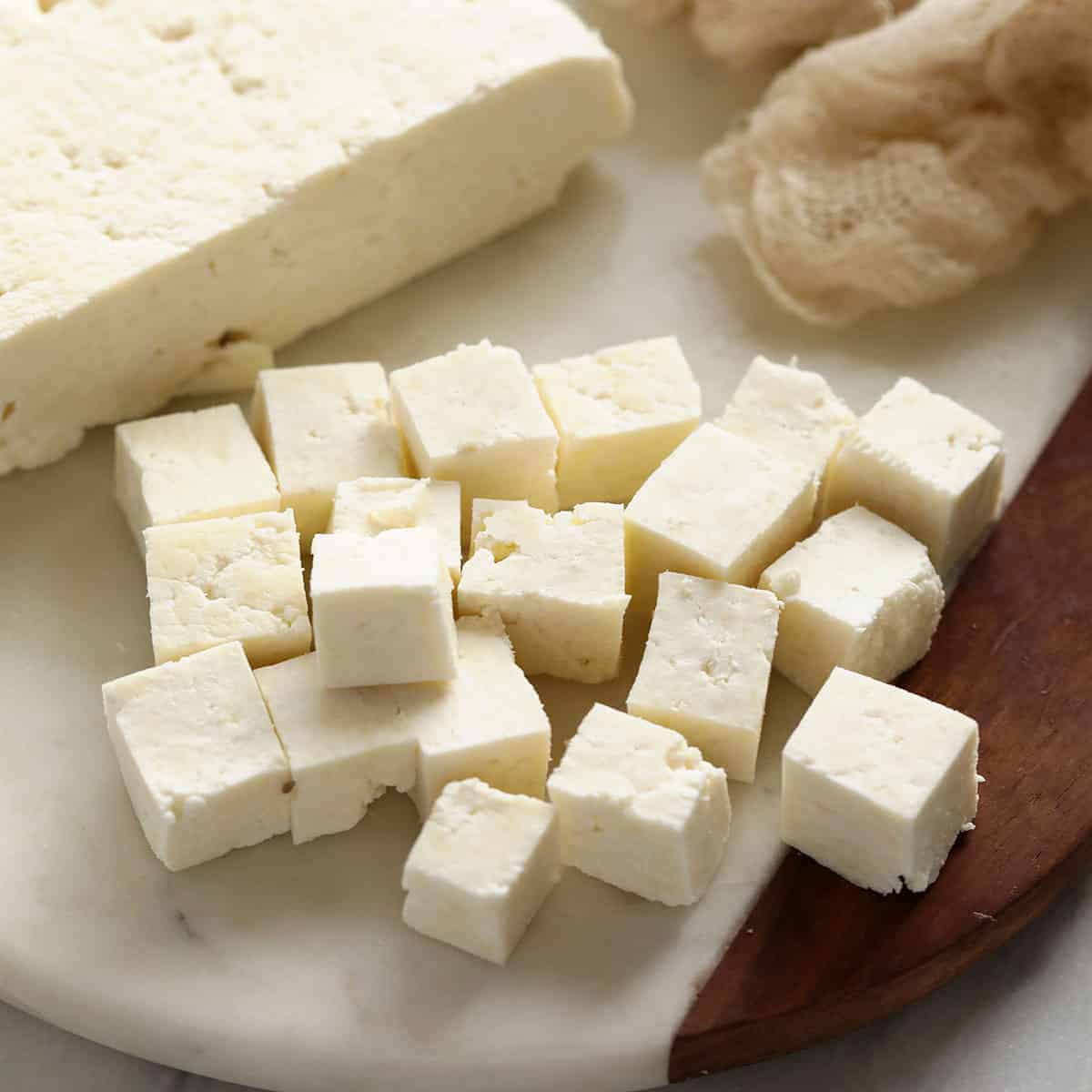 Homemade
Paneer Recipe
Forget store-bought paneer and make your own! This homemade paneer recipe is ready in less than 4 hours and is perfectly fresh when you toss it into this palak paneer recipe. You have to try it.
Learn More
How to Make Palak Paneer
There are only a few steps to follow before you will be enjoying a delicious and creamy palak paneer!
Fry Paneer
Before you start making your curry sauce, fry up your paneer! Add a few tablespoons oh ghee to a large pot. When the ghee is melted, add the cubes of paneer to the pot.
Fry each paneer cube for 2-3 minutes on one side and flip. Remove paneer from the pot when it reaches your desired crispiness.
Now, you don't have to fry the paneer. We like to brown our paneer to add a little more texture to the dish.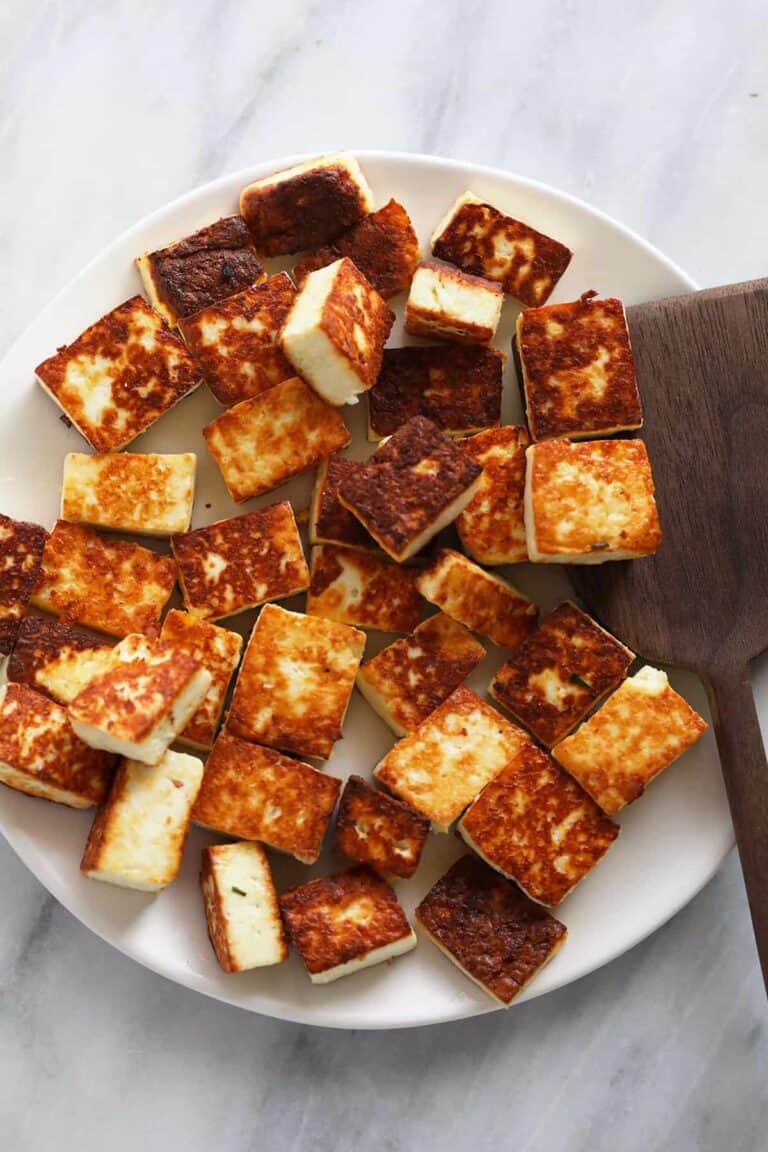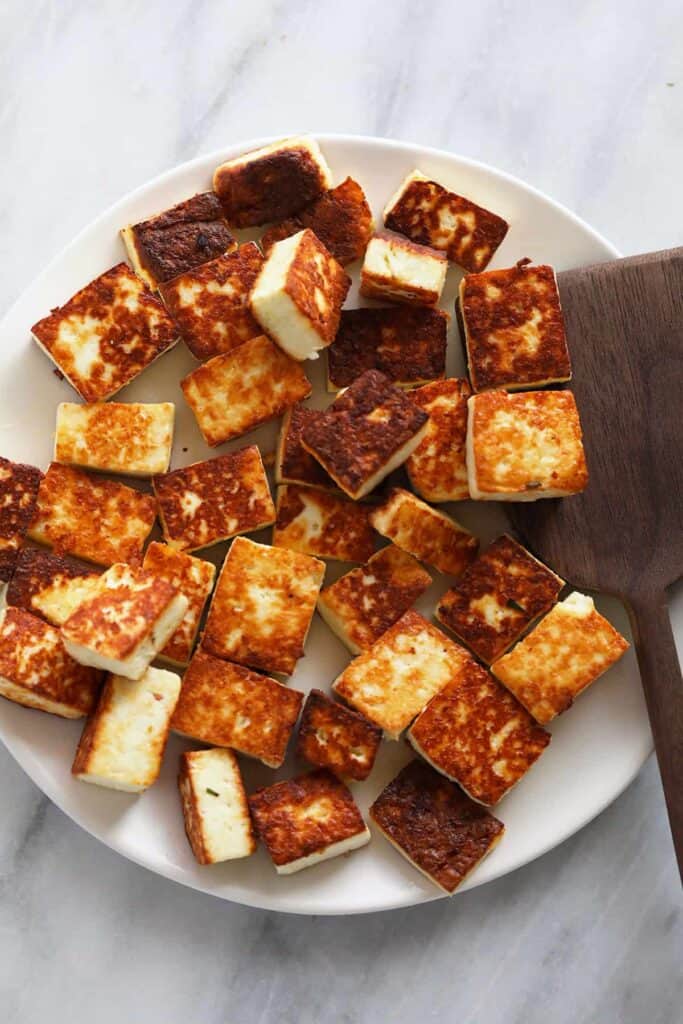 Make Your Flavor Base
Add more ghee to the same pot that you browned your paneer in. Add the onions. ginger, garlic, tomatoes, green chilies, cumin, tuermeric, and garam masala to the pot and stir so that everything is coated in spices.
Let everything sauté and stew together for about 5 minutes or until the vegetables start to soften.
here's a tip
Don't skip the ghee, people. When in doubt, add a little more ghee for extra creaminess and richness!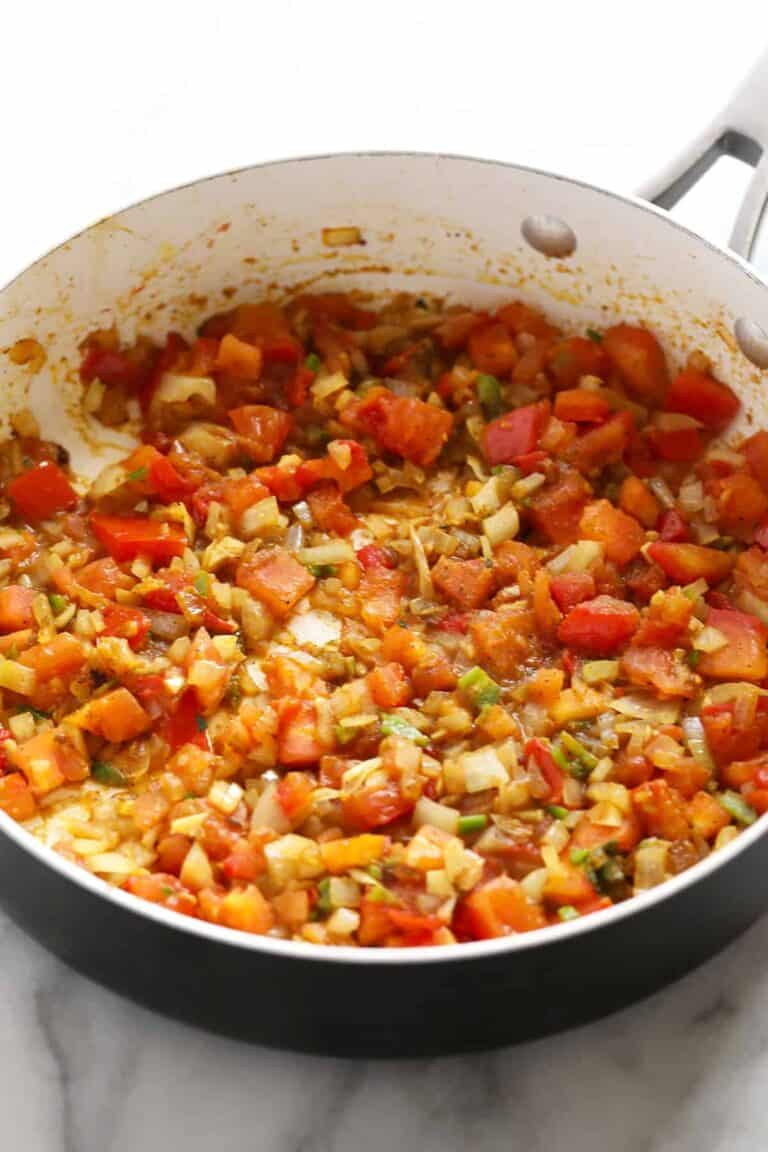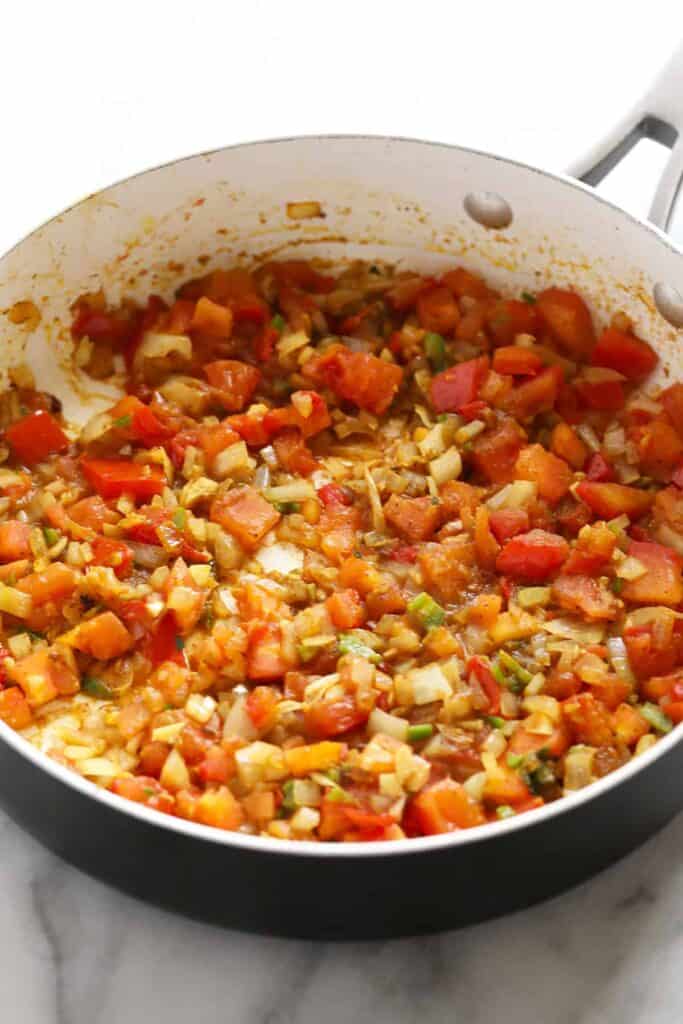 Add the Spinach
When all the veggies are softened and aromatic add all of the spinach to the pot with 3-4 tablespoons of broth or water. Toss everything together and cover.
Let the spinach simmer for 3 minutes. When you uncover the pot the spinach should be wilted.
Remove the spinach from the heat. Let the spinach cool completely.
cool your spinach quickly
To cool your spinach quickly spread the spinach mixture out on a plate to release some heat and then place it in the refrigerator for 15-20 minutes.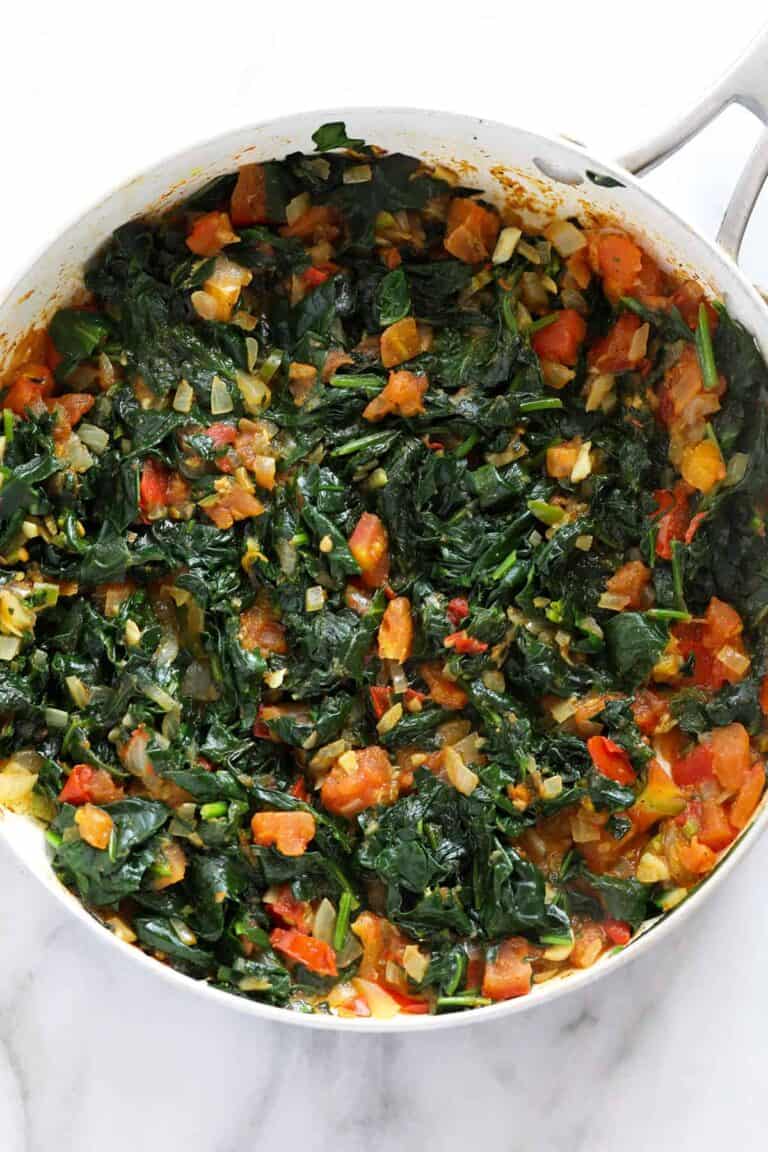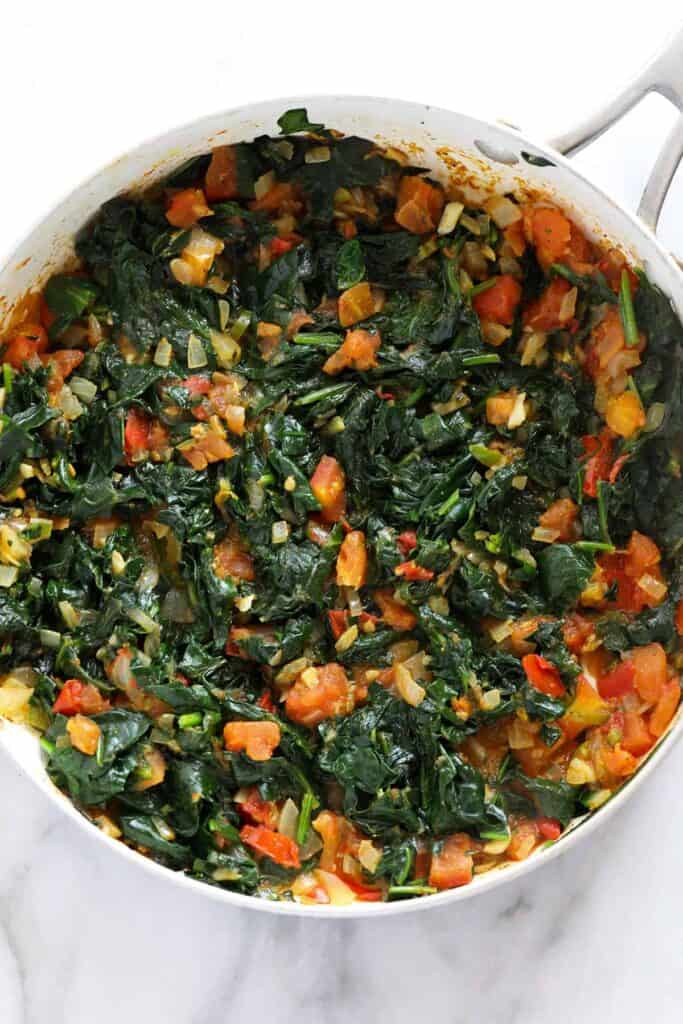 Toast Cumin Seeds, Cinnamon, + Bay Leaf
While the spinach is cooling, toast the cumin seed, cinnamon stick, and bay leaf in ghee in the same pan. Let everything toast together for a few minutes. Remove from heat.
Blend Blend Blend.
Once the spinach is smooth, transfer the spinach mixture to a high powered blender and blend until smooth.
You have some options to mix things up in this step.
If you want some texture and chunks of spinach in your palak paneer curry sauce, set aside 1/2 cup of the spinach mixture before blending. Once blended add the spinach back in.
If the spinach isn't blending, add a few tablespoons of broth or water.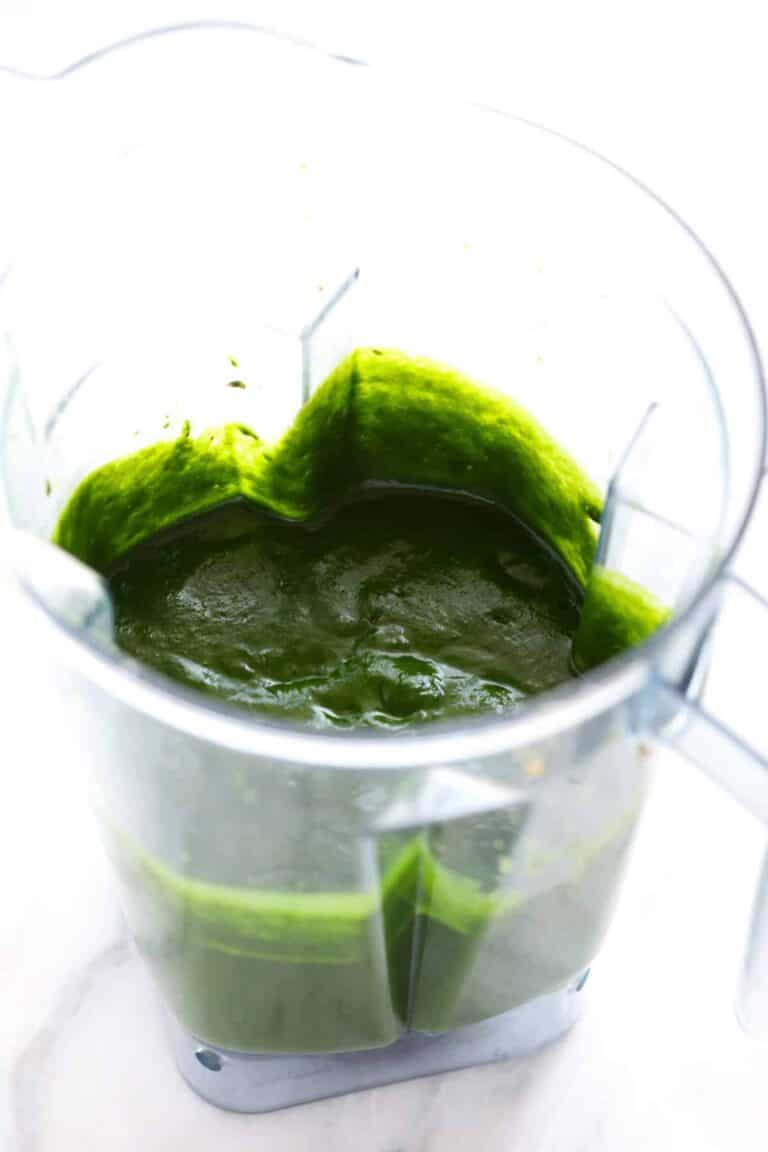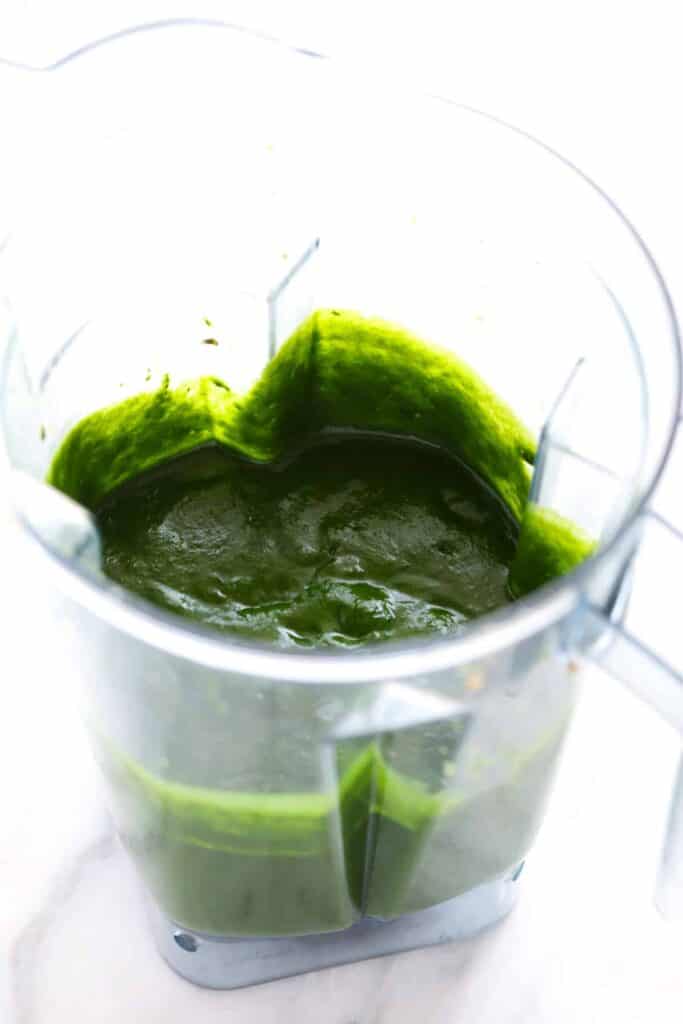 Add Paneer + Simmer
Once blended, add the curry sauce back into the pot with the toasted cumin seed, bay leaf, and cinnamon stick. Add your browned paneer to the sauce. Heat everything together over medium/high heat or until the sauce begins to simmer.
Let the palak paneer simmer on low for 15-20 minutes (or longer for more intense flavors) and serve!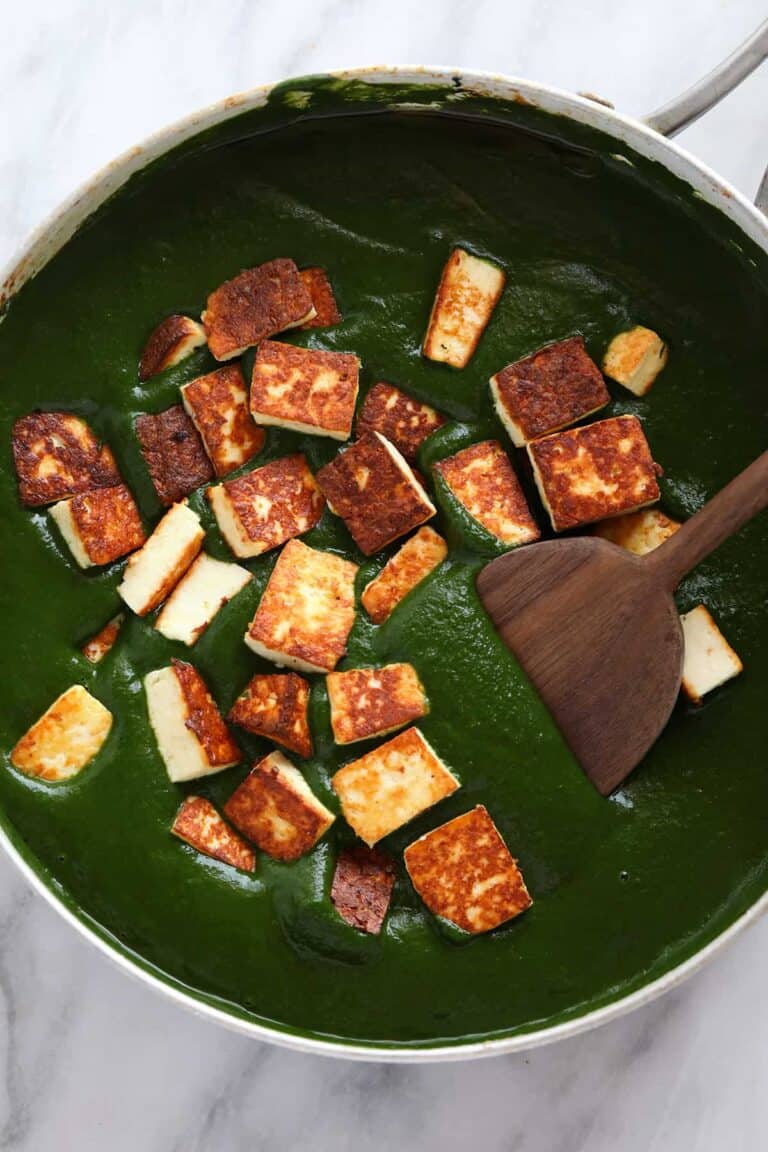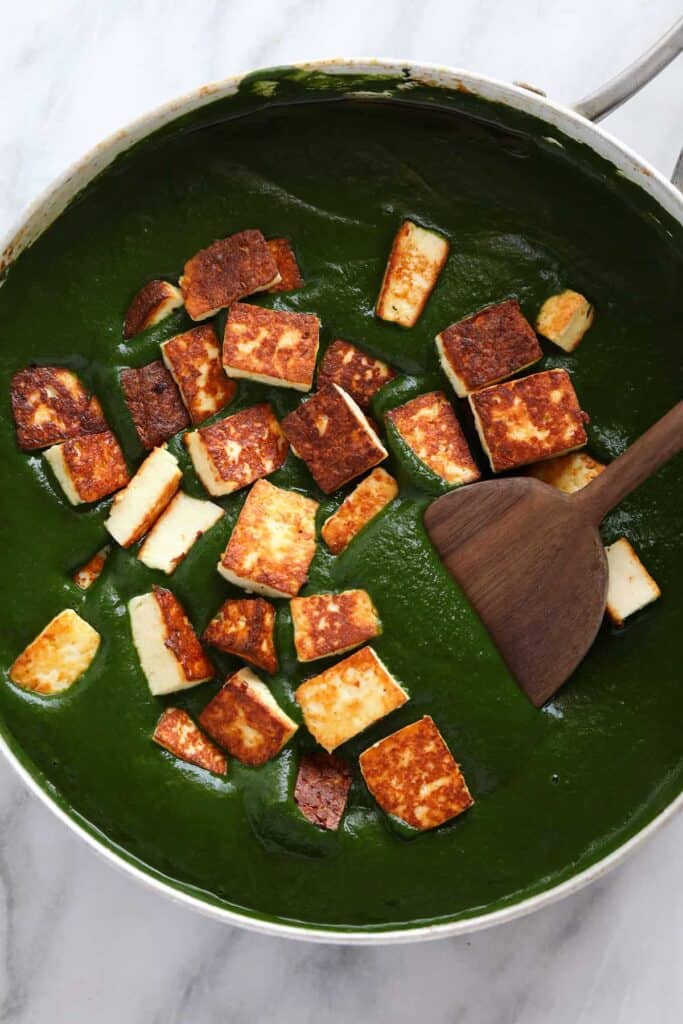 Tips + Tricks
What do I serve with palak paneer?
Typical accompaniments for Palak paneer include basmati or jeera rice, freshly cooked naan, paratha, or roti bread, and crispy fried papadums.
In India, curries are always served with an array of sweet, salty, and sour chutneys and pickles to complete the meal.
Can I make this recipe spicier?
Yes, you can always make things spicier! Add more of the Serrano pepper seeds to the sauce or some red pepper flakes.
Can I freeze this recipe?
Paneer cheese also freezes very well, so Palak paneer is a great addition to your frozen meal repertoire, if you enjoy having nutritious homemade meals on hand in your freezer.
Just be sure not to freeze the palak paneer with rice!
Storage
Store this palak paneer in an air tight container for up to 5 days in the refrigerator.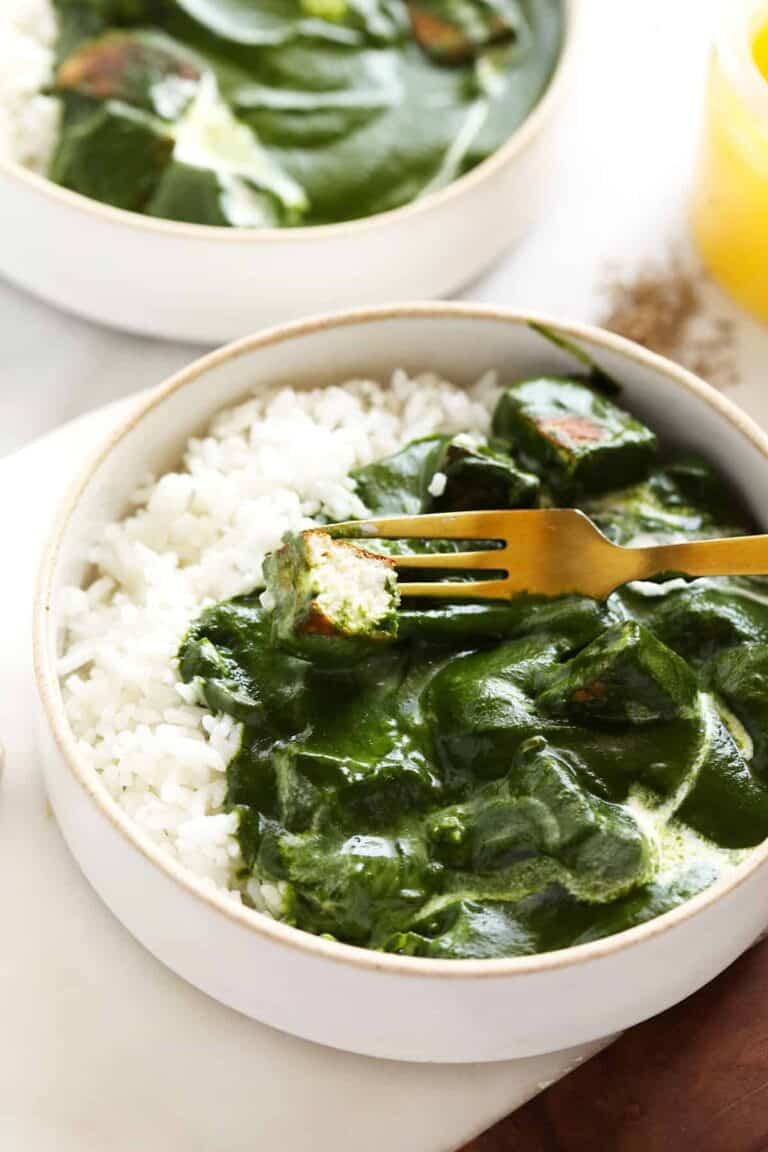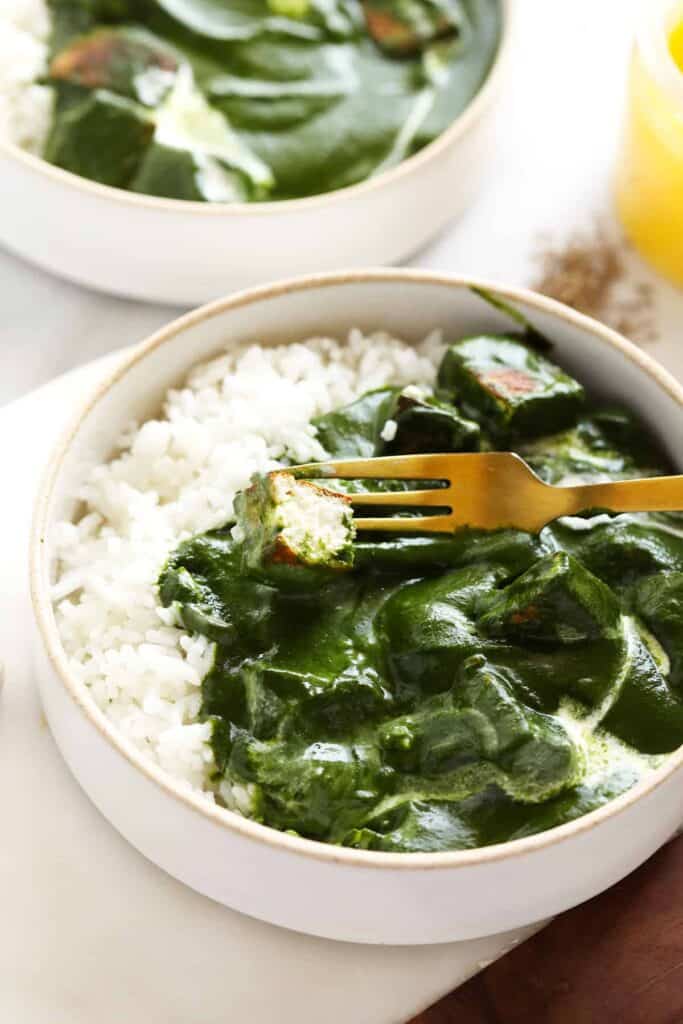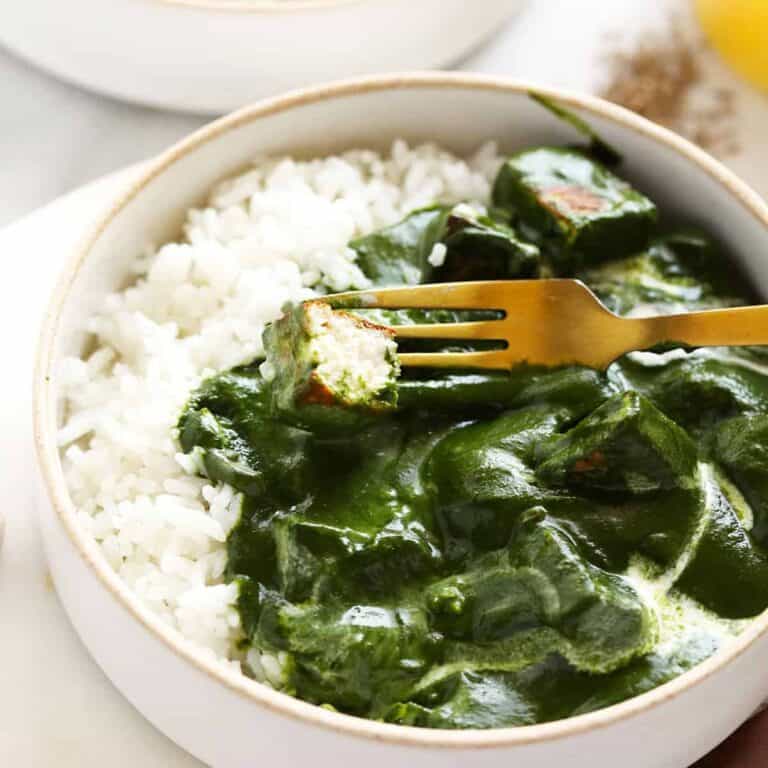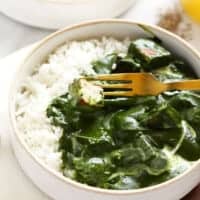 Palak Paneer Recipe
This palak paneer recipe is flavorful, easy to make, and ready in 1 hour! You can't beat the creaminess of this delicious curry.
Prep:
20 minutes
Cook:
20 minutes
Total:
40 minutes
Fat
25
Carbs
14
Protein
18
Ingredients
8

-oz. paneer cheese, cut into cubes (~1/2 lb)

1

lb. fresh spinach leaves (Palak), washed and chopped

4 tablespoons

ghee or clarified butter, separated

1

small white onion, peeled and finely chopped

1

clove garlic, peeled and minced

1

inch ginger, peeled and minced

1

large tomato, finely chopped

2

green chilies, minced (keep the seeds for extra spice)

1 teaspoon

ground cumin

1/4 teaspoon

ground turmeric

1 teaspoon

garam masala
Salt, to taste

¼ teaspoon

whole cumin seeds

1

fresh bay leaf

1

cinnamon stick

2 tablespoons

heavy cream 
Instructions
First fry the paneer. Add 2 tablespoons of ghee to a large pot and heat it over medium/high heat.
When the ghee is melted and fragrant. Add the paneer cubes to the pot and brown the paneer on each side for 2-3 minutes or until golden brown. Remove from heat. Set aside. 

In the same pot, add another tablespoon of ghee. 

When the ghee is melted and fragrant add the onions, ginger, garlic, tomatoes, green chillies, cumin, turmeric, and garam masala. Sauté for 5 minutes, or until the vegetables begin to soften.

Add the spinach and season with salt to taste. Add a splash of water, cover, and simmer for 3 minutes.

Remove from the heat and allow the spinach to cool, to preserve the bright green color of the spinach.

Once cooled, transfer the mixture to a blender and puree until smooth.

In a sauté pan over medium heat, add 1 tablespoon of ghee, cumin seeds, cinnamon stick and bay leaf and sauté for a few minutes, until lightly toasted.

 

Stir in the blended Palak mixture, and the cubed paneer.

Bring to a brief simmer to warm through. Adjust the seasoning as needed.

Transfer to a serving dish and garnish with a drizzle of heavy cream.

Serve with a selection of naan, paratha, or roti bread, basmati or jeera rice, papadums and a selection of pickles and chutney.
Nutrition Facts
Serving Size:
1/4
Calories:
422
Sugar:
3
Sodium:
199
Fat:
25
Carbohydrates:
14
Fiber:
5
Protein:
18
Cholesterol:
71
Category:
Dinner
Method:
Stove Top
Cuisine:
Indian