This is a simple meat lasagna that you can whip up quickly for a weeknight dinner. With just a few common ingredients, you can create a tasty lasagna your whole family will enjoy.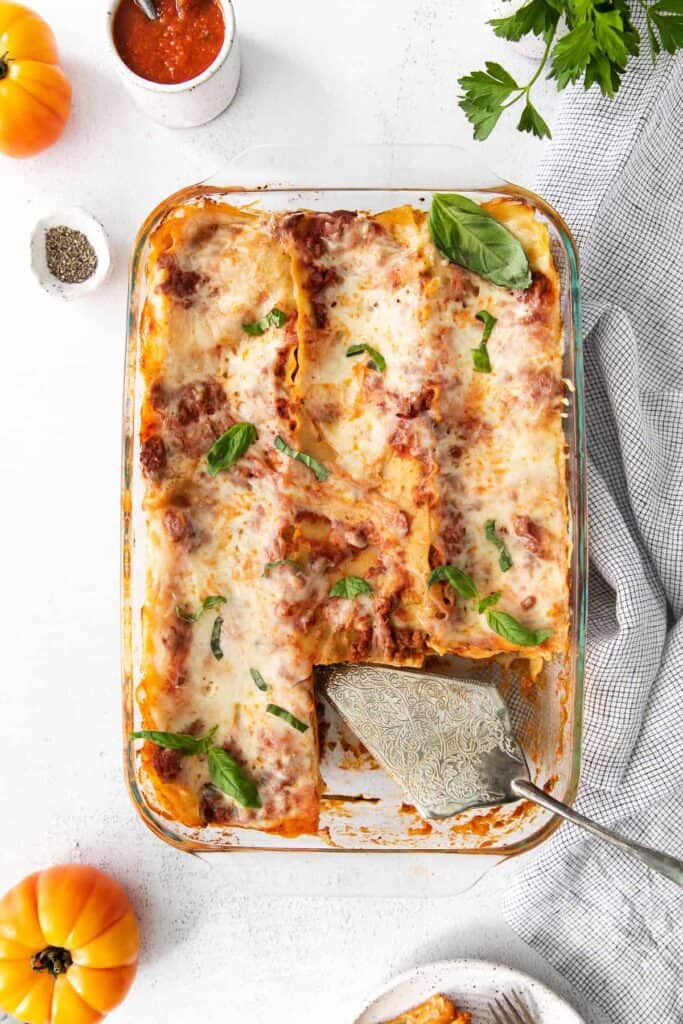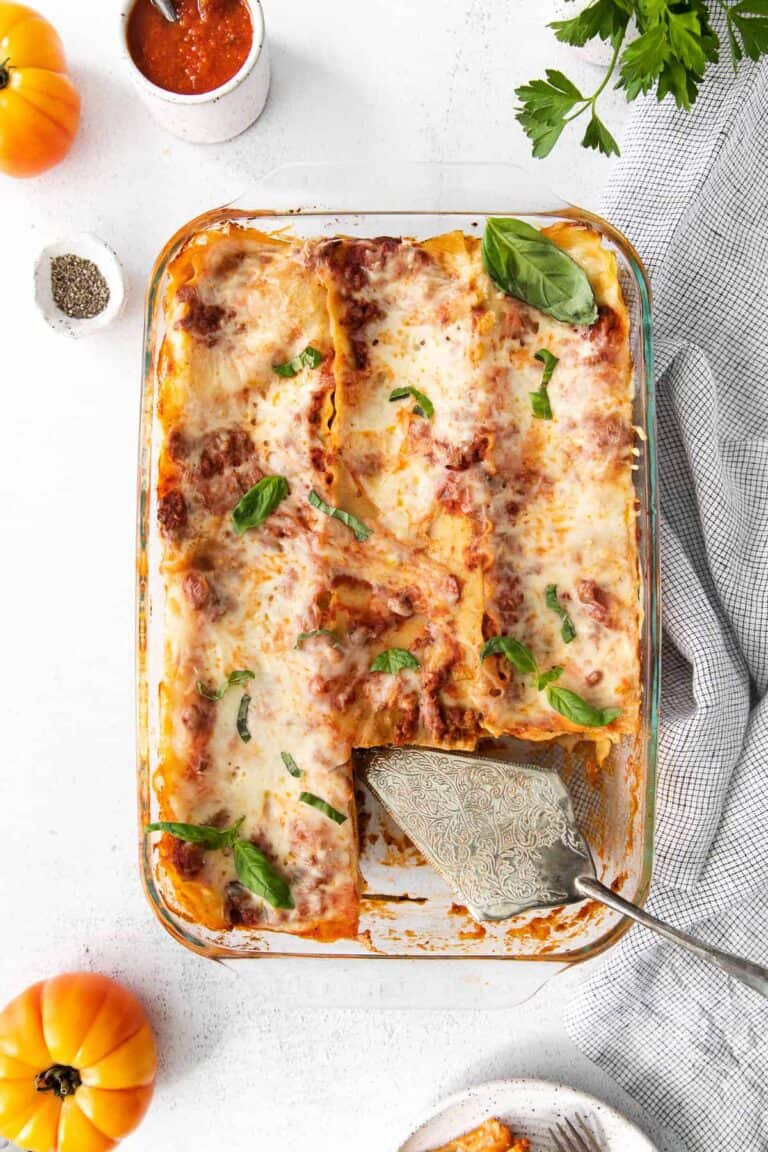 Meat Lasagna for Dinner
Is there another meal that is loved more than lasagna? Traditional lasagna is made with a rich meat sauce, a béchamel (or cheese sauce), and noodles. This lasagna recipe is easy to make and makes a great weeknight dinner.
Pour yourself a glass of wine, turn on some music, and make this delicious lasagna recipe.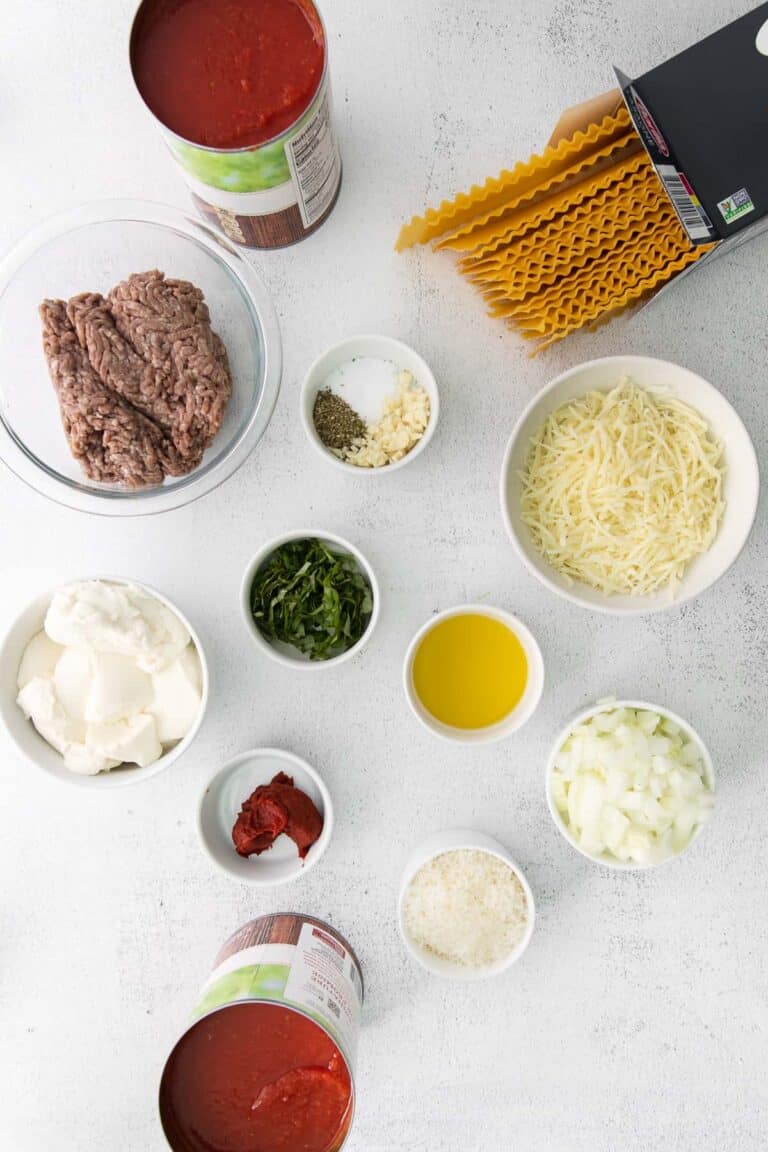 Ingredients You Need
No need to try and find a specialty Italian restaurant for the ingredients in this lasagna. Here is everything you need!
Ground beef- the base of the meat sauce is this ground beef. We used 80/20 ground beef, but you can use whatever you'd like.
Olive oil- you sauté the vegetables in olive oil!
Yellow onion- we prefer to use a yellow onion.
Garlic cloves- don't skip the garlic, in fact, feel free to use more garlic then we call for.
Tomato paste- you want the meat sauce to turn out thick rather than watery and the tomato paste helps with that.
Crushed tomatoes- a good meat sauce is thick and chunk with tomatoes, be sure you get crushed tomatoes rather than tomato sauce.
Kosher salt- the acidity of the meat sauce is balanced out with a bit of kosher salt. If you don't have kosher salt, you can use iodized salt, too.
Red pepper flakes- add a little spice to your lasagna with red pepper flakes.
Fresh basil- we use fresh basil to both garnish the lasagna and add flavor.
Whole milk ricotta cheese- the ricotta cheese is the main cheese in the cheese mixture. Using ricotta cheese adds a creamy texture the lasagna after it's baked.
Mozzarella cheese- the mozzarella is a delicious cheese that melts easily is tastes delicious.
Parmesan cheese- a little saltiness is aded to the cheese mixture with the parmesan cheese. Don't skip it.
Lasagna noodles- you are going to need a 16oz. box of lasagna noodles. Be sure they are not the quick cooking lasagna noodles.
Don't skip the fresh herbs! Chopping up fresh herbs (like fresh parsley or basil) and sprinkling them on top of the lasagna elevates every piece of lasagna.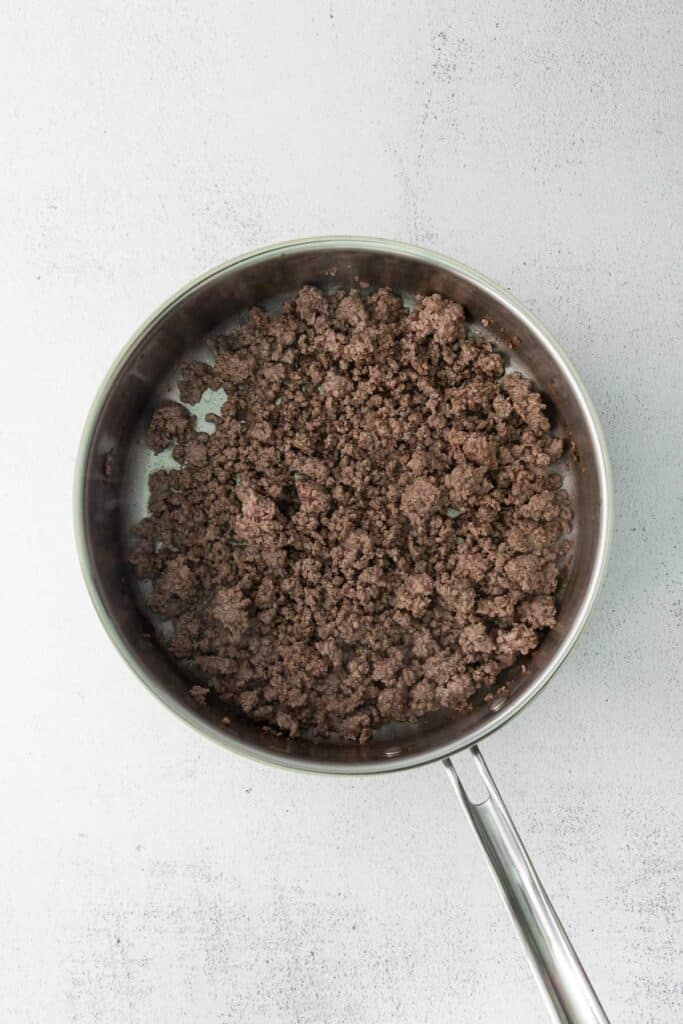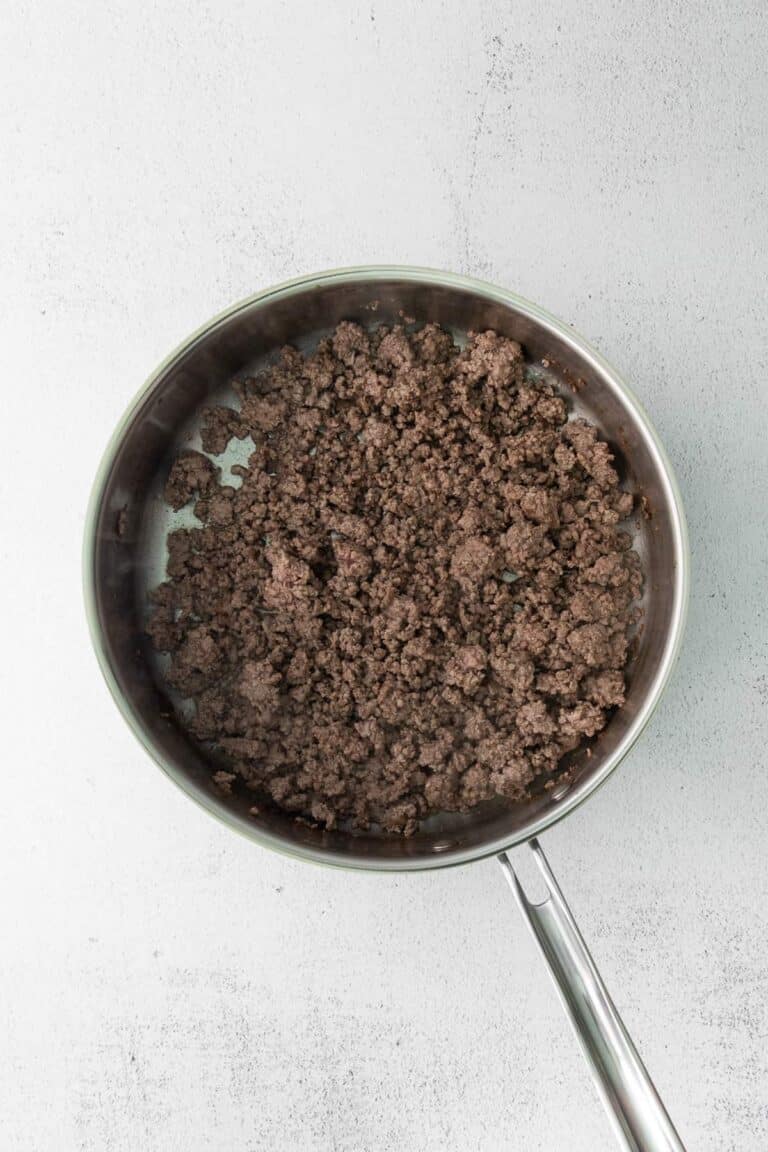 How to Make Meat Lasagna
Prepare the noodles.
Bring a large pot of water to a boil and be sure to salt the water. Why? It adds flavor to the pasta of course!
Add the noodles to boiling water and cook them a few minutes less than al dente. You do this because the noodles will continue to cook when you bake the lasagna. No one wants mushy noodles.
Make the Meat Sauce.
The meat sauce adds so much of the flavor to this lasagna. Heat a large skillet over medium/high heat until the ground beef is cooked. Remove from the heat and discard any access oil.
In the same skillet, add olive oil and cook the onions until translusent. Add garlic and sauté them together until garlic is fragrant.
Finally, add the rest of the sauce in ingredients and bring them to a simmer.
Use different ground meat.
We used ground beef in this meat sauce, but you can use ground beef or turkey for a leaner option. You could also use pork for a richer sauce.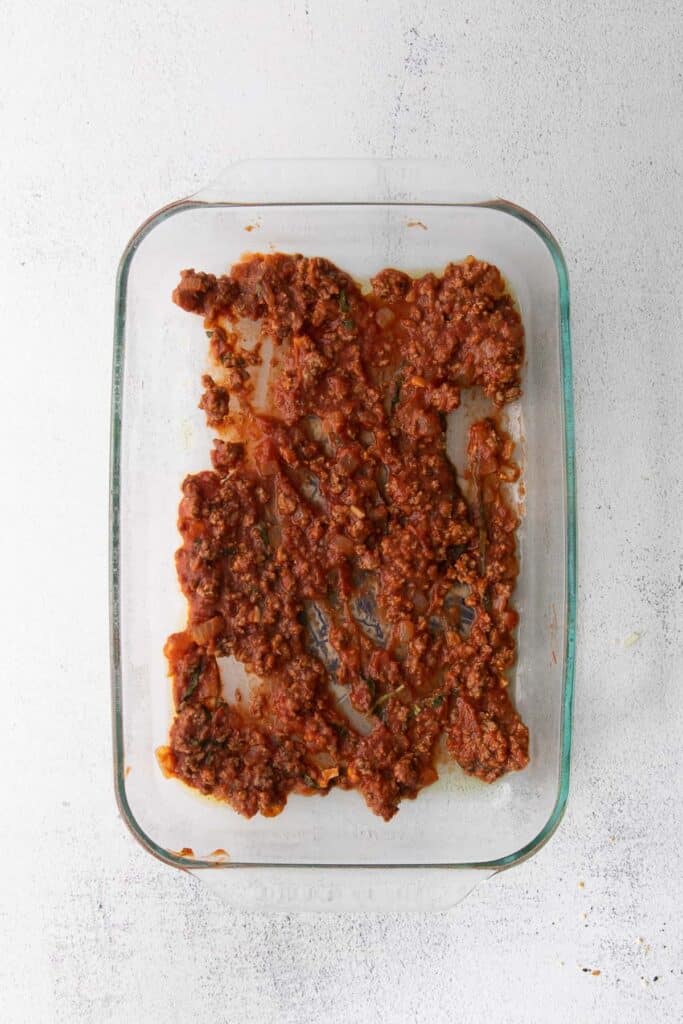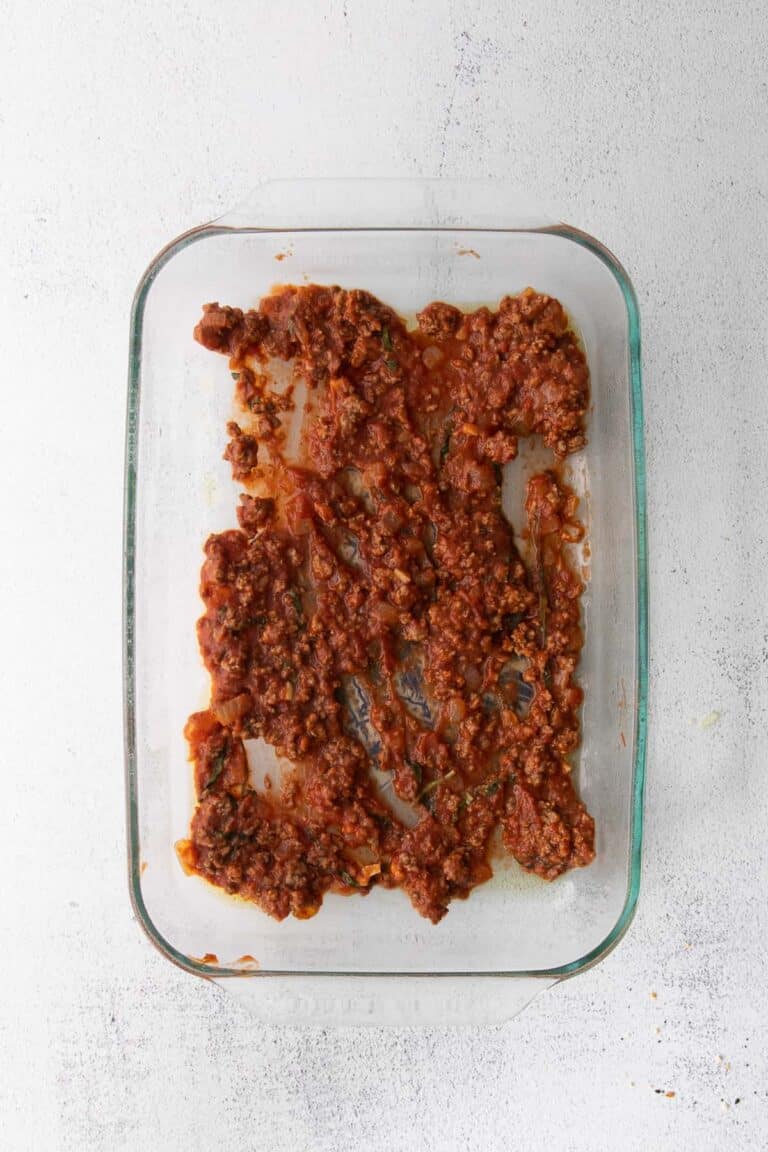 Mix up the cheese.
Add your mozzarella, parmesan, ricotta cheese, and salt to a bowl and mix until smooth.
To add a bit more flavor you your lasagna, add a teaspoon of dried or fresh thyme and mix until smooth.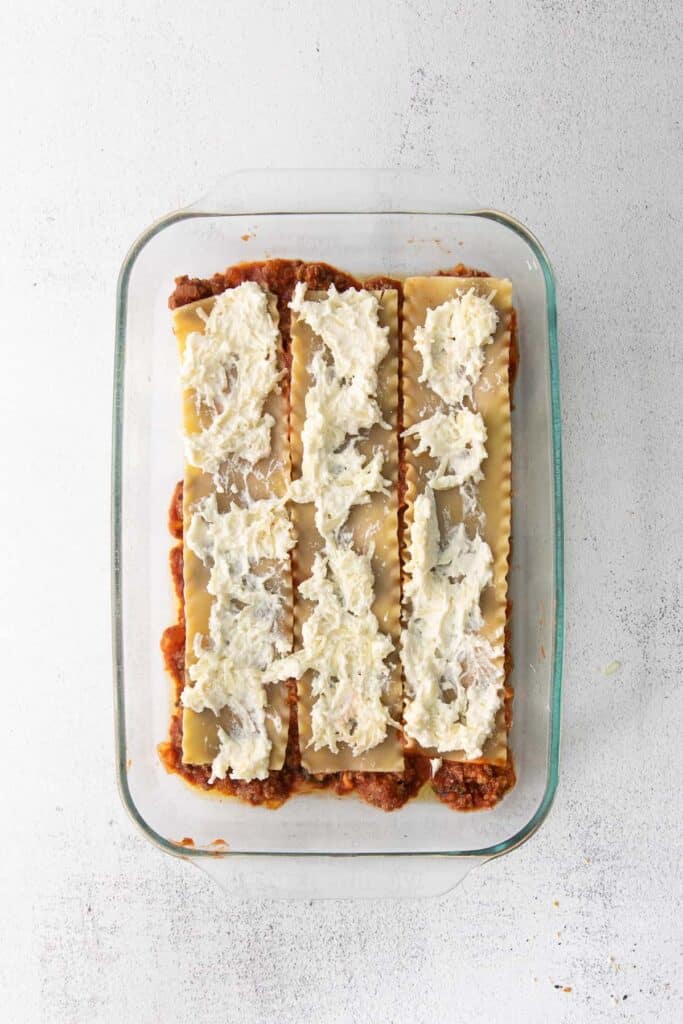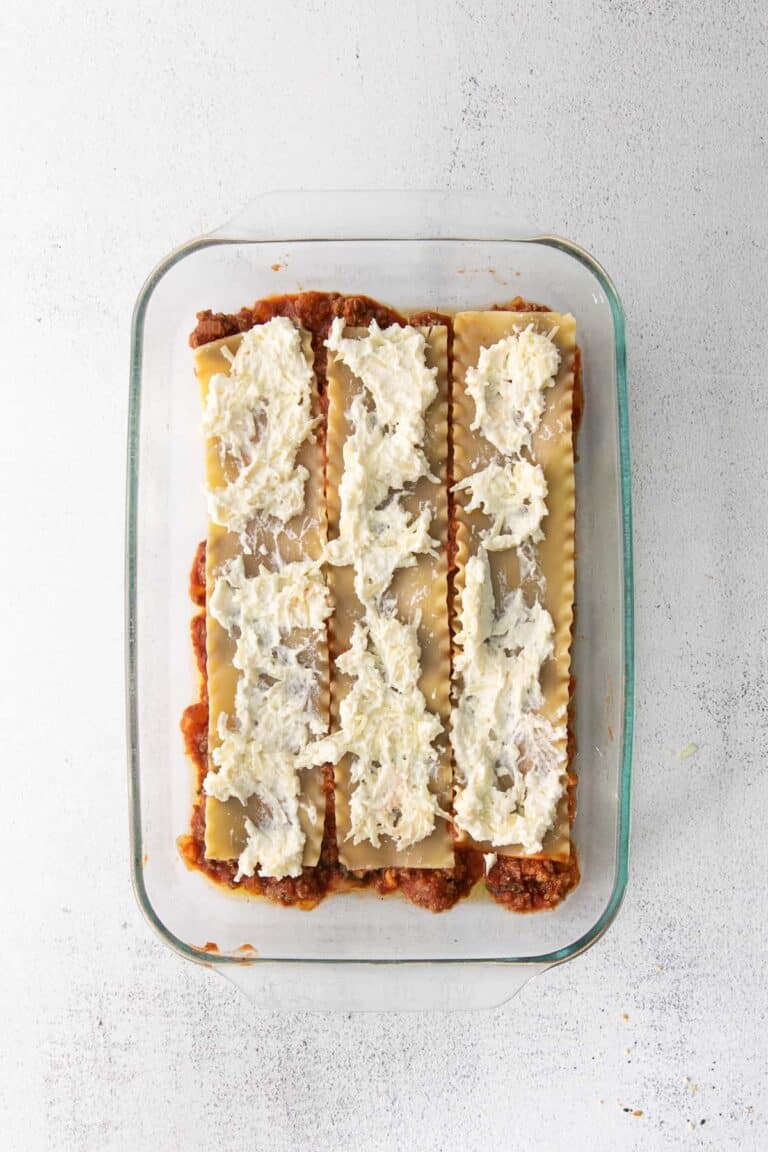 Assemble the Lasagna.
It's time to assemble your lasagna. Grease a 9×13 inch casserole dish and then scoop the meat sauce in the bottom of the dish. Spread the dish out evenly on the bottom of the dish.
Layer the noodles, red sauce, and cheese sauce in the casserole dish. Be sure to spread the cheese mixture over the noodles with a spatula, don't just club the cheese mixture over the noodles.
Top the lasagna with 1 cup of shredded mozzarella cheese and place it in the oven.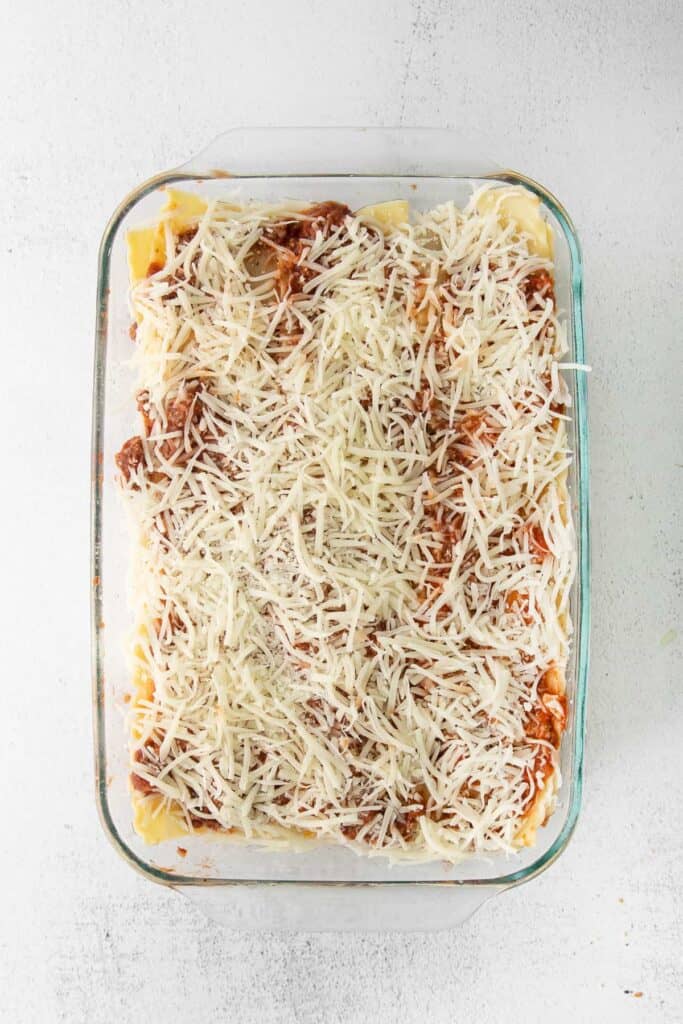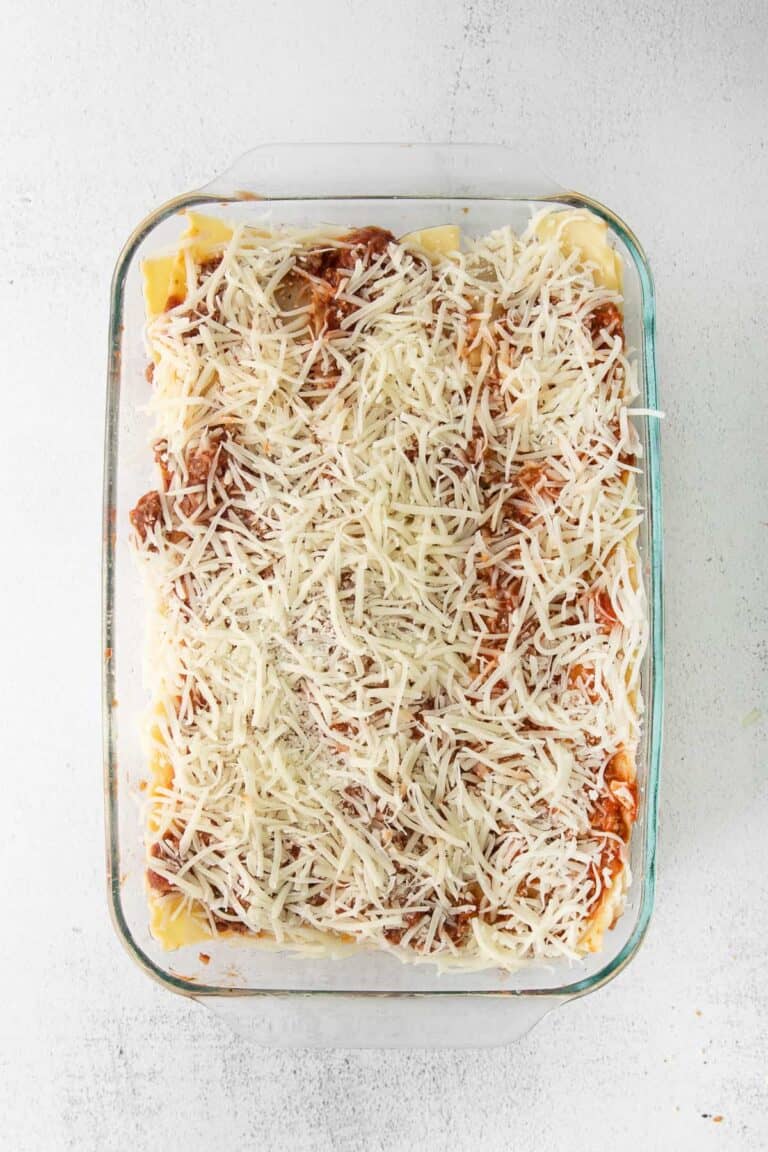 Bake.
Cover the casserole dish with tin foil and then lace the lasagna in the oven and bake for 30 minutes.
Uncover the dish and bake for 15 more minute until the cheese browns.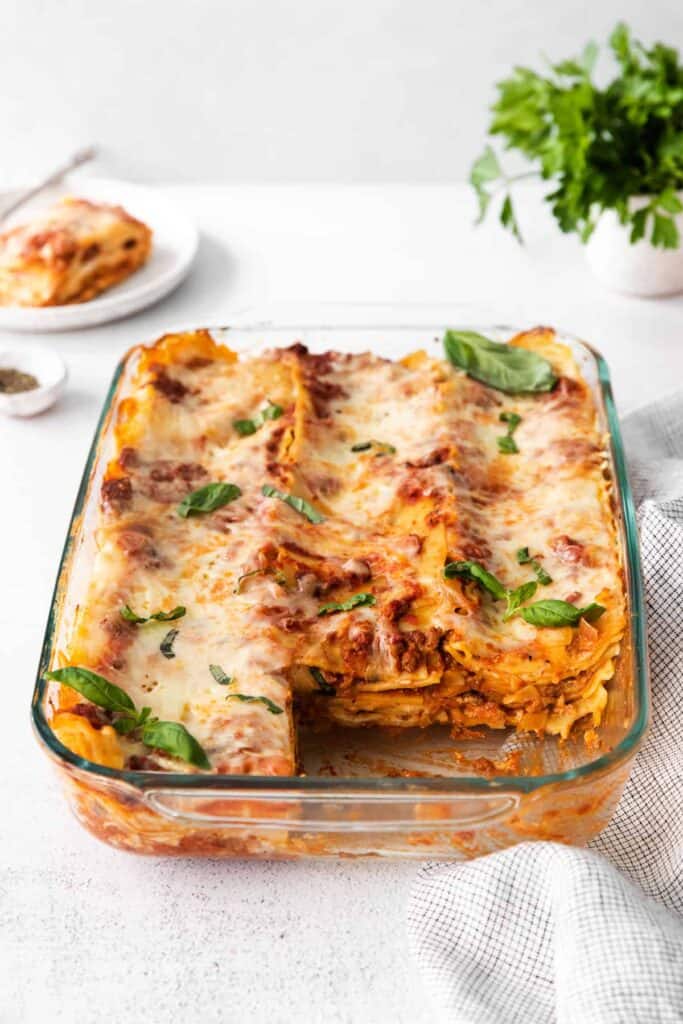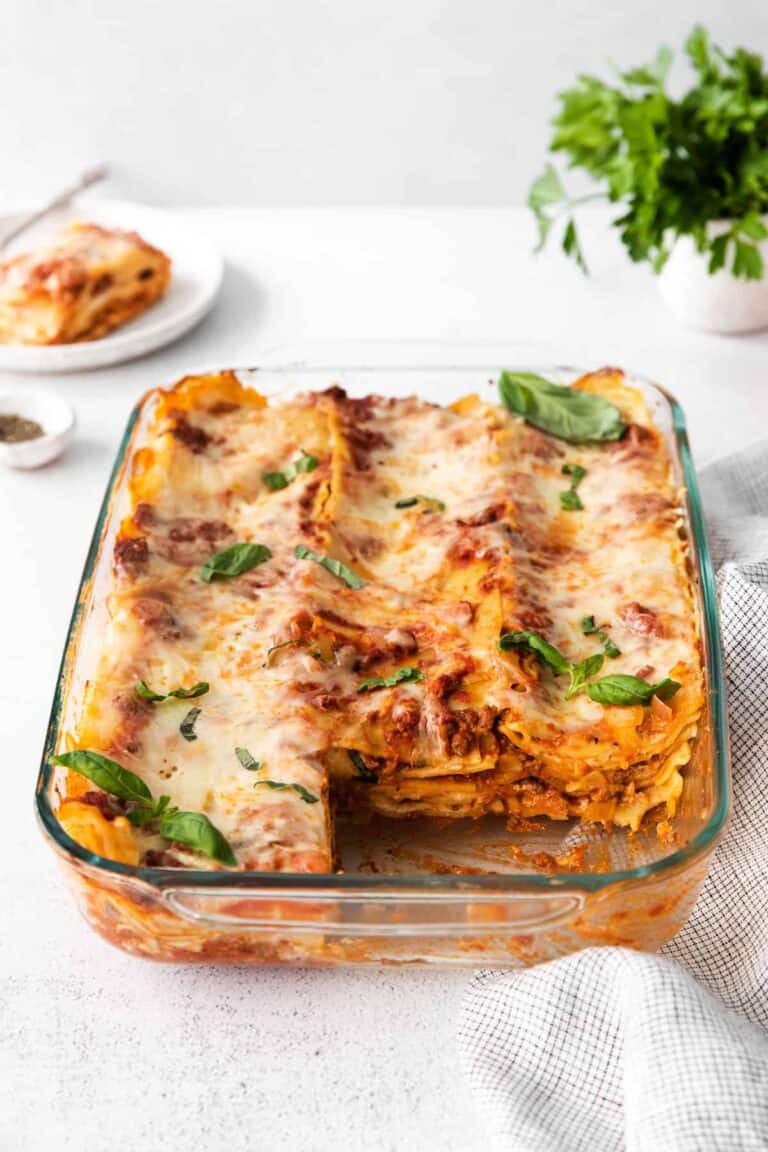 What to Serve with Lasagna
There are so many options when it comes to side dishes. Be sure the whatever side you choose is a lighter fare. Below are some of our favorite sides to pair with lasagna.
Beet Goat Cheese Salad- Make a big beet goat cheese salad for an easy and veggie-packed meal! This salad is made with pears, goat cheese, walnuts, spinach, and a delicious salad dressing.
Arugula Goat Cheese Salad- Eat the rainbow with this super flavorful arugula goat cheese salad that comes together with 6 simple ingredients in under 30 minutes. Enjoy!
Butter lettuce Salad- This butter lettuce salad has a combination of vegetables, fruit, nuts, cheese, and is drizzled with a simple lemon vinaigrette. Everything on a bed of tender butter lettuce makes a perfect and delicious salad.
How to Store Lasagna
To store lasagna, let it cool completely before covering it with tin foil and placing it in the refrigerator for 5-7 days.
Can I Freze Lasagna?
Yes, you can freeze this lasagna. Bake the lasagna according to the instructions (and in a freezer and oven safe container) and then let it cool completely. Cover the lasagna tightly with tin foil and then place it in the freezer.
To reheat the lasagna, remove it from the freezer and place it in the oven at 325ºF for 30 minutes or until warmed through.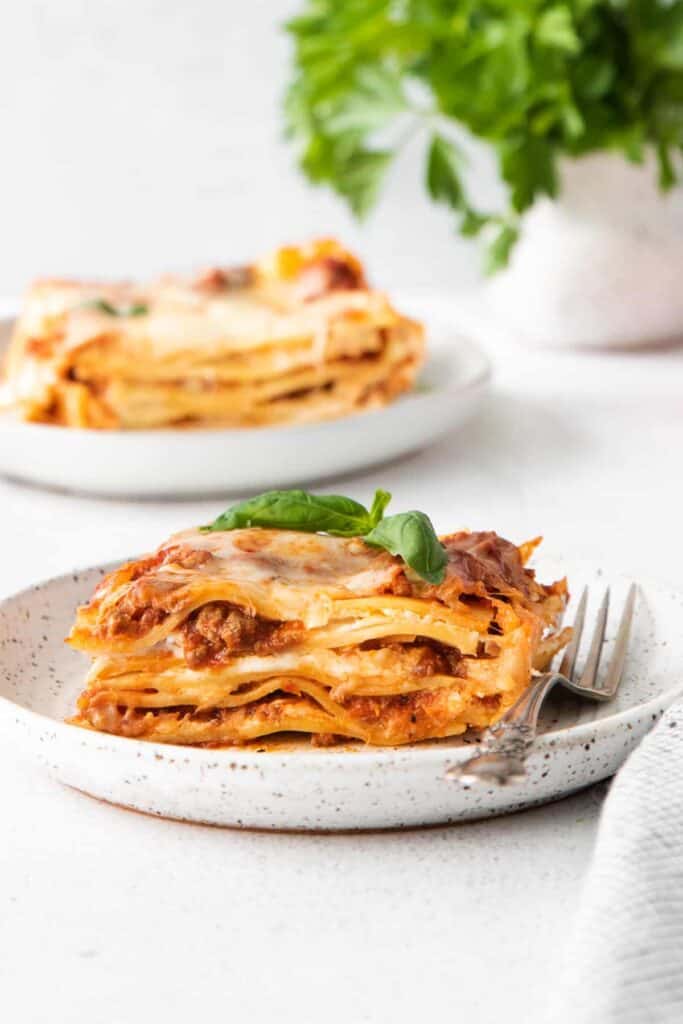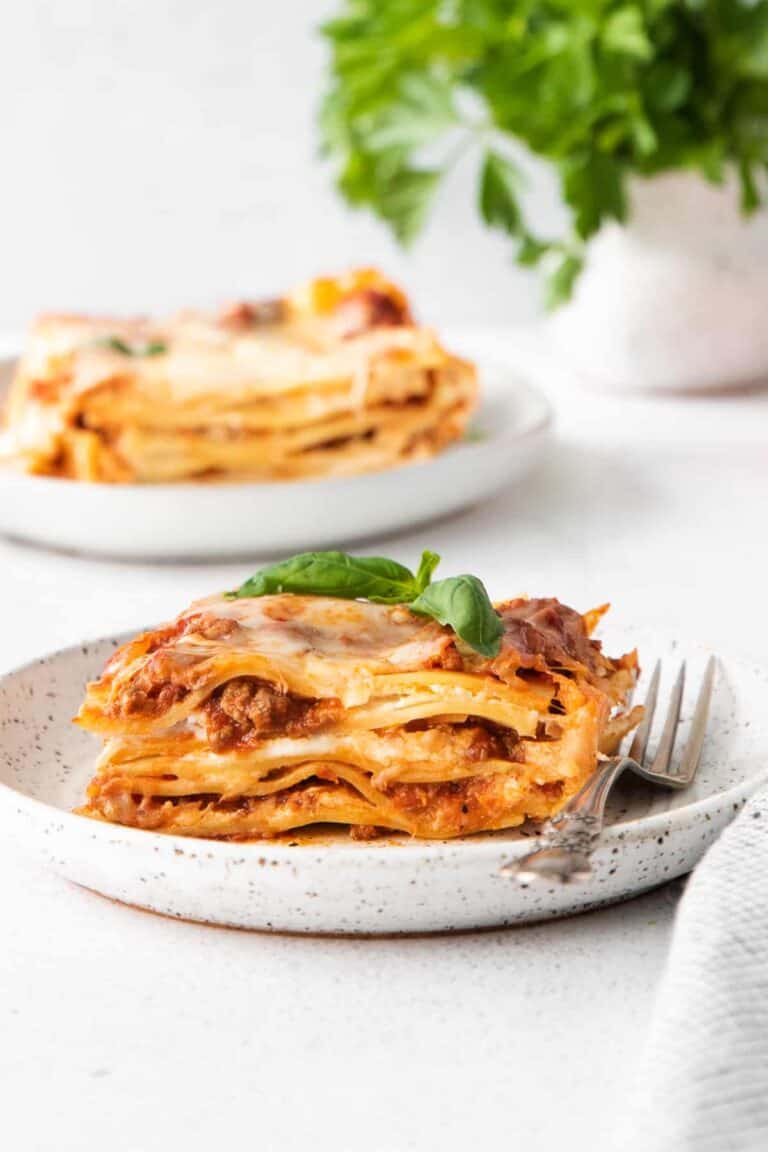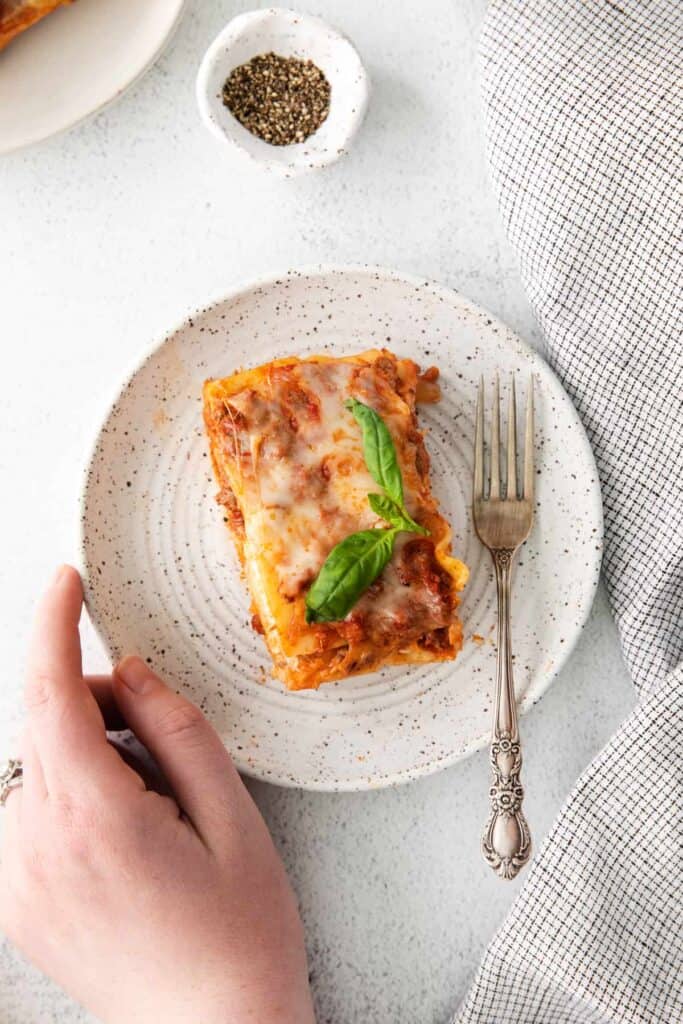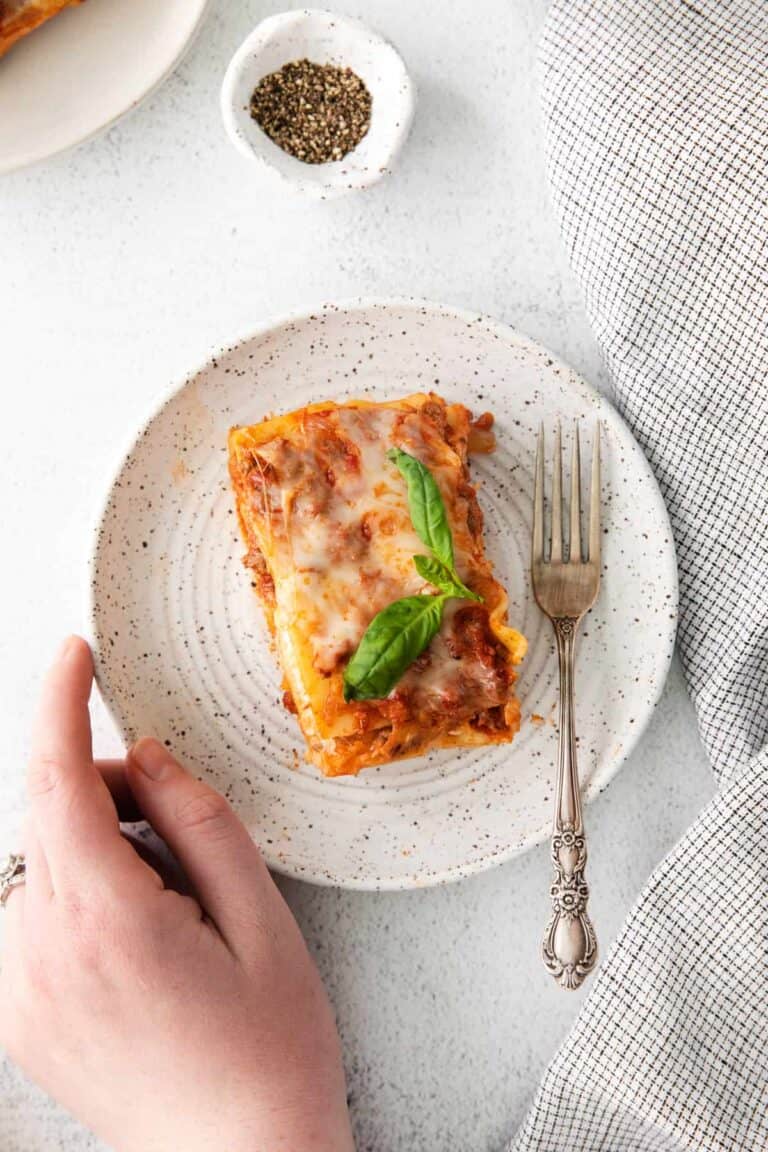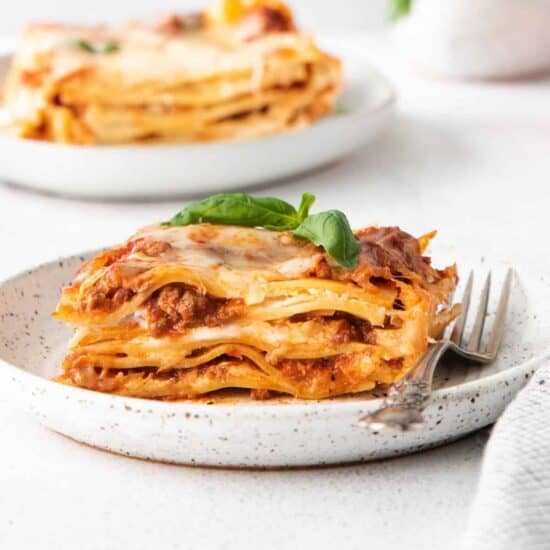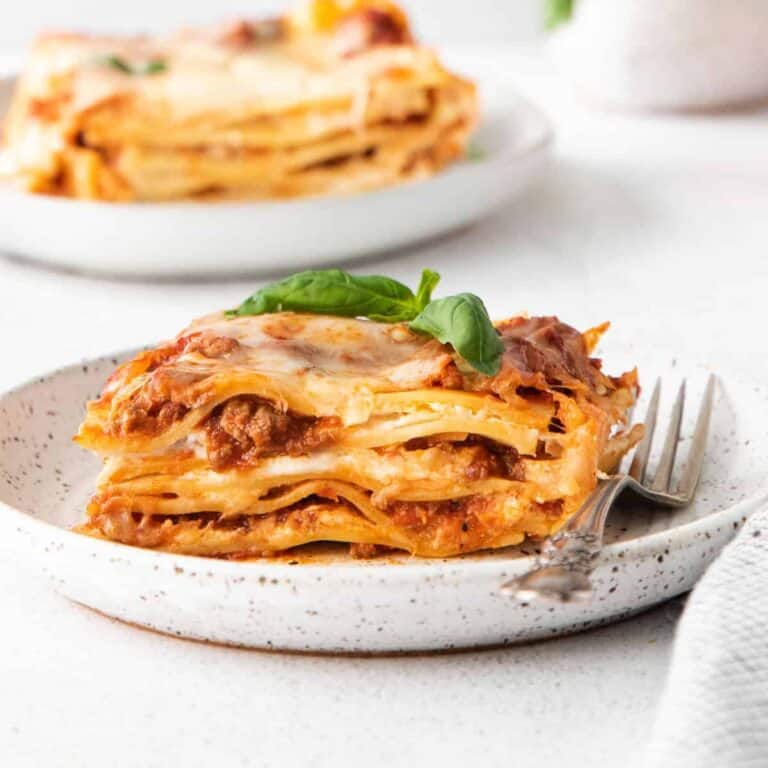 Meat Lasagna Recipe
The sauce in this meat lasagna is so flavorful. Layered in between noodles and cheese, it makes one delicious dinner. 
Ingredients
Meat Sauce
1

lb.

ground beef

we used 80/20

2

tablespoons

olive oil

1

medium yellow onion

chopped (about ½ cup)

3

cloves

garlic

minced

2

tablespoons

tomato paste

28

oz.

canned crushed tomatoes

1

teaspoon

kosher salt

½

teaspoon

red pepper flakes

optional

¼

cup

fresh basil

julienned
Cheese Layer
1.5

cups

whole milk ricotta cheese

1.5

cups

shredded mozzarella cheese

½

cup

grated parmesan cheese

1

teaspoon

kosher salt
Additional Ingredients
16

oz.

lasagna noodles

1

cup

mozzarella cheese

Parsley or Basil

for garnish
Instructions
Meat Sauce
Add the ground beef to a large skillet set over medium-high heat. Cook the beef, stirring often, for 5-8 minutes or until it is browned. 

Remove the beef to a bowl and discard any grease. No need to clean or wipe the pan-- just make sure to get rid of any extra fat. 

Place the pan over medium-high heat again and add the olive oil. Add the onion and cook, stirring occasionally, for 5 minutes or until it is soft and just starting to brown. 

Add the garlic and tomato paste and cook for 1 minute. 

Next, add the beef back to the pan along with the crushed tomatoes, salt, and red pepper flakes, if using. 

Bring the mixture to a simmer and then stir in the basil. Remove the pan from the heat and set it aside to cool. 
Cheese Mixture
In a small bowl, combine the ricotta, mozzarella, parmesan, and salt. Set aside until ready to use. 
Assemble and Bake
Preheat your oven to 375ºF. 

Bring a pot of salted water to a boil. 

Cook the lasagna noodles to two minutes less than al dente (make sure to look at the time on the box-- it will vary by brand). Drain the water and rinse the noodles under cold water to stop the cooking. 

Lightly grease a 9x13-inch pan with olive oil or butter. Add 1/5 of the sauce (about ½ cup) to the bottom of the pan and spread it out so the bottom is fully covered. 

Next, add a layer of noodles, making sure not to overlap them too much. 

Spread 1/4 of the cheese mixture over the noodles. 

Top with another 1/5 of sauce, followed by lasagna noodles, and 1/4 of the cheese. 

Repeat steps 5-7 again twice-- this time you should have used up all of the noodles and cheese! 

Top with the remaining sauce and then sprinkle over 1 cup of mozzarella cheese. 

Cover your dish with foil and bake for 30 minutes. 

Then, remove the foil and bake for an additional 15 minutes. 

Sprinkle the top with fresh chopped parsley or basil and enjoy. 
Nutrition facts
Calories:
454
kcal
Carbohydrates:
46
g
Protein:
24
g
Fat:
20
g
Fiber:
3
g
Sugar:
6
g