You will absolutely love this rich and creamy goat cheese risotto. It's made with just a few ingredients and is so yummy.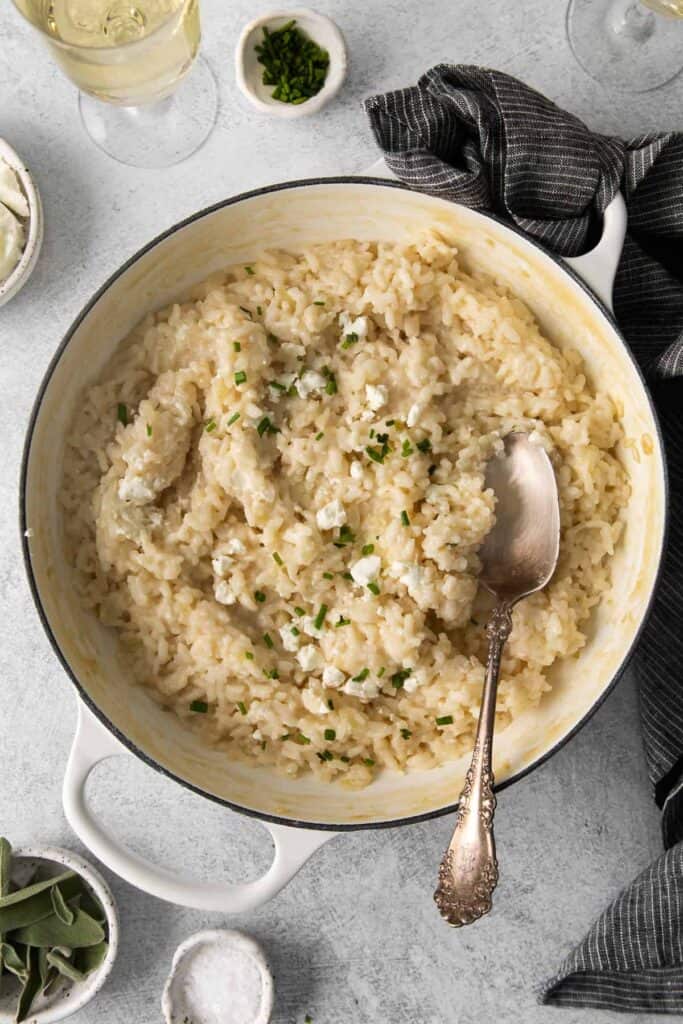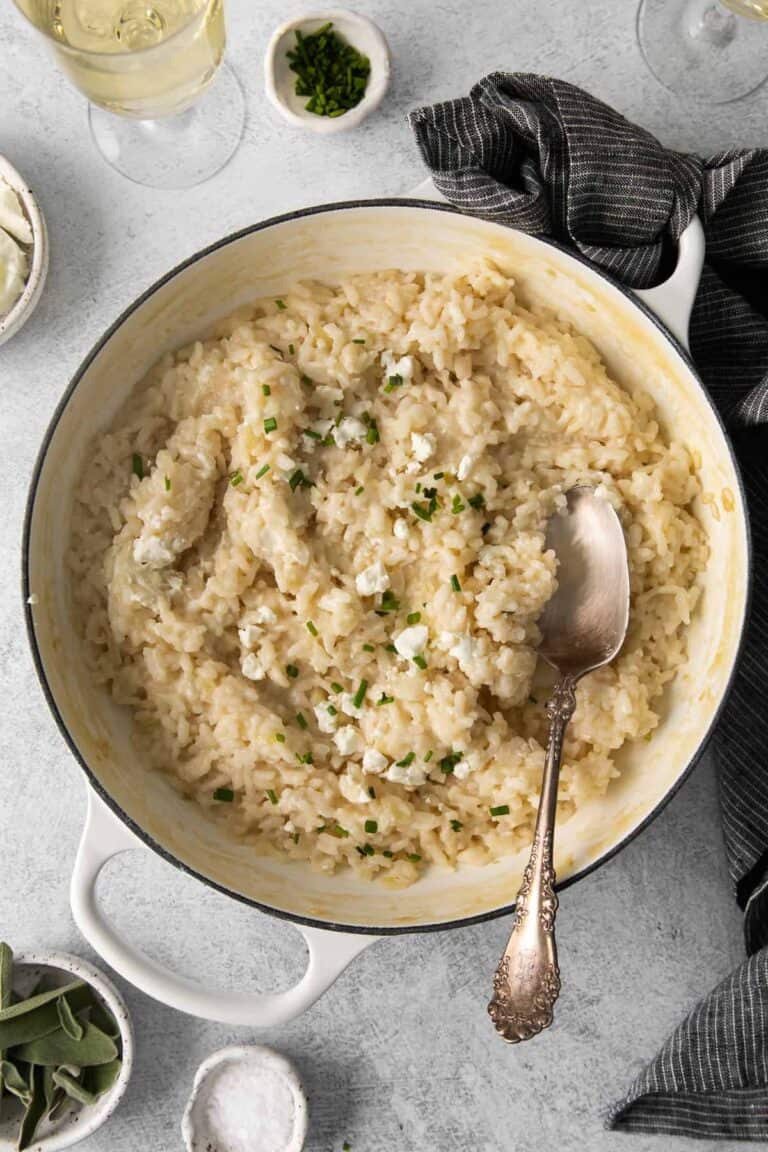 Easy Goat Cheese Risotto
Dinner is served! Goat Cheese Risotto is on the menu tonight and it's so creamy and delicious. Risotto may seem like an intimidating meal to make, but it's rather simple.
After you read through this easy tutorial for how to make goat cheese risotto, you'll be a pro in no time!
Why you'll love it!
Vegetarian: looking for a meal sans meat? You found one!
Easy Dinner Idea: In just a few simple steps dinner will be ready.
Simple, Yet Elevated: what we mean by this is that you don't need a ton of ingredients to get a delicious meal!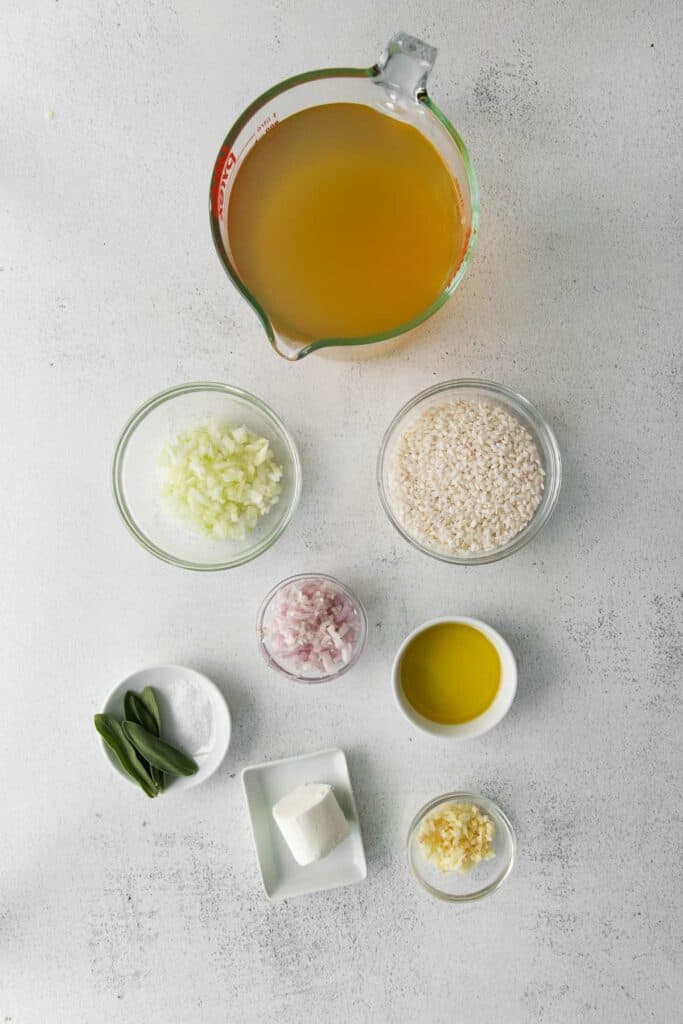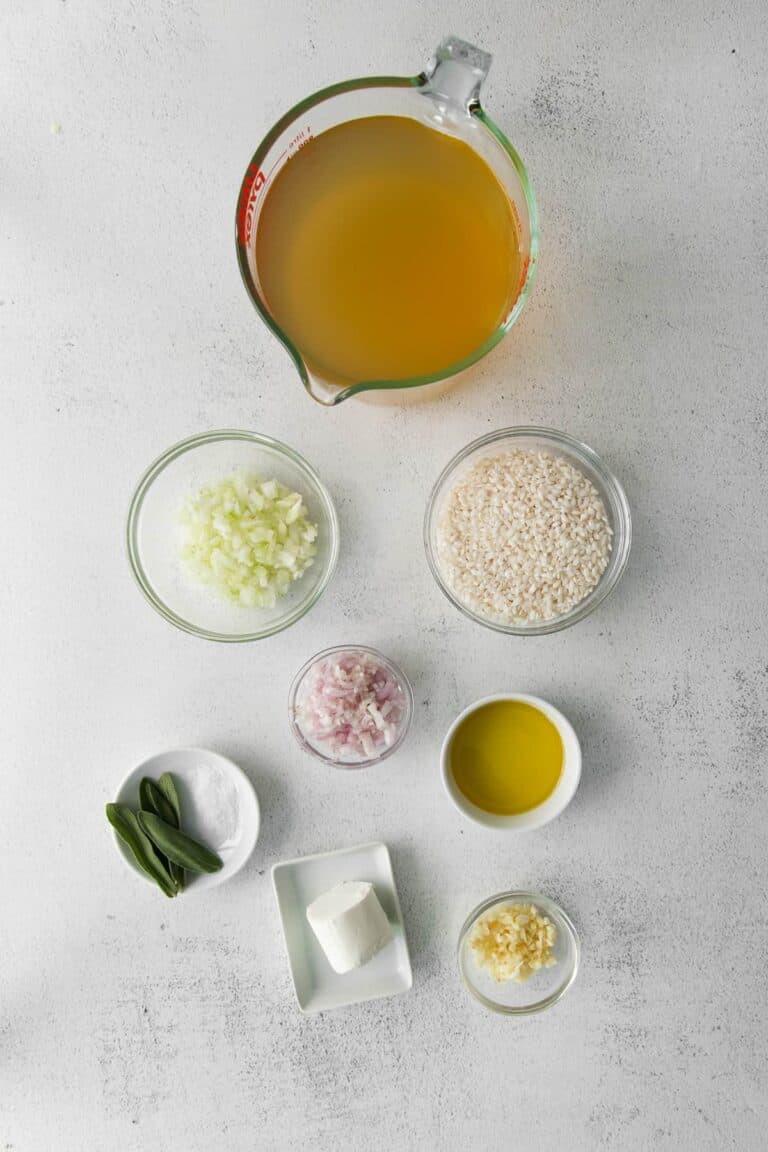 What You Need
Olive oil: olive oil is used to create the base of this risotto. Feel free to swap for butter.
Onion and shallot: these two fragrant veggies are important starters in getting an incredible base flavor.
Garlic: garlic is also essential for that base flavor. The fresher the better.
Fresh sage: fresh sage is a must! It adds just the right amount of freshness to this dish.
Arborio rice: make sure to use arborio rice. It's a specific kind of rice used to make risotto.
Broth: any kind of broth works for this recipe. We've made it with both vegetable broth and beef broth (our preference, but not vegetarian). Heck, you could even use our homeamde parmesan broth!
Goat cheese: last but not least, goat cheese! The star of the show. Feel free to buy a block of goat cheese and crumble it in on your own.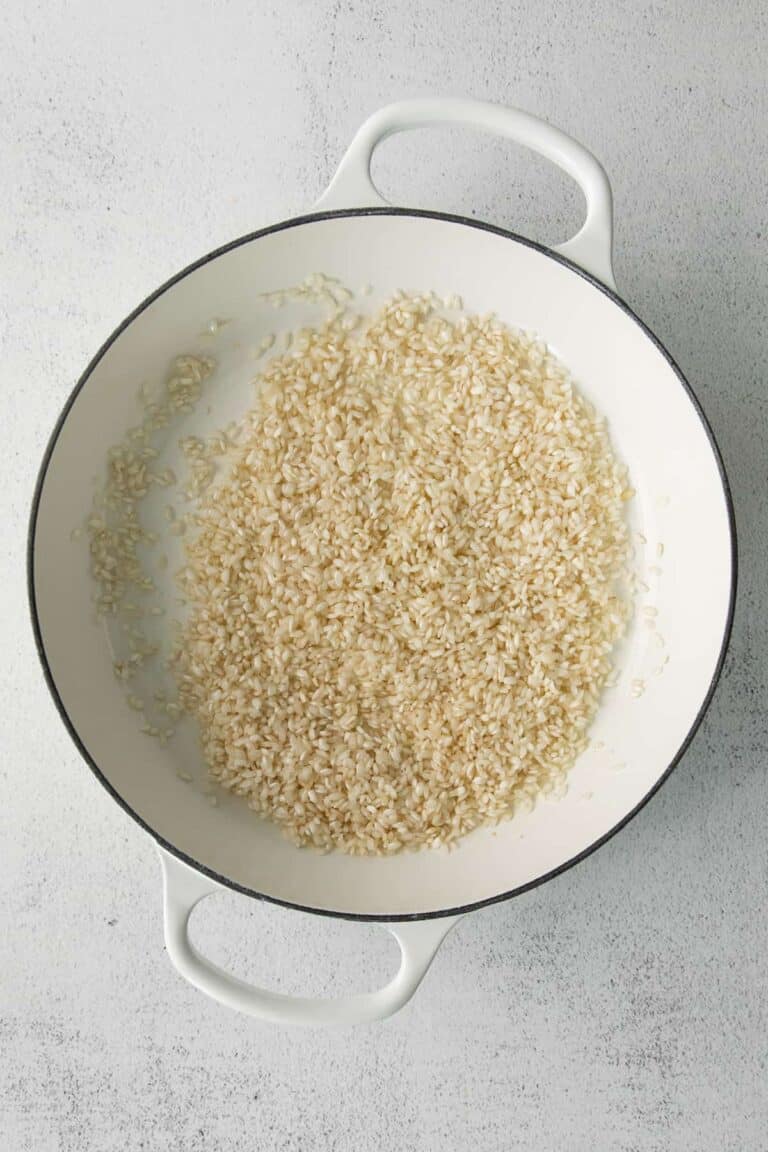 How to Make Goat Cheese Risotto
Cook Onion
Heat olive oil in a medium pot. Add onion, shallot, and salt, and cook until translucent over medium/high heat.
Add Broth
Add fresh sage and broth and bring to a gentle boil. Then, turn the heat down to low and let simmer while you prepare the rice.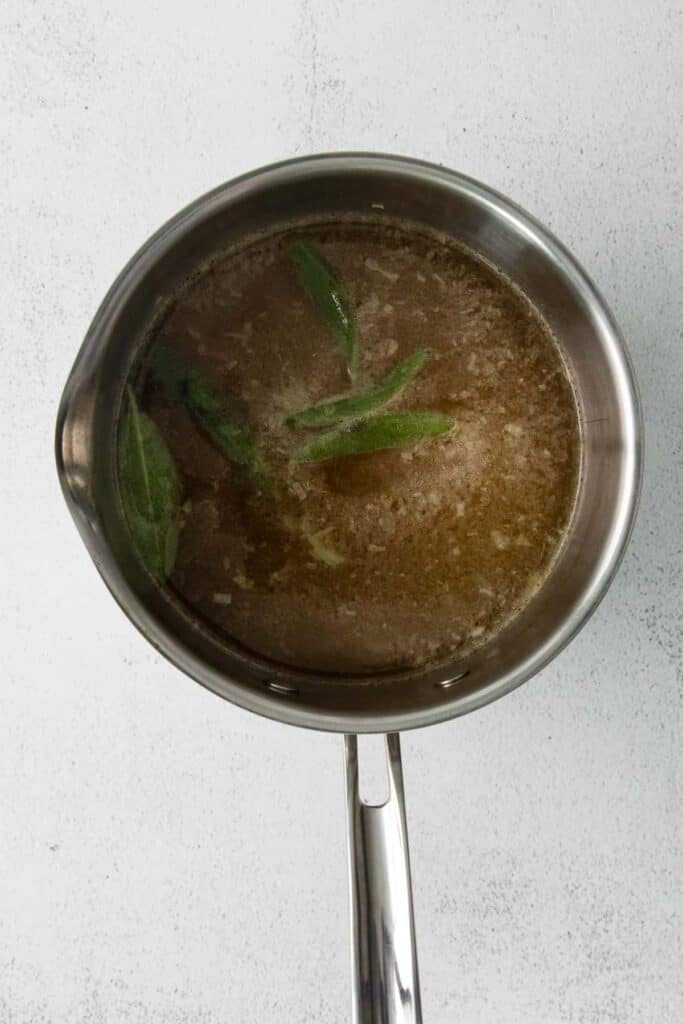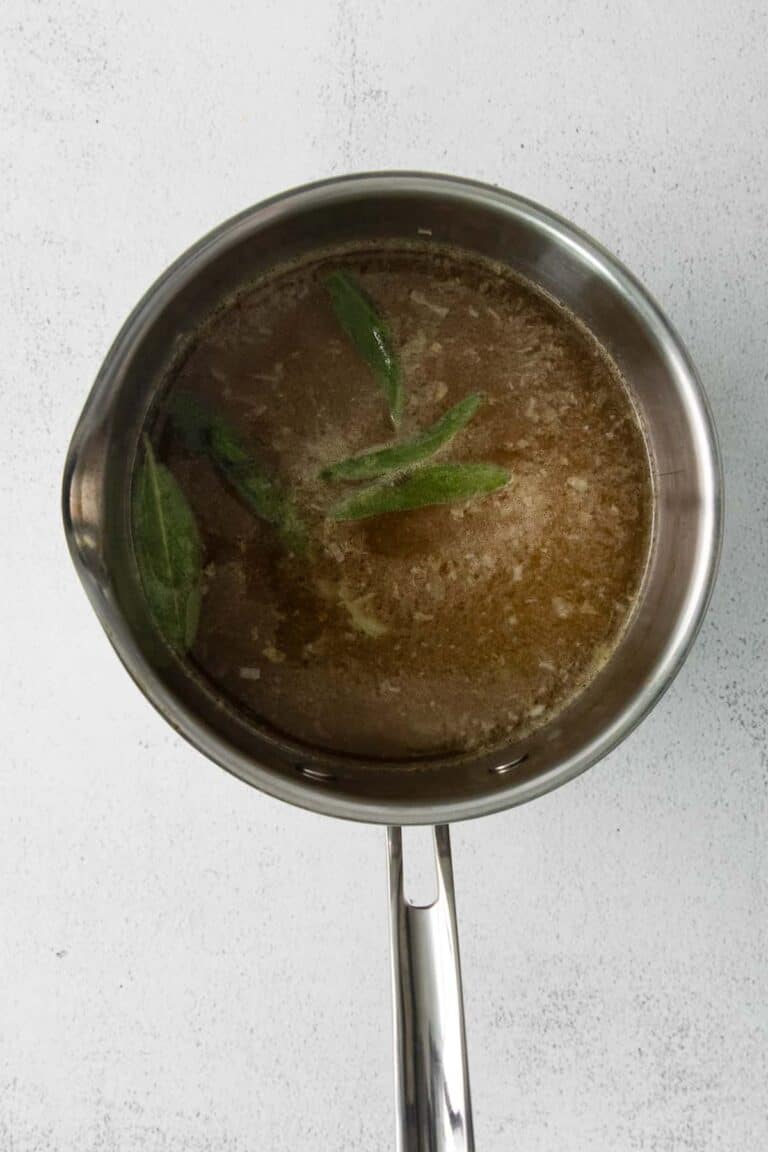 Toast Rice
Heat a large skillet over medium heat. Add olive oil. When fragrant, add arborio rice and toast for 1-2 minutes.
Prepare Risotto
Now the fun part – cooking the risotto! Add 1/2 cup of broth to the rice and continue to stir over medium heat until all of the broth absorbs.
Continue this process, adding 1/2 cup of broth, stirring, and absorbing until you've used around 3.5 cups of broth. This should take around 20-25 minutes.
Give the risotto a taste, and add up to 1/2 – 1 cup of broth depending on how cooked your risotto is.
#1 tip!
Don't rush this process! Make sure to cook the risotto over medium heat and no higher or the rice may have a hard time cooking!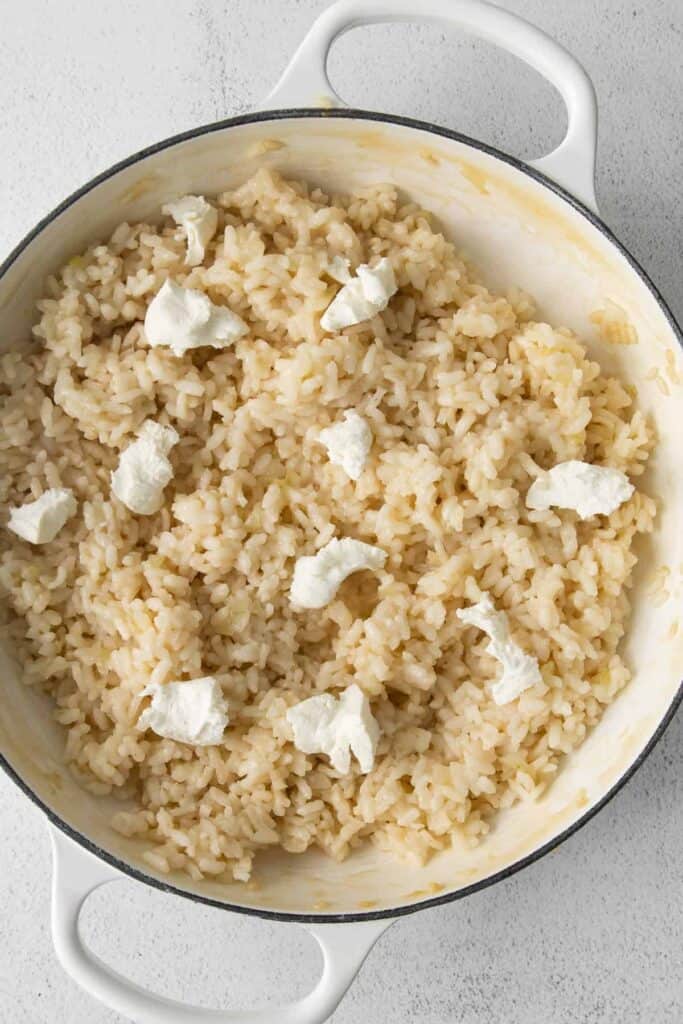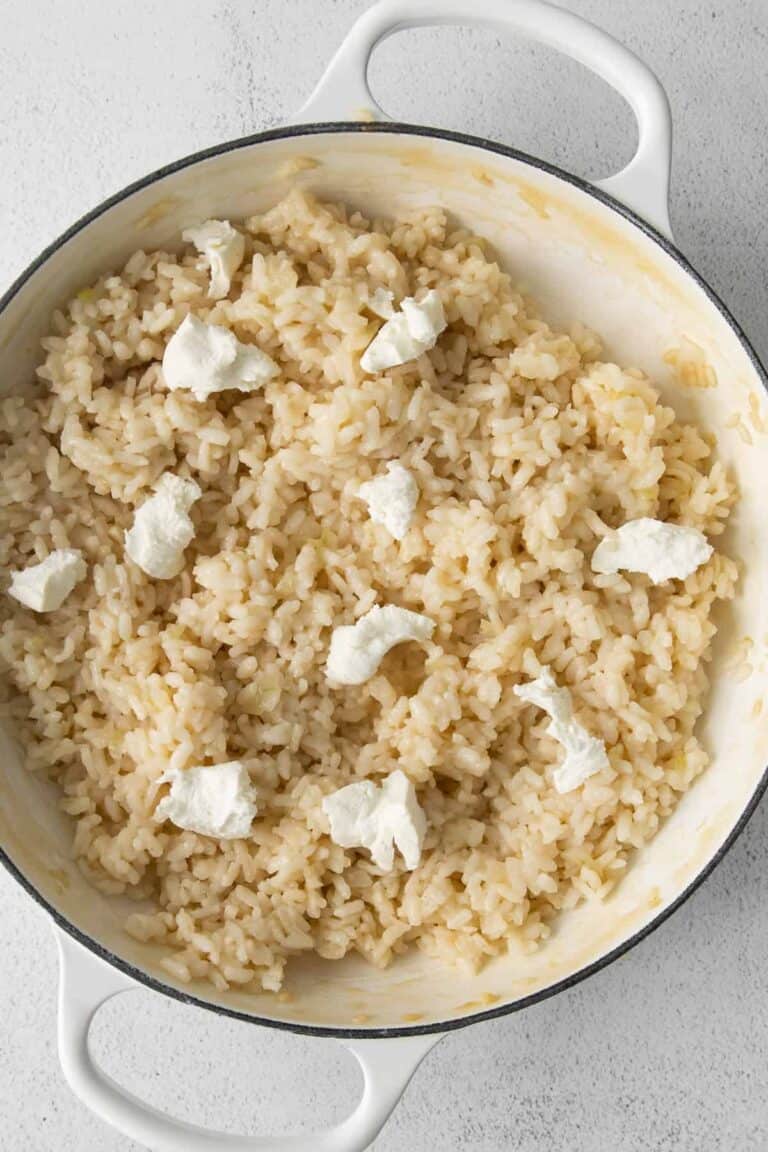 Add Goat Cheese
Once the arborio rice is fully cooked, add in the goat cheese. We like to crumble it all over the rice and stir so that it melts.
Enjoy!
Serve the goat cheese risotto with more goat cheese (cuz why not?) and fresh chopped sage (so good).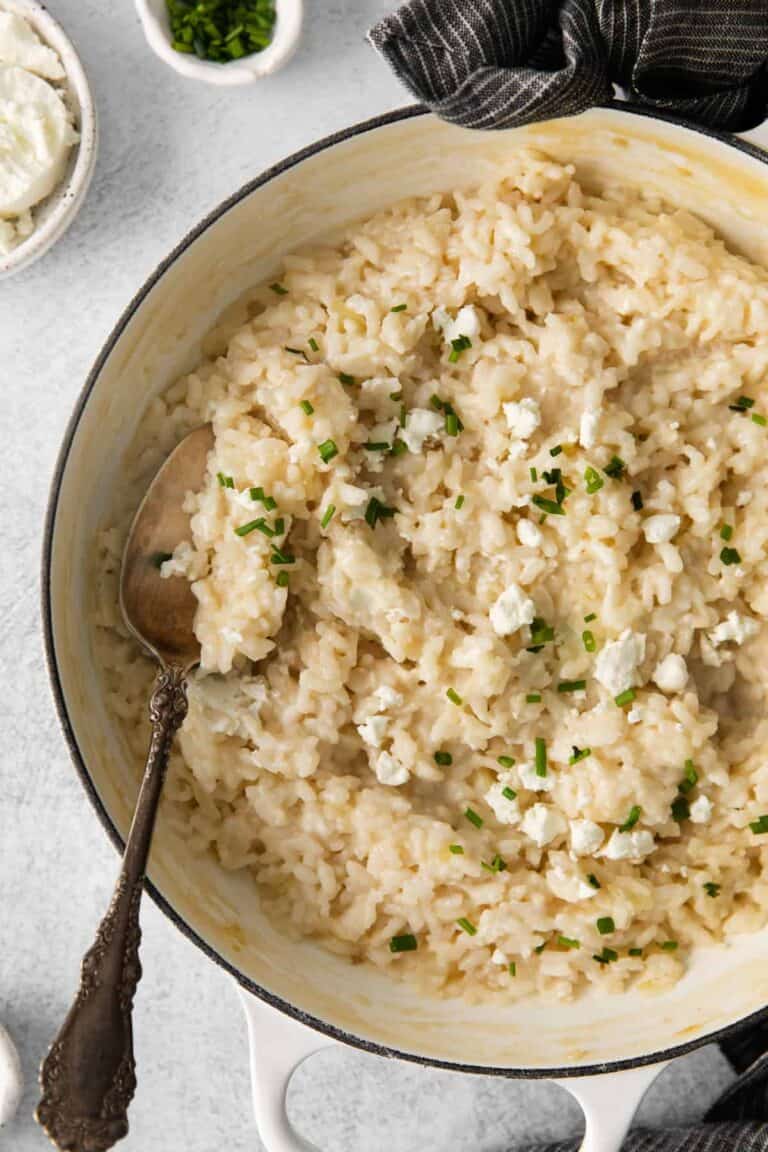 Storage
Let goat cheese risotto cool completely. Then, transfer it into an airtight container and seal. Store in the fridge for up to 3-5 days.
To reheat: transfer risotto back into a medium pot. Add a little broth and reheat over medium heat until hot.
Can you freeze risotto?
You can absolutely freeze risotto, but do we recommend it? Unfortunately not, Cooked rice can oftentimes disintegrate while freezing and end up mushy when thawed (speaking from experience).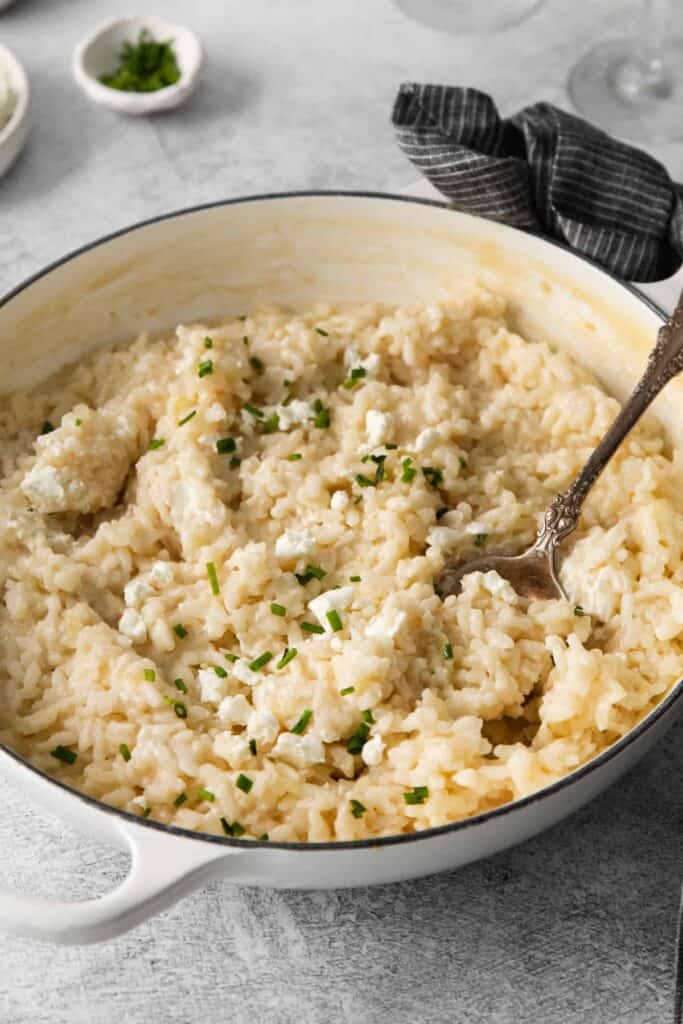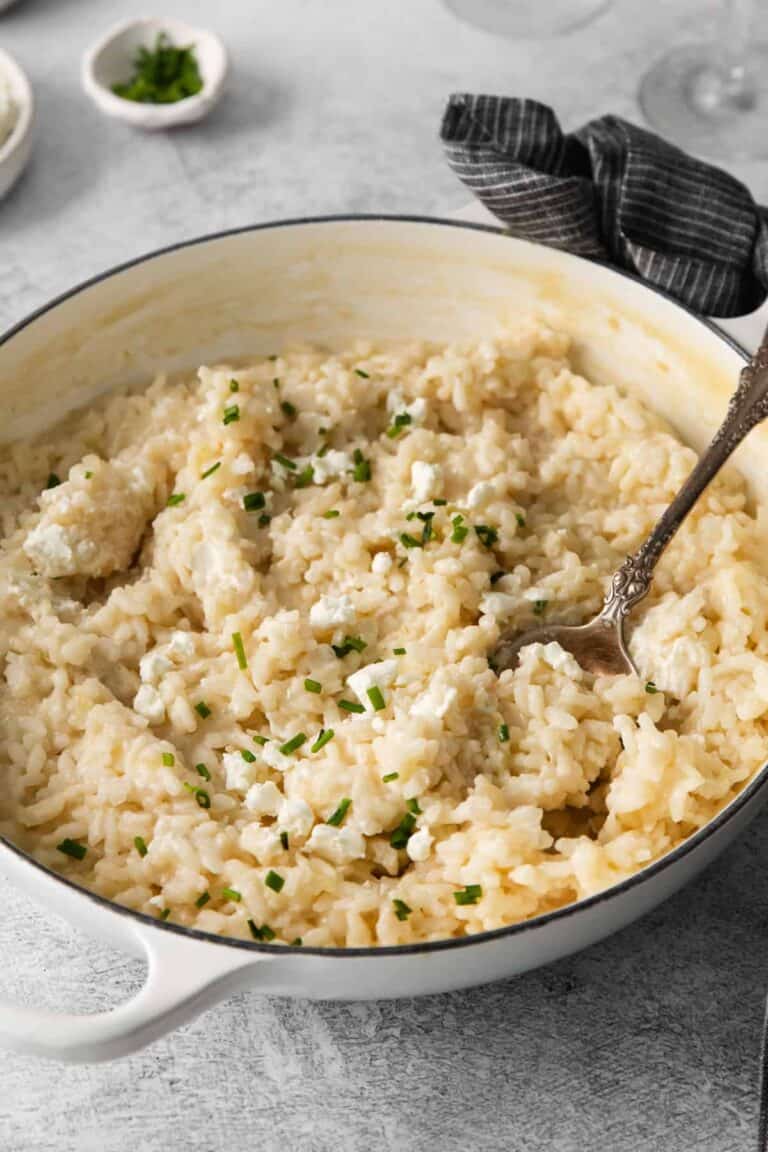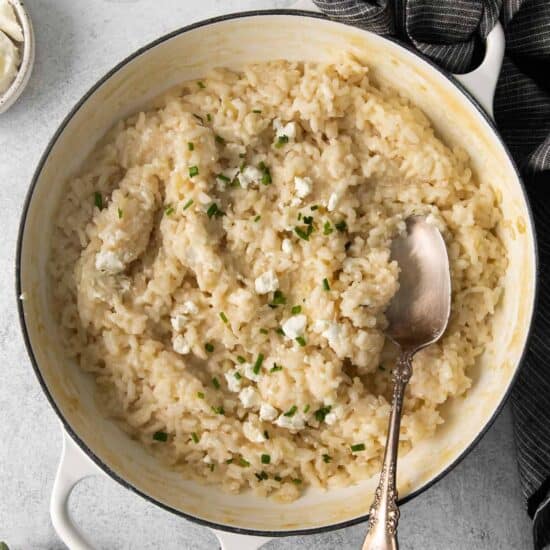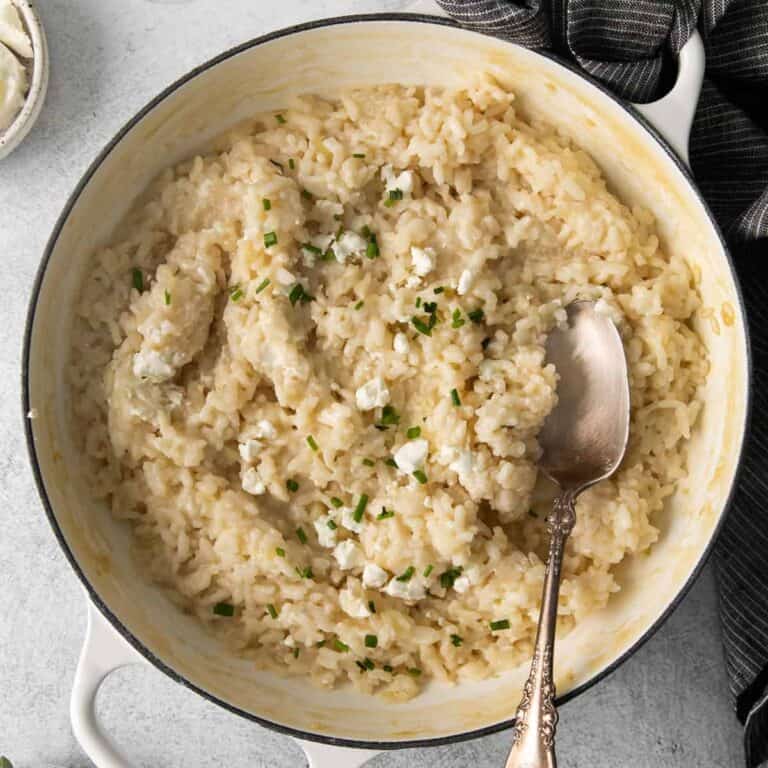 Goat Cheese Risotto
Ingredients
2

tablespoons

olive oil

divided

¼

large white onion

minced

1

small shallot

minced

3

cloves

garlic

smashed and minced

½

teaspoon

salt

5

fresh sage leaves

+ more for topping

4

cups

broth

any kind we used chicken broth

1

cup

arborio rice

2

oz.

goat cheese

+ more for topping
Instructions
Heat a large saucepan over medium/high heat. Add 1 tablespoon of olive oil to the saucepan.

When the olive oil is fragrant, add the onion, shallot, and ¼ teaspoon of salt to the saucepan. Stir and sauté for 2-3 minutes. Add the garlic and cook for another few minutes. 

Next, add the sage leaves to the saucepan, toss. Then, add broth. Bring broth to a gentle boil and then turn the heat down to low. 

Heat a separate large skillet over medium heat and add 1 tablespoons of olive oil to the skillet. 

When the olive oil is fragrant, add the arborio rice to the skillet and toast the rice for 1-2 minutes. 

Prepare the risotto. Discard the sage leaves that are in the broth. Next, add ½ cup of broth (including onions, shallot, and garlic) to the rice and stir until the broth absorbs completely. Repeat this step until there is about ½ cup of broth left. This takes 20-25 minutes. Do not rush this! After you've used 3.5 cups of broth, your rice should be almost cooked. Give it a try to see if it's close to al dente. If it's still very hard, you'll need to use up to ½ cup to 1 cup extra broth.

When all the broth has been absorbed add the goat cheese to the risotto and stir until the goat cheese has melted. Remove from heat and serve the risotto with crumbled goat cheese, ribbons of fresh sage, and freshly cracked black pepper.
Tips & Notes
Make sure not to cook your arborio rice too hot or it will have a hard time softening. Keep the heat on medium.
Depending on how hard your rice is after 3.5 cups of broth you may need to add up to 1 more cup of broth to soften the rice to your desired texture. 
Nutrition facts
Calories:
303
kcal
Carbohydrates:
41
g
Protein:
10
g
Fat:
11
g
Fiber:
5
g
Sugar:
3
g