Craving a nice warm bowl of soup? This cheese tortellini soup will do just the trick! It's full of all the goods: savory sausage, flavorful veggies, tortellini, and a rich broth.
The BEST Cheese Tortellini Soup
We LOVE a cozy soup, and this cheese tortellini is IT. But that isn't the only thing that makes this hearty soup great. It's also a quick, 30-minute meal!
That's right. Get this soup into your regular rotation, because you're going to want to make it often. Whether it's a rainy day or a busy night of the week, it's a great option for the entire family.
Why you'll love it!
Easy, cheesy, beautiful: Not only is this tortellini soup recipe easy to make, but the way that the spinach mingles with the red soup makes this soup Cover Girl worthy! Not to mention CHEESE.
Taste of home: This cheese tortellini soup is SO warm and comforting, you'll want to wrap yourself in a blanket and sit by a window on a chilly day.
One pot meal: Ya gotta love a recipe that can be made all in one pot! This soup is 100% made in a Dutch oven, making cleanup a breeze.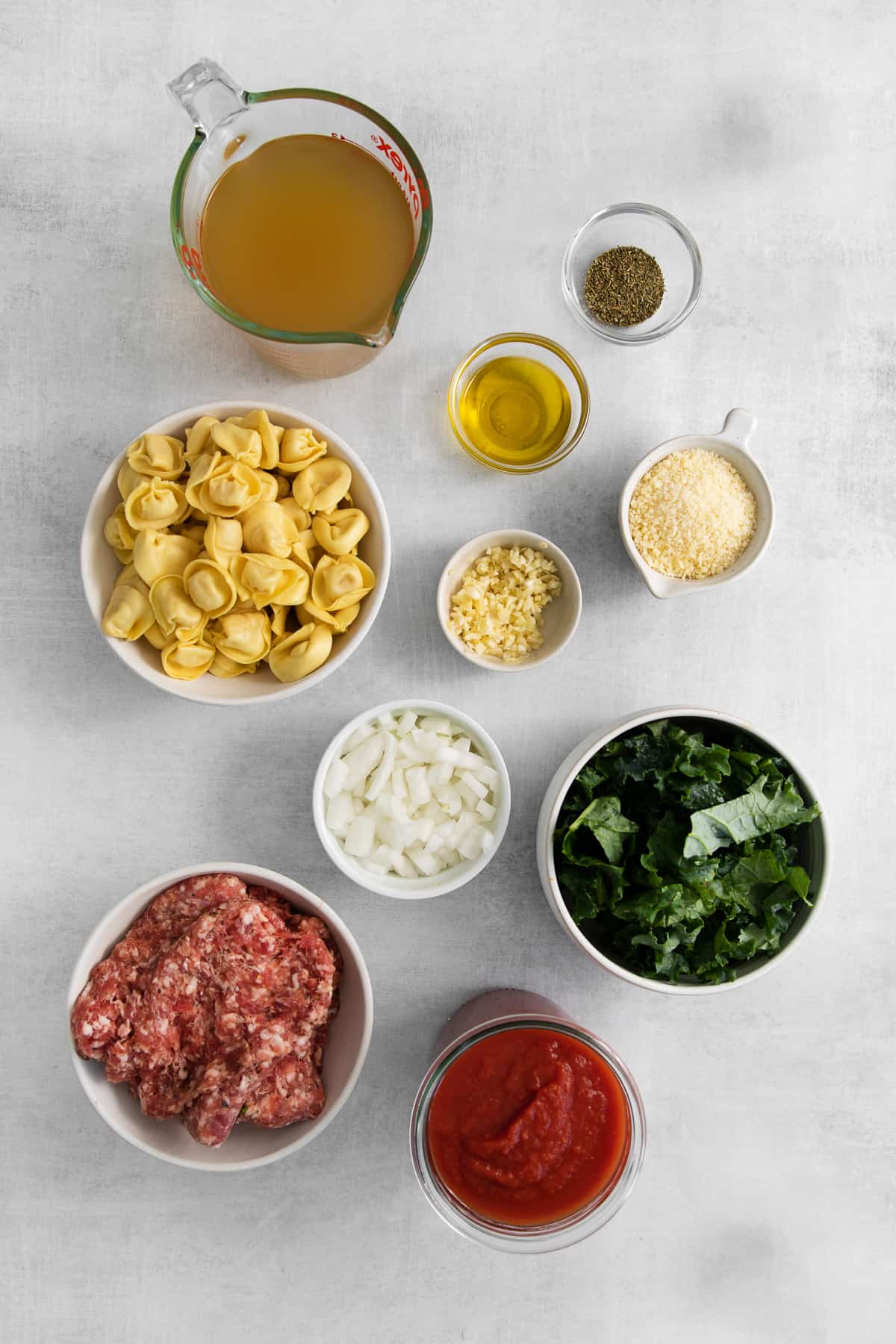 Cheese Tortellini Soup Ingredients
Italian Sausage: We used hot Italian sausage which adds a nice spicy flavor to the soup! However, you can use any type of sausage you'd like! Or substitute with ground beef.
Pre-Made Refrigerated Cheese Tortellini: You may use fresh or frozen tortellini if you'd like, just keep in mind how long they'll need to cook compared to pre-made.
Chicken Broth: Any broth will do, but we love how it tastes with chicken broth!
Kale: We're a big fan of kale, but spinach will also taste amazing!
Parmesan: Parmesan is a must-have garnish for you cheese lovers. Don't be afraid to make a little mountain of it on top of your soup if you wish.
Other ingredients you'll need:
olive oil
yellow onion
garlic
Italian seasoning
crushed tomatoes
How to Make This Easy Tortellini Soup
This easy tortellini soup recipe can be made in under 30 minutes, making it perfect for busy weeknights when all you want is some comfort food — without all the effort!
COOK SAUSAGE
Heat olive oil in a Dutch oven over medium-high heat. Add your Italian sausage, using a spatula to break it apart. Cook for about 4-5 minutes.
ADD ONION & GARLIC
Toss in your onion and garlic and cook for around 2 minutes, or until the onions are soft and translucent.
ADD BROTH & TOMATOES
Next, pour in your chicken broth and add the crushed tomatoes. Bring to a boil.
COOK PASTA
Add the tortellini and reduce the heat to a simmer. Cover the Dutch oven and cook the pasta for 15 minutes for al dente. If you'd like them softer, wait a little bit longer.
ADD KALE
Once the pasta is cooked to your liking, turn off the heat and stir in the chopped kale. Cover the Dutch oven again and allow the kale to wilt for 5 minutes.
SERVE & GARNISH
Viola! Your tortellini soup is complete! Serve and (generously) garnish with freshly grated parmesan. Enjoy!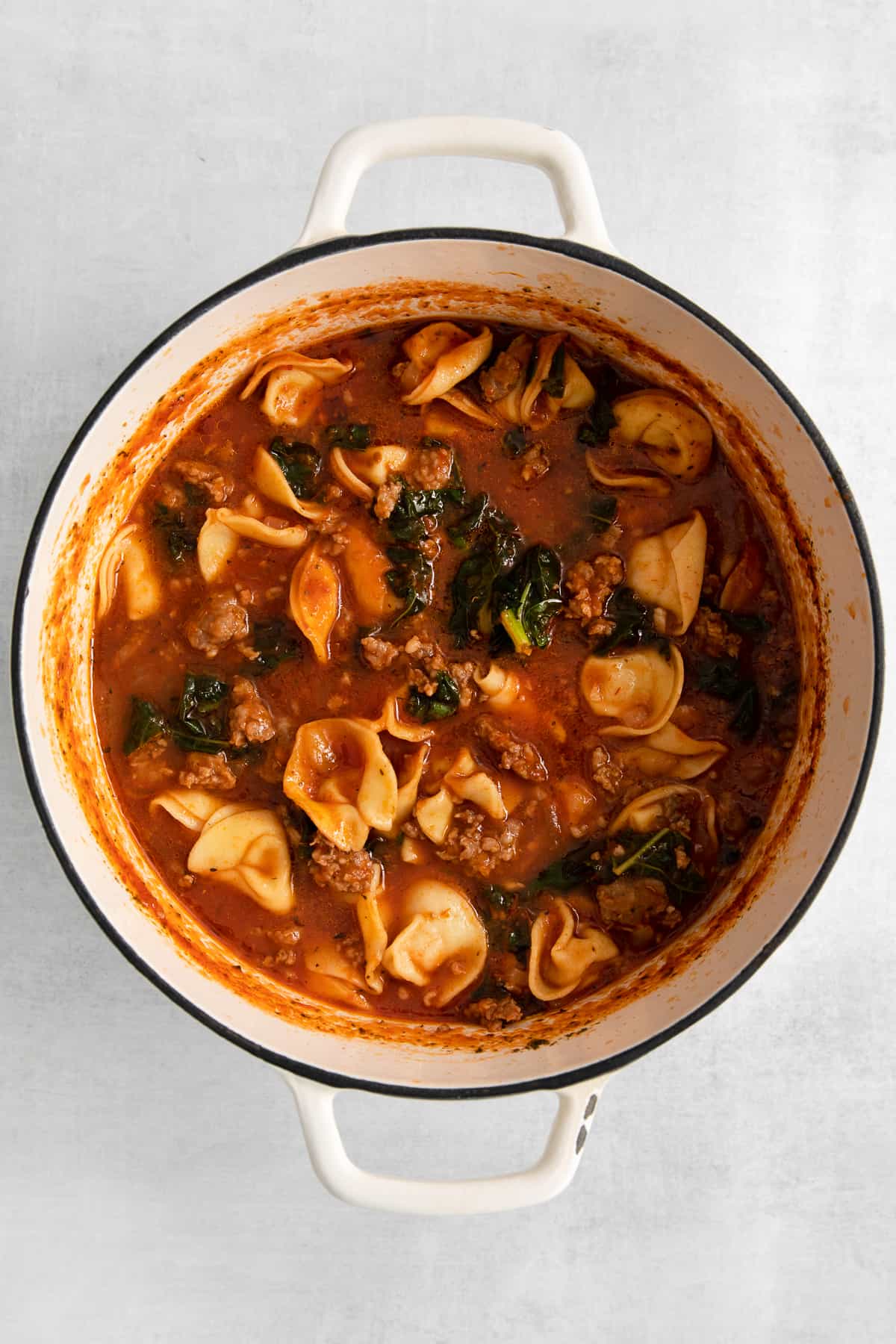 Tips For Making Cheese Tortellini Soup
Keep in mind that your tortellini will cook differently depending on if it's frozen, fresh, or refrigerated. Adjust the recipe accordingly!
The kale wilts very quickly, so stir them into your hot broth when your tortellini soup is almost done so they don't take on a soggy texture.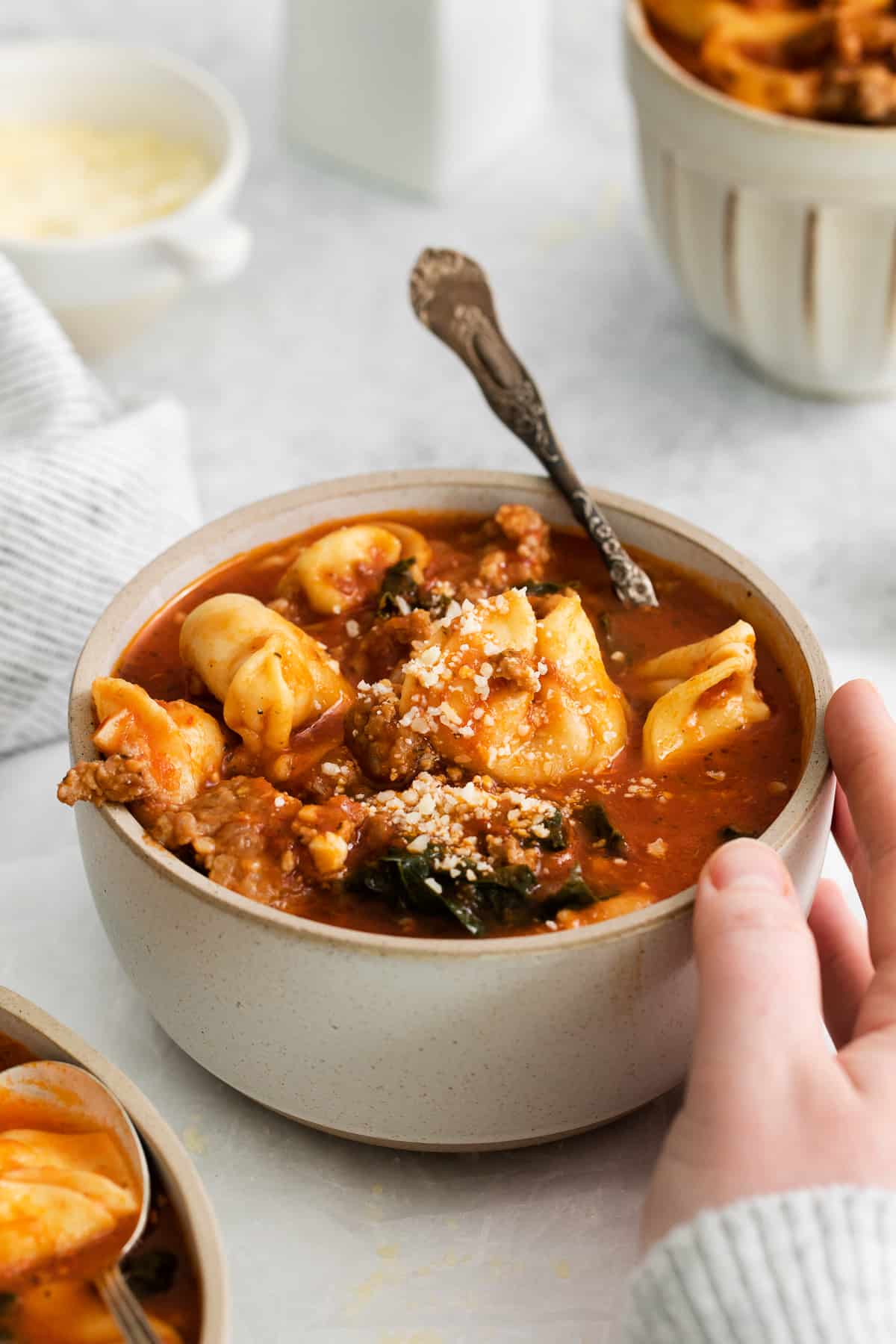 FAQs
What is tortellini soup made of?
Tortellini soup is made with cheese-filled tortellini, browned hot Italian sausage, tomatoes, veggies, and flavorful herbs. It's a cozy, filling soup with a simple broth that is perfect for a chilly day!
Storage
Store this hearty tortellini soup in an airtight container in the fridge for up to 5 days.
Reheat your tortellini soup just like it's cooked — LOW AND SLOW! Gently warm on the stovetop on low, stirring frequently. This will help prevent any separating or uneven reheating.
Freeze your tortellini soup WITHOUT the tortellini pasta. Frozen tortellini will become mushy as it thaws. You may freeze it in an airtight container for up to 3 months. Then, add fresh pasta when you are ready to heat it up.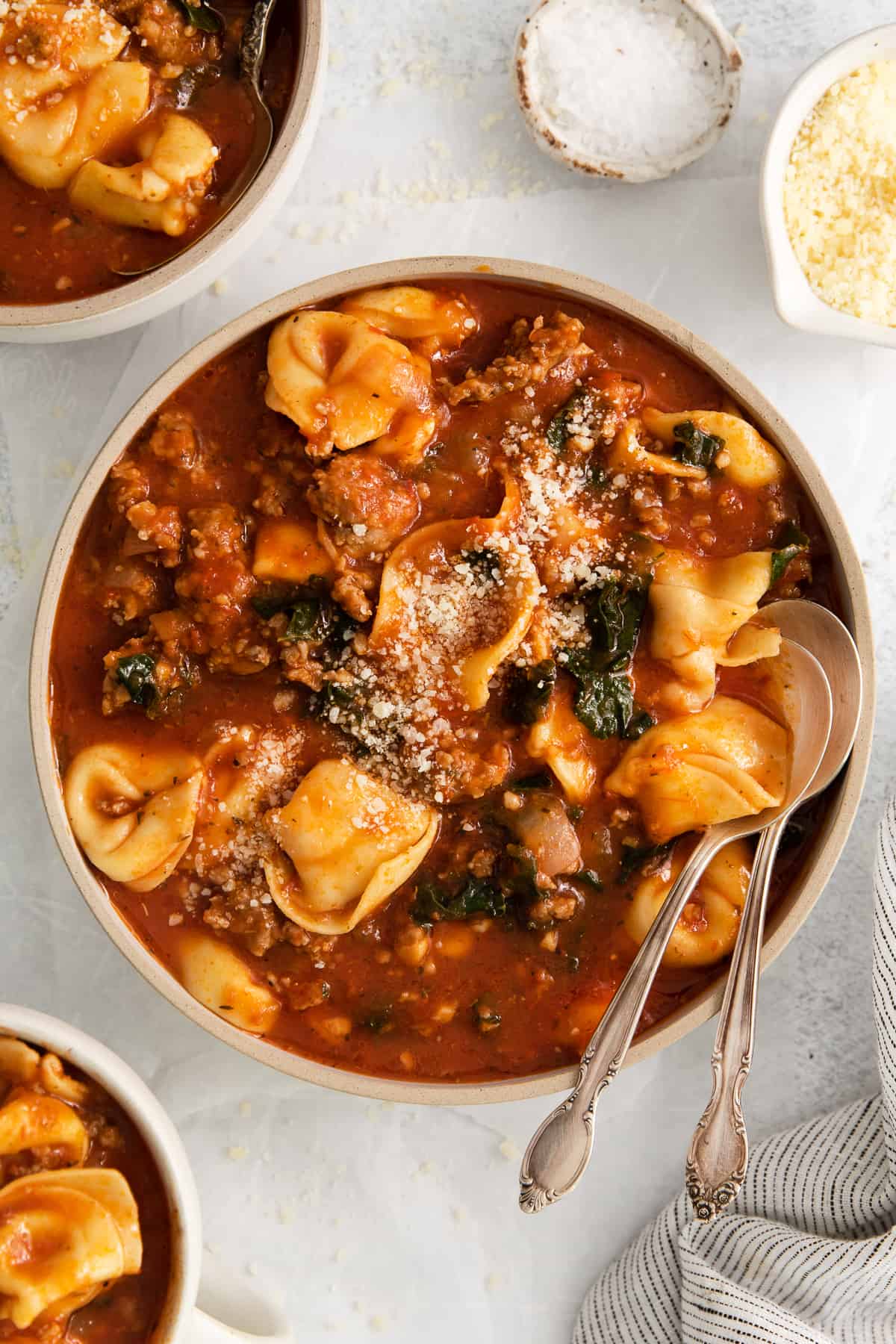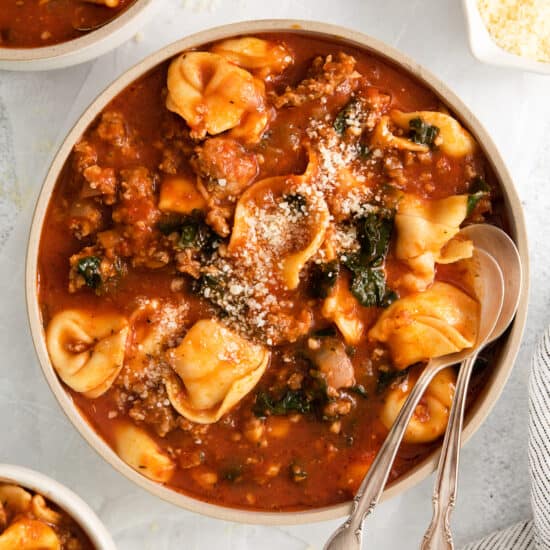 Cheese Tortellini Soup
This cheese tortellini soup is packed with savory sausage, flavorful veggies, tortellini, and a rich broth.
Ingredients
2

tablespoons

olive oil

1

lb.

ground Italian sausage

1

medium yellow onion

diced

4

cloves

garlic

minced

1

tablespoon

Italian seasoning

3

cups

chicken broth

28

oz.

can crushed tomatoes

9

oz.

pre-made refrigerated cheese tortellini

3

cups

kale

chopped

2

oz.

grated parmesan

~½ cup
Instructions
Heat a Dutch oven over medium/high heat. Add the olive oil and Italian sausage and cook for 4-5 minutes. Use a spatula to break apart the Italian sausage.

Add the onion and garlic to the Dutch oven and cook until the onions become translucent and soft — around 2 minutes.

Next, add the chicken broth and crushed tomatoes to the pot and bring to a boil.

Add the tortellini and reduce to a simmer. Cover the dutch oven and cook for 15 minutes.

Turn the heat off and stir in the chopped kale. Place the cover back onto the Dutch oven and allow the kale to wilt for 5 minutes.

Serve and garnish with freshly grated parmesan.
Tips & Notes
Add 4 oz. of cream cheese to make this soup a little cheesier.
Spice up the soup by adding 1 tablespoon crushed red pepper or using hot Italian sausage.
Make this soup vegetarian by using vegetable broth and omitting the Italian sausage. If omitting the meat, 1 15-oz. can of garbanzo beans or northern beans would be a wonderful addition.
Nutrition facts
Calories:
560
kcal
Carbohydrates:
36
g
Protein:
26
g
Fat:
36
g
Fiber:
6
g
Sugar:
8
g