Our mushroom pasta sauce recipe is light, garlicky, and packed with umami flavors. It's the perfect pasta sauce to toss any noodle in.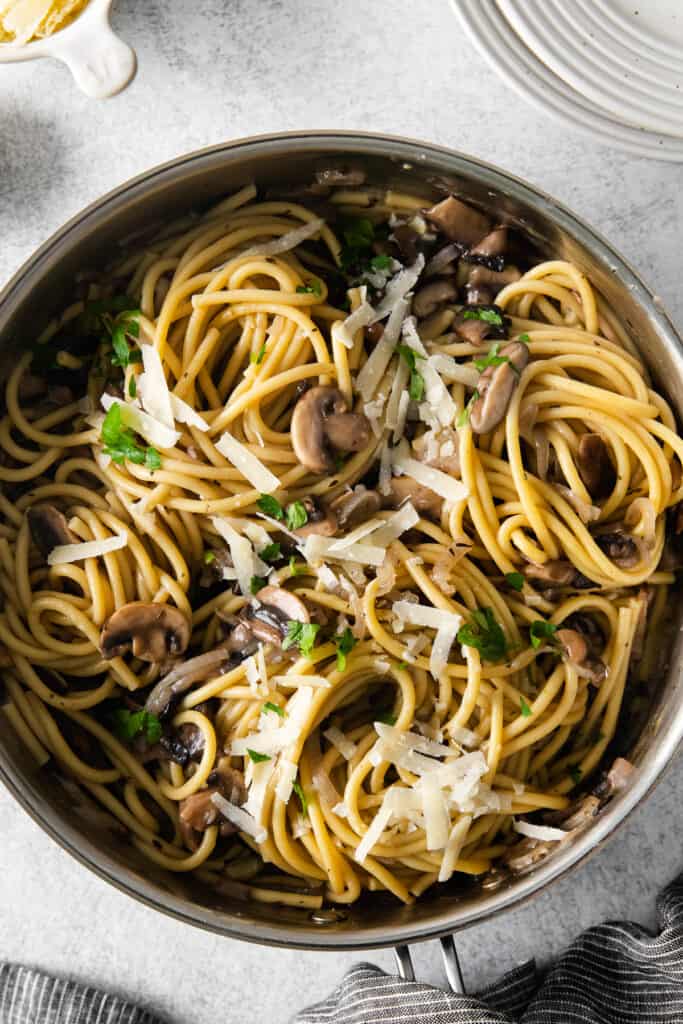 Simple Mushroom Pasta Sauce
Craving pasta but don't know what to make? Use this simple mushroom pasta sauce to whip up a light and savory pasta dish packed with veggies.
We make pasta at least once a week in my house and it's always a win-win situation when you can get your veggies and eat your pasta too! That's why this pasta sauce is truly the ultimate recipe!
Why you'll love it!
Ready in 30 minutes
Veggie-packed
Versatile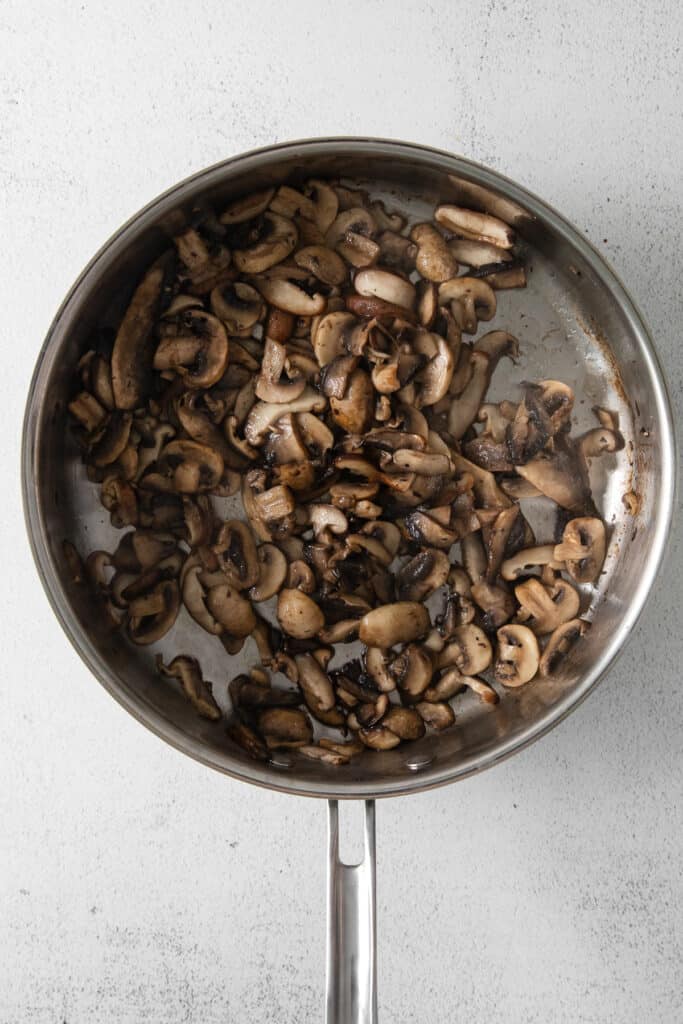 Featured Ingredients
White wine: white wine helps deglaze the pan and add great flavor to the mushroom pasta sauce.
Garlic and shallot: garlic and shallot are an excellent base for this sauce. Go big or go home.
Mushrooms: the star of the show –> mushrooms! We're using portabella, shiitake, and button.
Salt: salt is an important ingredient for cooking down the mushroms so that the moisture gets drawn out.
Vegetable broth: vegetable broth helps extend the life of the sauce.
Lemon juice: a little citrus really helps balance out the umami flavor.
Butter: everything is better with butter.
Best Mushroom for Mushroom Pasta Sauce
If you're a mushroom lover like us, then don't be afraid to use your favorites in this recipe. Here are some other options:
Portabella
Shiitake
Bella
Button
White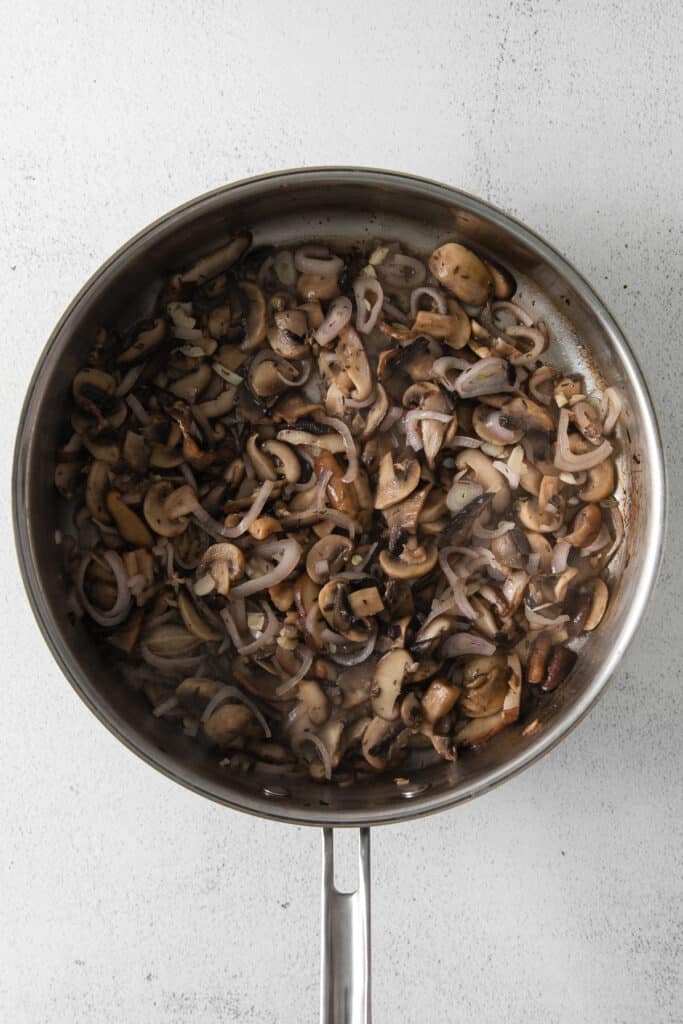 How to Make Mushroom Pasta Sauce
Cook Pasta
Cook pasta in a large pot of salted water until al dente. Before straining, remove around 1.5 cups of starchy pasta water to thicken the sauce later on. Strain noodles and set aside.
Cook Mushrooms
Heat olive oil in a large pan and add mushrooms and salt. Cook mushrooms down for around 5-7 minutes until they are soft and brown.
Deglaze & Add Flavor
Deglaze the pan with white wine and scrape the bottom to release the brown bits. Add garlic, shallot, thyme, and salt and continue cooking.
Add Liquid & Thicken
Add vegetable broth and starchy pasta water and bring to a boil. Then, turn the heat down and let simmer.
Remove around 1/4 cup of liquid from the pan and whisk in cornstarch. Then, add the slurry back into the pan and whisk it into the sauce to thicken.
Season & Toss
Finally, add butter and lemon juice and toss everything together until the butter melts. Add the cooked pasta and toss everything together. Serve with pecorino romano and freshly chopped parsley.
Variations
Want it saucier? Add more starchy pasta water to make it saucier.
Want it creamier? If you're looking to make a creamy mushroom pasta sauce, add around 1/4 – 1/3 cup of heavy cream to your sauce.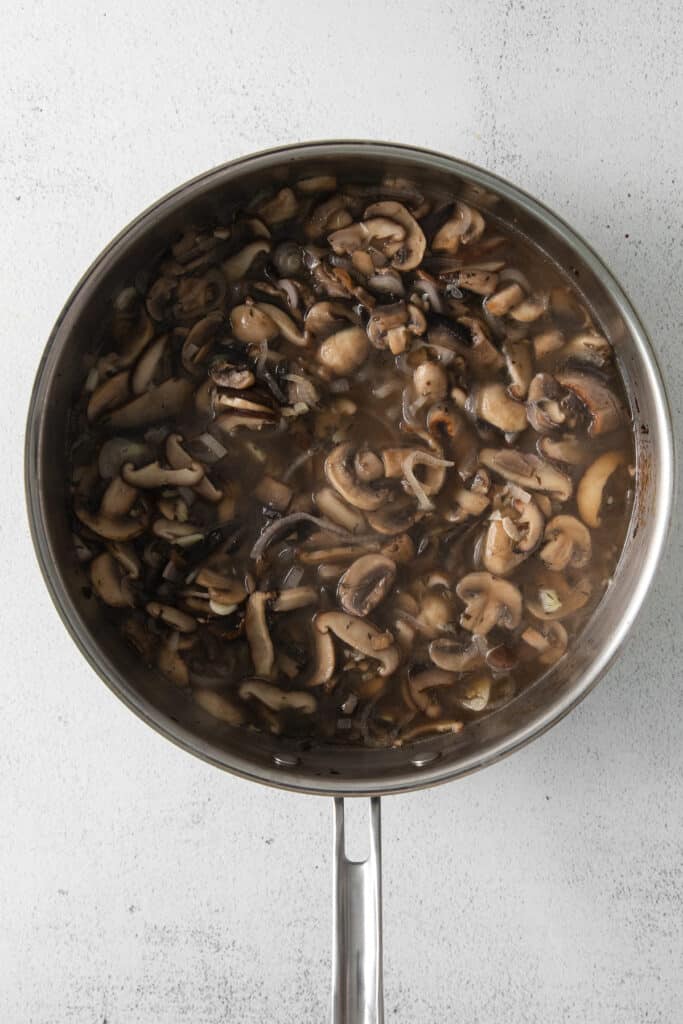 FAQ
What is mushroom sauce made of?
Mushroom sauce is made up of a variety of mushrooms, butter, garlic, broth, and white wine.
How do you thicken mushroom sauce?
To thicken mushroom sauce, you can either use a little corn starch or, if you're making pasta, starchy pasta water.
Can you use milk instead of cream in pasta?
In most cases when it comes to a creamy pasta sauce, we recommend using cream over milk.
How do you make pasta sauce creamy?
You can easily add heavy cream into any pasta sauce to make it creamy.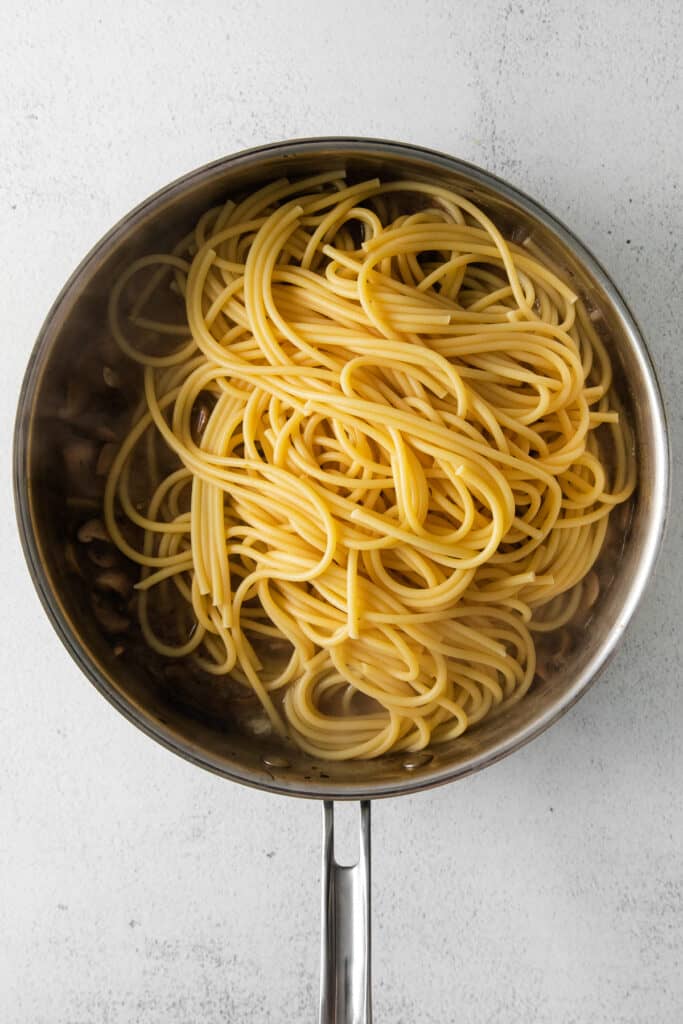 Storage
Transfer the cooled mushroom pasta into an airtight container. Store in the fridge for up to 3-5 days.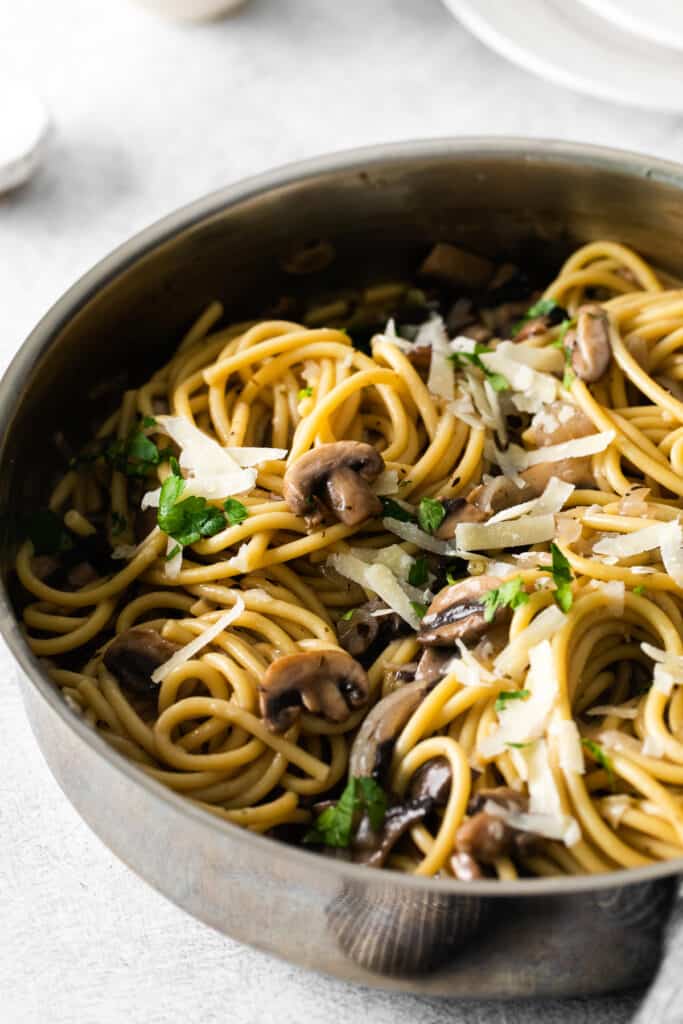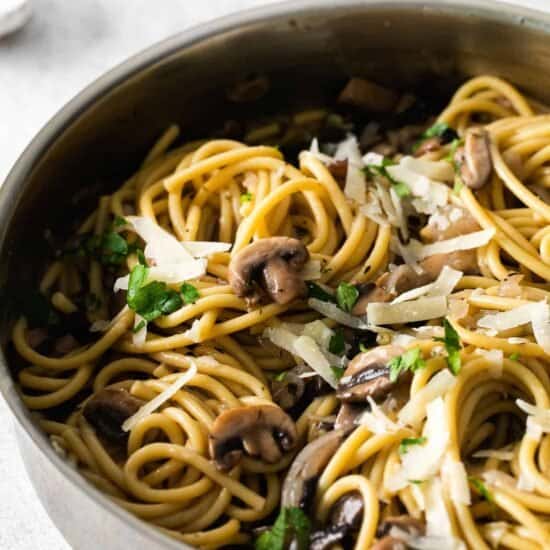 Mushroom Pasta Sauce
This mushroom pasta sauce recipe is delicious on any noodle. It's made with 3 kinds of mushrooms and is bursting with umami flavor. 
Ingredients
8

oz.

dried pasta

we used bucatini

3

tablespoons

olive oil

1

teaspoon

salt

separated

1

large portabella mushroom

thinly sliced

5

oz.

shiitake mushrooms

sliced*

8

oz.

button mushrooms

sliced

¼

cup

dry white wine

we used Pinot Grigio

4

cloves

garlic

thinly sliced

2

medium shallots

sliced

½

teaspoon

dried thyme

½

cup

vegetable broth

¾

cup

starchy pasta water

2

teaspoons

cornstarch*

2

teaspoons

fresh lemon juice

2

tablespoons

salted butter

½

cup

grated Pecorino Romano cheese

or grated parmesan cheese

1

tablespoon

chopped fresh parsley
Instructions
Bring a large pot of salted water to a boil. Add the pasta and cook until the pasta is al dente. 

Before straining the pasta, remove 1.5 cups of starchy pasta water from the pot and set aside for later (we always take a little extra out just in case). Strain the water and set the pasta aside. 

Heat a large skillet with sides over medium heat. Add olive oil. 

When the olive oil is fragrant, add all of the mushrooms to the pan and toss with the olive oil until coated. Sprinkle the mushrooms with ½ teaspoon of the salt and toss. 

Sauté the mushrooms for 5-7 minutes, tossing periodically until they are soft and start to brown. 

Deglaze the pan (with the mushrooms still in the pan) with the white wine and scrape the bottom of the skillet pan to remove any brown bits. 

Add the garlic, shallot, dried thyme, and the rest of the salt to the pan and sauté them with the mushrooms for 2-3 minutes. 

Next, add the vegetable broth and ¾ of the starchy pasta water to the pan and mix all the ingredients together. Bring the liquid to a boil and then turn the heat to low and allow the mixture to simmer for 3-4 minutes. 

Remove ¼ cup of the liquid from the pan and add the cornstarch to the removed liquid. Whisk the cornstarch and water together until it thickens (it should be almost a paste-like consistency).

Add the cornstarch slurry back into the saucepan and whisk it into the sauce. It should thicken the mushroom sauce almost immediately. 

Finally, add the butter and lemon juice to the sauce and stir until the butter is melted.  

Add the pasta to the skillet pan and toss until all the pasta is covered in sauce. 

Top the pasta with the pecorino romano and fresh parsley. 
Tips & Notes
Feel free to use any assortment of mushrooms that you like. We chose shiitake, portobello, and button because we love them. Feel free to use your favorites. 

If your sauce isn't thickening after you add in the cornstarch you can add 1 more teaspoon of the cornstarch to water and then into the sauce. 

To make this a creamy mushroom pasta sauce, add 1/4 - 1/3 cup heavy cream in step 11.
Nutrition facts
Calories:
528
kcal
Carbohydrates:
74
g
Protein:
14
g
Fat:
20
g
Fiber:
6
g
Sugar:
3
g