If you're on the hunt for the richest, creamiest cheesecake, you NEED this mascarpone cheesecake in your life!
It has equal parts cream cheese and mascarpone filling, a Biscoff cookie crust, and a delicious caramel drizzle that is melt-in-your-mouth delicious.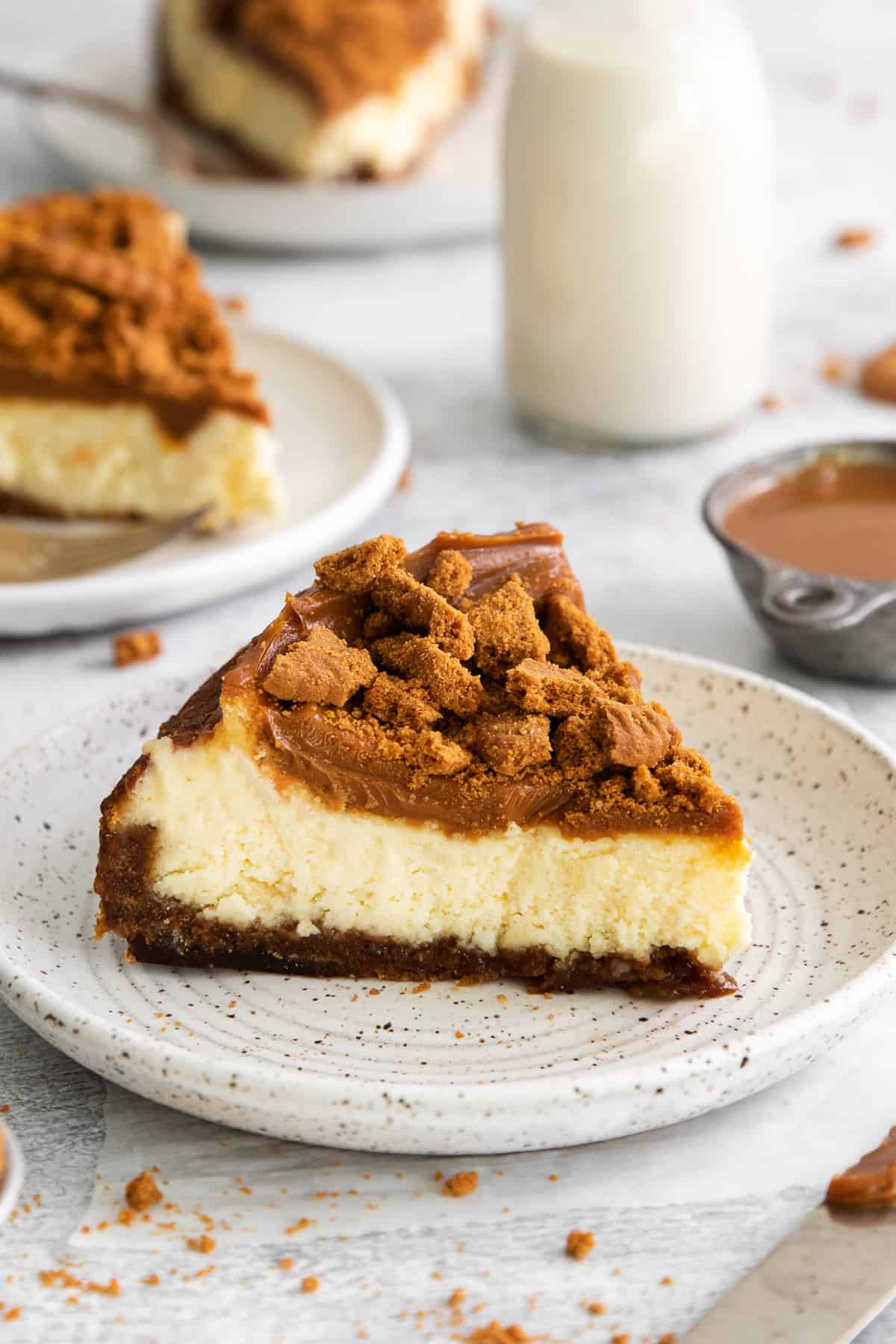 Italian Mascarpone Cheesecake
The beloved Italian cheese, mascarpone, is the special secret ingredient to this decadent cheesecake recipe.
With its creamy filling, sweet caramel glaze, and crunchy Biscoff cookie topping, our mascarpone cheesecake was destined to be the star at special occasions like dinner parties, potlucks, and holiday celebrations.
Cheesecake is kind of a big deal on the Cheese Knees. We have a guide on how to make cheesecake and other fun cheesecake flavors like pumpkin cheesecake, triple chocolate cheesecake, and caramel apple cheesecake.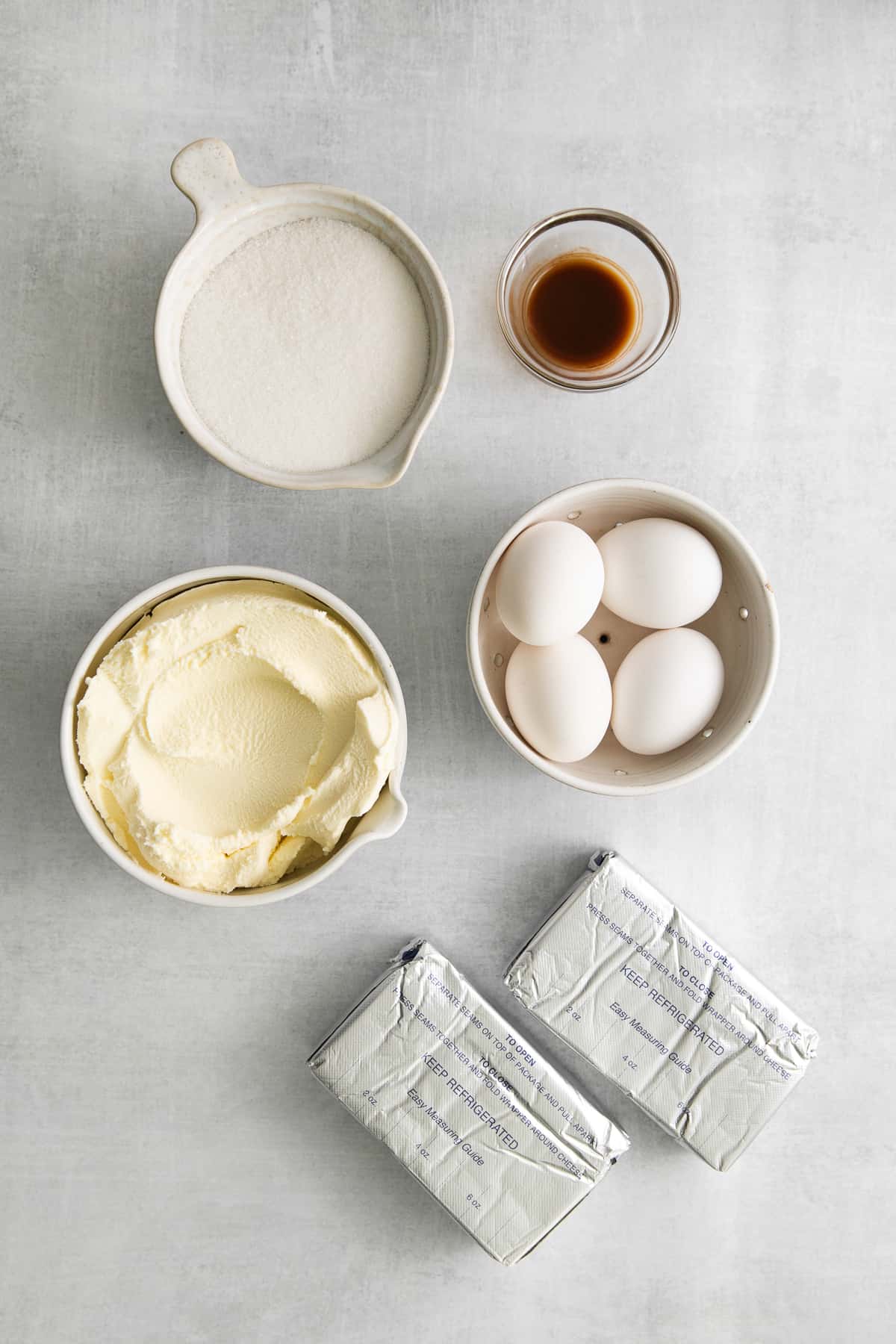 Mascarpone Cheesecake Ingredients
for the Biscoff Crust
Biscoff cookie crumbs: The cinnamon, ginger, and soft caramel flavors of these buttery cookies add a decadent crunch and taste amazing with cheesecake!
Granulated sugar: A little sugar goes a long way toward the perfect level of sweetness in this crust.
Unsalted butter: Butter holds the crust together and ensures it isn't too crumbly when sliced. Don't skip the butter!
Honey: Honey will also help bind the crust together and add great flavor.
for the Mascarpone Cheesecake
Mascarpone cheese: Mascarpone takes the richness and creaminess of cheesecake to a whole new level! Make your own mascarpone to jazz this recipe up.
Cream cheese: Make sure to buy full-fat cream cheese and bring it to room temperature to avoid any lumps in your cheesecake filling.
Granulated sugar: White sugar is best in this recipe, and we don't recommend swapping it for anything else.
Vanilla extract: Vanilla enhances the tang of the cream cheese and the sweetness of the caramel. 
Eggs: Eggs are used as a bind for cheesecake, giving it its classic creamy texture. They are essential, so don't swap them or leave them out.
for the Caramel Topping
Sweetened condensed milk: You'll cook this down to make a decadent caramel.
Crushed Biscoff cookies: Just like the crust, you'll be topping your mascarpone cheesecake with crushed Biscoff cookies.
How to Make Mascarpone Cheesecake
MAKE THE BISCOFF CRUST
Preheat the oven to 350°F. Grease a 9-inch springform pan and place it on top of tin foil. Set aside.
Quick Tip: Be sure to wrap the bottom of your foil securely to ensure no liquid will leak through the foil seal!
Add the Biscoff cookie crumbs, sugar, melted butter, and honey to a medium-sized bowl. Mix until the crumbs become a wet sand consistency and can lump together.
Transfer the cookie mixture to the springform pan, pressing firmly into the bottom and pushing up the sides to form a ¼-inch high border.
Bake for 10 minutes. Then, remove from the oven and cool for 30 minutes.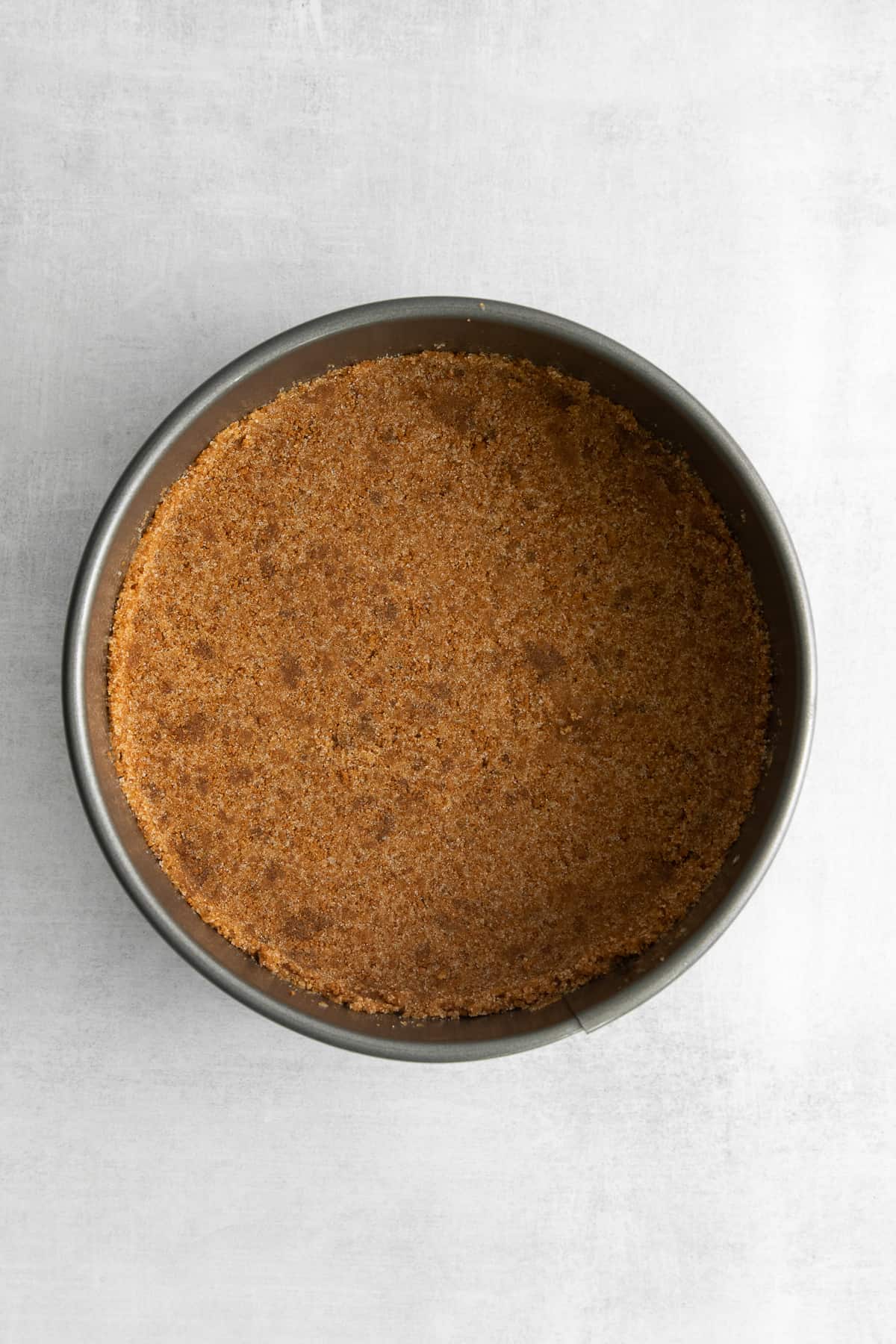 MAKE THE FILLING
Preheat the oven to 325°F. In a large bowl (or bowl of a stand mixer using a paddle attachment), beat the mascarpone, cream cheese, and sugar on medium speed for 1 minute or until smooth.
Add in the vanilla and mix once more. Then add the eggs, mixing one at a time until combined.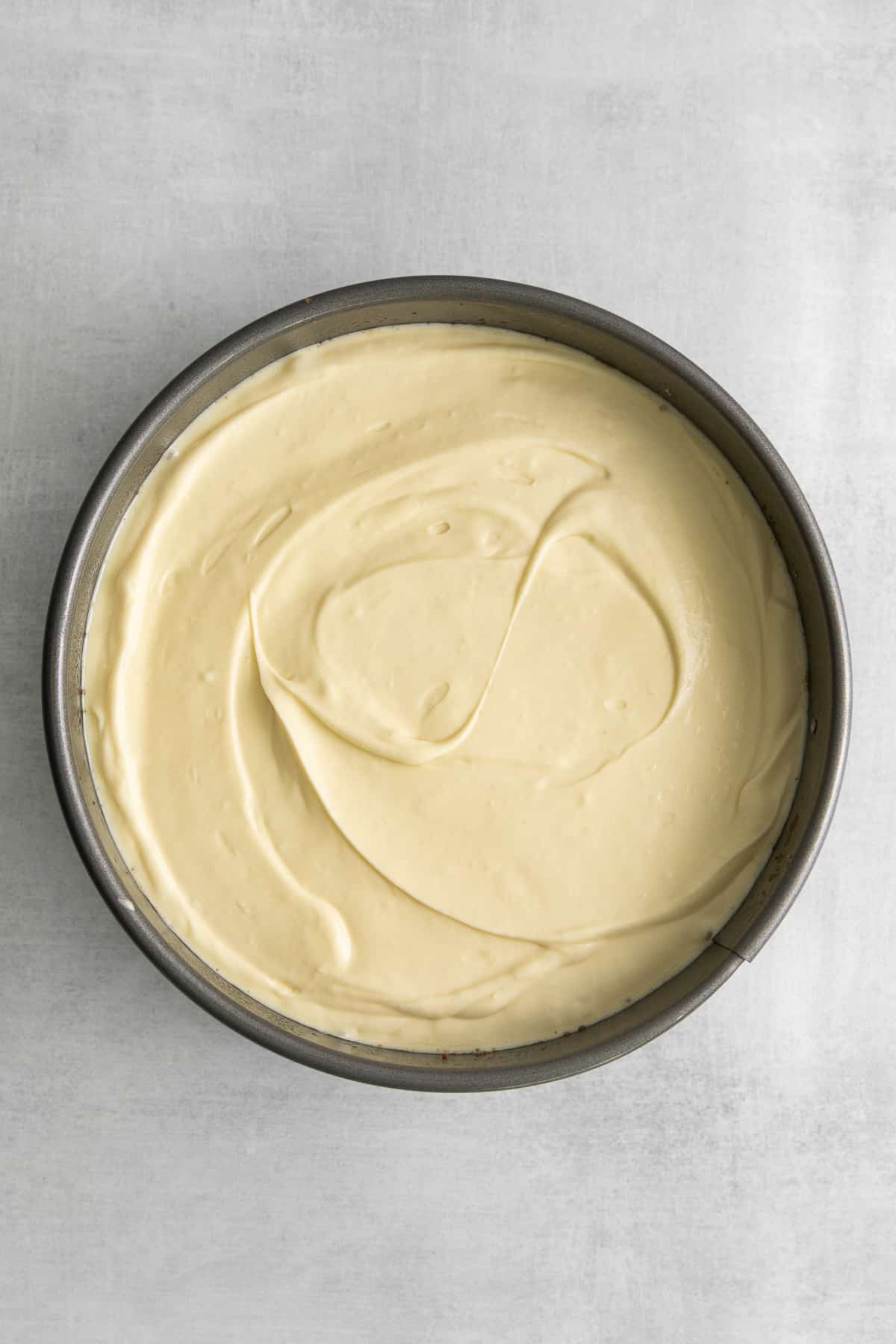 ASSEMBLE + BAKE
Pour the cheesecake filling on top of the cooled crust and place it on a sided baking sheet pan. Place the baking sheet on the middle rack in the oven and pour 1-inch of hot water into it.
Bake your mascarpone cheesecake for 55-60 minutes or until the edges are set and golden brown. Then turn off the oven, crack the door, and let it cook for about 1 hour.
Once cooled, transfer it to the fridge and allow it to cool for at least 6 hours. Cool overnight if possible for best results.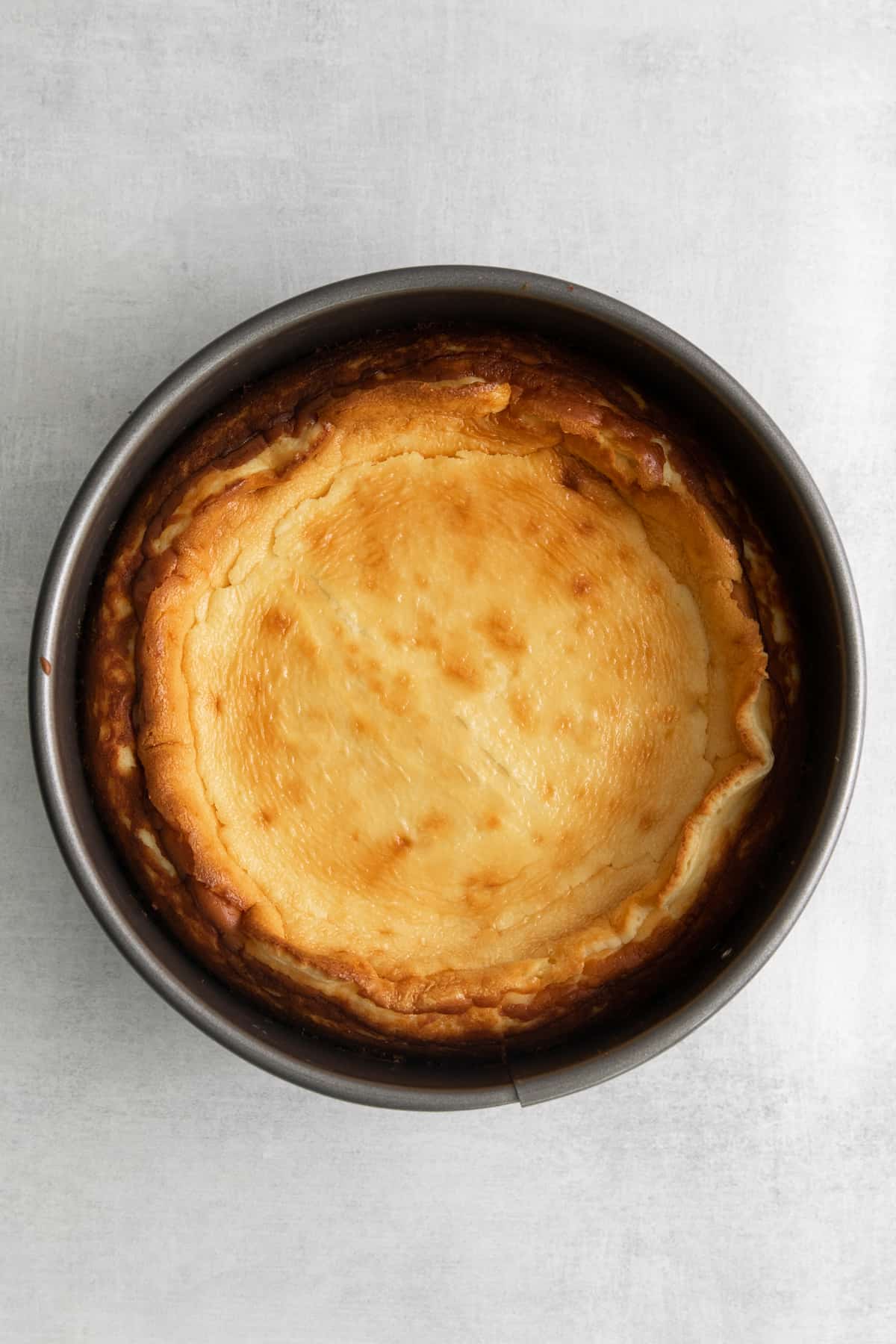 Make Caramel Topping, Assemble + enjoy!
Take the wrapper off of the can of sweetened condensed milk. Place the can into a large pot, covering it with water. Bring to a boil, and then reduce to a simmer for 3 hours.
Remove the can from the water and allow it to cool for 2-3 hours. Once cooled, take the lid off the can and stir until creamy.
Top cheesecake with the caramel sauce and remaining crushed Biscoff cookies. Slice & enjoy!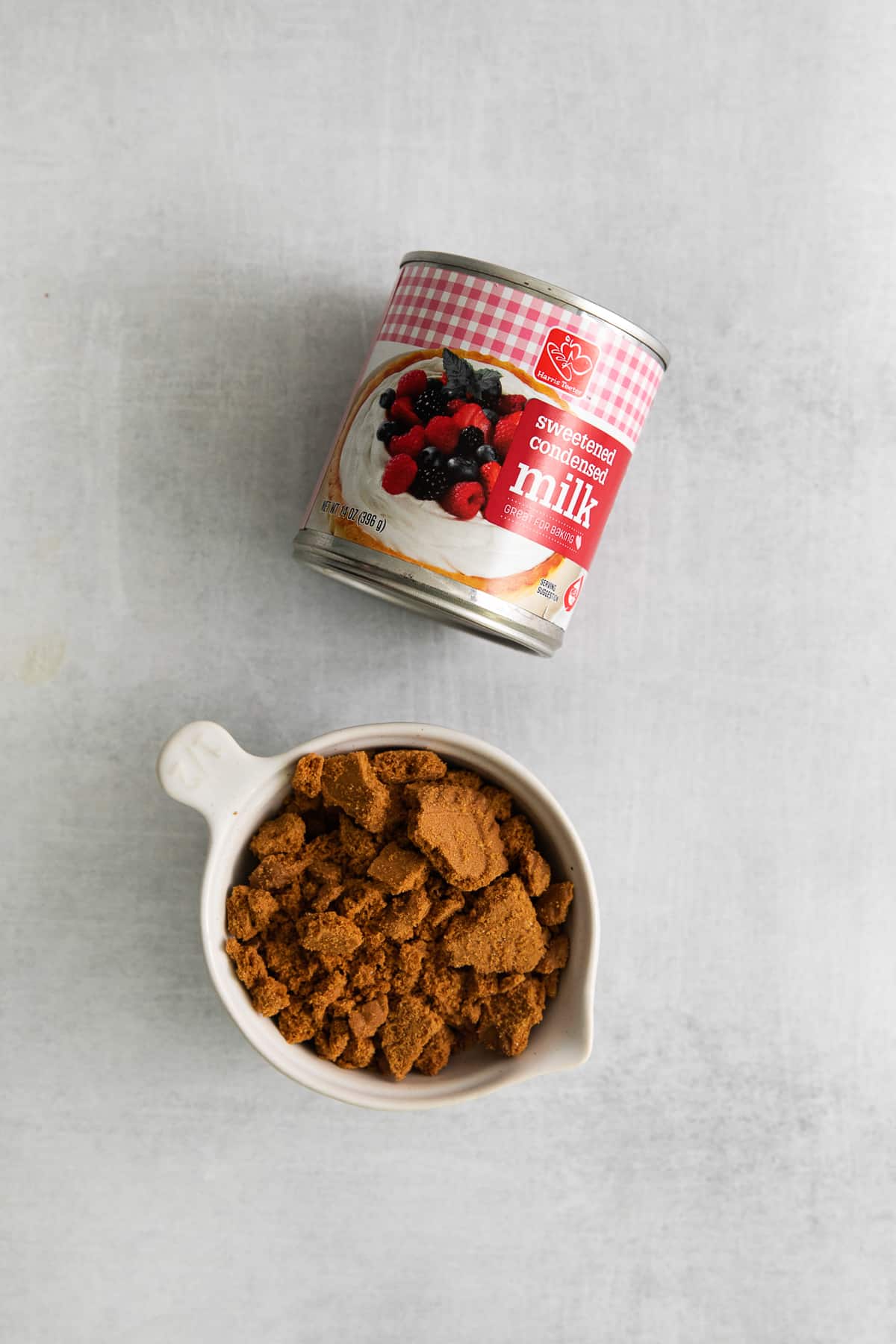 Top Tips for Perfect Cheesecake
Don't Over-Mix: a good rule of thumb when it comes to baking, in general, is not to over-mix, especially overbeat the eggs. This can cause cracking in your cheesecake.
Room Temperature Ingredients: Be sure your cream cheese and eggs are at room temperature to avoid any lumps when you mix the filling.
Slowly Cool: you'll notice we are taking precautions to slowly cool the cheesecake. Instead of immediately removing the cheesecake from the oven, crack the door open and let it continue to cook for 60 minutes before removing it.
FAQs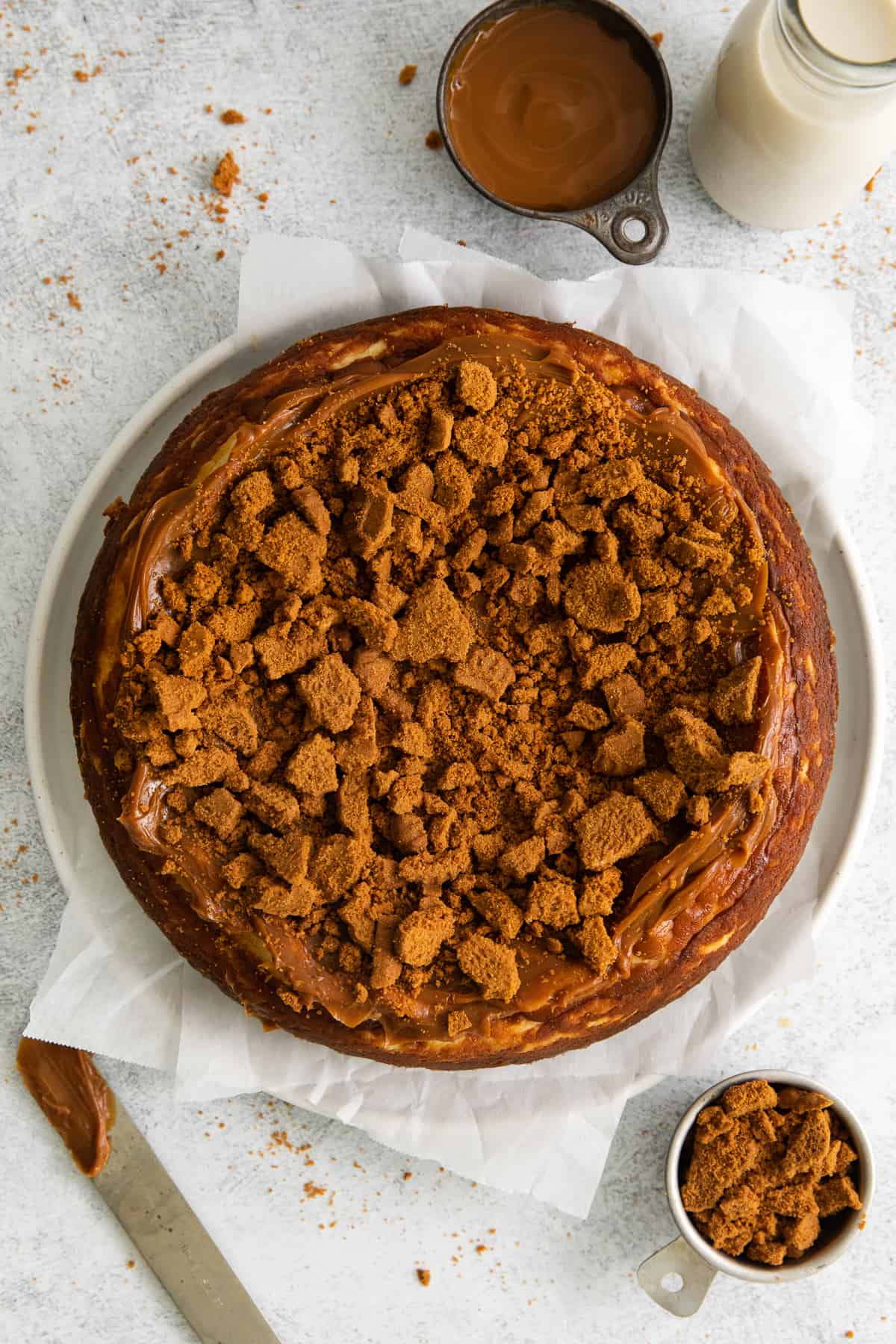 Storage
Store cheesecake in an airtight container (or covered) in the refrigerator for up to 3-5 days.
How to Freeze Cheesecake
Freezing a cheesecake is very simple! If you'd like to freeze your mascarpone cheesecake for later, let the cheesecake cool completely in a spring-form pan. Then, wrap the cheesecake (and springform pan) in plastic wrap and place it in the freezer for up to 3 months.
We recommend not freezing the caramel topping and waiting until right before serving to make the sauce.
To thaw the cheesecake, remove it from the freezer and let it thaw completely before topping and serving.