This Loaded Baked Potato Casserole transforms your favorite potato fixings into a comforting, all-in-one meal, featuring creamy cheese, sizzling bacon, and tender Russet potatoes.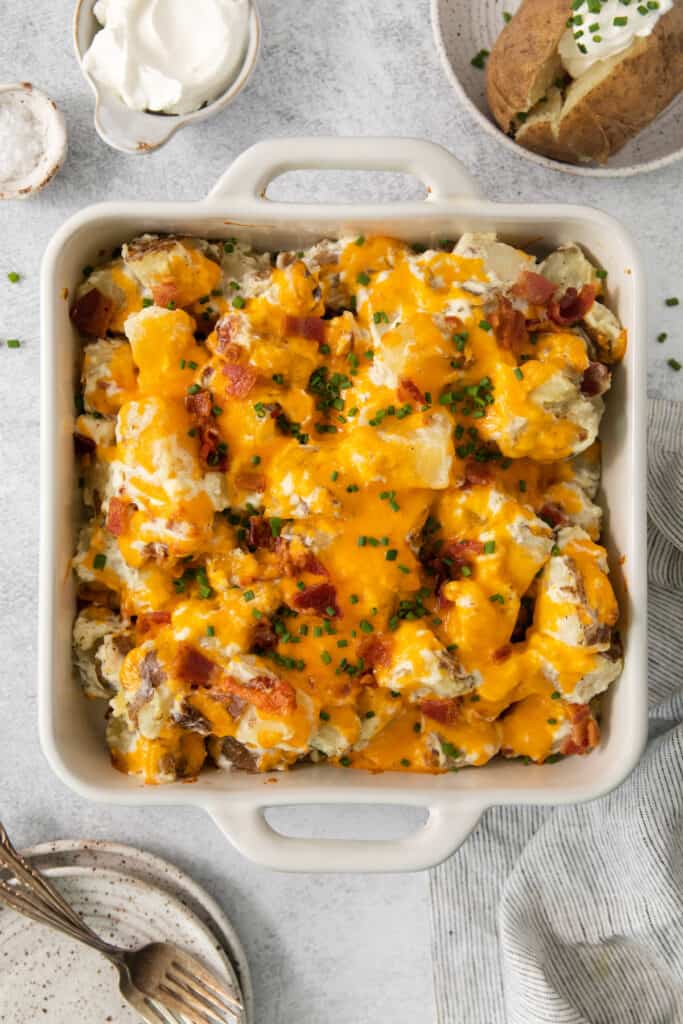 This Loaded Baked Potato Casserole is an absolute crowd-pleaser, bringing all your favorite baked potato toppings into one delightfully creamy, cheesy, and bacon-filled dish.
It's versatile, perfect for any occasion – from weeknight family dinners to special holiday meals. Plus, it's incredibly simple to make with common pantry ingredients. So why not make a meal that's as fun to assemble as it is to devour?
What is in This Loaded Baked Potato Casserole?
Russet Potatoes: They form the base of the casserole and give it a hearty, comforting feel. Their starchy texture makes the dish nice and fluffy after mashing, perfect for absorbing all the other flavors.
Bacon: Providing a deliciously smoky and savory touch, bacon brings a mouthwatering crunch to the casserole. It complements the creaminess of the dish and is scattered throughout and on top for maximum flavor impact.
Cream Cheese and Heavy Cream: These are responsible for the creamy, rich base that makes this casserole an indulgent treat. They blend smoothly with the potatoes and help meld all the flavors together.
Cheddar Cheese: Adding a tangy, rich, and gooey factor, cheddar cheese is used within and on top of the casserole, offering a beautiful golden crust and a wonderfully cheesy interior.
Green Onions: They bring a touch of freshness and a pop of color to the casserole. Their mild, slightly sharp flavor cuts through the richness of the dish, providing a nice balance.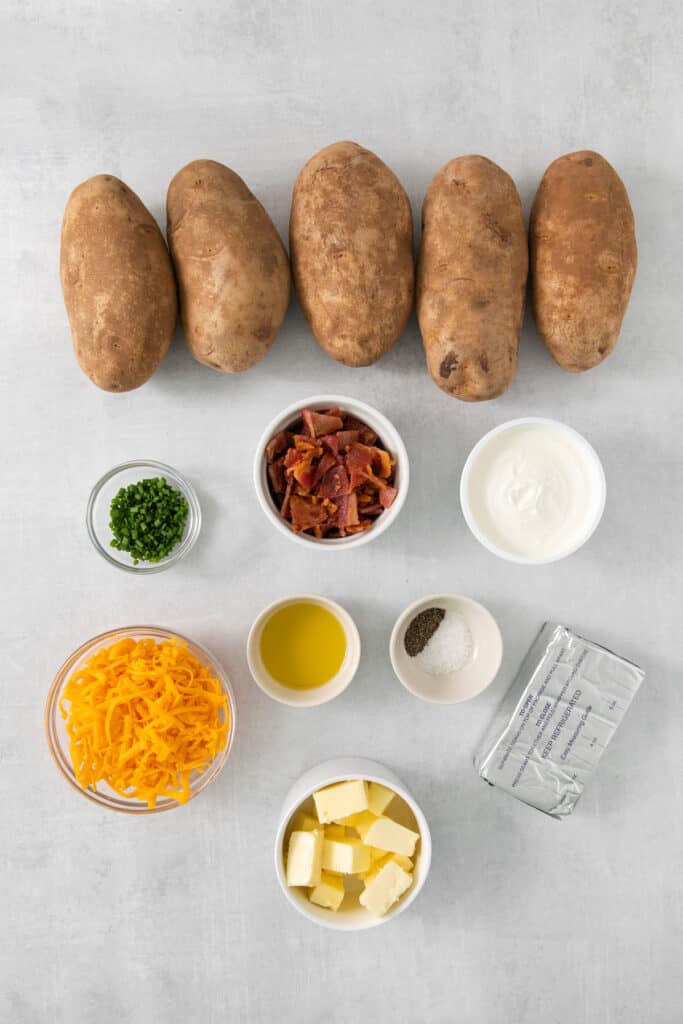 Substitutes & Variations
Different Potatoes: If you don't have Russet potatoes on hand, you can substitute them with Yukon gold or red potatoes. Remember to adjust the amount of cream accordingly, as different types of potatoes absorb liquid differently.
Vegetarian Version: For a vegetarian option, you can replace the bacon with a vegetarian-friendly ingredient like roasted mushrooms or smoked tofu to still get a nice, hearty umami flavor.
Cheese Variations: Although cheddar cheese is classic in a loaded baked potato, you could mix it up by using a different kind of cheese like smoked Gouda, Swiss, or even a mix of Monterey Jack and Colby for a different flavor profile.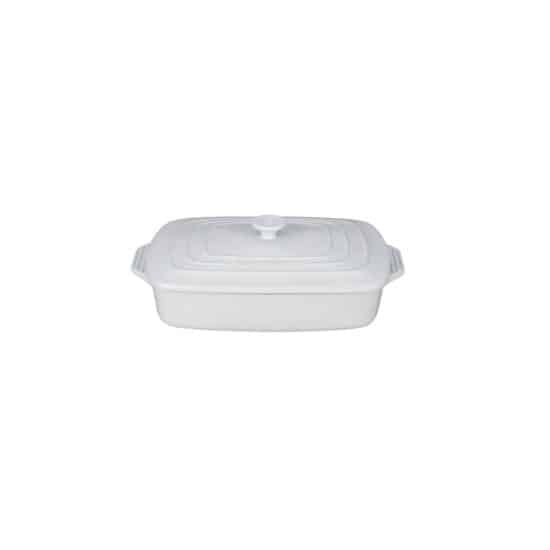 Our Favorite
Casserole Dish
This le creuset casserole dish is our all time favorite casserole dish! The white color rocks, it has a cover, and it's great for so many dishes.
Buy One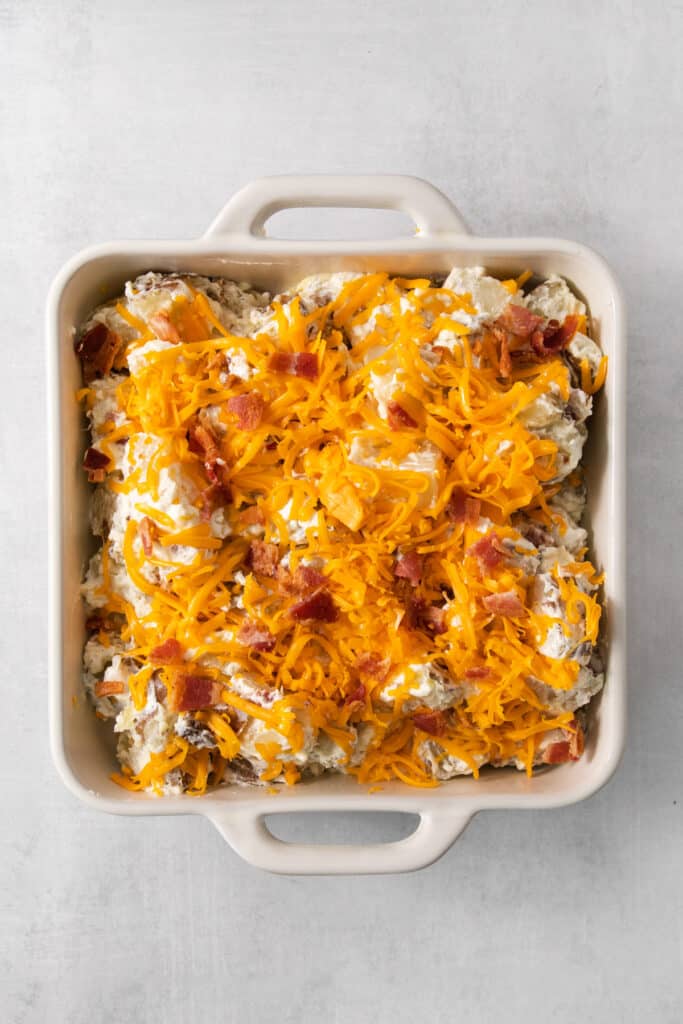 FAQs
Can I make this casserole ahead of time?

Yes, you can prepare the casserole up to the point of baking, cover it and store it in the fridge for up to one day in advance. When you're ready to serve, just pop it in the oven and bake. Note that you might need to add a few extra minutes to the baking time if it's coming straight from the fridge.
Can I use precooked bacon or bacon bits?

While fresh, homemade bacon offers the best flavor, pre-cooked bacon or bacon bits can be used in a pinch. Just be aware that pre-cooked options might not provide as much bacon flavor throughout the dish.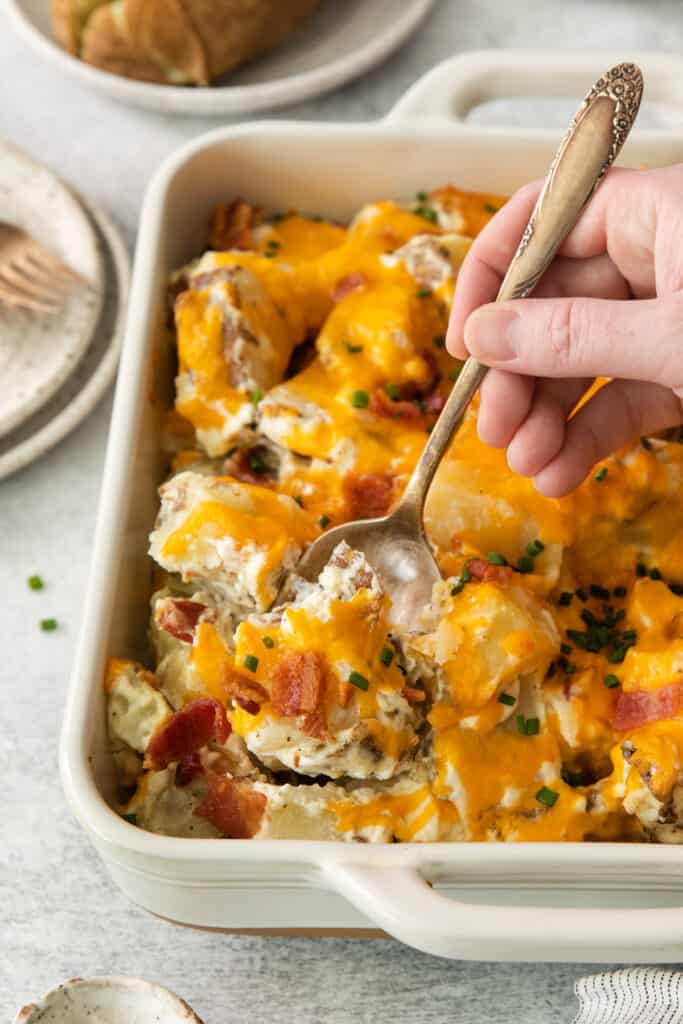 Storage
Store the Loaded Baked Potato Casserole in an airtight container in the refrigerator. It will keep well for up to 4-5 days. If you're planning on freezing it, make sure it's cooled completely
Freezer Directions
You can freeze the casserole either before or after baking. If frozen before baking, make sure to thaw it in the refrigerator overnight before popping it in the oven.
If freezing after baking, allow the casserole to cool completely before covering it tightly with plastic wrap and then foil and placing in the freezer. Properly stored, it will maintain its best quality for about 2-3 months in the freezer.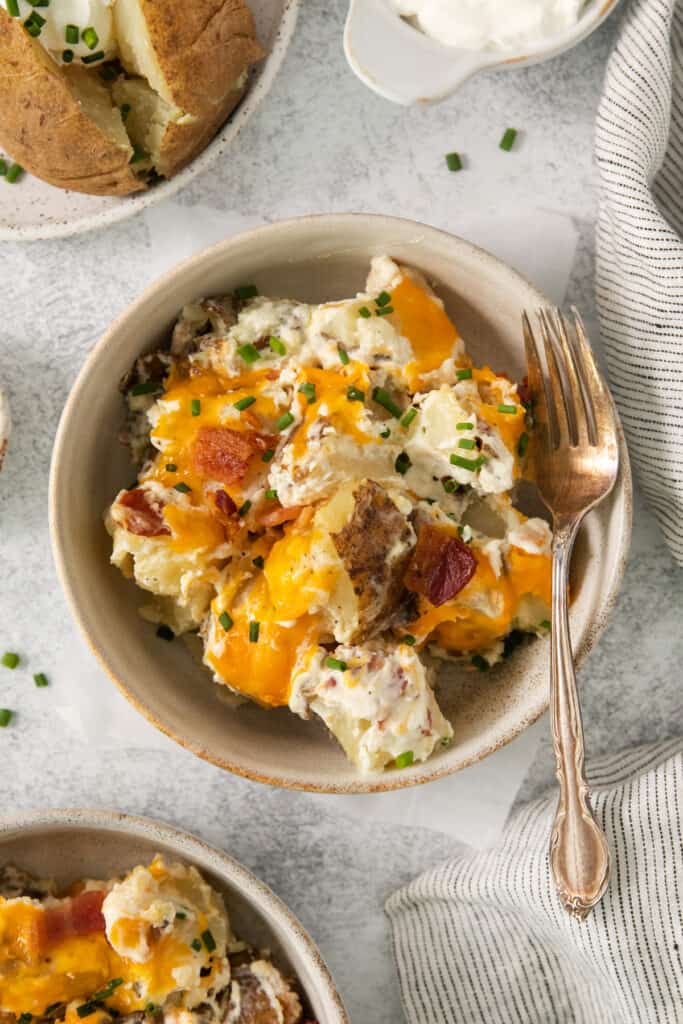 Serving Suggestions
This recipe is perfect for when serving a crowd or meal prepping for the week. Serve this potato casserole next to stuffed chicken breast, parmesan crusted pork chops, or stuffed turkey breast.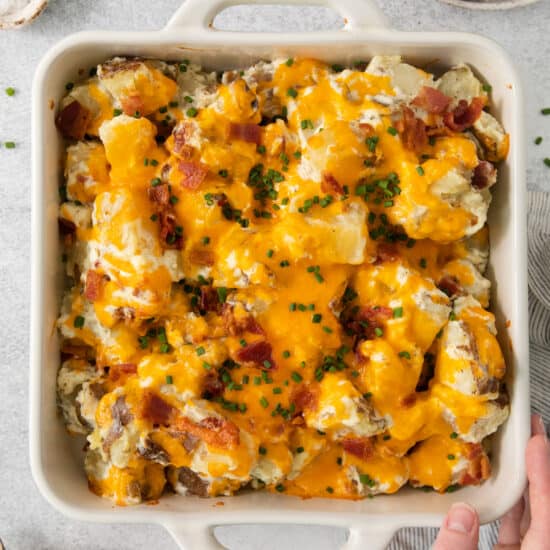 Loaded Baked Potato Casserole
Indulge in this Loaded Baked Potato Casserole, a heavenly combo of creamy potatoes, crispy bacon, melty cheese, and fresh green onions – the ultimate comfort food done right!
Ingredients
4

lbs.

Russet potatoes

peeled and cut into cubes

12

oz.

thick-cut bacon

~10 slices

8

oz.

cream cheese

¼

cup

unsalted butter

½

cup

heavy cream

1

teaspoon

salt

½

teaspoon

ground black pepper

½

teaspoon

paprika

8

oz.

shredded cheddar cheese

~2 cups

3

green onions

sliced thinly
Instructions
Preheat oven to 350℉ and spray a 9X13-inch baking dish with cooking spray. Set aside.

Add the potato cubes into a large pot and fill the pot with water until the potatoes are submerged. Bring the water to a boil and cook for 5-10 minutes, or until the potatoes are fork-tender. Strain and transfer back to the pot.

While the potatoes are cooking, cook the bacon in a skillet over medium heat. About 8 minutes. Remove from the skillet and place on paper towels to absorb the grease. Crumble or cut the bacon into small bite-sized pieces. Set aside.

Add the cream cheese, butter, cream, salt, pepper, and paprika to the potatoes. Smash the potatoes lightly to combine all of the ingredients. Be sure to keep some big chunks.

Fold in 1 cup of cheddar cheese and half of the bacon crumbles. Transfer to the baking dish and top with remaining cheese and bacon.

Bake for 20 minutes and remove from oven. Allow to rest for 10 minutes before serving.

Garnish with green onions and serve.
Tips & Notes
Any potato could be used in this recipe. If you use Yukon gold potatoes start with just ¼ cup of heavy cream.
To cook the bacon in the oven; heat the oven to 400℉ and line a baking sheet with tin foil. Then place a baking rack on the sheet. Place the bacon on the rack making sure the pieces are not touching. Bake for 15-20 minutes. Continue on to step 4.
Nutrition facts
Calories:
450
kcal
Carbohydrates:
30
g
Protein:
13
g
Fat:
32
g
Fiber:
2
g
Sugar:
2
g