Looking to make homemade fried cheese curds? Follow our super simple tutorial for this amazingly cheesy cheese curds recipe!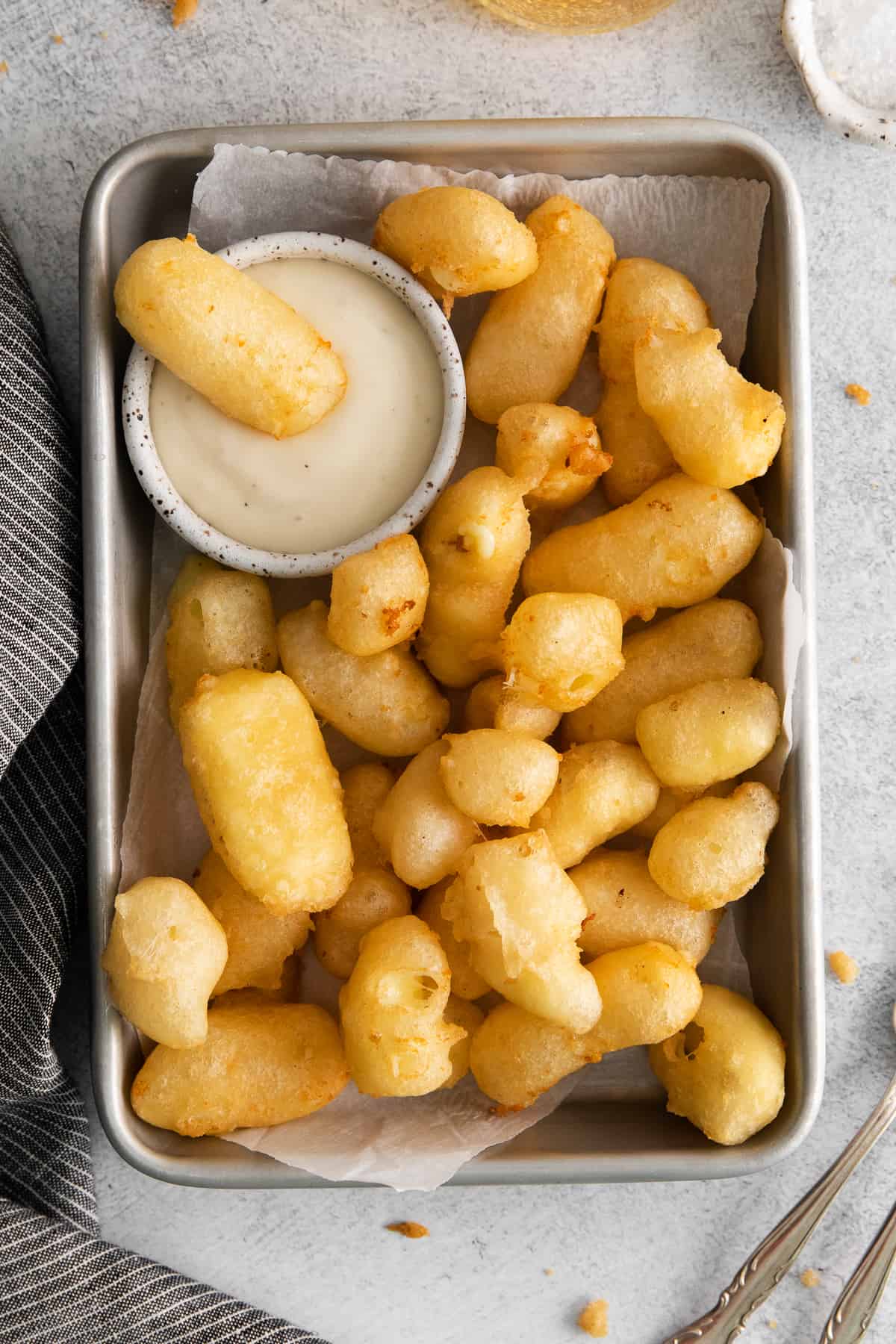 The majority of team Cheese Knees grew up in Wisconsin and we're here to tell you that cheese curds are life! We hope you love our classic beer-battered Wisconsin fried cheese curds recipe!
What are fried cheese curds?
Cheese curds are a staple cheese in Wisconsin. They are little pieces of curdled milk that are mild in flavor and can be purchased as normal cheese curds or deep-fried cheese curds.
Deep fried cheese curds are first battered in flour and then deep-fried to a melty perfection.
Why you'll love it!
Perfect for sharing
Better than fries
Easy to make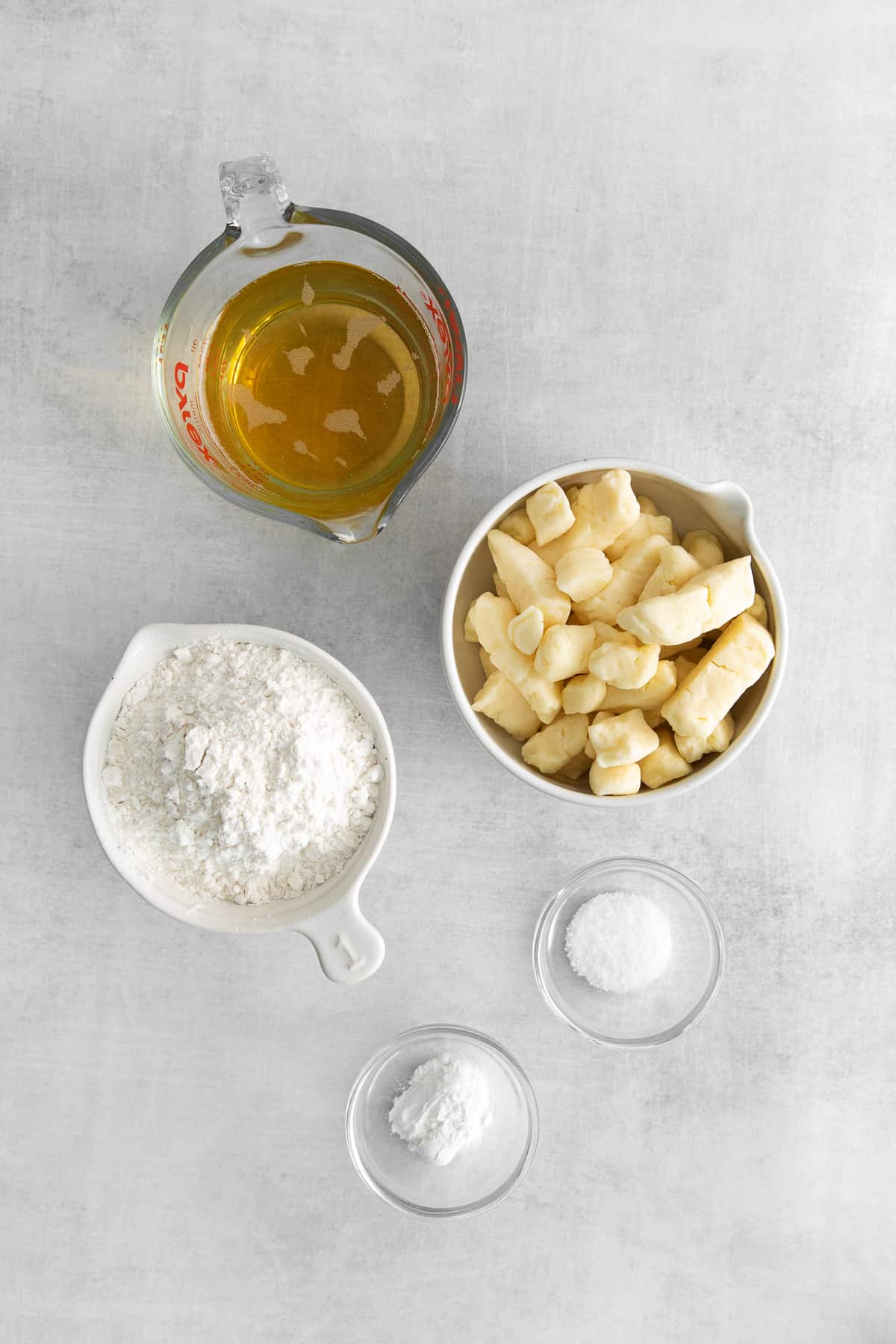 What You Need for this Cheese Curd Recipe
Cheese curds: this recipe makes 1 lb. cheese curds. We prefer a mild, white cheese curd for this recipe. Our favorite brand is Ellsworth cheese curds.
Flour: flour is needed so that you can batter the cheese curds before frying. We've only tested this recipe with all-purpose.
Light beer: beer-battered cheese curds are what dreams are made of. Any light beer will do!
Vegetable oil: vegetable oil is what's used for frying.
favorite storebought cheese curds
Our personal favorite cheese curds to use for homemade, deep fried cheese curds are Ellsworth Cheese Curds.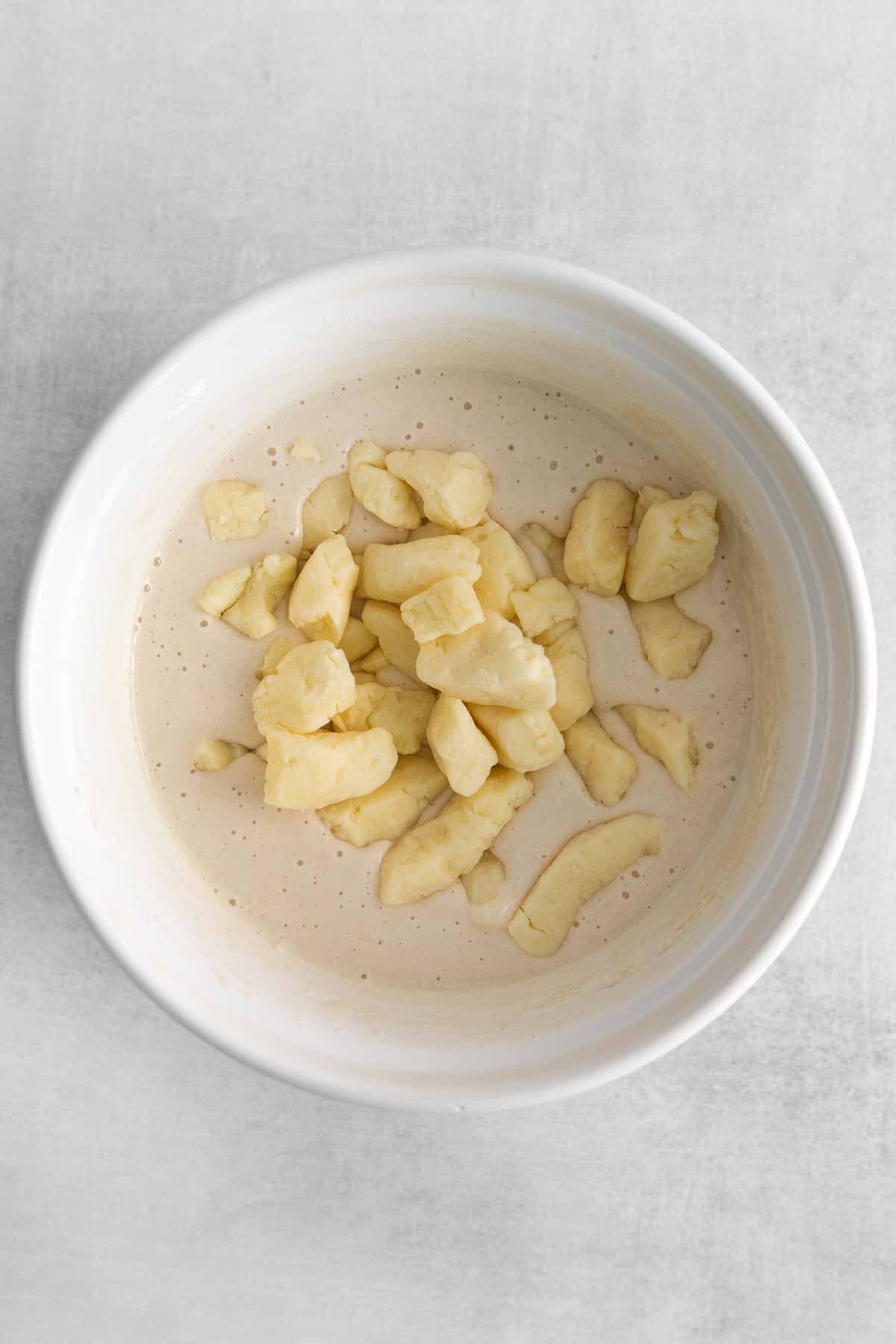 How to Make Cheese Curds
Make the cheese curd Batter
First, make your beer cheese curd batter. Combine flour, salt, baking powder, and beer until you have a thin pancake consistency.
Why use beer? we love the tang beer adds to the batter and the ode' to Wisconsin it gives these curds. Beef battered cheese curds > normal cheese curds, but feel free to swap for water.
Coat Cheese curds
Add the cheese curds to the beer batter and toss until coated.
Shake Off Batter
Use a strainer or sieve to shake off any excess batter.
Heat Oil to 375ºF
Heat vegetable oil in a 2-quart stock pot to 375ºF. Then,
Fry
Fry the cheese curds until they're golden brown.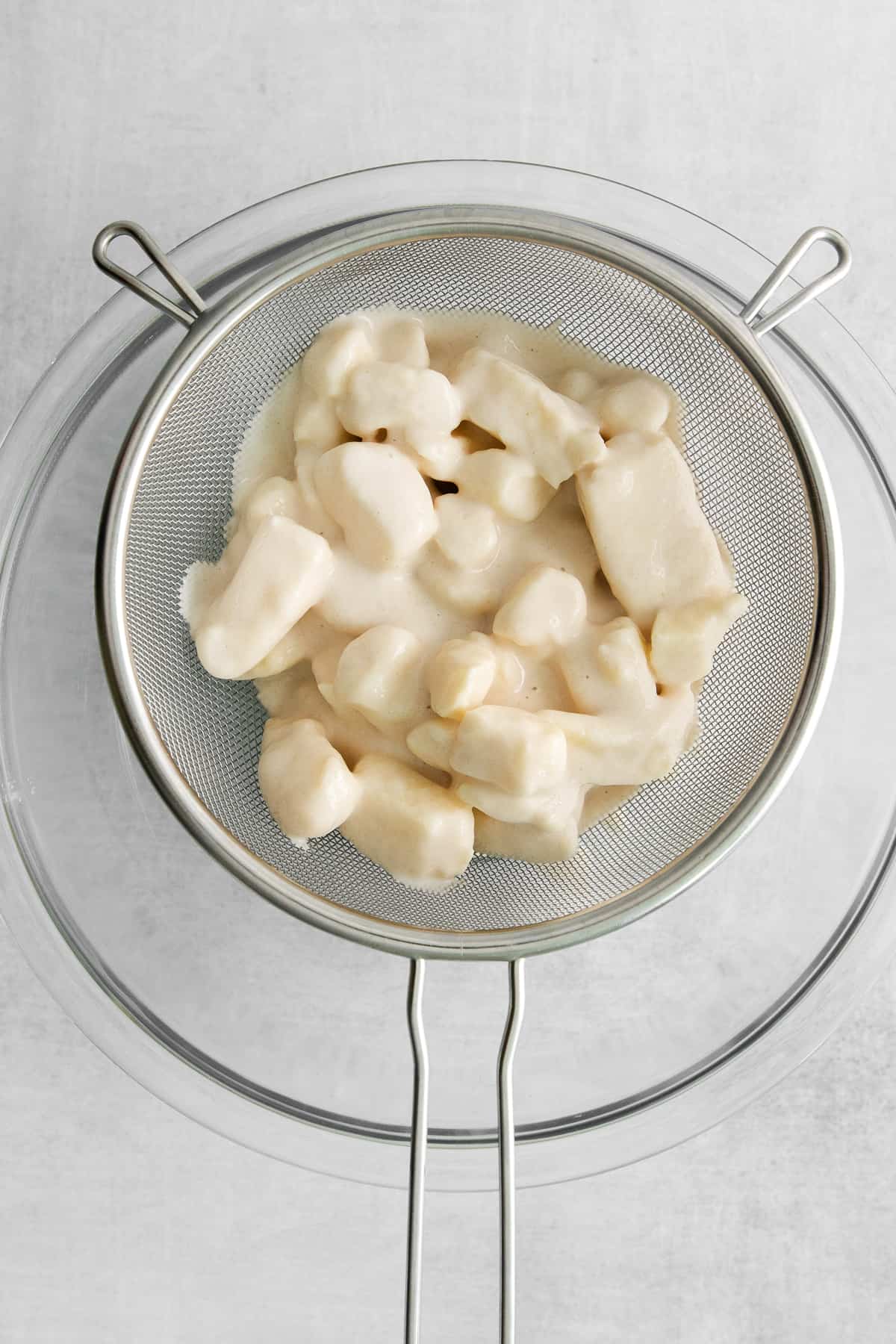 Dipping Suggestions
Cheese curds are pretty great on their own, but even better when dipped into something yummy. Here are our go-to's:
Ranch Dressing
Aoli
Green Goddess Dressing
Top the Tater
FAQ
What is cheese curds made of?
Cheese curds are made from small pieces of curdled milk. Most of the time they are cheddar.
Are cheese curds just chunks of cheese?
Cheese curds are chunks of young cheese that aren't pressed into a larger block of cheese.
How do you fry cheese curds without melting them?
Batter your cheese curds first and then fry them in oil at 375ºF just until the turn golden brown not to melt them.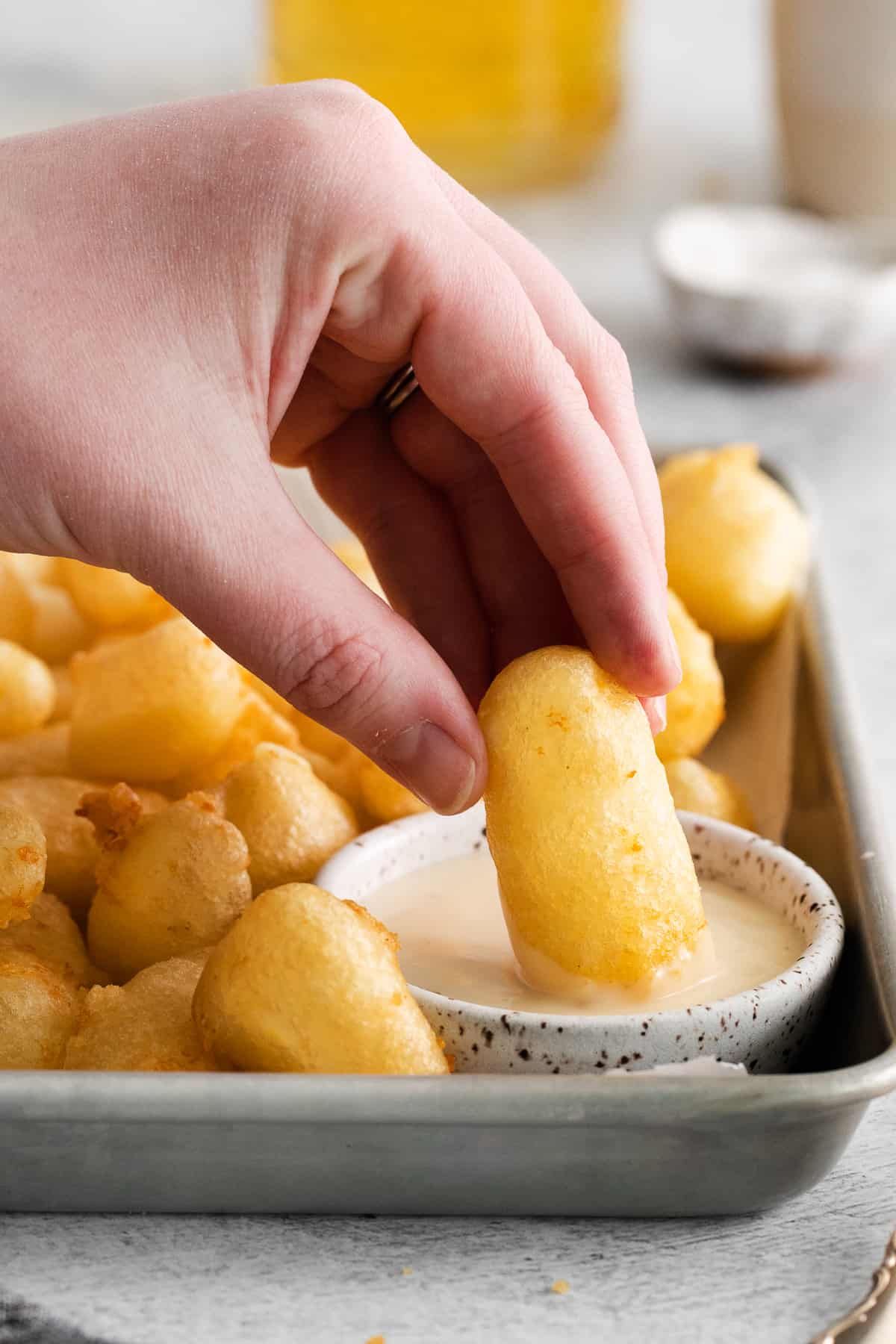 Storage
While we recommend eating fried cheese curds immediately, you can store leftover cheese curds in an airtight container in the fridge for up to 2 days.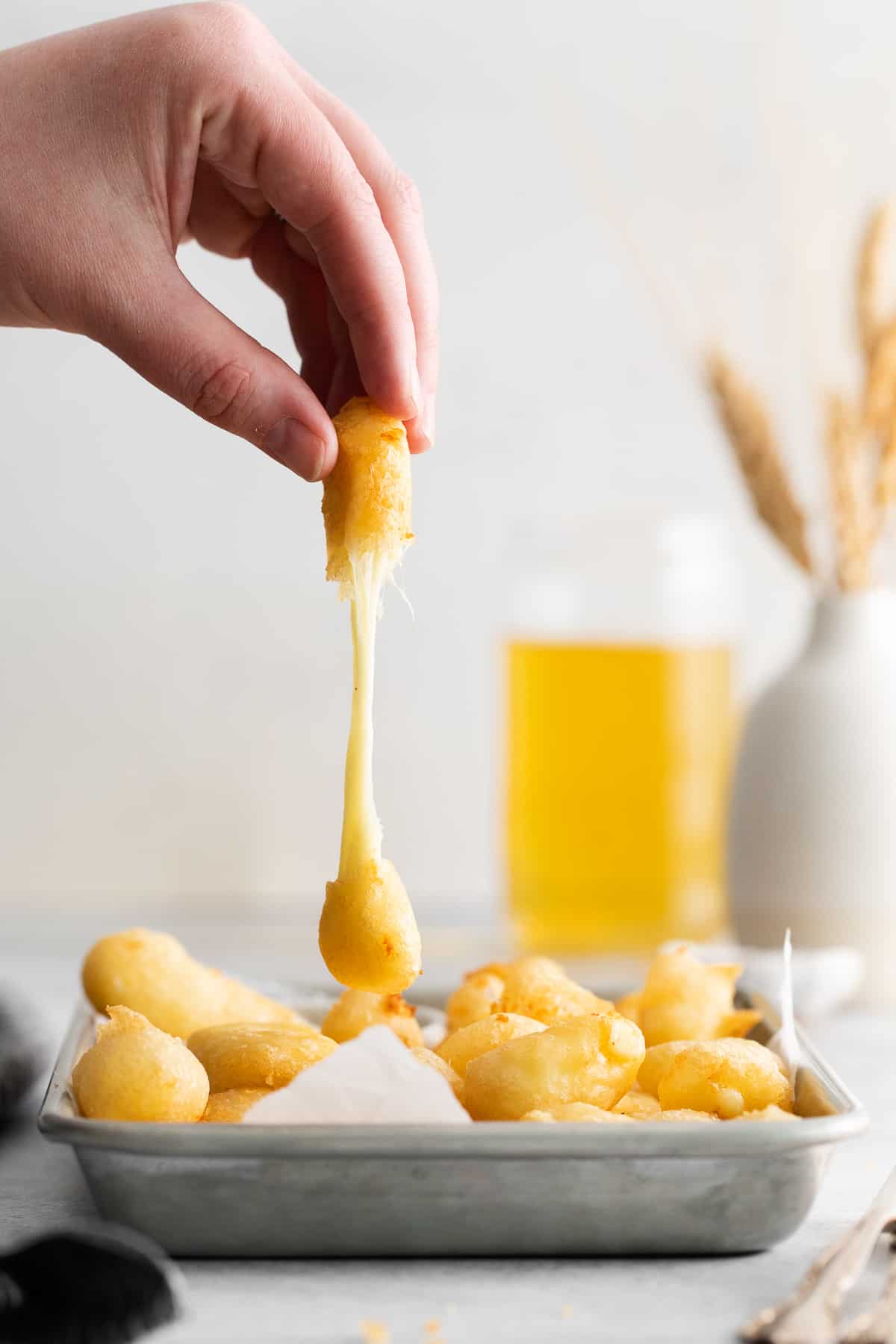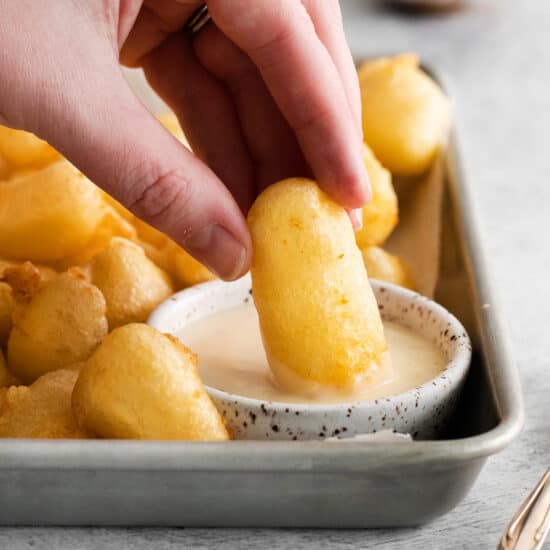 Fried Cheese Curds Recipe
Make homeamde fried cheese curds with just 6 ingredients! You'll love our take on Wisconisn beer-battered cheese curds.
Ingredients
1

cup

all-purpose flour

1.5

teaspoons

salt

1.5

teaspoons

baking powder

1

cup

light beer

1

lb.

fresh cheese curds

64

oz.

vegetable oil*
Instructions
In a large bowl, combine the flour, salt, and baking powder.

Slowly mix in the beer until you have a thin pancake batter consistency.

Add in the fresh cheese curds and toss so that they are completely covered by the batter.

Next, shake off extra batter from the cheese curds using a strainer.

Add the oil to a 2 quart stock pot. Using a candy thermometer, bring the temperature to 375℉.

Using a fork, add 1 or 2 cheese curds to the oil to test. Fry for about 1 minute. They should stay afloat once added to the oil. If they are not floating right away, using a clean fork or tongs loosen the curds from the bottom.

Cook 6 to 8 curds at a time. When the curds are golden brown, place them on a paper towel lined plate until ready to serve.
Tips & Notes
It is essential that there is enough oil in the pan when frying. If you do not have a 2-quart stock pot/saucepan then the oil will need to be adjusted up or down according to size.
Lots of recipes call for freezing cheese curds before you batter them. We did not need to do that.
Nutrition facts
Calories:
640
kcal
Carbohydrates:
25
g
Protein:
32
g
Fat:
44
g
Fiber:
1
g
Sugar:
0.1
g