These delicious hasselback potatoes are ultra creamy, filled with oozy cheddar cheese, and have the BEST crispy exterior.
After one bite, you won't want to eat your baked potatoes any other way!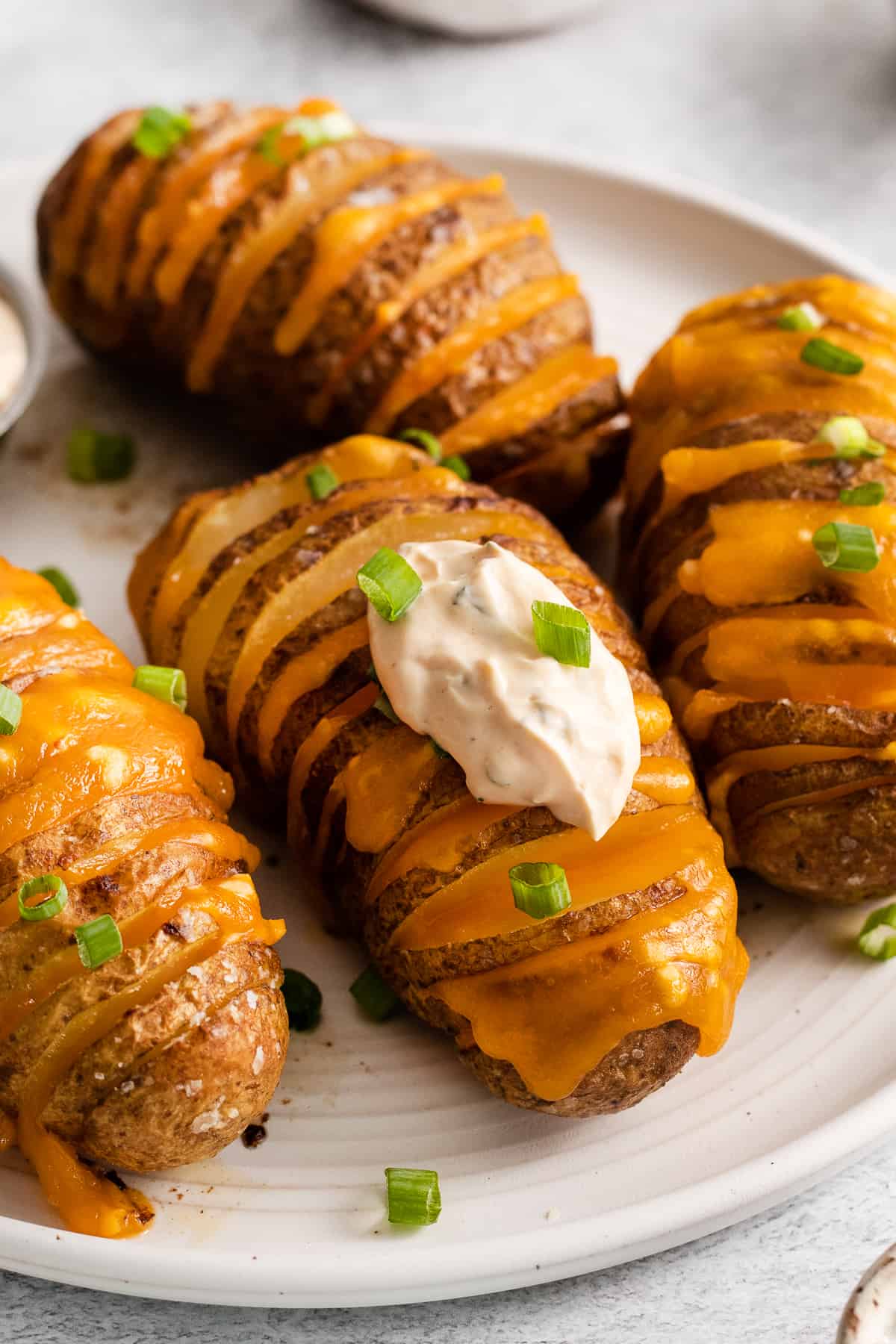 Cheesy, Crispy Hasselback Potatoes
These impressive looking potatoes may look intimidating at first glance, but trust me when I say: these pretty boys are SO easy to make! Even better, this recipe includes a quicker, easier air fryer method that tastes just as delicious.
Serve these scrumptious beauties at your next dinner party, and I guarantee that this tasty side dish will be turning heads!
But don't get it twisted, these hasselback potatoes aren't just all looks, they taste FANTASTIC. Gooey cheese, crispy skins, and a soft creamy, potatoey inside… how could you not fall in love!?
why you'll love 'em!
This hasselback method makes for the most impressive side dish and will undoubtedly be crispiest potatoes you've ever had!
You can make these potatoes your own by adding a variety of your favorite toppings.
There are two ways you can make this hasselback potatoes recipe: in the oven or in the air fryer!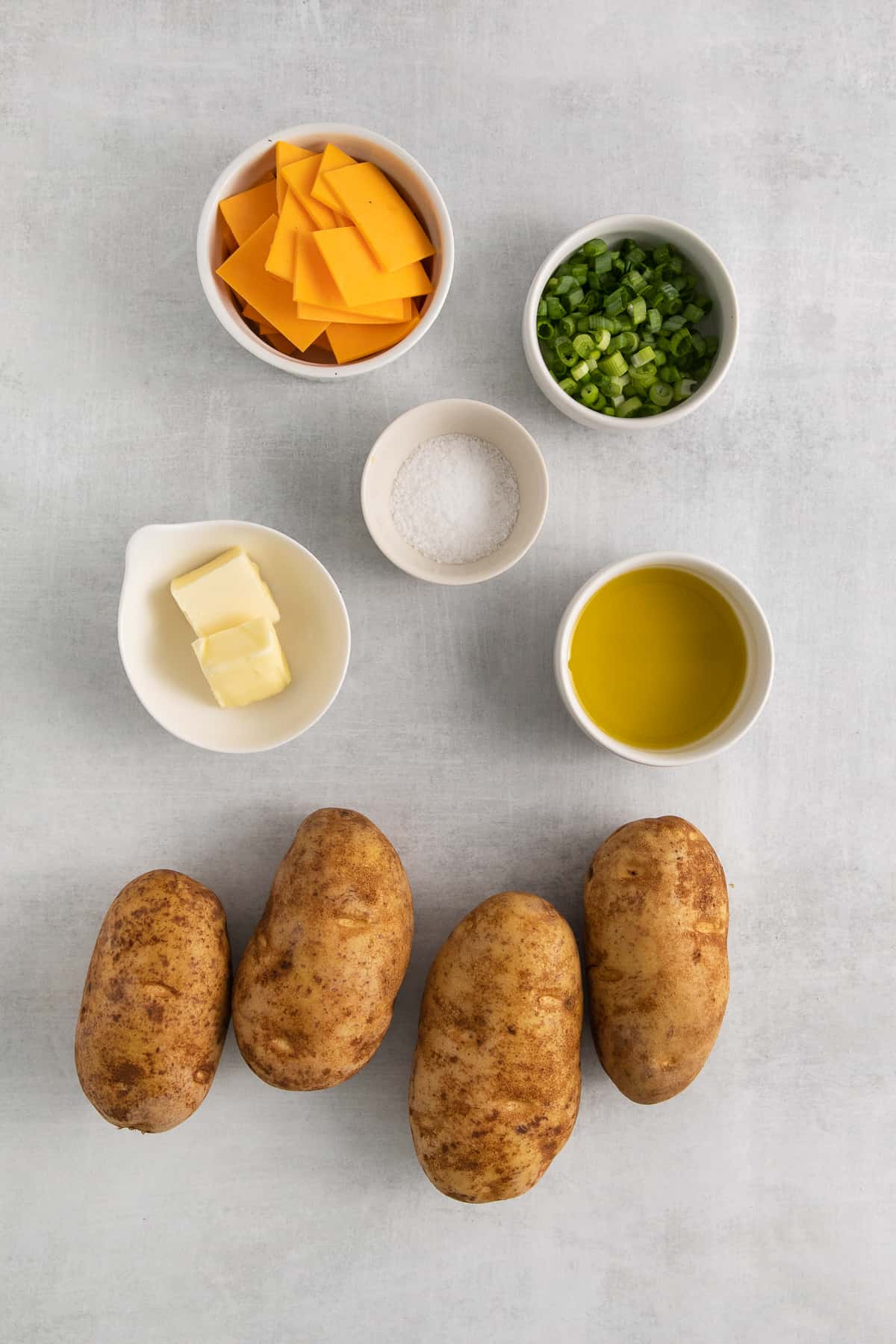 Featured Ingredients
Russet potatoes: make for the best hasselback potatoes because they are the perfect size and bake nice and crispy.
Butter: brushing on loads of melted butter will make your hasselback potatoes crispier and all the more flavorful.
Cheddar cheese: cheddar cheese is what really makes this recipe special. It melts beautifully in between the potatoes and adds a delightful flavor and crunch.
Green onions: add a pungent, oniony taste that compliments well with the seasoned sour cream and potatoes.
Sour cream: sour cream and potatoes are a match made in heaven! It balances out the savory flavor of the potatoes and adds a dreamy, creamy layer you won't want to miss.
Lawry's seasoning: there is no seasoning that goes better with potatoes than Lawry's seasoning salt!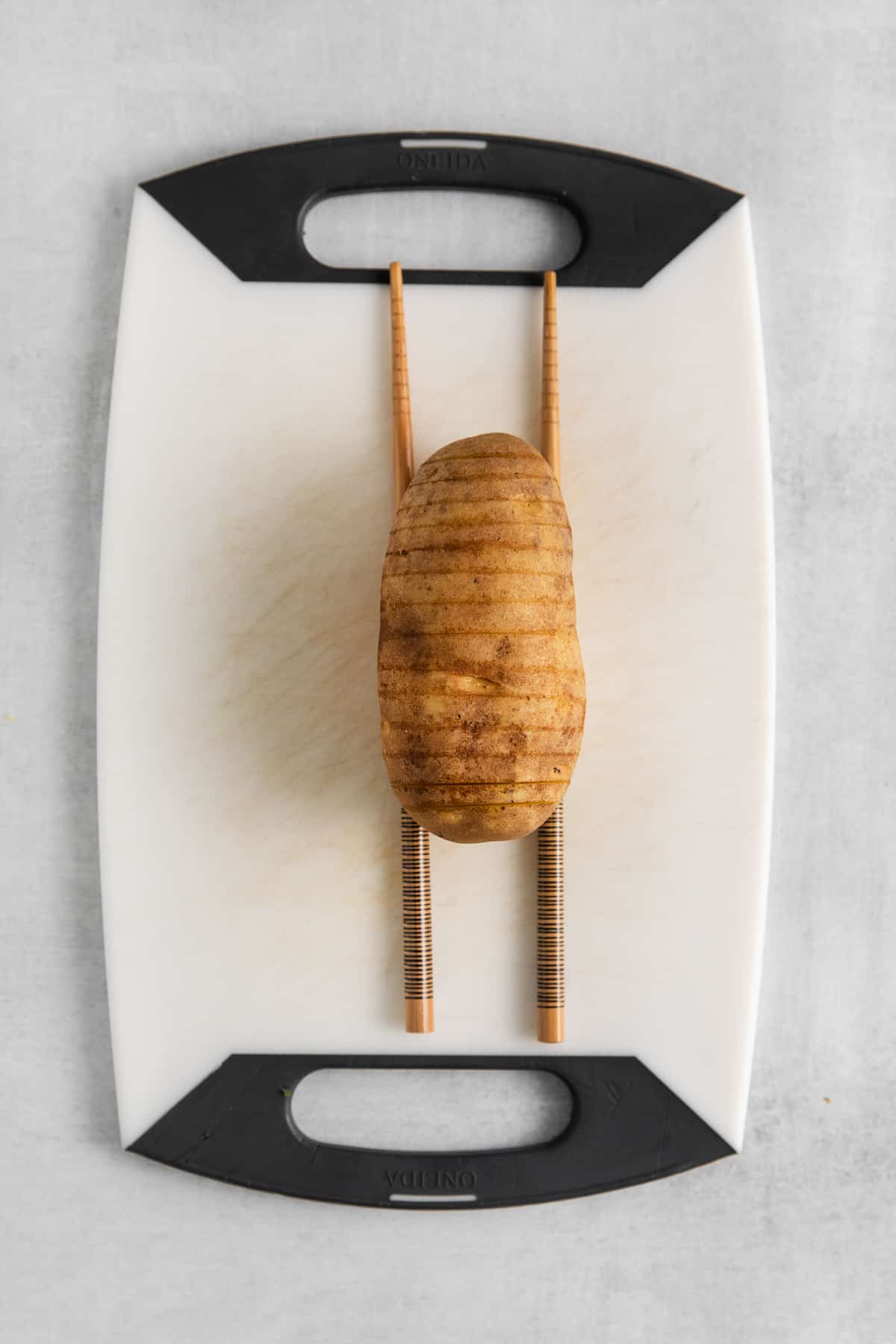 Toppings for Hasselback Potatoes
There are a variety of other fun and delicious toppings to add or swap out to make these hasselback potatoes your own! Here are a few other tasty toppings you can try:
diced tomatoes
chili
minced ham
bacon crumbles
cheese sauce
cream cheese
salsa
jalapeños
How to Make Hasselback Potatoes
PREHEAT OVEN
Preheat the oven to 450°F and spray a baking sheet with cooking spray.
SLICE POTATOES
Grab a pair of chopsticks and one of your potatoes. Position your potato so that it sits as flat as possible on your cutting board.
Next, place the chopsticks lengthwise on each side of your potato and slice in ¼-inch slices, stopping when the blade hits the chopsticks. Repeat this process for all of your potatoes, then transfer them to your baking sheet.
Quick Tip: If your potatoes are struggling to sit flat, slice a small portion off of one side of the potato to create a flat bottom. This will make it easier and safer for cutting.
BRUSH + BAKE
Mix olive oil, melted butter, and kosher salt in a small bowl. Then brush each potato generously with the butter mixture.
Place the potatoes in the oven and bake for 45-60 minutes.
ADD CHEESE
While the potatoes are baking, cut your cheese into 6's so that they are 1″ x 1″.
Once the potatoes are done cooking, remove them from the oven and add a slice of cheese into each crevice. Place the potatoes back into the oven for approx. 2 minutes to allow the cheese to melt.
MAKE SEASONED SOUR CREAM
In a small bowl, mix together the sour cream, mayonnaise, Worcestershire sauce, Lawry's seasoning, dried parsley, and lemon juice.
SERVE + ENJOY
Now you're at the best part: adding your tasty toppings and digging in!
Serve your cheesy hasselback potatoes by topping with your desired amount of sour cream and green onion slices. Enjoy!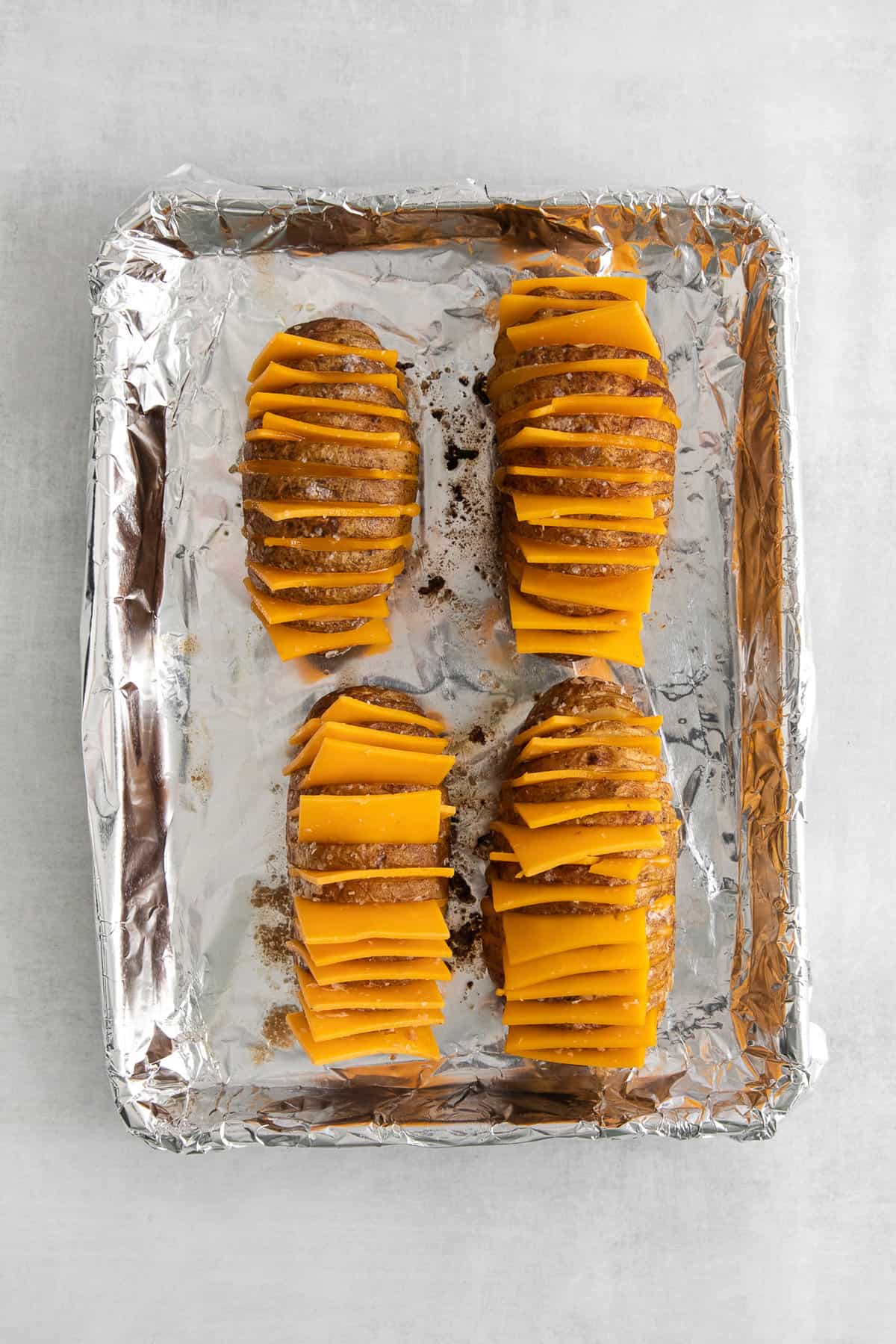 Top Tips for Perfect Hasselback Potatoes
Be sure to properly clean your potatoes to remove any bacteria or contaminants. Do this by rinsing them under water and scrubbing them with a brush until there's no visible dirt. You can also use a paring knife or peeler to remove any growing potato sprouts. Finish by patting them dry with a paper towel.
Soak your sliced potatoes for a few hours in a bowl of water with a little white vinegar for even crispier potatoes! The vinegar water draws out the starch, making them come out ultra crispy.
Use potatoes that are roughly the same size. This way, they'll all cook at the same time and have a consistent color and crispness.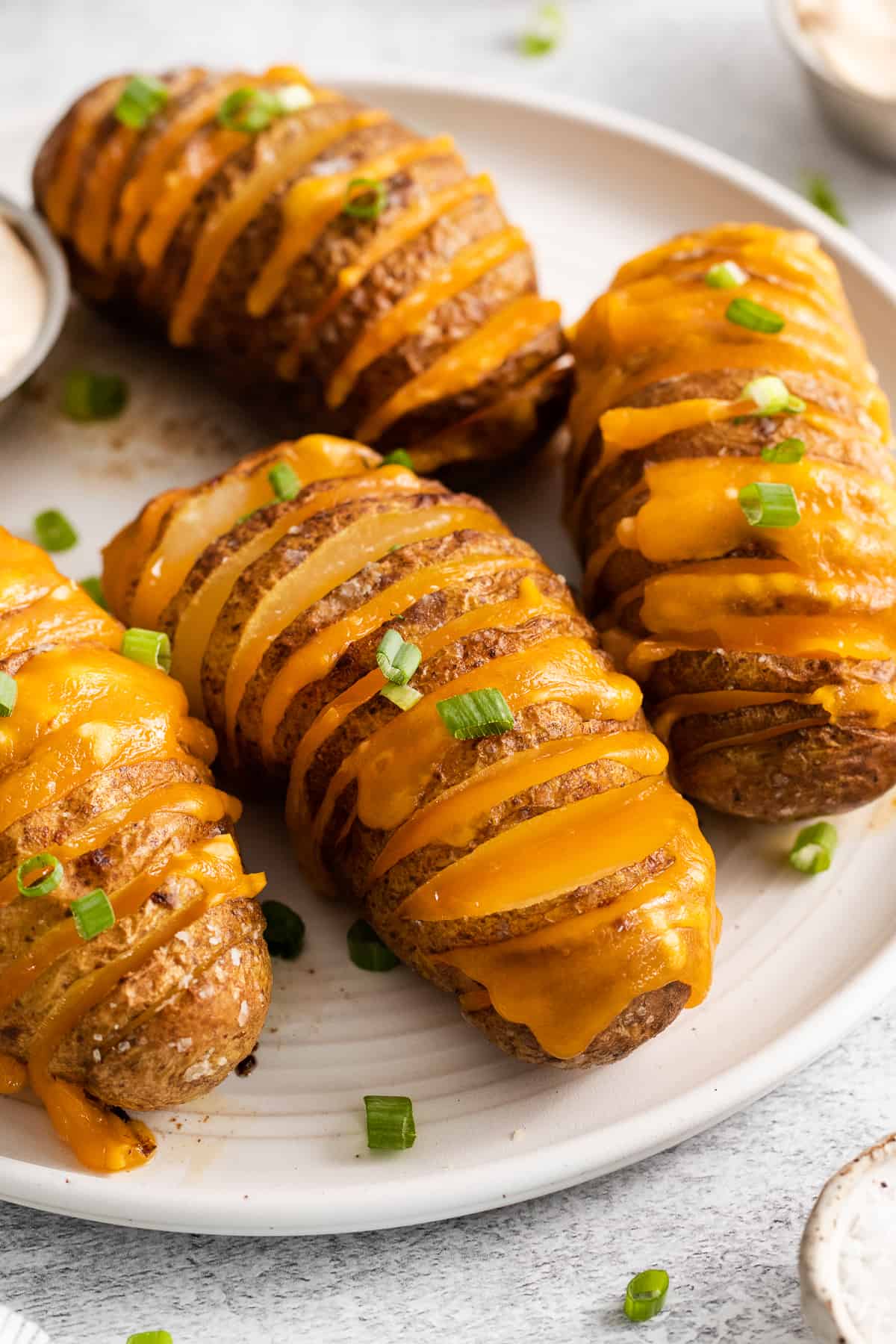 FAQs
Why are they called hasselback potatoes?

The name hasselback potatoes originates from a restaurant in Sweden where the cutting technique was created in the 1940s.
What is the hasselback technique?

Hasselbacking is when you slice potatoes or other vegetables almost all the way through which creates additional surface area for stuffing or topping. It also adds a nice flair.
Storage
Allow the hasselback potatoes to cool and place them in an airtight container. Store them in the fridge for up to 5 days or in the freezer for up to 3 months.
Reheat instructions: to reheat your hasselback potatoes, place them on a baking sheet in the oven at 425°F for 10 minutes, or for about 20-25 minutes from frozen.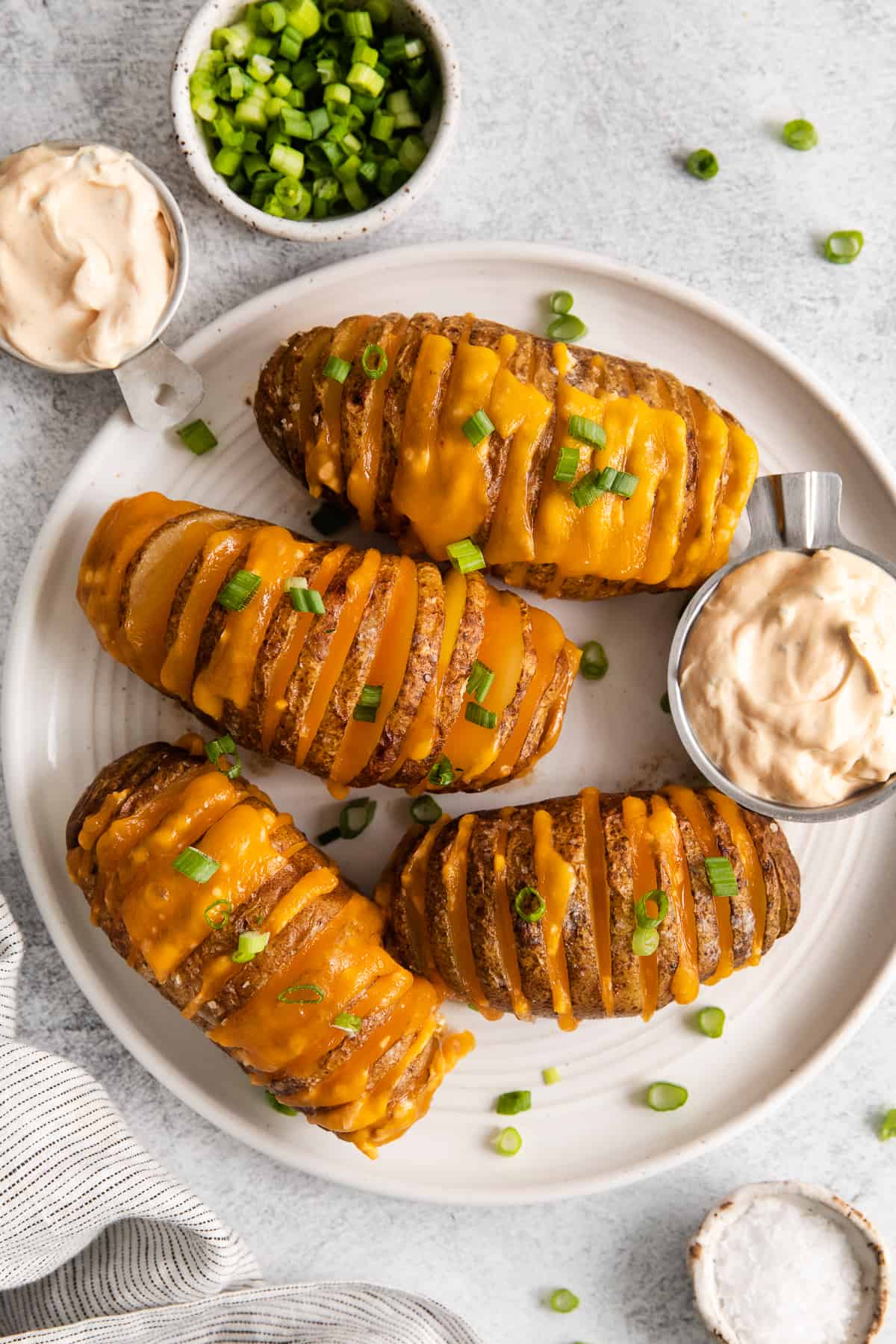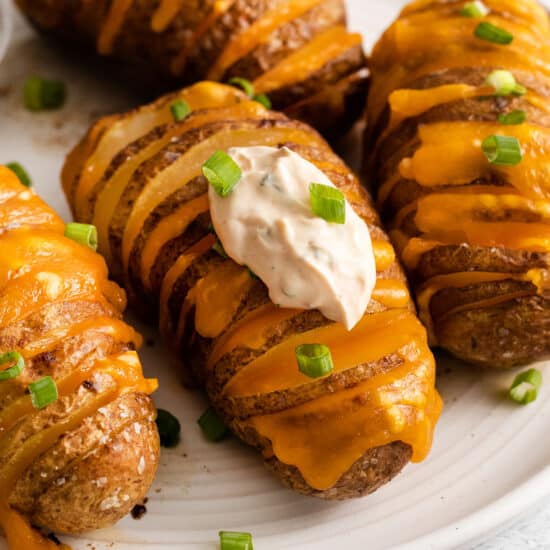 Cheesy Hasselback Potatoes
These baked hasselback potatoes are ultra creamy, filled with oozy cheddar cheese, and have the BEST crispy exterior. Enjoy!
Ingredients
4

large russet potatoes

washed and dried

2

tablespoons

olive oil

2

tablespoons

melted unsalted butter

2

teaspoons

kosher salt

8

slices

cheddar cheese

cut into 1inch x 1 inch squares (~6 each)

3

green onions

thinly sliced
Seasoned Sour Cream
½

cup

sour cream

½

cup

mayonnaise

½

teaspoon

Worcestershire sauce

1.5

teaspoons

Lawry's seasoning

1

teaspoon

dried parsley

1

teaspoon

lemon juice
Instructions
Preheat oven to 450℉ and spray a baking sheet with cooking spray. Set aside.

Place a chopstick on both sides of each potato. Slice the potato making ¼-inch slices stopping at the chopsticks, being careful not to go all the way through to the bottom. Transfer to a baking sheet.

Add the olive oil, melted butter, and kosher salt to a small bowl. Brush each potato heavily with the butter mixture. Bake for 45-60 minutes.

Cut the slices of cheese into 6's, about 1inch x 1 inch. When the potatoes are done, remove them from the oven and add a slice of cheese into each slice of the potatoes. Place the baking sheet back into the oven to melt the cheese — about 2 minutes.

To make the seasoned sour cream add all of the ingredients to a small bowl. Mix and serve.

Serve the potatoes by topping with a generous tablespoon of seasoned sour cream and green onion slices.
Tips & Notes
Air Fryer Instructions: spray the air fryer basket with cooking spray. Place the potatoes into the basket and air fry at 350℉ for 25-30 minutes. Add slices of cheese into the slices and air fry for an additional 1-2 minutes.
While this recipe calls for chopsticks we can confirm that metal reusable straws and knives with thick handles can also do the trick. Either way, it is important to not push down very hard so that the knife isn't damaged and the chopsticks aren't broken.
Nutrition facts
Calories:
670
kcal
Carbohydrates:
42
g
Protein:
14
g
Fat:
51
g
Fiber:
3
g
Sugar:
3
g