These cream cheese caramel apple cookies are a unique fall treat you never knew you needed. The soft cookies are filled with shredded apples, topped with caramels and a sweet cream cheese frosting, then garnished with green apple chunks for good measure.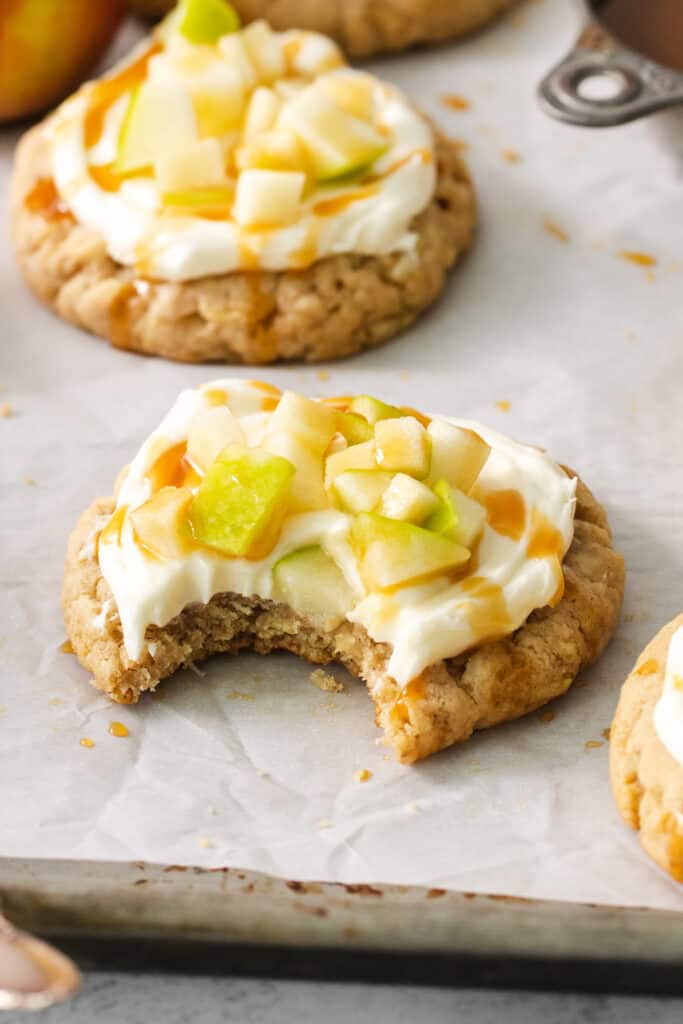 Apples, cinnamon, caramel, and cream cheese? Yes, please! You haven't had a fall cookie quite like this. The shredded apples inside and cream cheese layer on top will make this delicious recipe everyone's favorite fall dessert.
Now this apple cookie recipe may look impressive and complex, but it's not as complicated as it looks. Just add the shredded apples to your cookie dough, bake, and add your toppings.
What's in Cream Cheese Caramel Apple Cookies
Light brown sugar: brown sugar and apples are a match made in dessert heaven.
Spices: we used cinnamon and nutmeg, the classic fall spices.
Shredded apples: shredded apples add a whole new element of flavor and texture to these cookies.
Kraft caramels: caramel takes the decadence of these cookies to a whole new level.
Cream cheese: the rich and tangy flavor of cream cheese makes for the perfect frosting.
Green apples: a diced green apple topping adds even more texture and apple flavor.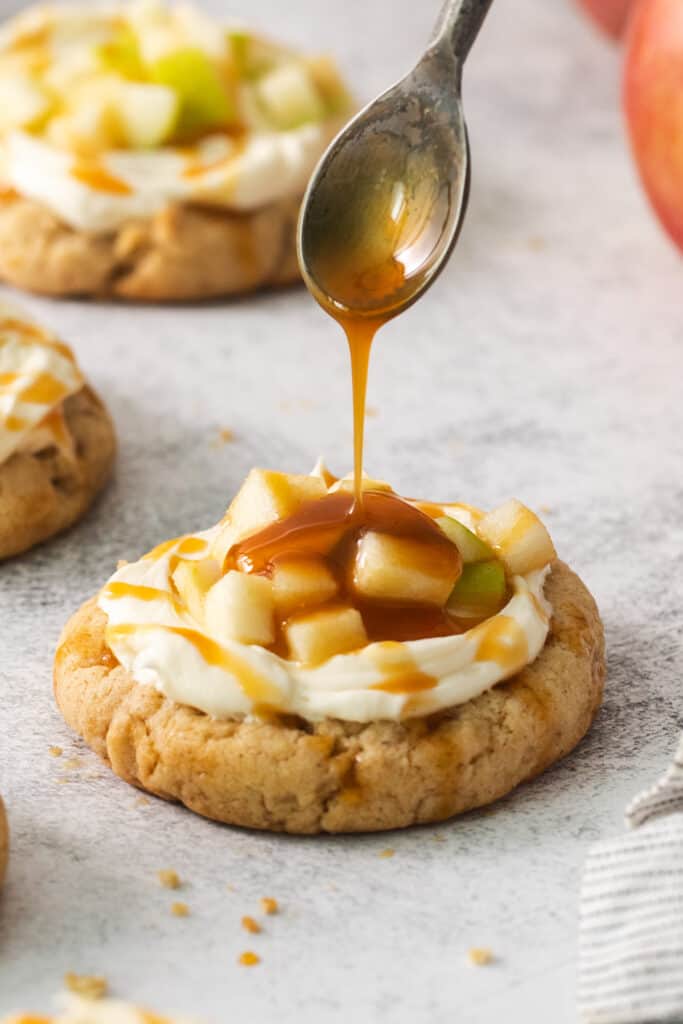 What You Need to Make 'Em
Stand mixer: having a stand mixer makes mixing your dough that much easier. If you don't have one, whisk thoroughly.
Tea towel or Cheesecloth: this helps to drain all the moisture out of the shredded apples to prevent soggy cookies.
1.5-tablespoon scoop: ​if you don't have this, using a regular spoon works! Just make sure each dough ball is the same size.
Hand mixer: you'll need this to make the cream cheese frosting a silky smooth consistency.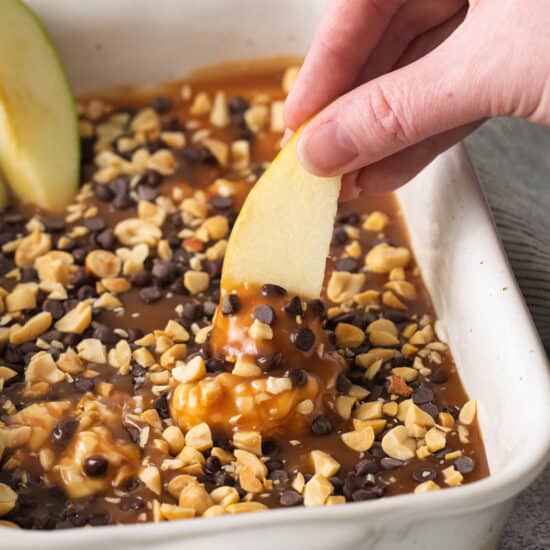 try it!
Cream Cheese Caramel Apple Dip
Enjoy apples like never before with our cream cheese caramel apple dip!
get Recipe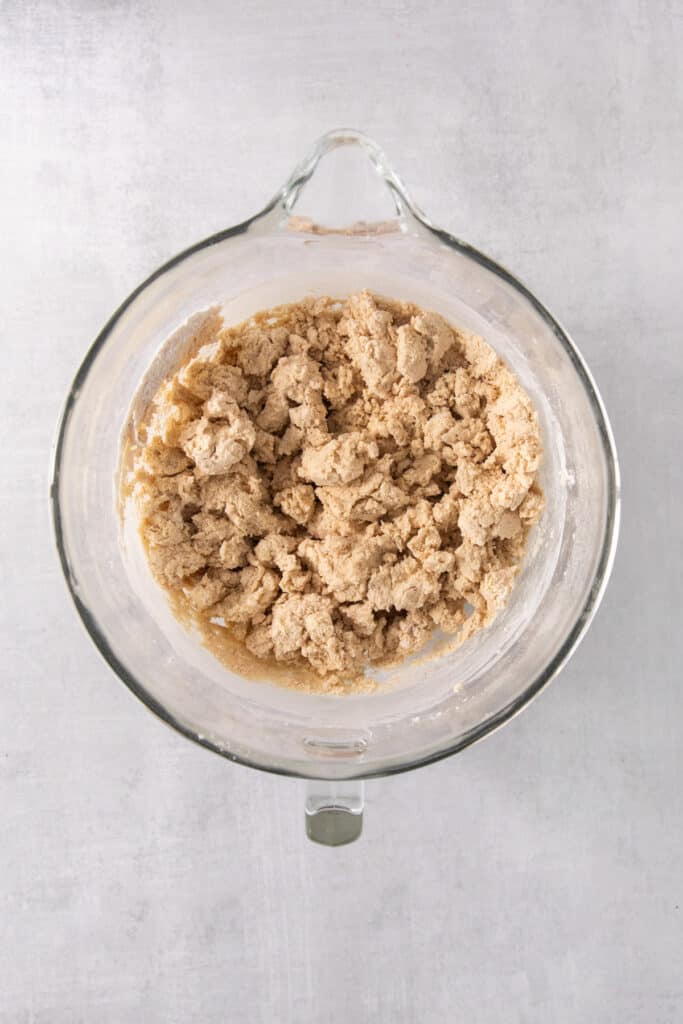 Substitutes & Variations
Spices: Feel free to swap or add other fall spices like pumpkin spice or ginger for a different flavor.
Apples: We like the texture and flavor of green apples, but you're welcome to use your favorite kind.
Caramels: Kraft is our go-to for caramels, but any brand will do.
Cream Cheese: Not a fan of cream cheese frosting? Regular buttercream frosting will taste just as good.
Toppings: Get creative with the toppings and try melted chocolate, nuts, oatmeal, or candy pieces.
How to soften cream cheese
Looking for a quick method to soften cream cheese? Check out our post – How to Soften Cream Cheese – 4 Ways! Here you'll learn 4 unique (and quick!) methods to soften cream cheese to the perfect amount for baking and cooking.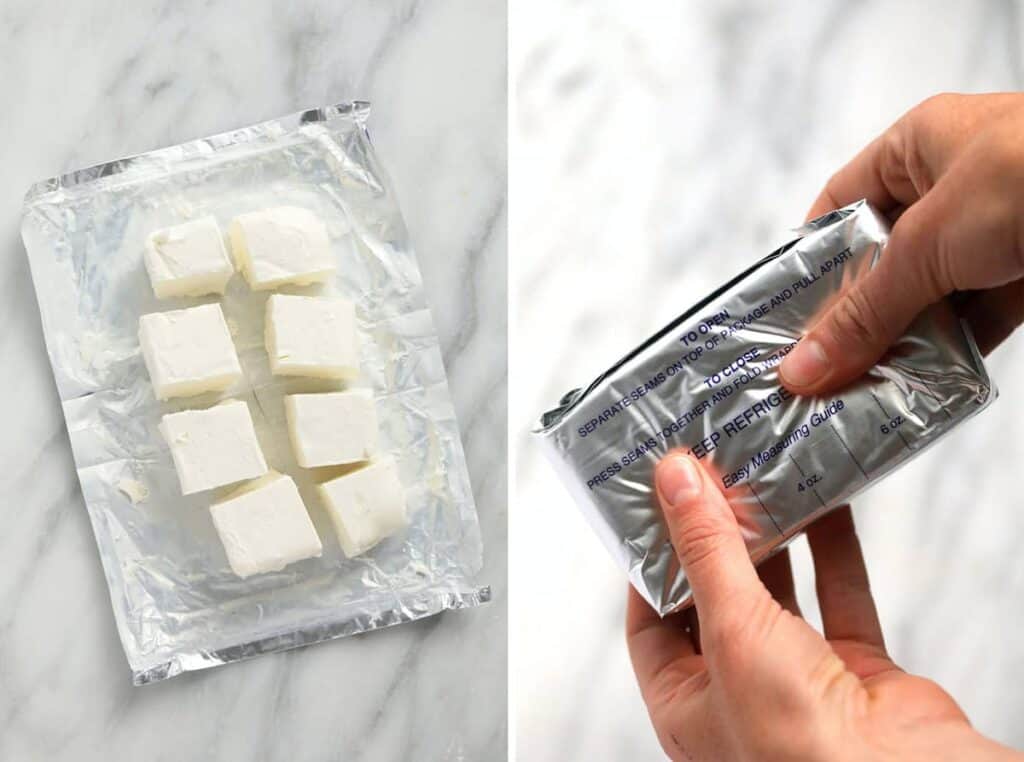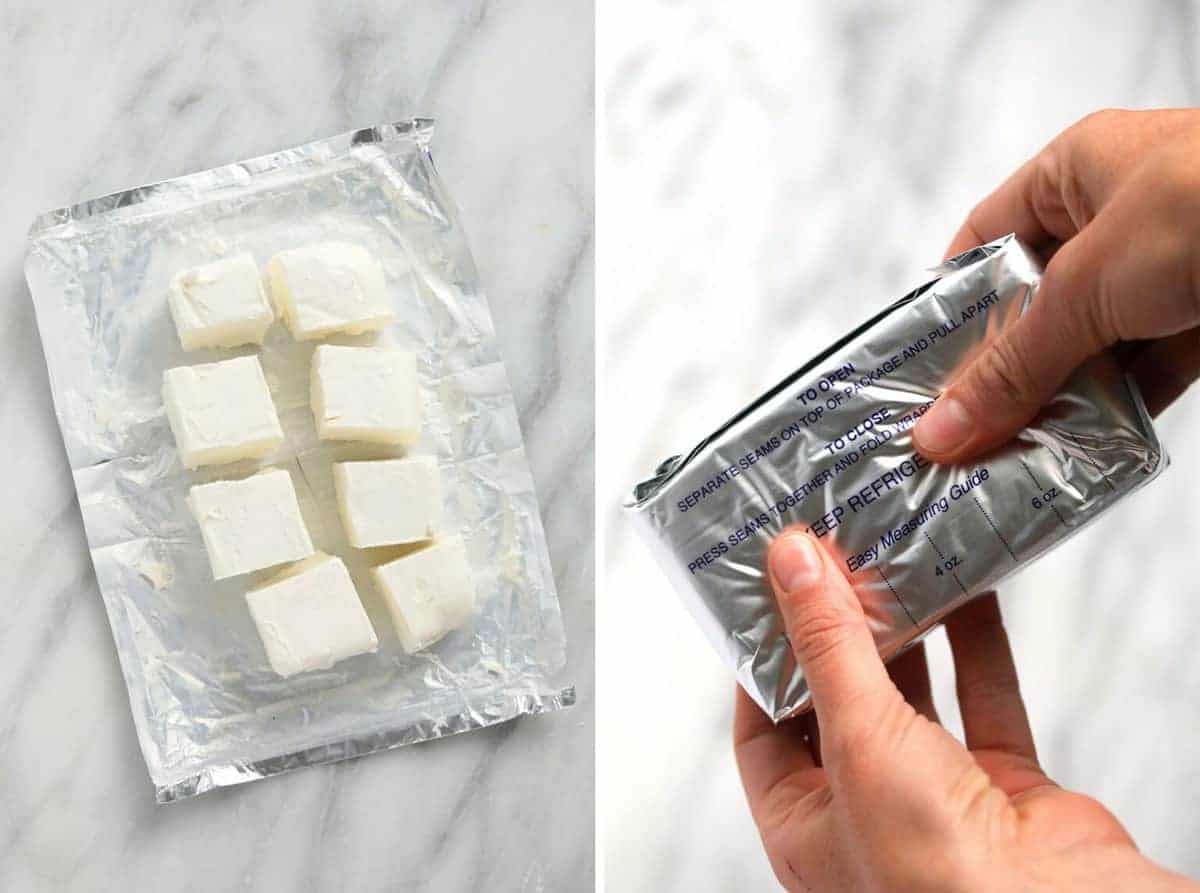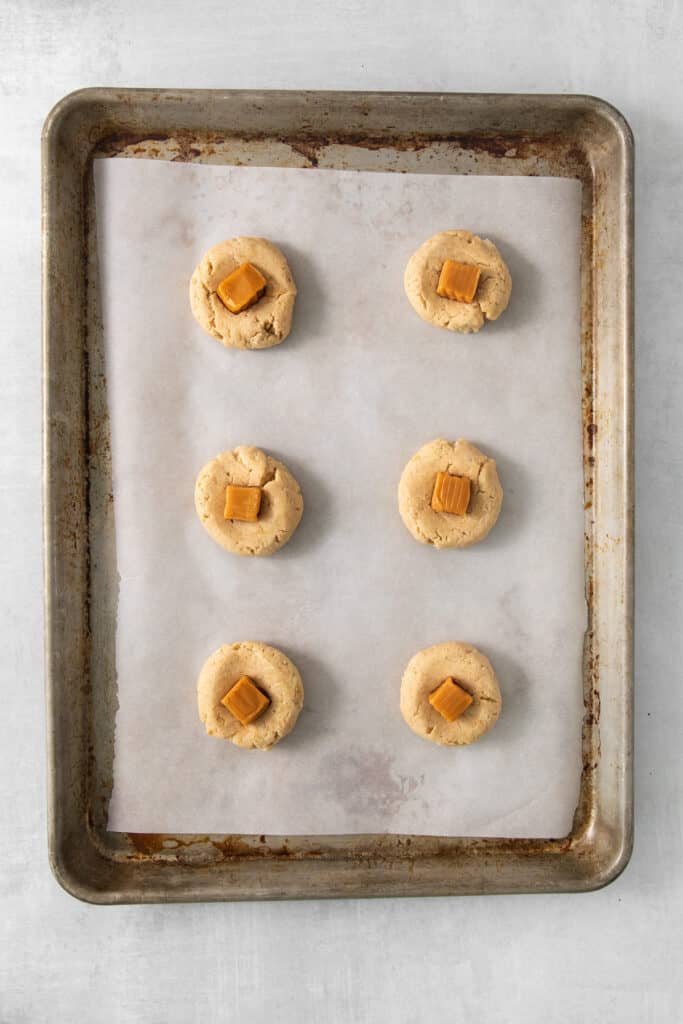 FAQs
What is the best caramel sauce to use for this recipe?

While homemade always tastes best,  there are some great store-bought options that work well in this recipe. We recommend using a caramel sauce with a rich, buttery flavor and a smooth, creamy texture. Look for ingredients like heavy cream, butter, sugar, and vanilla extract for an extra boost of flavor. 
What is the easiest way to spread the frosting?

To get picture-perfect frosting, one of the quickest ways to spread it onto your caramel apple cookies is with a butter knife or offset spatula. Try to be gentle when applying the frosting, and spread it evenly throughout the cookie. With a little bit of patience and practice, you'll get that perfect look every time!
How do you cut the apples into small cubes?

Cutting apples into small cubes is an easy task with the right tools. Start by cutting off both ends of the apple and discard them. Cut the apple in half lengthwise so that you have two halves. Slice each half into even wedges, and then cut the wedges into cubes. When done, discard any remaining parts from the core or seeds. 

For a perfectly cubed apple, use a sharp knife and steady hands to ensure all sides of the cubes are even in size.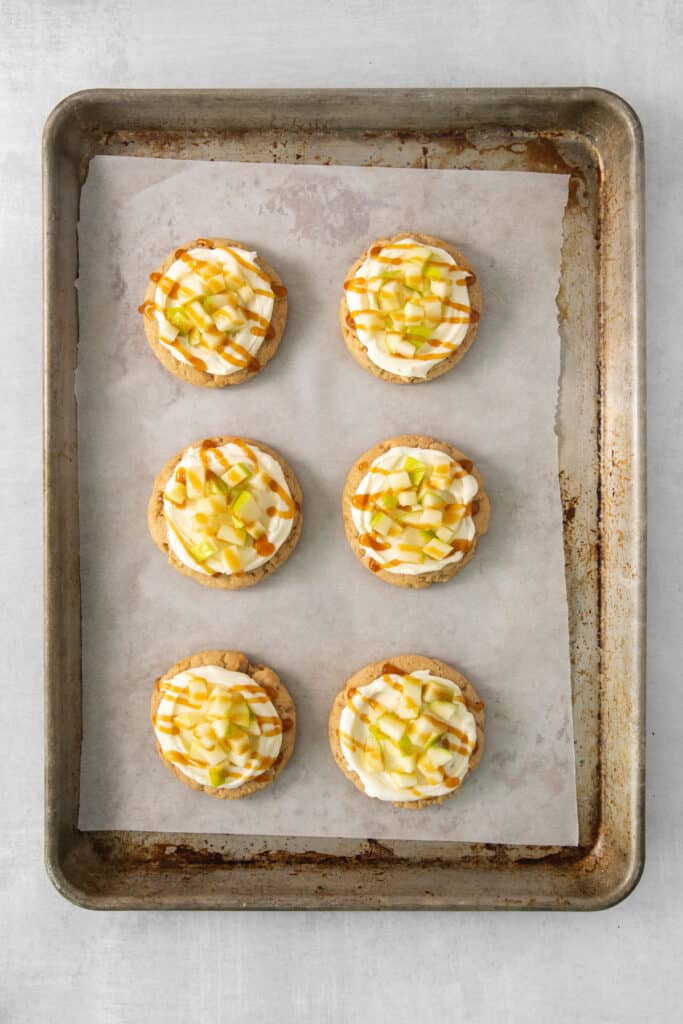 Storage
Store any leftover cream cheese caramel apple cookies in an airtight container in the fridge for 2 to 3 days. The cream cheese frosting will need to be refrigerated.
Freezer Directions
We recommend freezing the cookies without the topping, as diced apples and cream cheese won't freeze as well.
Latest Cream Cheese Desserts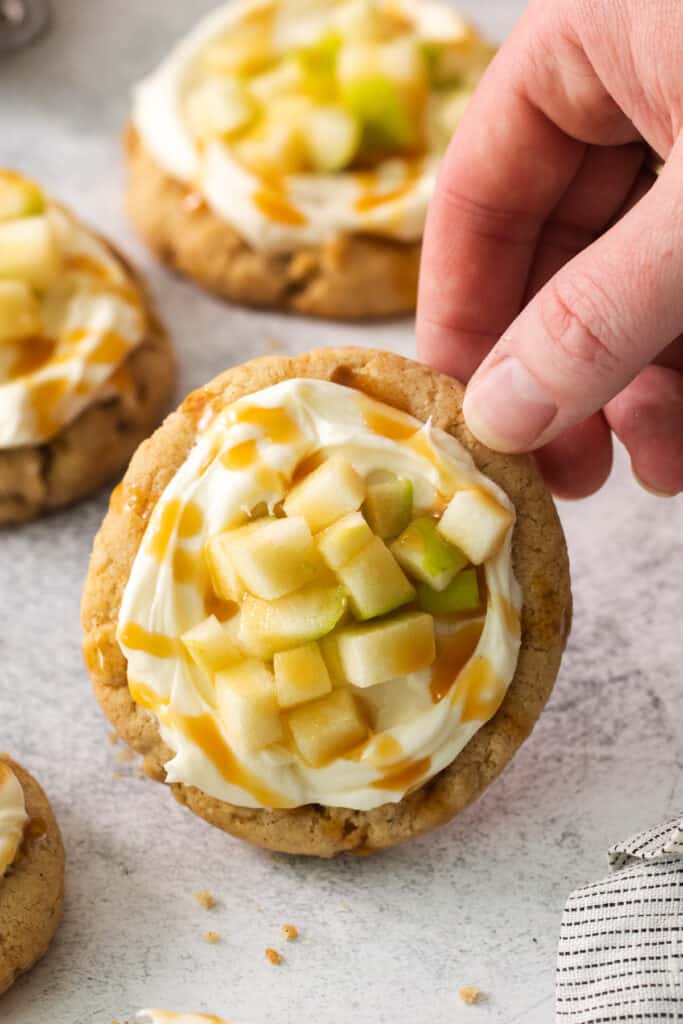 Other Great Recipes to Try
Can't get enough apples this fall season? Then you've got to try our Caramel Apple Cheesecake or Apple Pie with Cream Cheese! You also can't go wrong with our other tasty fruit and cream cheese pairings like these Cream Cheese Banana Bread Muffins and Grape Salad with Cream Cheese.
Is savory more your thing? This Pumpkin Cheese Ball and Pumpkin Mac and Cheese will have you and the entire family raving!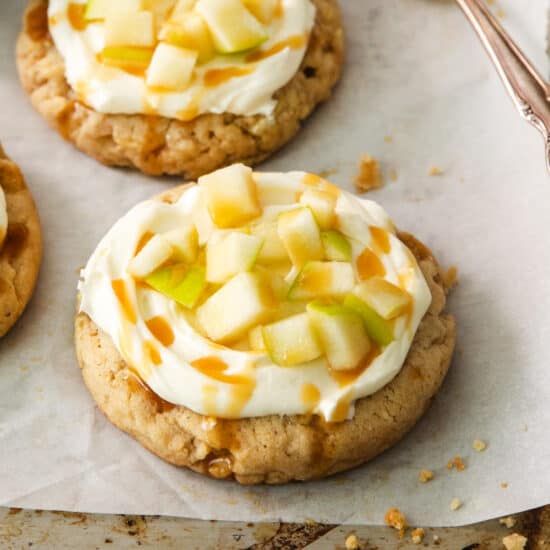 Cream Cheese Caramel Apple Cookies
These cream cheese caramel apple cookies are exploding with fall flavors using fresh apples, caramel, cinnamon, and a cream cheese frosting.
Ingredients
Cream Cheese Frosting
4

oz.

cream cheese

softened

4

oz.

unsalted butter

softened

2

cups

powdered sugar

½

teaspoon

vanilla extract

1

cup

chopped green apples

cut into small bite-size pieces

Caramel sauce

optional
Instructions
Add the butter, granulated sugar, and brown sugar to the bowl of a stand mixer. Mix on medium speed for 5 minutes. It should be light and fluffy. Add in the egg and vanilla extract and mix until combined.

In a separate bowl, mix together the dry ingredients. Transfer the dry ingredients to the stand mixer and mix until combined.

Place the shredded apples into a tea towel or cheesecloth and squeeze out as much moisture as possible. Add to the stand mixer and mix to combine.

Refrigerate for at least 30 minutes before baking.

Preheat oven to 350℉.

Using a 1.5-tablespoon scoop, scoop the cookie dough and place it on the cookie sheet. Press a caramel into the center of the cookie dough.

Bake for 11 minutes. Allow to cool completely before frosting the cookies.

To make the frosting add the cream cheese, butter, powdered sugar, and vanilla extract to a large bowl. Using a hand mixer, mix until well combined.

Spread 1.5 tablespoons of the frosting on the cooled cookies. Garnish with apple pieces and drizzle with caramel sauce.
Tips & Notes
The frosting can be made ahead of time and stored in an airtight container in the refrigerator until ready to use. Bring to room temperature when ready.
Don't cut the apple topping until you are ready to serve. If that isn't an option, toss with fresh lemon juice before topping.
Nutrition facts
Calories:
303
kcal
Carbohydrates:
42
g
Protein:
2
g
Fat:
14
g
Fiber:
1
g
Sugar:
31
g