Say hello to these delicious carrot cake cupcakes with cream cheese frosting. They are the perfect classic carrot cake cupcake for any occasion!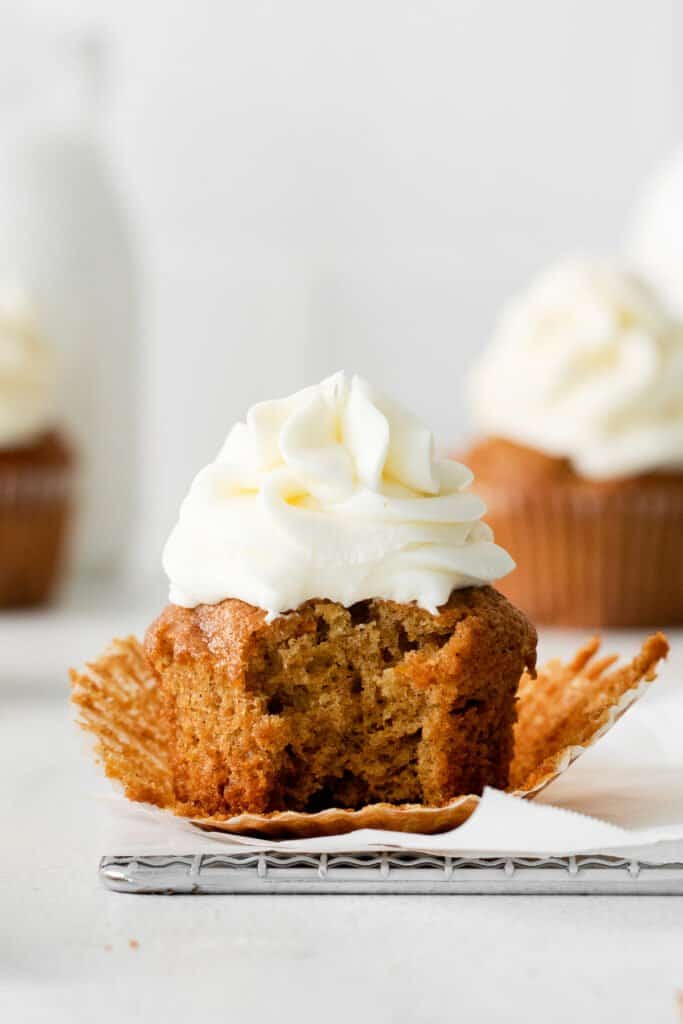 Easy Carrot Cake Cupcakes
If you are a carrot cake person, these carrot cake cupcakes are just for you! They are ready in no time and are everything you are looking for when it comes to carrot cake.
Don't forget to about the cream cheese frosting, you just can't have carrot cake or carrot cake cupcakes without cream cheese frosting. You won't turn to any other recipe again.
Everything We Love About this Recipe
This recipe leaves you with tender, fluffy, and delicious cupcakes.
We use applesauce to make these super moist cupcakes.
The combination of cream cheese frosting and carrot cake may be the best combination of all time.
You can make these cupcakes fancy by getting creative with how you decorate them.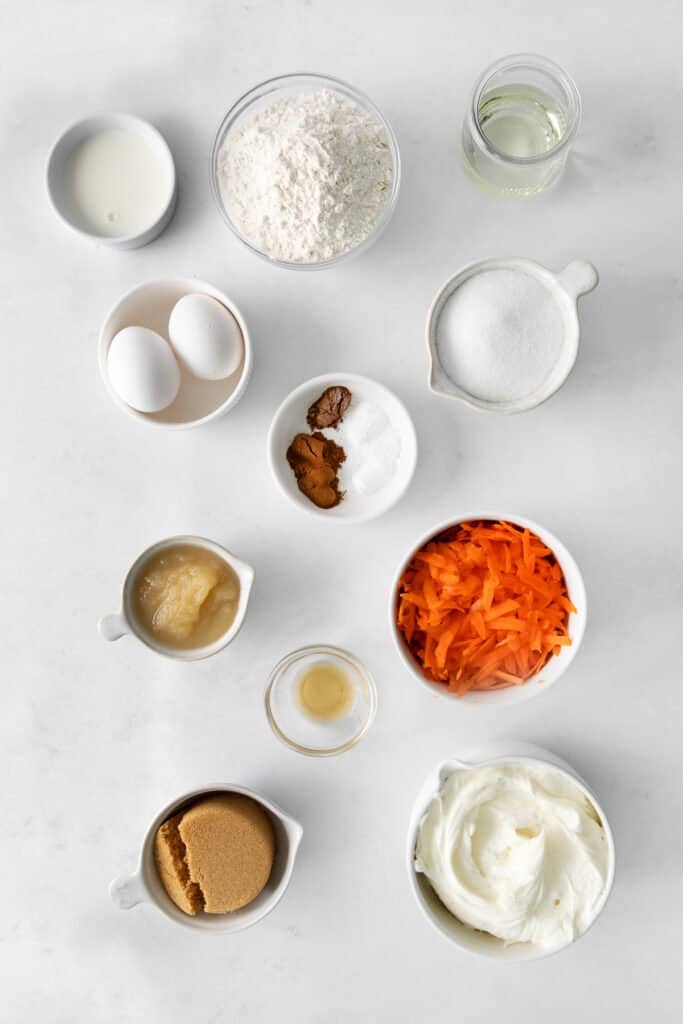 Featured Ingredients
Carrots – the obvious star of this recipe is shredded carrots. Carrots are sweet, hearty, and versatile all at the same time. We suggest shredding your carrots into a thicker shred rather than a fine shred for this recipe.
Applesauce – go for an unsweetened applesauce for this recipe. The applesauce both keeps your cupcakes moist and adds a little sweetness.
Baking soda + baking powder- we use both baking soda and baking powder because it helps make this cake a lighter cupcake rather than a dense cake.
Avocado oil (or vegetable oil) – don't skip the oil in this recipe! You can use vegetable oil or avocado oil. Both work great.
Spices – warm and spicy flavors are classic in carrot cake desserts. We use a combination of cinnamon and nutmeg for this recipe. Feel free to use ground ginger, cloves, or all spice if you'd like.
Easy ingredient Add-ins
We kept this carrot cake cupcake recipe simple and only used shredded carrots for the cupcake. If you would like to make these cupcakes more like a carrot cake with chunks of fruit, nuts, etc., go for it. Below are some add-in ideas!
Raisins
Walnuts
Shredded coconut
Pecans
Dried cherries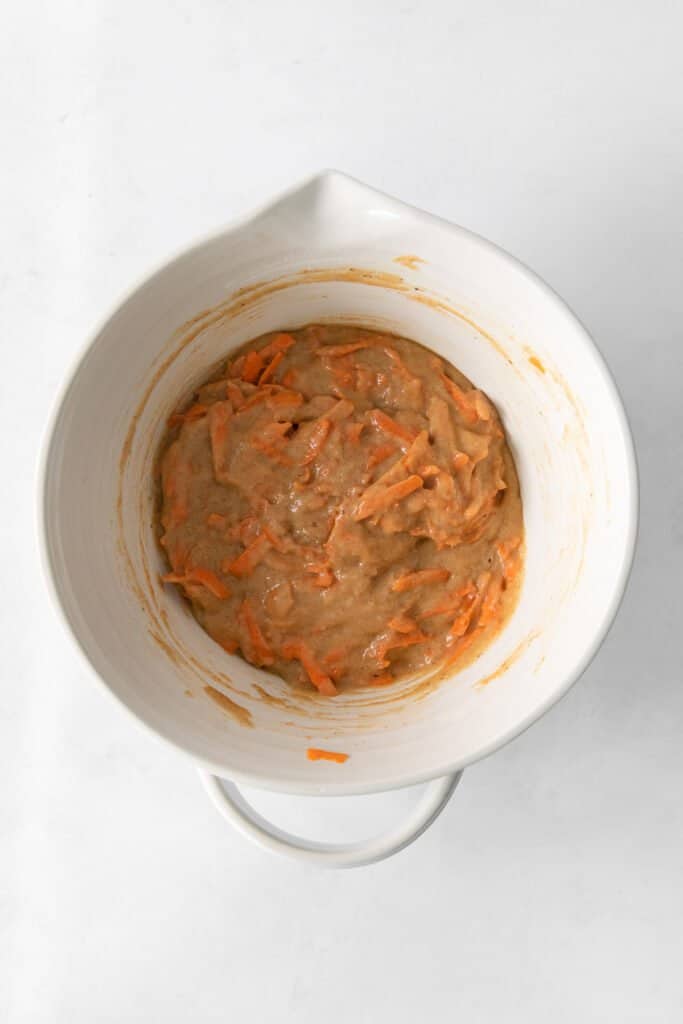 How to Make Carrot Cake Cupcakes
Mix Dry ingredients + Mix wet ingredients
You want to mix the dry ingredients separately from the wet ingredients first. This is important because baking soda and baking powder are activated when they are mixed with moisture. You don't to activate then too soon in the recipe or else you will end up with flat cupcakes.
Set the dry and wet ingredients aside while you grate the carrots.
Combine wet + dry + Add carrots
Use a box grater and use the largest grate size. Grate 1 1/2 cups of grated carrots and set the carrots aside.
Slowly add the wet ingredients to the dry ingredients and then fold the shredded carrots in to the batter.
Bake
Line the cupcake tin with paper liners and then fill each liner about 3/4 of the way full. Bake the cupcakes for 20-25 minutes at 350ºF.
Cool + Frost
Remove the cupcakes from the tin and let the cool on a wire rack. Frost them with cream cheese frosting and enjoy.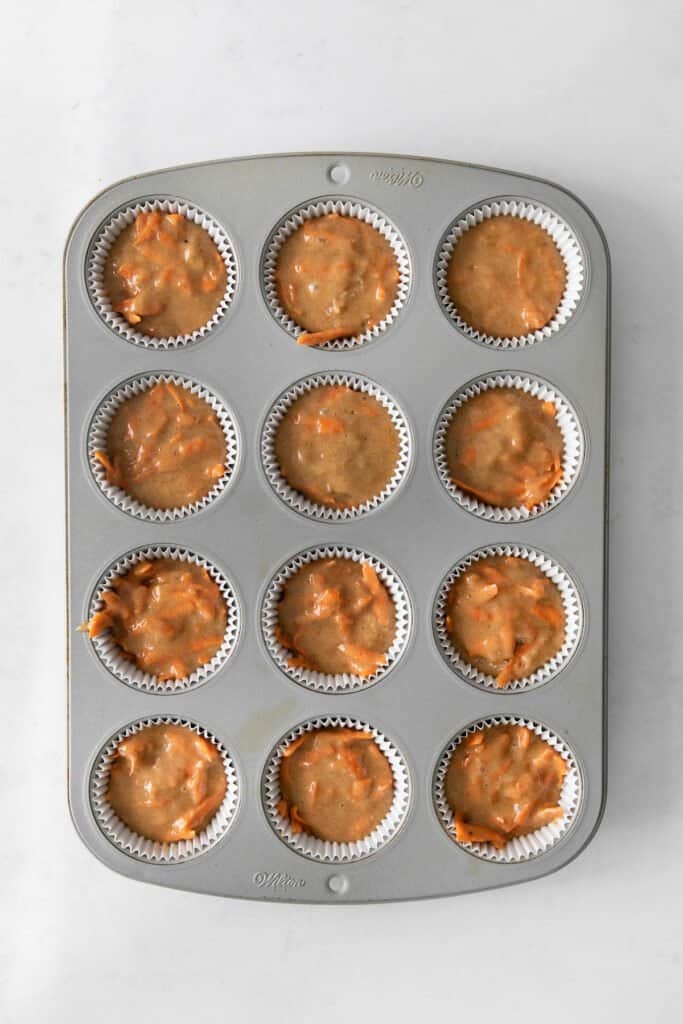 Let's Talk Cream Cheese Frosting
There are a few ways you can go about the cream cheese frosting for this recipe. You can make homemade cream cheese frosting or buy store bought cream cheese frosting if you are running low on time.
To decorate these carrot cake cupcakes, add the cream frosting to a piping bag and have fun decorating your carrot cake cupcakes!
How to Make Homemade Cream Cheese Frosting
Mix butter and cream cheese: add softened butter and cream cheese to the bowl of a stand mixer. Use a paddle attachment to beat on medium speed until well combined with no lumps.
Add powdered sugar: add powdered sugar by 1/4 cup and beat on low speed. Then add vanilla extract.
Beat until light and fluffy: turn the mixer up to medium/high and beat for about 2 minutes until light and fluffy.
Use immediately: frost cupcakes, cakes, or cinnamon rolls.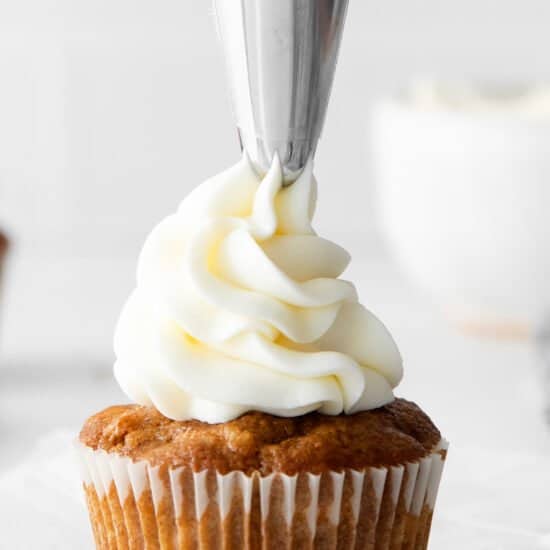 the best
Cream Cheese Frosting
Learn all of the tips and tricks for this vanilla cream cheese frosting!
Learn More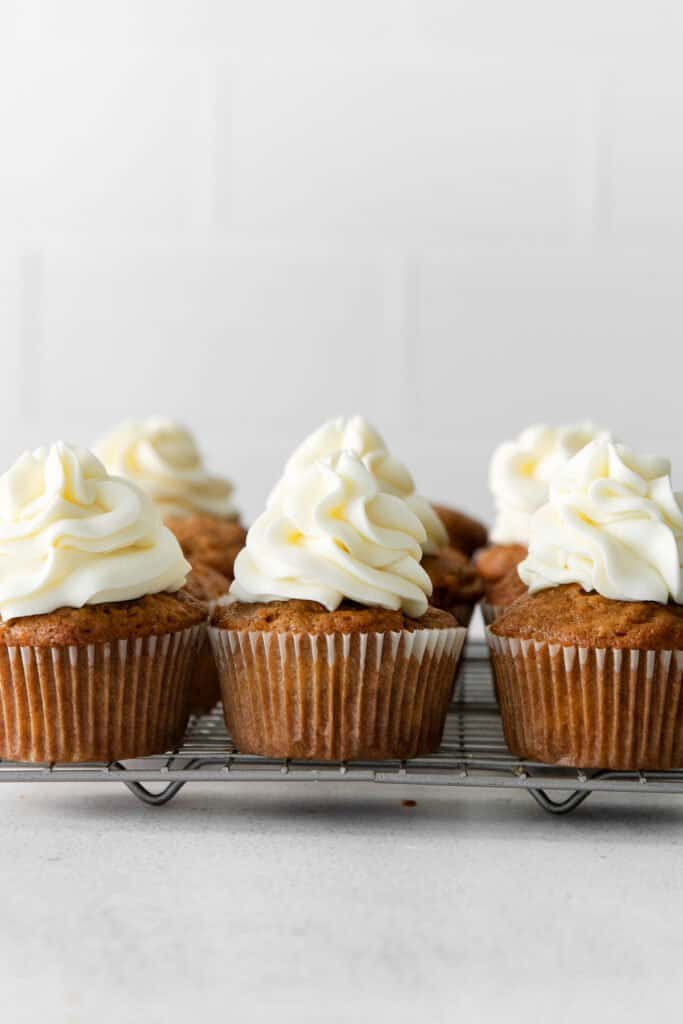 Carrot Cake Cupcakes FAQ
How are these cupcakes different than carrot cake muffins?

These cupcakes are different than muffins because they are lighter and fluffier than a muffin.
Why are my cupcakes dry?

You cupcakes could be dry because you over baked them or didn't use enough oil.
Can I freeze these cupcakes?

Yes, you can freeze these cupcakes. Let the cupcakes cool completely before placing them into a freezer safe bag and then add them to the freezer for up to 3 months.
Can I use gluten free flour?

We have not tested this recipe with gluten free flour so we can not recommend using gluten free flour.
Can I make these cupcakes before hand?

Yes, you can make these cupcakes a few days before serving them. Make the cupcakes and freeze them. Take them out 6-8 hours before serving and let them thaw. Frost them before serving!
Storage
We recommend storing these cupcakes without the frosting and adding the frosting right before serving them. Let the cupcakes cool completely before adding them to an airtight container or bag until ready to use.
The cupcakes will last longer in the refrigerator.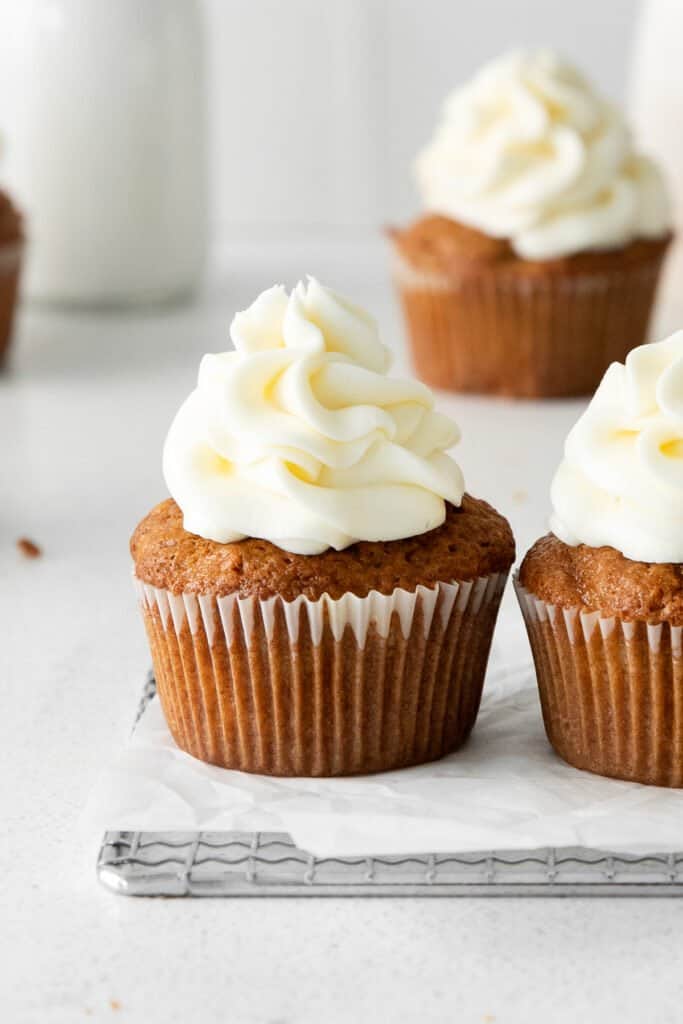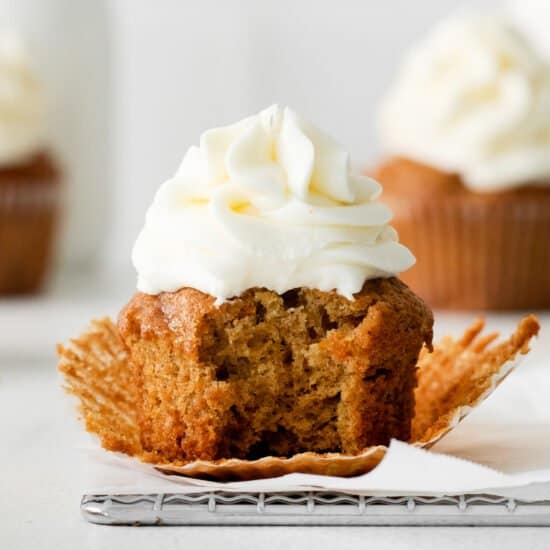 Carrot Cake Cupcakes with Cream Cheese Frosting
This carrot cake cupcakes recipe leaves you with moist, flavorful cupcakes that are topped with a classic cream cheese frosting.
Instructions
Preheat the oven to 350ºF and spray a muffin tin with nonstick cooking spray.

In a large mixing bowl add flour, sugars, baking soda, baking powder, salt, cinnamon, and nutmeg and stir. Set aside.

In a medium bowl add oil, eggs, applesauce, milk, and vanilla. Use a hand mixer to mix to combine.

Slowly add the wet mixture to the dry mixture and stir until combined using a spatula until combined.

Lastly stir in the shredded carrots.

Fill each muffin well ¾ of the way full (I used a ¼ cup scoop to make sure they are the same size). Bake the cupcakes at 350ºF until a toothpick inserted comes out clean- about 20-25 minutes.

Allow the cupcakes to cool completely before icing them.

Enjoy!
Tips & Notes
I used less oil and added in some applesauce to make it a little more dense. 
Lots of options for add ins, ½ cup chocolate chips, raisins, or walnuts
Nutrition facts
Calories:
370
kcal
Carbohydrates:
32
g
Protein:
3
g
Fat:
11
g
Fiber:
1
g
Sugar:
13
g