These simple pimento cheese pinwheels are made with turkey, fresh vegetables, and homemade pimento cheese. They are the perfect snack or summer lunch time recipe!
Easy Pimento Cheese Pinwheels
Pinwheel recipes are great recipes to use up ingredients in the refrigerator or to make an easy appetizer or lunch. These turkey and pimento cheese pinwheels are are made with a creamy pimento cheese, fresh veggies, and sliced turkey.
Why you'll love them!
Very easy to make!
You can add ingredients that you love to any pinwheel.
These pinwheels are a balanced lunch or appetizer.
Featured Ingredients
Pimento cheese: pimento cheese is usually called pimento cheese dip because, well, it makes an amazing dip. You can use store bought pimento cheese or make a delicious homemade pimento cheese, whatever you'd like!
Tortillas: what tortillas you use for these pinwheels really does matter. You want to use large tortillas that are soft and bendable! If your tortillas are dried out be sure to warm them up for 10-15 seconds in the microwave to soften them up a bit.
Vegetables: we used crunchy lettuce, tomatoes, and red onion for these pimento pinwheels, but you can use any type of vegetable you want!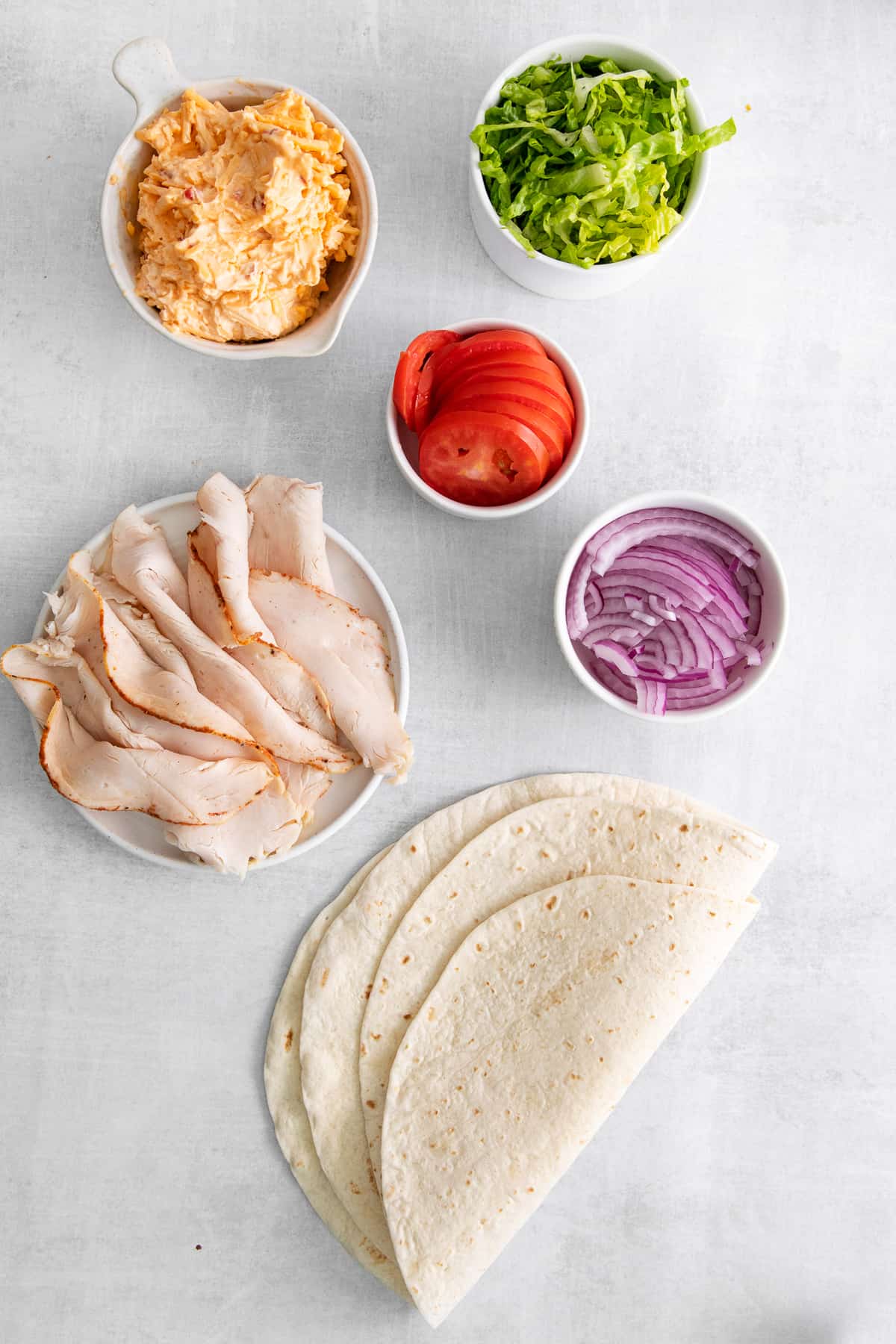 How to Make Pimento Cheese Pinwheels
Prepare your ingredients and make sure the tortillas are soft and ready to roll. It really helps if your ingredients are ready to go before you start rolling.
Layer your ingredients on one half of the tortilla being sure to start with the pimento cheese. Then, tightly roll the tortilla and ingredients in the tortilla.
Next, use a sharp knife to slice the tortilla into small pinwheels and stick a little toothpick into each wheel so that they stay together.
How to soften cream cheese
Looking for a quick method to soften cream cheese? Check out our post – How to Soften Cream Cheese – 4 Ways! Here you'll learn 4 unique (and quick!) methods to soften cream cheese to the perfect amount for baking and cooking.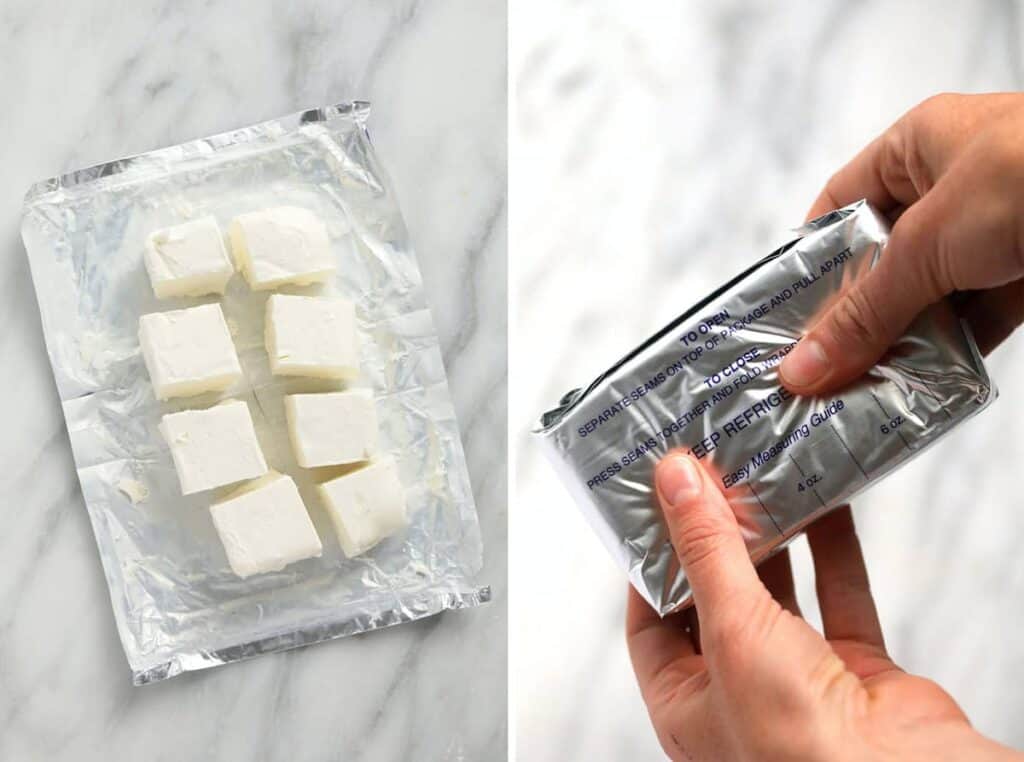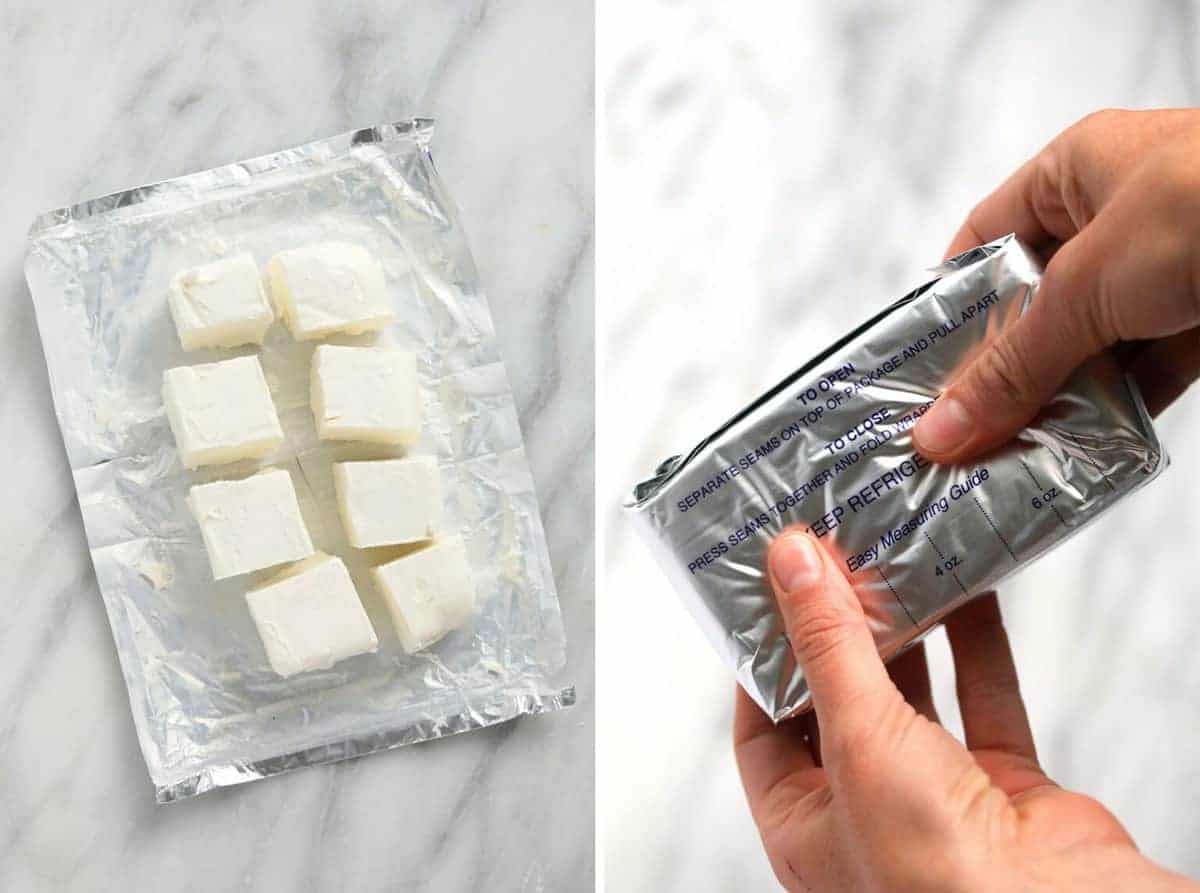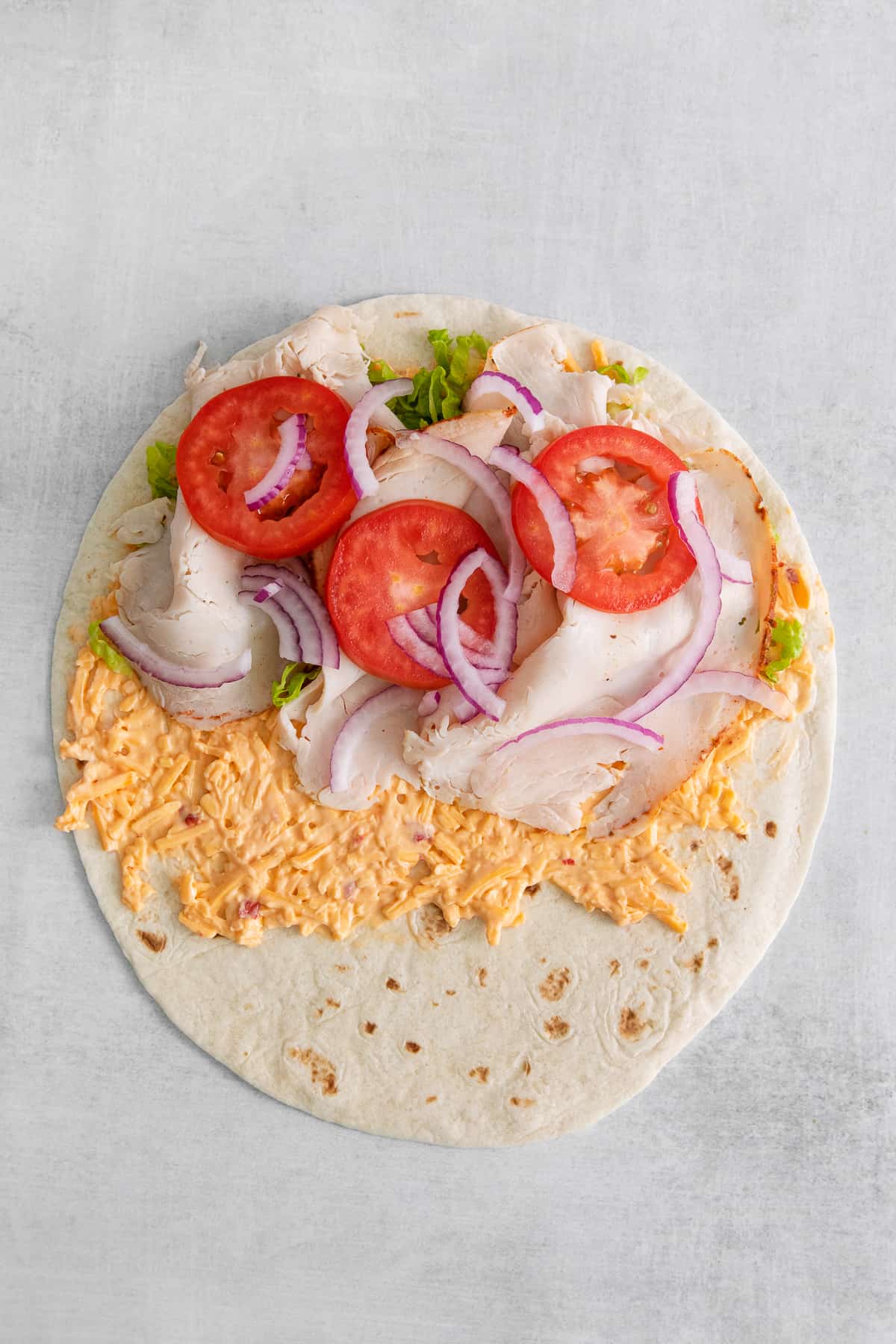 Top Tips for Making Pinwheels
Keep those tortillas soft!
Make these pinwheels ahead of time for easy lunches throughout the week.
Take your time rolling up your pinwheels, it makes all the difference.
Don't have all of the ingredients that this recipe calls for? Go ahead and substitute your own ingredients.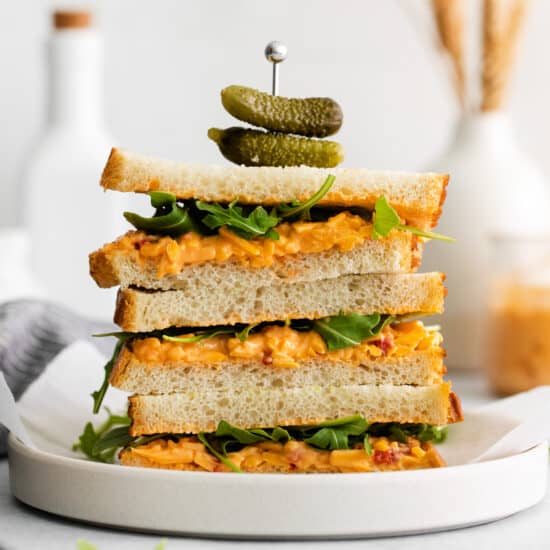 easy
Pimento Cheese Sandwich
Do you have leftover pimento cheese? Make yourself a pimento cheese sandwich!
Make It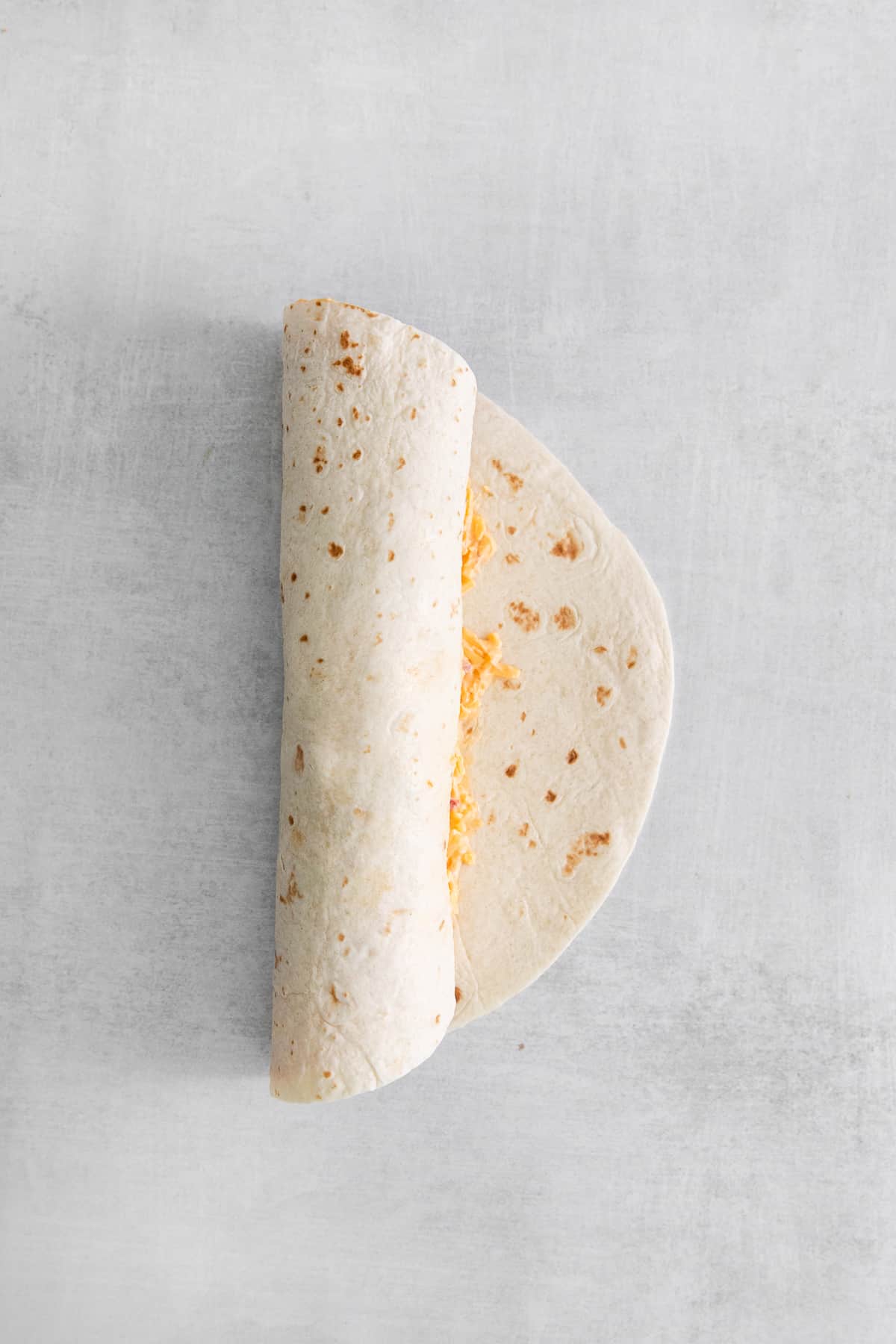 FAQ
How far in advance can you make pinwheels?
You can make pinwheels the day before serving them, but they will last up to 3 days in the refrigerator. Just keep in mind that they fresher they are, the better they taste.
Can you freeze pinwheels with cream cheese?
We do not recommend freezing a pinwheels with cream cheese.
Storage
Store these pinwheels in an airtight container for up to 3 days. The longer you store them the soggier the tortilla will become.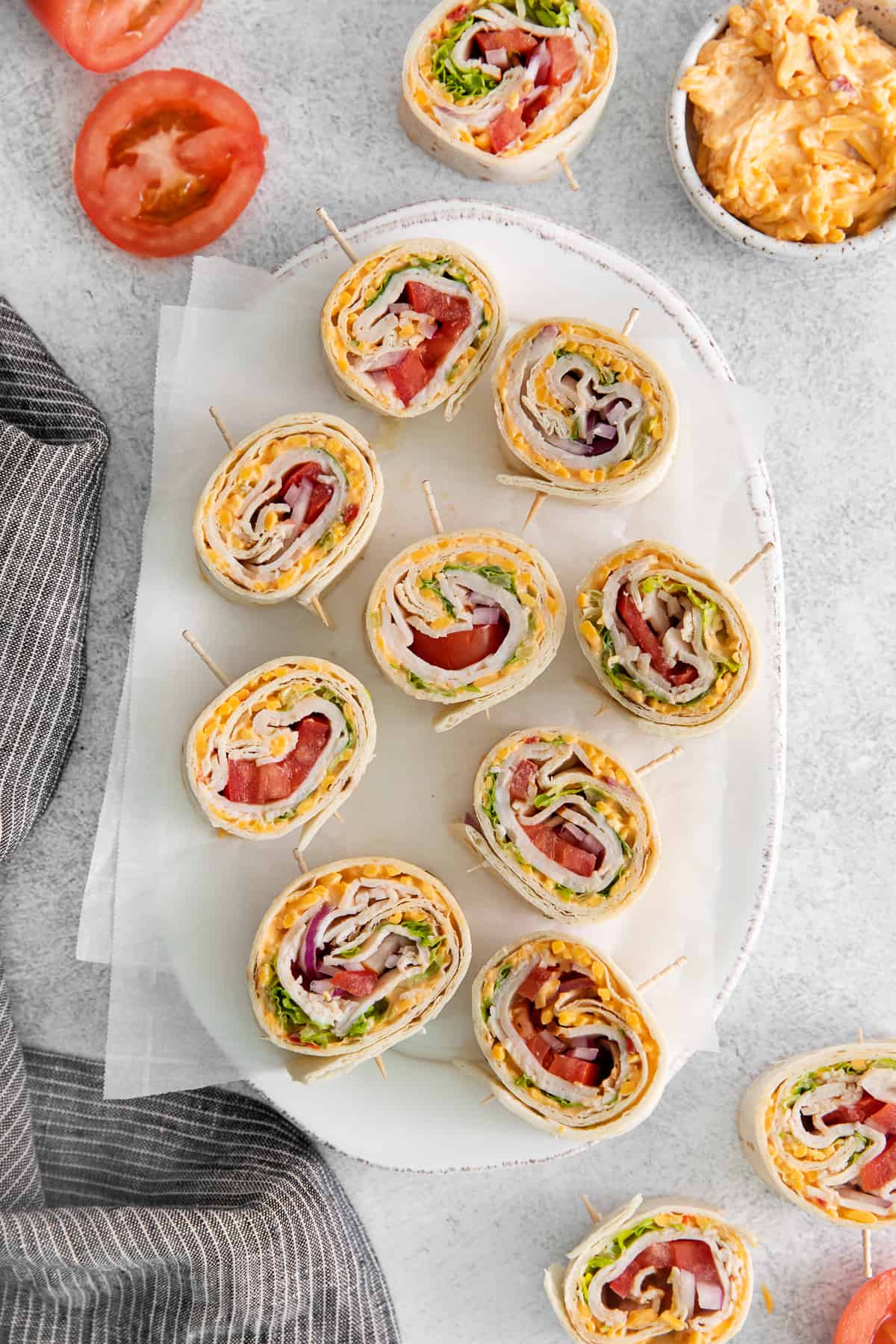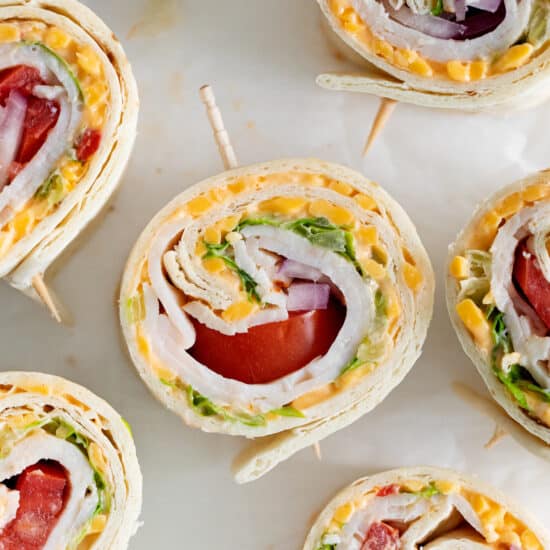 Pimento Cheese Pinwheels
These pimento cheese pinwheels are made with tortillas, sliced turkey, and homemade pimento cheese. They make a great appetizer or lunch any day of the week.
Ingredients
4

10 inch

tortillas

~burrito size

1

cup

pimento cheese spread

we used this

1

cup

shredded lettuce

8

oz.

sliced oven roasted turkey

1

medium tomato

thinly sliced

¼

red onion

sliced
Instructions
Spread ¼ cup pimento cheese spread on to each tortilla leaving ½-inch at the edge of one half.

Sprinkle the shredded lettuce onto one half of the tortilla on the opposite side of where you left the ½ inch border.

Next, layer 2 to 3 slices of turkey, 2-3 slices of tomato, and some of the sliced red onion on top of the shredded lettuce.

Starting with the edge with the most filling, tightly roll it towards the half with the ½ inch border.

Continue steps 1 through 4 until all of the tortilla rolls have been made.

Slice the pinwheels using a sharp knife. Carefully slice them into ½-inch to 1-inch pieces. The pinwheels may need a toothpick to secure edges if they are not staying closed.
Tips & Notes
We left a ½ inch border on the tortilla so that when we roll it the pimento cheese spread won't squirt out.
The tighter this is rolled, the better. It will make it easier when cutting, and will help hold it together.
To make these ahead of time, sub 2 whole pieces of romaine lettuce for the shredded lettuce. And roll the tortillas but do not cut them. Roll parchment paper around each roll and place into a gallon ziplock bag.
Nutrition facts
Calories:
468
kcal
Carbohydrates:
46
g
Protein:
15
g
Fat:
22
g
Fiber:
3
g
Sugar:
10
g