These Italian Stuffed Peppers are made with delicious Italian sausage, cooked orzo, and shredded cheese.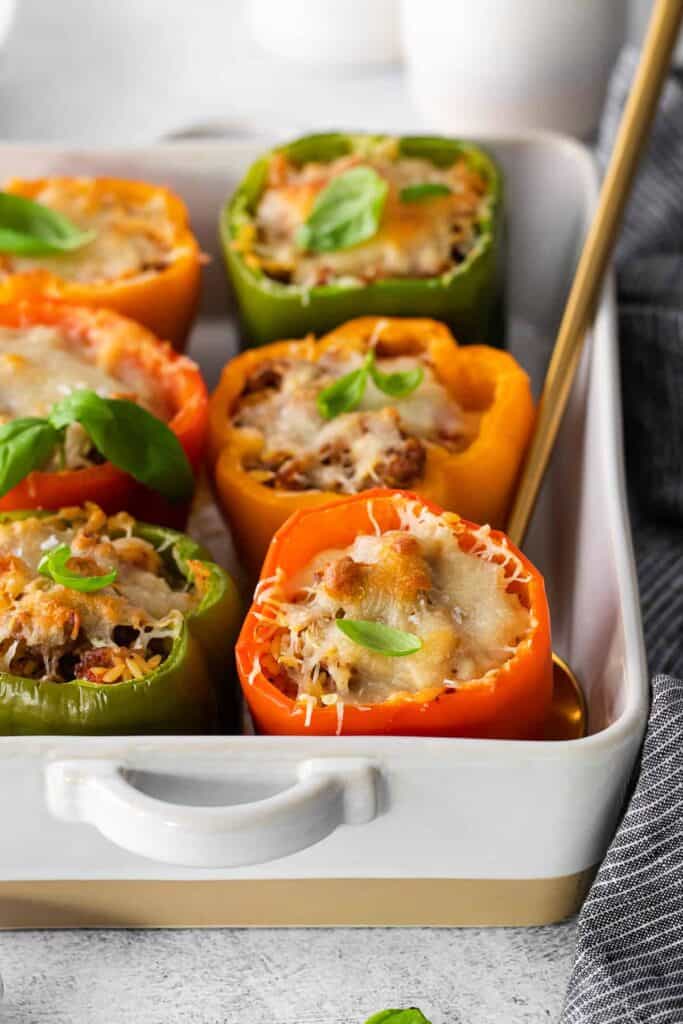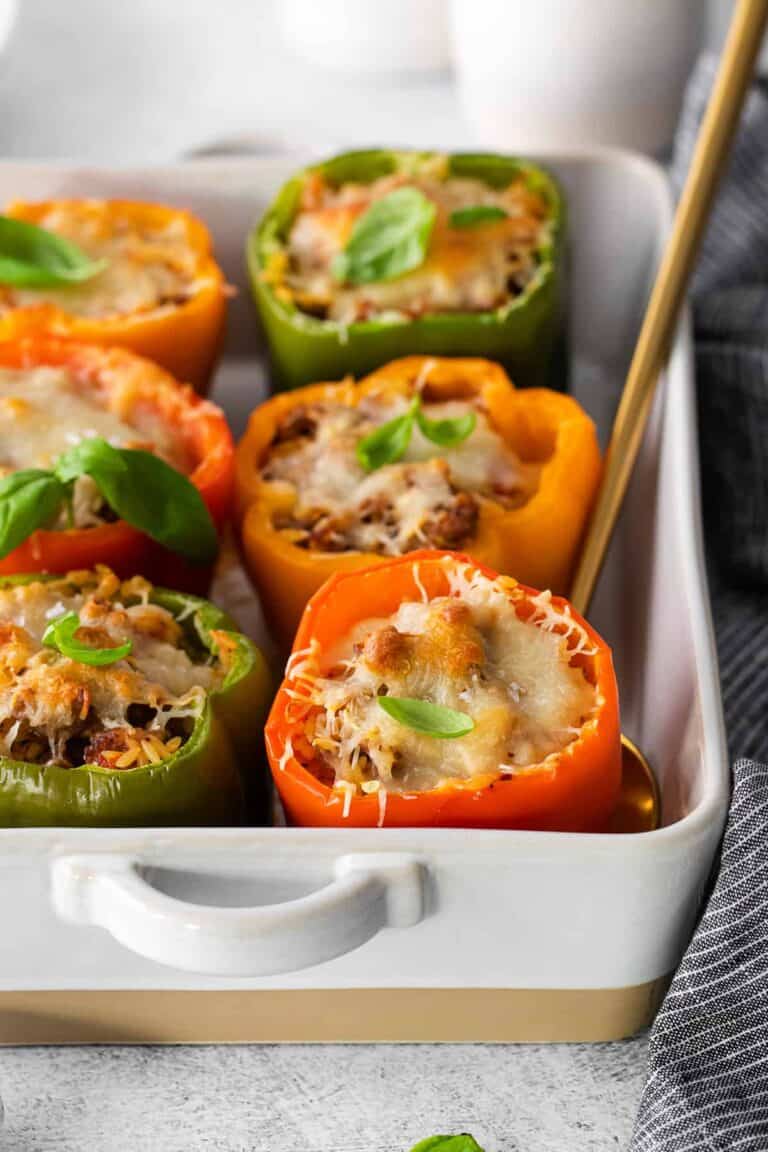 Yummy Italian Sausage Stuffed Peppers!
Classic stuffed peppers are a favorite dinner of ours, so we thought we'd give them a twist with an Italian Stuffed Peppers recipe.
Italian stuffed peppers are made with mild Italian sausage and tons of classic Italian flavors and herbs such as Italian seasoning, mozzarella, and parmesan cheese.
Classic stuffed peppers are made with white rice, but we're using orzo instead as it's an Italian-inspired pasta that really makes these peppers delicious.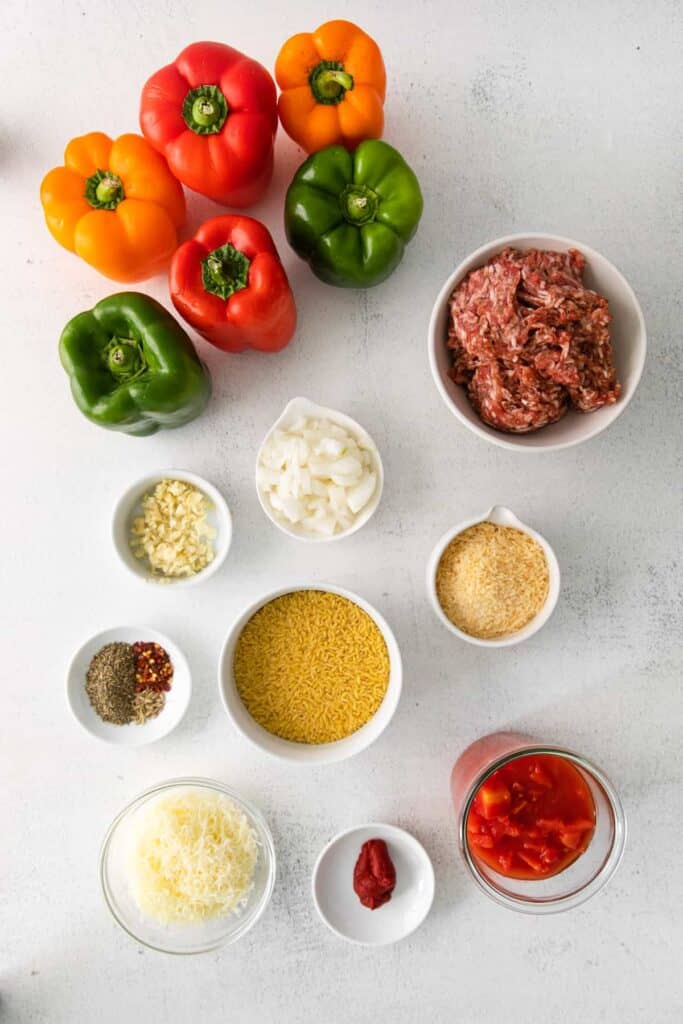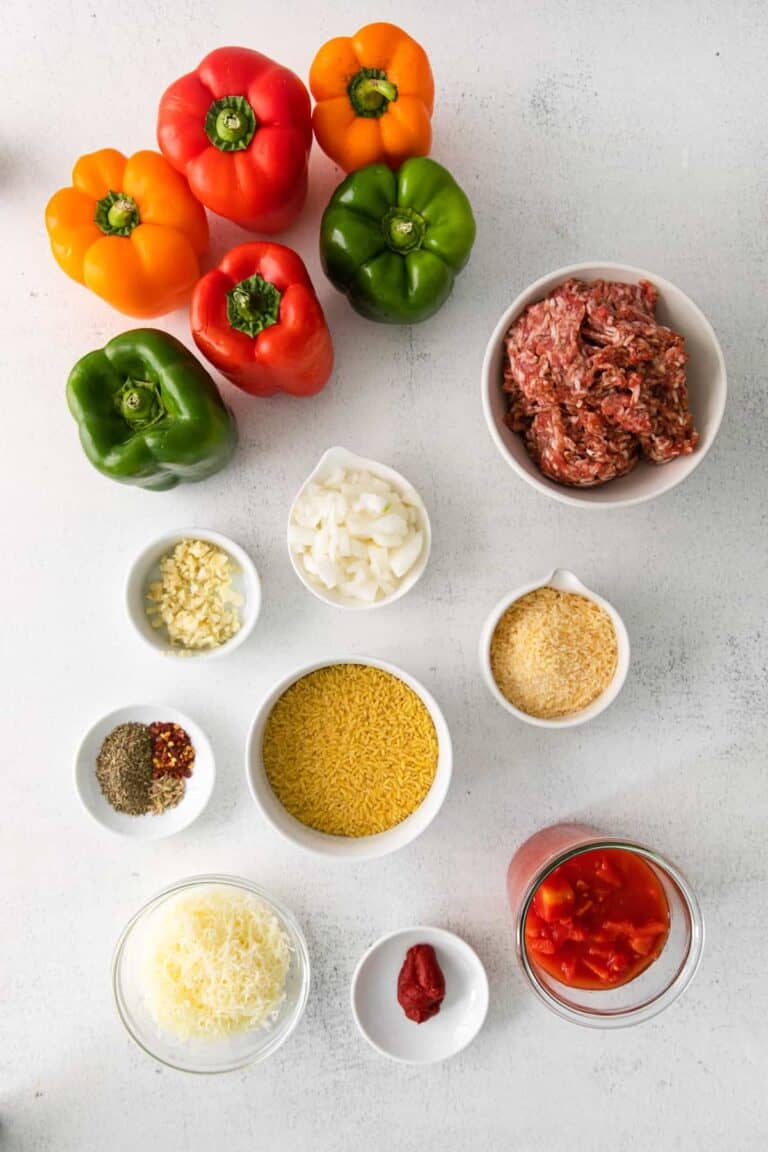 What You Need
Bell peppers: we're using different colors of bell peppers– but you can use whatever colors you like. Green peppers tend to have a stronger flavor than orange, yellow, or red.  
Orzo: If you can't find orzo in the pasta section of your grocery store, feel free to substitute 3 cups of cooked white rice– and add it in step 9 when you would add the orzo with all of the other filling ingredients. 
Italian sausage: We're using mild Italian sausage so I can control the spice level– but you could use spicy if you prefer. 
Onion: I'm using a sweet onion– about ⅓ cup diced. 
Garlic: Garlic is an important flavor in stuffed peppers– don't skip it! Feel free to add as much as you like. 
Tomato paste: This enhances the tomato flavor and adds a bit of earthiness to the filling. 
Italian seasoning: Spices add a bit of herbaceousness and makes the filling more like a marinara. 
Fennel: We love using dried fennel seeds with Italian sausage. If you have a mortar and pestle, crush the fennel seeds before adding them to the skillet. If not, feel free to add them in whole. 
Diced tomatoes: This adds a delicious texture and tomato flavor. Fire roasted diced tomatoes are my favorite but any will work here! 
Mozzarella: I'm using whole milk mozzarella because it melts creamier than part-skim but feel free to use what you have on hand. 
Parmesan: Parm adds a delicious nuttiness and saltiness to the peppers. 
Basil: Fresh basil enhances the Italian flavors and adds a bit of freshness.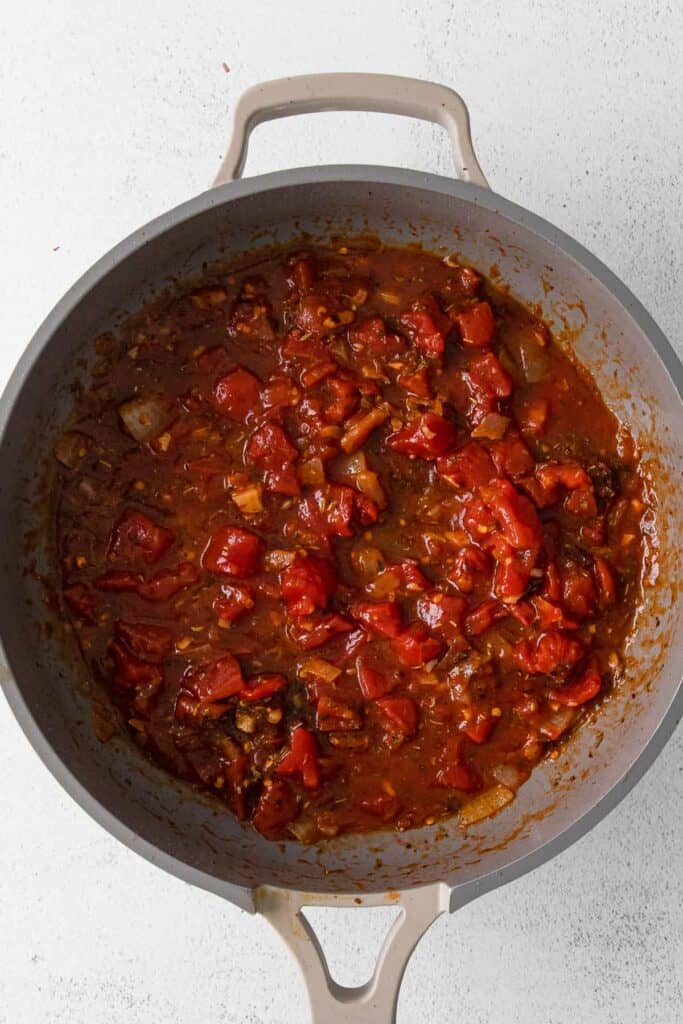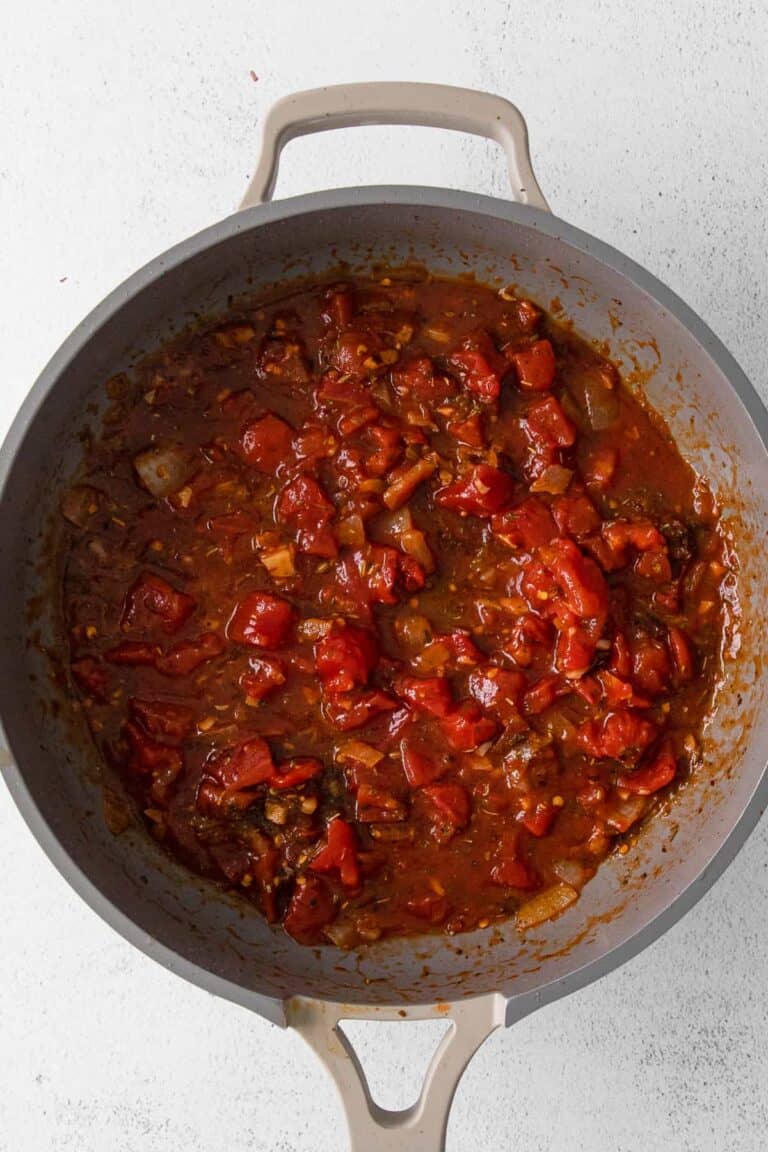 Ingredient Swaps
Italian Sausage –> any other kind of ground meat will work in addition to a plant-based ground. Do note that Italian sausage has a lot more flavor than plain ground meats.
Orzo –> feel free to swap the cooked orzo out for around 3 cups of cooked white or brown rice.
Cheese –> feel free to sub for shredded cheddar or Colby Jack.
How to Make Italian Sausage Stuffed Peppers
Prep Bell Peppers
Slice the tops off of your bell peppers and remove the membranes from the insides. Place them into a casserole dish.
Cook Orzo
Cook orzo in a large pot of salted water. Reserve about 1/2 cup of starchy pasta water before straining the orzo and rinsing under cold water. Set aside.
Cook Italian Sauage
Cook sausage in a large frying pan until fully cooked. Add onion and garlic and cook until translucent.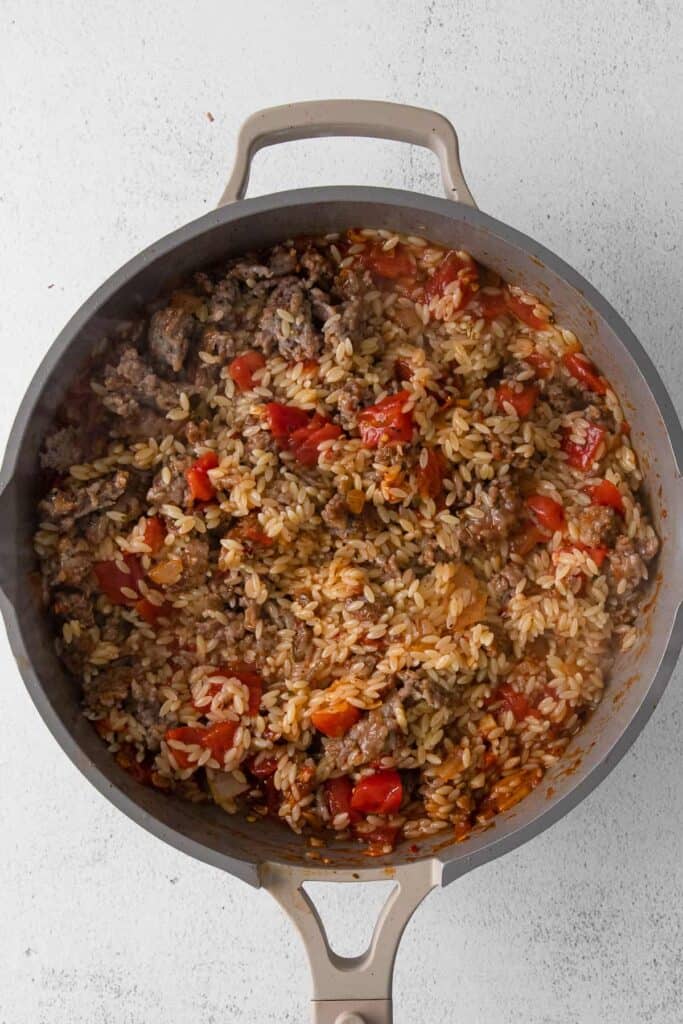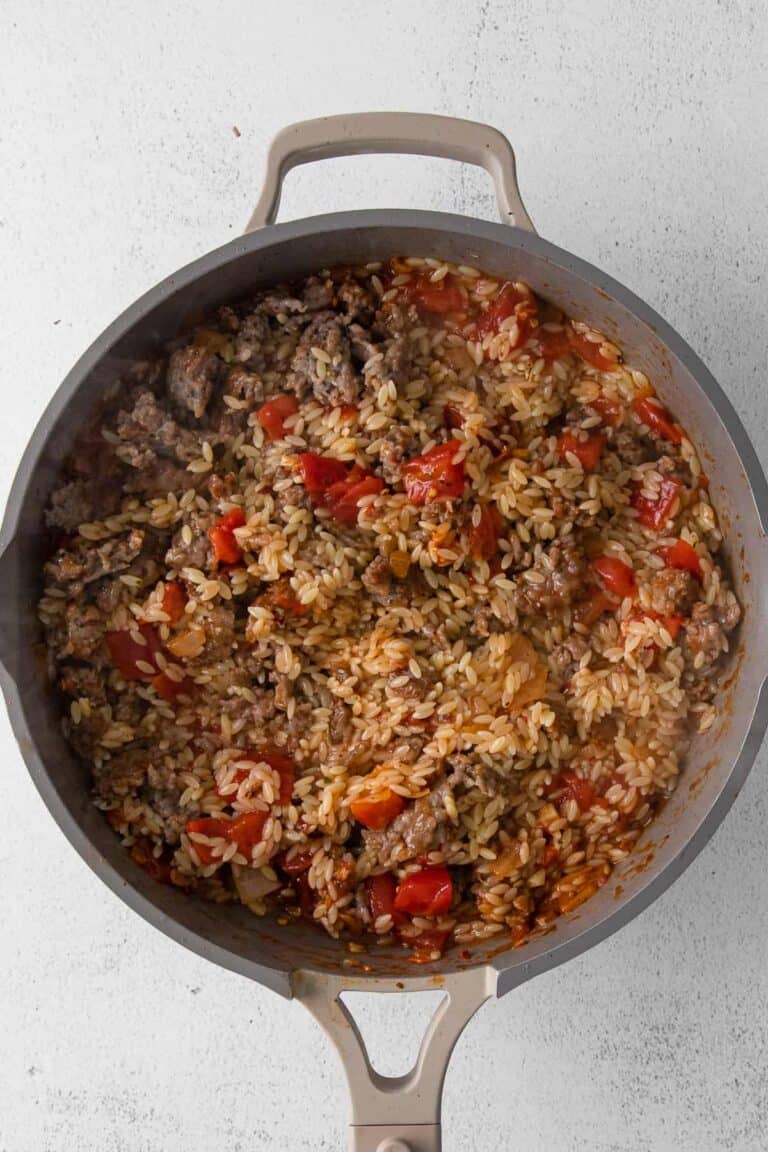 Add Tomato Products
Add tomato paste and seasonings and then the starchy pasta water. Mix to combine.
Add Orzo
Add cooked orzo and diced tomatoes and mix to combine. Finally, add 1 cup of mozzarella cheese and mix again.
Fill Bell Peppers
Scoop the Italian and orzo filling into the bell peppers, dividing between the 6 of them.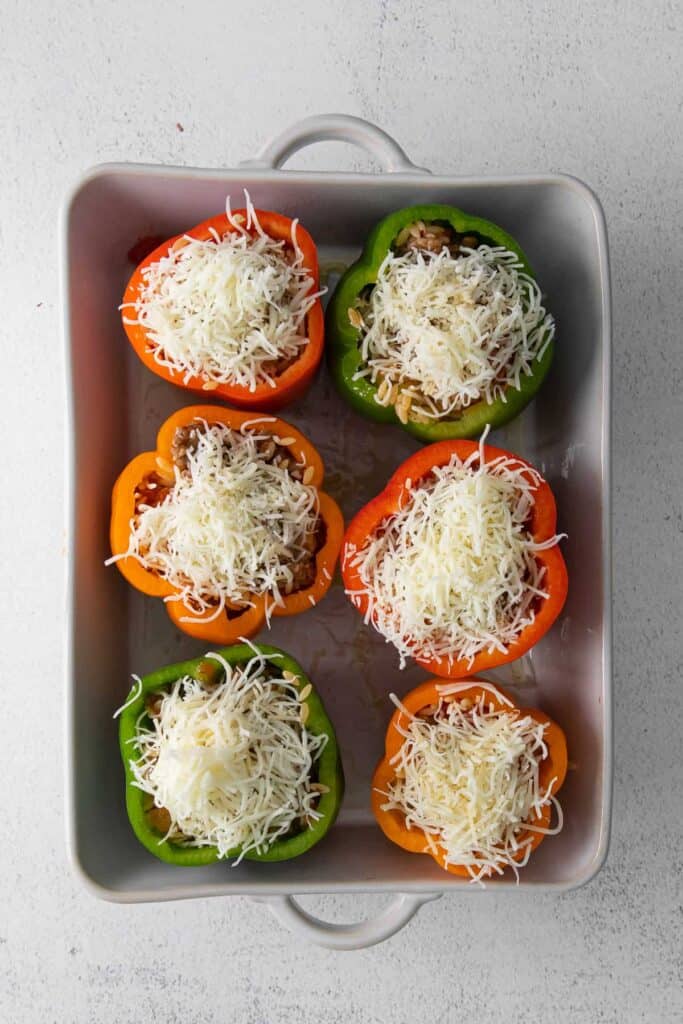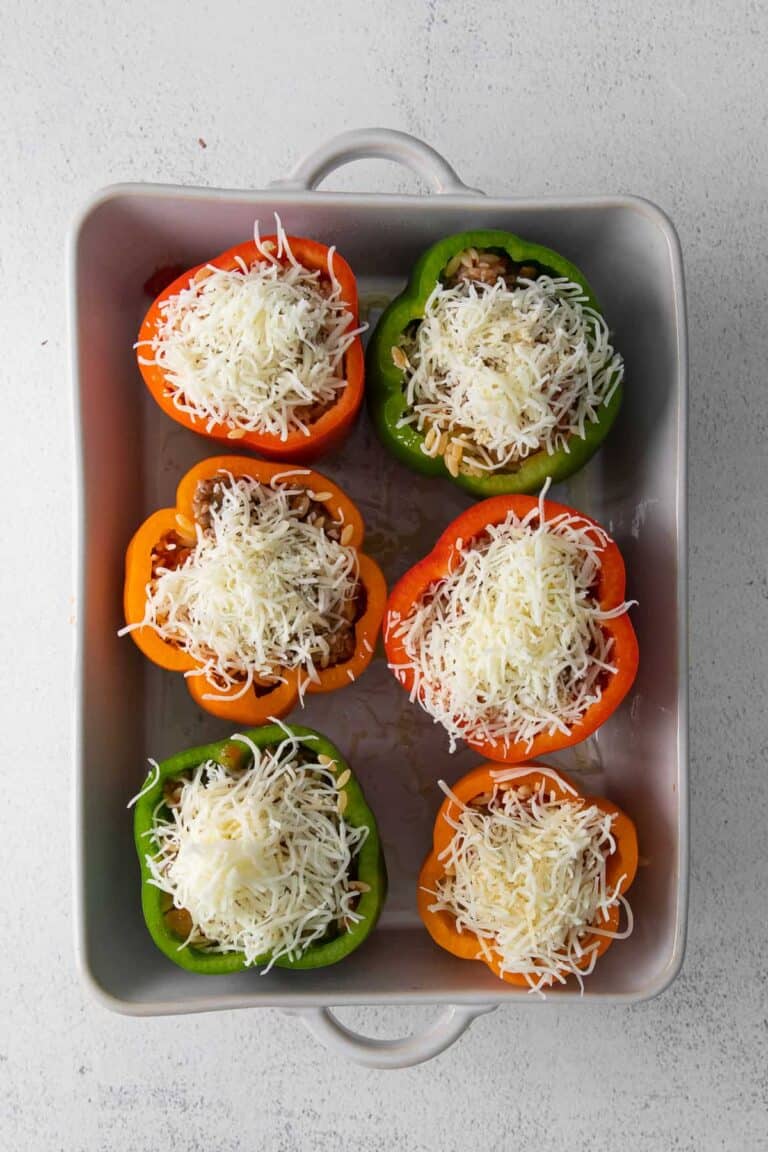 Add Cheese
Sprinkle on mozzarella and grated parmesan to cover the tops of the Italian sausage stuffed peppers.
Bake
Bake at 375ºF for 25-30 minutes.
Serve
Serve immediately with fresh basil and enjoy.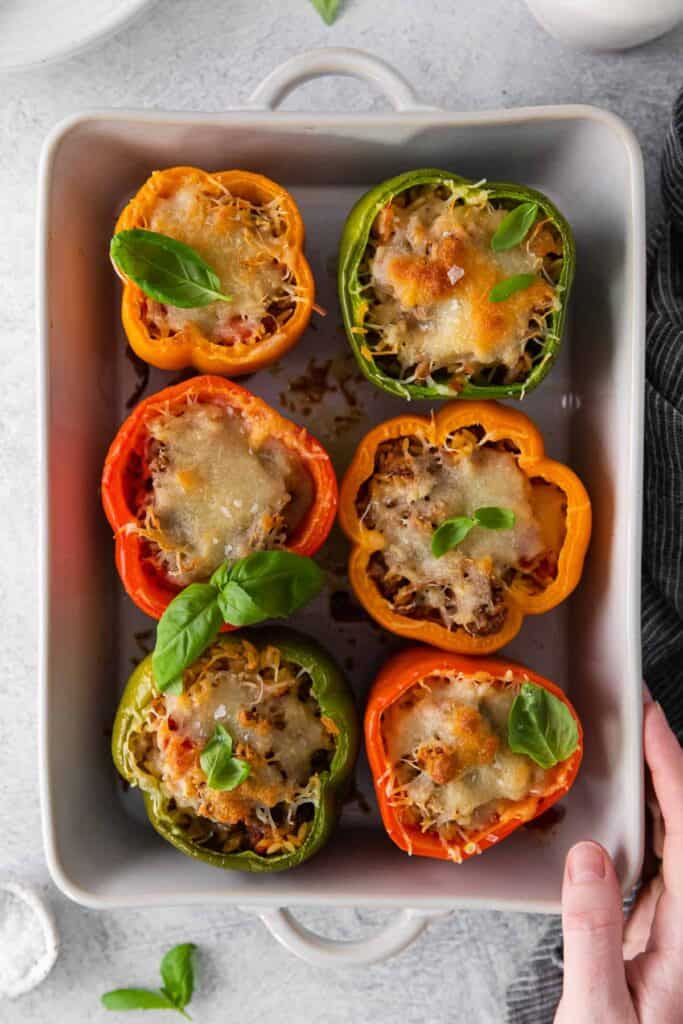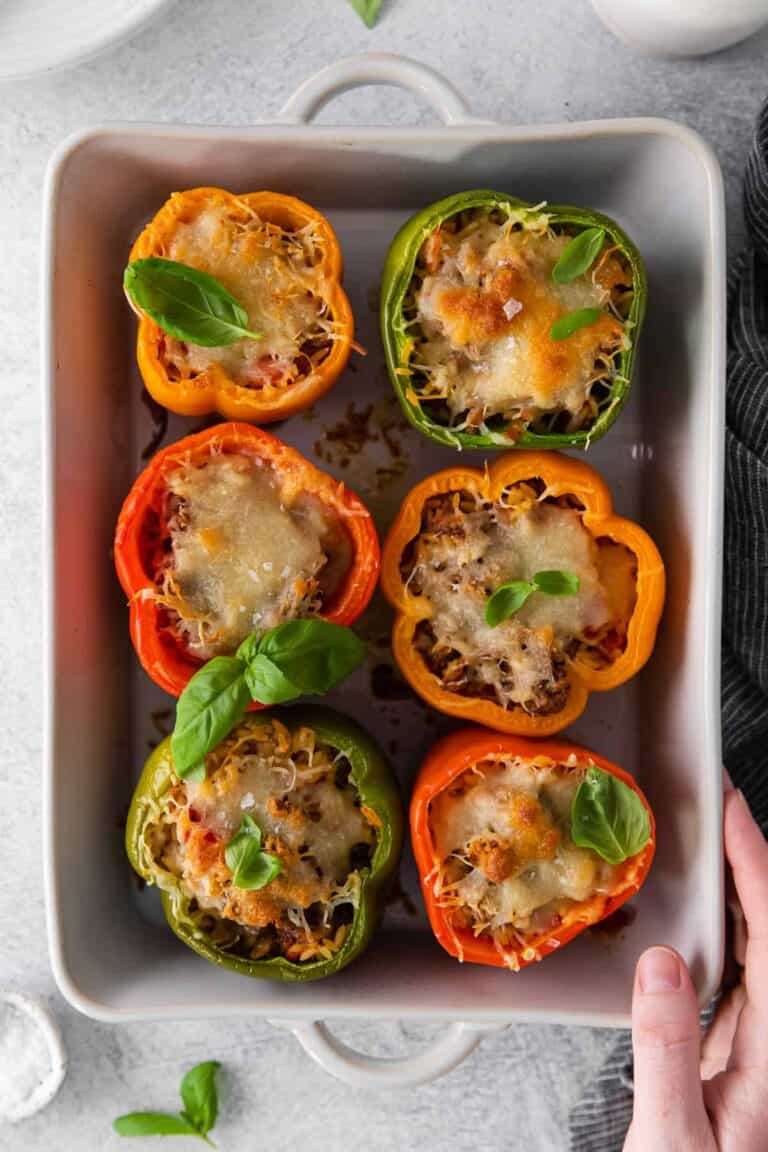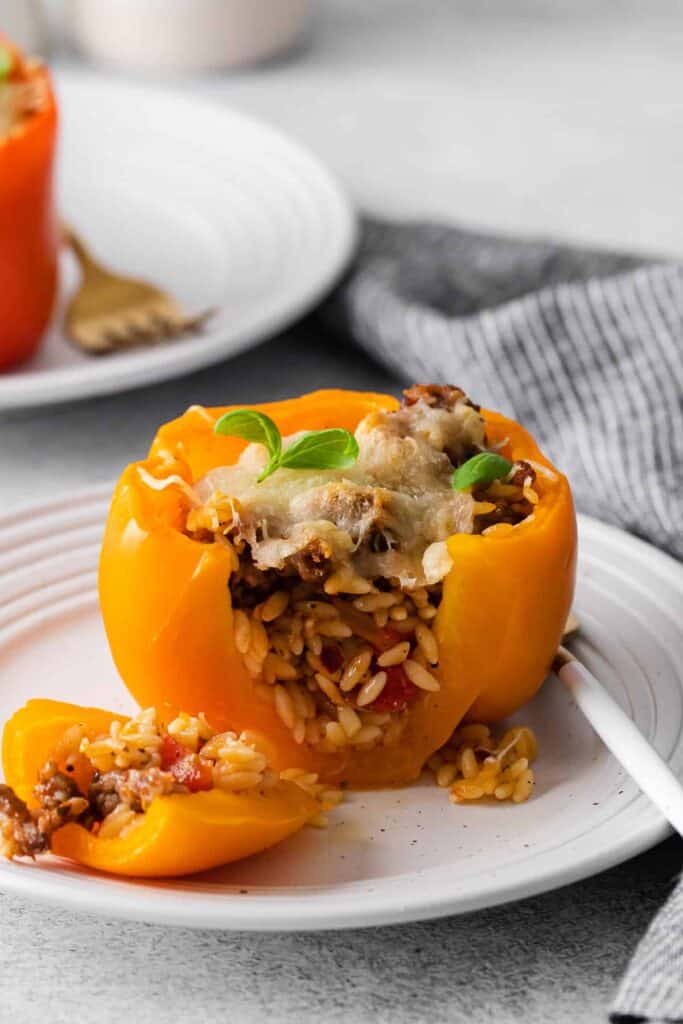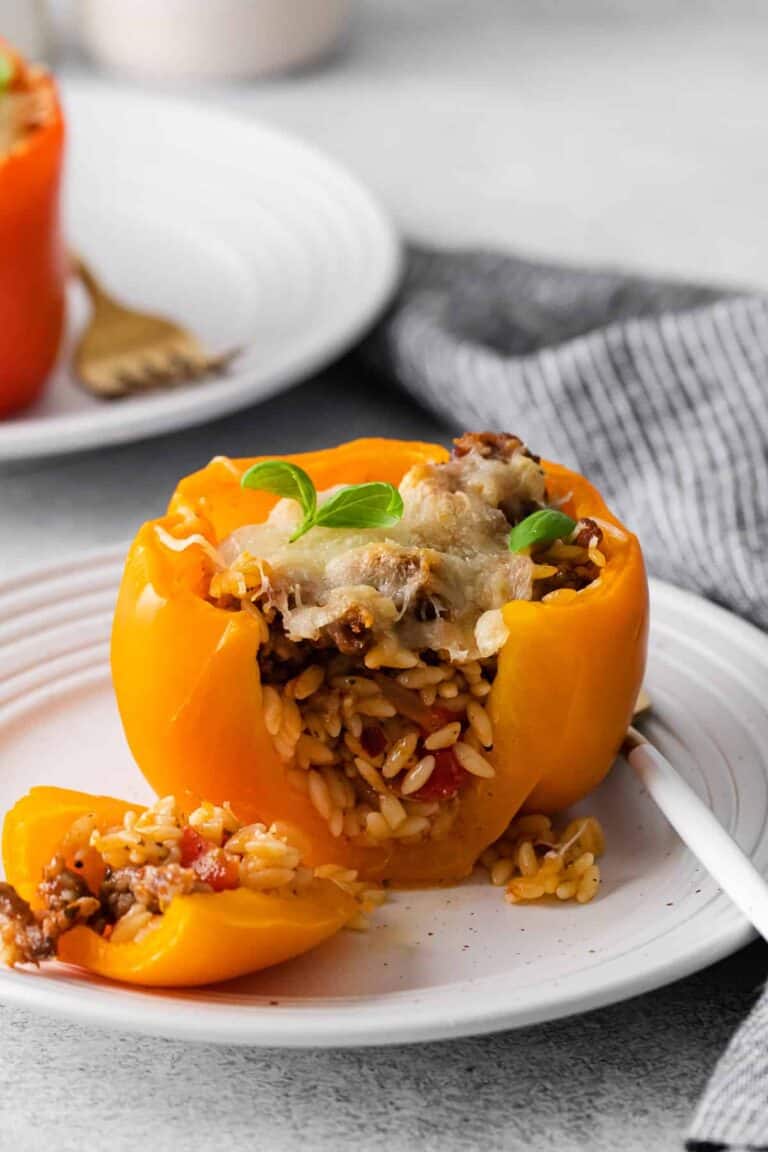 Storage
Store cooled peppers in an airtight container in the fridge for up to 3-5 days.
Freezer Instructions
Let your stuffed peppers cool completely.
Then, tightly wrap each pepper with a piece of plastic wrap followed by a piece of tin foil.
Freeze for up to 3 months.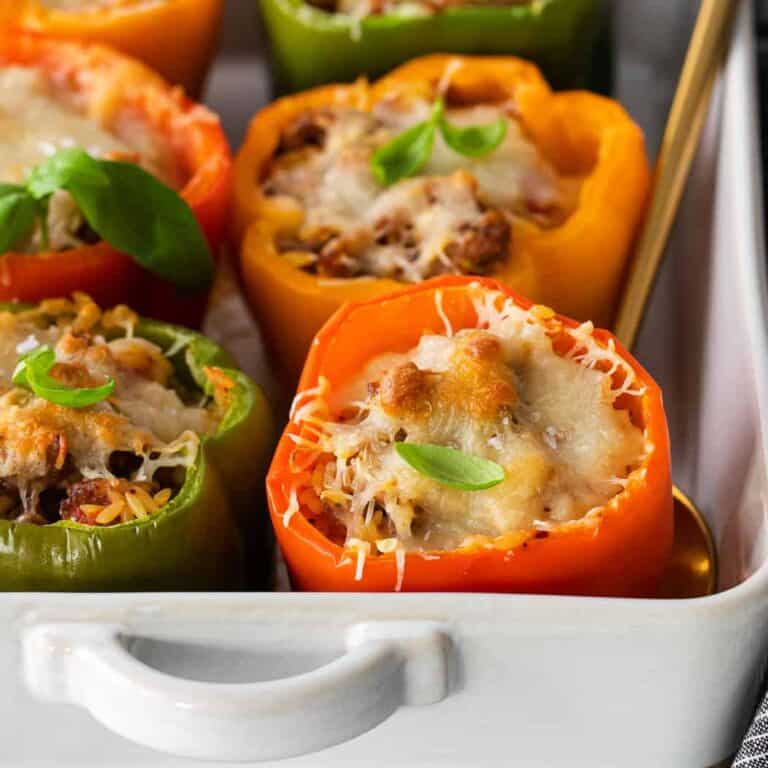 Italian Stuffed Peppers
Italian stuffed peppers are an excellent balanced meal made with bell peppers, Italian sausage, orzo, and shredded cheese.
Ingredients
6

large bell peppers

8

oz.

orzo

1

lb.

mild Italian sausage

ground

1

small onion

diced

3

cloves

garlic

minced

1

tablespoon

tomato paste

2

teaspoons

dried Italian seasoning

¾

teaspoon

red pepper flakes

¼

teaspoon

dried fennel seeds

½

cup

reserved orzo cooking liquid

1

14.5-oz can diced tomatoes

1.5

cups

shredded mozzarella cheese

divided

½

cup

grated parmesan cheese

Fresh basil

for garnish
Instructions
Preheat your oven to 375F and grease a large baking dish lightly with olive oil spray. 

Slice the stem end off of each bell pepper and remove the seeds and membrane. If the peppers don't sit upright, remove a small portion of the base (but make sure not to cut the bottom all of the way off– you want the pepper to hold the filling). Place the peppers cut side up in the pan. 

Bring a large pot of salted water to a boil over medium-high heat. Add the orzo and cook it for two minutes less than al dente. Once cooked, reserve ½ cup of the orzo cooking water and drain the orzo. Rinse the orzo with cold water to stop the cooking and set aside. 

Add the Italian sausage to a large skillet set over medium heat. Cook the sausage, breaking it up occasionally, for 7-8 minutes or until it is crisp and browned. Remove the sausage to a bowl with a slotted spoon. 

Add the onion to the pan and cook it, stirring occasionally, for 4-5 minutes or until it is soft and beginning to brown. If the pan becomes too dry at any point, add a tablespoon of olive oil. 

Once the onion is browned, add the garlic and cook for an additional minute. 

Next add the tomato paste, Italian seasoning, red pepper flakes, and dried fennel seeds. Stir until the tomato paste coats the onion. 

Add the reserved pasta water and stir. Deglaze the pan by scraping any browned bits from the bottom with a wooden spoon. 

Next add the diced tomatoes to the skillet, along with the orzo and Italian sausage. 

Remove from the heat and stir in 1 cup of mozzarella cheese. Taste and season with salt and pepper. 

Divide the filling between the peppers and top each pepper with additional mozzarella and grated parmesan. 

Bake for 25-30 minutes or until the peppers are tender and cheese is melted. Garnish with fresh basil and enjoy immediately. 

Store any leftover peppers in an airtight container in the fridge for up to three days. 
Nutrition facts
Calories:
545
kcal
Carbohydrates:
45
g
Protein:
30
g
Fat:
28
g
Fiber:
6
g
Sugar:
10
g